It's rather funny that a girl who is 5'9" would have an affinity for small places but well, we do live in Italy.
Far from the expansive memories of my Texas past; I have adjusted rather nicely to 60-70 square meters of space. Sure I have no garden, no garage, just one bathroom and a true, dire lack of storage space. This was my choice, I wanted to live in the Oltrarno and honestly, I've never been happier. Before, when I lived with an Italian family in the suburbs, the house was considered large by local standards but I dubbed it "bruise dungeon" as every inch of space was packed with some sort of random piece of furniture, preferably with sharp corners for my long limbs. My rambling might be a little too evident right now but there is a point to all of this small-talk (couldn't resist a ridiculous pun). This month's Italy Blogger roundtable topic is Flavor and my idea for this post came to me in the smallest of places at chez moi, my shower. So cliche but seriously that's where my best ideas come from. I figured, why not celebrate some places that I have adore that while tiny, pack a flavor punch that keeps my tall, clumsy and less than delicate self coming back. I'm not a food writer or journalist but I a girl who loves to eat. From historical neighborhoods Sant'Ambrogio to the Oltrarno, these tiny eateries are more than worth a visit and let me know in the comments where your favorite places are, I'm curious!
Ps. Have a look at my eats list for additional tips, or if you're looking for a some great bars, here are my top suggestions here. 
Semel
This had to get my number one spot because I've never been able to resist a visit to Semel (which is a type of bread in Italian) when shopping at the Sant'Ambrogio market. They serve a selection of seasonal panini, with interesting ingredients like duck or fennel making a common appearance, I usually grab two if I'm feeling more peckish. One of my favorite combinations include anchovies, fennel and orange. Marco is half the reason people come, he's quick with a laugh or insists you grab a glass of wine (the wooden shelf concept is king here) while you eat in the tiny space inside or sitting on the bench outside. After opt for a coffee at nearby Cibreo. 
Piazza Lorenzo Ghiberti, 44. Open 11:30am-3pm every day but Sunday.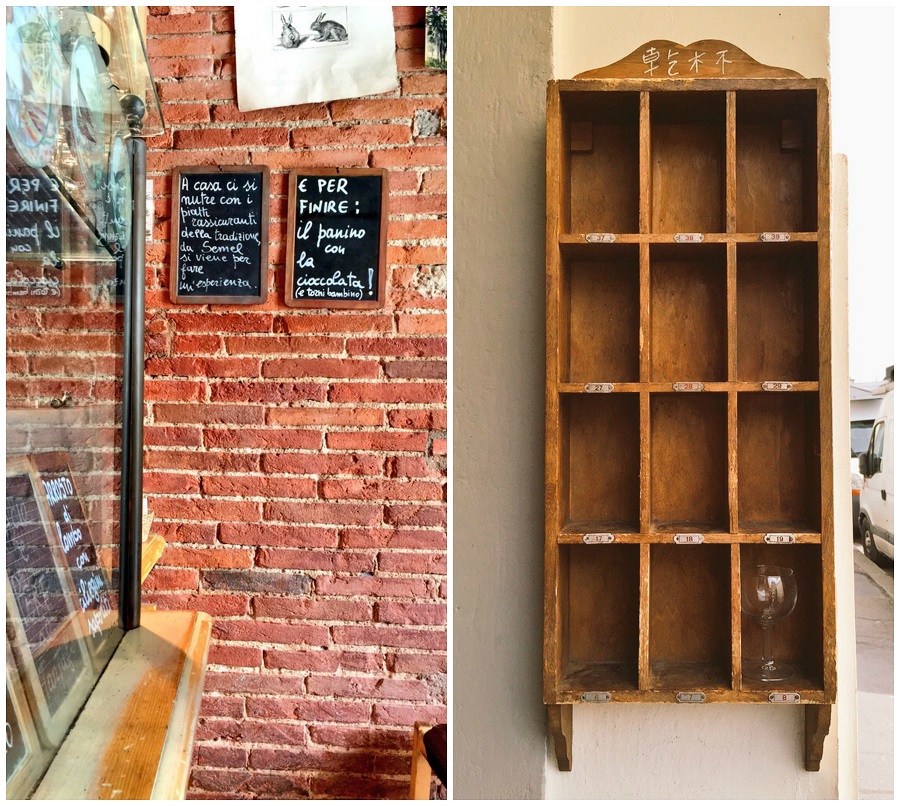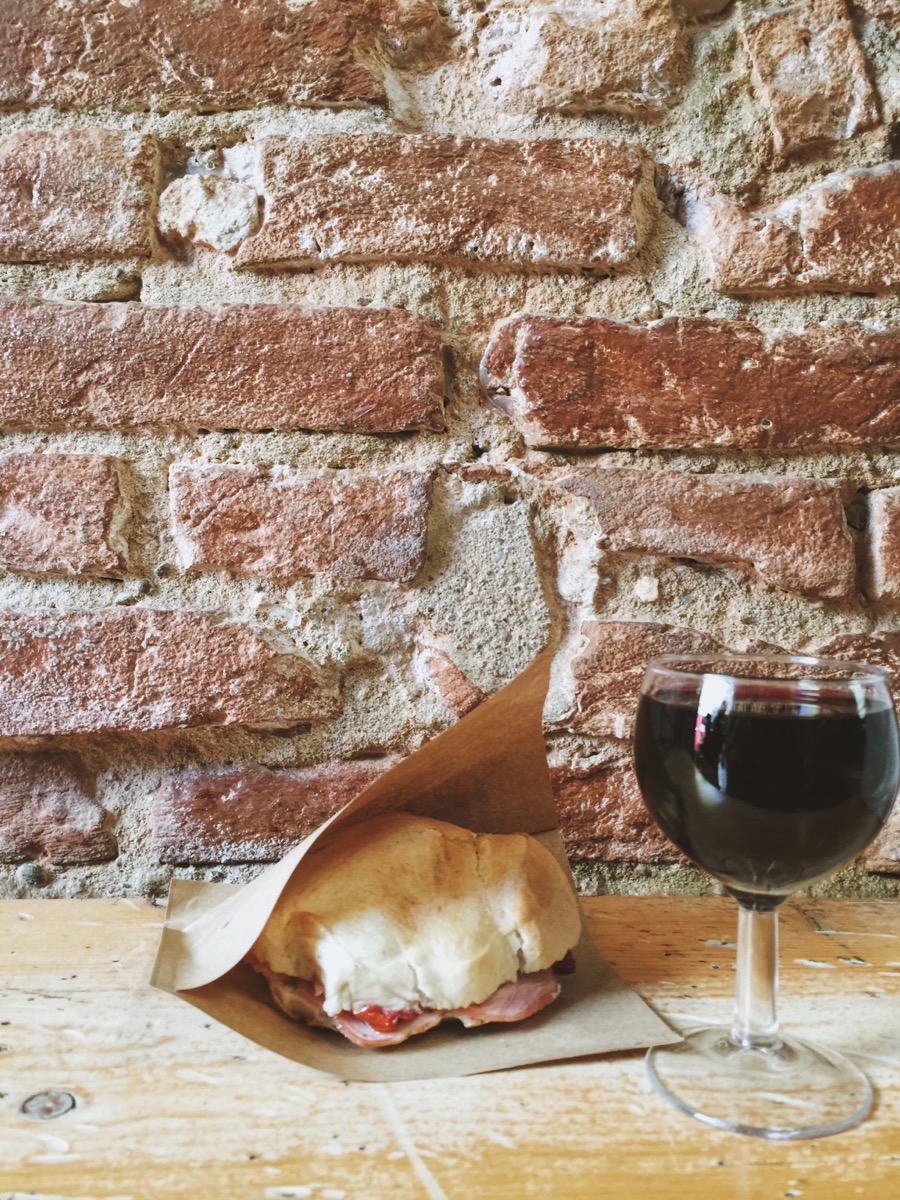 Vini e Vecchi Sapore
Just off of Piazza della Signoria, Vini e Vecchi Sapore is well-known (also in the guide books) for their excellent selection of seasonal Italian favorites. It's very small inside, so reservations are a serious must but once you grab a table it's more than likely you will delight at the whole experience. I love their pappardelle and their slowly-cooked Tuscan beans and probably will go back again soon. 
Via dei Magazzini, 3r, Tel:  055 293045. Open 12:30-2:30, 7:30-10:30, Closed Sunday. Reservations mandatory.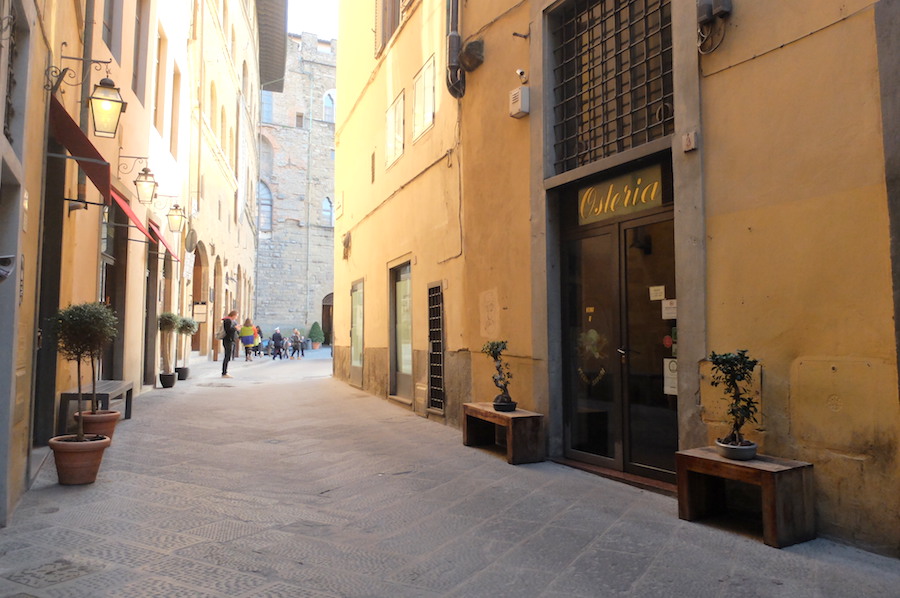 Trattoria Mario
My cover photo above celebrates one of the most historical spots for lunch in the city, Trattoria Mario which was born first as a meschita di vine in the 1950's, later to become a full-fledged trattoria. While I have gone through personal phases of falling in and out of love with the place, you have to admit it has serious gumption. Mainly my complaint is in how busy it is but I haven't felt the quality slip and I'd go back again in moment's notice. The menu includes a few simple pastas, zuppa (I always get the bean soup), boiled meats, roast pork, and of course Florentine steak. While I might prefer Sergio Gozzi for a quieter sit-down meal, Mario is so much fun to bring people. They adore the Fiorentina soccer team which is colorfully displayed everywhere. The lack of space means that communal seating is a must so show up early is my best advice.
Via Rosina 2r. Open Mon-Sat 12-3:30pm (only for lunch). They don't take reservations, first come, first serve.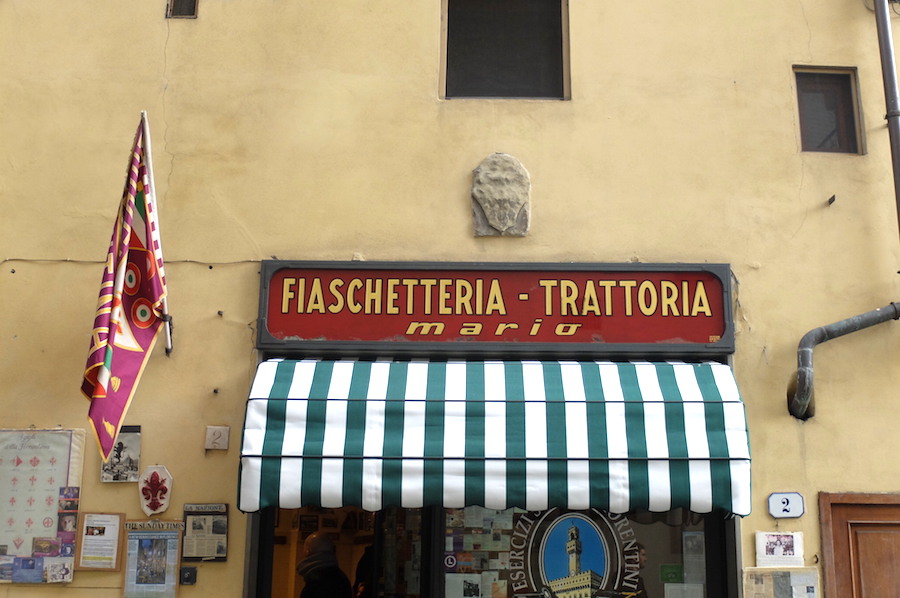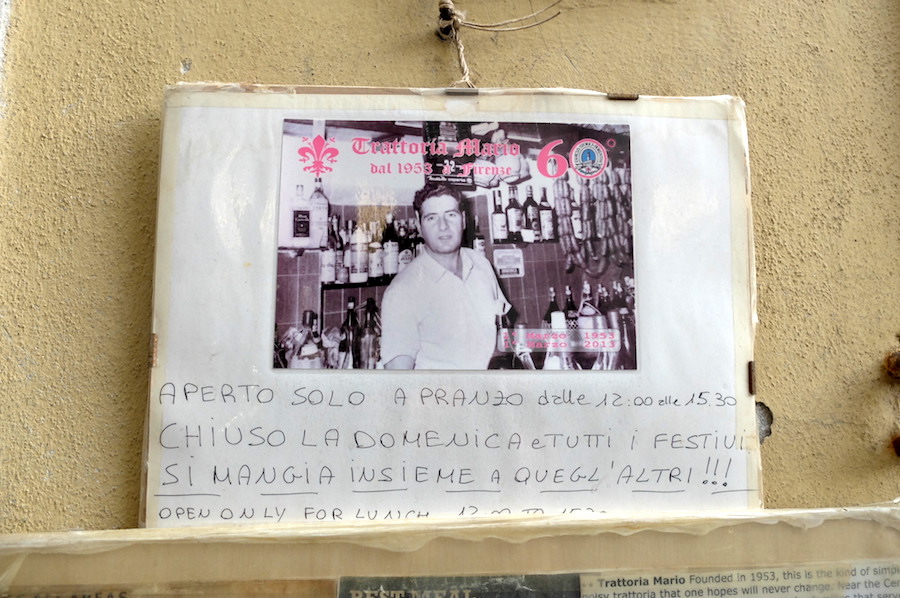 Mariano
I must have been living in a hole, because I just now, as in last week, found out about this place. I'm working on a project for a popular guidebook which led me to the wonderful world of Mariano (you'll see Alimentary written outside, which means basically a delicatessen) on a small street off of Via Tornabuoni. Once inside, on your left is the bar where a large selection of sandwiches, pasta and various first courses and cakes await you, the coffee bar directly in front. On your right is a small room, well-decorated where you can grab a stool at number of tables they have available. It's very affordable considering the area and you'll see plenty of locals here too. Also come later in the day for an aperitivo.
 Via del Parione, 19R. Open Mon-Sat 9am-8pm.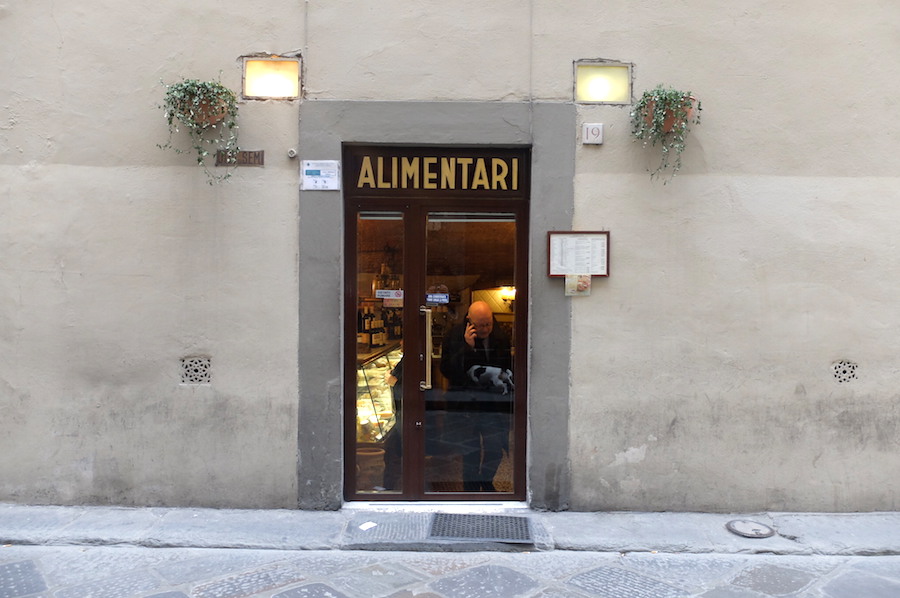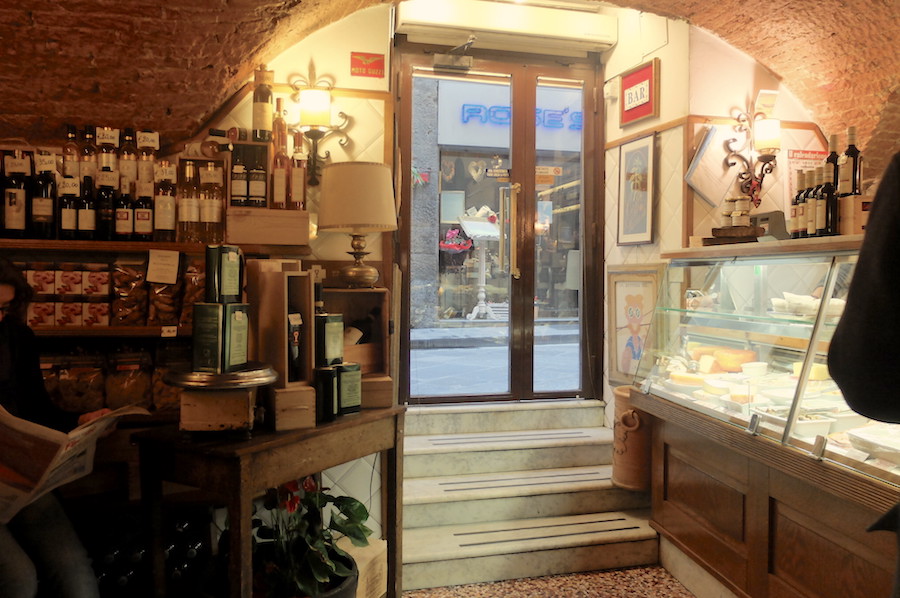 Da Gherardo
There are plenty of decent pizzeria places to choose from in the city but one place that we love going for a date night is Da Gherardo. A cavernous space, barely big enough to squeeze through, to me it feels like a tiny Spanish cafe, albeit one that serves Napolitano-style pizza. The menu is written in the back, you won't find a large selection of pizzas but they will be pretty good.For dessert, I recommend the rum baba! Reservations are necessary.
address: Borgo S. Frediano, 57/R. Open daily 7:30pm-1am. +39 055 282921.
https://www.instagram.com/p/BPa5dMlg5IK/
La Bottega della Frutta
With one of the prettiest doorways in town, La Bottega della Frutta is a delightful surprise of a store run by a quick-to-joke husband and wife team. Once inside the only challenge I've found is where to look first; maybe the selection of mostarde, or rows of dried pastas or fresh bread and cheeses. They also have fresh mozzarella and other delightful organic fruit and veg, going there is an experience in itself.
Via dei Federini 31r. Open Mon-Sat 8:30am-7:30pm.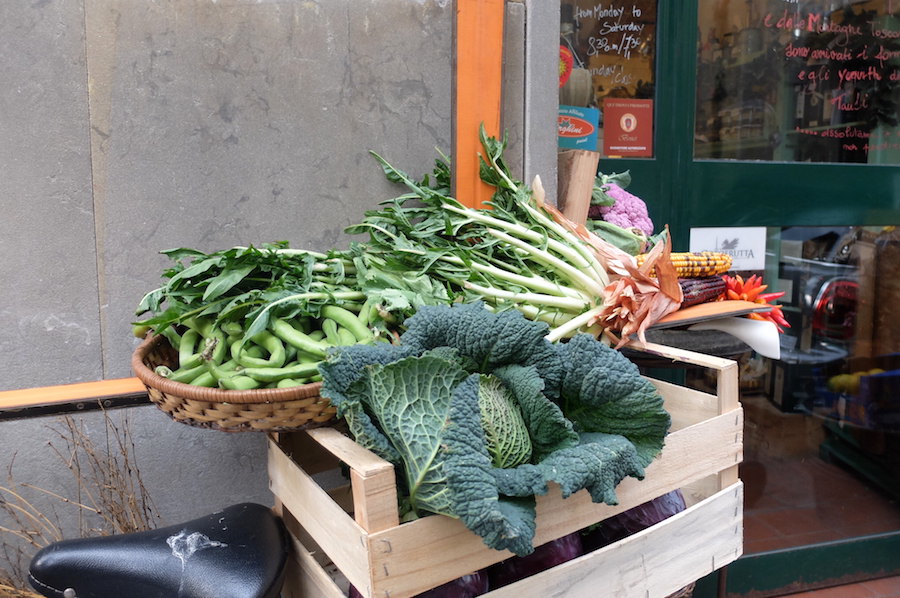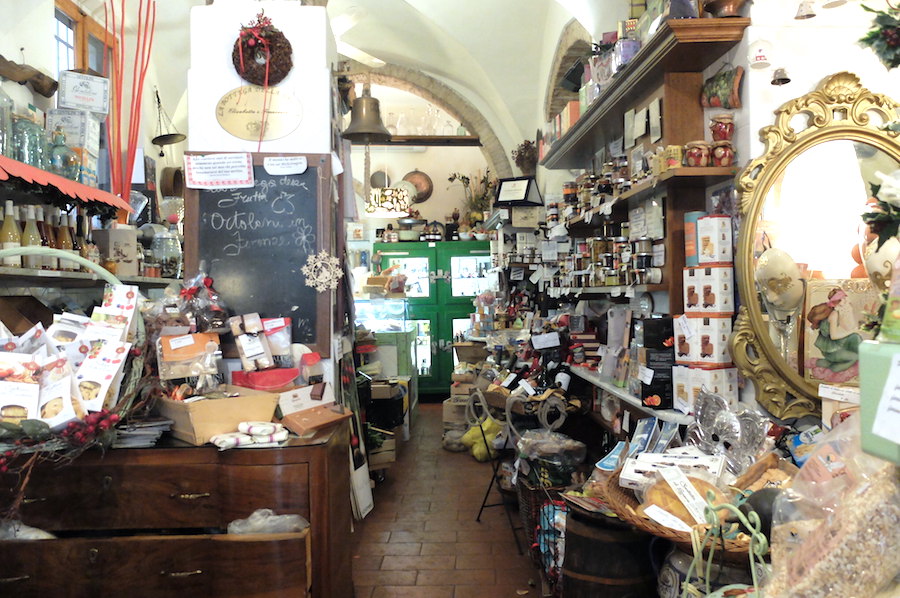 Enoteca Pitti Gola & Cantina
Sure when it comes to wine bars you have you pick in Florence, and my favorite is not even five minutes from my house in the square of Palazzo Pitti. Edoardo, Manuele and Zeno are three guys who's passion for traditional Italian wines has made Pitti Gola a popular watering hole for those "in the know" around these parts. What makes them special is their dedication to discovering, and sharing, awesome small producers creating excellent wines in the Chianti and Piedmont area of Italy. Shannon, Edoardo's wife and a good friend is someone you should know too. She is alone responsible for a very successful wine club with international clients all over the world who after even just one visit, want to keep the Pitti Gola experience going. The food is exquisite, a small selection of curated bites, charcuterie platters, cheese, and seasonal prime (first courses). Due to the tiny space reservations are more than necessary. 
Piazza Pitti, 16, phone + 39 055 212 704 (currently closed on holiday until February 22nd). Open 1pm-Midnight every day but Tuesday.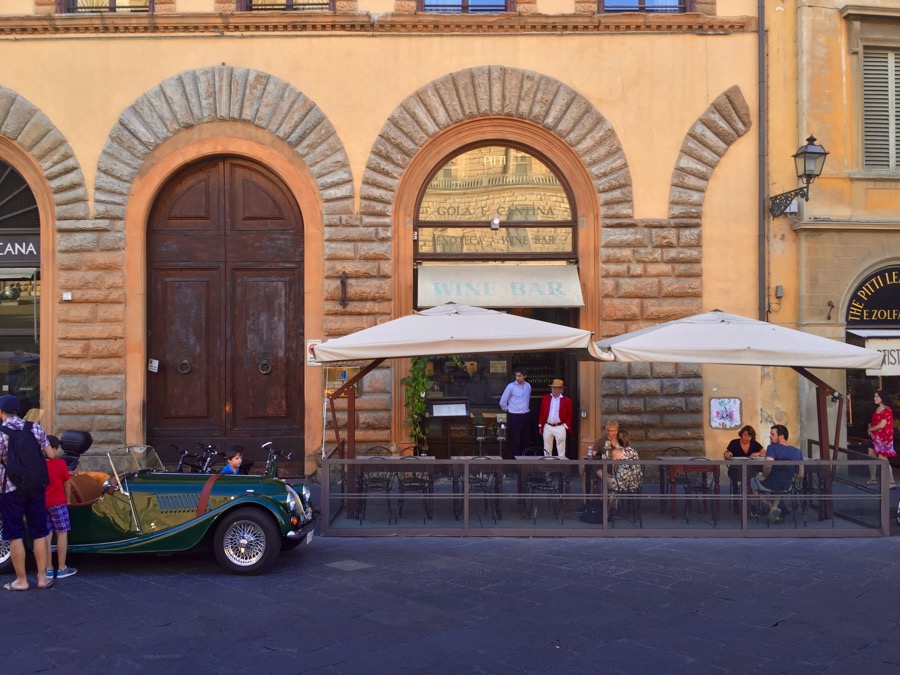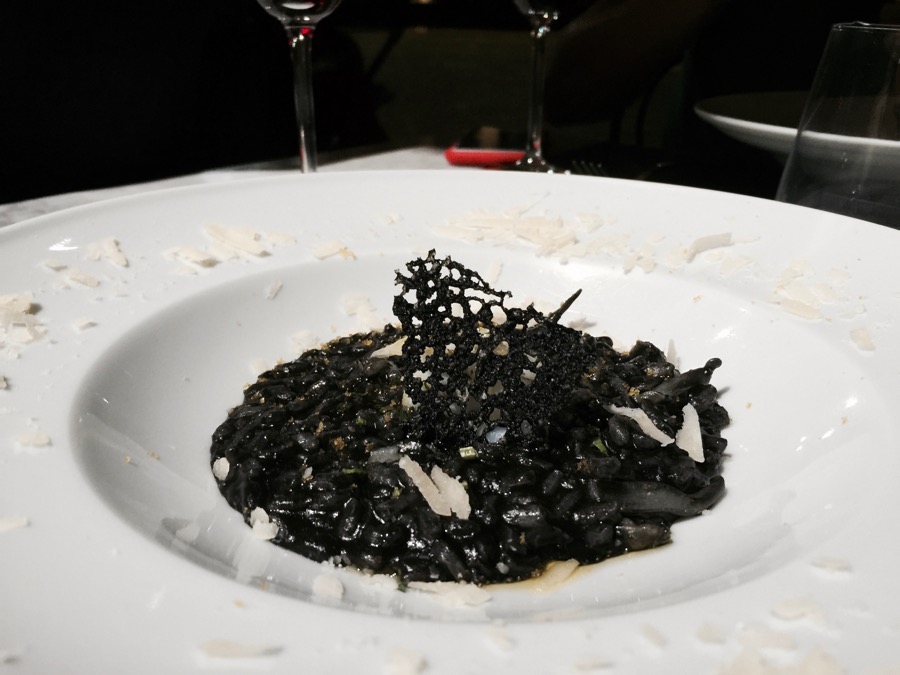 Il Santino
Another Oltrarno haunt on Via di Santo Spirito, Il Santino is the sister wine bar next to Il Santo Bevitore, a popular restaurant next door. At Santino you'll find a vaulted ceiling, few tiny tables and long bar serving up wines by the glass and paired bites. I actually love them especially for lunch, which is much less curated but delightfully serene on one of my favorite streets in town.
Via di Santo Spirito, 60/R, Open daily 12:30pm-11pm, Ph: +39 055 230 2820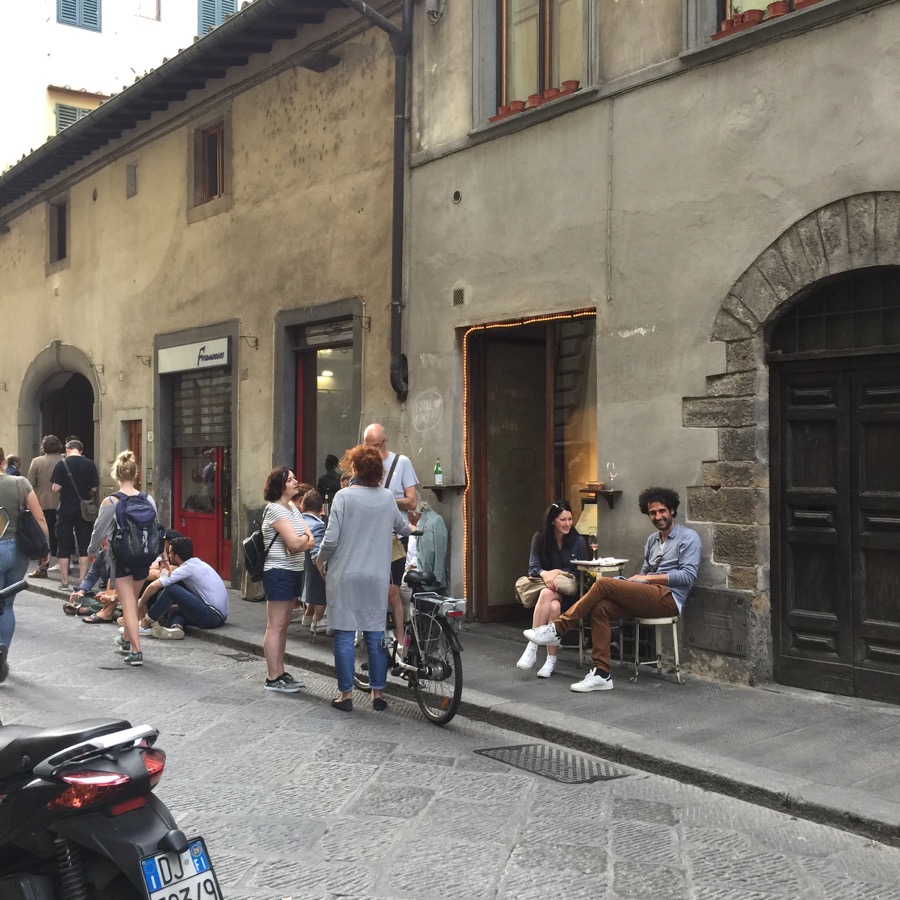 Ciblèo
This recent open has been in owner Fabio Picchi (of the Cibreo empire) for over 30 years. A blend of Italian dan asian (namely Japanese and Korean) flavors in the tiniest of spaces, right next to his restaurants off between Via dei Macci and Piazza Ghiberti. Once inside though, you feel like you could be on a street in Japan. Most people go for a seat at the bar, where Fabio provides detailed explanations on what's served (could be Japanese-style ravioli with chicken from the Mugello in Tuscany) as tiny plate after plate come out in what is a mandatory set menu during two dinner services. Try the lambrusco or one of his craft beer choices. Reservations highly recommended.
Via Andrea del Verrocchio, 2r. tel. 055 2341100, Open from Tues-Sunday nightly. Set menu ranges from 40-50 euros a person.
https://www.instagram.com/p/BQEUpZvlS9O/?taken-by=girlinflorence
Casa del Vino
It's easy to miss Casa del Vino with so many market stalls crowded in front but this beloved gem in San Lorenzo is a personal favorite, and dates back to 1880. A place to get a quick lunch or before-dinner drink in a very classic Florentine ambiance, owners Gianni and Nicoletta make it fun too with their constant banter. Bottles of wine line the left side, while the marble-topped bar on the right is where you want to order you large crostoni, frattaglie (mixed organs), trippa (tripe) or stuffed panini and of a glass of wine (I adore their Lambrusco).
Via dell'Ariento, 16r, Tel: +39 055 215609. Open Mon-Thurs 9:30am-3:30pm, Fri-Sat 9:30/10am-10pm, Closed Sunday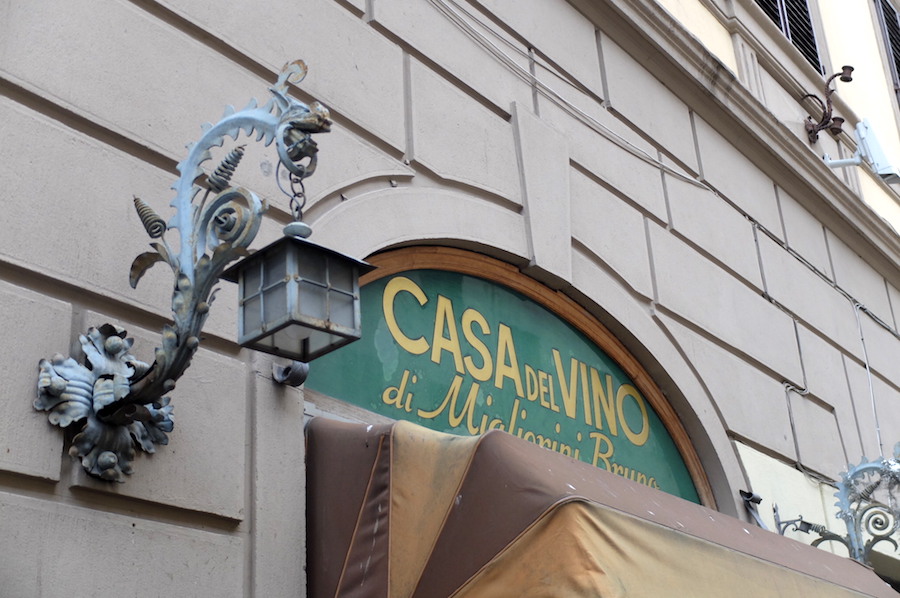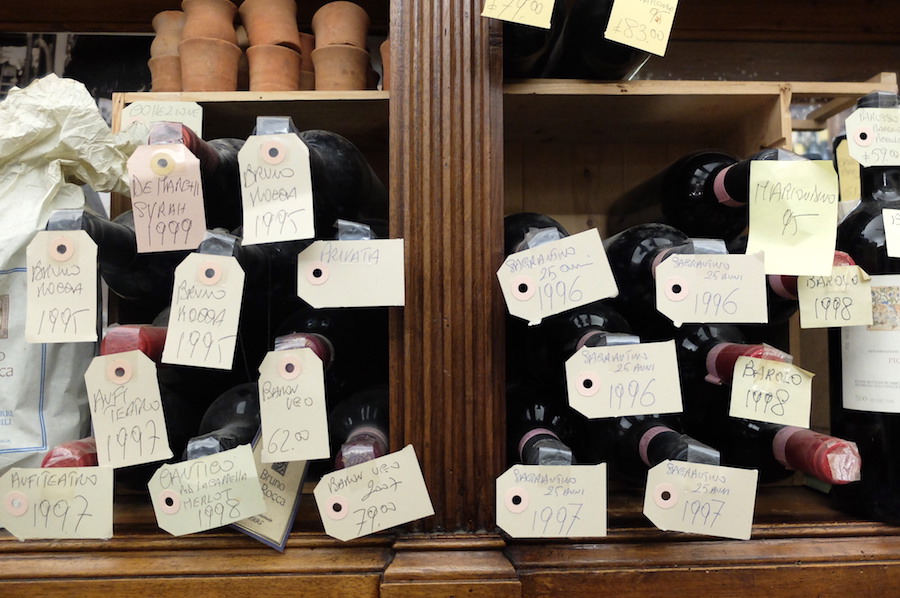 Da' Vinattieri
Smack dab in the center of one of the city's busiest streets Via del Corso lies a small arch and tiny wine bar serving up sandwiches and freshly-made coccoli (fried dough balls). A mainstay from the ancient traditional shops that used to exist in Florence, surviving up wine from the countryside, this one has lasted the bit.  I've been going here since I was a student mainly for those staking hot coccoli and of course the focaccia bread. You can't help but smell its arrival, plenty of people line up at the small window next to the doorway for a tripe or Lampredotto sandwich served in a crusty hot bread roll, a local favorite. Also take a look at their seasonal primi (first plates).  
Via Santa Margherita, 4/R, Open 11am-7pm daily, +39 055 294703.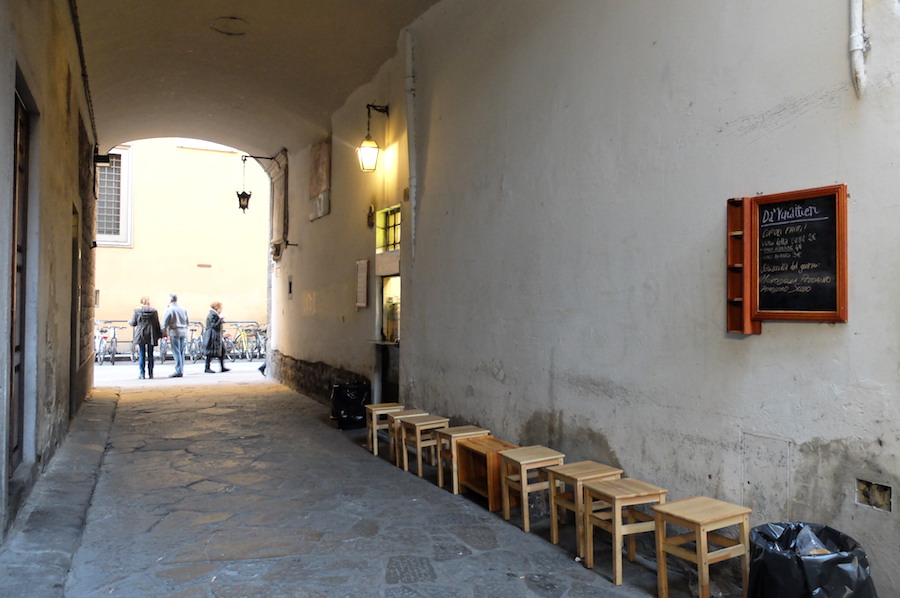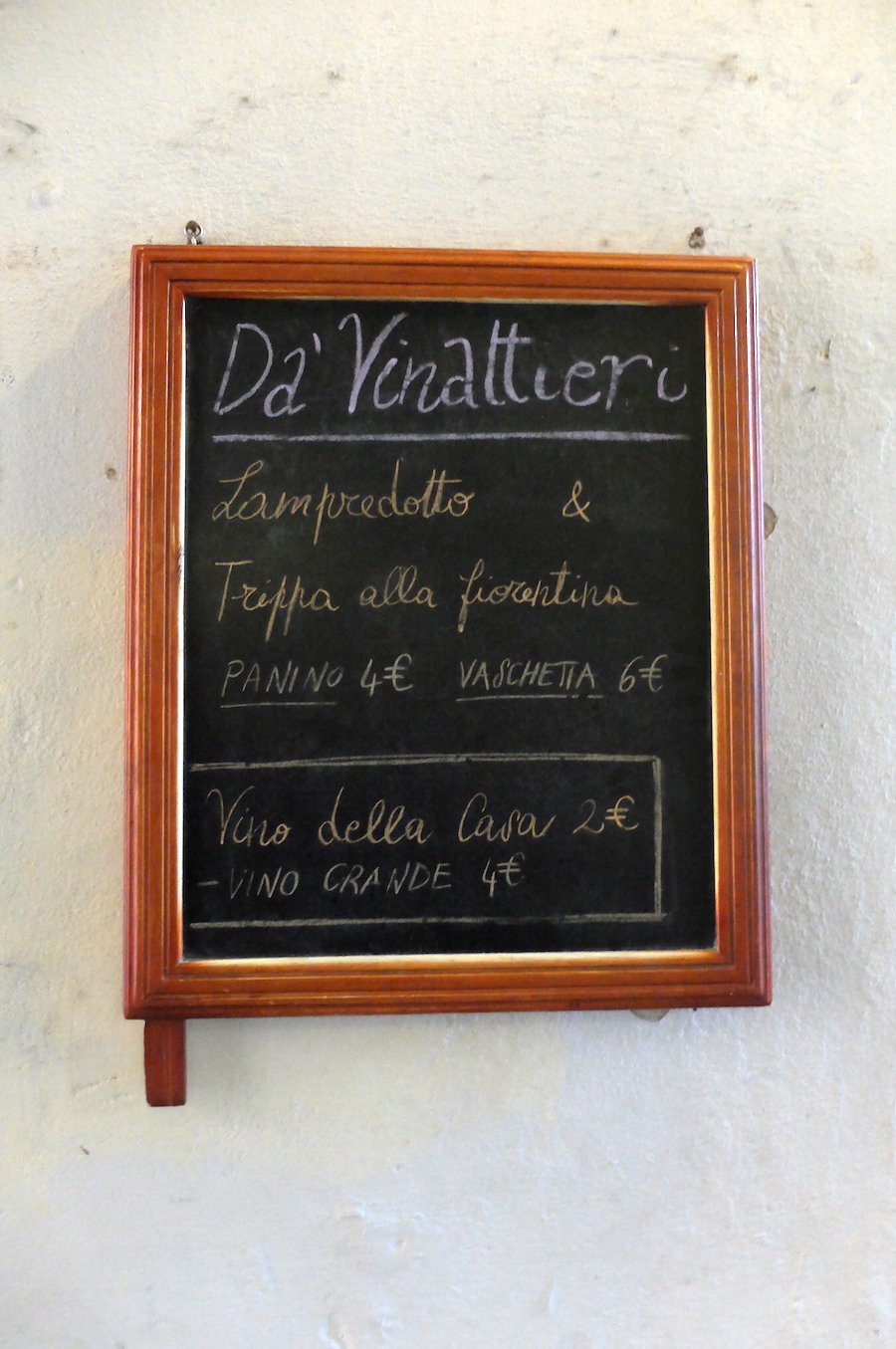 Procacci
This 19th century speciality shop founded by Leopoldo Procacci is just as elegant as the street that it lies upon, the so expensive you can only window-shop Via de' Tornabuoni. Since when it first opened, it has gained the trust of locals and curious visitors as the spot for a light aperitif; the most item their fragrant tiny truffle sandwiches, so delicate you can eat it one bite. They also serve other truffle delicacies and wines by the glass. It's also a nice place to pick up pate', sauces, honey and fruit jams. 
Via Tornabuoni, 64/r 50123. Tel: +39 055 211656. Open Mon-Sat 10am-9pm, Sun 11am-8pm.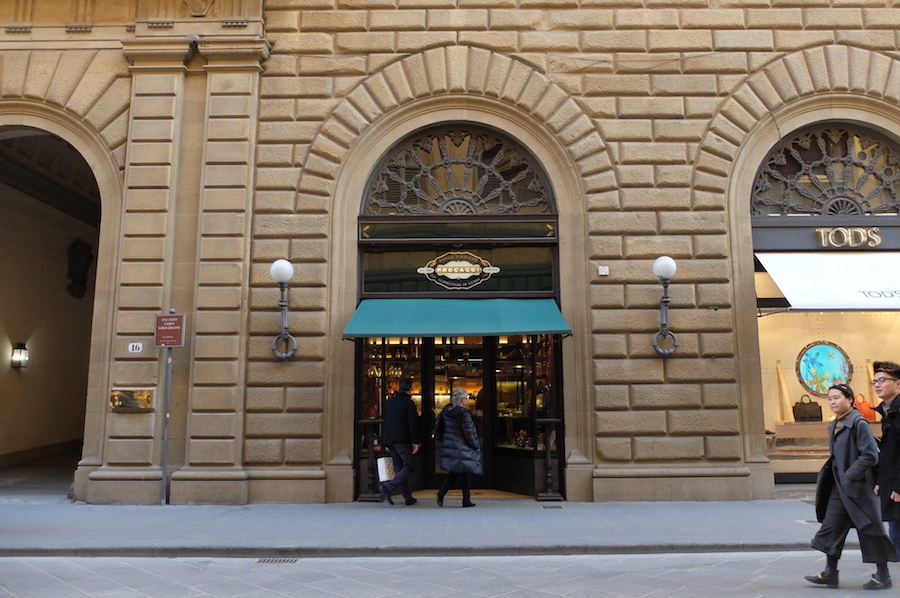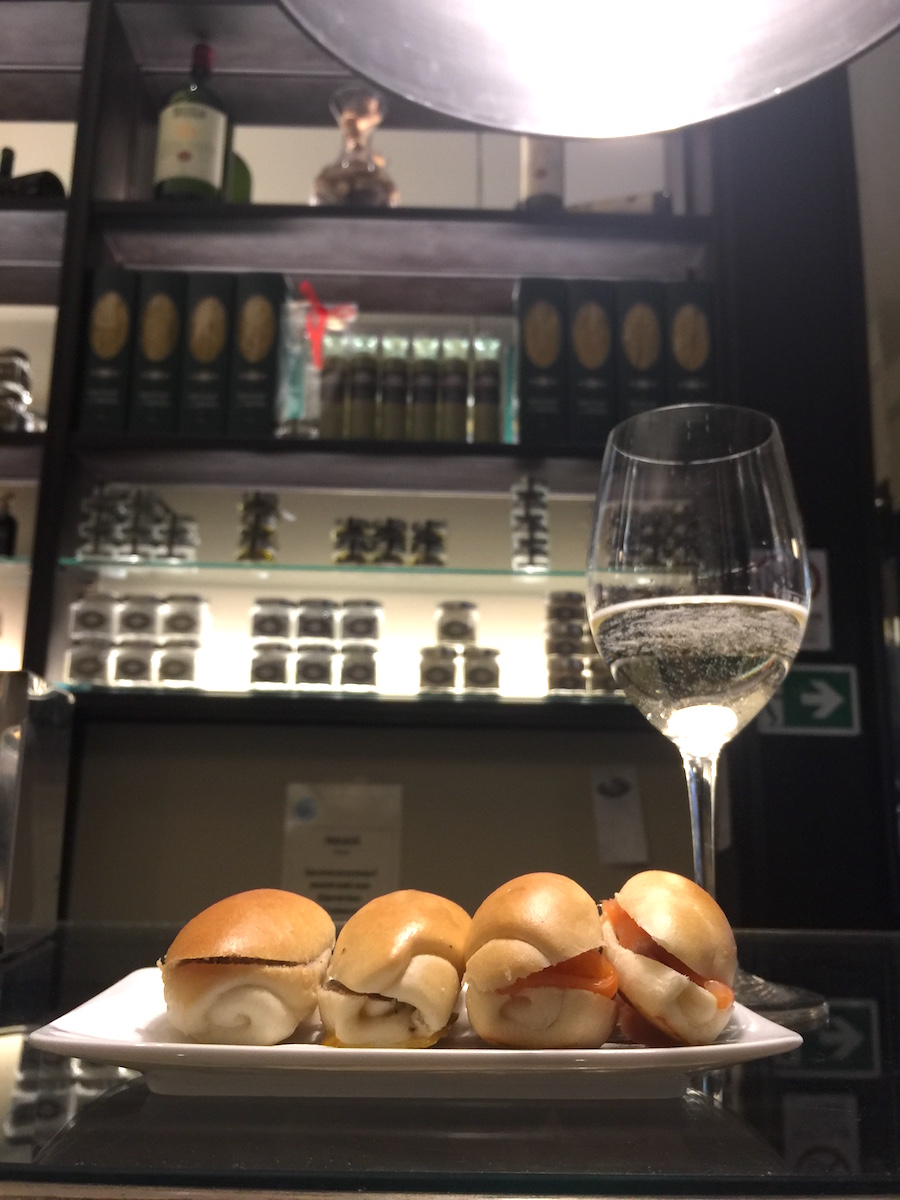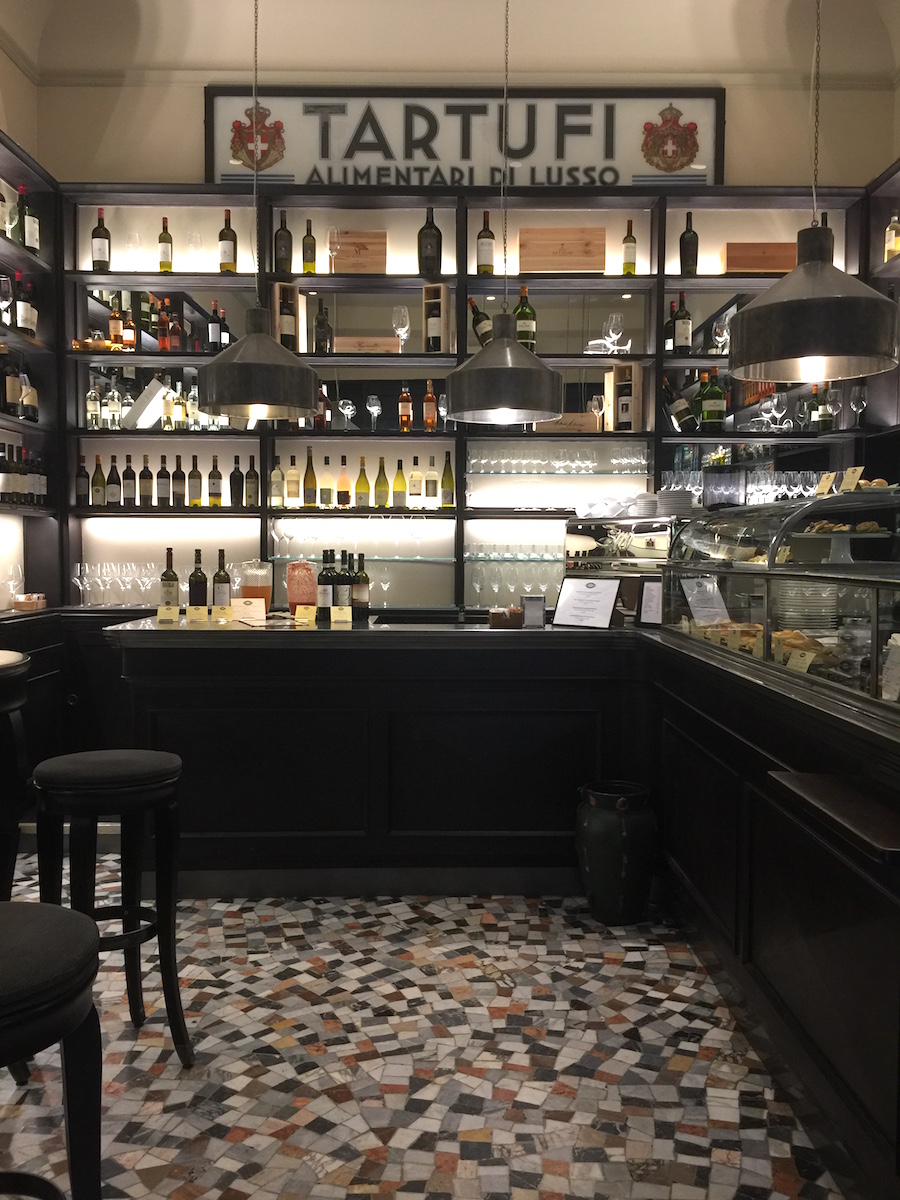 Fiaschetteria Nuvoli
Who would have thought that only a few steps from the Duomo on a side street would exist a place to pick up a glass of wine or small bites that won't break the bank. I've been going here for prosecco and various types of crostini for years, Nico and I inaugurated our engagement at the restaurant across the street and I've had many a deep chat on the wooden benches directly across the tiny bar inside. They also have a restaurant portion in a small room downstairs but I stick mainly to small snacks and wine by the glass.
Piazza dell'Olio, 15/r, Tel: 055 239 6616. Open 7am-9pm, Mon-Sat.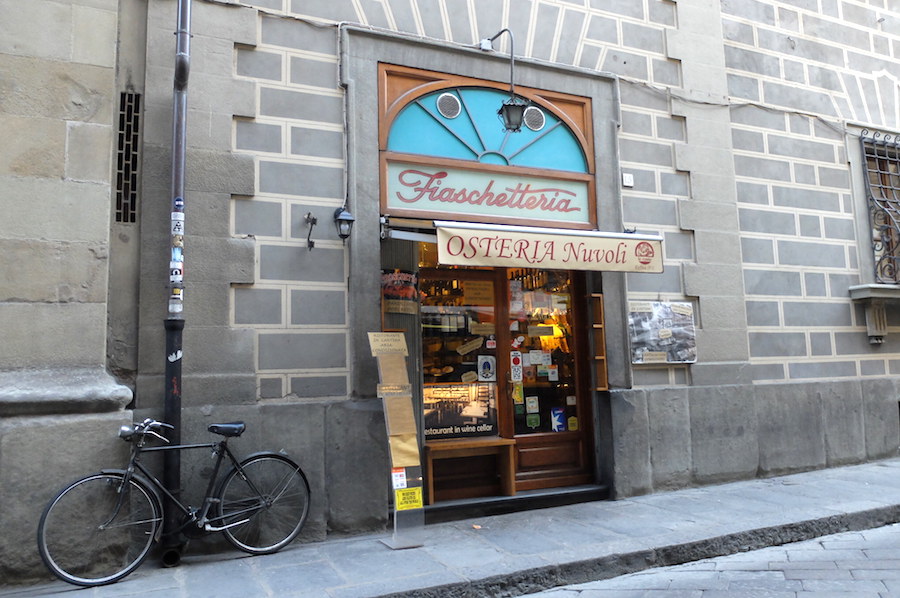 I Due Fratellini 
Tucked away on Via dei Cimatori off the main shopping drag of Via dei Calzaiuoli is a tiny sandwich shop with barely enough room to order. Though they haven't forgotten the wine shelf for hungry customers to set their glasses down while stuffing themselves with a quick panino. They have been around since the late 1800's, etch sandwich costs 4€, I like the fresh sausage and eggplant version.
Via Dei Cimatori 38/r, Open daily, from 9am-7pm. 
Google Map of the above places
Hey guys, this post is part of our Italy Blogging Roundtable topic for February: Flavor! Please take some time to visit my fellow bloggers at the table: