I'll never forget the day of June 24th, 2016.
Nico and I were in a cute and spacious apartment in the picturesque town of Telč, nestled on the border of Monrovia and Bohemia in Czechia, just under a two hour drive from Prague. It's the kind of place you imagine cornered in a Disney-world kingdom, complete with colorful architecture and tranquil small ponds surrounding the town. You know, where happy Czech people sing folk songs while offering you huge pints of beer. While I didn't catch any spontaneous singing, the pints of beer part is pretty true and we saw plenty of happy ducks and school-children in our overnight stay. It simply is paradise.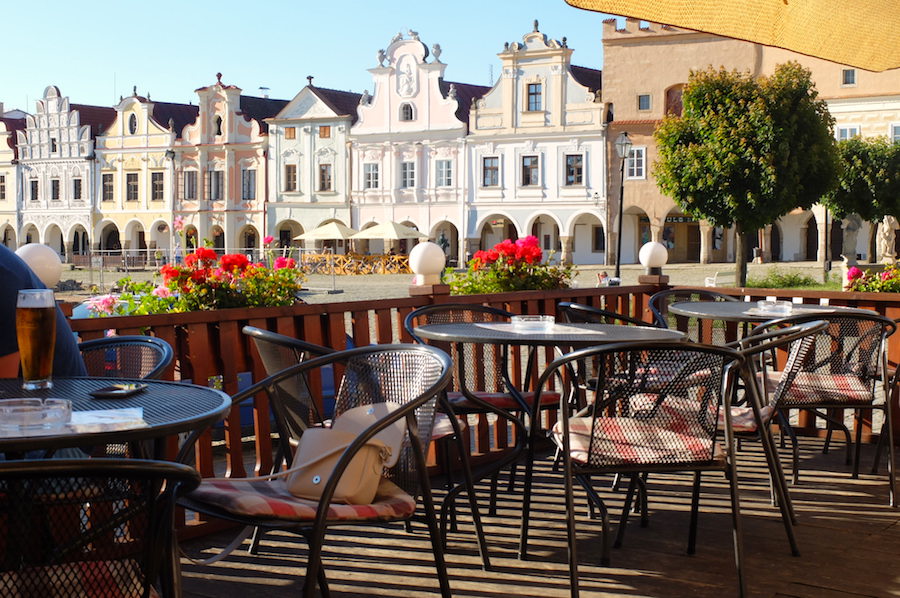 Roll back to the morning of the 24th, I had gotten up earlier as per usual, firing up my laptop to get the day's work completed before we played tourists. The life of a freelancer means I never have to really ask for vacation days but that is mainly because those days don't exist. As I boiled water for my first of many coffees of the day, I put on BBC news live, my morning routine for the past five years. This is when I learned the International news bulletin that Britain had decided to opt out of being in the European Union. Now, before you think I'm about to get political (I'm not) I mention this event merely because of the affect it had on me at the time. I'm not British, nor have I have any real attachment to the country — frankly in human terms, I would deem the United Kingdom and a fond acquaintance that I adore visiting from time to time.
But I was honestly completely shocked.
I almost forgot to turn off the kettle as I raced to read through article after article of the just-breaking news. Some people cited it the "black day of Europe"  and likening the event to a dirty divorce, while other news sources like the French Le Figaro ran a poll where the majority of readers said that they were satisfied with the result of the EU referendum.
I probably checked at least 10 sources that I trust, all while Nico slept peacefully in ease just a few feet away. I moved to the bed and nudged Nico awake whispering "Can you believe it, they voted for Brexit!" He just turned over and said lazily muttered an "ok," obviously more enthralled in his slumber than my freak-out moment. Now of course the British people have their reasons and that is for them to figure out, which is not for me to judge or even to really comment.
I only mention it because I've thought about that moment and questioning why I felt so emotionally charged that morning. Sometimes I fear that I care too much sometimes about things I have utterly no control over, what about you? Perhaps as an American married to a Frenchman living in Italy, it hits mildly close to home as how we have both benefited culturally from living in the EU, how nationalism can mean so many different things depending on whom you ask. Partly it is reminder that anything is possible, thus the importance of your vote truly has meaning no matter how much some would claim otherwise (I'm looking at you America).
As we spent the rest of the day walking the well-preserved main square of Telč. It made me think about how easy it was to drive from Italy through Germany up through Czechia. No long lines at the border, nary a passport check. We stopped for chips and sodas at random rest stops and explored small towns. I wondered, will that last forever? I've only known Europe as it is now, I can't imagine it any other way.
Telč, the perfect place for any world-shock moment
Beyond the world freaking out, there was plenty to appreciate about this charming town coined the "Venice of Moravia" which is screamingly peaceful. I would deem it perfect for an overnight stay but not more. First established in the Medieval ages as a royal water fort, the castle was built in the 1300's. The current "look" dates back to the 1500's as realized by local leader Zachariaš of Hradec after a devastating fire destroyed the town in 1530. Travesty turned into a world-wonder. It is said that Italian workmen were invited to the castle help the burghers to reconstruct the Gothic dwellings into neat houses with gables and arcades.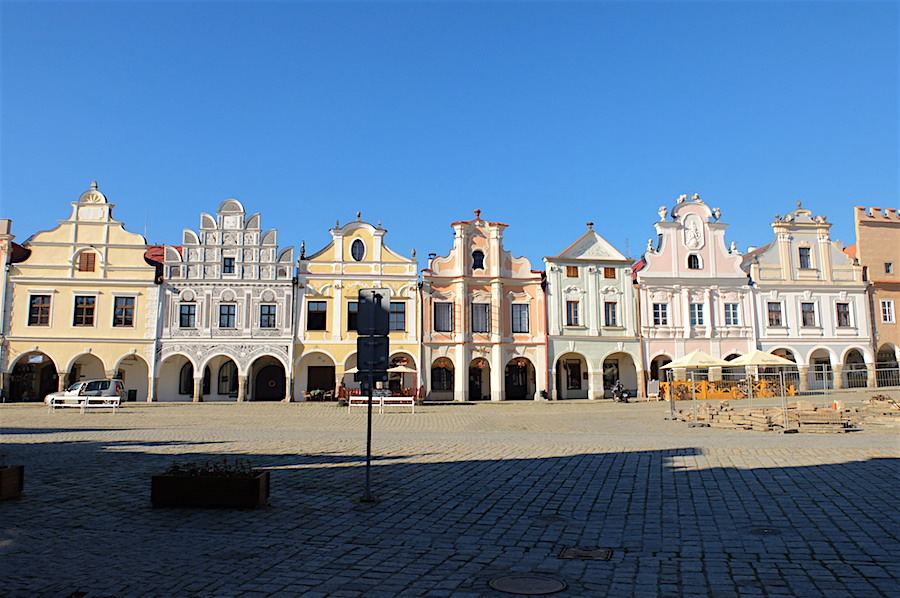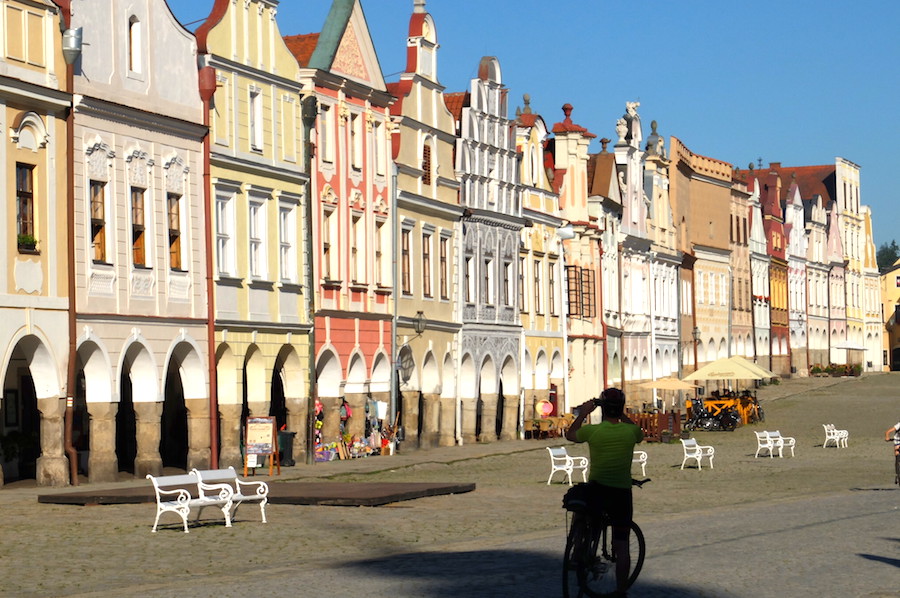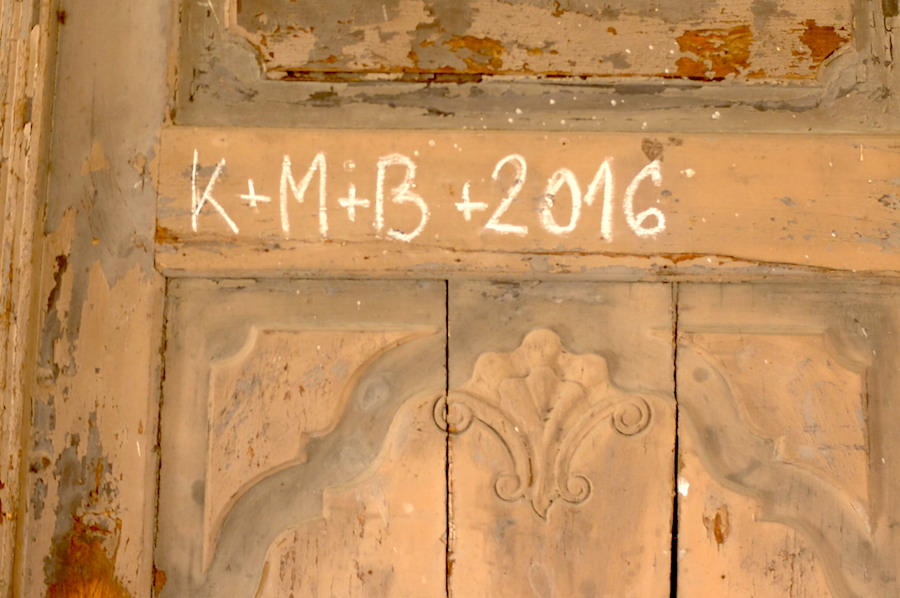 The colorful burgher houses in the town square boast both a Renaissance and Baroque theme and are unforgettable, each so colorful and beautifully intricate. It comes as no surprise that they gained UNESCO status since 1992. I wish I had an architecture expert as a friend who could have regaled me in each other glories. I was satisfied with just allowing myself to enjoy this pure, joyful moment of being in yet another gorgeous European village, sipping coffee as time slowly ticks on at one of the many cafe terraces lining the square.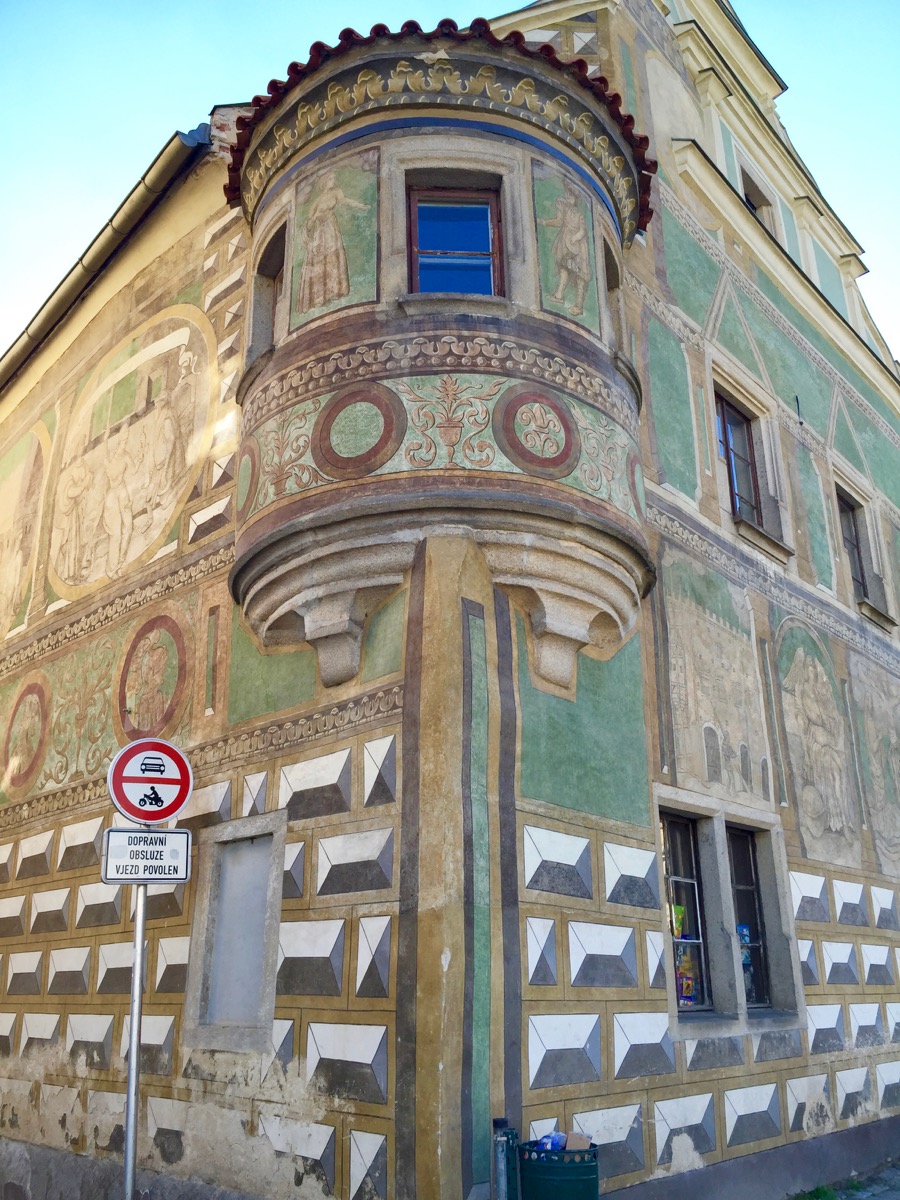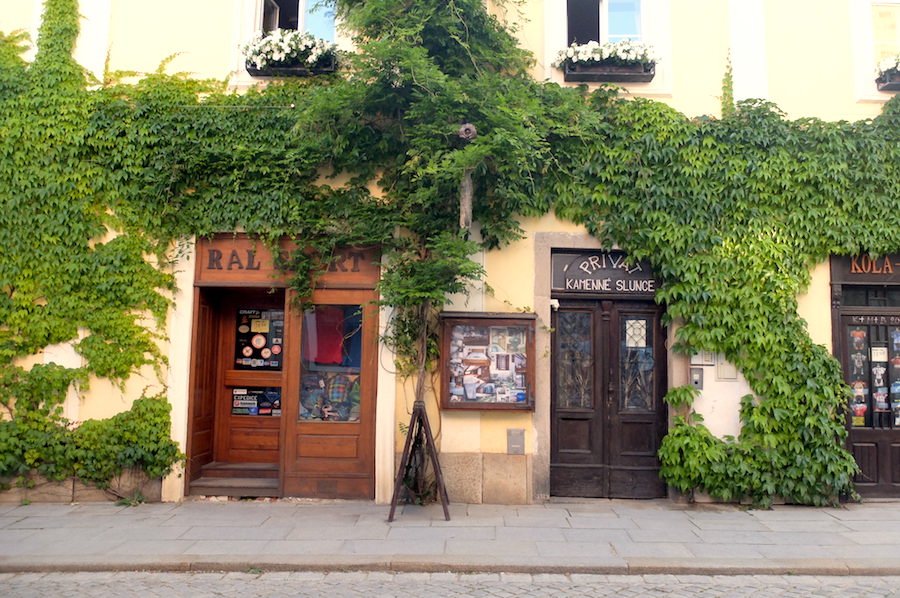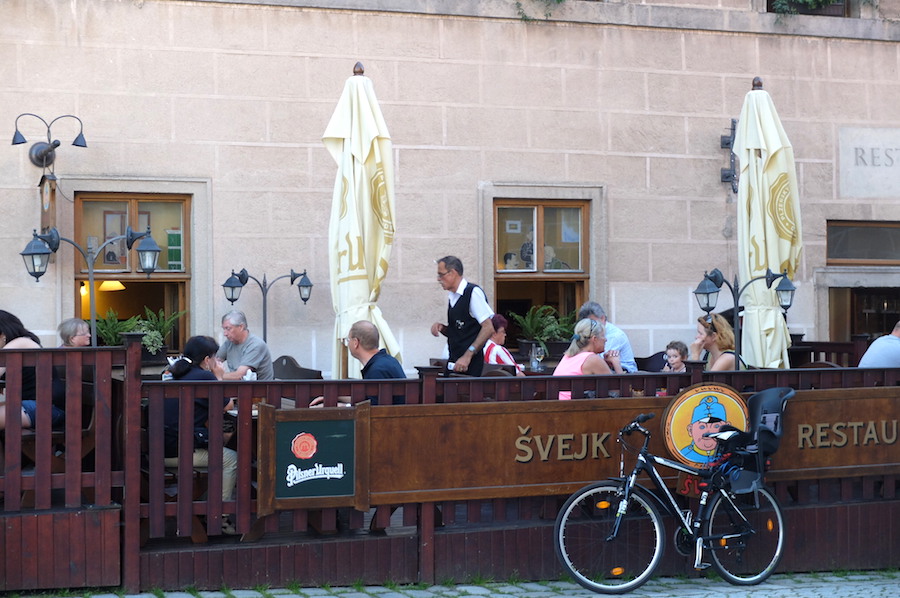 What makes them quite unique are the vaulted arcades, each one with the house created above, which meant the town had covered walkways throughout. The uneven cobbled rectangle-shaped square in between them is vast, during the day you can find it semi-filled with tours stopping for a quick look and at night with chatting locals having a before-during-or after dinner beer.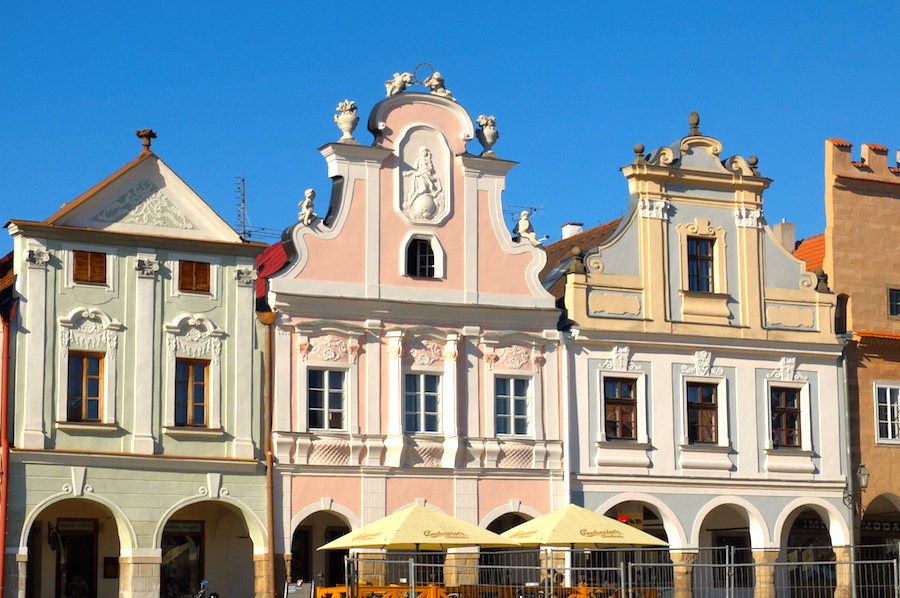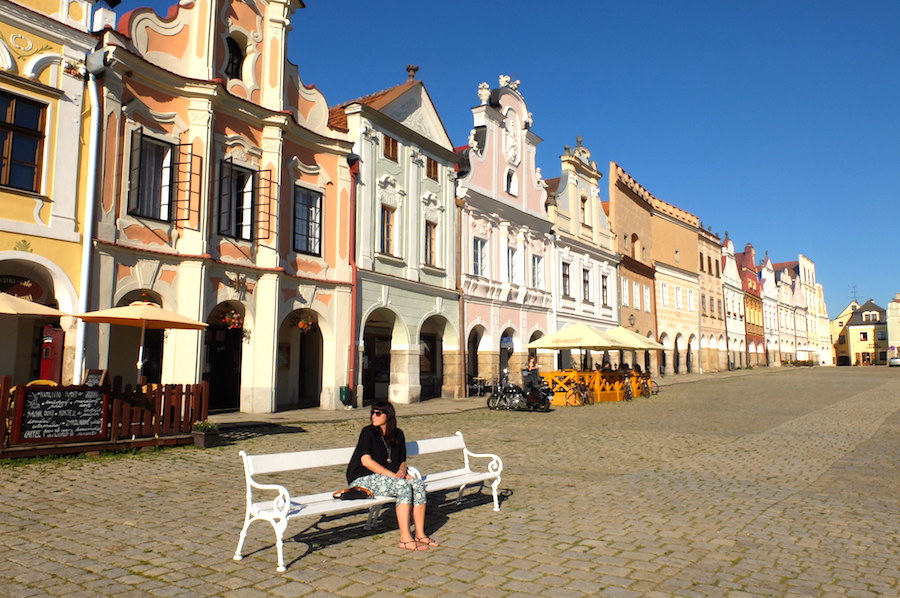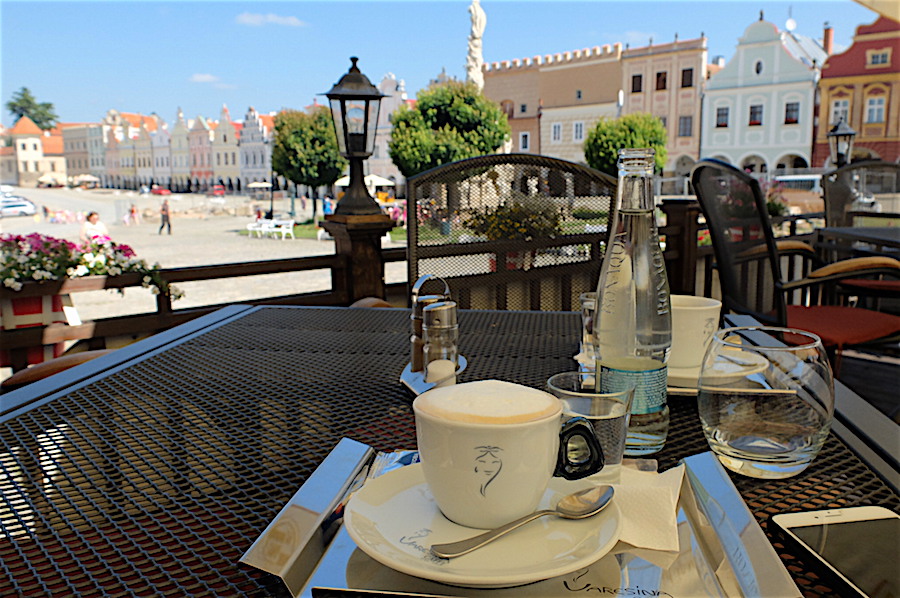 Notable sites include the17th century Renaissance Chateau, once the location of the old gothic castle. The last owners were the Podstatský family who maintained the Italian Renaissance style and who's living quarters are preserved, the interior can only be visited by guided tour. Surrounding is a pretty English-style park, the idllic place for a walk with your dogs. I can't imagine you could do so on Sting's estate but you get my drift.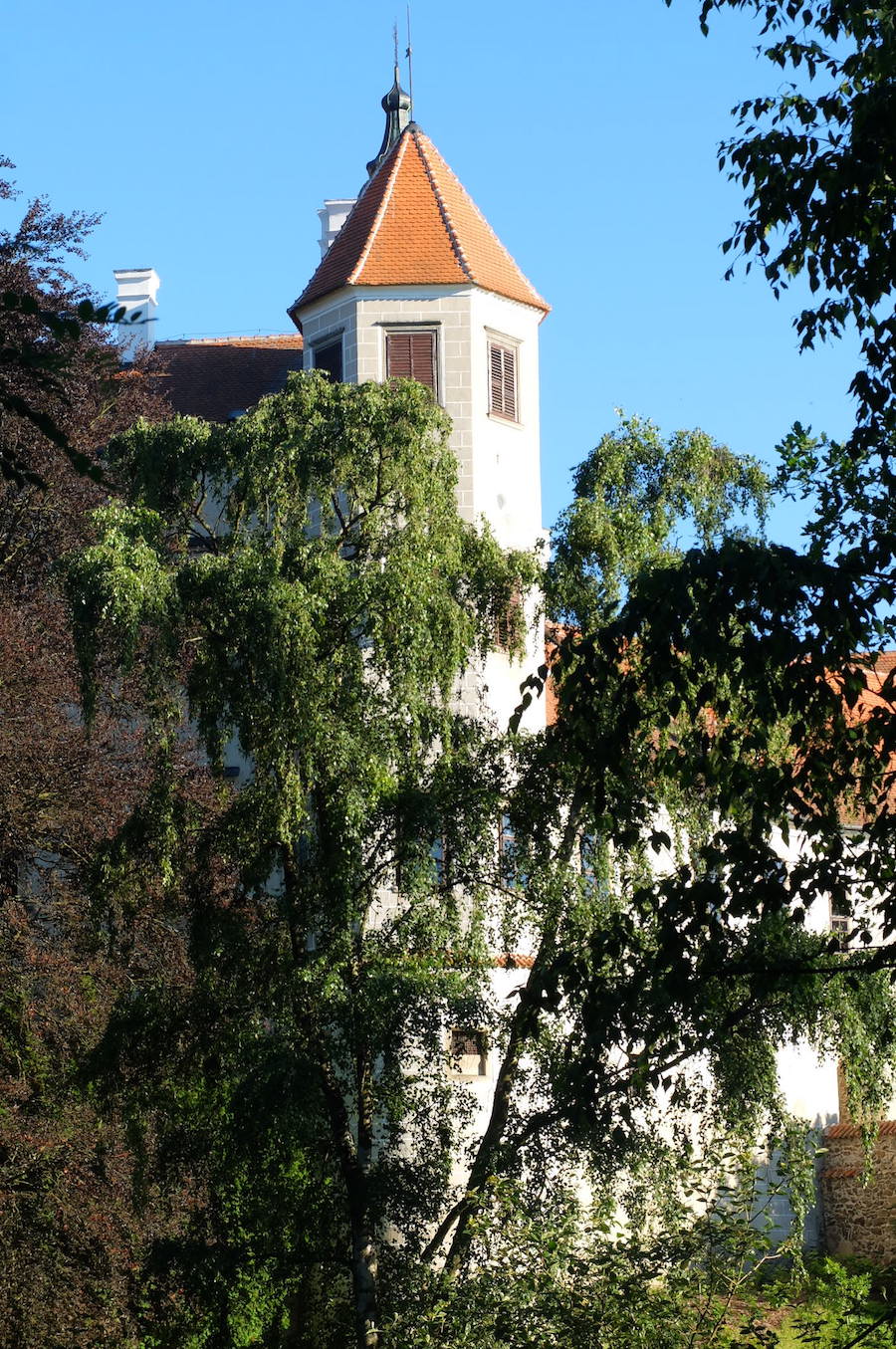 Also noteworthy are the surrounding ponds, which are more ancient than they might look. They date back to the town's creation. One of them separates the "old town" from the newer sections and I'm aware that you can hire a boat to bob around Štěpnický pond if you should well please. We caught a group of ecstatic ducks who suddenly were beckoned through bird-call to another side of the pond, it was quite cool to see tons of flapping wings create a few waves as they scrambled to grab crumbs from the other end.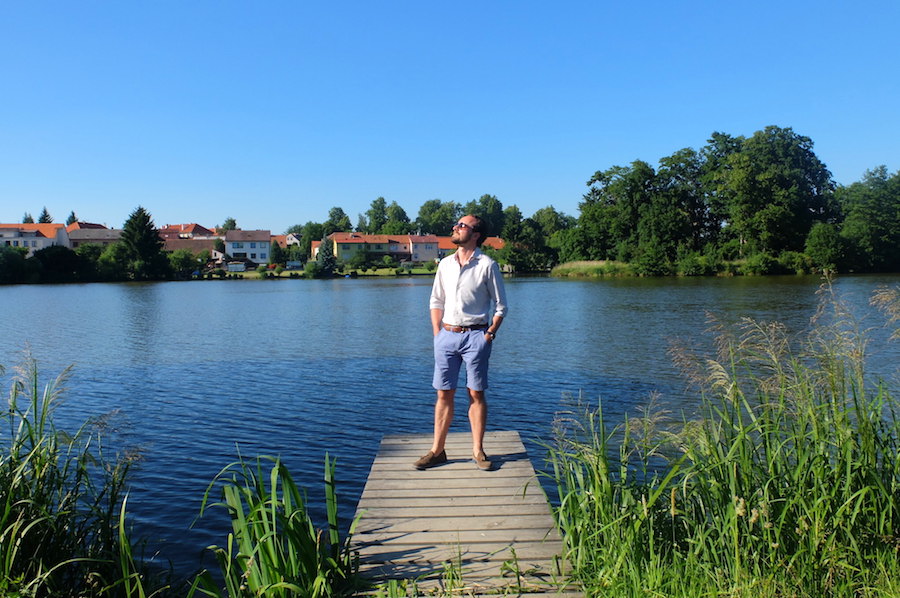 On a total blogger fail, I have no restaurant recommendations for you since the food here is pretty average and the restaurants more or less serve the same fare, but that shouldn't deter a visit. Embrace the horseradish, meat, garlic bread and sip a beer for less than a bottle of water in Italy.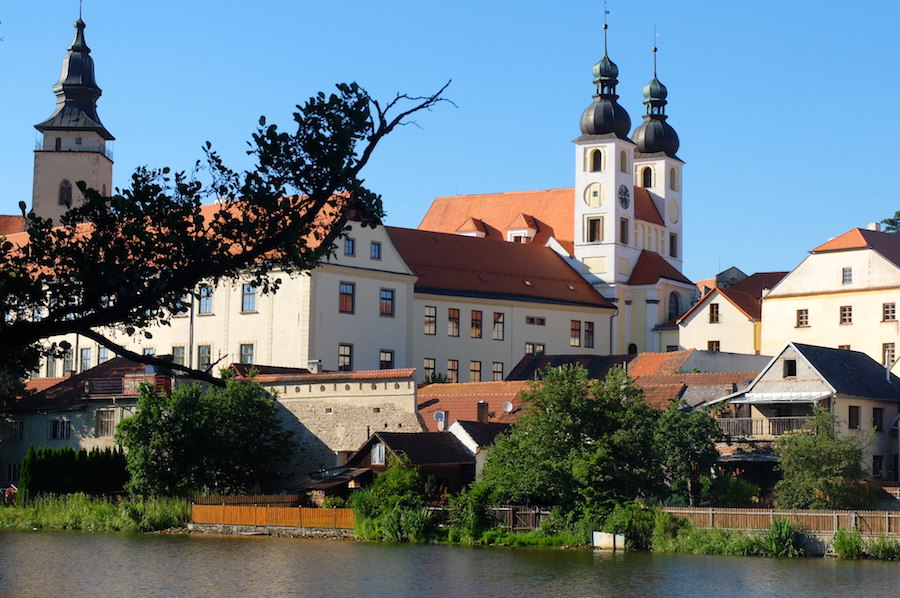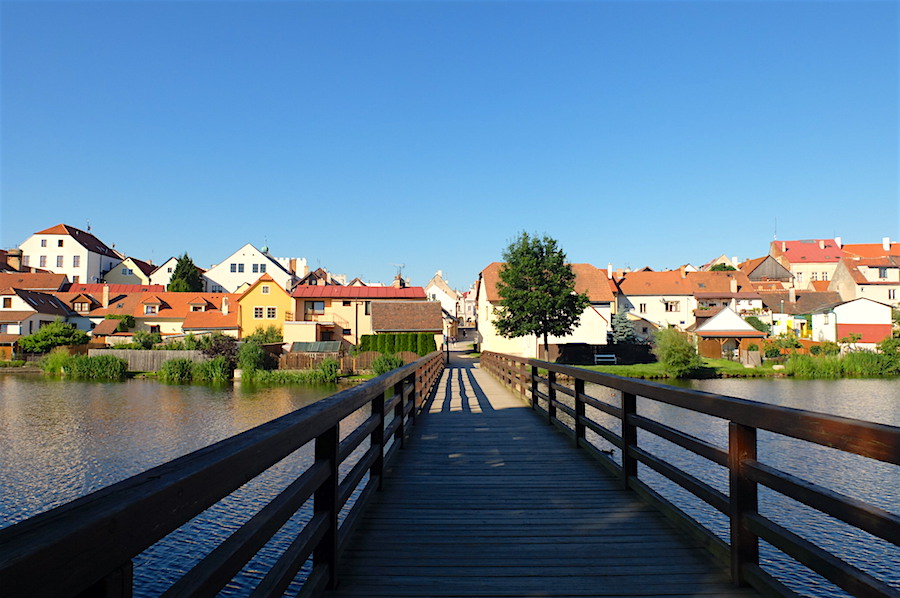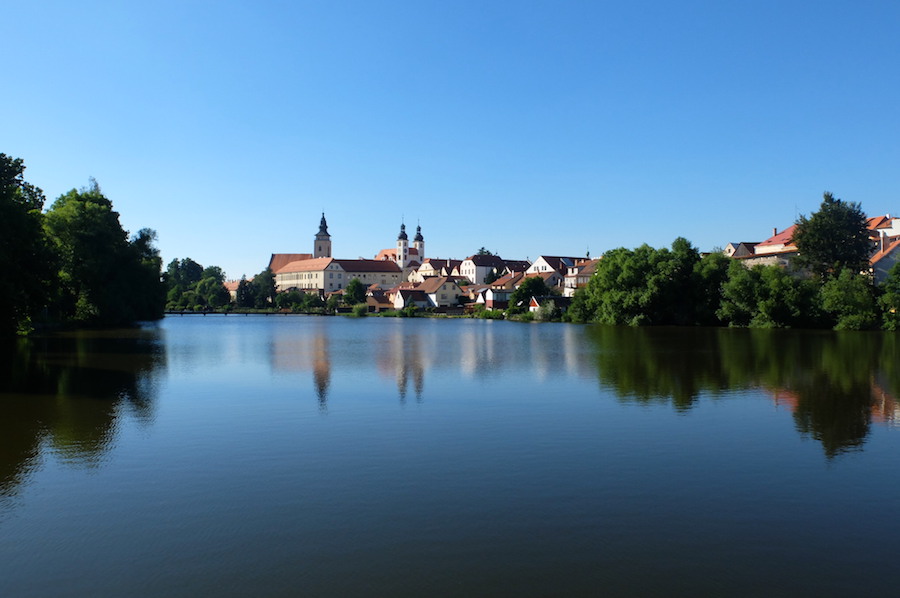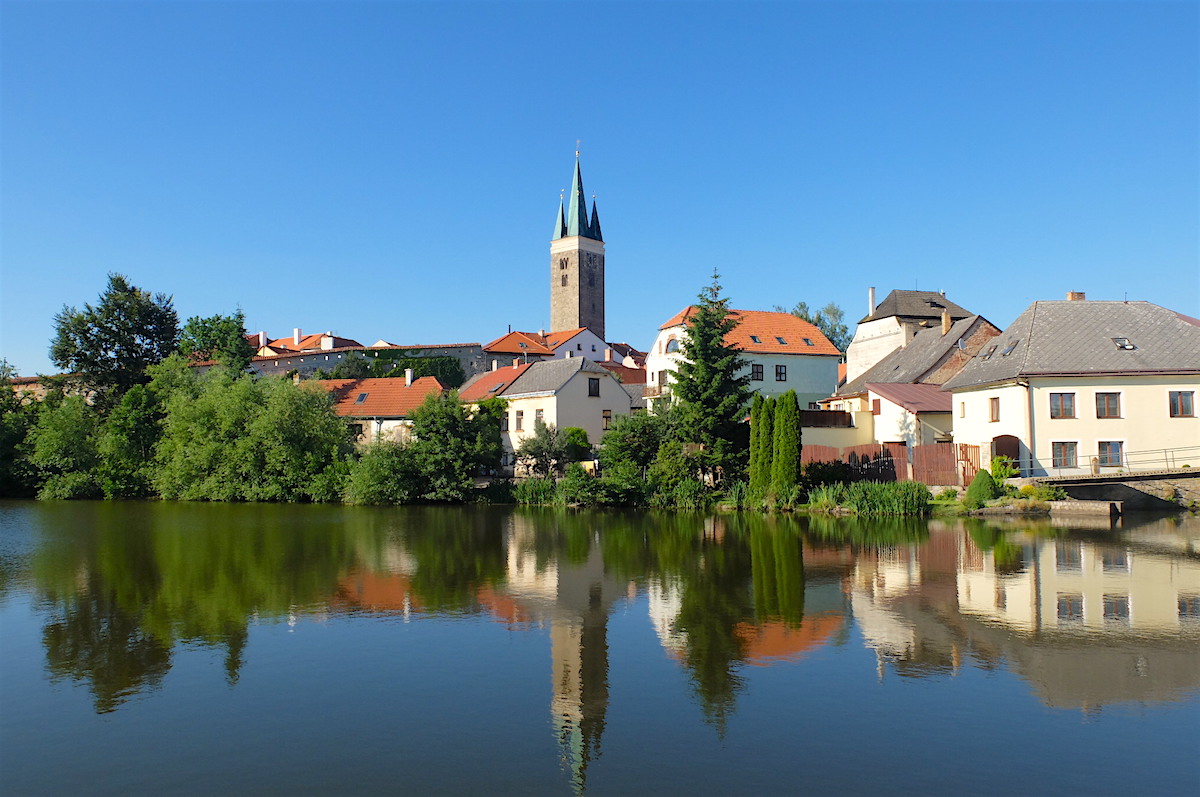 Accommodation wise, we stayed in a charming apartment in Chornitzer house, which dates back to 1530, and located in the old town square náměstí Zachariáše z Hradce. Forget about trying to say that 10 times, just try once. The price versus what we got was very decent, 80€ for quite a large space that could have fit more than just us two. I was pleasantly surprised when we opened up the door and found an apartment bigger than mine back in Florence, with great working WiFi, and a nice view of the square outside. Out the back door of the building, you get  direct access to a pretty bike or running path around one of the ponds, which would make a great picnic spot in the warmer months. While we went straight to our next location Český Krumlov the next day, I've been told that the nearby towns of  Jindřichův Hradec (home to one of the most extensive chateau complexes in Czechia) and Slavonic are worth a visit too.
More details
Where to Stay
Náměstí Zachariáše z Hradce 56, 588 56 Telč
When to go?
If you want to see the city really come alive they host an annual summer festival which combines 14 days of music, theater and more (which you can read more about here). Otherwise I truly embraced the quiet vibe of when we visited in late June.
For more info on what to do in in Telč, check out the official tourism website of Czechia.