Pretty much everyone I personally know who has been to Prague has told me of a city that seems straight out of a postcard. Cobble-stoned streets (that kill your feet), interesting architecture and a vast, somewhat complicated, past. It's also wildly known as a backpacker mecca, a bit how Chiang Mai is a blogger mecca, the low prices attractive a euro-trip cheap type of adventure. This might be why some people decide to have a Prague stag do, which I guess would also class as a unique way to experience Prague.
Honestly I almost avoided going because of that. I didn't really wanting to be a part of so many people's two-week whirlwind trip through a massive continent, swilling 1€ beer and spilling some on my feet as I make my way past. However reality set in that I come from a fellow "bucket-list-to-be-crossed-off" place in this universe, Florence, Italy. One where "off season" has become a bit laughable to us locals who see the streets swell up on any given day.
Everyone wants a piece of it, who am I stop that?  When Nico suggested we do a week-long road trip through the Czech Republic, my interest peaked. A chance to see not only Bohemian Prague but what else this country known as the "city of a thousand spires" had on offer as well (more to come on that later on the blog).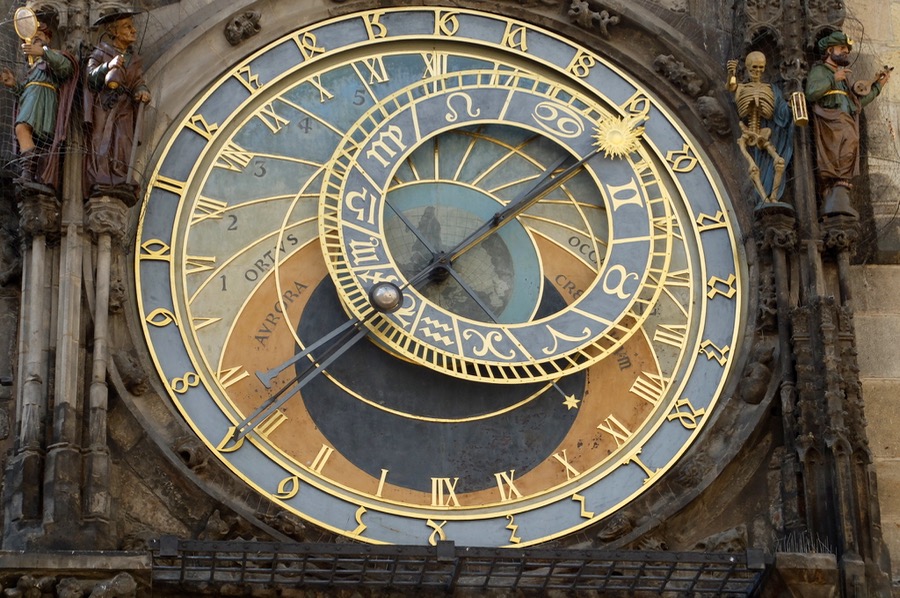 What I didn't expect, is how much I liked this city but I should have known better. I've always been so intrigued by places with complicated histories, place like Berlin or most recently Normandy's Omaha Beach, there's a weird part of me that is absolutely fascinated by centuries of hardship and most of all, how society moves on from the most devastating of circumstances.
Prague has spent centuries fending off conquerers, religious oppression and was a communist controlled city until the peaceful Velvet revolution in 1989. Since then tourism has skyrocketed, with so many dynamic new offerings that I could feel a sense of pride in many Czech people I met on our visit. And not just for their homegrown hero Franz Kafka (who penned the novel "The Metamorphosis." There is so much to do you need plenty more than just a few days to discover it all.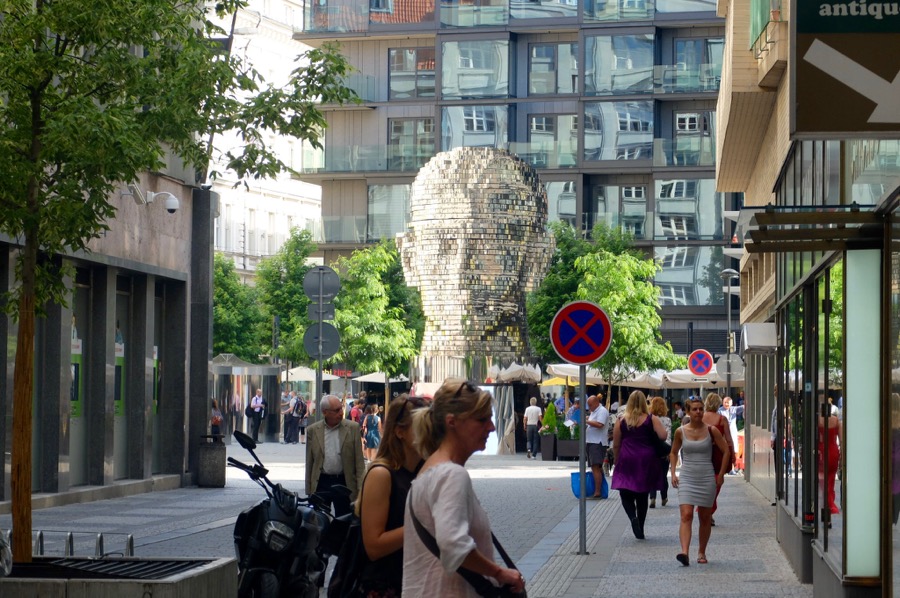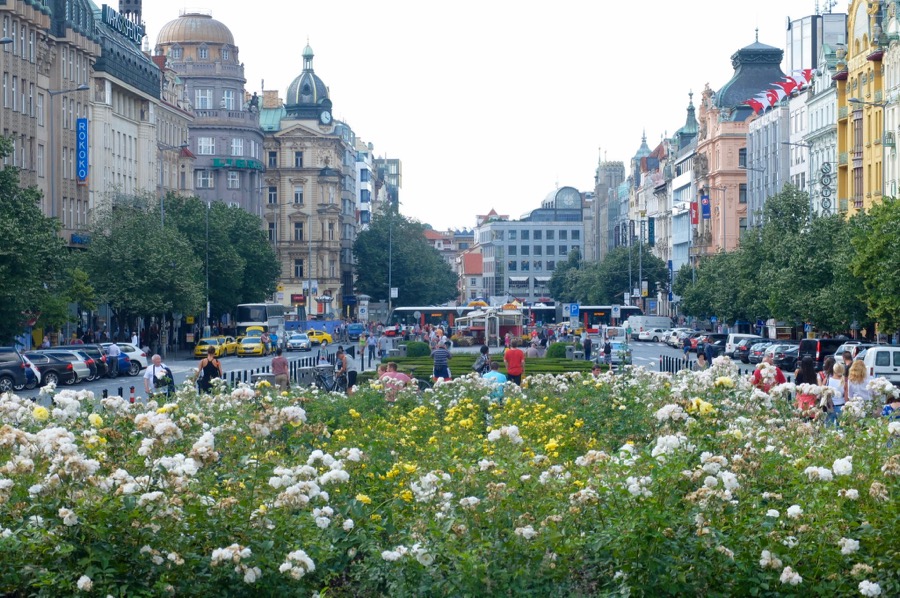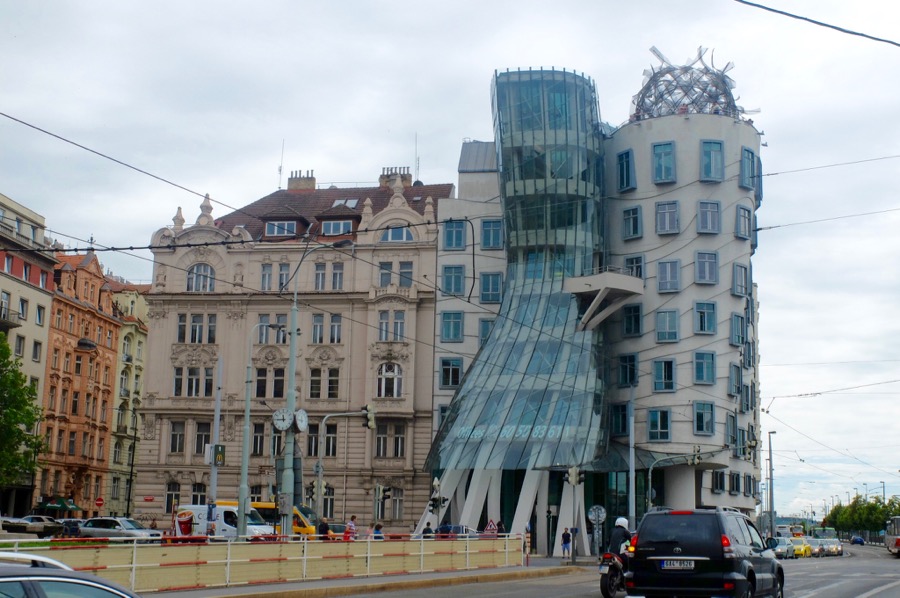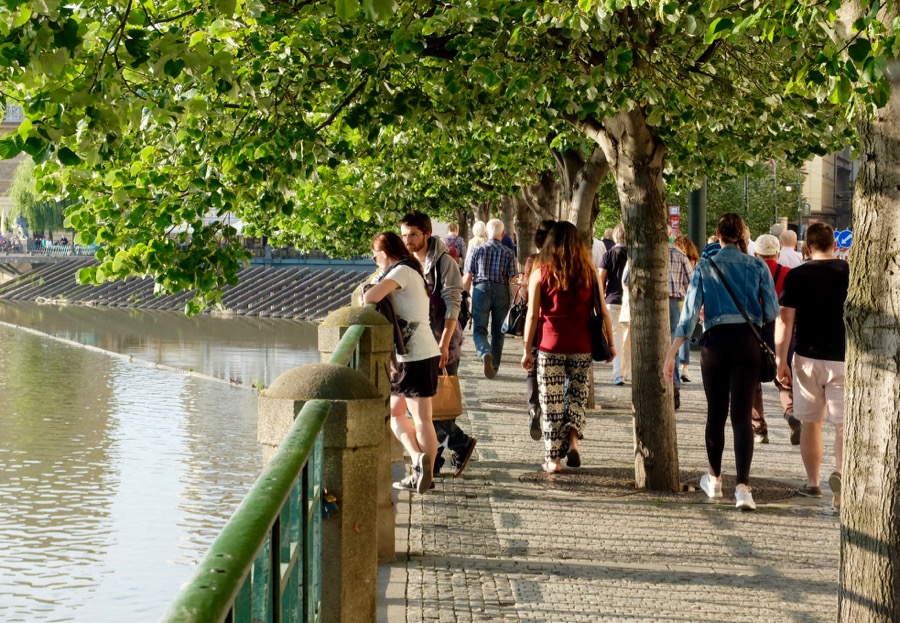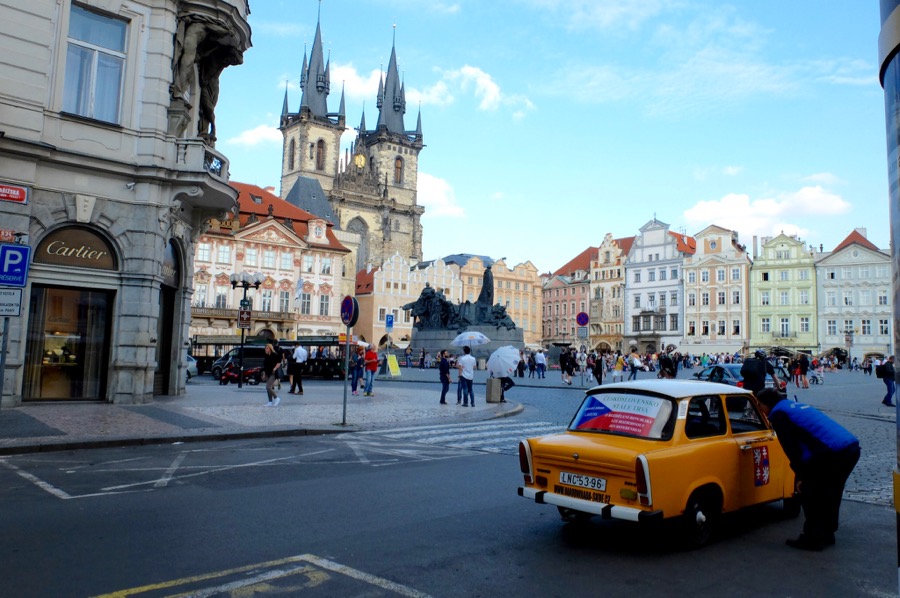 For our time in Prague stayed in a former monastery turned beautiful hotel with a 600 year-old recipe for beer that sort of set the tone for just how glorious this trip was.
Highlights of our time there including devouring our weight in open-faced sandwiches trying the dumplings. I also discovered the most popular communist-era toy and a wine bar hidden in a courtyard. 
Obviously you can find any number of itineraries probably far more in-depth than mine, but my view is as a first time visitors discovering the city through these three different options.
A Fascinating Trip Through History
If being a blogger has taught me anything, it's that if you want to get really into the city you're visiting, you need a little help with that. Since I've started writing, I've gone on countless tours and each of them has helped this non-expert (me) realize the exciting context of any given destination and Prague was no exception. We ended up going on a tour with Context Travel, who thanks to their curated small-group tours with educated docents are more known for a scholarly approach to history and culture, and I always find them a lot of fun too.
Off we were for a three-hour walking tour through Prague's beautiful old town exploring the "Habsburgs & Jesuits: Conflict under the Bohemian Crown." Our guide for the day was the lovely Katerina who started us on a fascinating trip through local history. We met at the iconic Cafe Ebel and made our way to the our first stop, the Bethlehem Chapel where conversation flowed quite easily.
Katerina was a delight to be around and was patient with our many questions, along the way she explained that over 80% of Czech people are actually atheists. As she put it "people are  quite spiritual but do not adhere to church."
This in partly due to the fact that the Hapsburg's were traditionally Catholics and their oppresive rule was known as the dark ages and oppressors. Also under the period of communism you couldn't be religious. You risked arrest for making a cross, which means that people are now just starting to explore their spiritual faith. It seemed a little weird to me in a city so full of churches however they were built in the 14th century when Prague was capital of the Holy Roman Empire.
Arriving at the Bethehm chapel we noticed the word "zapravdu" written out front. It serves as a memorial of truth for Bohemian religious leader Jan Hus who was a forefront in the Czech reform movement. He was born in 1370 and well known for his organized student riots 100 years before Martin Luther against what he saw as corruption of the church (you know those selling of indulgences and such). He was eventually convicted of heresy by the pope and in 1415 burned at the stake.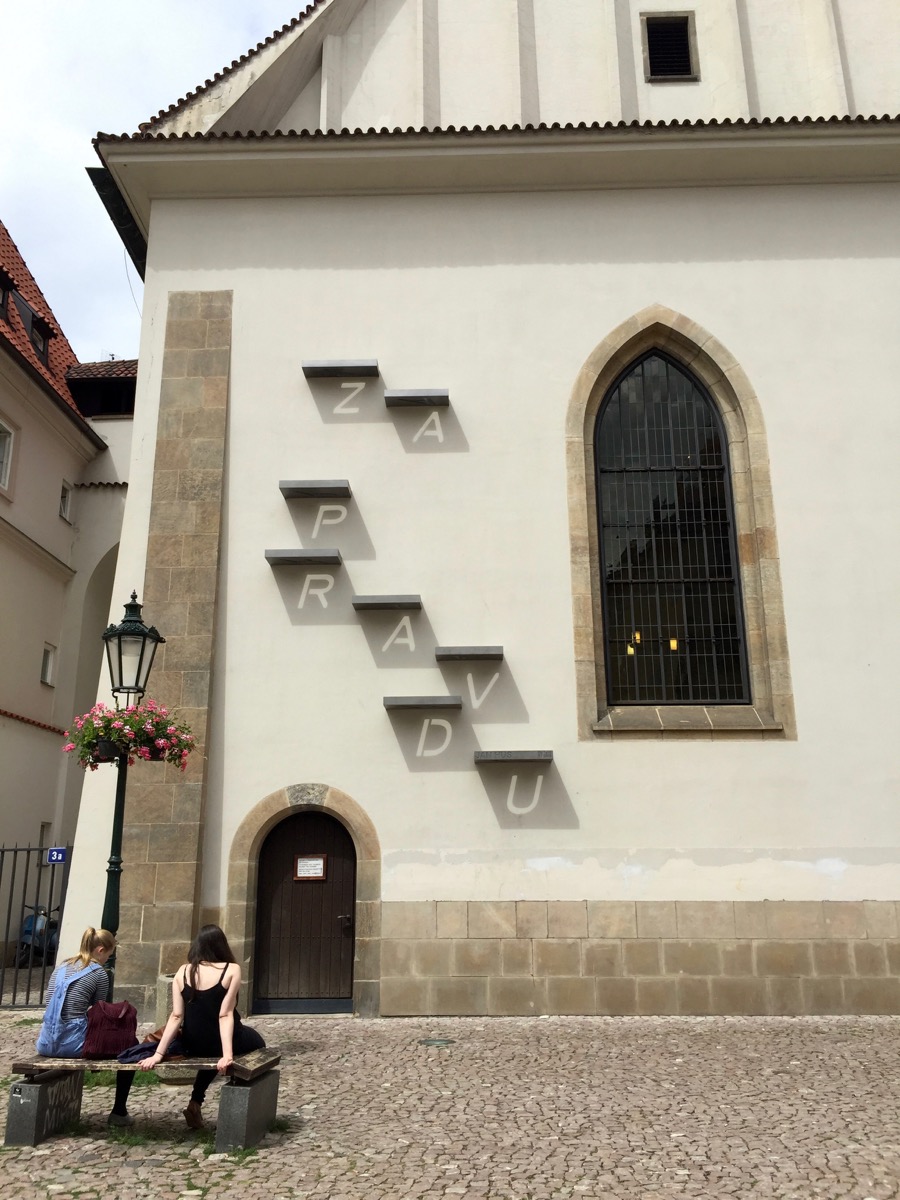 With the arrival of the Hapsburg's, things got shaken up in Prague with a lot of Jesuit influence coming into the forefront. This the 30 year's war started (and ended) in the city between Catholics and Protestants, occurring between 1618 and 1648 and costing more than eight million lives in central Europe. It was said that the Hapburg's in Vienna were attempting to limit the freedom of protestants and seize more power resulting in a Bohemian revolt. Several Bohemian nobles actually threw two governors and a secretary out of a window at Prague Castle in 1618 (they survived, rumor has it after falling into a pile of manure) which sparked the war. Many nobles who took part were executed in the process and you can spot 27 crosses in the pavement in the grand square even today.
In further evidence of these turbulent times, after the 30 years war the bubonic plague wiped out 1/3 of the European population. Which made locals think that god was punishing them (sounds like Florence and Savonarola).
While I don't want to get into every step of the tour, you'll have to go yourself to discover it all. Our second stop was at a Dominican church and monastery, the Church St. Giles. There is a fresco on  on the ceiling with a depiction of San Pietro in Rome that is about to fall down with San Domenico  sustaining the church with fellow Dominicans holding scriptures. Here you can see people falling down, they represent the Protestants under the crushing power of the Catholic Empire.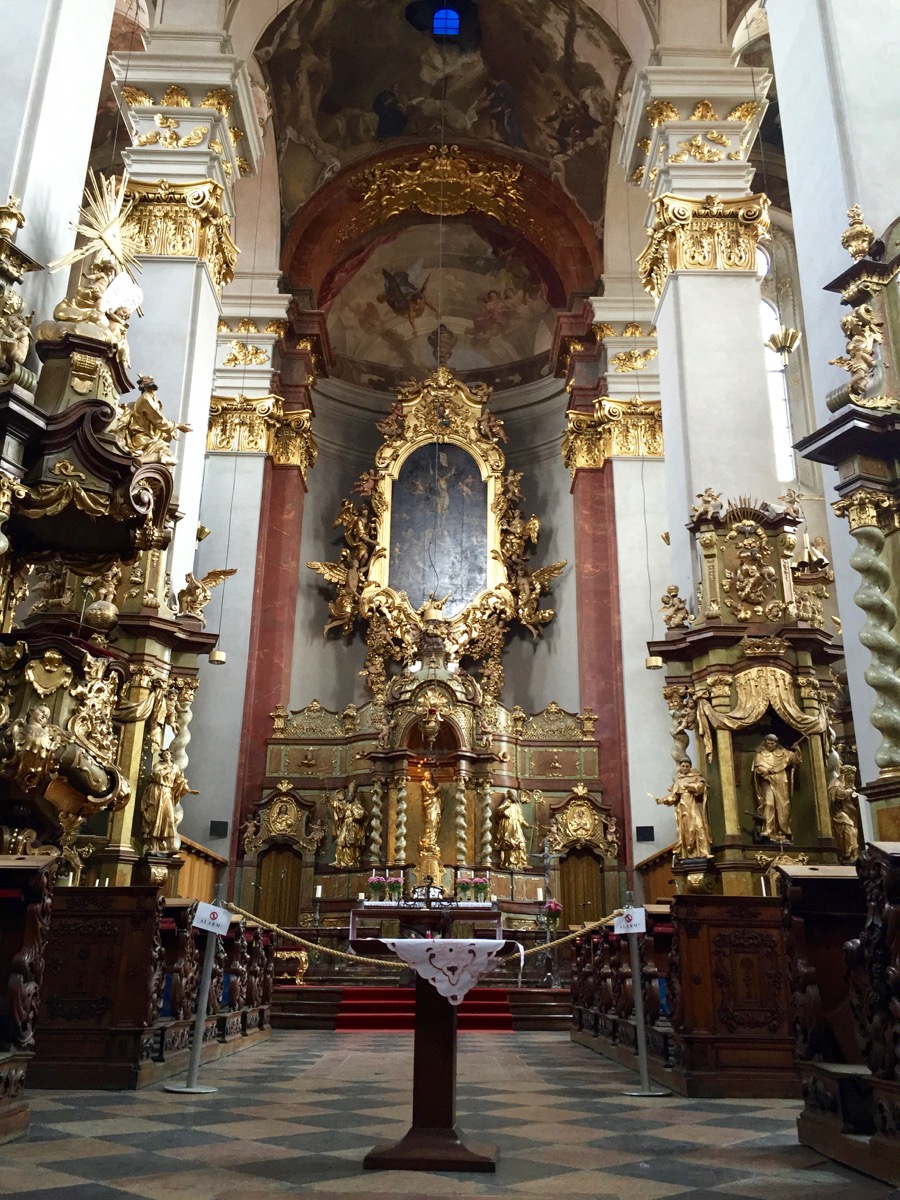 My favorite stop was at the Klementinum complex, known for one of the most beautiful libraries in the world (see evidence below). First born as a Dominican monastery (11th century) it was then a Jesuit college, the Jesuits were strong promoters of the sciences and the arts during this turbulent political time. It would seem odd to many that such things can occur, but all you have to think about is the Renaissance times in Florence where political takeovers, exiles and arrests were the daily norm.
Here you can spot an original baroque clock before visiting the library (you can only look in) with original manuscripts and prayer books that date back to the 14-15th centuries. The library itself was established in 1722, eventually becoming a national library.
The best kept secret here is the amazing terrace, which is completely worth all of the stairs you need to take to get there. It offers a remarkable 360 view of Prague. On the way you'll spot numerous astronomical instruments.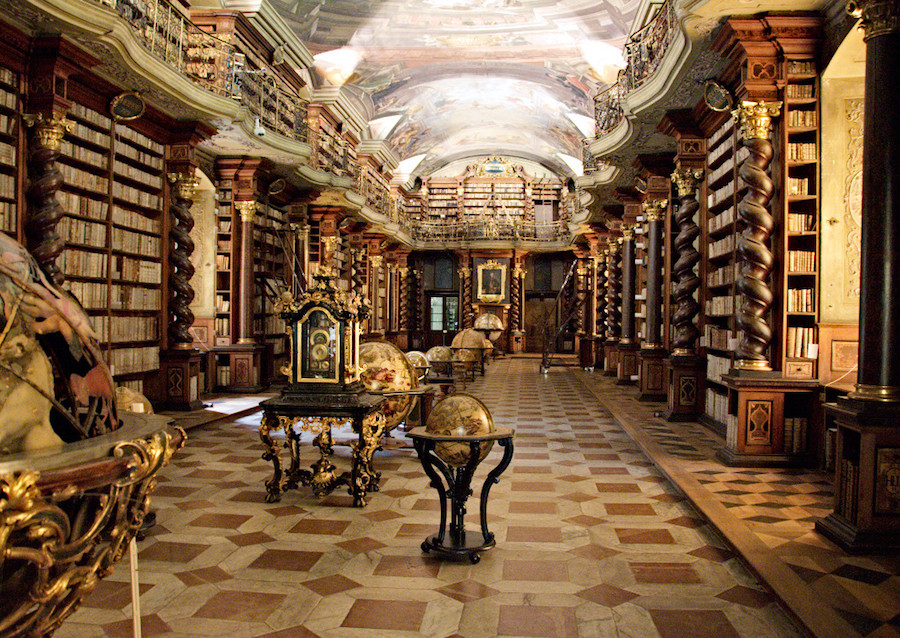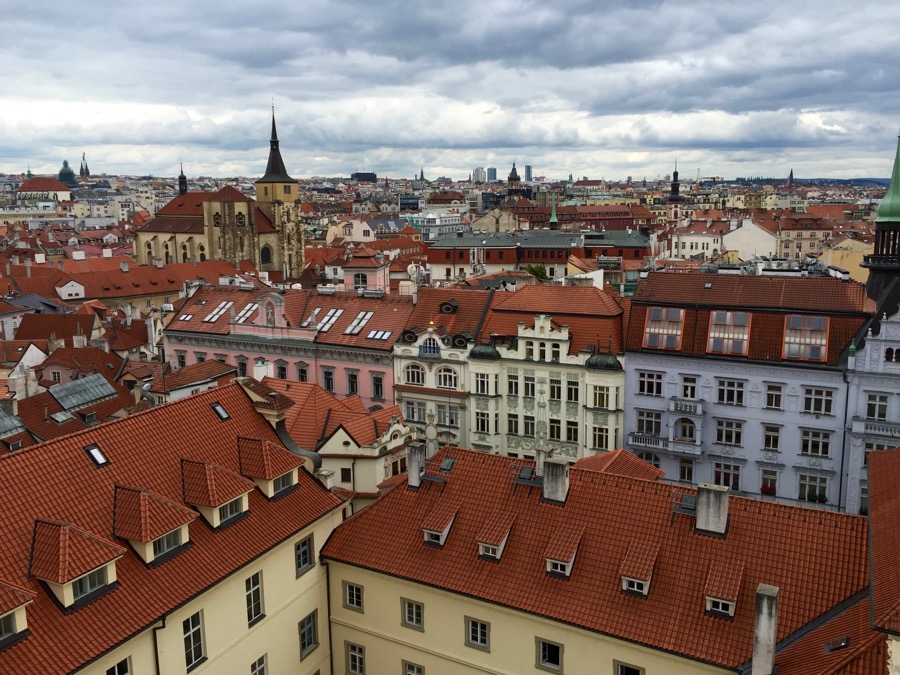 We hit up a few other spots before ending at Nico's church namesake on "our" side of the river (I love to say that). The interesting part about the 18th century church of St. Nicholas is that the facade is concave, not flat. It almost feels as if it's moving, a true Baroque beauty, the architecture like a sort of curved membrane. Inside nothing is totally oval, it almost feels as if it is pulsating, and it served it's purpose well. Since during this time people didn't have that many visuals, entering the church like was a transluscent experience, a bit dare I say it, like entering heaven. Inside you'll spot plenty of dominant symbols of Jesuits over Protestants.
https://www.instagram.com/p/BG67T3ARTB2/
Taste Of Prague Food Tour, Visiting This City Through My Stomach Was Obviously My Top Priority
You wouldn't think that food would be much of a priority in Prague, after all I heard mostly about the cheap beer. However, things have come a long way since the one-party system. I did all of the appropriate research, saved a bunch of places that you'll find in the google maps at the bottom of this post.
Determined to find out otherwise, I joined the fabulous team of Eating Prague food tours who for a good chunk of a day took Nico and I around town on a foodie adventure. And along the way, we were treated to plenty of history lessons which we both appreciated. It was a wonderful tour and I highly recommend it to anyone who is looking for an intro in local cuisine and doesn't mind dedicated four hours of their day to exploring it.
A few highlights were the famous chlebí?ky, Czech open-faced sandwiches made with all sorts of delights, this was my idea of taste heaven and we tried them at the iconic Sisters. Owned and run by local culinary darling Hana Michopulu. First was a version made with creamed beetroot, goat cheese and nuts, second was celery and and pepper, and the third was my favorite a potato salad, egg, and ham. Sunday lunch in a bite if you ask me. This is popular party food and I may introduce this tradition to our own house.
Next stop was NAŠE MASO, a popular butcher shop across from Sisters that was inspired by a man who couldn't find decent meat in the city. This was likely a symptom of the times. Determined to change this, he decided to not hire local butchers who would be sure to cut corners in favor of people who just loved meat. Smart move because this place is now super popular, with groups like us stopping for a taste or locals looking to get their chosen meat cooked on the spot or to-go.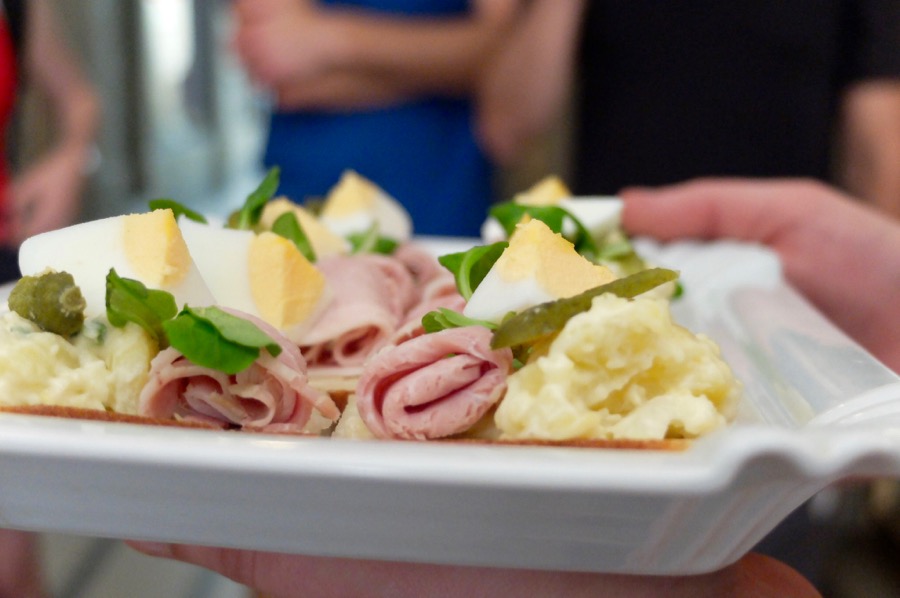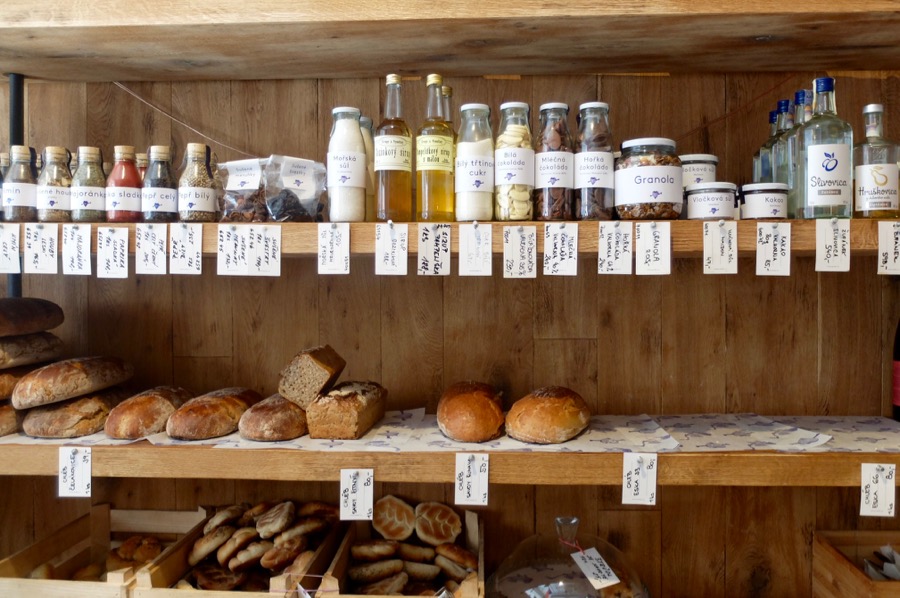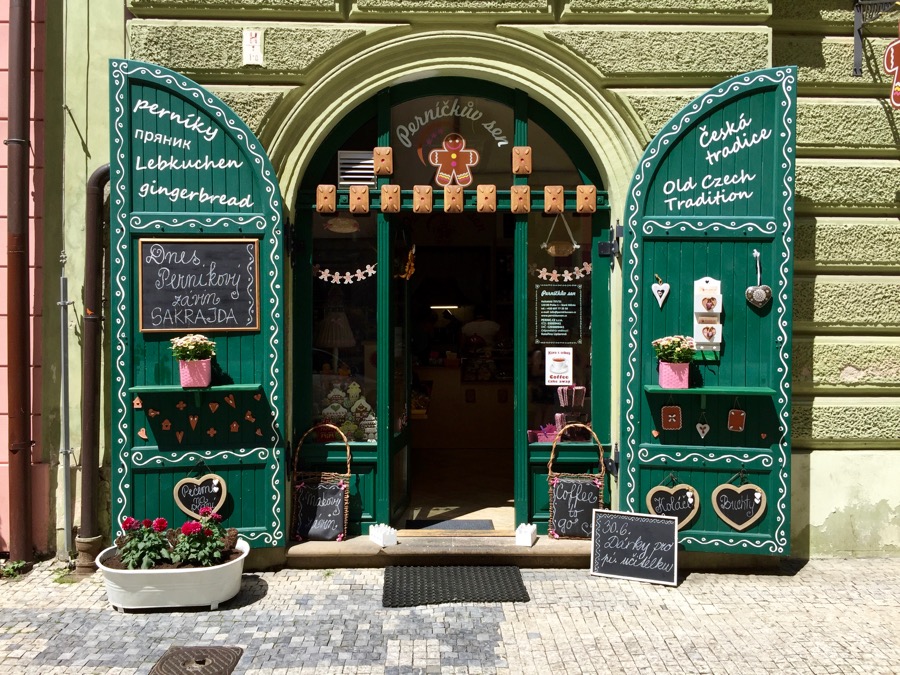 I should also mention a wonderful stop the cutest gingerbread shop in town run by two sisters. Funny enough the gingerbread doesn't taste at all like you think it might, because its Medieval origins date back to a time where procuring ginger was quite difficult, instead they used a type of pepper. Ingredients here include nuts, honey, poppy-seeds and plum jam. Everything was delicious and this would make a great place to stop for sweet souvenirs.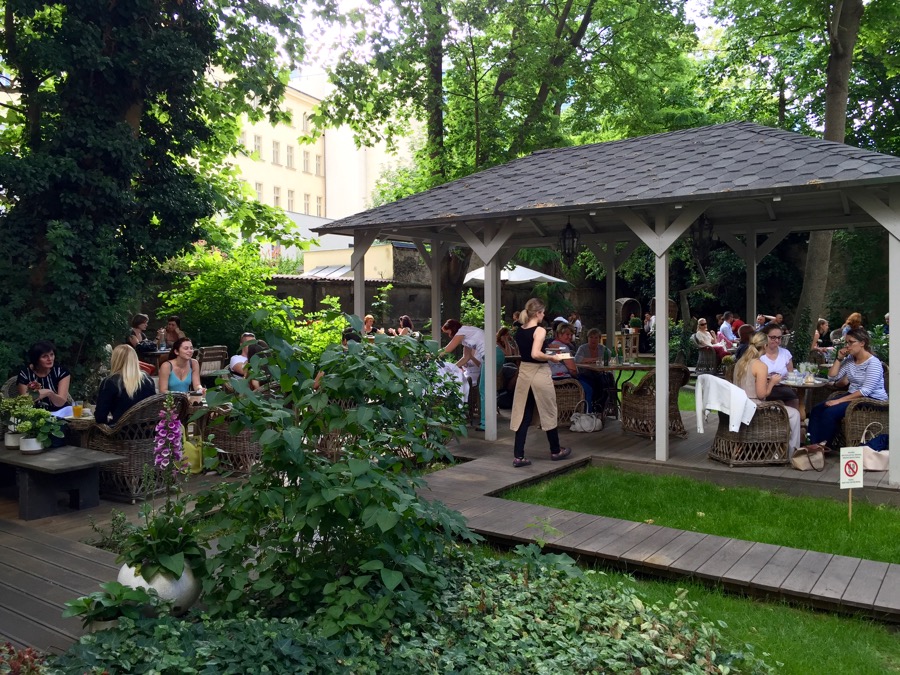 We also tried "sauerkraut soup" in an old tower which was such a beautiful experience, it was very similar to a dish I tried in Slovenia. The fermentation leaves a mark on your tastebuds, that's for sure. We ended the fun with dumplings at the iconic Cafe Louvre, a 100 year-old cafe that is just as swanky as it sounds.
As we ate and drank our way around the city, we also got to meet "Krtek", a little stuffed mole that made his debut in the late 1950's in a time when Disney was persona-non-grata around these parts. Krtek wasn't just in fluffy form, he  was more famous than the Kardashians. With a popular cartoon TV show, he also managed to make it up to space, accompanies with U.S. astronaut Andrew Feustel on the Space Shuttle Endeavor. Sadly I did not get to bring a version home with us, there's always a next time.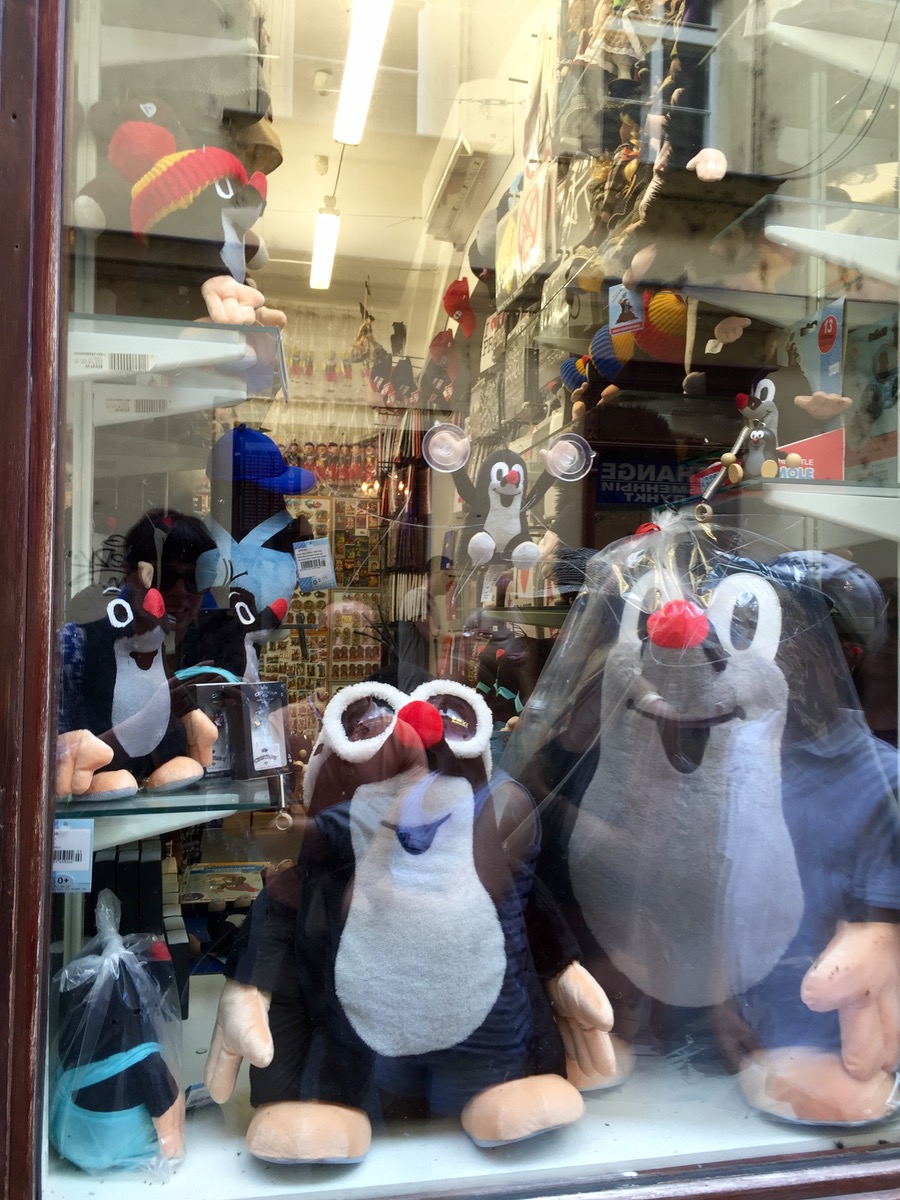 On Your Own
The Famous Stuff 
The wonderful thing about Prague is how much visual eye candy there is in one, easily walkable town. Look any website and you'll find suggestions to visit the Charles Bridge (duh), the 11th century Jewish quarter and of course the famous Prague castle.
Charles Bridge 
The bridge crossing the famous Vltava River in Prague is known as the 520 meter "Charles Bridge" commissioned by King Charles IV in 1357. You'll find pretty busy during any time of the day, since it's one of the city's biggest attractions. Up until 1841 it was the only way to connect the old town with Prague castle and surrounding areas. Expect the natural medley of street hawkers, musicians and people taking plenty of selfies. Make sure and gaze at the 30 statues of saints, the most famous being St John of Nepomuk.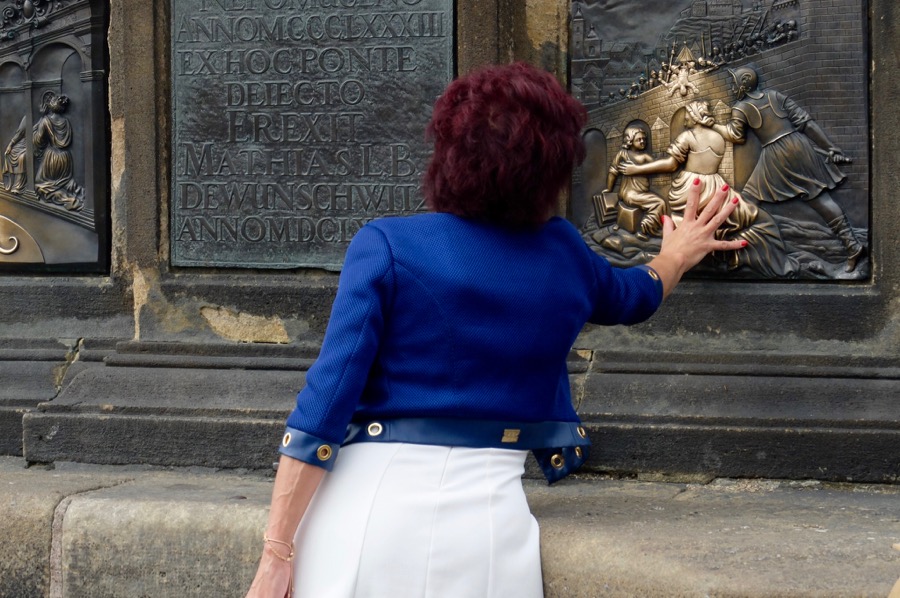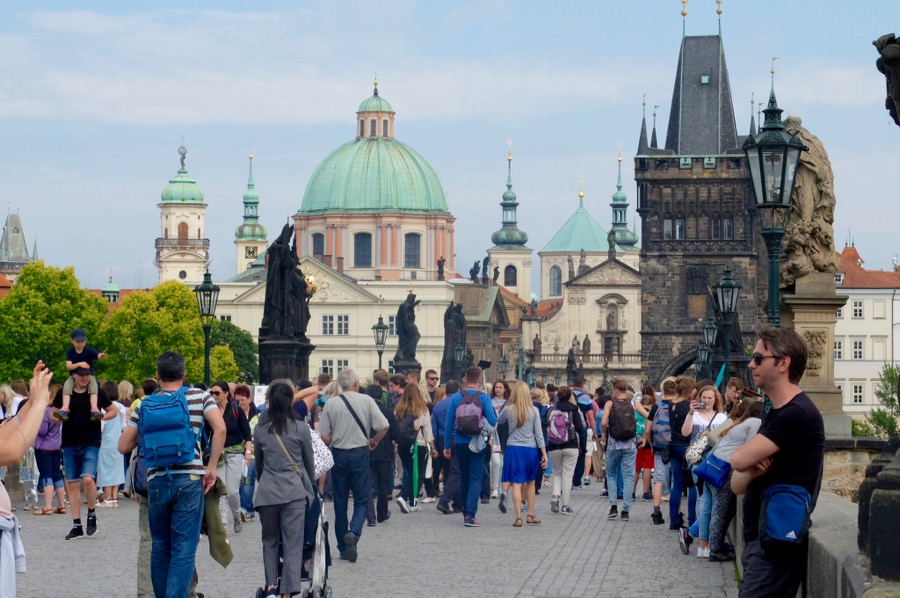 Prague Castle
It was established in the 10 century and not only is it the largest castle in the world, it also happens to be the seat of the Czech government and former Bohemian kings.
Obviously this is hardly "unique" for locals but as a first-time visitor, this is a true must and I honestly enjoyed it. The ticket price is pretty high, however you can walk around the grounds for free.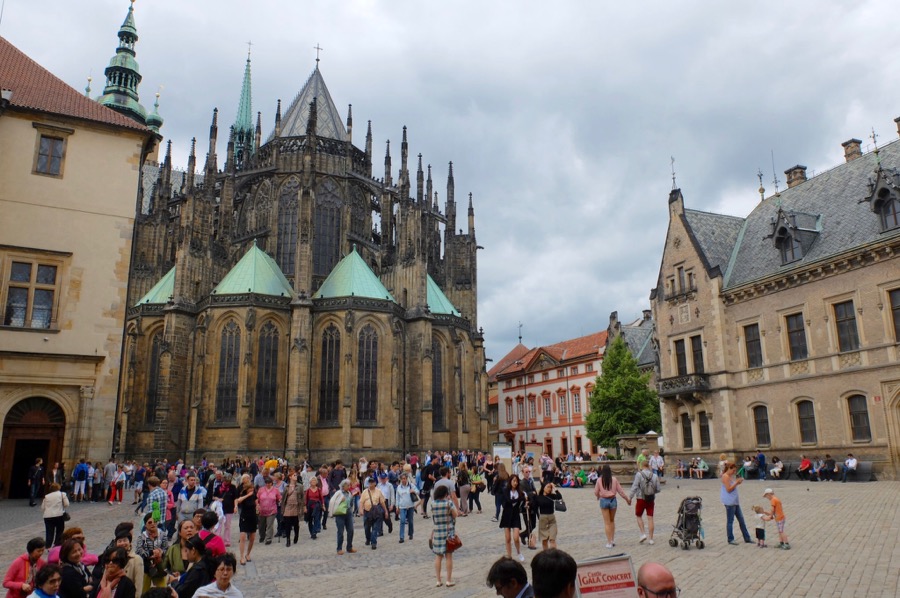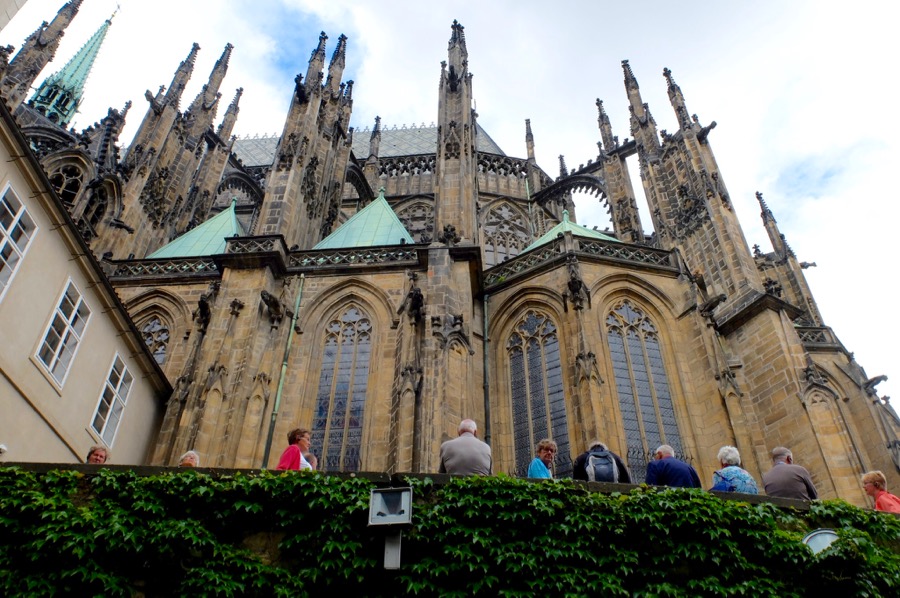 What surprises most people is that instead of being one large castle like you expect to see in the movies, it's situated like a cluster of buildings, all in the same area surrounding the jaw-dropper, St. Vitus' Cathedral. After you've finished gaping at the gothic architecture, sites worth seeking out include the silver tomb of St. John of Nepomuk and climb the narrow steps up the cathedral tower. Also don't miss St. George's church, though more underrated, that's exactly what I loved about it.
Next up would be a walk down the Golden Lane with Daliborka Tower, previously inhabited by those working in the area, even Franz Kafka lived at number 22 during WWII.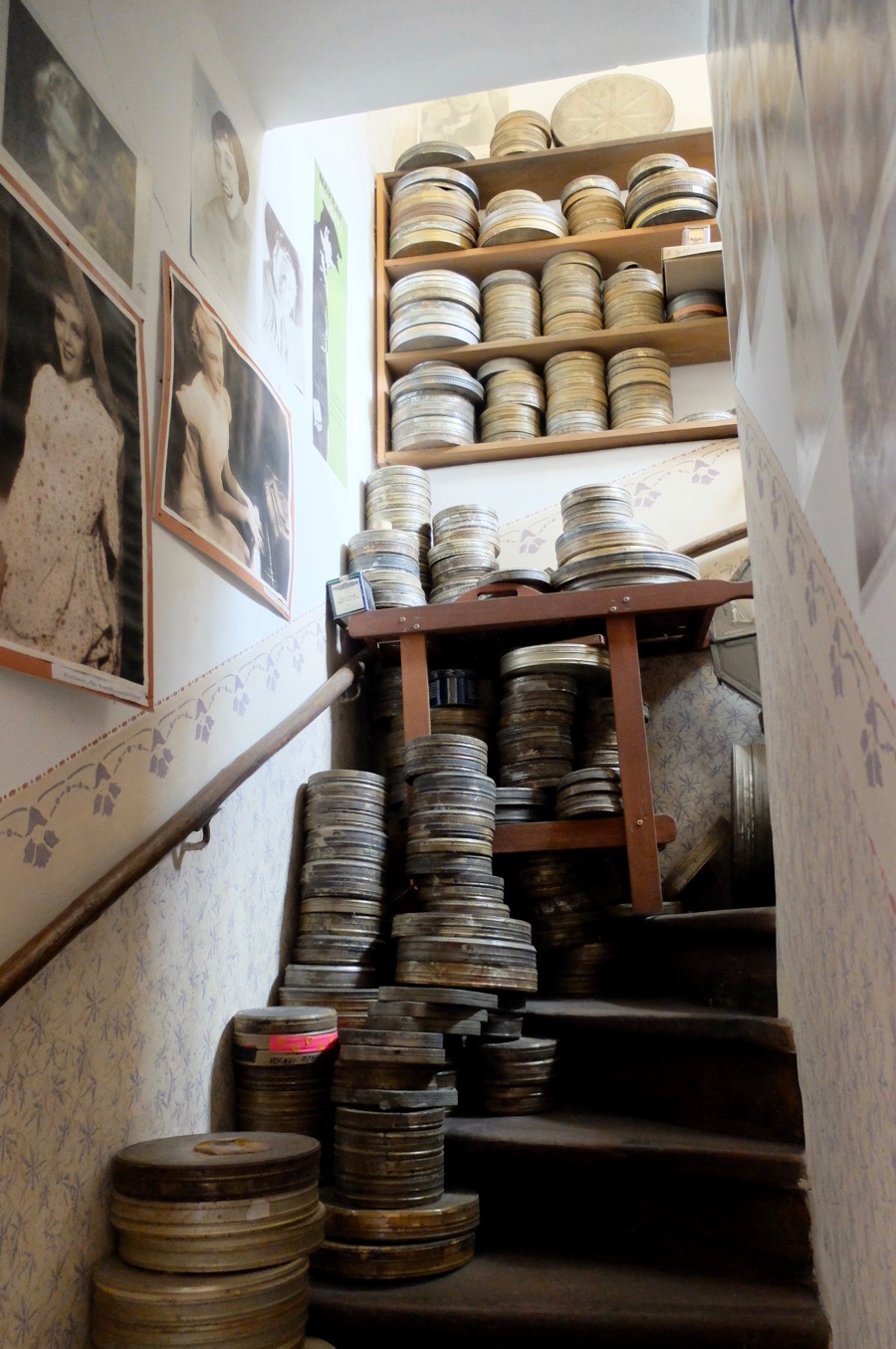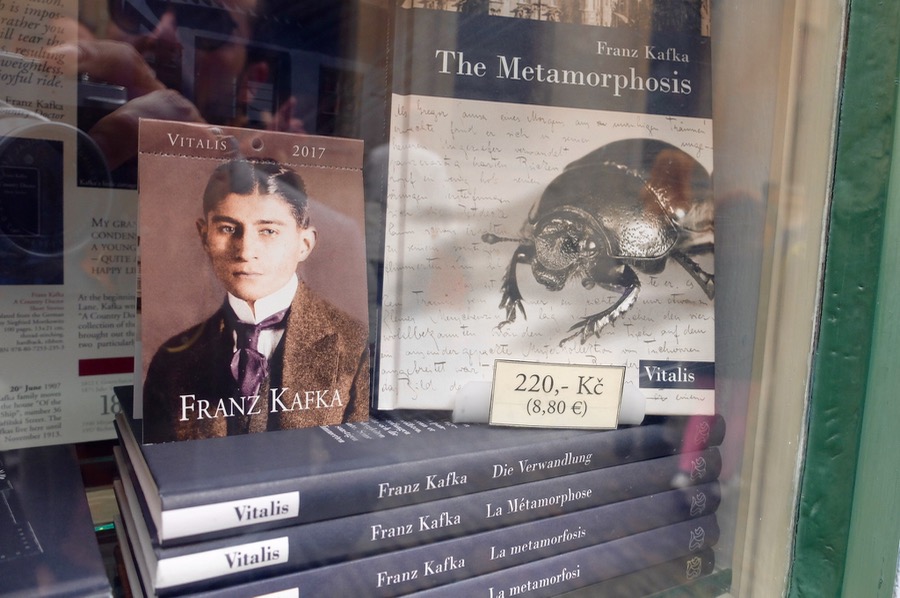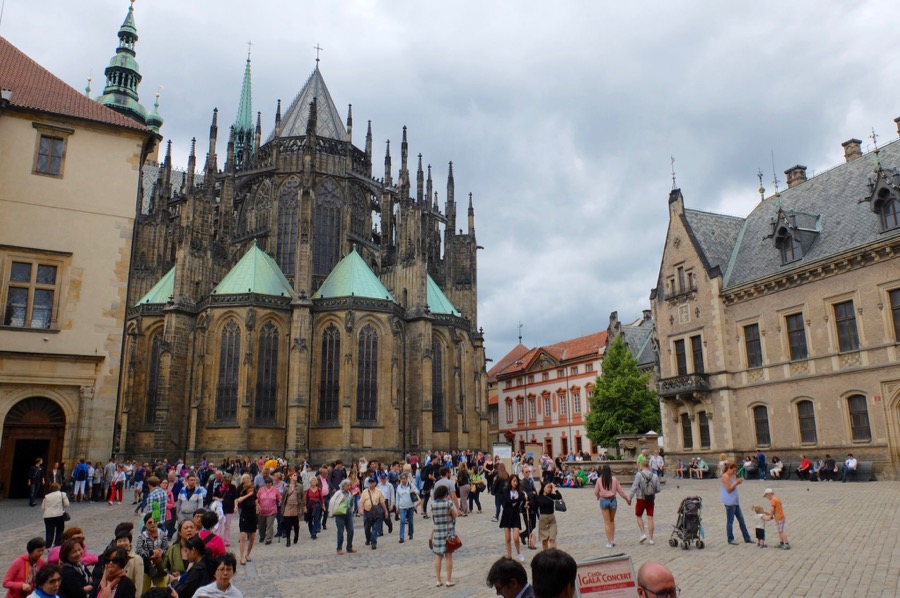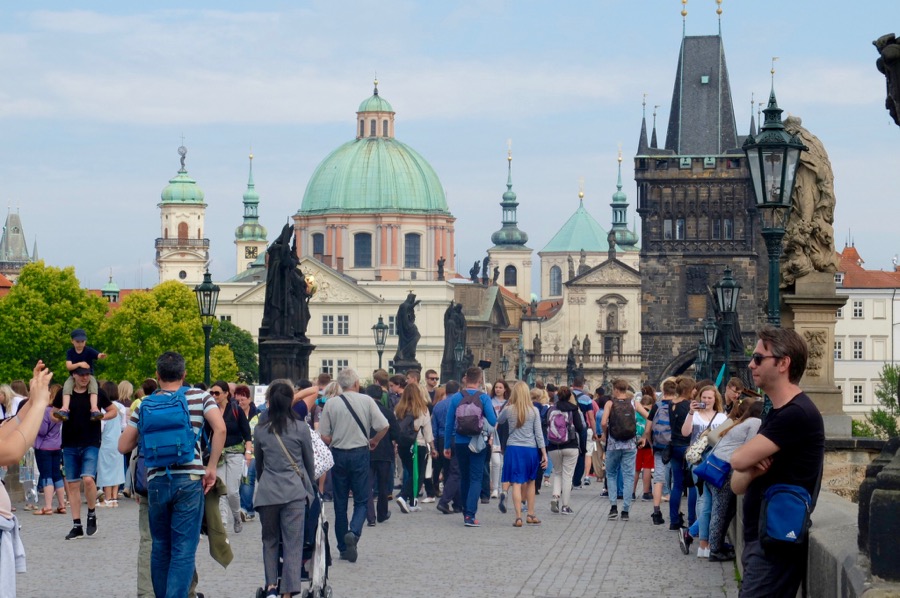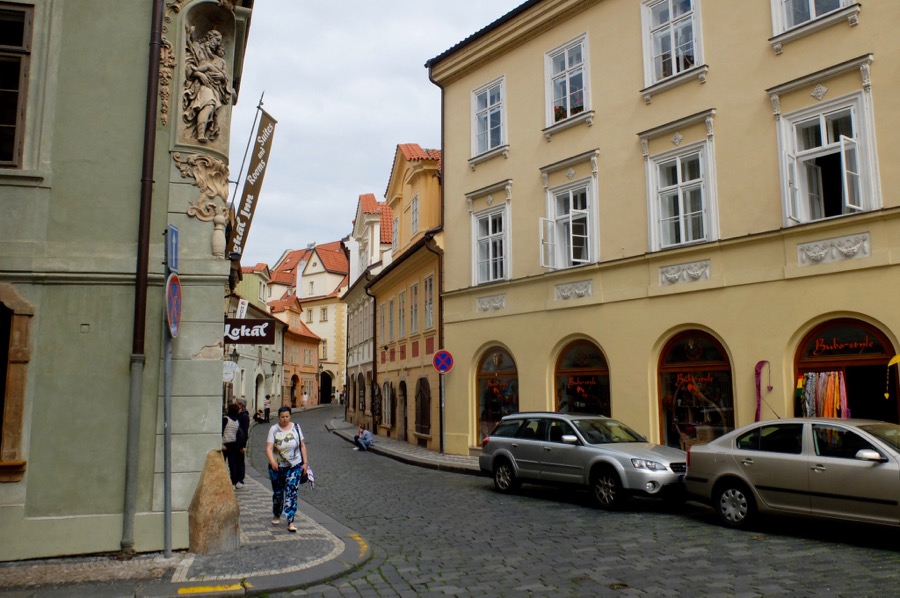 The Less Famous Stuff
I could hardly put "unique" in this post without following through in my third suggestion. I did discover a few really special places in Prague worth exploring if you're in town. One that truly impressed me was the tucked away Strahov Monastery, founded in 1140 by Prince Vladislav II for the Premonstratensian order. The second oldest monastery in the city. 
My friend Marta told me to visit because she happens to know how much I adore libraries. And the one here is certainly nothing to sneeze at. If you ignore the weird "pay to take a picture" part of it all, you'll be blown away on first sight. Located in the theological and philosophical halls of Strahov, the library is over 800 years old. Both are quite stunning, the Baroque Theological Hall containing 18,000 religious texts, and the grand Philosophical Hall has over 40,000 ancient and rare philosophical texts.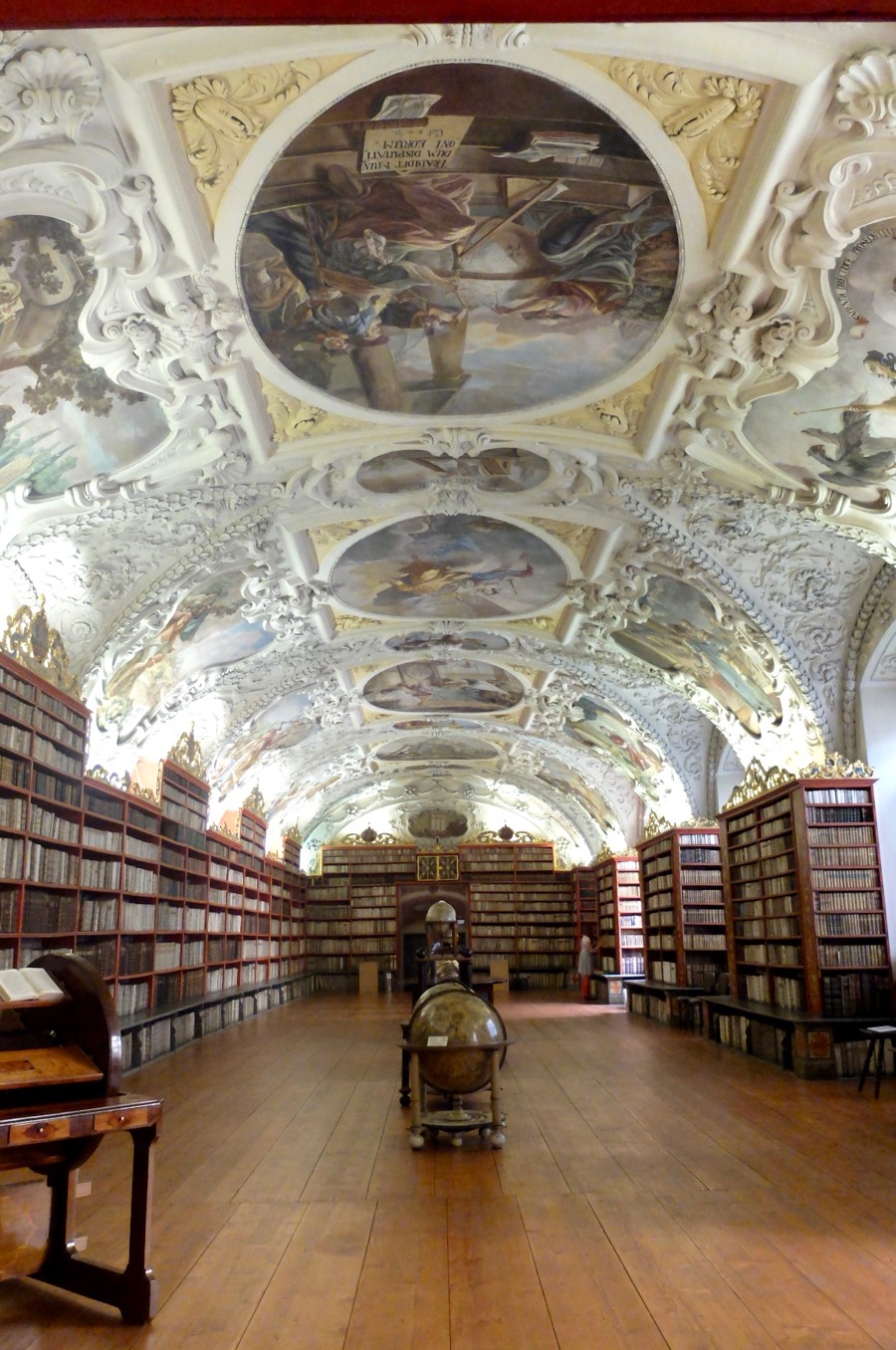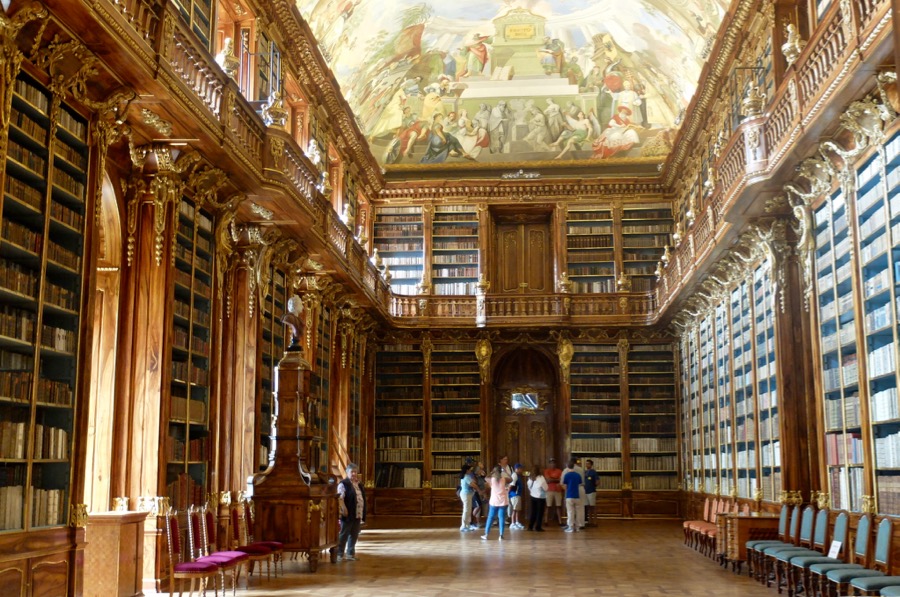 After a beer stop is in order at the monk's own beer hall, they didn't say this city wasn't a mecca for cheap beer for nothing. Despite the fact it was only 10am I was more than ready for my first pivo of the day, after all the monk's made it happen.
If this place wasn't cool enough in its own, historical right, Strahov is home to its own microbrewery which serves about ten variations of unfiltered St. Norbert beer mostly amber and dark varieties (several are seasonal, I'm dying to try their popular Christmas ale). The brewery dates back to the 13th century and was closed from early 1900's until the 2,000's which made me appreciate each sip a little more. You can also eat here but apparently our beer stop served more as a second breakfast as anything else.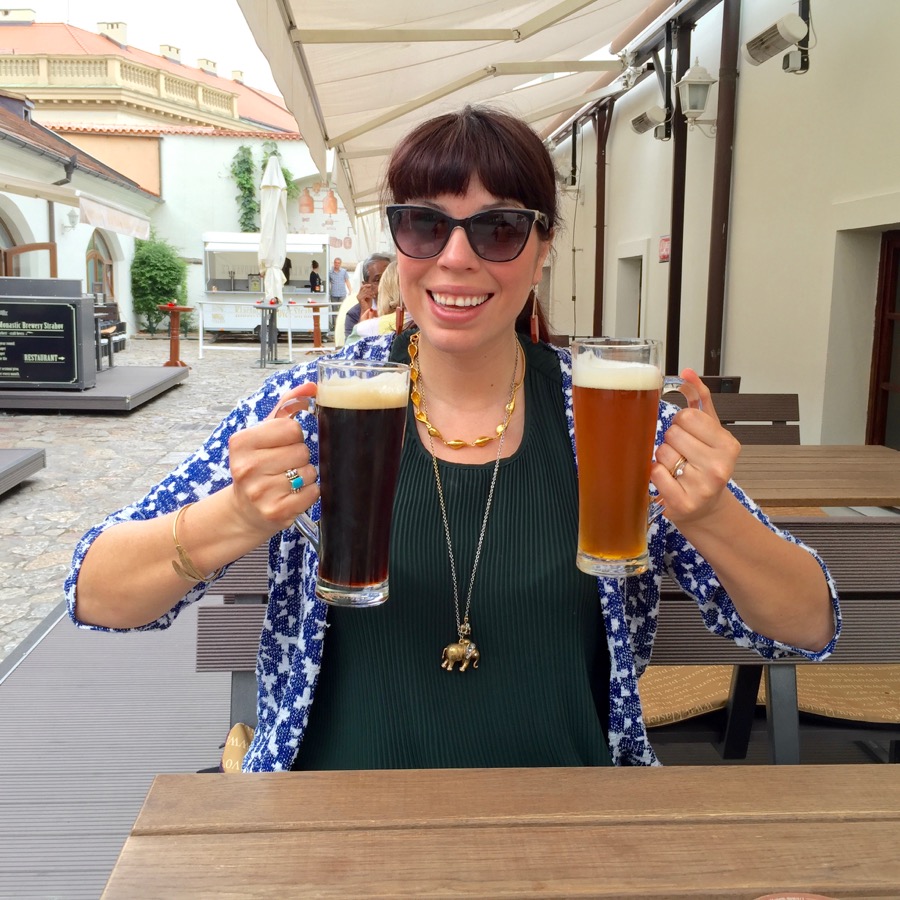 Craving A Night You'll Never Forget? See A Concert…
Another suggestion for those who appreciate classical music is to see a concert at the stunning Municipal house in the center of the old town, architecturally its an art nouveau dream which makes any evening here that much more harmonious. My senses were completely and utterly peaked, from the architecture to the people, to the theater itself.
We chose to see "Carmina Burana" inside the stunning Smetana hall and it was nothing short of one of the best musical concerts I've attended to date. The fact that the tickets only cost 30€ for what is almost a stupefying evening makes me a little jealous, I would definitely be back a heck of a lot more often if I lived in Prague.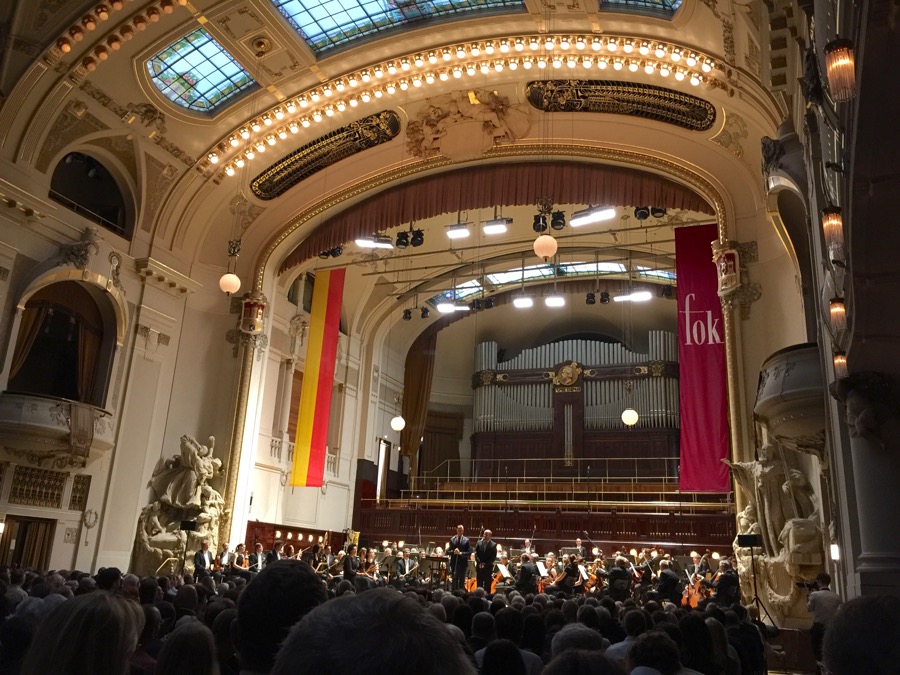 Discover a coffee/wine culture you won't soon forget
One thing that definitely impressed me about Prague was that while it wasn't glaringly obvious that decent wine, food and coffee exists, it's here but you need to know about it.
I relied heavily on the blog of TasteofPrague which is a truly wonderful resource for anyone visiting the city who wants an inside guide to great restaurants and bars. I also downloaded their foodie PDF map as they definitely deserved my money after suggesting so many great places. Here are a few memorable finds.
Coffee
While looking for a quick snack and coffee we tried Tricafe, which is located on a quite street near the Charles Bridge in old town. This place is a real godsend, a wonderful spot to rest your feet, check your emails and eat rhubarb cake and a filtered brew. It has a very "homey" feel with a wicker rocking chairs and plenty of natural light.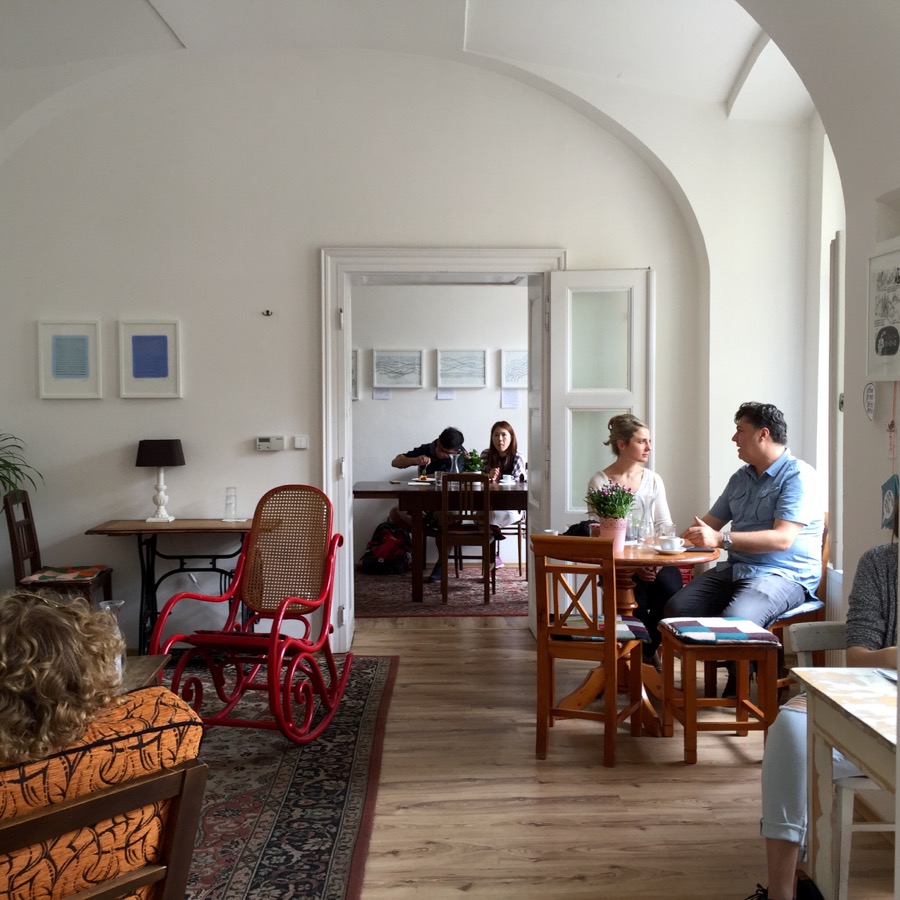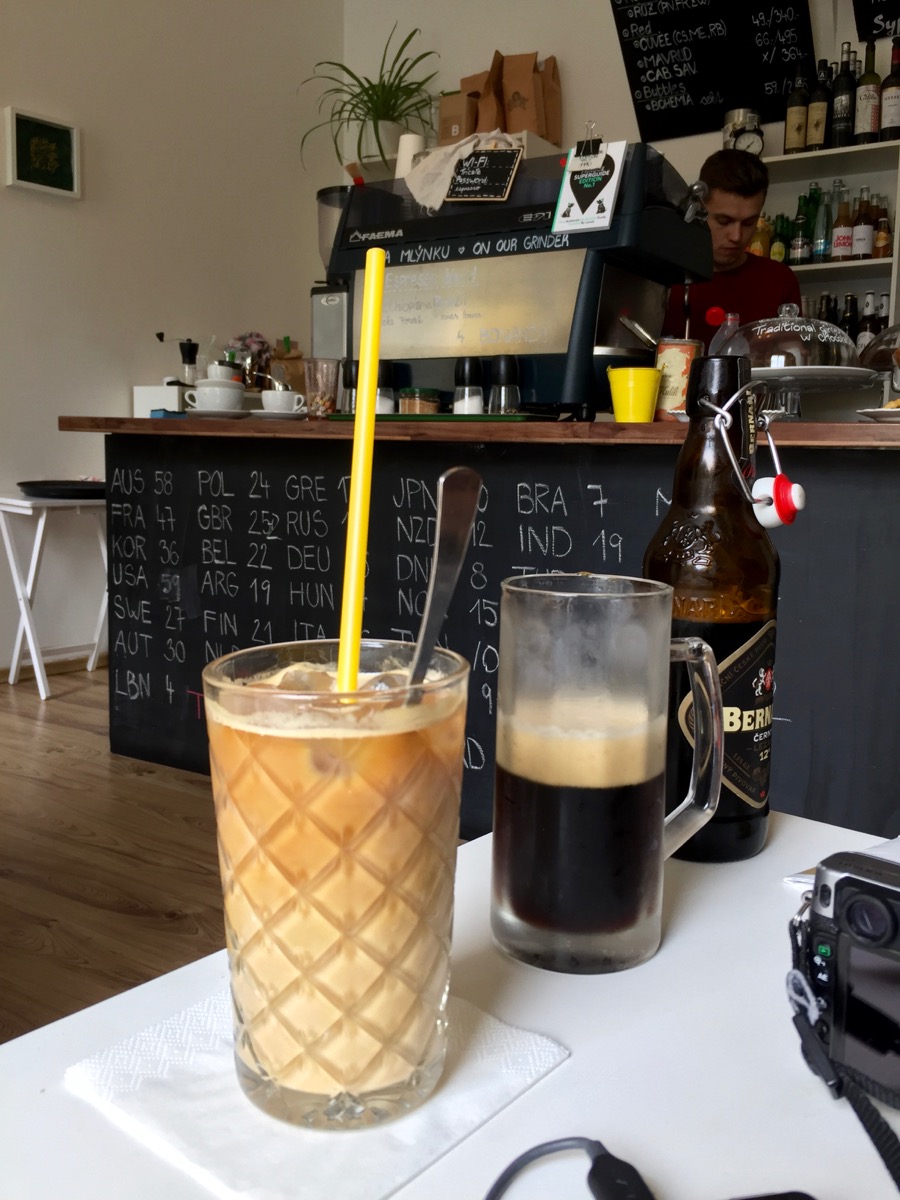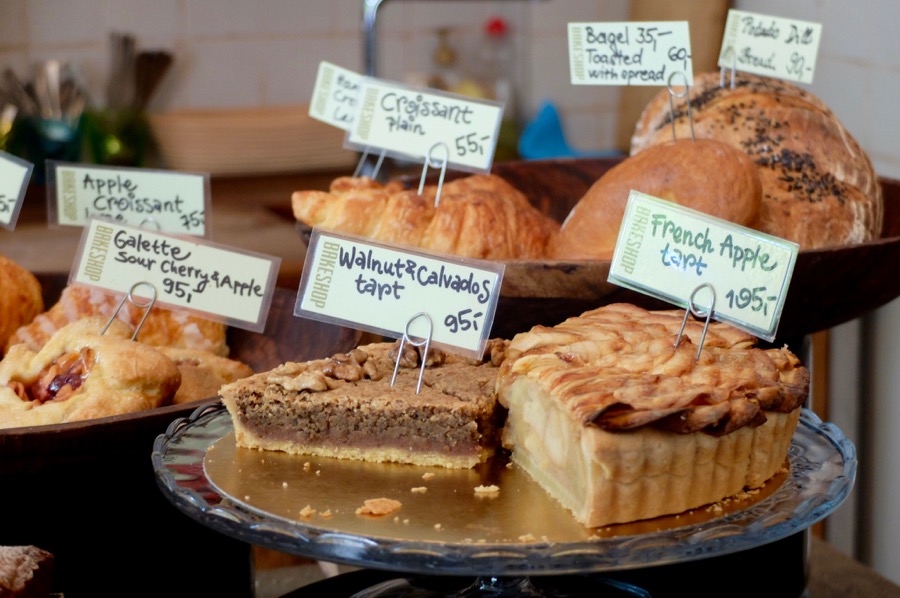 Wine
Bokovka. One our search for wine, found Bokovka which looks innocuous enough from the outside, a pretty courtyard, fur throws over benches and elements of modern and shabby decor that 2016 seems to love so much. We were there in the quite afternoon hours and asked for them to suggest a few local wines for us. While I can't truly remember all that we tried I did include this photo of a bottle that I really enjoyed. I would go in there, get a plate of nibbles along for the ride and have them educate you in Czech wines by a group of young sommeliers.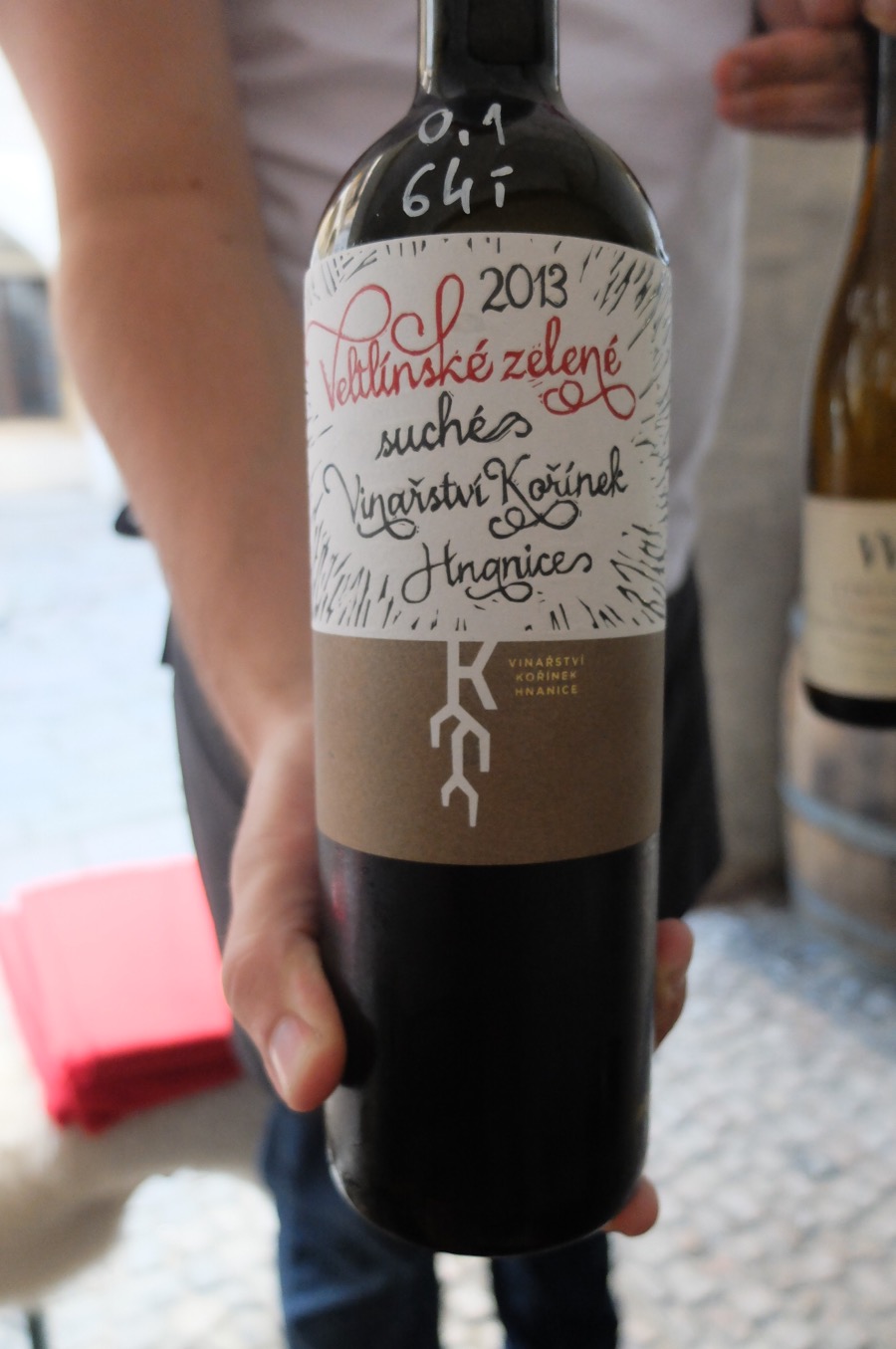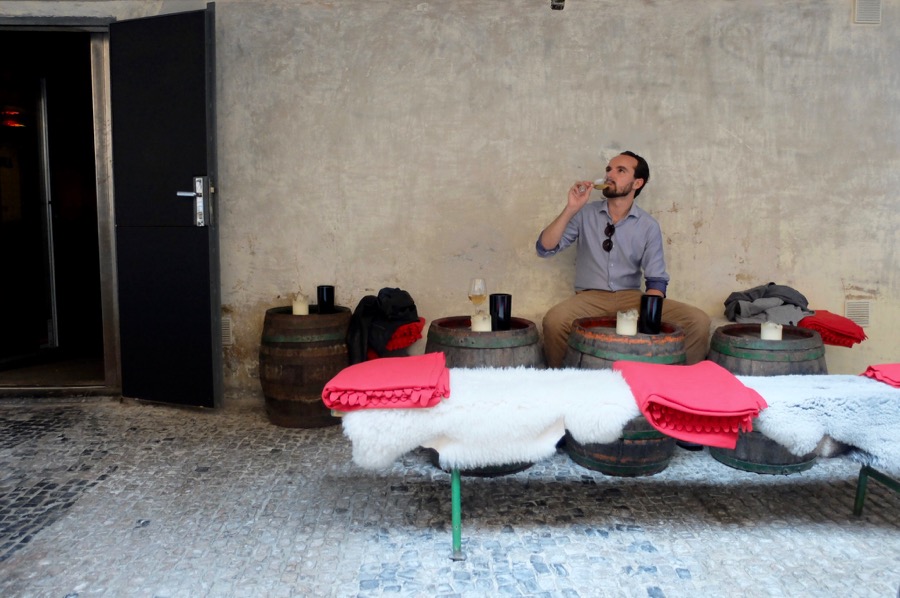 Food
There are plenty of eateries that you should visit while in Prague, in fact so many I feel like it needs another post or rather a bit of research on a local food expert's website. When it came to trying Czech fare one of our favorite and first meals was at a Lokal (that's the name!) pub in the lesser town, near our hotel. Now there are more than one location, we visited the Lokál U Bílé kuželky, I've been told the best location is on Dlouha street.
What you can expect from here is a typical and somewhat worn pub atmosphere, with huge pints of Pilsner Urquell beer and traditional dishes such as sausages, fried cheese (yum), rizek (schnitzel) and plenty more. Portions are big and the vibe is friendly. It was definitely a great way to start our trip on a high note.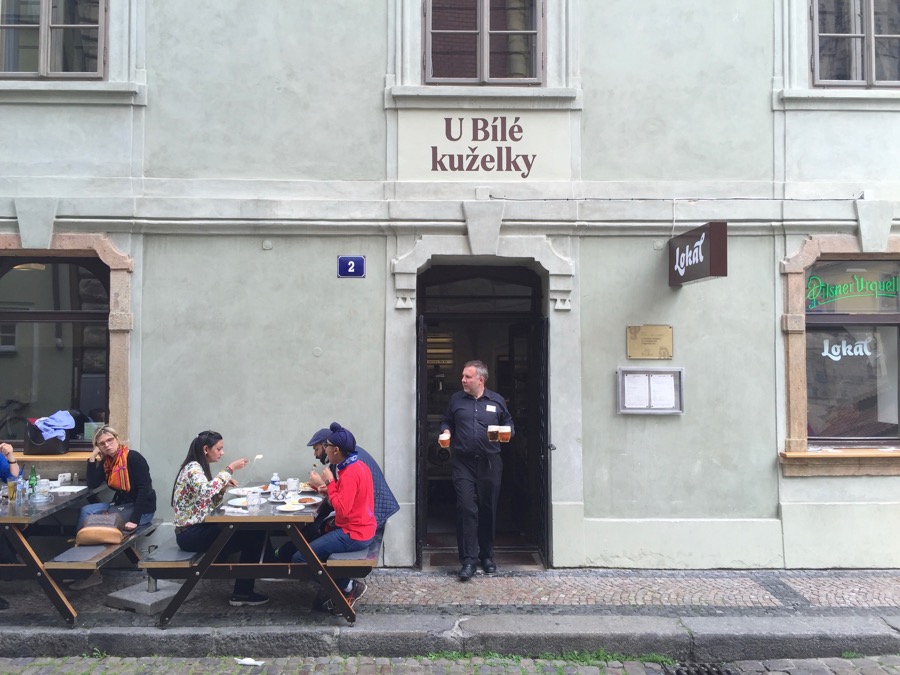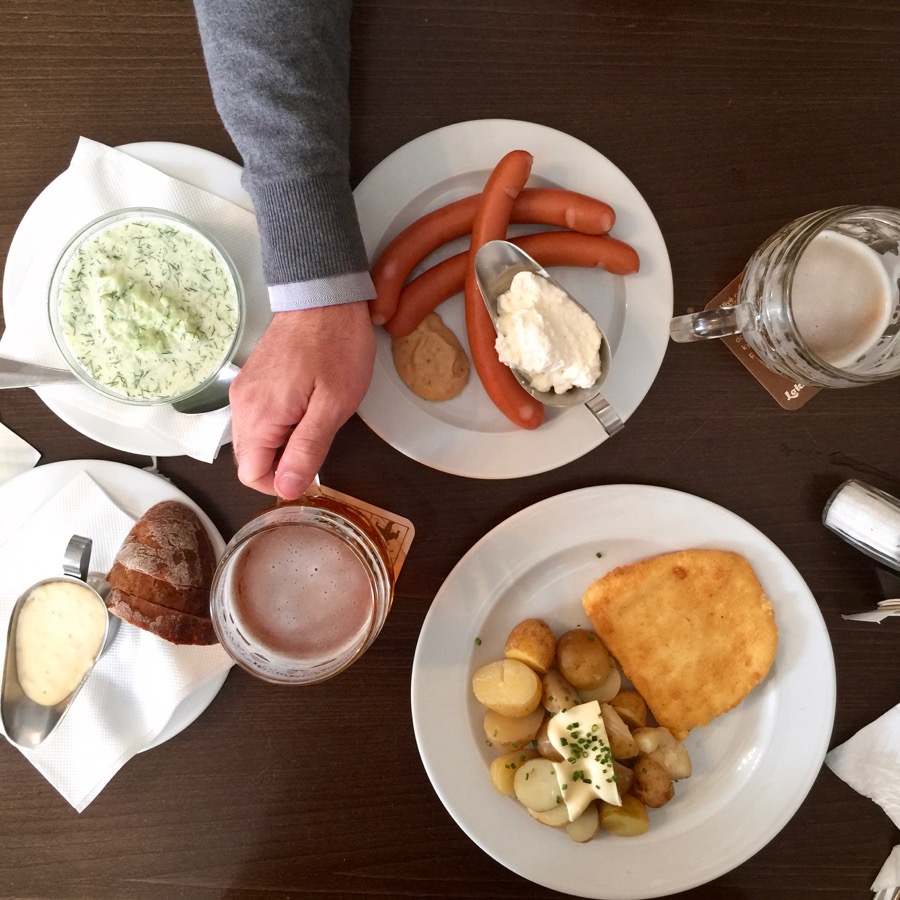 Now the
Cocktails
One night I was on the hunt for a moscow mule (I know I know) so we found a very sexy cocktail bar along the main. L'Fleur is a bit like mixing the era of Mad Men and 1930's prohibition. Exposed brick walls, cozy booths, dark mood lighting, it's definitely got swag. Here is where one would come for a bit of mixology or champagne from some of the city's best cocktail shakers (human of course). You'll find mescal, apricot bitters, beefeater gin, vermouth and all sorts of heavenly ingredients on this menu. And for all of its fanciness, drinks are screamingly cheap around 185 or 6-8 euros a pop, they would easily be 12-20 in Florence, Italy alone.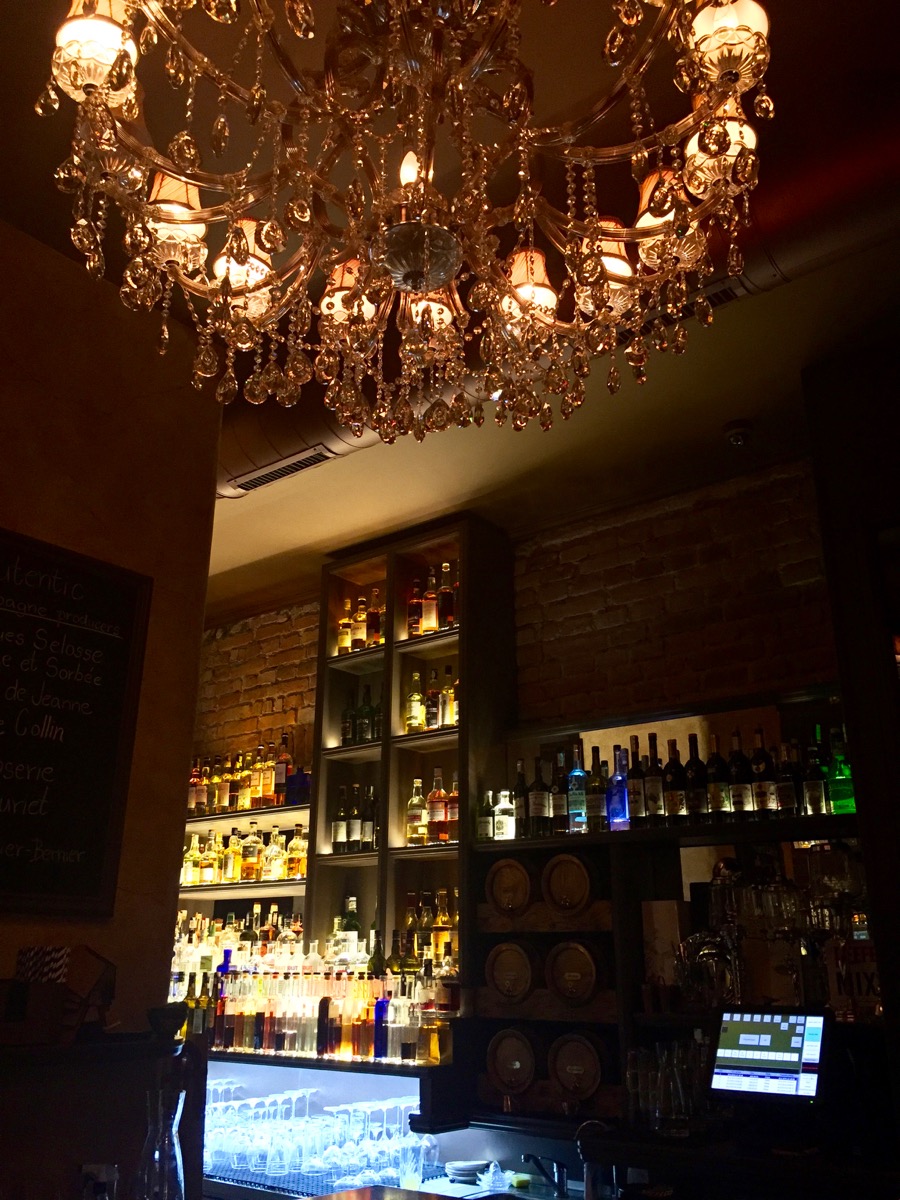 Quick Details
You'll find my favorite spots on the map below and if you have any additional suggestions for first-timers, please leave a comment and let me know!
Places to visit
Strahov Monastery,
Strahovske nadvori 1, Strahov, Castle District, Prague 1
Czech Republic
Tel: +420 233 107 730
Opening Times
Library: Daily 09:00-12:00 & 13:00-17:00
Gallery: Daily 09:30-11:30 & 12:00-17:00
Easily reachable by tram or metro line A
Tours
Disclaimer: The Context Tour and Eating Europe Tour was offered free of charge but all opinions are 100% my own. 
Context Travel Tour : Habsburgs & Jesuits: Conflict under the Bohemian Crown. The tour lasts three hours, in a group (small only) it costs $63/PP otherwise you can hire a docent for your private group for $276. 
*highlight was the exclusive private visit to the Klementinum, including the Astronomical Tower and Baroque Library.
Eating Europe Prague Tours: A four hour tour exploring the traditional cuisine of Prague, with plenty of walking to help you burn the calories. Please come hungry as they feed you well during this tour.
It departs: Mon – Sat, 12.30 pm and 1.30 pm, 84€ per person (groups range from 6-12 people), discounts for adolescents and kids.