A while back I was reading somewhere online (ok Forbes) that Less than 20 percent of American adults speak a language other than English. It piqued my interest because as a second language speaker in Italy I thought what about Europe? In The Guardian apparently just over half of Europeans (54%) are able to hold a conversation in at least one additional language, which is pretty impressive considering so many university and high school classes in Italy focalize on a more  theory-based curriculum. It got me to thinking about the beauty in speaking a second, third or (I'm looking at you Dutch people)  fourth language and more importantly, considering the myth I grew up with that only kids and their cerebral sponge brains can effectively pick up another tongue.
This month our Italian roundtable is tackling the topic of "myths and legends" and I want to go into language myths and how to overcome them. After all, this is very personal for this Tuscan Texan in this day and age. While I do speak Italian (with my fair share of mistakes of course), I have ventured into the wonderful, yet absolutely terrifying, world of learning French. This could be viewed as slightly masochistic on one end of the spectrum and quite exciting on the other. By wonderful I mean constantly uttering my painfully embarrassing, awkward pronunciation which sounds a bit like I'm trying to massacre the classic French verbal lesson of "Brian is under the table."
I stumble over conversations with my very patient in-laws who speak no English and insist my French is getting  better (bless their souls). To be honest, I never thought I would be learning a third language at the ripe age of 32 and it freaks me out. However, I never knew I would be married to a pretty awesome French guy in Italy either.
Quite frankly, the aim of this post is merely to show support for others who might be going through the learning-language-as-an-adult saga in a fun way while attempting to debunk some popular myths around language learning in my very non-scientific yet honest and forthright human reasoning.
Furthermore, I want you to add your personal perspective if you've struggled with learning a second, third or fourth languages.
I welcome tips and suggestions so please comment with any you may have regarding this post! All I know is my own experience and I don't pretend that anything I have to say in the matter is complete and utter truth. In fact, I commissioned the help of a Facebook group Italian Reflections to let me in on their own mistakes and tips which proved to be a really interesting discussion online.
Myth °1: Having a foreign spouse means you'll learn immediately! Just have him speak to you only in ___ language!
Wrong. I always smile when someone says "oh your husband speaks French, you'll speak it in no time." Uttered every innocently of course from people who have no idea of your struggle as you wince something that sounds like an excuse. While it might seem easy to switch from one language to another with relative ease, it really isn't. I wish it was true but it isn't in my personal case unless we're talking about Italian and English, which took years for me to feel comfortable with. Humans beings (or maybe just me?) have a tendency to be lazy, we want to communicate and we want to be understood.
Case in point, us.
Me, hello, I'm a native English speaker a "Tuscan Texan" that has embraced Italian and a sprinkling of French. Him native French, but speaks perfect English and Italian. Just to mix things up or to make our lives more complicated, we both live in Florence Italy. You would imagine that by already speaking Italian, French would be a piece of cake, the icing on our cupcakes but not really, it's different. We aren't surrounded by French speakers and I've found truly learning a bit harder than I expected, but this is also said knowing that I haven't taken studying, speaking or learning all that seriously until now. Making French meals and listening to the occasional playlist does not make me a French speaker no matter how much I want that to be true.
Some might assume that teaching their spouse their native language is a marital duty but the reality is that day-to-day life gets in the way. Does that mean I'm lazy and that he should feel bad? Not really.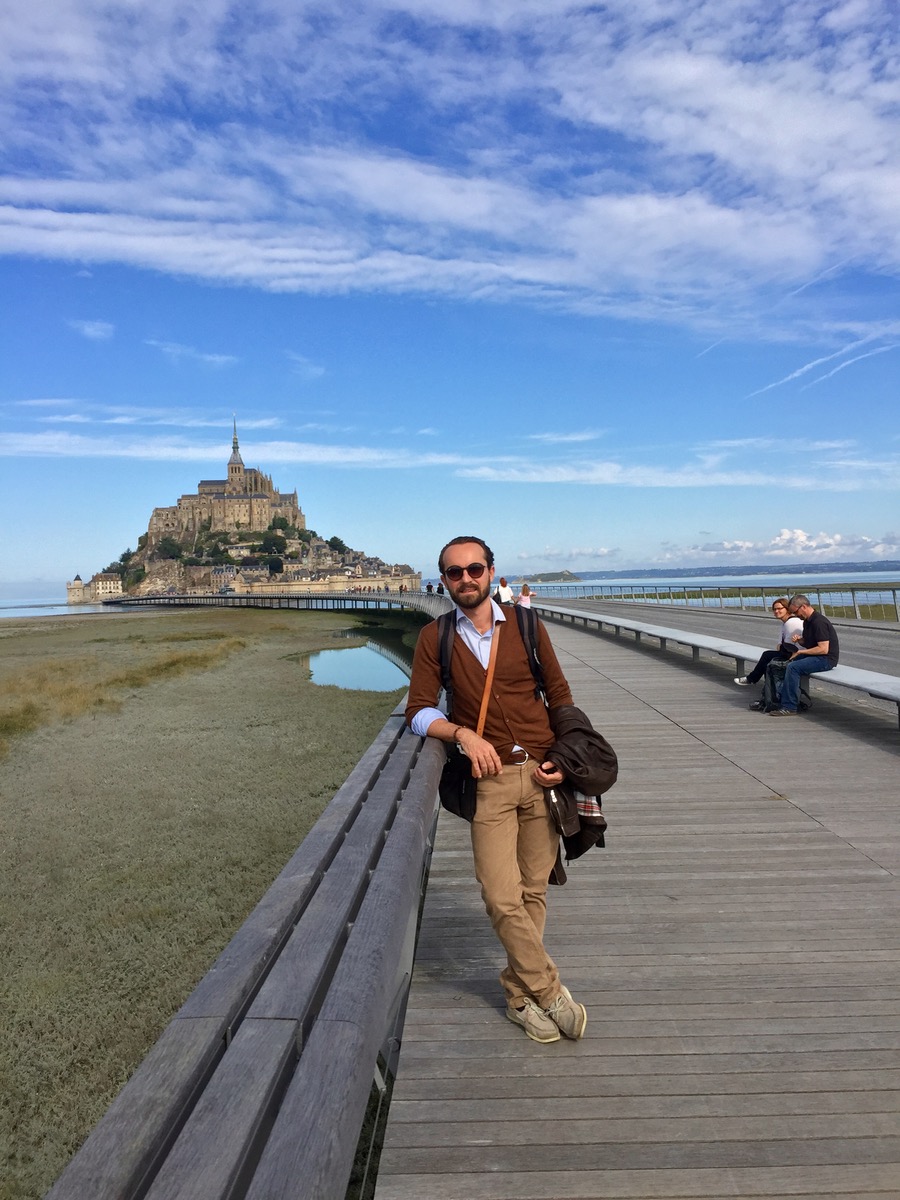 Our first year of marriage is about building a life together, which means spending time together. Conversation flows mostly from Italian to English and vice versa, it can be confusing to the outsider but makes total sense in our world. I look forward to the beautiful day when it will flow as easily in French. The thing is, we all know how awkward it can be correcting someone's language skills on the spot, it can lead to fights, tears of frustration, misunderstandings. I'm really trying to not make Nico my translator, as it is so easy to default to that, plus the poor guy deserves a break.
On the flip side, I'm completely motivated to eventually learn his language because I am in total lust with French culture. We recently spent a week in Brittany and Normandy, driving our tiny car to picturesque towns that looked straight out of a storybook. I ran around the expansive Saturday market in Rennes (capital of Brittany) eagerly reading all of the labels for fruit and vegetables. It's the prettiest market I've ever seen. I tried to order wine, oysters, and confidently threw out easy every-day phrases at bemused hotel staff. In fact some of them even thought I spoke French until they moved past present tense, that's when I tensed up, turned red and looked to Nico to save the day.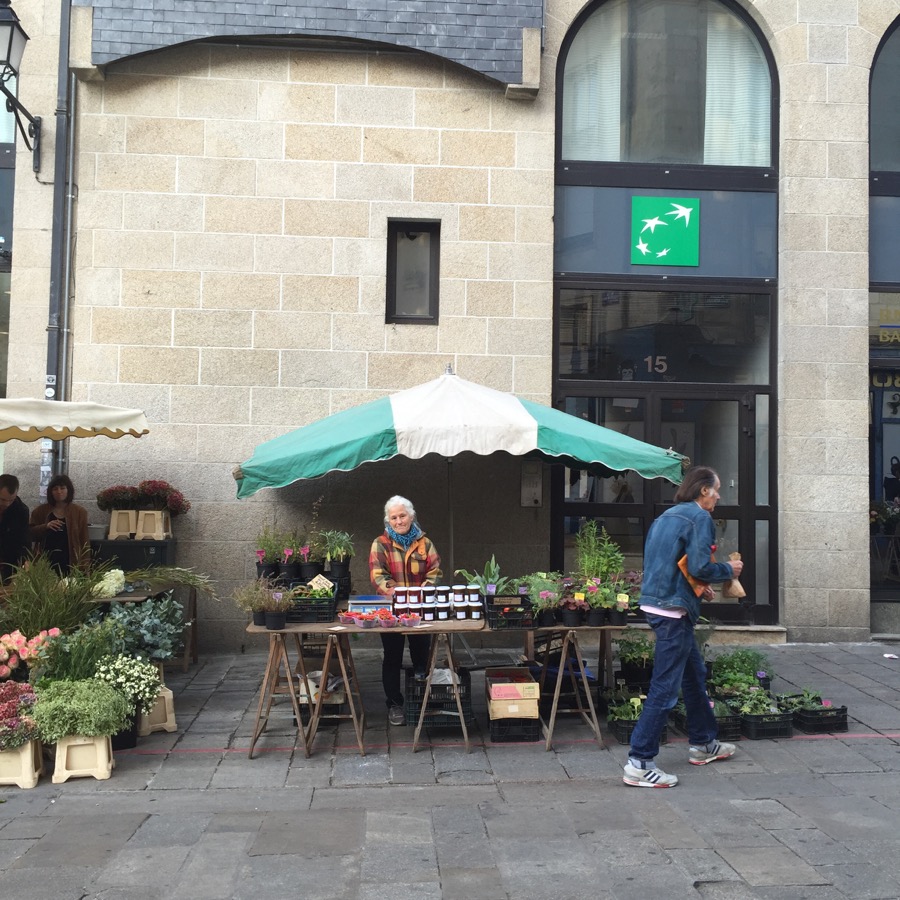 That being said, the motivation is there, the key now is that I know I have to put as much work into this as I do everything else. This isn't an 10 minute a day hobby, this has to be life.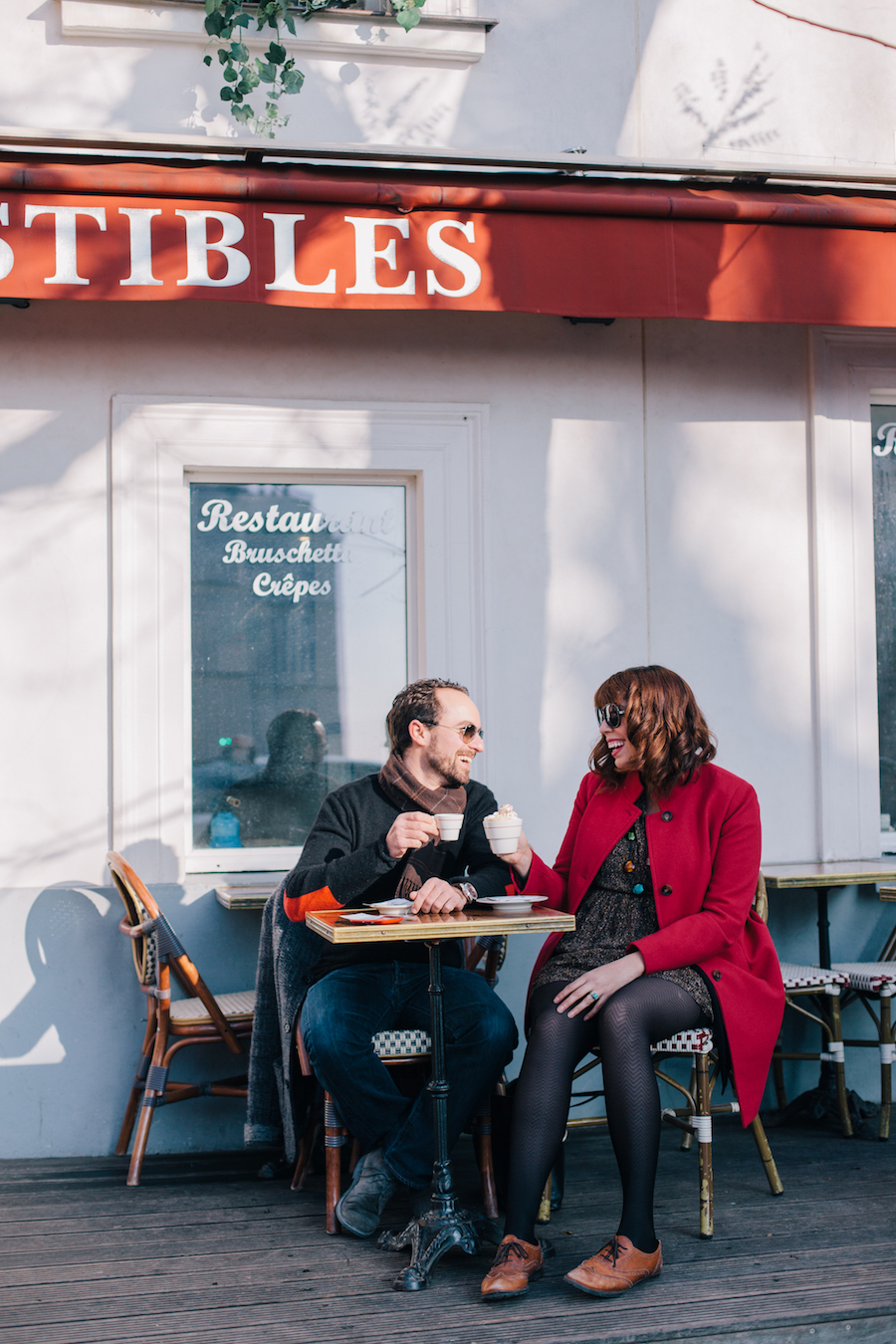 Myth °2 Just move to the country and you'll be speaking in no-time!
Don't get me wrong, I do honestly believe living in a small town where no one speaks your native language would help. How could it not unless you never leave your front door?  To be fair, if you move to Le Marche, Molise, and you might be forced to learn by default as they aren't tourist hubs like Florence. But just moving to Italy or France won't automatically make you fluent, at least not for everyone. Here I find that shopkeepers will often reply to you in English even when you start conversation in Italian.
Also this theory negates people from learning wherever they live. I propose that you build a lifestyle where exposure to your target language is around every corner, and most of all, make it fun
One of the biggest mistakes I made while learning Italian was relying on the fact that I learned mostly from living with the Italian family of my ex-boyfriend. Sure, I picked up conversation fast as you can expect as his mother yelled simple Italian phrases with an ever-increasing volume, (she thought I couldn't hear her) but that wasn't the issue. What leads me to use the word "fluent" isn't just spoken, but also written. My written Italian was frankly crap, and despite me reading newspapers and short books, it wasn't really getting better because my grammar base wasn't there. I was faking it in a way, guessing most of the time and eventually the guesses got better but did I really get how the language worked? No.
You need discipline and personal motivation to do the grammar and annoying parts at home on your own as well and many people (i.e: me) don't do that. This time around with French, I'm trying a different tactic. After downloading the odd Duolingo app and watching movies with subtitles and listening to music, I still wasn't getting anywhere. So I did what I should have done long ago, I signed up for a course where I would be awkwardly thrust into adult schooling. I signed up for 60 hours at the French Institute here in Florence, bought the books and I aim to tackle the grammar as well as I down a moscow mule on a Friday afternoon. Conversation can be done with Nico, but he himself would go crazy trying to convince me exactly how to pronounce the French "e" or slowly pronounce a tricky liaison. I want to stay married after all.
On another note, he is impressed on how I've managed to learn the numbers 1-20 with ease, it puts me at the same language level as a two-year-old.
Advice from Italian Reflections
https://www.instagram.com/p/BLqSboDBcoT/?taken-by=girlinflorence
Temple Perrotta advised "Also learn vocabulary that will help you with simple chores like shopping, buying a ticket, etc. There are some terrific picture dictionaries out there to help with vocabulary, def a worthwhile investment. Most important, don't be afraid to make or be embarrased by mistakes! Everybody makes them, you'll be appreciated for trying and you really do learn by them."
Nancy Hampton added "I agree with people about putting yourself out there and trying. I don't always follow my own advice though! Also, no one has mentioned how much watching Italian TV helps. Tunes your ear and the more you hear it the more you learn. And the more simplistic the show(at first) the better. Our favorite is l'eredita. On seven days a week from 6:45 to 7:45 RAI1 and is a quiz show. Because they write out the phrases and words (in Italian of course) you can hear and read them at the same time. Helps. Really improves your vocabulary. And if you have your phone or tablet handy you can look up words you don't know."
Myth °3 There is the perfect solution (aka Rosetta Stone) for anyone to learn in three months!
Really? You have no idea how many friends I have who have purchased the Rosetta Stone language learning course with high hopes of throwing back grappa with seasoned locals in Italy in no-time at all. Cue to reality while actually visiting Italy and barely a phrase of Italian was spoken, except for the occasional verbal-thrust of "cappuccino and pizza". The biggest thing I learned about understanding a new language is that there is NO one-stop-shop method for learning a language. You might be having a marriage with verbs, I might be in an illicit "liaison" with conversation.
You say 'Tomato,' I say 'Tomato,' Let's Call The Whole Thing Off
Example one: Nico and I are completely different and that should play into how you learn languages. Before he came to Italy, he spent three months listening to language-learning tapes and memorizing verbs and this worked for him. Because he had understood the structure behind the language (and French and Italian are similar), working in an Italian environment meant that in just a year he was speaking like a local.
Me on the other hand, would be more likely to fall asleep at the mere thought of that. I need stimulation and conjunctions in French scares me. What has been working instead is embracing a combination of exercises that yes include heavy vocabulary, rote, but also mingles in conversation, podcasts, music and movies. Things I actually would do anyway.
I have also been getting into a show called "Un dîner presque parfait" which is basically the French version of "Come Dine With Me" featuring locals throwing dinner parties and getting voted on their evening. I'm interested in food and I find that the show peaks my interest because it isn't merely dialogue, they are chopping vegetables, shopping at the market and I might only get one out three words but I stay watching. I learn about local culture too, and just how serious French people take home cooking competitions.
My attention is apt to wane fast and knowing that, I've adjusted my way of learning. However, as I mentioned before I am learning to take vocabulary seriously this time around and not fall into the trap of being "understood" but not really correct. Also learning vocabulary that was right for me, what I do on a daily basis as opposed to remote past conjugations helps a lot too.
Advice from Italian Reflections
Mary Loscerbo from FB shared this tip "avoid hanging out with other English speaking people and listen and write out lyrics to Italian songs. It really is a great way and fun way of learning a language especially colloquialisms." 
Caroline Chirichella: "Personally, I found putting myself in "uncomfortable" situations is what took my learning to the next level. I had taken some classes, read some language books, studied online (Rosetta Stone, Duolingo, etc), but it wasn't until I started making a point of going out and having conversations with people that really lead to my picking up the language. At first, it was uncomfortable. I would be with a group of people as the only American and I was only able to pick up words here and there, but after a few times, I realized the value of it. Whether you're going to a bar, trying to ask some questions at your butcher or out with friends, really communicating helped."
Sarah May Grunwald joined in with "I would also agree with having to make a point to get out there. One thing that helped me learn Italian was joining classes in activities I like anyway. This has been much more useful that language school. So for me that means wine tastings, going back to University, cooking classes. Doing all my programs in Italian language."
This is a sentiment I heard over and over from my Italian reflections crew with Amanda Giovannini saying "I would say taking a long term course in something you are passionate about instead of just taking a language class. I went through 2 years of wine courses to become a Sommelier and couldn't seem to stick with an Italian course to save my life. Find your motivation by following a passion- and of course a glass of wine doesn't hurt either."
Temple Perrotta added "Yes I confess to sneaking into my daughter's Topolino (comics) collection to enhance my vocab. I devoured Italian magazine articles to get a handle on structure and increase vocab. It all helped no end, but first I had to develop confidence and that took a bit of time."
Teaching as a Way to Learn
Geoffrey S Watson  added "Teaching is great for learning! When I had enough Italian to teach it (privately) to other expats with less Italian than I had, I needed to prepare every lesson very well in advance on this or that aspect of grammar or pronunciation or vocabulary. You can't explain something well until you've taken it thoroughly on board yourself."
Myth °4 It's impossible to learn multiple languages as an adult
It's often said that you can't teach an old dog new tricks, but that's not really true is it? I've heard this sentiment ever since I was born. By the way I'm pretty sure Spanish was my first language but after my parent's divorced that got lost in some sad language abyss. I completely believe that as an adult you can learn multiple languages if you want it badly enough.
I always use Nico as the example. When he speaks Italian, no one locally even knows that he is French (no one says that about me), and he learned in his early twenties, not at the age of three. I also have the tendency to success stories like this, the only issue, I should be reading this in French.
What remains one of the most important things to remember during this often frustrating process is that you are going to make mistakes, in fact so many mistakes that you will laugh about it all later. I've said the most offensive of words to all kinds of people (it seems like every third word in Italian means something kind of dirty), my mother in law included. It's going to happen and don't let that be a deterrent to speaking in public.
I loved this advice from a website about language learning I read recently "Does it take time and focused commitment? Absolutely! Can it be scary and intimidating? Sure! But is it "hard"? Not necessarily.
Your attitude towards language learning is the biggest factor in how difficult or easy a language will be to learn.
The truth is, the difficulty doesn't lie within the language itself, but in the study methods and materials you use, and your attitude towards the language. Adapt your approach to be like a scientist testing out new theorems. Find the methods that work best for you instead of committing yourself to one that is familiar, but ineffective."
Advice From Italian Reflections
Rosemarie Scavo: "Strangely enough, I found being an English teacher (from adults to very young learners) has helped a lot. It encourages you to think about how language(s) work! Rather Italian turns of phrase in English helped me to understand Italian structures and vocabulary. A big myth about language learning in my experience: you have to be very young to start learning a new language. It's completely untrue. An adult can learn a new language. It's just a matter of ensuring you have regular contact with the language (i.e. living in the country of the target language, having to use the target language for work) and motivation!"
That's not all folks, make sure and check out the other posts this month from our Italian roundtable group which all center around the theme "myths and legends."