Eating local never used to be a "thing." It was just something people did because they had to eat, before choice was even an option. Eat what you grow, grow what works in your region and voila, regional cuisines are born.
Of course, as i've mentioned before in previous posts, I grew up on processed foods. Case in point, I'm pretty sure my favorite dessert was a bag of sour patch kids washed down with diet dr. pepper which Nico is convinced are acid for the teeth. He's probably right. The processed food industry in the USA is alive and strong and remarkably adept at what they do. In order to make sure foods are cheap and tasty for consumers, each item is packed with sugar, sugar and fat hidden in a myriad of clever ways. You'd need a PH.D in bullshit to decipher the ingredients list on the back of the box. I'll never forget the first time I tried a really fabulous tomato in the height of a blistering Italian summer, instead of biting into a watery vegetable that I previously used to slather in salt — this was almost an awakening. I ditched the salt, and just ate a bowl of tomatoes at the table.
However, anyone can change and our food choices have improved a hell of a lot since 1996. Every time I go back to San Antonio, Texas I am surprised, and delighted at how many awesome options and farmer's markets are opening up locally. It says to me that people are becoming more aware (I'd like to hope) of what they put in their mouth. Italy taught me that eating well isn't hard and you don't need to be rich or a food snob to appreciate what comes from the ground. I like to take the fancy out of eating well because otherwise it becomes like anything else semi-elitist, unattainable to the majority of budget-minded working folk.
Tuscany in particular is a godsend for this, because they are acutely attune to what's fresh and in season and the movement they call "kilometro zero" is alive and strong. It's about sourcing low-impact, seasonal products, local to the area. I learned a lot about this first hand with a company called KM Zero Tours, who besides naming their business after the "go local" philosophy are truly passionate about finding quality items in their area of Chianti. Another tip is learn what's in season where you live. I've saved these handy calendars by Tuscanylicious which you might find helpful.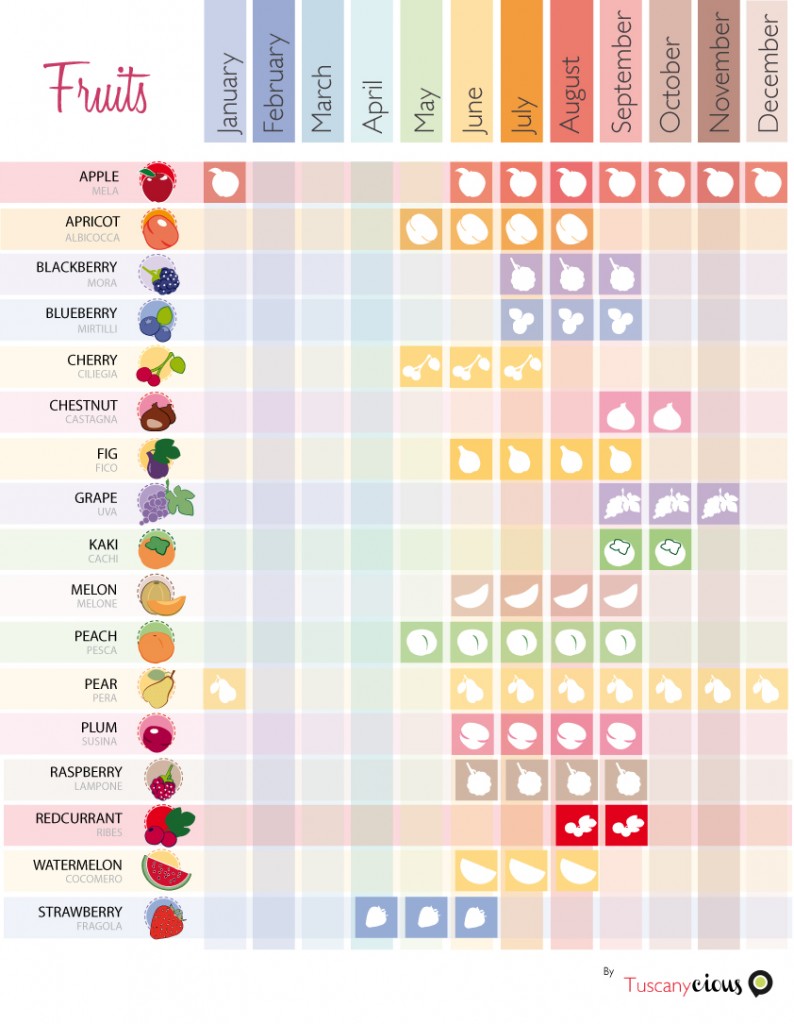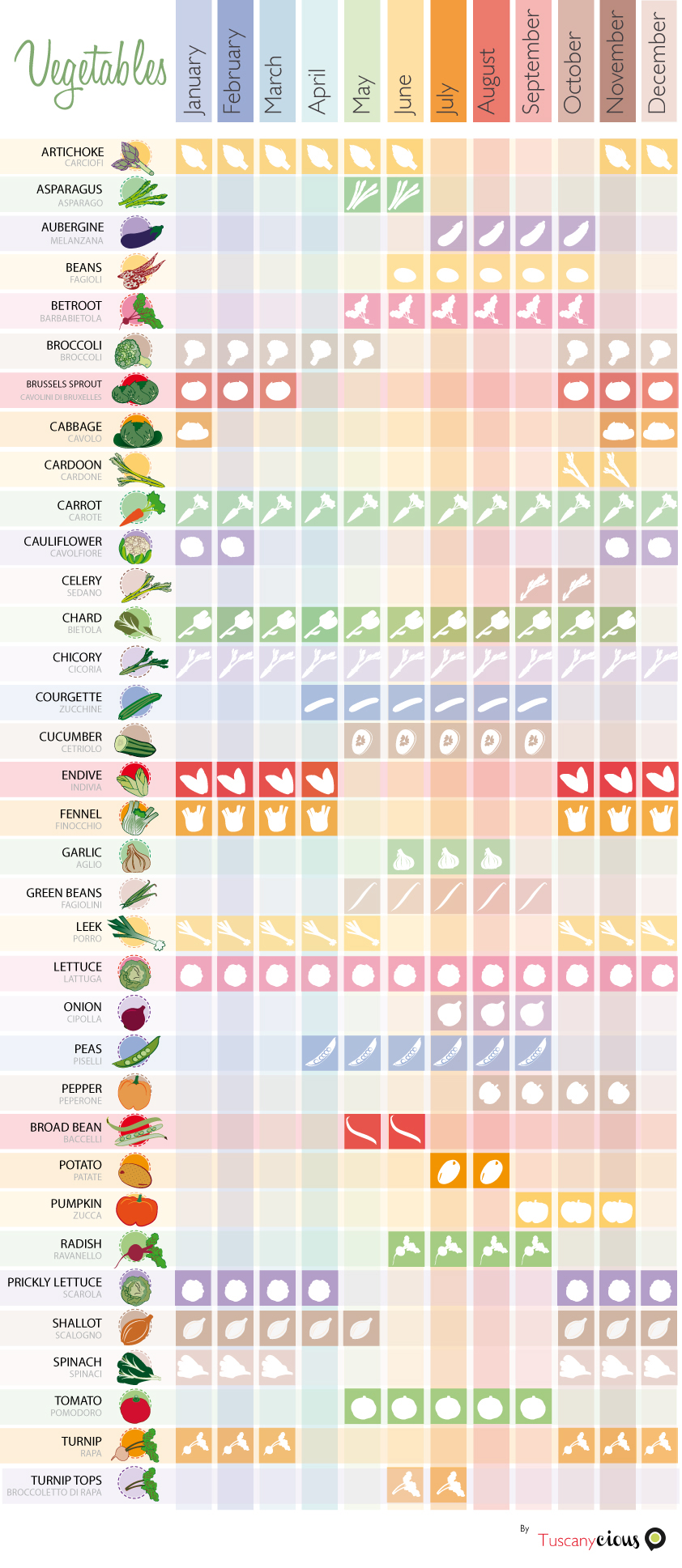 We can visit farms, buy cheese at local organic markets in Florence, without it being a kitschy treat but instead a regular reality. Henceforth, it would be completely impossible for me NOT to share the love when it comes to where we go that embrace that poignant, farm-to-table food philosophy that makes eating sustainable produce easier than one might think. Keep an eye out for DOP or PDO (Protected Designation of Origin) and IGP or PGI (Protected Geographical indication) food products in your area, in Tuscany a few examples are the Monte Amiata chestnut, Lunigiana honey DOP, Siena Panforte IGP, Pecorino Toscano DOP and the list goes on.
Ps. Since Rome is still fresh in my mind after last week's trip, here is a list of markets where you can buy local by Katie Parla.
Florence
When it comes to fresh veg markets, you have your choice of options in town, usually Mercato Sant'Ambrogio or San Lorenzo, the city's two main food-markets where on any given morning you can see an eclectic mix of people and shouting voices, but keep in mind they aren't necessarily selling organic KM zero goods (I have favorite stalls, and I always ask). I typically go the organic Fierucolina market in piazza santo spirito every third Sunday of the month to get high-quality organic goods. My friend Alexandra of ArtTrav (see post below) has provided wonderful options on how to get farm-fresh veggies delivered straight to your home which takes the work out of well, everything.
I am a big fan of the Degustibus network which also adheres to the "slow travel" philosophy, and in piazza tasso you can find their small bistro located just steps from one of the best gelaterie in town. Culinaria serves up an interesting Mediterranean and farm-fresh menu with North African, French, Spanish, and Italian flavors (prune-stuffed pork, spiraled carrot salads) from their hand-picked network of producers that adhere to sustainable agriculture (just ask!). Its a great example of slow food at it's best. FB page. address: Piazza Torquato Tasso, 13 R, 50124 Firenze, Phone: 055 229494. Open 12-3, 7-11pm.
This new find (for 2019) is a hidden paradise for those whose green thumbs are far more advanced than mine. Essentially a restaurant nestled within a plant nursery, Le Lune is a family-owned affair that is passionate about natural agriculture and procuring products from the local territory (fattoria di Barbialla a Montaione). Food is delicious, seasonal with a nice wine list and outdoor dining. They even have their own truffles during the autumn season that make for quite the treat for those who can't make it out to San Miniato's annual truffle fair. address: Via S. Domenico, 36, 50133 Firenze FI. Open for dinner daily and lunch on the weekends. Ph: +39 : 055 570222. €€
https://www.instagram.com/p/B3Cs5aaANHn/
The arch of my youth I like to call this place. Once an area I frequented as a student is usually one I avoid except for this great little find. Since 1993, they have been predominately using organic products from their own farm and otherwise sourcing locally in their menu, which includes items such as Cinta Senese DOP cold cuts, cheese from their farm, or fresh pasta stuffed with ricotta cheese and spinach with a violet artichoke sauce.
address: Via dell'Oriuolo, 3/red, 50122 Firenze
This has been a favorite restaurant (breakfast, lunch or an early aperitivo) of mine on a small street tucked behind piazza pitti which offers an "organic living room" experience offering an array of organic and biodynamic products in the form of cold-pressed juices, salads, soups, cakes and other fresh dishes, even brunch!
Their veggies and fruit are delivered every morning from a local farm (which you can purchase as well and order your own home delivered box of goodies) and for those looking for healthier lunch options, this place is where you want to go. I took Nico's parents one morning recently and it remains one of their favorite places in Italy.
What's served? Think thinly-spiraled zucchini noodles with fresh cheese from an organic Tuscan farm topped with their own homemade salad dressings,tasty gazpacho served in a margarita glass, re-visited poke bowls with salmon and vegetables, and vegan desserts, pastries. They also carry a nice wine selection. address: Sdrucciolo de Pitti 10/R, FIRENZE, +39 055 2382070. Open Monday through Saturday 8am-8pm, Sunday 10am- 5pm.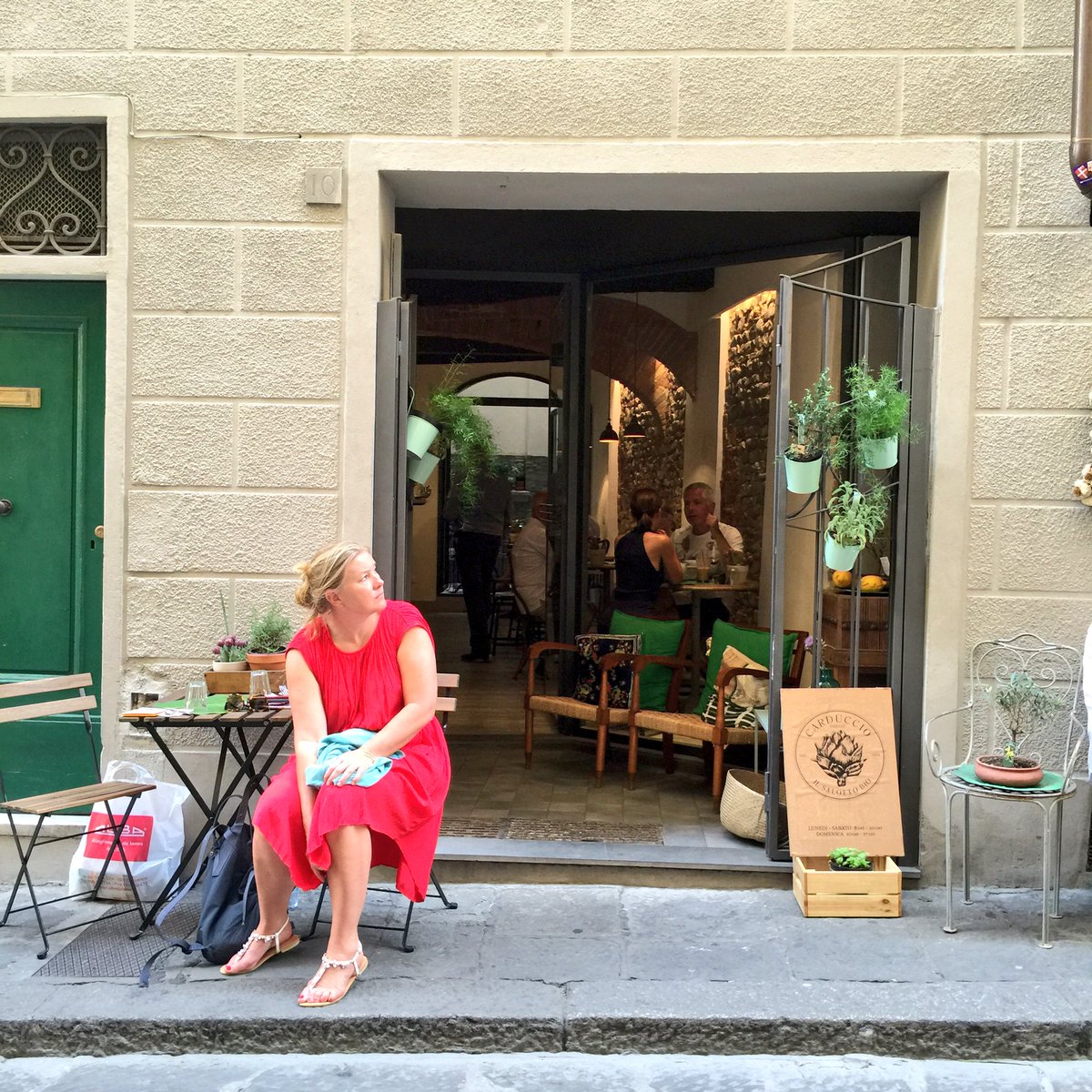 La Leggenda dei Frati
For a more fine-dining experience, my absolute top choice for farm-to-table places in Florence would have to be La Leggenda dei Frati. I've written about it here but I honestly can't imagine a more romantic or delicious location for a truly remarkable dining experience undertaken by Chef Filippo Saporito and his lovely wife Ombretta. address: : Costa S. Giorgio, 6/a, 50100 Firenze. Open every day for lunch and dinner except Monday. Keep an eye out for their attractive and affordable lunch deals.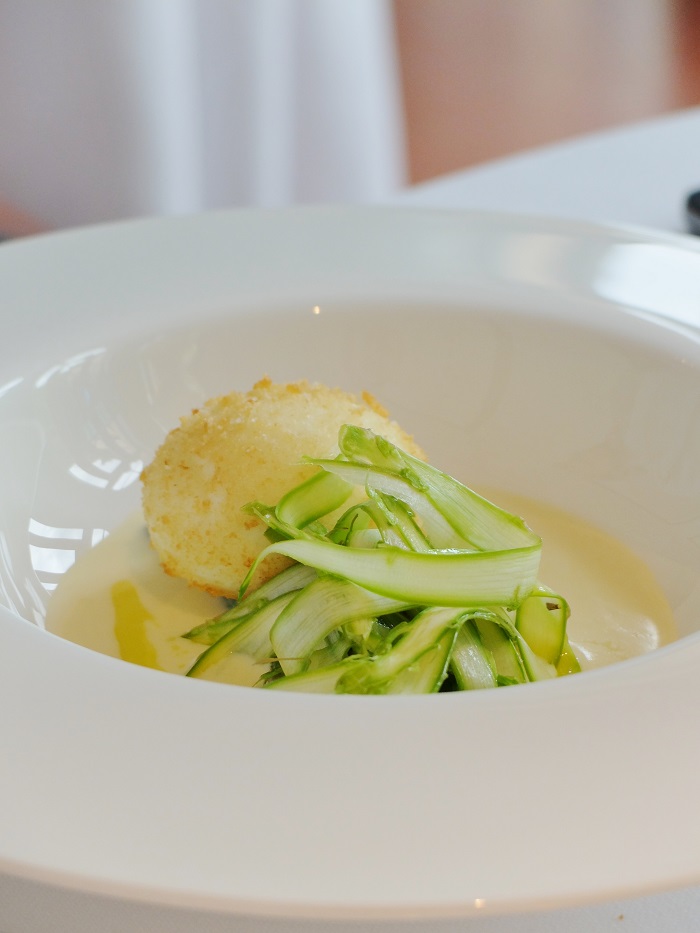 Bagno a Ripoli (Florence suburb)
Ristorante 588 at Borgo i Vicelli is located in the Bagno a Ripoli hills, it's an agriturismo first and restaurant second, with plenty of weddings being held here annually. The true gem is their farm-fresh restaurant "588" which features the creative cuisine of Chef Andrea who makes vegetables the star of the show and plays with Tuscan cuisine in a way I personally found almost revolutionary. address: Borgo I Vicelli srl, Via Roma 588, 50012 – Bagno a Ripoli (FI), Tel. +39 055.699003, http://www.borgoivicelli.it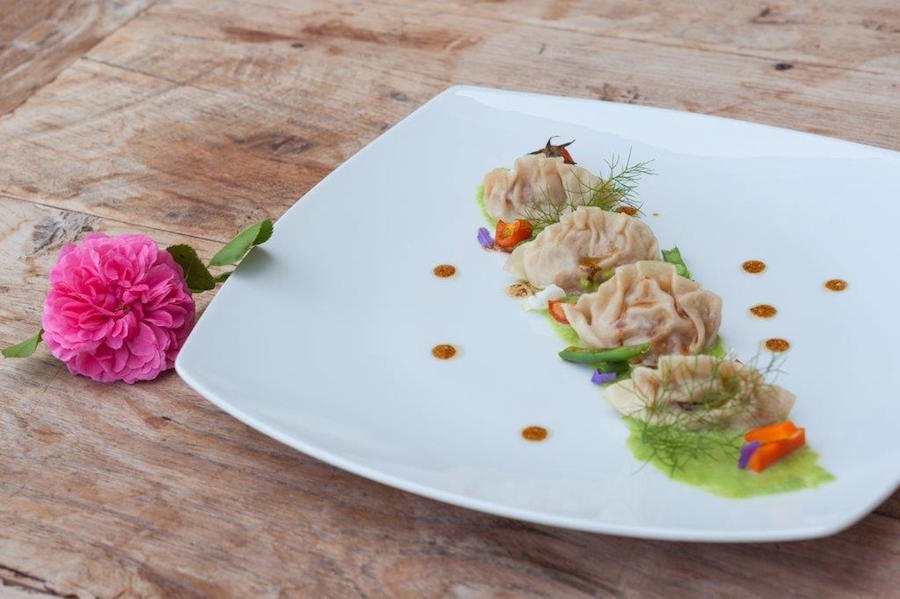 Arezzo Countryside
Il Canto del Maggio
This is our go-to date night place in the Tuscan countryside, Il Canto del Maggio is around 40 minutes from Florence and worth every kilometer ;-). The food here is made from the little borgo's own orto, (garden) by a father and daughter dream team who use their culinary prowess to create a very good seasonal menu (you can read more about it in my post here).  In fact, it comes to no surprise little wonder Il Canto Del Maggio has earned a worldwide reputation (with appearances in the Michelin Guide and Conde Nast). address: Località Penna Alta, 30/d, 52028 Terranuova Bracciolini AR. Phone: 055 970 5147. Open Tuesday -Sunday 7-10pm. Closed Monday. Open also for lunch on Sunday.
Siena Area
In order to buy truly awesome local products in Siena, I have heard that a special KM zero "Campagna Amica" market will be running every Saturday from 8-1pm, in via Paolo Frajese (look for Colonna San Marco). Looks worth a visit!
San Gimignano
Another organic family farm near the famous "town of towers" and beloved tourist hotspot San Gimignano is Poggio Alloro. While I haven't personally been there yet to eat, if Emiko Davies, local food writer, vouches for it, than you know it has to be good. They serve rustic, hearty dishes that vary according to season. It's the perfect place for a lovely fixed-price menu that introduces you to the basics of Tuscan cuisine. address: Via S. Andrea, 23, 53037 San Gimignano SI, Phone: 0577 950153. Open for lunch or dinner (reservations mandatory), closed on Tuesdays. 
https://www.instagram.com/p/BY0gCUQBMP4/?taken-at=242386148
Pontessieve countryside
Up in the Pontessieve hills about 25 minutes from Florence is another place close to my heart named after the windmill that still produces their organic grains. My friend Debora of Villa Landucci B&B first introduced me to this place a few year's ago and I have been going back ever since, it's an organic farm comprised of a restaurant, self-catering apartments and an outdoor pool. Known locally for their organic wine and excellent extra-virgin olive oil, the ingredients in their kitchen fall under that same farm-to-table mentality. In the warm months, eat typical Tuscan fare on their lovely panoramic terrace and for popular events (like Easter) you need to book well in advance. Go for their Cedro Riserva which is a Chianti Rufina D.O.C.G. recognized  red wine with  90% Sangiovese and 10% Merlot. Address: Via di Grignano, 38, 50065 Pontassieve FI, Phone: + 39 055 839 6168. Email: [email protected]. Open daily dinner (closed Wednesdays) from 7:30-10pm, open for lunch on weekends.
https://www.instagram.com/p/BV68Zcpl3bH/?taken-at=239111068
This is part of this month's "farm-to-table" topics picked by the fab ladies at Italy blogging roundtable who have been kind of enough to let me join their fun Italy-loving tribe. Thanks guys! Also share with us YOUR favorite spots, farms, tours that embrace the "eat local and sustainable" philosophy. I'd like to hear them! 
Enjoy their posts below