You'd think that with the arrival of summer in Italy, everyone would collapse into a lazy, somewhat more relaxed schedule of sorts. Instead I feel like every other day I'm hearing about a cool new event, a new restaurant opening or exhibition in some area of town. It seems to never end. And frankly, I think it's awesome.
We choose to do more of our longer trips (one week or more) not in July and August because of the price and sheer amount of people doing the same thing.
This means I'm always looking for a way to get out of the bat cave that is my shuttered apartment during these two months. I live like a vampire when the temperatures creep up to 37 celsius. La dolce vita in the form of a portable air-conditioner with a hose out of the window, and copious amounts of caffe shakerato (espresso shaken with ice). If you don't believe me, just check out my daily snapchats. Tonight, I'm headed to the first in a series of dinners with Michelin star chefs with fellow writers and journalists in suggestive spots in Tuscany, the first at. Ps. I've recently added a bevy of other interesting events this month here.
For anyone claiming that the Tuscan people's innovative sides has been declining since the Renaissance, they'd be utterly wrong. I'm constantly impressed by the enterprising spirit of people I meet around town and what they do in the most odd of places. In Florence we've seen people put a beach next the Arno river, or create an urban garden in the middle of the city.
Outside of the center one such recent find is in the form of an old water tower "Tower del Chianti" built after WWII located in San Casciano in Val di Pesa, an easy 32 minute drive from Florence. This quiet Tuscan town lies on top of a hill overlooking the Chianti valley below, some of Nico's coworkers live here for the easy proximity to both Florence and the Fi-Pi-Li highway. It's the kind of place where you can find parking and see groups if young Italian teenagers laughing and getting gelato together instead of drinking beer at 10pm.
Thanks to my friend Bianca, she alerted me to a fancy happy hour/dinner situation happening on top of said tower that I absolutely had to see in person run by the restaurant "La Tenda Rossa" di Serbia. I first got to know this place last year when they organized a beautiful "once in a lifetime" dinner inside the cloisters of San Marco Museum in Florence.
From the outside it looked just like what it is, a pretty ugly water tower once used to hydrate this part of the San Casciano valley. Now, while it still retains its water storage function, they use it more to showcase contemporary art and host event on the terrace located up top.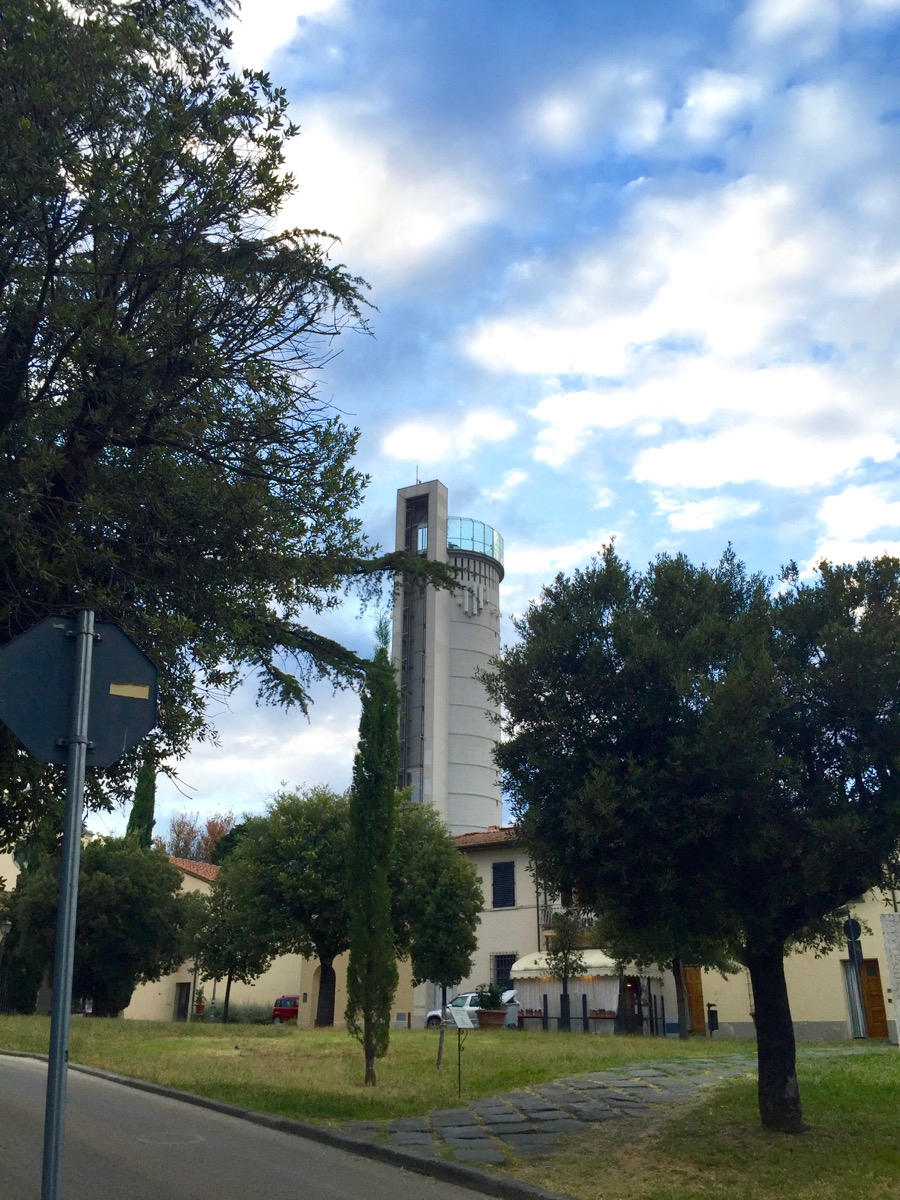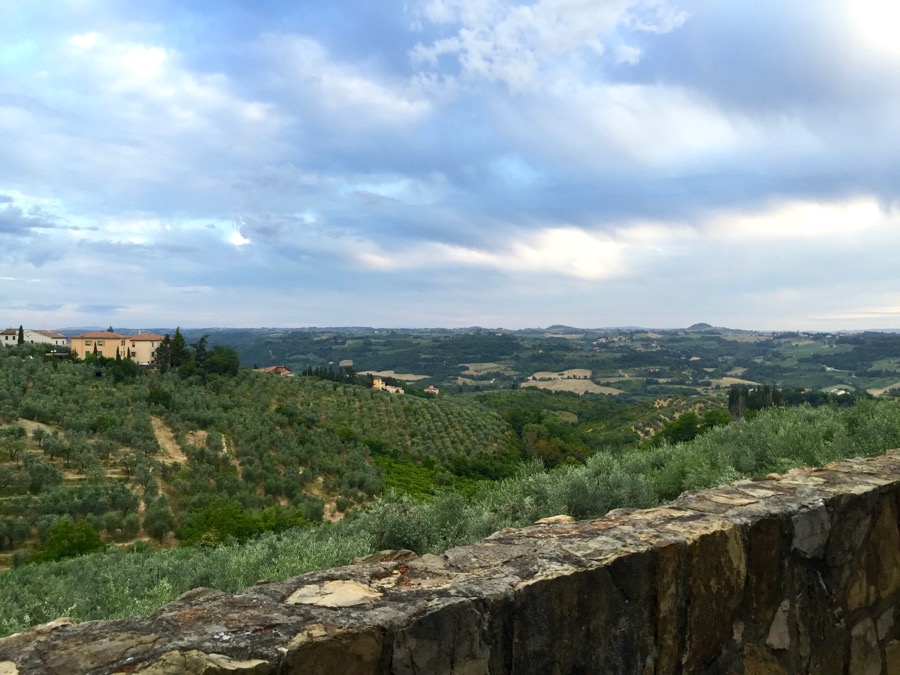 Look a little closer to the to railing however, and you see human forms. Milling about, taking photos, and voila, an outdoor bar is born.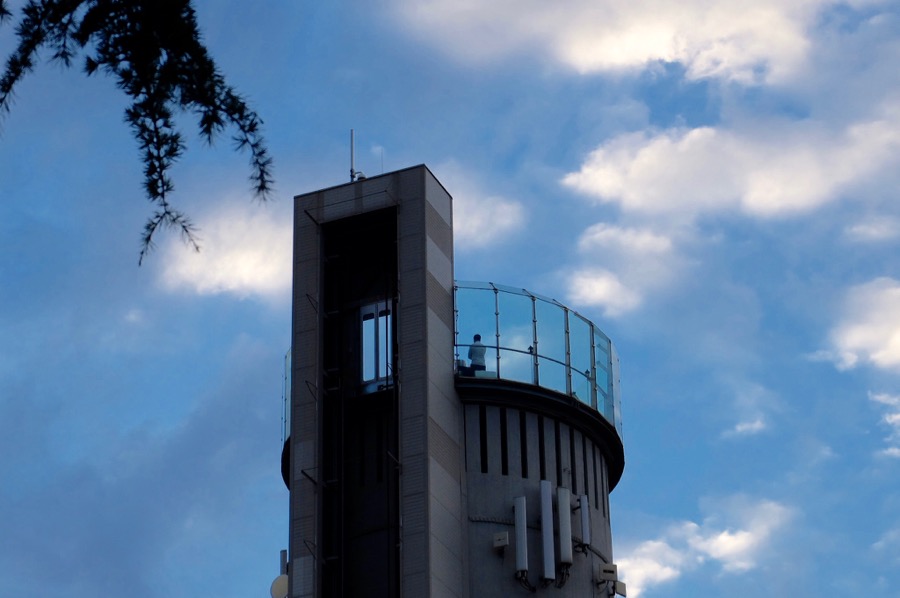 We parked out car and walked up to a little table set up outside of the tower. A woman check our name off a list and we stepped inside. I looked up and saw a beautiful chandelier by Florentine artist Patrizio Travagli, a work of modern art inside the tower meant to provoke the viewer to rethink their perception of tie and space. A mesmerizing piece that paired well in the somewhat gritty interior.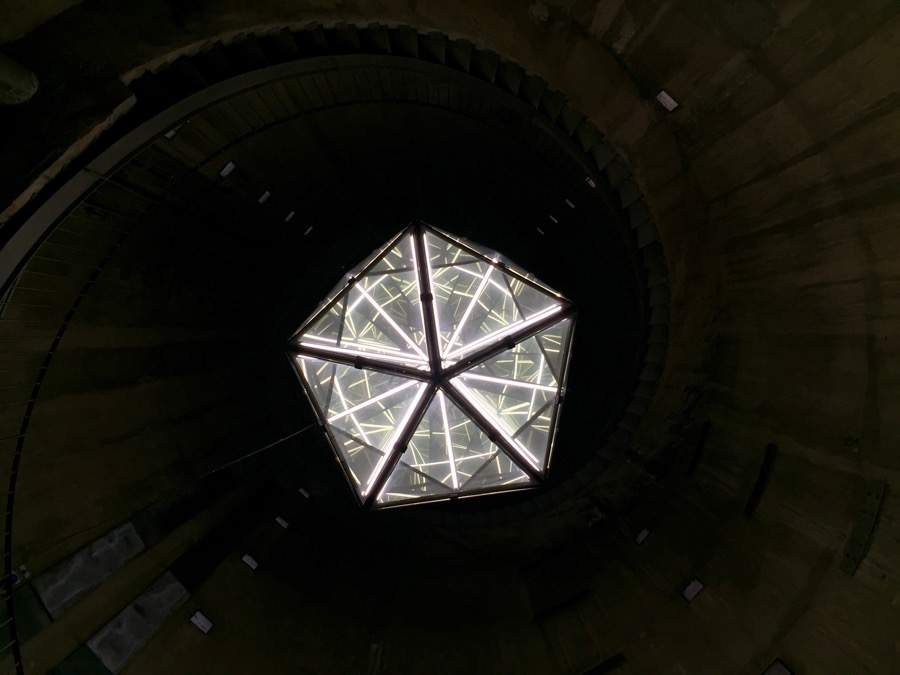 Next up was the glass elevator in question. A bit smudged in places, we shot up like a star in the night. Once the door opened, I wasn't quite prepared for the scene before me. A very small circular terrace overlooking the Chianti valley, the wood floor covered with throw rugs beckoning with fabrics from the east, vintage furniture dotting each panoramic corner.
Not just fancy hotels can come with a jaw-dropping 360 degree terrace view, apparently so can once derelict buildings in the middle of Tuscany. From here up you can get a bird's eye view over the Pistoia mountains, Vallombrosa and more. After chatting with Nastacia she confided that "this was far from an easy project, when we first came here, there was no electricity or facilities, you can only imagine how it was bringing food and making sure the space was comfortable."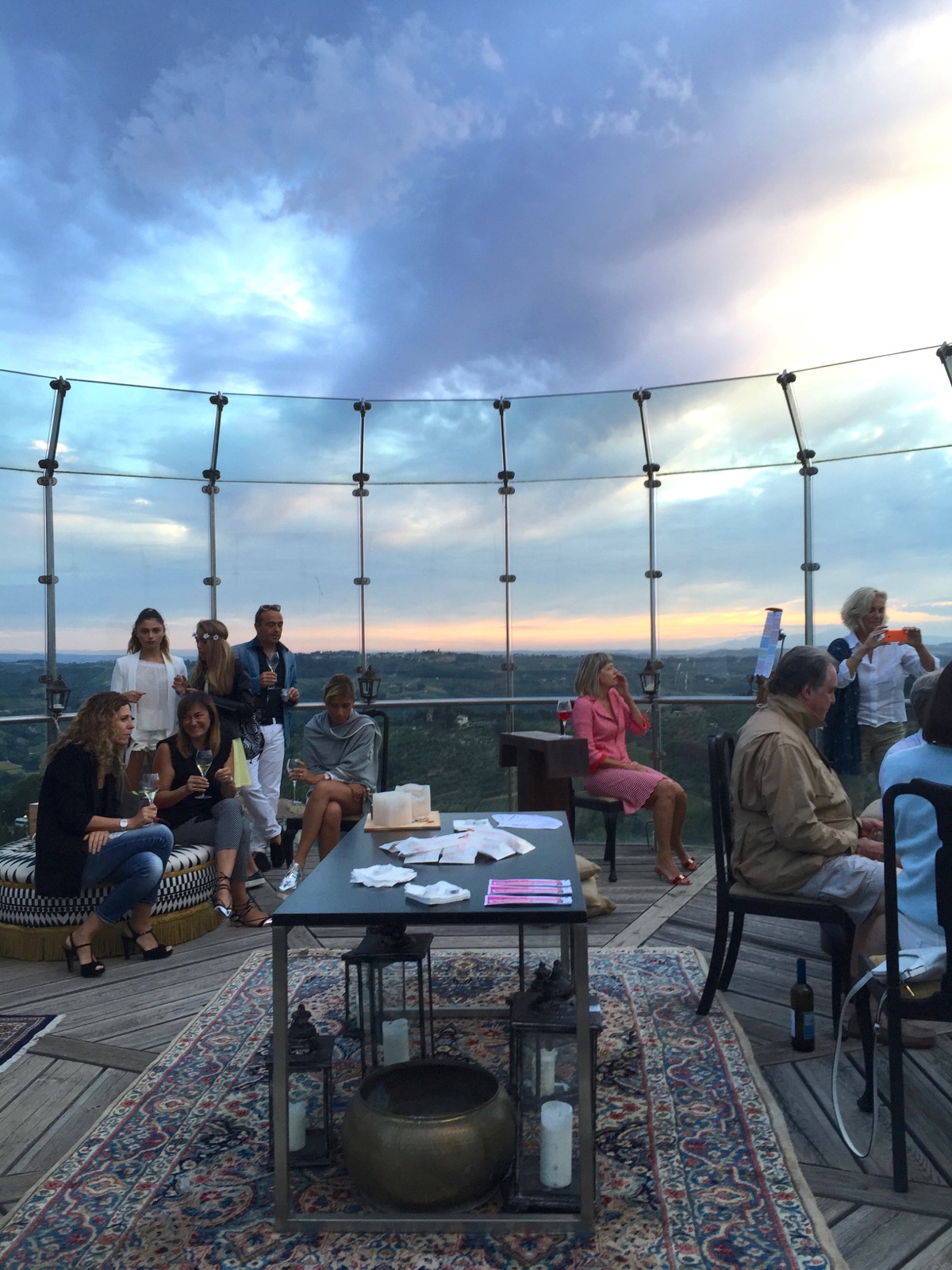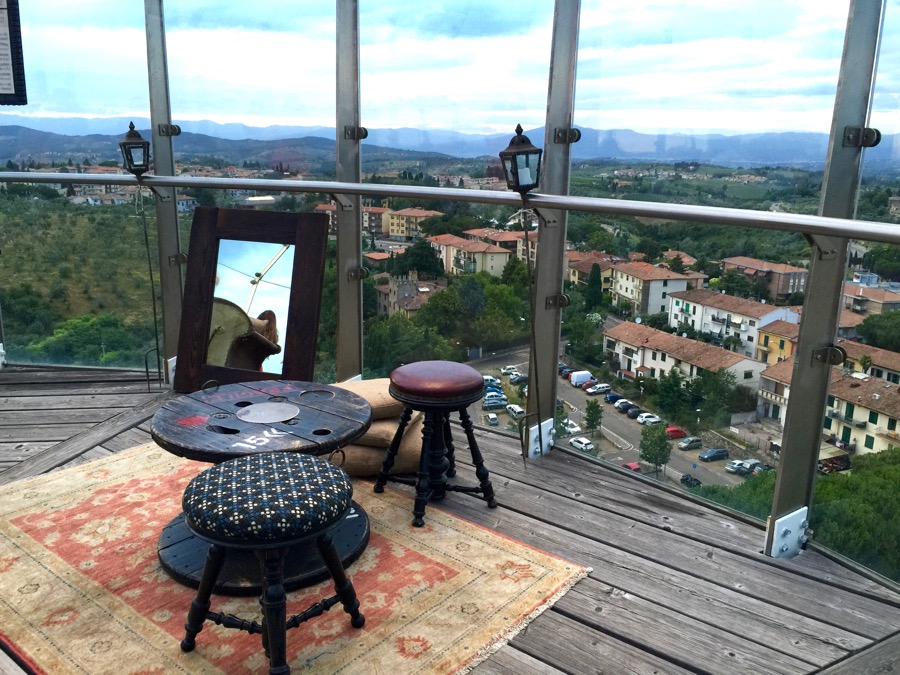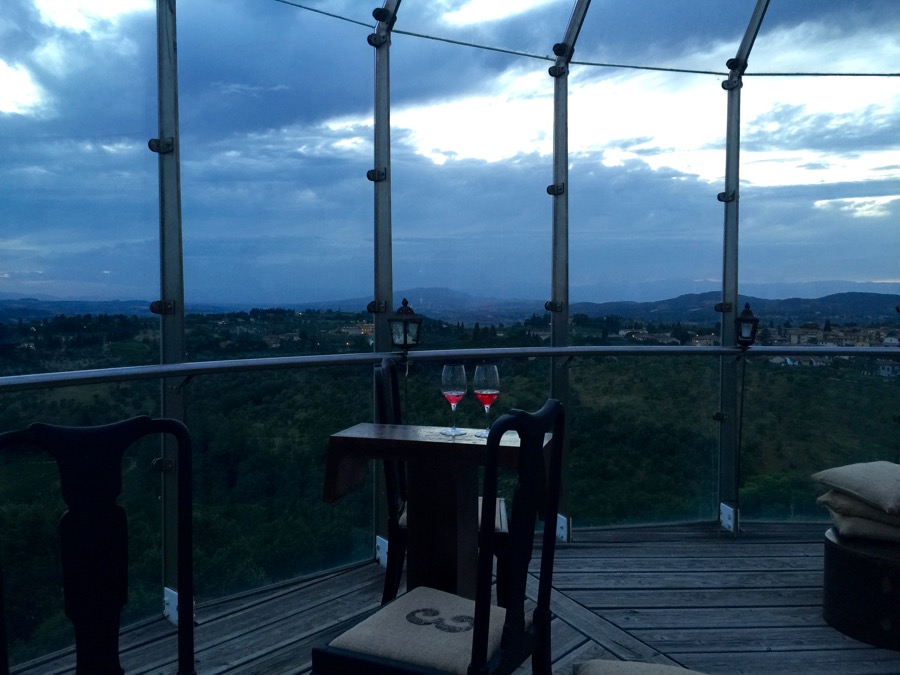 Our lovely host Natascia, daughter of owner Maria Salcuni, and a sommelier from La Tenda Rossa greeted us in a beautiful red dress, while the bartenders handed us a glass of rose gin tonic from the restaurant's own recipe using tiny red berries or "bacche di frutta rossa."
https://www.instagram.com/p/BH2lVnjhsT5/?taken-by=girlinflorence
We were there for the sack-dinner, which is exactly what it sounds like, a bagged dinner to-go  by the chef's of La Tenda Rossa paired with wines and spirits. However, this is nothing like your average pack of lunchables, instead we started with a small bag of exquisitely-wrapped marinated salmon with hints of ginger and stuffed with cheese, meant to resemble sweets.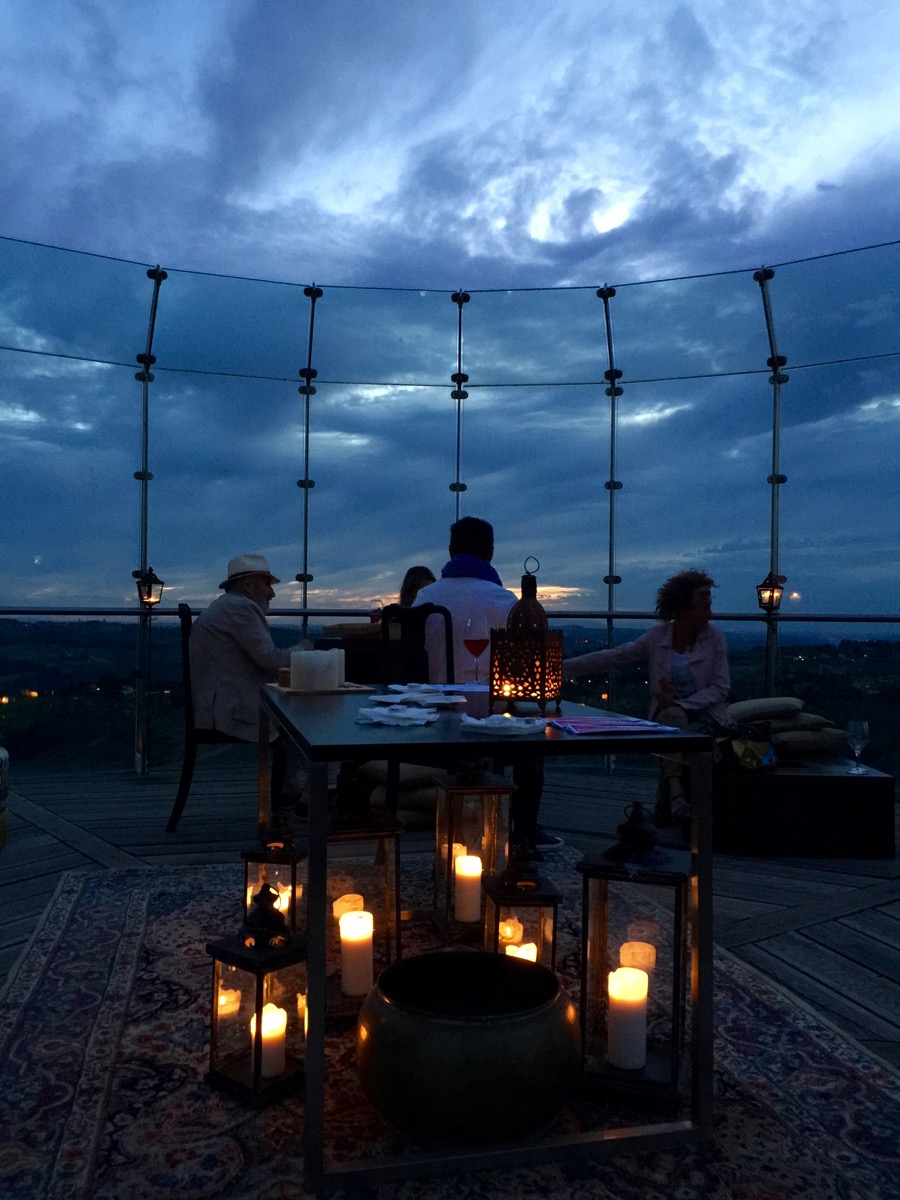 Next up was a jar of pasta, a delicate blend of clams, mussels and bottarga with a hint of lime awaited us. This was absolutely my favorite dish, give me the choice between a meat sauce or a delicate seafood option, and I'll always go for the fish.
For our main, we enjoyed a small quail with vegetables, this was by far the trickiest item to eat though it was served in a cool bubble serving platter. Dessert a spiced chocolate wafer, it wasn't my favorite part of the meal, but then again I am more of a savory gal. Everything was paired with handpicked wines, we enjoyed a lovely rosso from the area and a german white to start, it's lighter texture went perfectly with our salmon.
The brainchild of the meal are all thanks to chef Maria Probst and Cristian Santandrea, who have been impressing patrons of La Tenda Rossa for some time, and now us.
How To Go
This gem is too cool not to share with you all, it would be cruel and I don't play that game.  You can reserve a spot for an aperitif or sack-dinner every Tuesday, Thursday and Friday of July, with some appointments in August. Additionally you can also inquire about reserving the entire space for a private party or event.
I recommend bringing a sweater as temperature up there can be quite cooler than down below.
The last opening day is August 13th where fireworks will be able to be seen from the tower's high vintage point. Just the aperitif is 15€ a person, they also serve truffle biscuits by Savini, a famous Italian truffle producer.
Your sack-dinner paired with wine goes for 50€ a person. Not the cheapest situation in the world but I doubt you'd find a better ambiance than this. Spaces are limited, so I highly recommend reserving a spot well in advance, especially for the fireworks show on August 13th. Call +39 055826132 or email [email protected], more info can be found here. 
Address: Viale San Francesco D'Assisi, 38, San Casciano in Val di Pesa FI

La Tenda Rossa hosted us for this experience but my decision to write this and share my opinion is 100% my own.