I have to admit that these past weeks haven't exactly been ideal. The world has not been a kind or forgiving place and per a conversation with some girlfriends this week, 2016 has begin with a sucky start. What I can say though, is that I plan on living life as fully as possible and you should too. No matter what idiots do in this world, the best solution is making the most out of life on the daily.
July is a special month for me, not just because it's my birthday month, but also for the sweet, summer nights, sitting in the city's suggestive squares and laughing about anything and everything. Life moves a little slower this month and August and I love it. Sure it gets crowded in Florence, the Ponte Vecchio seems to move as its own organism at times, but at night the city livens up so take advantage of all of the free concerts, live music and when you need to escape the heat, visit a museum!
If you haven't yet been to the Medici Dynasty Show, make sure to go and remedy that ASAP, it's a fun hour of history and theatrics in a quite beautiful space. Also the new Innocenti Museum has just reopened after a serious renovation, my friend ArtTrav has the full scoop.
For those looking to meet some friends and join locals, I highly recommend checking the upcoming Yelp events, which are always a lot of fun! Lastly, here is a list of public pools in Florence when you can't even think because of the heat.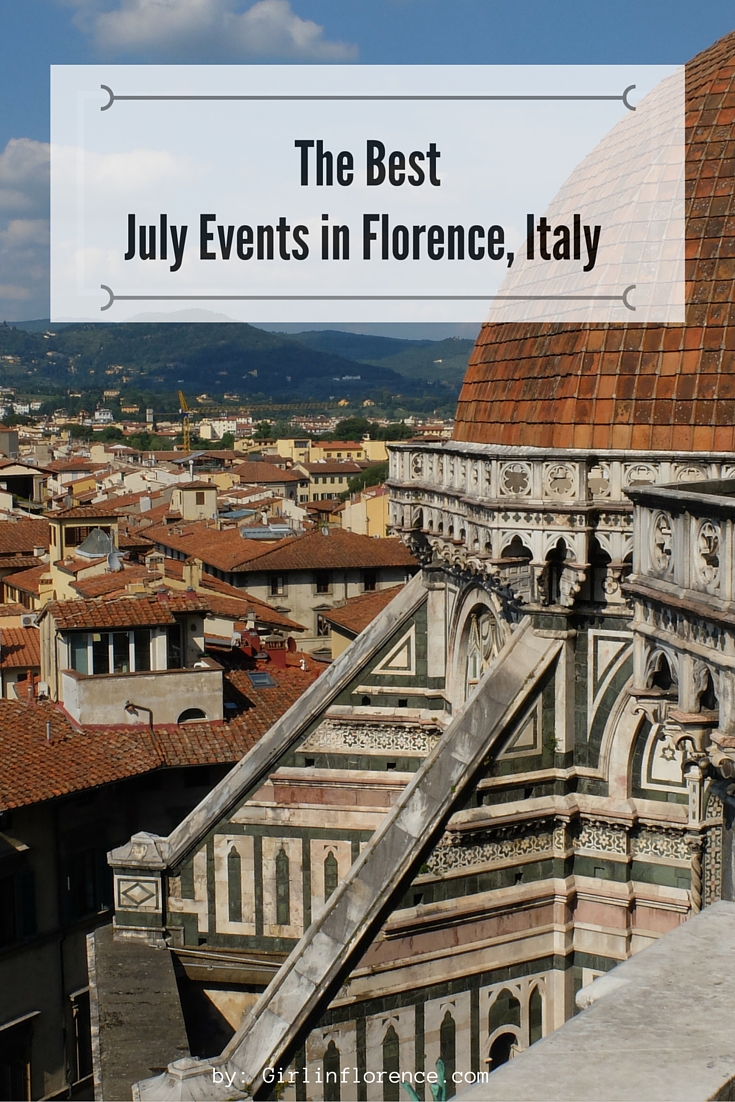 Yoga | Free Class At Parco Villa Fabbricotti, July 1st, 6:30pm-8pm
A local yoga teacher has been offering a series of free yoga classes in one of my favorite parks (stibbert) open to people all of all levels. This particular class with focus on backbends and stretching. Just bring your own mat, comfortable clothes and perhaps mosquito repellant and join the group! You can learn more about Arda and what he does here. Address: Via Federico Stibbert, 50134 Florence, Italy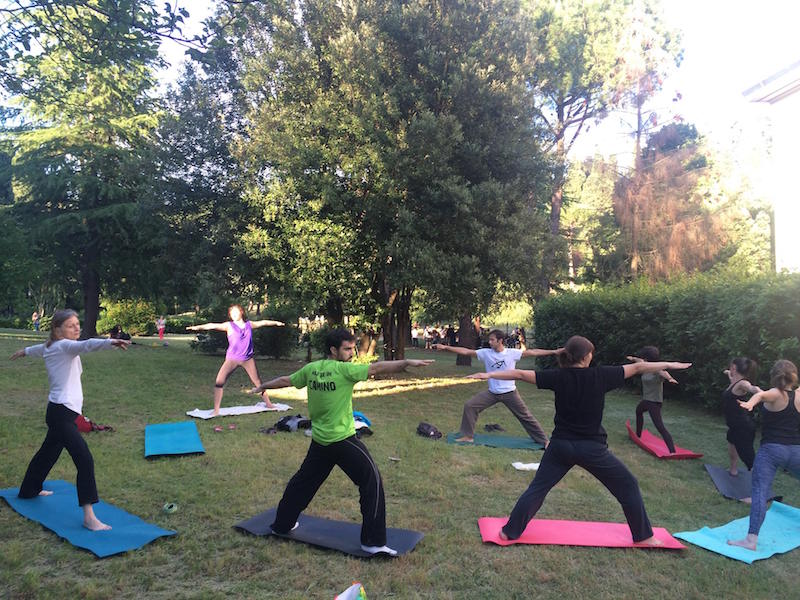 Music | Vocal Blue Trains Choir At Livonia Villa Strozzi, July 1, 9:30pm.
The Vocal Blue Trains Choir will have their last gig of the season, their music blends a mix of gospel and electronic in a show that will captivate anyone, and everyone. 7€ entrance, in a cool outdoor space near the park called "Il Boschetto." More details can be found here.
Sales | Saldi Season Starts July 2nd in Tuscany!
Shop till you drop, or just drop out of exhaustion of the summer sales. Yes, sales here are regulated by the local government and there are two major sales during the year, the summer edition starts this Saturday on July 2nd and end in early September. My advice? Either go early on Saturday to (maybe) beat the crowds or wait until Monday when people go back to work. Usually the best items go quick. This is the best time to pick up items like shoes, sheets, home wares, candles — you get my drift.
ART | JUNE CURRIN, STEFANO BARDINI MUSEUM, EXHIBIT runs until October 2nd. 
John Currin is an established contemporary artist originally from NYC who will soon be showcasing his work in an important Italian public space. He is renowned and celebrated for his extremely elegant portraits and erotic scenes rendered with ironic, shameless realism. Not only does this look like a fascinating exhibit, it also gives revelers a chance to see one of Florence's lesser known museums, the Bardini. address: via dei Renai 37. Open Friday to Monday, 11am-5pm, 6€ entrance. More info here.
ART | FIRST FREE SUNDAYS, July 3rd, ALL OVER ITALY + Festa dei Musei
First free Sundays is something I have been including in every monthly lineup because how amazing is it that in a city with so many museums, they offer at least one day where you can visit some of the most important places in town, for free. After May day holiday and #nottebiancafirenze (which ended up being pretty lame), head out this Sunday for a little art & culture. I recommend visiting lesser-known but incredible places like the Bargello Museum, Palazzo Vecchio and the Brancacci Chapel near piazza della carmine. FYI the Palazzo Vecchio is open today from 9am-11pm, Santa Maria Novella: 1pm-5:30pm, Archealogical area at Palazzo Vecchio: 9am-11pm, Museo Novecento 1pm – 5pm, Cappella Brancacci in Santa Maria del Carmine: 1pm to 17. More info can be found here on which museums are free and open.
Ps. On July 2nd, there will also be a special initiative offering a reduced price to some of Florence's museums. Here are the details: Galleria dell'Accademia, sabato 2 luglio, h. 19.00-22.00, € 1,00; Museo del Bargello, Saturday July 2nd, h. 20.00-23.00, € 1,00; Museo Archeologico, Saturday July 2nd, h. 14.00-18.00, € 1,00; Palazzo Davanzati, sabato 2 luglio, h. 16.00-20.00, € 1,00. More info here.
CINEMA | APRITICINEMA! AT  PIAZZA SANTISSIMA ANNUNZIATA, NIGHTLY FROM UNTIL JULY 9TH, AROUND 9:30PM NIGHTLY. 
I'm so excited they brought this initiative back, every night, starting from June 11th films will be shown in one of the most historical squares in the city as part of this year's Estate Fiorentina. It's free to go, just get there a little early to nab a seat, typically the shows start around 9:30pm. Keep an eye out on the list of films and news here.
Drinks | Fashion Happy Hour Every Thursday This July At Hotel Belmond Di Fiesole, 7-9pm.
This July, join fashion house LuisaViaRoma and The Belmond for a special aperitivo blending fashion and fashion-inspired cocktails in one of the prettiest views in town. Shop some of the latest styles locally and have a drink (one of their signature cocktails costs 16€). For more info or to make a reservation, contact Tel: +39 055 5678200, E-mail: rsv.vsm@belmond.com. address: Via doccia 4, Fiesole.
Pizza & Bubbles | Everything Thursday at Hotel Villa Cora, 7:30pm
Villa Cora has just combined two of my favorite things in this world, pizza and champagne and made a night out of it. Every Thursday by the pool from 7-10pm together with live music. €47 per person, including drinks. For info and reservations, call Ph. +39 055 228790 or email ristorante@villacora.it. address: Viale Machiavelli, 18.
https://www.instagram.com/p/BHk1AoXhYOa/?taken-by=girlinflorence
Dance | Florence Dance Festival 2016, Until July 27th, Bargello Museum & Teatro Romano
In its 27th edition, one of the best dance festivals in the city is held in the beautiful courtyard of the ex-prison turned museum, the Bargello along with the Teatro Romano.  Check out the full program here.
Music | Classical Music and Aperitivo at Villa Bardini, Month of July
This month of July means so many opportunities to enjoy some of the city's most suggestive outdoor spaces. One I highly recommend is enjoying a classical music concert at the gardens of Villa Bardini, one of my favorite places in Florence. This month, there are four concerts that all start around 6pm. Check out the full program here.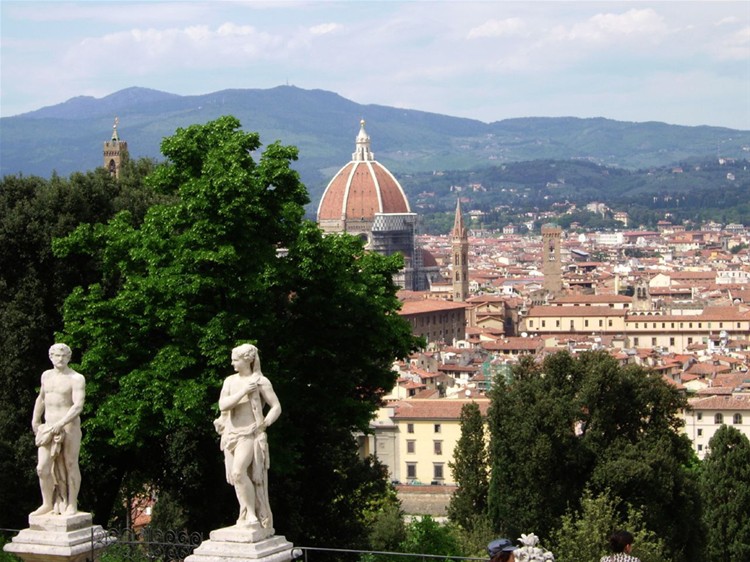 Party | Independence Day, Castello Acciaiolo, via pantin, Scandicci, July 4th 6:30pm – Midnight.
Independence day isn't forgotten in Florence. 🙂 The Tuscan American Association has organized a lively festa in Scandicci at the Castello Acciaiolo for an evening of music, street food and fun to celebrate July 4th Americana style. How to get there? Take the tramvia from the Firenze Santa Maria Novella Station and get off at the stop Resistenza. The location is about 200 yard from the stop.
PERFORMANCE | OPEN-MIC JULY Anniversary EDITION AT TASSO HOSTEL, 8:30PM, July 13th. 
One of the coolest events each month takes place at a hostel that serves cheap drinks and offers creatives a free platform. In their words: "It is our FIRST BIRTHDAY!! So to celebrate, we are announcing a theme for the very first time: CELEBRATION!  And we invite everybody to BRING SOME PARTY TREATS to share: cakes, lollies, jelly, strawberries, whatever you might take to a kid's party.  Over the past year, it has been remarkable to watch the Open Mic community emerge from hidden corners of Florence. We have shared words and music from all over the world in multiple languages and across every genre you can imagine. We've had poems in Russian, French, Chinese, and Portugese, the mad rants of a Welshman, the magic tricks of a Scot, the drumbeat grooves of a San Fran raconteur, the vocal liquid and poetry of the lady of the house, the harmonies of a gospel choir, true stories from brave and bare souls, and short stories rich enough to live a lifetime in eight minutes. "Free to go, address: 15 Via Villani, 50123 Florence, Italy. Facebook event.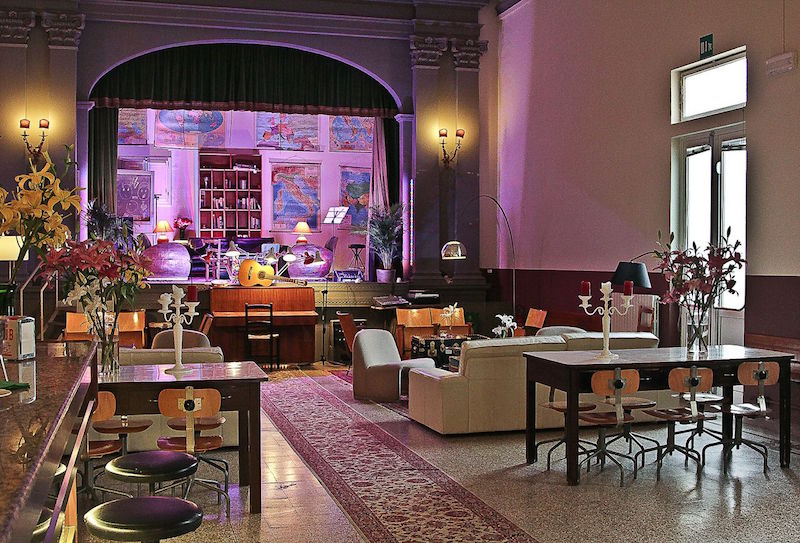 Culture | Archaeological Nights from July 1-30th, Around Florence
For those who have even a slight interest in archaeology, July is YOUR month. All around the city there will be a series of special openings (even at night), events and initiatives, now in its 16th year. This year's theme is "Continuity and discontinuity between antiquity and the Middle Ages". Have a look at the full program of events here.
ART | JAN FABRE AT FORTE BELVEDERE, ONGOING, FREE TO GO!
Already open and showcasing over 60 works of Belgian Artist Jan Fabre including films showcasing his past performances. The exhibition will remain open until October 2nd and will be open daily (closed Mondays) from 10:30am – 7:30pm. I highly recommend going earlier on in the morning before the heat sets in or around closing time. One tip though, don't lay in the grass or they will yell at you. address: Via di S. Leonardo, 1, 50100 Firenze.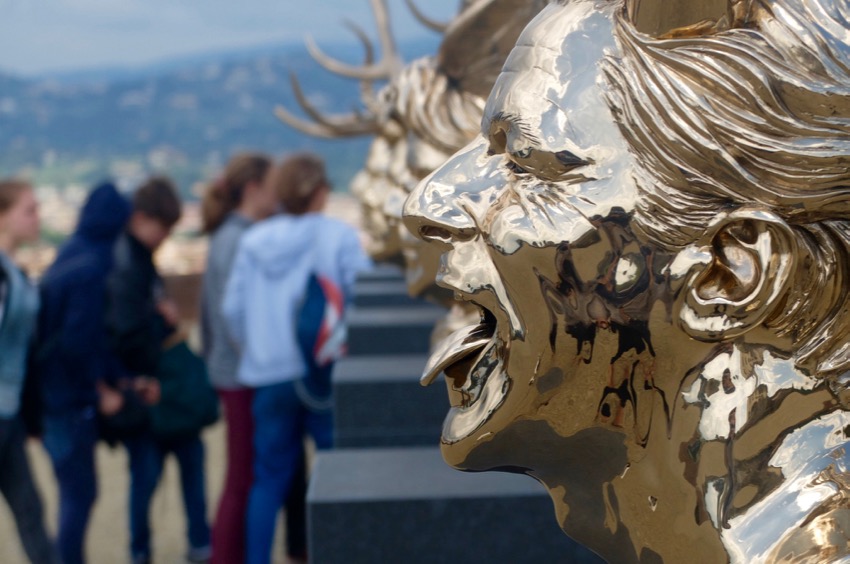 ART | DOUBLE-PORTRAIT – ANTONIO AND XAVIER BUENO, UNTIL SEPTEMBER, VILLA BARDINI
In Villa Bardini, home of the Bardini and Peyron Foundation, there is currently an exhibition entitled "Double Portrait – Antonio and Xavier Bueno, alternative to reality between avant-garde and figuration" by Stefano Sbarbaro. The show brings together brothers Xavier (1915-1979) and Antonio Bueno (1918-1984), in an exhibition with over 130 their significant works.
The project is curated by Stefano Sbarbaro, who says "it is intended to celebrate and retrace the creative and human story of two complex personalities voted the most authentic pictorial practice that had an original way to get close to the vibrant Florentine cultural environment from the forties …". Read more about it here. address: Villa Bardini, Costa San Giorgio 2, Firenze
Cinema | Original-Language Movies, Odeon Firenze, The Month of June, Piazza Strozzi
I went ahead and bought Odeon cinema ticket package so I am actively promoting any trips to the cinema with friends. Films at the Odeon are in their original language. This June there are a number of awesome movies that I really want to check out including 'The Man Who Know Infinity' and 'Julieta'. Price: 8 euros for a normal ticket, or you can get a pass for 8 shows for 44 euros. Program for this month.
ART & FASHION | KARL LAGERFELD-VISIONS OF FASHION AT PALAZZO PITTI
Fashionistas listen up! This special exhibit showcasesthe great Karl Lagerfeld through the lens in conjunction of the three-year program dedicated to the culture of contemporary fashion. This photography exhibit showcasing fashion shoots at iconic magazine such as Vogue, Harper's Bazaar, Numéro and V Magazine and will include several of Karl's unpublished works. More info can be found here. address: piazza pitti.
Party | Bastille Day, July 13 & 14th, Museo Novecento, Piazza Ognissanti
As part of this Florentine summer and the French national holiday in the wake of last year's horrific attacks, the French Institute in Florence wants to commemorate the values of this important national holiday on the 14th. The fun will take place over two days, the 13th and 14th, and include a series of performances. Ballet will take place in the courtyard of the new Museo Novecento on the 13th and Palazzo Strozzi while on the 14th a dance party will be happening at piazza ognissanti. More details can be found here.
_
July 13, 2016
Motion Performance
Where: Museum of 900, Marino Marini Museum and courtyard of Palazzo Strozzi
_
July 14, 2016, 20 hours
Liberty, equality and fraternity
DANCE IN PIAZZA OGNISSANTI
Market | Fierucolina del Grano. Open Market at Santo Spirito, July 17th, 9-7pm.
The monthly food market is back in piazza santo spirito and this month it is dedicated to "grano." It's a fun occasion to access farmers market goods, and just hang out in one of the best squares in the city.
Music | Italian Brass Week, July 17th – 24th
After the success of last year, the 'Italian Brass Week is BACK, the International Festival of Brass runs from the 17th to the 24th and is part of the #estateFi  initiative.
Students and international visitors thus will meet in the City of Florence for eight unmissable concerts including two world premieres dedicated to the 50th anniversary of the flood happening Arno River and the Duomo square. More info can be found here.
Food | Sushi and Fusion By The Pool At Hotel Belmond di Fiesole, July 19, 20, 21
Love sushi and a kickass view? Than I highly recommend visiting one of the prettiest properties in Fiesole (easy to reach from Florence) the Belmond during these three nights of sushi fusion by celebrity Chef Shimizu, from Basara di Milano. You will be treated to Shimizu's sushi fusion by the pool in what will certainly be a delicious affair. For information and reservations. Tel: +39 055 5678200, E‐mail: rsv.vsm@belmond.com. You can order a la carte or get the tasting menu at €65 a person. Tag them on socials!
Food | Guest Michelin-Star Chef in Tuscany, Colle Val d'Elsa, July 19th
Dining with the 'stars' is back. After last year's impressive event at some of the most important churches in Florence, people can enjoy a series of gourmet dinners with guest chefs all over Tuscany this summer. The first edition is on Tuesday, July 19th at Colle Val d'Elsa with Chef Gaetano Trovato at Restaurant Arnolfo, where he will prepare an unforgettable dinner with together with Chef Vincenzo Guarino. The full price is 150 €. Call 0577 749483 to make a reservation and check out additional info via their FB page.
ps. You can read about additional "Dining with the stars" event via this helpful post by ArtTrav.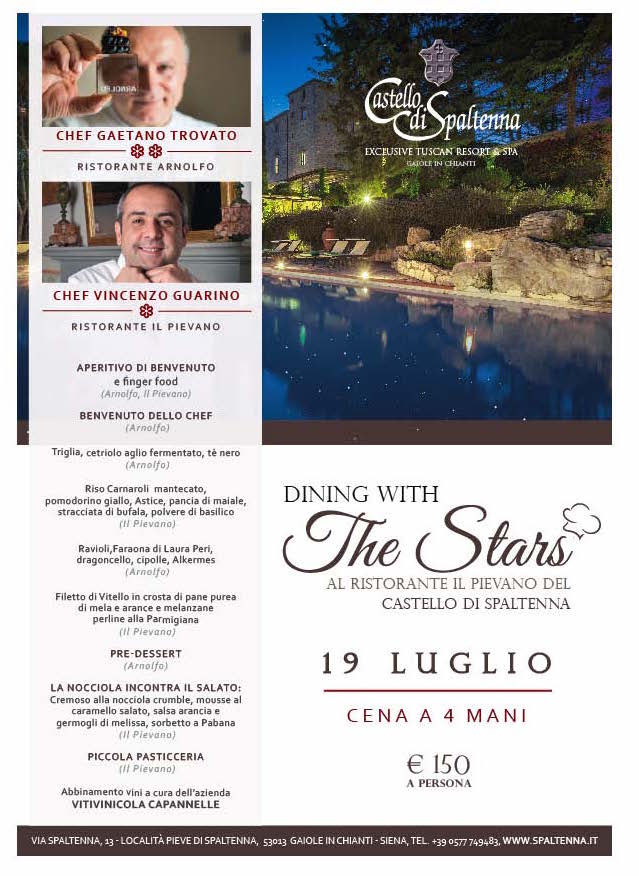 Guests with stars: Michelin chef "exchanges" in Florence and Tuscany http://www.arttrav.com/tuscany/michelin-chef-meals-2016/
Music | Florence Folks Festival , July 29-31st, 7pm, Florence Arno river south
This "party for the people" aka the Florence Folks Festival is an urban festival that talks about how to combine tradition and modernity in Florence in both a local and international dimension. The aim is to connect several generations for a common purpose through music, food and conviviality. There will be three days of concerts, DJ sets, crafts and quality food and wine in a summer dance hall next to the Arno river on the southern outskirts of Florence. More info and the concert lineup can be found here. address: Via della Funga, 27a, 50136 Firenze.

Cinema | Original-Language Movies, Odeon Firenze, The Month of July, Piazza Strozzi
I went ahead and bought Odeon cinema ticket package so I am actively promoting any trips to the cinema with friends. Films at the Odeon are in their original language. Price: 8 euros for a normal ticket, or you can get a pass for 8 shows for 44 euros. Program for this month.
Where To Eat Or Drink Outside This July in Florence
Street Food Along the Arno #Lungarnodeltempio

: This is by far one of my favorite things to do in the summer. Along the Riva del'Arno on Lungarno del Tempio, you'll find a cool outdoor space with food trucks including "PescePane" (the Italian answer to the fish burger) and a pretty awesome burger truck along with gelato, among others. This is definitely a place where locals go and if you like street food/being outside, this is the place for you. open 12pm – Midnight. On Thursdays, they also have live jazz music that starts at 7:30pm. address: Lungarno del Tempio.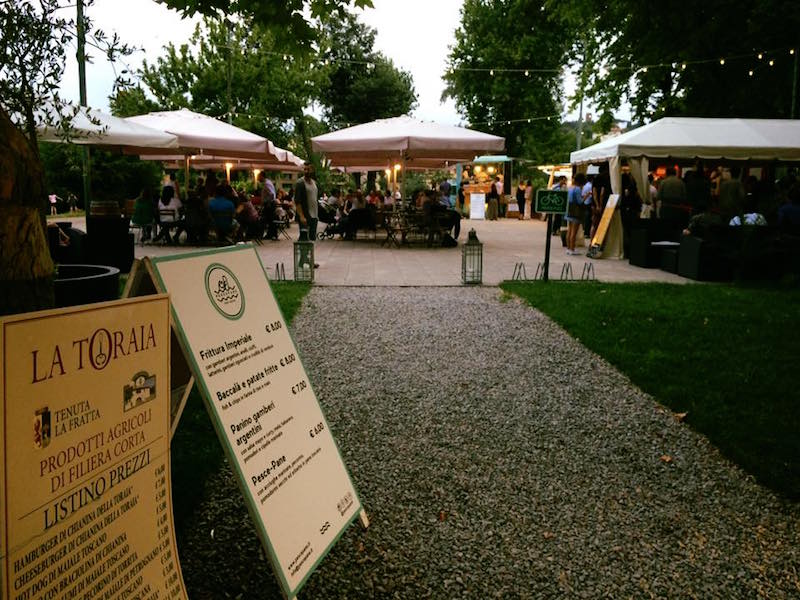 Easy Living

– If you haven't heard, the Arno has a beach. Not the nicest beach in Italy, but it will suffice for those looking to get a bit of sun this summer in the city. What I do like however? Is the Easy Living bar directly across the San Niccolo tower where you can catch nightly sunsets along with your mojito, with a dash of live music. Every Wednesday, they offer a free yoga lesson on the beach at 7:30pm. address: Lungarno Benvenuto Cellini, 69R, 50125 Firenze. Facebook.
Live music & drinks at piazza del carmine.

The oltrarno has added to its repertoire of outside food and drink eateries and this year, the space ib carmine is back with live music, a series of events and a nightly bar and restaurant. Check out the full program here.
Festa del Mugello is back this year

along the Arno river and is the closest thing you'll get to a sagra (food festival) in the city. I always love it because the food is actually pretty good (think ravioli, grilled meats, wine) and it's a nice outdoor space that is open daily. I'd even walk all the way there to help burn off the calories. address:

Lungarno Aldo Moro (you can take the number 14 bus). Open 7pm-1am.

Facebook

.
Circolo Aurora

– A favorite among locals in piazza tasso, this bar is worth the walk for the quirky 'porno drinks' and hip vibe in this very pretty outdoor space. Open daily 6:30pm-Midnight. address: V.le Vasco Pratolini, 2 angolo P.zza Tasso.
La Beppe Fiorara

, this restaurant close to the San Niccolo neighborhood is quite a nice little find for the summer months. It features an outdoor garden that you can reserve a table, and I'd go for one of their extra-large meat and cheese platters (great for big groups). Make sure to make reservations and ask to sit outside. address: Via dell'Erta Canina, 6r, 50125 Firenze.
Serre Torrigiani Urban Garden

– this year's newest addition is a cool urban garden located just steps from Orsanmichele church. Put "Piazza dei tre re" in your gps and keep a look at for the wooden signs outside the small alley entrance saying "street food and drinks". You'll find wooden tables, a linear garden, a small kiosk selling food and drinks, and yes — free WIFI. Open 10am-11:30pm. Facebook.
Off Bar at the Fortezza di Basso is another popular outdoor space frequented by locals. Come here for drinks or live music. Check out their program here.
Another quick list: Wine bars with outdoor seating

include Enoteca Pitti Gola, L'Volpe e L'Uva, while additional restaurants with indoor gardens/courtyards: For veggies head  to Quinoa on Vicolo di Santa Maria Maggiore, 1. For meat head to Bracer Malatesta on via nazionale 36r.
DRINKS AL FRESCO! | WHERE TO GET A DRINK WITH A VIEW IN FLORENCE
While not exactly a specific event, June marks the opening of many of the city's terraces, most on top of hotels, where anyone can go for an aperitif drink or sometimes even stay for dinner. The bonus is you get a beautiful, panoramic view of the city, just be aware that drinks will often be a little pricier. This is definitely one of our favorite activities on a beautiful summer evening. Favorites include:
"La Terrazza" on top of Hotel Continental is open to the public and is a sexy, sophisticated spot to sip a moscow mule with a birds-eye view of the Ponte Vecchio. Pricey, cocktails cost around 16 (if not more) euros, open daily from 3:30pm-10pm. address: Vicolo dell'Oro, 6r – 50123 Florence, Phone. +39 055 2726 5806 , E-mail. laterrazza@lungarnocollection.com.
The Oltrarno Pick: La Scaletta Rooftop is on the main road from the Ponte Vecchio to Florence that I discovered thanks to my friend Coral of Curious Appetite. Book a table at the pretty rooftop bar/restaurant (ask for the 360 view) and enjoy the amazing view. Can't believe its taken me this long to discover this place. address: Via Guicciardini, 13 – 50125 FLORENCE Italy. Phone: +39 055 283 028.
S.esto at Hotel Excelsior is a prime spot for fashionistas to grab a drink on one of the best terraces in town. I would skip dinner here and just get the drink. Piazza Ognissanti, 3. Open 7:30pm-10:30pm. address: Lungarno della Zecca Vecchia, 38, 50122 Firenze.
An interesting view can be found at the Empireo rooftop bar at Hotel Lucchesi, along the Arno river, it overlooks the National Library and features a small plunge pool (for hotel guests). What I like about this place is that they often have live music to go with those cocktails. For a look at the program of music here. Open 7-Midnight. address: 

 

Lungarno della Zecca Vecchia, 38, 50122 Firenze.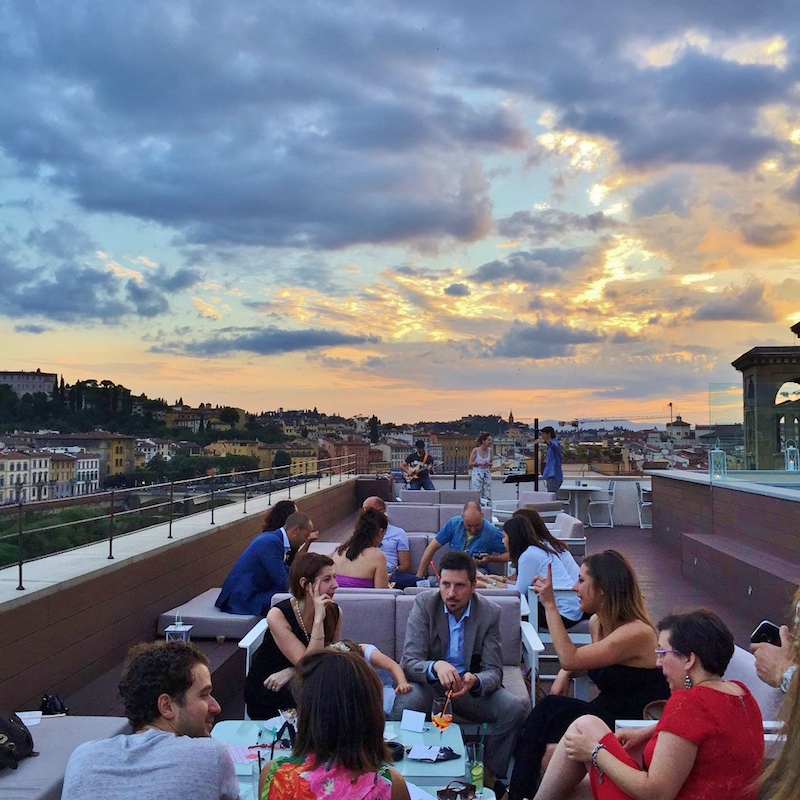 Say hello to the Duomo! Grand Hotel Cavour is my usual choice to take people for a drink with an awesome view. I like its intimate feel, not outrageous prices and niceness of the bar staff. Drinks aren't as great as Continental but I assure you, this place is worth visiting without giving your wallet a heart attack. address: Via del Proconsolo, 3.
Oblate stays cool. On top of the Oblate library lies a cafe that is quite popular with the Italian student population. The great thing is you can also get a drink here and prices are cheap so this is a wonderful option for those who are on a budget, but still want the Duomo smack in their face. address: via dell'Oriuolo, 26. Cool place to organize a private aperitivo as well. Info here.
Grande Hotel Minerva, '360 Three Sixty' Rooftop Bar: has a new menu for 2016. Next to the pool in piazza santa maria novella, this place is too cool for words which is perfectly in line with the hotel's recent renovations. Open daily from 7pm-midnight.. Drinks range from 6 euros for a glass of prosecco and 12 euros for a cocktail. Email info@grandhotelminerva.com for a reservation.