It's a damn good day when I can publish an interview celebrating yet another amazing person that I have met while living in Italy. No less on the same day that I finally got my carta di soggiorno (resident card) renewed for a whopping five years. If that isn't reason to celebrate in a major way, I'm not sure what is — bring on the margaritas!
In honor of it all, this week, I'm picking the brain of my beautiful friend Gina, she's a curly-haired sassy soul who loves her food and wine just as much as I do. However, she just knows a hell of a lot more about it all than I do. Originally from the USA yet with Italian heritage, she is now based in Rome, Italy and has recently started a brand new tour company with a few likeminded folks called Casa Mia Italy Food & Wine Tours and is also the personal owner of GT Food & Travel. I was able to go on a tour with her the last time I was in Rome which is how I was able to find out about some of the cooler foodie markets around town.
Without further ado, let's get to know Gina a little better. Cover photo credit: Jesper Storgaard Jensen. 
Introducing: Gina Tringali
Nationality: Italian-American
Profession: Co-Founder of Casa Mia Italy Food & Wine Tours, Owner of GT Food & Travel, freelance writer, photography for fun
Favorite drink: Do I have to choose only one? Caffe and wine
Ciao Gina! Thanks for participating, can you give us a little intro on what brought you to Italy and where you currently live? 
Apologies for the length of this answer. My love for my grandparents brought me to Italy. They immigrated to Boston from Salerno and Avellino in Campania and from Augusta in Sicily. I felt a pull to Italy from a very young age. I spent days in the kitchen with my mom and grandmother as a child. When I see my mom we make a point of cooking together. We sit at our kitchen table in the morning drinking coffee and looking at recipes to make together. Life always takes place around our kitchen table. I cherish this.
Fast forward…The long and short of it is I planned to retire in Italy. I planned to buy a villa and offer cooking lessons to tourists. That never happened. I watched too many people in my life wait until they retired to follow their dreams and I decided waiting wasn't for me. Ten years ago I quit a stable job in London and moved back to NYC. I was about to start culinary school but had the fortune of meeting Tom Colicchio of the Craft family of restaurants.
He gave me very valuable advice and one month later, I was working for the management team of 'wichcraft doing everything for marketing to financial evaluations to business development. In exchange I had the opportunity to work in the kitchen. After one year, I took three months out to visit Rome and study Italian. I wanted to try living there and assess the situation. I chose Rome because its in the center of Italy and it's easy to travel from Rome to other Italian cities. After studying for three months, I decided to stay and create a life for myself and so the real adventure began.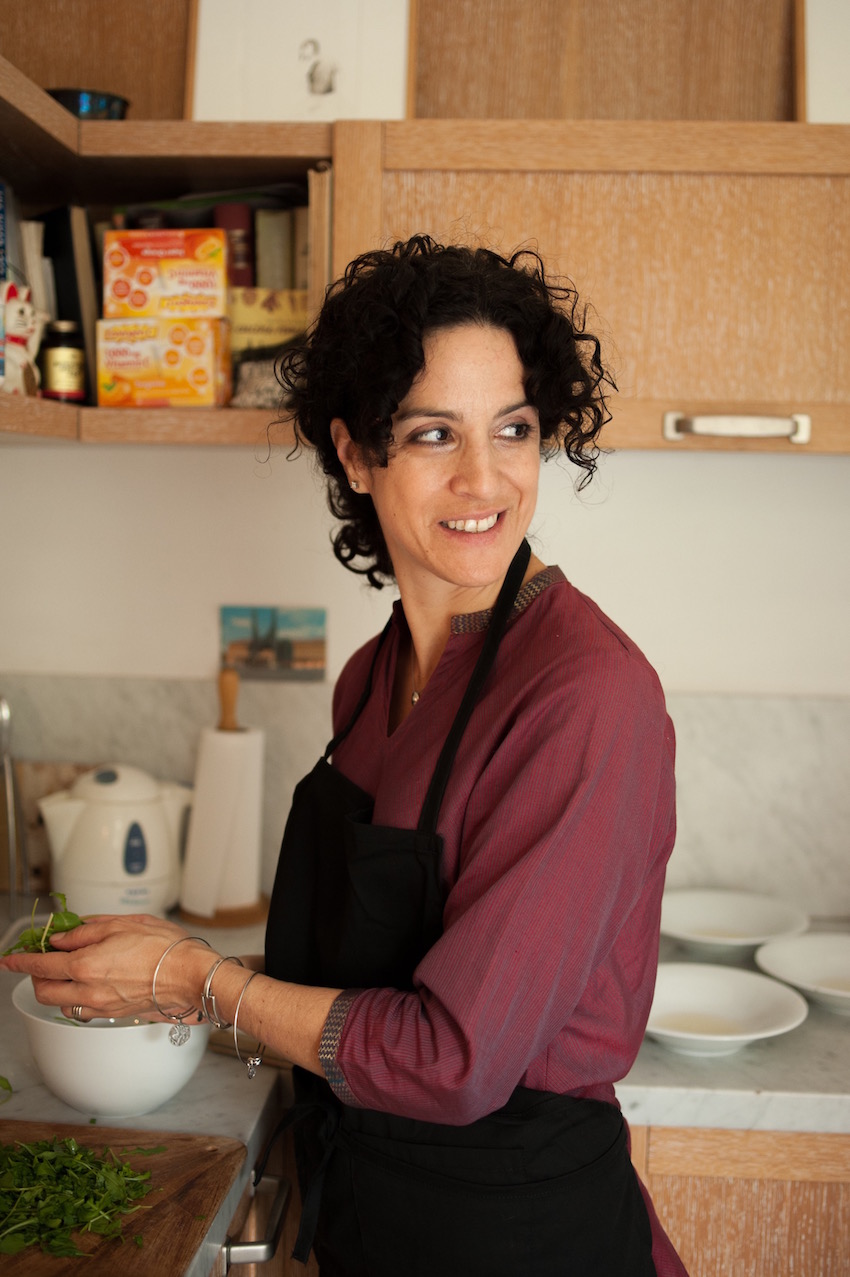 What are you up to in Rome, I know you're a tour guide specializing in food, but what else is on your horizon currently.  
I started out as a guide specializing in food and wine tours in Rome. I always intended to expand the business to southern Italy and I wanted and needed a team to be able to achieve this dream. After finishing my sommelier certification at AIS, I started looking for business partners and found them. One year ago, I launched Casa Mia Italy Food & Wine Tours with my business partners, Eleonora Baldwin and Elizabeth Janus. Casa Mia offers tours in Rome, Lazio, Naples, the Amalfi Coast, Sicily and Florence.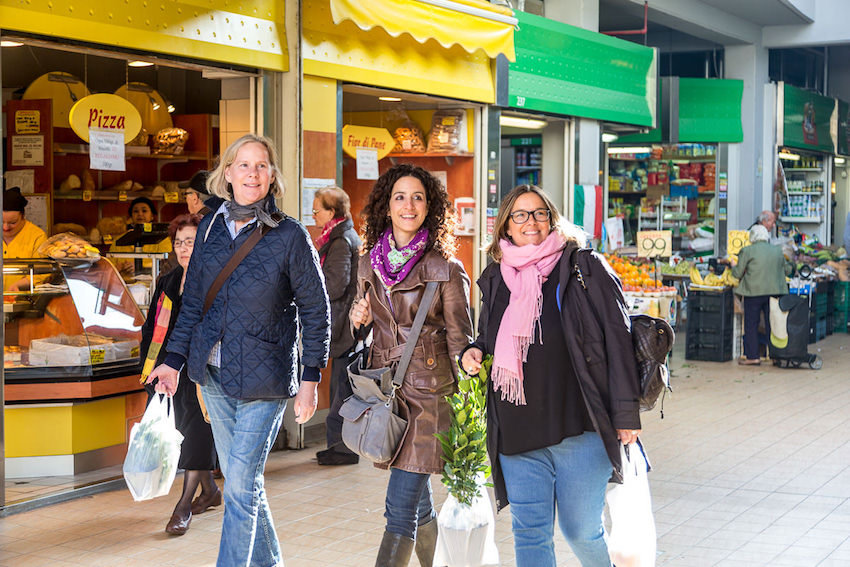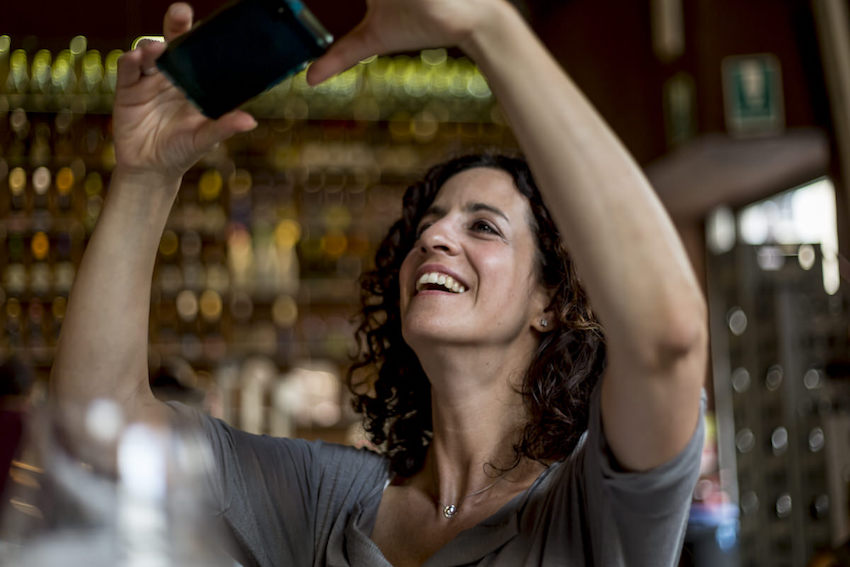 I'm focusing on the strategy for our business, marketing and business development as well as guiding. I'm excited to be  discovering new experiences for our clients in Sicily. I'll be in Sicily for most of September and October. I'm also deepening my wine knowledge, visiting wine producers regularly and tasting as often as possible. Last month Casa Mia co-hosted two Sicilian dinners in Boston where I was the sommelier. It was a blast! We will co-host more events in the near future. Stay tuned for a series of wine events in Rome this year and new Sicily adventures.
https://www.instagram.com/p/BCh8CYnu8-P/?taken-by=casamiaitalyfoodandwine
That's exciting! Can you tell us more about your current collaboration with Eleonora Baldwin and Elizabeth Janus at the Casa Mia Blog? What inspired you three to open a blog and what do you hope to gain from it? 
As I mentioned, one year ago I partnered with Eleonora and Elizabeth to create Casa Mia, an association that offers food, wine and cooking-inspired travel experiences in Italy. Each of us had different degrees of writing and blogging experience but when Casa Mia was in development, the idea of having a food, wine, cooking and Italian culture blog to "voice" the sense of the Casa Mia philosophy felt like the obvious choice.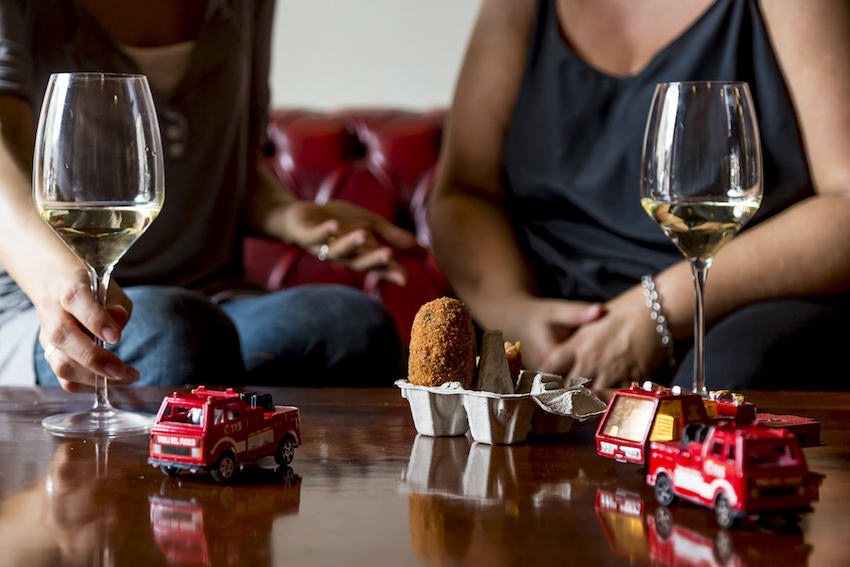 The blog allows us to show our expertise, establish our credentials as a business throughout southern Italy and give our readers an idea of who we are. The blog was an immediate success and gained a loyal following from the onset. After only a short time since its launch, it was runner up for the Italy Magazine Blog Awards as best new blog and also garnered a nomination as best travel blog.
Our blog offers our readers a varied mix of dining tips, recipes, cultural op-ed pieces, local advice and travel recommendations. Mostly we hope the blog will inspire readers to explore Italy with us."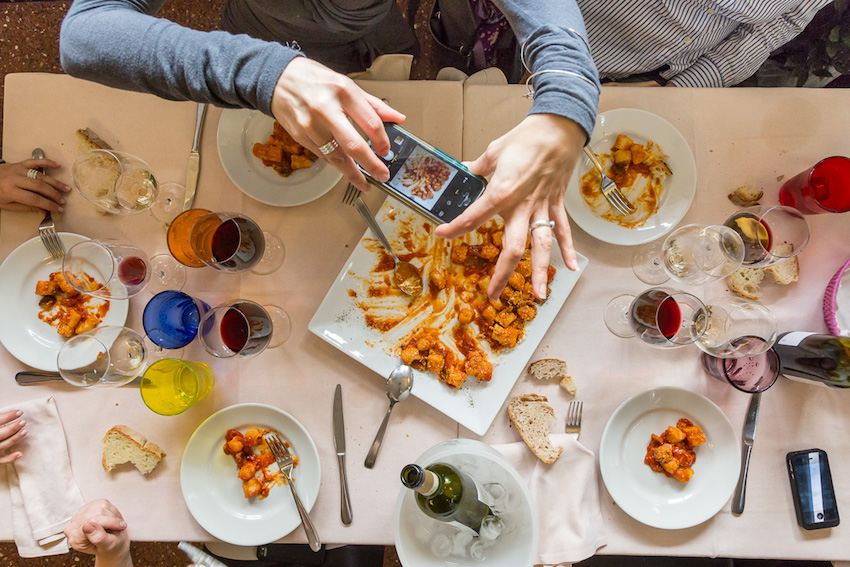 I am absolutely a fan, in fact, I really appreciate your 'what's in season' monthly posts. As a Florentine, I don't know much about Rome, except from the few times I've visited. What keeps you in the Eternal city and would you live anywhere else?  
Over the past nine years, I've created a life in Rome and put down roots. I'm in a long-term relationship and I have a wonderful group of friends and mentors. Practically speaking Rome's location is appealing. I can easily travel north or south in Italy and to other destinations.
That said, I would absolutely live in another city or country. I lived in London for three years. It was a life experience that I treasure as I treasure living in Rome. If you're wondering where I could see myself living, the first three places that come to mind are Sicily, Naples and Boston.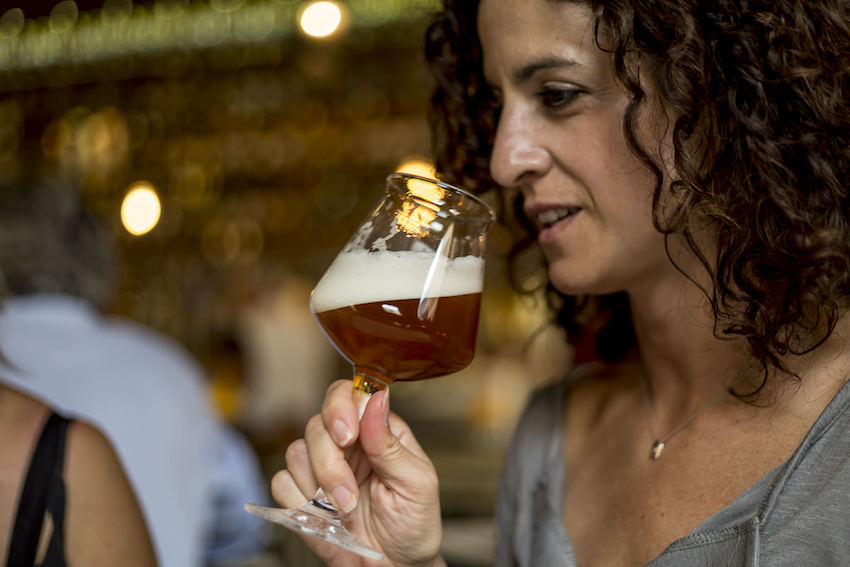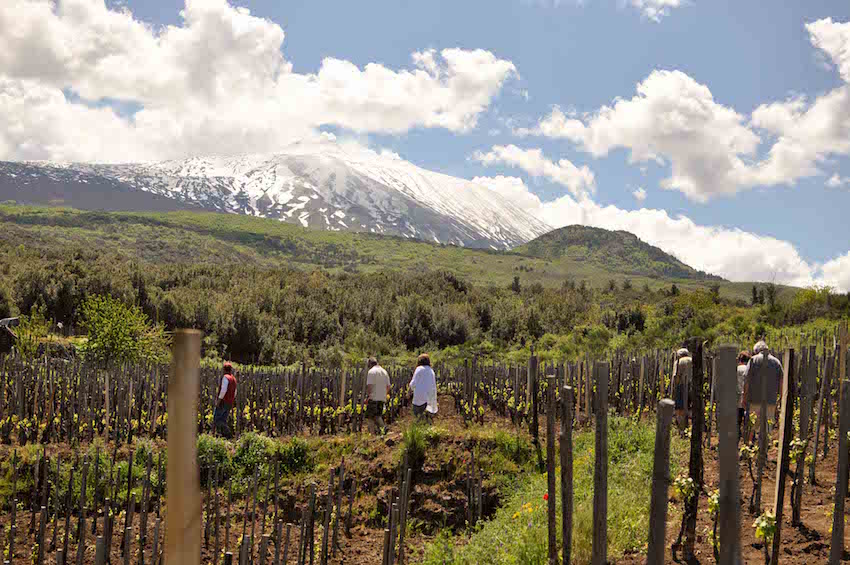 What annoys you about Italy? Feel free to be as open as you want. 
Inefficiencies, traffic, trash, bureaucracy and public transportation strikes drive me crazy.
Agreed, on all fronts. Do you think life in Italy is for everyone?
Absolutely not. Having lived and worked in NYC, Boston and London, I'd say there are many more traditional  career opportunities there which provide a more cushy lifestyle with creature comforts. Flexibility, creativity and resilience are key to survival in Italy.
Ain't that the truth! Is it really hard to make a life in Rome? 
I can only speak from myself. It comes with many challenges from Italian not being my first language, to the endless paperwork that I file, to creating a life as an entrepreneur with no rule book.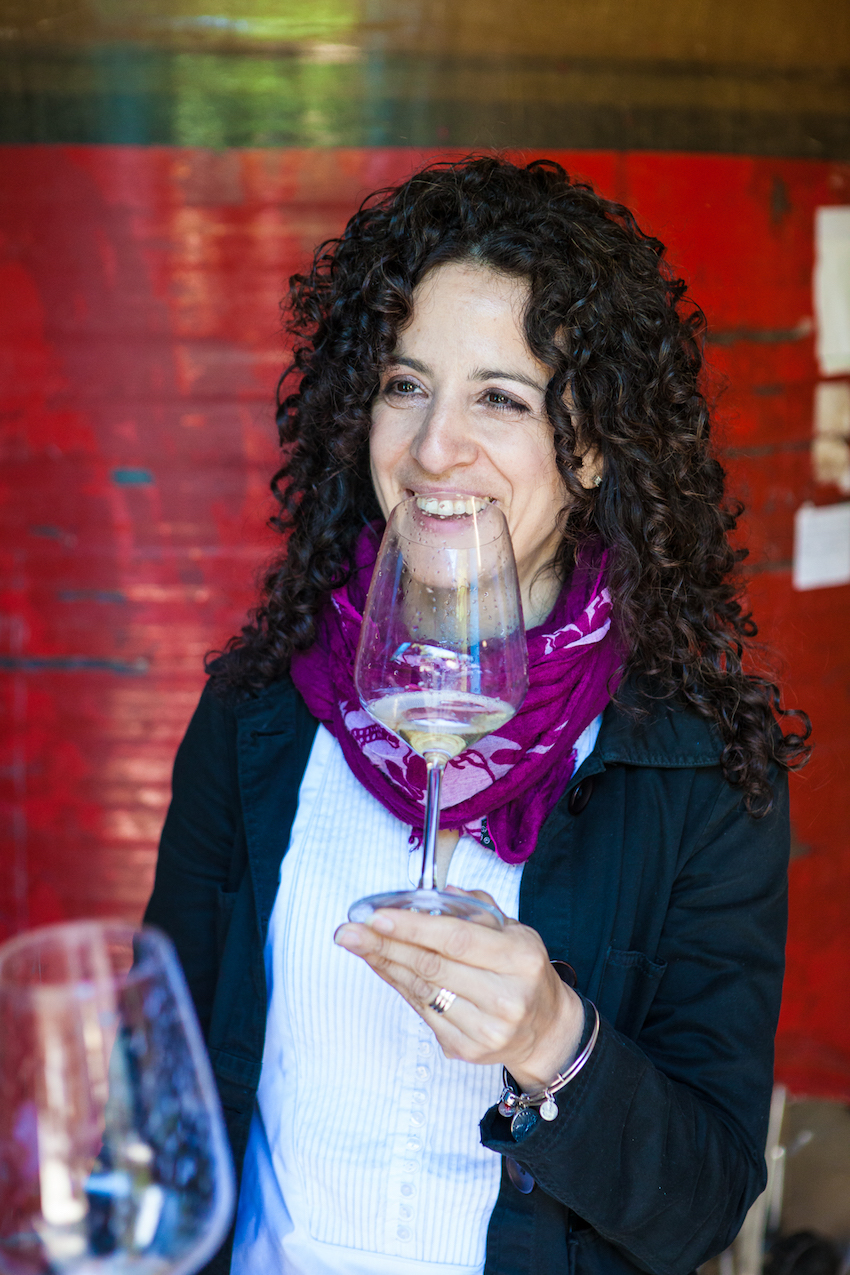 Or find work?
It depends on what type of work you're are looking. In the U.S. It's much easier to find work through traditional channels. I was naive when I first decided to stay in Italy. I met with headhunters and applied to jobs as if I was in the U.S. but with no success.
What advice would you give to someone looking to move to Italy?
Visit the city where you see yourself living if you can for an extended period of time, not just on holiday. Study Italian. Make Italian friends. Come with an open mind and immerse yourself in the culture. If you are looking for work, come with a plan of attack. Be ready for long queues, paperwork and bureaucracy. Soak in every moment that you spend in this gorgeous, enchanting country, eat all the local dishes and visit many enotecas.
Three special places everyone should know about in Rome that are off the tourist radar. 
If you like spending time outdoors and walking like me, visit Villa Doria Pamphilli. It's the largest park in Rome. Take a walk, plan a picnic or stop for a coffee or aperitivo at Vivi Bistrot which is located in the park.
And the Botanical Garden. These lush gardens in the middle of the city offer a great escape and beautiful photo ops for nature lovers.
Take a walk up and down the Gianicolo (Janiculum Hill) for a breathtaking panoramic view of the city from the Pincio Gardens to the domes of Rome, the Vittorio Emanuele Monument and the Colosseum.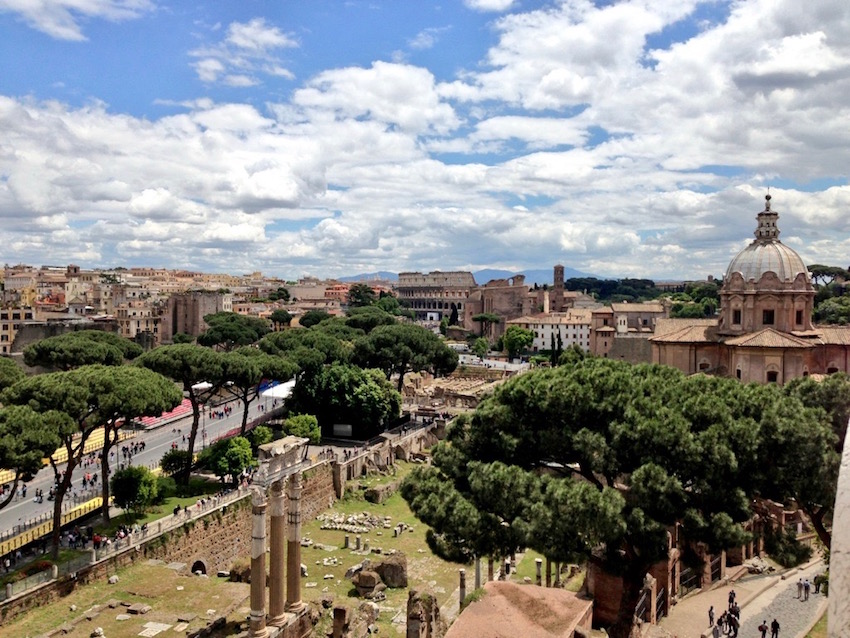 Favorite local dishes/restaurants? 
There are too many to name. Here are a few; pizza rossa al taglio at Antico Forno Roscioli, suppli at Supplizio, coda alla vaccinara and crostata at Agustarello in Testaccio, all fried starters, gnocchi, rigatoni all'amatriciana at da Cesare Trattoria in Monteverde.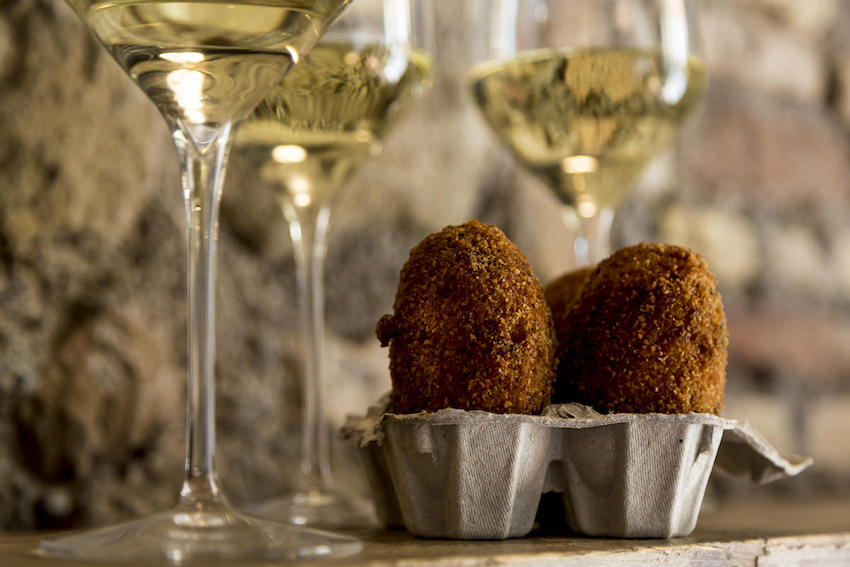 What can you do here and nowhere else?
Get on our motorcycle and drive past the Colosseum at night.
If you had to do it again (start a new life abroad) would you and why?
Yes. Living in Italy was on my bucket list. Check! It has been challenging, rewarding and eye opening experience. I'm a stronger and happier person for it.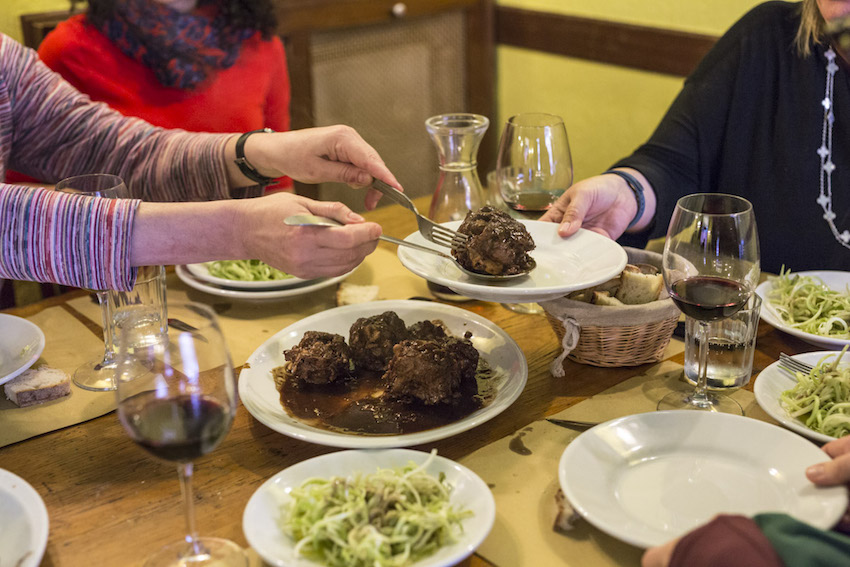 If you had to make up a tagline for Rome according to Gina, what would it be? 
Rome, a city to discover with all your senses – see it, listen to it, taste it, smell it, and touch it
…
Thank you Gina so much for the fun interview, you can follow her and Casamia on both twitter and instagram. 
IG: GTFOODANDTRAVEL, casamiaitalyfoodandwine
Twitter: @GTFoodTravel, @CasaMia_Italy