Everyone loves Rome. The NY Times recently wrote this 36 hours itinerary and the timing couldn't be better as people are looking to spring as the time to wander through Rome's whimsical, windy and traipse romantic streets. What I love about it here, is that you can literally visit forty different times and get a completely different experience.
Everything has a story and you can see it sketched on famous monuments such as Trajan's Column. We humans are masters at creating, but even better at destroying it, 'La grande bellezza' of human behavior perhaps.
Admittedly I myself went from 'eh, Rome is ok but not really my thing' to what I liken to being a 'born again' Rome lover '.  I've drunk the 'juice' and become more interested in a place I don't get to visit enough though it is an easy one and a half hour train ride away.
The question is as always, how to tackle a city with a history dating back to 600-700 BC? Especially when you imagine it as the center of almost five hundred years as the world's greatest superpower.
Last time I was here was last August, when every sane Italian had fled the city for the annual holiday on the 15th, otherwise known as ferragosto. A sort of quirky quietness, prevailed making my experience more than wonderful, which I honestly didn't think would happen in the middle of August. Because it wasn't scorching and I had a few, fabulous days with my Frenchy, we discovered yet again a quieter Eternal City.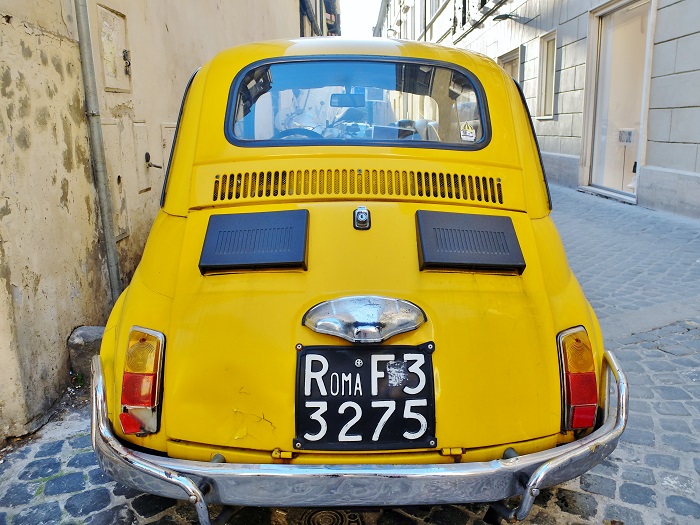 Back again last month, we were able to meet with those living, writing and photographing Rome on a daily basis thanks to Linda and Steve from the Beehive Rome. While I love social media, it doesn't compare to actually meeting in person, something I personally value quite highly. They were generous enough to donate their time and join us for a drink or three. Our weekend was chock-full of fun activities and glorious weather. Romans flurried out with their puffy jackets, laughing dispositions with groups of friends collectively soaking in those first few days of warm sun.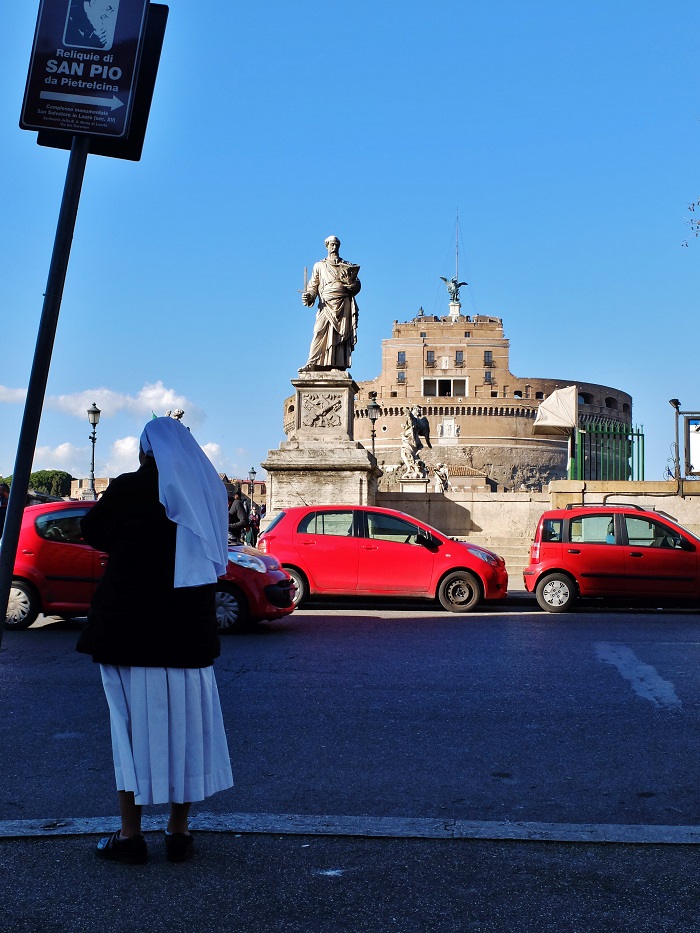 Whether you are there for just a weekend, or maybe the first time, fourth time or for a longer extended visit, I am certain that you would share in my sentiment that this city is dynamic and inspirational. Certainly the amount of cultural history can be overwhelming at first, I get it – 'stendhal syndrome' exists for a reason. For this girl, it is best savored slowly – to inspire, admire and plan numerous visits to discover neighborhoods that aren't listed in every guide-book.
One weekend in Rome: A Plethora of Possibilities | Friday
Nico and I arrived early Friday morning to check into our hotel and stop by the French embassy to renew his passport, we had plans to meet other bloggers and friends from Rome that night at the Beehive so we took our first afternoon to ourselves. We started by exploring the Regola neighborhood, once a dusty bank flooding frequently along the Tiber River, now home to the Palazzo Farnese, one of the most beautiful Renaissance buildings in the city,  architects including Sangallo, Michelangelo and Della Porta helped to create this commissioned work by Pope Paul III.
We slowly strolled along one of my favorite streets, the elegant via Giulia, over 500 years old and an example of one of the first straight and long roads in Rome during the Renaissance.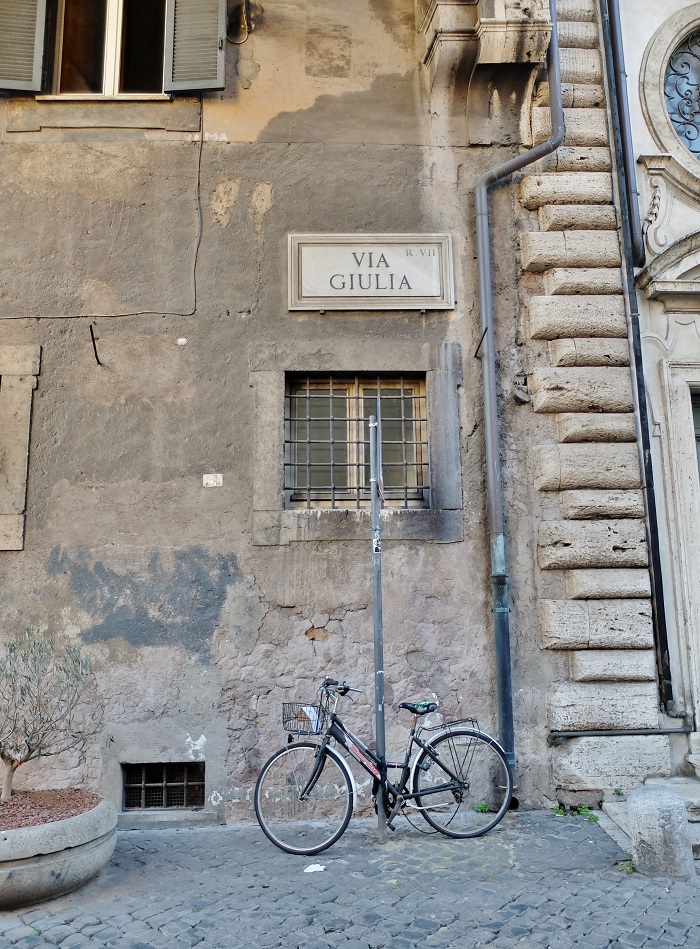 One of my favorite fountains located in this neighborhood is the 'grotesquely' beautiful Mascherone di via Giulia 'Fountain of the Mask', a 17th century fountain actually made by combining two ancient sculptures and commissioned by the powerful Farnese family. There is something quite special about the fountains in Rome, they each tell a pretty compelling story, even if they do it while grimacing wildly at you.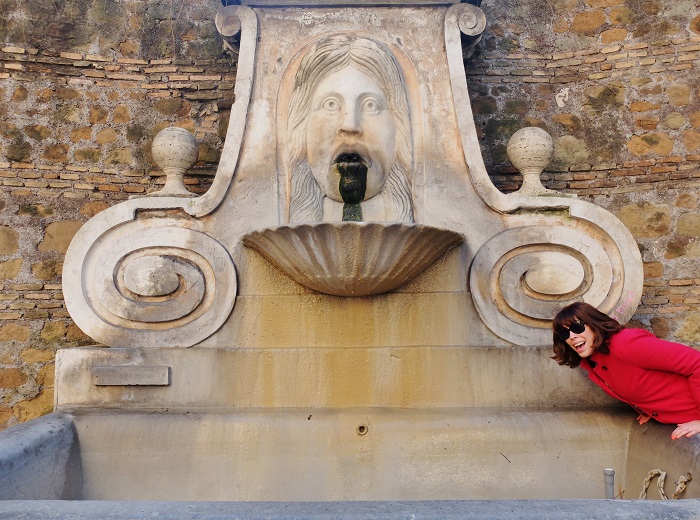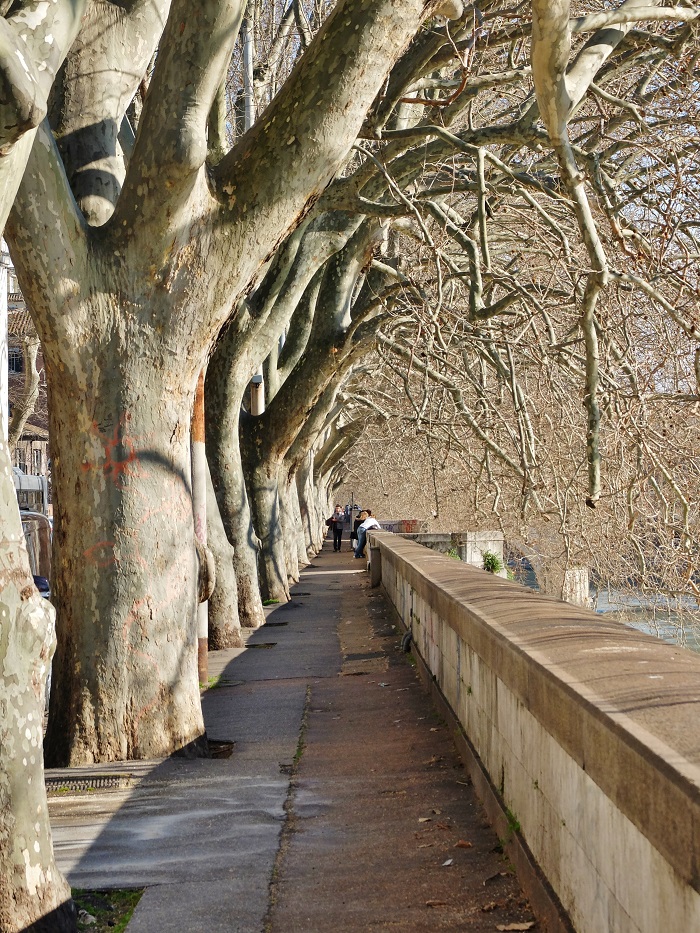 We stopped back at the sophisticated Hotel de Russie, where we were very lucky to be shacked up for the weekend to find that they left us the ingredients to make an afternoon cocktail. Quite appropriately called 'La Dolce Vita' with disaronno, vodka and juice and a bit of art history while we were at it.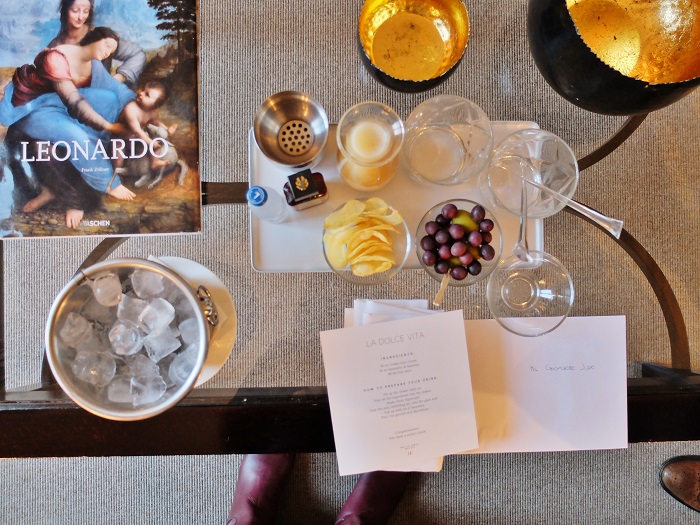 After a bit of 'dolce vita', we headed to The Beehive hotel and hostel near Termini train station for a blogger and Rome meet & greet organized by Linda and Steve. I can't tell you how important it is to meet people in person, there is only so much social media can do – we are people after all, and that means actually creating and maintaining a community which is refreshingly what The Beehive is all about.
Besides meeting our fellow Rome wanderers for the weekend, I got to see many of the faces of blogs/instagram accounts that I currently stalk follow. We shared stories with drinks in the Beehive's small kitchen and lounge area. The funny part is when you recognize the person's social media handle faster than their actual name.
After happy hour we headed with a few friends organized by my friend Gina to Enoteca Provincia di Roma – Terre e Domus (read Gillian's review here where she talks about the magical peppercorns that made me giggle into my wine) where we sat down for a set menu discovering Rome on a plate mingled with wonderful conversation.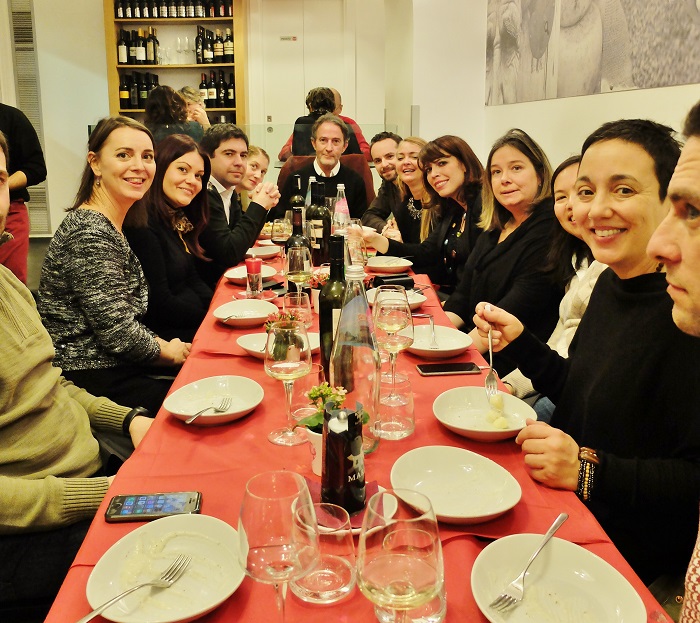 The hunt for the best artichoke seemed to be the theme for the weekend, I started with 'conquering' the mentuccia stuffed alla Romana and then deep-fried alla Guidia.
Because why have it one way when you can try both? 
Then let's talk about puntarelle, a bitter and slightly unusual (chicory) salad that is quite famous in Rome, and by golly is this simple veggie delicious. The consistency to me is almost a bit like bean sprouts. The traditional method of preparation includes topping with a dressing made of anchovies, vinegar, oil and garlic.  I loved it so much, I need to try this at home, probably by using this recipe by local food blogger Rachel Roddy.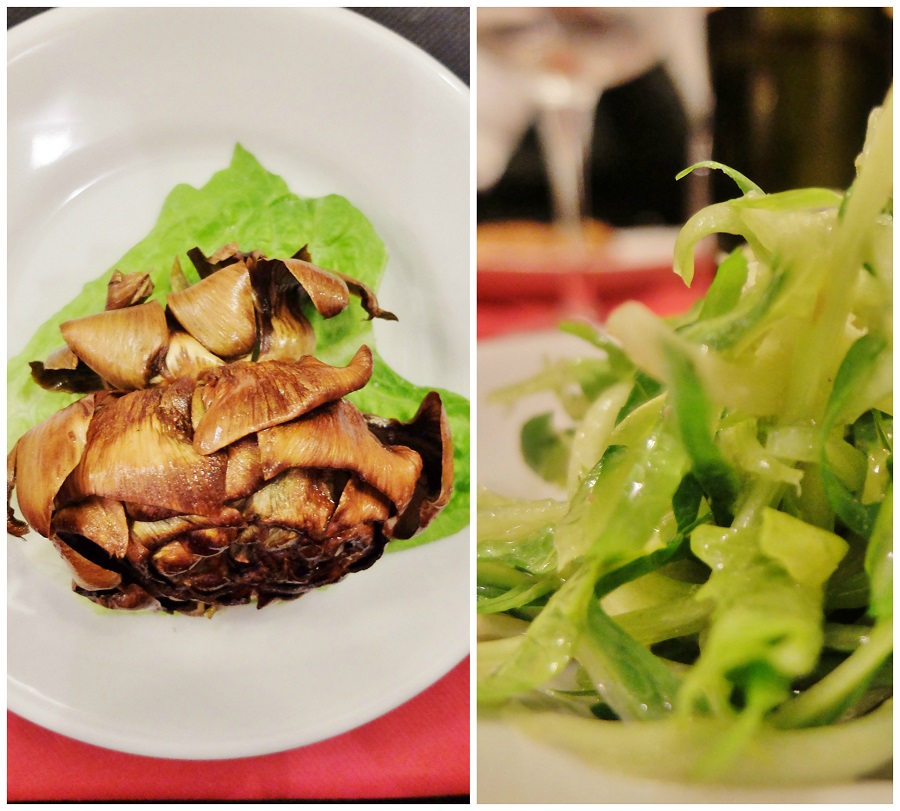 Saturday Shenanigans
After plenty of wine the night before, somehow we managed to get up that morning and leave our comfortable bed at Hotel de Russie. But we had a great reason to. That morning we had to meet Annie and her 'Scooteroma Tour' gang of Vespa and vintage Fiat drivers for a 'Roman Holiday' type spin around the city.
The sun was shining, we were properly caffeinated and excited. For a few hours, we were able to discover Rome on some truly sexy transportation and learned something too. I never thought I would have discovered an ancient park along the Appian way in the middle of the city with grazing sheep. No this was not a Disney movie.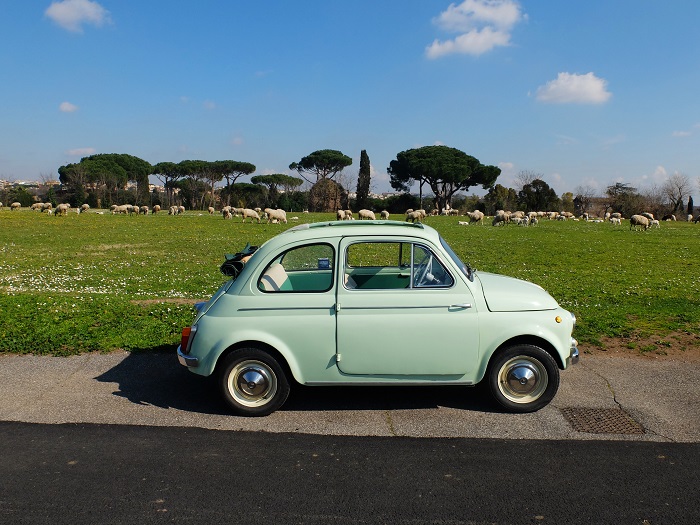 Annie is a true expert, born and raised in Minnesota, and I have been lucky enough to know this blond ball of energy for some time. With her husband, they have created a pretty fabulous set of tours in the city which only work with small groups and are completely customized. We learned about the Roman baths, stopped at Porta di San Sebastiano and snapped away the Giardini degli aranci (Garden of the oranges).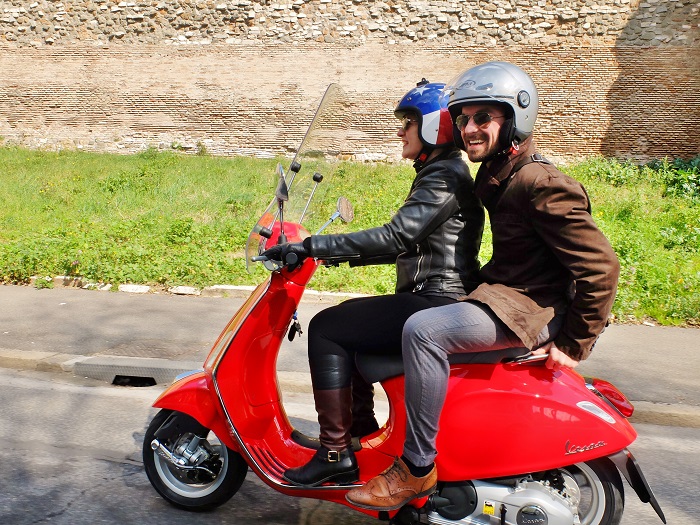 Not only is Annie a lot of fun to be around, her and her team also leave you with a ton of tips on what to see, where to eat – which makes them stand out as a tour company. Also because their suggestions are spot on. We chatted about our plans for the rest of the weekend at a coffee break in Testaccio, at the excellent Pasticceria Linari.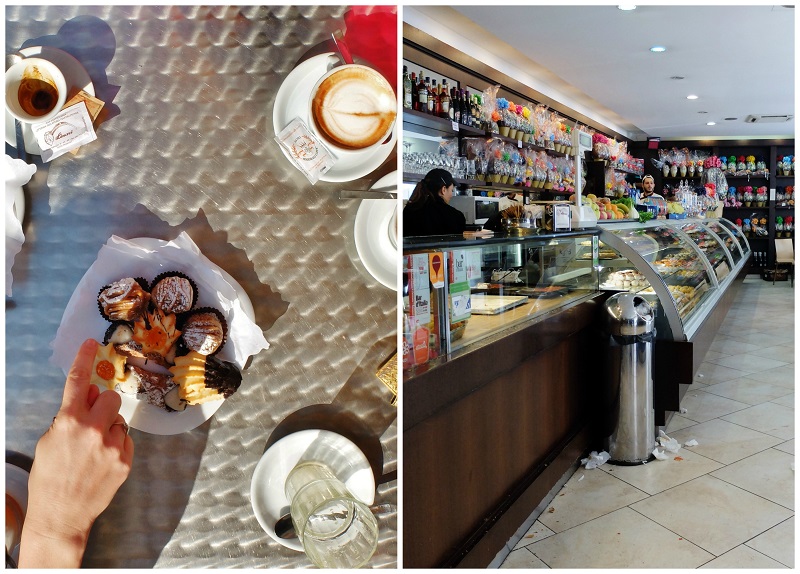 After lunch near Termini, Steve and Linda took us for a walk in one of their favorite areas of town. We stopped at artisanal gelateria Come il Latte for a sweet pick-me-up, where you can spot milk-bottles galore and gorge on flavors like salted caramel.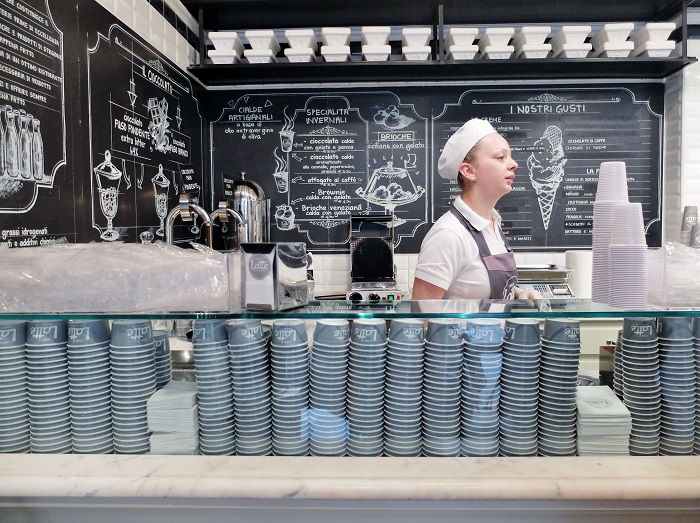 On our walking 'tour' we went through the ancient gateway of Porta Pia ( named after Pope Pius IV)  in the Aurelian Walls. Our destination was a very pretty neighborhood that I had never even heard of before, in the streets of Quartiere Trieste in what is known as the district of Coppedè.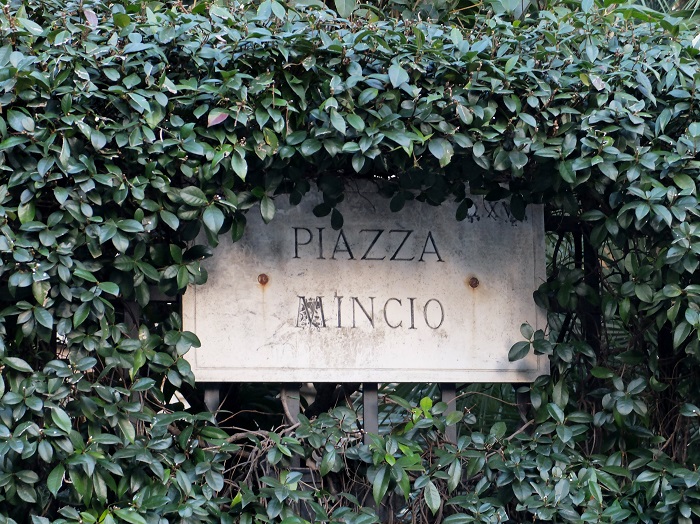 We found a mix of medieval, art nouveau, Baroque and ancient Greek in a place that seems more like fantasy than reality. I was struck by the ornateness of the central Fontana delle Rane (fountain of the frogs) .My advice is to go there for yourself, and bring your camera. I was super grateful to both Linda and Steve for taking us there.
Some parks in Rome are often named after the villas you can still spot there, Villa Ada, Villa Borghese – the ancient architecture serves as a powerful backdrop in a place where you can lounge and picnic. We stopped by the park of Villa Torlonia, a pretty cool place where they also discovered a Jewish catacomb in the north-west area of the grounds. Despite the fact that it was technically still #winterinrome, because of the sunny day people were here in droves and I could totally see myself coming here with a book on our next trip to the city.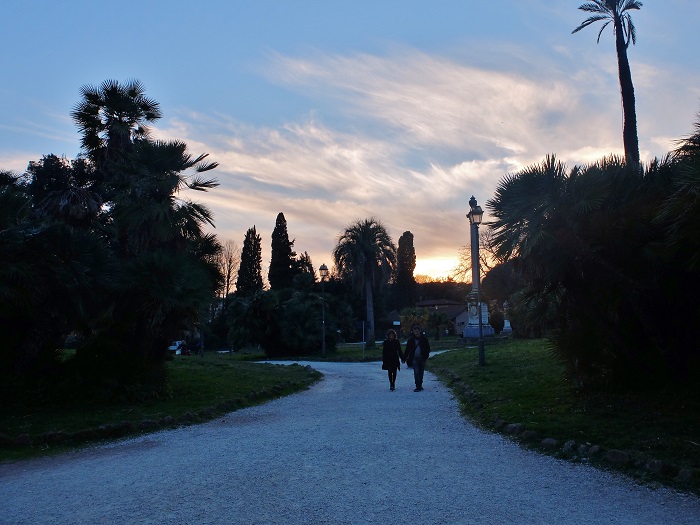 That night we were in for a special treat. A Storytellers Rome event at The Beehive, normally they arrange a dinner before the stories which are typically the last Saturday of each month at The Beehive. The theme that evening was 'love' with each person telling their own story and let me tell you, we laughed – we cried, it was one of the best experiences I've ever had in Italy. This is something I would absolutely make an effort to attend, Trenitalia willing or not.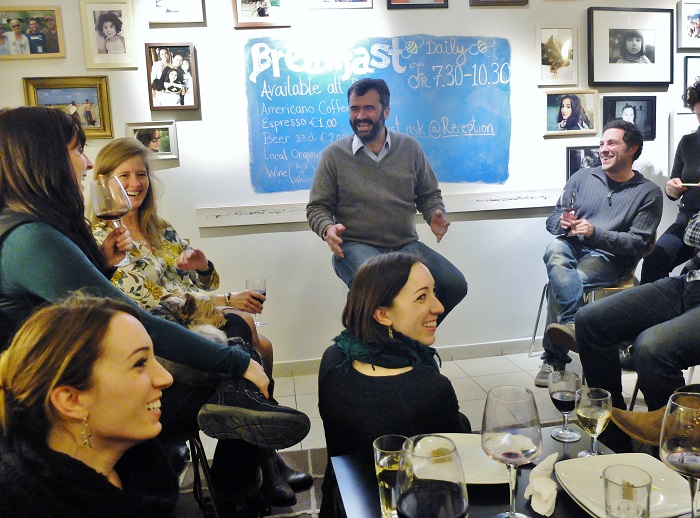 Sunday: One Last Hurrah
We started the day with room service at Hotel de Russie since I couldn't manage to get ready by 8am with an early tour appointment in the center. We took our time pretending this was 'normal' (which it most definitely isn't) sipping our coffee and eating pain au chocolat before running out the door a little later than I would have wanted.
The plan that morning was to meet with lovely ladies Gina Trigali and Eleonora Baldwin of GtFoodandTravel tours for a walk around the Mercato Campagna Amica Lazio farmer's market to see what fresh goodies were available that morning. I've known Gina for a number of years now and this girl is so passionate about food it has rubbed off. An interesting place that was in the Circus Maximus area, we chatted with fish vendors and sampled porchetta before noon.
What makes this place so special is that they offer only local produce.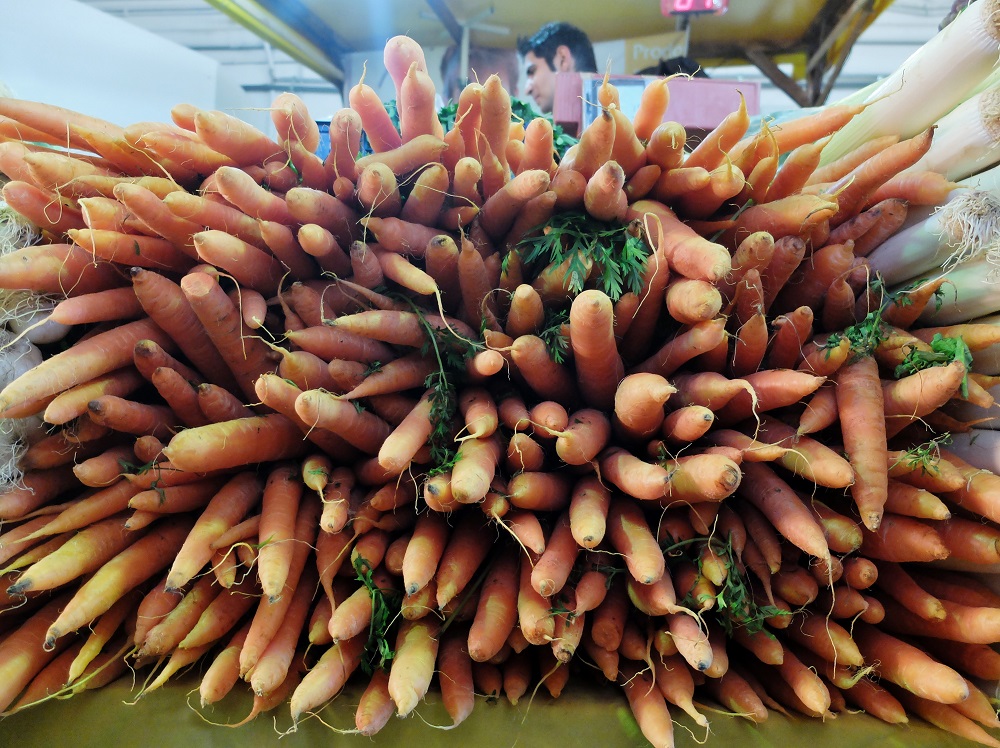 We then made our way to Dall'Anto, an artisan bread maker using ingredients such as chickpea flour and chestnut flour whipping up tasty foods of the past like 'farinata di ceci' – chickpea flour flatbread and 'necci di castagne' a flatbread made with chestnut flour and stuffed with creamy stracchino cheese. Since flour, water and oil are the main ingredients, what makes a difference is the quality of the flour which Antonio (featured below)is very proud of procuring. Rightfully so.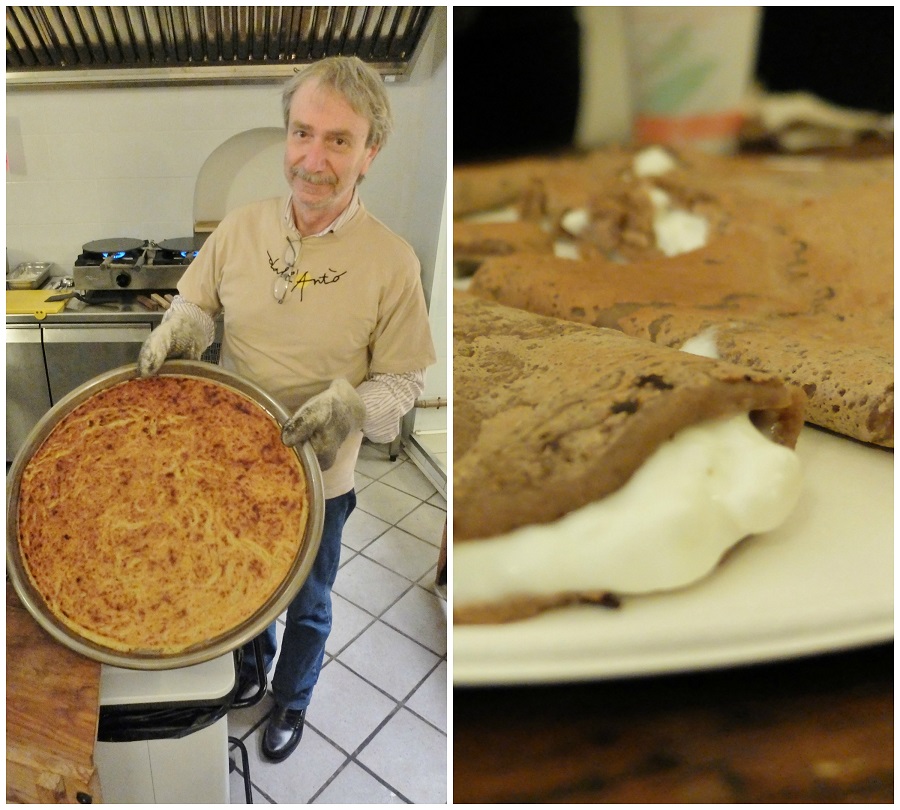 We made our way to MercatoMonti, a hip urban market, in one of Rome's coolest areas. Open both Saturday and Sunday, here you can browse through items like refurnished button jewelry, handmade clothes and interesting knitwear. It's about as hipster as they come and features many young designers.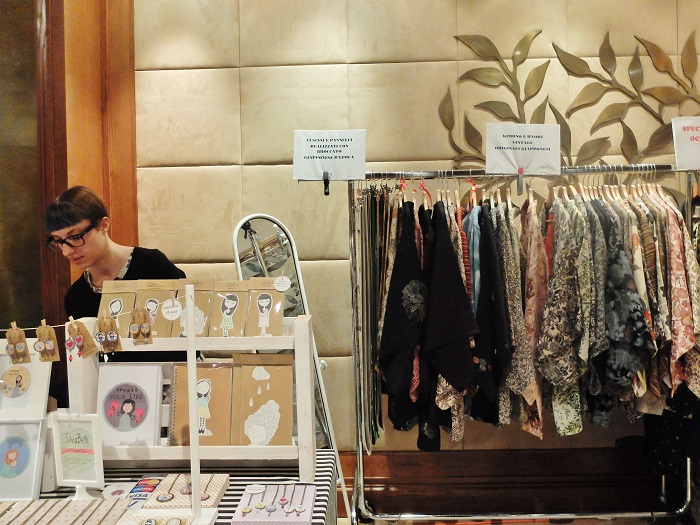 As we made our way to the Jewish quarter, an area I had been dying to see a little more of. We then ran into a Bolivian parade full of flashy costumes and exuberant dancers. Another reminder that 'When in Rome' can change in a flash..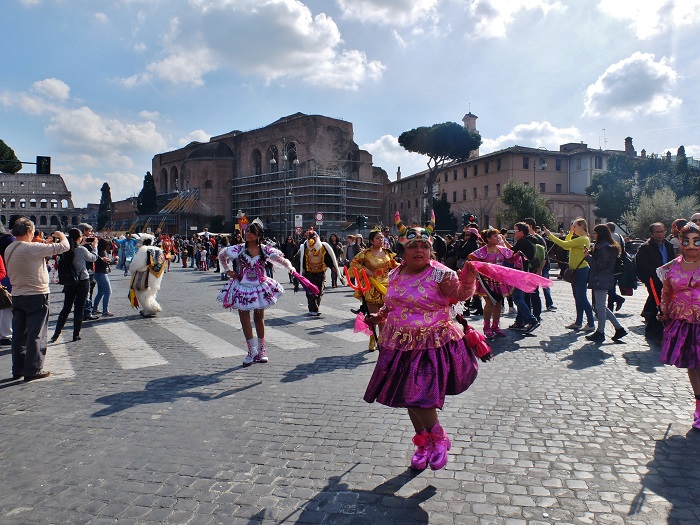 That afternoon we were in non-stop mode before our train back to Florence around 8pm. We met up with my friend Liz from Rome If You Want To (a hilarious blog by someone who keeps it 100%). She graciously took us to lunch in the Jewish ghetto to sample yet more artichokes and in my case some falafel and hummus.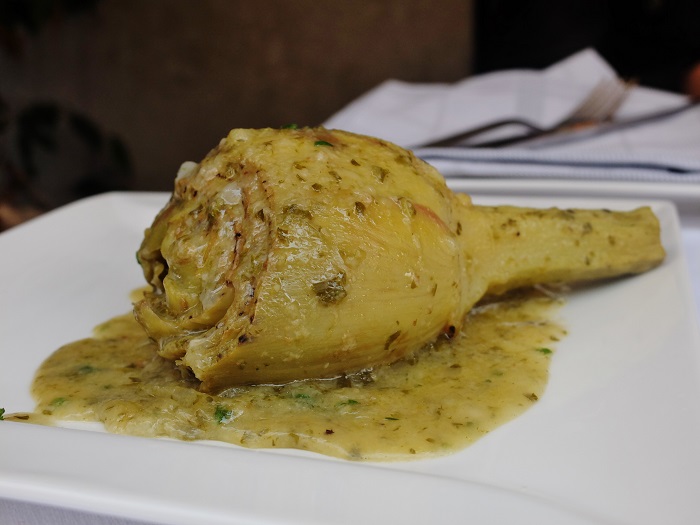 This quarter of the city is as beautiful as you might imagine. Liz lives in the area and told me as far as she is concerned, location wise she is in the best area. Besides the plethora of artichoke hunting a foodie might desire, knowing about the history of the Jewish ghetto is much more important. This area was established near the River Tiber by a Papal Bull in 1555 and required all Jews in Rome to live in one area.
As you can imagine, life here wasn't very pretty and the ghetto was abolished in 1882 when it then underwent a ton of reconstruction. While I didn't spend a ton of time here (and I wish I did) it is a fascinating place where middle-eastern and roman cuisine coincide side by side. Sort of an hegemony of culture through food.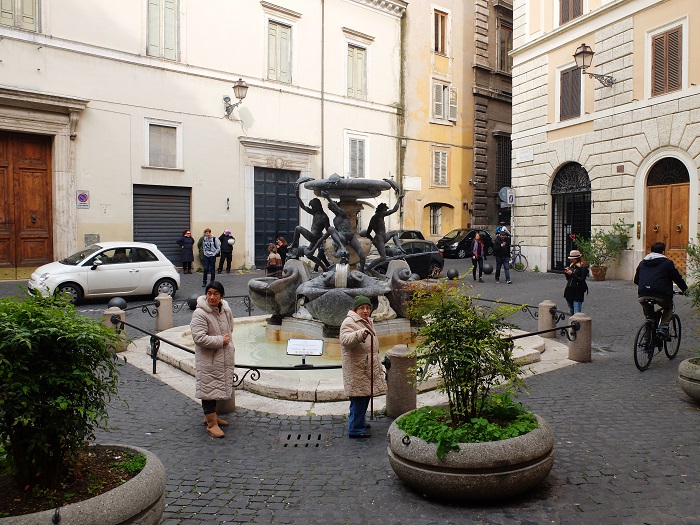 As any good friend does, they take you to their favorite gelaterie in town. In my world, nothing is more sacred than sharing your best 'foodie' prize and the Gelateria del Teatro on Via dei Coronari near Piazza Navona  is probably in my top five gelato experiences of all time. I took a scoop of paradise ie: ginger, and lemon rosemary gelato. Intense flavors without being too sweet or sticky, this place is phenomenal.
We had one last tour, this time offered by my friends at Context Travel of the Capitoline Museums (the oldest public museums in the world). If you want to understand Rome from an artistic and cultural perspective, this is a good place to start. Docents with Context also double as Ph.D-level scholars and are professors such as our knowledgeable guide Frank Dabell who took us on a journey through the history and influence of Rome.
Times new roman is universal for a reason…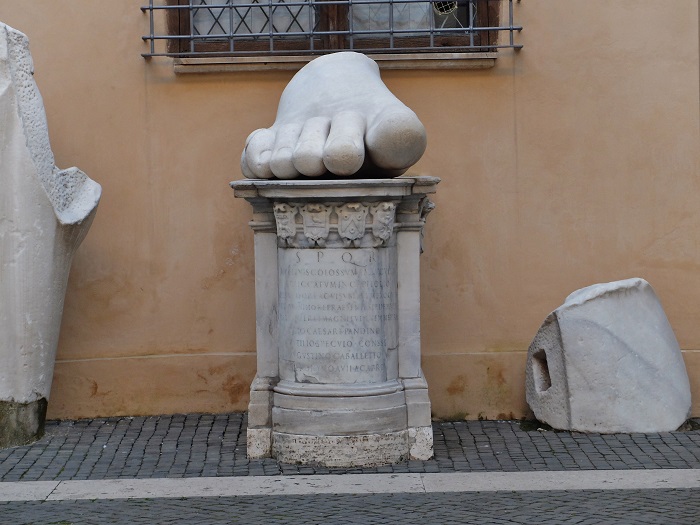 The only downside of our experience was the long wait to get into the museum which meant we were a bit rushed to see everything before we had to leave back to Florence. But we did get a glimpse at a place that I would adore seeing again, albeit more slowly.
The Capitoline museums are simply impressive. Thousands of years of political, cultural and religious history all in one place in a very suggestive location above the Forum and Palatine hill that in itself, is an important talking point. I was especially appreciative to see the symbol of Rome in all its glory depicting Romulus and Remus, the ancient founders of Rome suckling from the ferocious yet maternal she-Wolf bronze (La Lupa) dating back from the fifth century BC. I won't spoil the rest of the tour for you all but I do recommend a visit on one of your trips to Rome.
If you managed to make it to the bottom of this post, well first of all hurrah! And thank you. I know I am not a typical blogger sticking to 400-800 words but sometimes I just can't help myself. Rather than break this up into many posts, since it was essentially a fabulous, and memorable long weekend – it should remain in one article. I do personally think that visiting in off-season, despite the sometime weather pitfalls, is the wisest decision if you are seeking a quieter more introspective Rome experience.
Where to Stay
There are plenty of accommodation options in Rome but we were able to stay this weekend at the beautiful Hotel de Russie near Piazza dell Popolo on the exquisite via del Babuino who were kind enough to host us. Formerly the headquarters of the Italian tv station RAI, it is now a stunning and stylish contemporary hotel. Features include a 18th-century beautiful courtyard that screams girly aperitivo hour. Before De Russie arrived, this place was a 19th-century hotel that once hosted royalty, think Picasso, and Cocteau.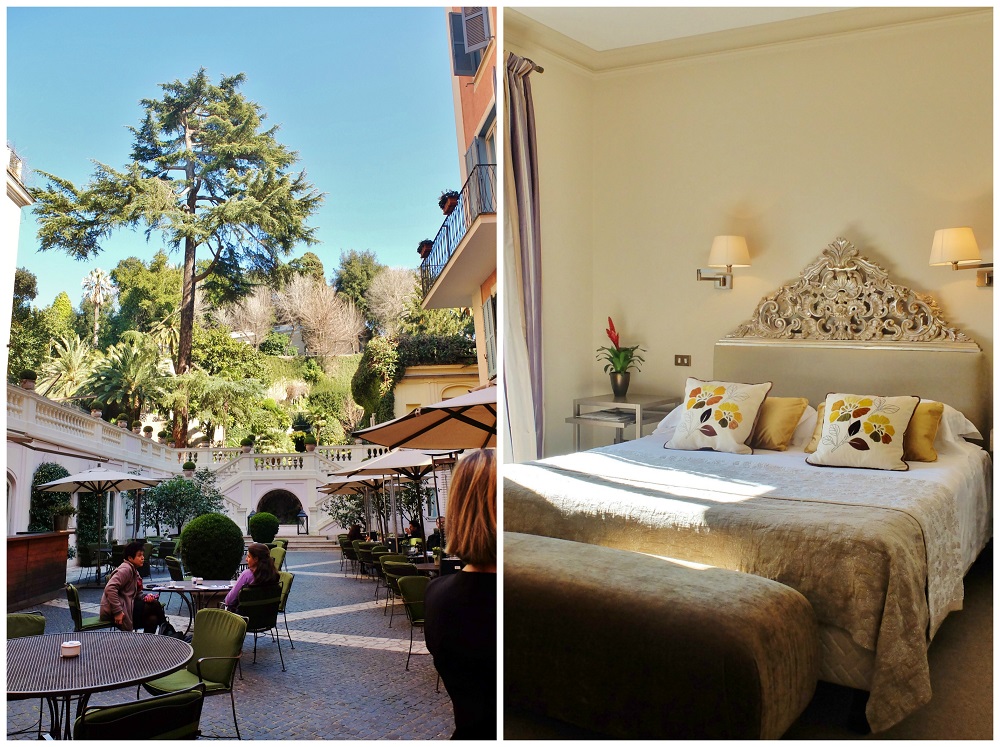 What stood out about this hotel were the soft colors, simple elegance and beautiful minimalist pastel rooms – this is quite possibly one of the best hotels we've ever stayed in. The bathroom has more than enough when it came to quality toiletries (including good conditioner) but the comfortable bed, and nice closet really made us feel like we were at home (albeit a more luxurious one). I highly recommend going behind the courtyard up the Pincio hill for some beautiful views.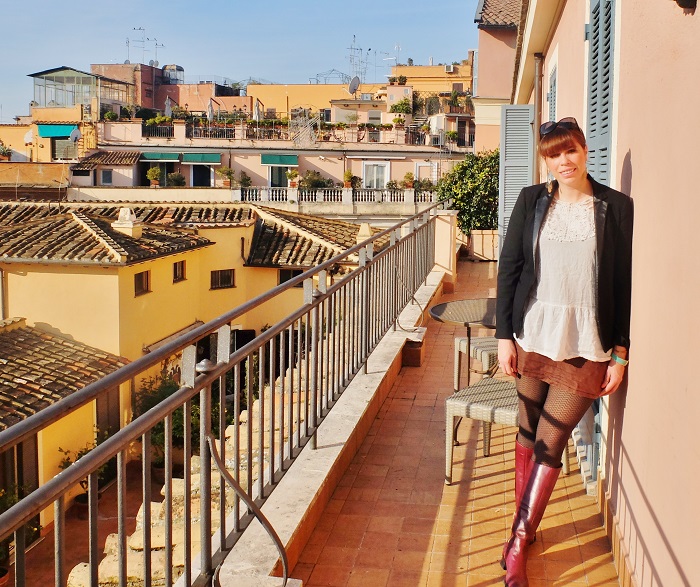 ---
Additional Resources
Getting there
Rome is so easy to get to that it almost seems like a joke. From Florence, you have two options, either Trenitalia or Italotreno, if you book ahead you can get good deals but the journey, one way is around an hour and a half. Metro options at both stations are easy to navigate.
Where to Stay
Luxury: Hotel de Russie. Five-star elegant hotel in one of the best areas of town. Yes it is pricey but you will be overwhelmed by the beauty, service and attention to detail. address:  Via del Babuino 9, Rome 00187 Rome(00 39 06 328 881). Website.
Budget: The Beehive. My go-to spot in Rome run by Linda and Steve who have brought a nice community spirit to Rome and beyond. Address: Via Marghera, 8, 00185 Roma, Phone:06 4470 4553. Prices run from about  €70 per night, breakfast is extra and absolutely worth it. website. Check out their Rome Guide.
Where to Eat
Enoteca Provincia di Roma – Terre e Domus, Foro Traiano, 82 Tel: +39 0669940273. Open every day 11:30-23:30. Contemporary restaurant located next to the Imperial Forum.
Nonna Betta, Via del Portico d'Ottavia, 16; 39-06-6880-6263; nonnabetta.it. This is 'THE' place for  "Jewish style" artichoke, recommended by my friend Liz.
Dall'Anto. Artisan bread maker and storyteller 😉 (if you ask ) in the Monti area of Rome. A must-visit. Via della Madonna dei Monti, 16, Roma Tel: + 39 06 678 0712. Open Tues-Sat 12-3pm, 7pm – 11pm, and Sunday 12pm – 3pm.
Pasticceria Linari, One of the best pasticcerie I have ever been to in foodie paradise, the Testaccio neighborhood in Rome. I highly recommend you try the Mont Blanc dessert. address:  Via Nicola Zabaglia, 9, 00153 Roma + 39 06 578 2358. website.
Testaccio Market, while I didn't get the chance to go, I wanted to include this because I have heard so many good things about it. Katie Parla wrote this recent post about what foods you should try if you go. Entrance from via Franklin, via Zabaglia, via Galvani and via Volta. Open: Monday to Saturday, From 6am – 3pm.  Subway stop: line B – Piramide .
Come il Latte. Fabulous gelato (try the salted caramel) near Piazza Barberini / Piazza della Repubblica. Via Silvio Spaventa, 24/26, 00187 Roma. Phone:06 4290 3882
Gelateria del Teatro, Via di San Simone, 70 Rome, Italy. Telephone: 06 45474880. They also have a location on Lungotevere next to the Ghetto.
Food Blogs Based in or Around Rome
What to See
Palazzo Farnese in the Regola district (Campo de' Fiori neighborhood), Piazza Farnese, 67. The French embassy is a beautiful building located in an elegant area in Rome. I highly recommend a visit but this must be booked in advance, ideally a few months, especially in high season. Online reservation: www.inventerrome.com. Telephone: 0039 06 686011. Guided tours (by fax or email appointiment): Monday, Wednesday and Thursday: 3.00 pm, 4.00 pm and 5.00 pm (duration: 45 minutes).
Villa Torlonia park and villa once belonging to the Torlonia family. The entrance is from via Nomentana. Check out the The Casina delle Civette (little house of the owls) where the previous owner sought refuge from the main residence.
Coppedè neighborhood. (between two streets Via Salaria and Via Nomentana, ) a magical off-the-beaten-path area of the city that is a must-visit, besides the 'fountain of the frogs' keep an eye out for Palazzina del Ragno and Villino delle Fate. Just find your way to Piazza Mincio and you will be in the right place (about 15 min or so from the center of Rome).
Jewish Ghetto/Quarter close to Campo di Fiori area of Rome. Make your way to the lovely Via Portico d'Ottavia, in the heart of the district.
Mercato Campagna Amica Lazio farmer's market. Open only on the weekends, Saturday 9 – 6pm, Sunday, 9- 4pm. Via di San Teodoro, 74, 00186 Roma
Capitoline Museums, Location: Piazza del Campidoglio, 1. Hours: Tuesdays-Sundays, 9:00 am until 8:00 pm (last entrance 7:00 pm), closed January 1, May 1, December 25
 Read Rome
Linda & Steve of The Beehive Rome & Cross-Pollinate were not only our lovely #WinterInRome guides for the weekend but they also have a lot of great information about the city in this extremely comprehensive guide here. You can read my own experience staying at the unique Beehive location in Rome here.
My friend and fellow #COSItaly member Rick Zullo. He has so many interesting and informational resources, plus reading Rick's blog is like chatting with a good friend.
Diana from BrowsingRome is not only a really nice, friendly person – she has a wonderful website, BrowsingRome and BrowsingItaly with all sorts of insider tips and articles. Check it out!
One blog that deserves a shoutout is Verbalized by Sara White, a friend of mine who should be a professional photographer, I love her stories about life in Rome. She talks about what it's like to experience winter INSIDE her house, and has some beautiful travel photo posts as well.
Cultural preservation is important, if we want to enjoy the sites that keep Italy famous we need to ensure that they are protected so that future generations can benefit from seeing them in person too. One such organization doing just that, and which I truly respect and stalk on instagram, is Save Rome 'The American Institute for Roman Culture'. They are a digital communications initiative to create a positive conversation for the preservation of Rome's cultural heritage. See what YOU can do here.
Love Instagram and daily photos of Rome? Me too
Because we all love looking at photos and learning something while we're at it, Instagrammers I follow in Rome that I recommend you do too if you want a 24/7 look at Rome.  Erica (who also organized #instameets which I will get around to attending one day), Gillian, BrowsingItaly, BrowsingRome, Marta, Nicolee, Annie (Scooteroma), Linda, Livia, Matteo, Maria, Elizabeth, Rachel Roddy, Jessica.
Tours in Rome
Scooteroma is THE vespa/vintage fiat tour company in Rome and you would be well advised to embrace your inner Audrey and spend a few hours on the back of a awesome vespa with Annie and her team. Everyone who went on our 3.5-4 hour tour had a wonderful time and would do it again absolutely. You can customize your tour : themes include ones for foodies, #findyourfiat or 'la grande bellezza' which is kinda freaken awesome. Website. Annie and her husband Giovanni also run and operate Rome and Tuscany Tours, exclusive and customized itineraries from all over the boot.
There are plenty of foodie tours for those who want to visit markets and visit interesting spots all over the city but I can definitely recommend GtFoodandTravel  Gina Trigali and Eleonora Baldwin for a first-hand look at some quality local hot-spots in town. They get it. 
Context Travel: high-quality tours run by scholars, I use them in Florence and we did again in Rome to visit the Capitoline museums.
Also I must give a shout out to the other bloggers on this tour, all of whom I adore and have written their own perspectives on the weekend. We have the lovely Alexandra from ArtTrav, Anna from Green Holiday Italy, Nardia from Lost in Florence, Willemijn from Ciao Tutti (Dutch) and Gigi Griffis from The Ramble.
One last thing! On April 21st it is Rome's Birthday (she doesn'tlike talking about her age). A big deal in the eternal city founded in 753 BC, those in town can expect fireworks and plenty to do especially around Capitoline, via dei Fori Imperiali and the Circo Massimo, more upcoming events here.