It's hard to believe that one country could have hundreds of beautiful islands, each prettier than the last in a place with so many different shades of blue, even Crayola wouldn't know what to name them all. Periwinkle, aqua, sapphire, indigo. You'd be hard pressed to find a more idyllic place to spend your honeymoon than Thailand, and like two slightly tanned lovebirds, we saved the best for last.
We left for what I will only describe as pure, unadulterated paradise. And yes paradise has a name, it is Koh Yao Noi (which means "long, little island) to the right of busy Phuket — it is the largest island in the Ko Yao Archipelago with a mountainous center and beaches on either side. The population is extremely friendly, and mostly Muslim — it is thought that Sea Gypsies (Moken people) inhabit the Koh Yao Yai area while at Yao Noi  it is more migrants from the Malay Peninsula (Satun, Trang).
While I am hardly a 'local expert', just another honeymooner 'ooing and ahhing' her way through Thailand, I dare say that Leonardi DiCaprio or James bond would choose Yao Noi over the super crowded Phi Phi islands or Phang Nga Bay any day, though from Yao Noi we got a front-row view of Phang Nga Bay on the daily. Far from the crowded, self-snapping hordes of people on islands made famous by Bond and 'The Beach', you'd be hard-pressed to find many humans blocking the view on Yao Noi. It has remained mainly a fishing and rubber planting island with a slow growth in tourism (better). The perfect stay is a week, more than that you might get island fever.
We were smart enough to realize that Thailand's islands wouldn't reflect the pristine sandy beaches with clear blue water that you see on instagram, instead they were prettier in person. Yet the most famous ones were jam packed with fellow revelers taking selfies with coconuts. This place was douchebag free, and the locals want it to remain like that.
Getting there proved as much as an adventure than anything, since we were to stay at the Six Senses Yao Noi Resort, they had arranged for a boat pickup (the only way to arrive) from the North-eastern coast of Phuket. I kid you not, I stalked their instagram and anyone who tagged themselves there for weeks, I couldn't wrap my head around the fact that we, normal humans, would be staying in such a place.
Six Senses Yao Noi – The Best Place… Ever 
It's rare when a luxury resort moving into a small island is actually a good idea. In the cases of Six Senses however, I'd argue they've done a lot to improve the conditions of many on the island of Koh Yao Noi. Housed in built on a site of an old rubber palm plantation on a pretty hill facing the water, this is barefoot luxury at its best.
"Ma'am" can I confirm your arrival time to the marina? We'll have the boat there to take you to Six Senses around 2pm, feel free to have a drink beforehand" the guest manager assured me. It's not often you have someone say they'll bring a boat to pick you up and I was going to savor every moment, let the adventures begin.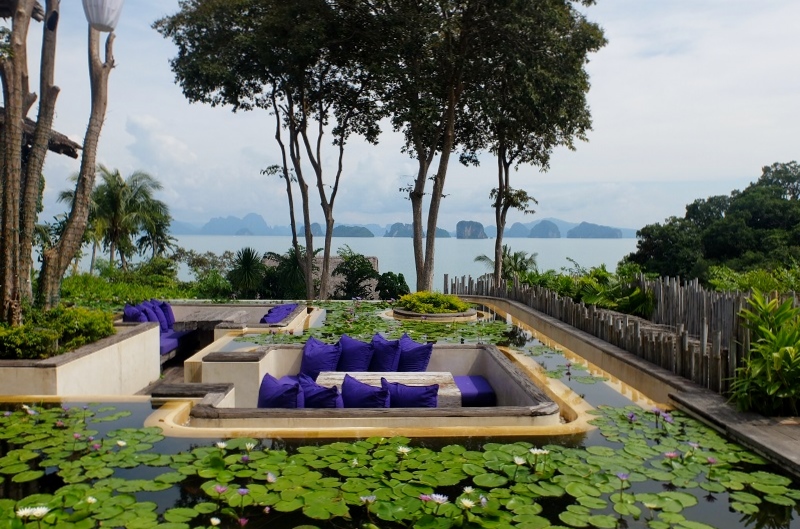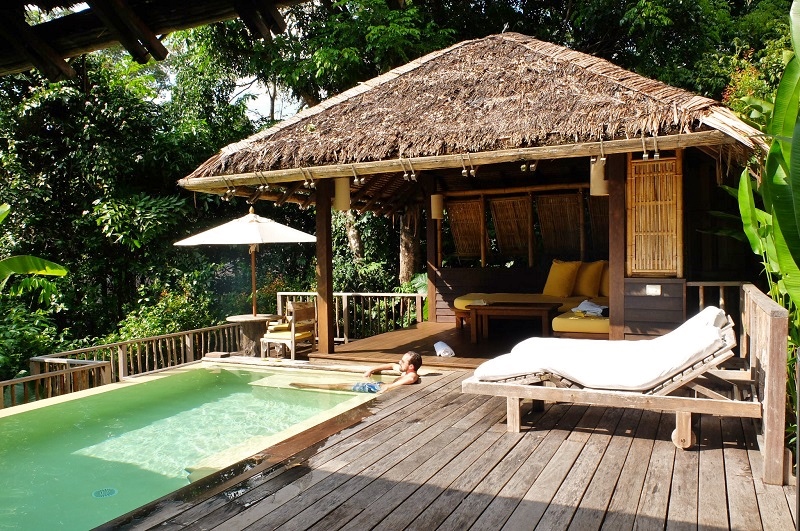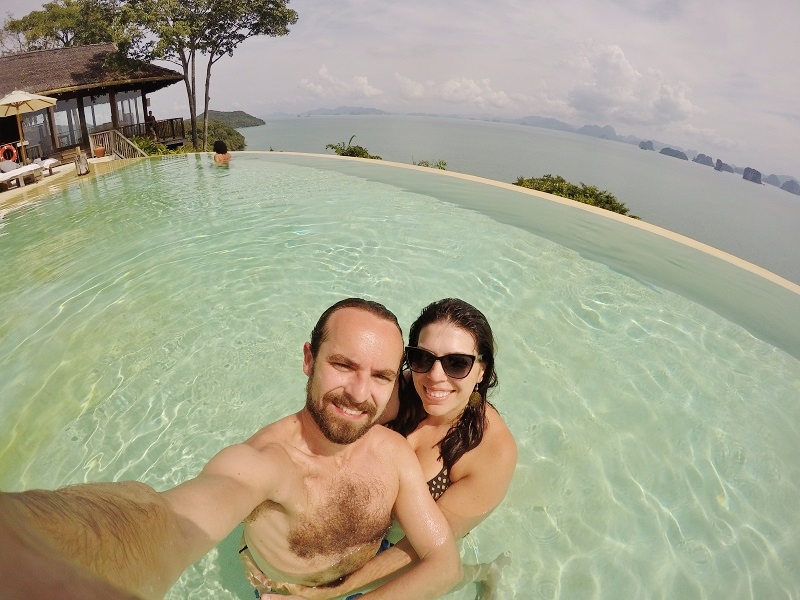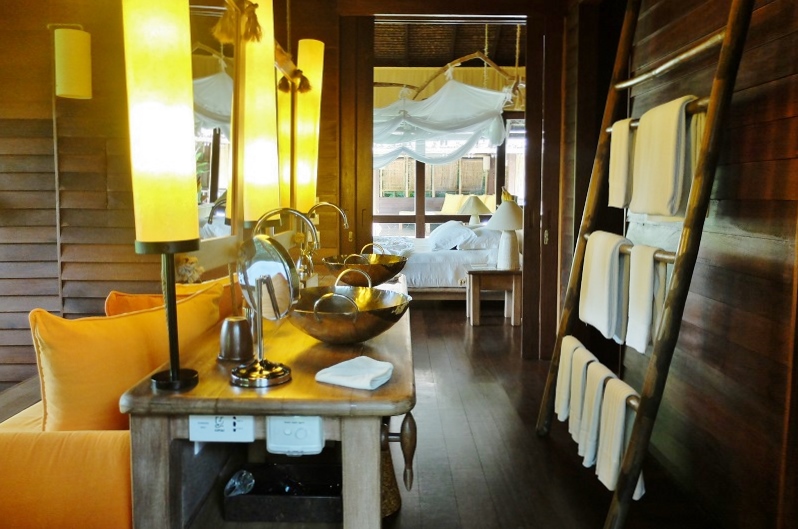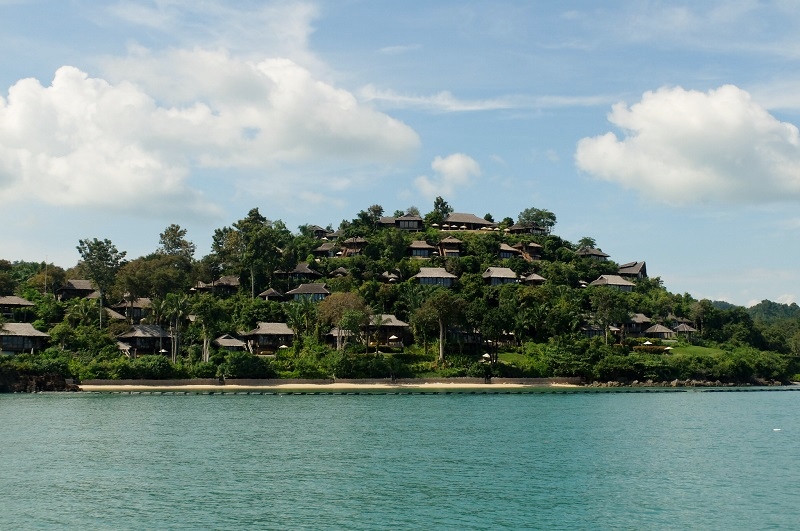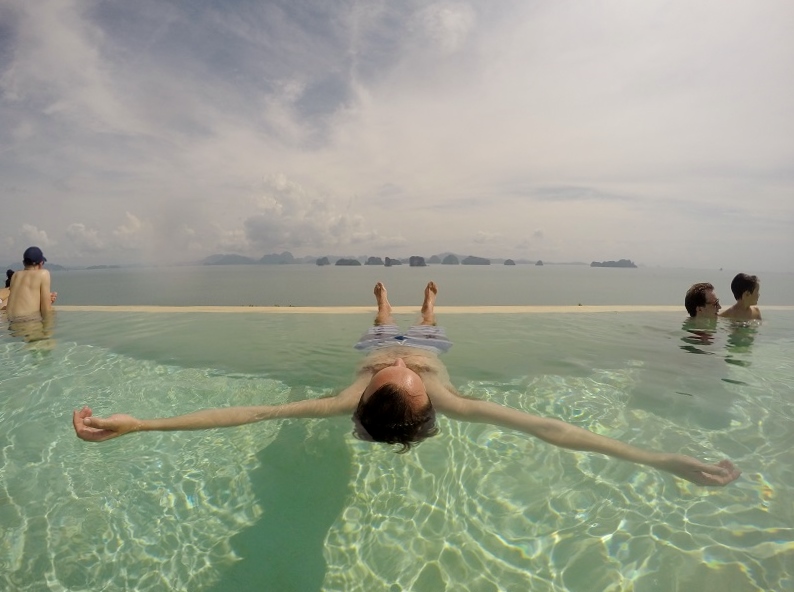 A luxury Robin Crusoe type place, each of the 56 villas at Six Senses are made with local materials, namely bamboo, palm-lead thatching and teak wood. They come complete with an outside terrace, small infinity pool, outdoor shower, indoor shower, jacuzzi tub, wine fridge, tea, coffee. It's amazing! They also have two in-hour restaurants 'The Hilltop Reserve' and 'The Living Room' while the bar 'The Den' serves up craft cocktails and various Asian tapas in a sunken dream-like bar, I'd definitely recommend trying their Thai food but also venturing off the resort to eat at local eateries and discover more of this leafy island.
Other notable factors is their own waste management plant. In addition to minimizing the environmental impact, Six Senses replaced all imported drinking water with in-house production, this has a positive impact on the local community as 50 percent of the water sales from the food and beverage outlets is invested locally on projects which deliver healthy drinking water to those without access. This should be a fundamental human right.
Continuing on the sustainable theme that they work hard to preserve, food is as local as it gets. In fact, one morning they took Nico and I too the hen house where to my amazement, the birds providing my breakfast listen to jazz music as they frolicked in happiness. We woke up to the pinky hues of a slow-rising sunset and got a lovely views of the surrounding islands silhouetted constantly by a sunny haze, this is not your average hotel.
Hell, I would live there if I could get the chance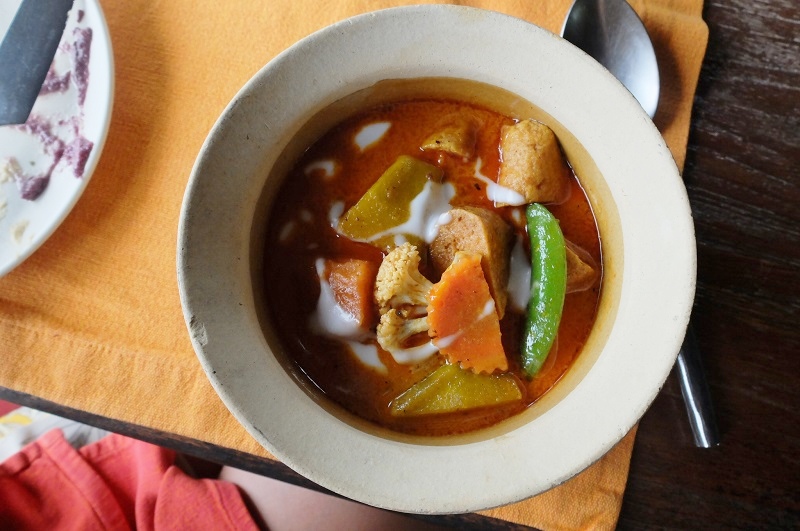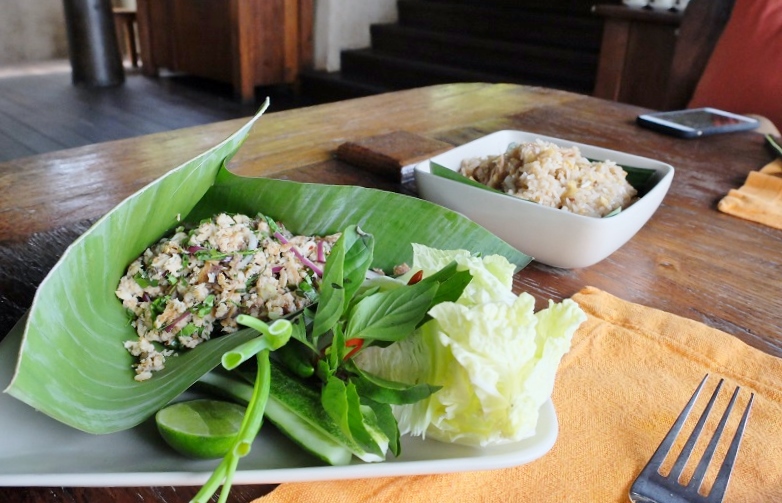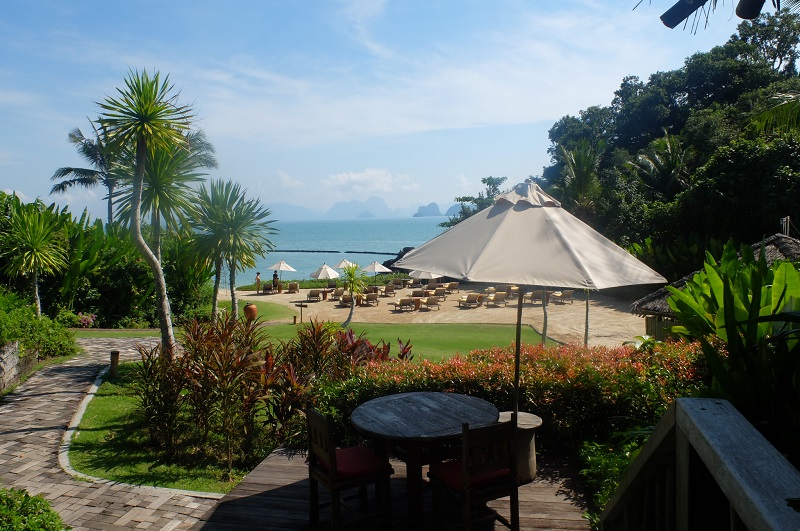 Breakfast was just as fabulous as you would imagine it would be, with a daily egg menu (yes you can bring your own from the jazz-sexed up birds) and they have plenty of healthy options like bircher muesli, black sesame milk and organic fruits. We indulged in a relaxing couples massage at the beautiful spa and traipsed around the beach. Relaxation is key here, don't expect to find this a 'party' resort but more for families and honeymooning couples like us.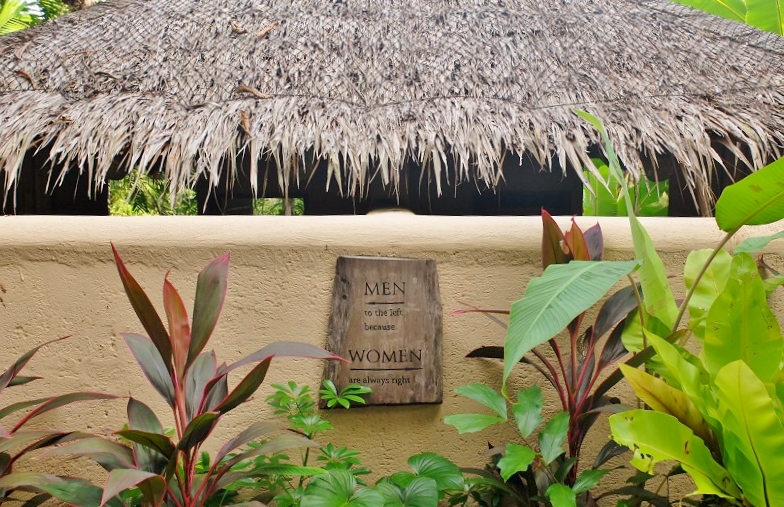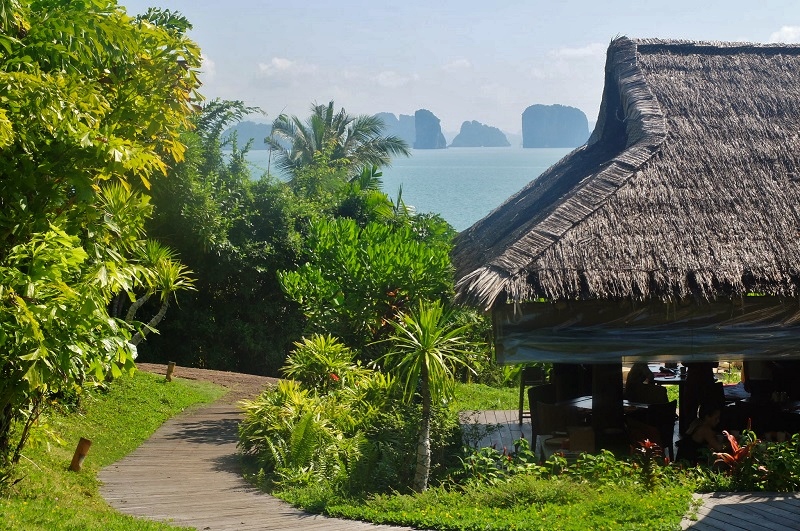 The extras are pretty notable too, everyday the resort offers free ice cream (over 20 flavors) from a little shop near the breakfast area and living room. Nightly, movies are shown at an outdoor cinema on their 'beach', Nico and I watched Julia Roberts eat pancakes by hand (gotta love that film) in Pretty Women while laying on beach chairs and munching on homemade popcorn.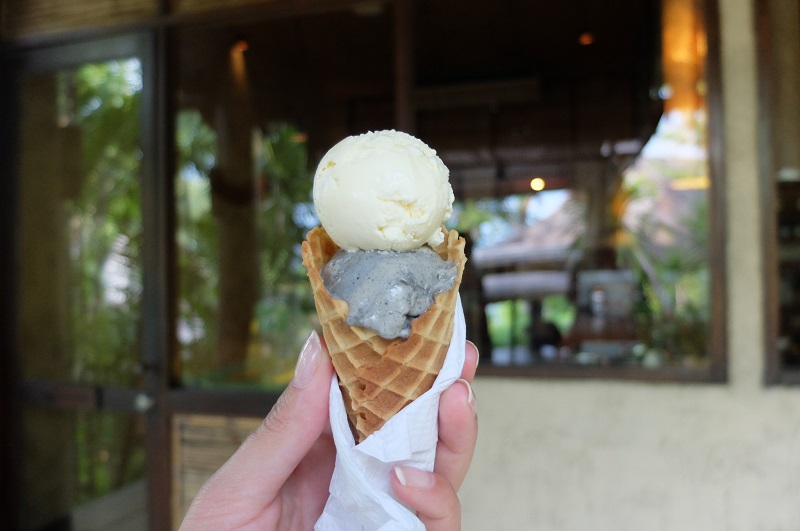 Hotel Amenities I loved
Villa Butler on call 24/7 to accommodate any of your needs, arrange a buggy to take you around Six Senses, make dinner reservations or bring you fresh coconut water. No request was outlandish.
The Living Room restaurant serving up Thai favorites was absolutely awesome, delicious food with wonderful views of the resort/water
Incredible holistic Six Senses Spa, I highly recommend partaking in one of their sensationalist massages. We were in heaven
The sharing library was cozy and kept me entertained when I needed a break from my kindle
The outdoor cinema is a must-try experience, the movies are mainstream classics but they are fun to watch and the staff makes sure you have mosquito repellent, water and popcorn.
Exploring This Lost Paradise – by Bike! 
The best way to explore Koh Yao Noi is on two wheels, either a rented scooter (which you can get for cheap) or by bicycle. I was feeling particularly masochistic one day so off we went, strapped in our mountain bikes already outfitted with water from the  in-house reservoir at Six Senses, sunscreen, money and mosquito repellent.
No need for a map, there is just one main road circling the island so we planned to cover it all. We passed water buffalo minding their own business munching grass on the side of the road and spotted rubber plantations, the island was pretty quiet save for a few scattered hotels, small makeshift restaurants and the 'shopping quarter' which basically consisted of a few market stalls, one 7-11 (with the coldest air-con I've ever experienced) and a few shops where I picked up butterfly-wind jewelry for my girlfriends. There were at least three hills which had me cursing in my best Italian but once I stopped wimping out, I enjoyed the ride. You can buy snapper or squid from the Bang Nid's fish market, or lounge on one of the many hammocks at the surrounding beaches.
I have a feeling that we were one of the few people to leave the resort, in fact I saw a few other people at the 7-11 at various others areas of town where we visited, but that stayed at other guesthouses. We shared a sort of cheeky comradery, that we too were out to see every possible inch of this place.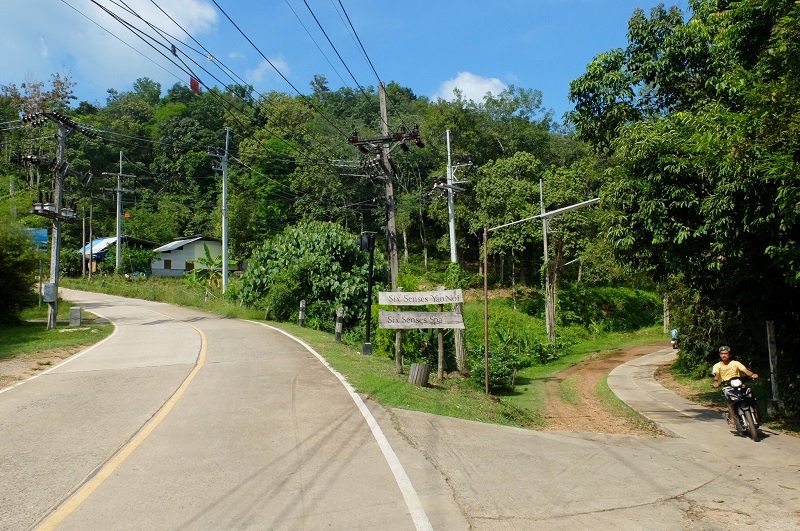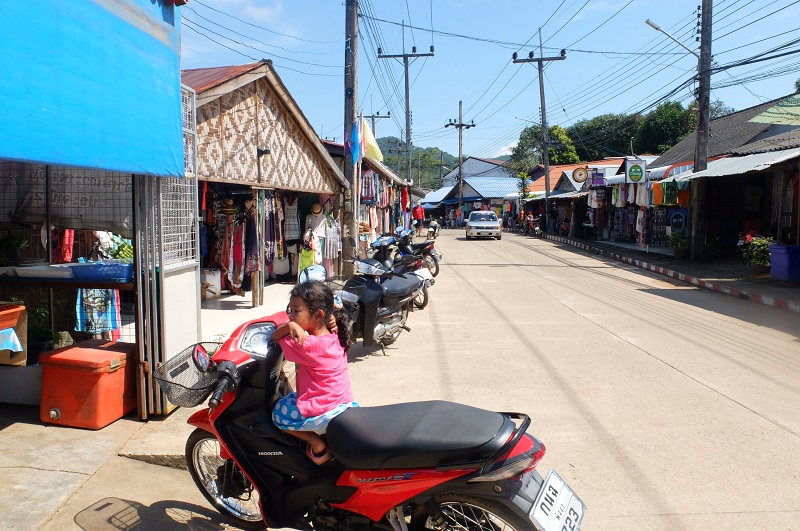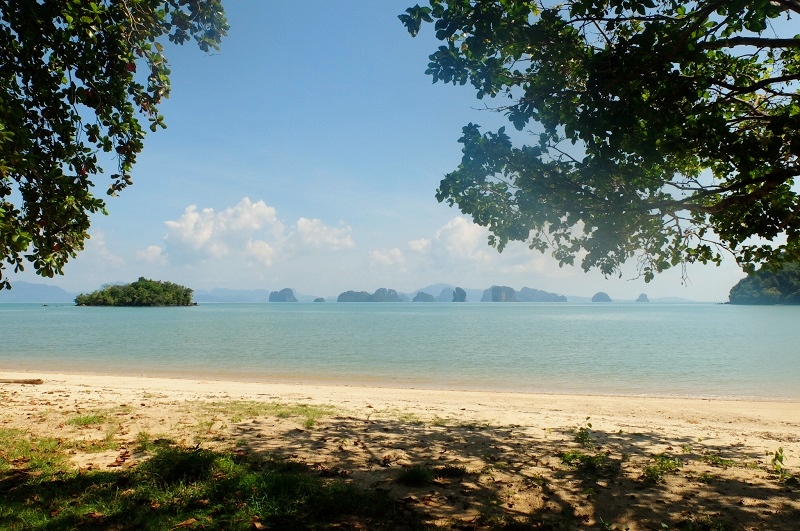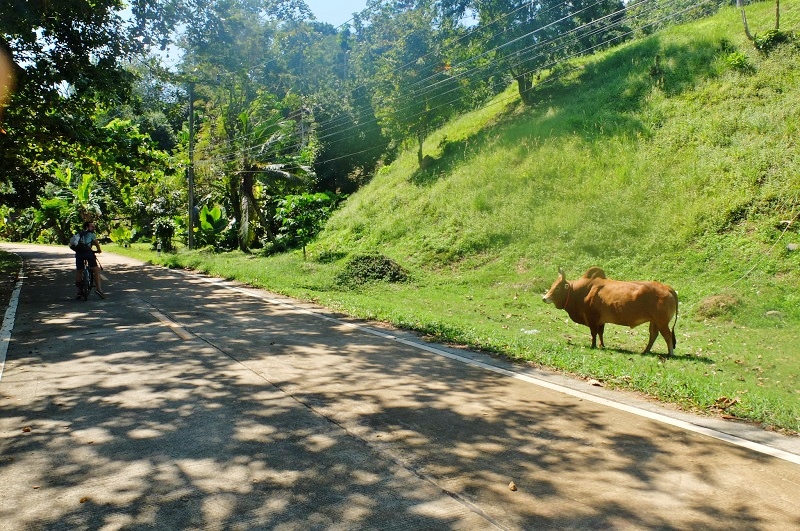 We stopped for  lunch at a place I had eyed when we visited the sunset restaurant overlooking the island. Chaba Cafe' is one part restaurant, another part art gallery, and I could see they had a wine bar in the works. Basically these are the ingredients to my ideas of heaven.
Like a place you think only exists in dreams, everything is colorful, carved out of wood. With a cat lazily draped on any given area of Chaba, this was our kind of spot, and very close to Six Senses.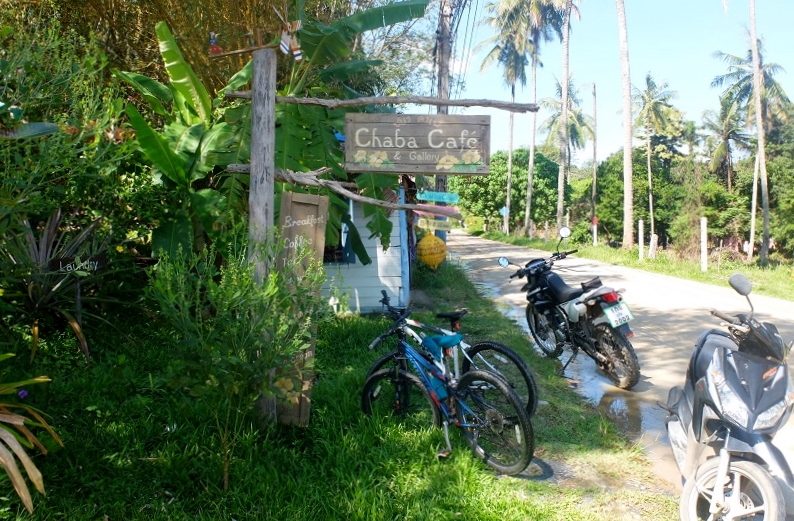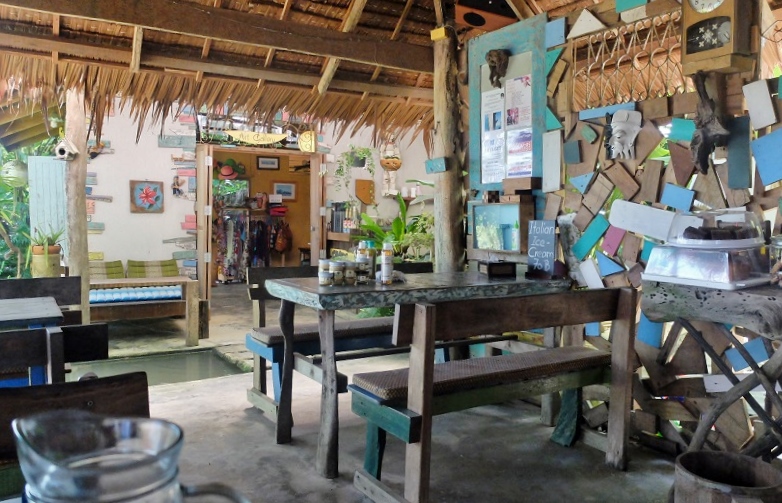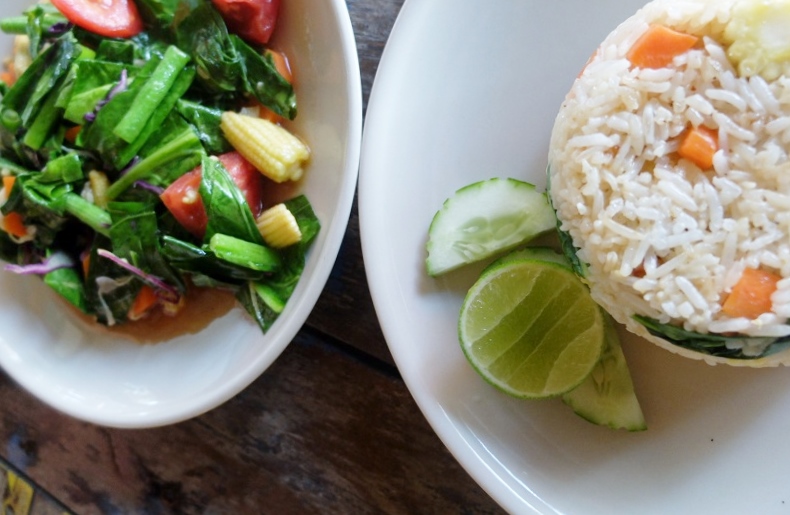 This was exactly what I needed after our sweat journey during the hottest time of day. I ordered a fruit shake with coconut and some beautifully sauteed veggies with a garlicky swiss chard and mini corn served with rice and lime. This place could not be more perfect.
I struck a conversation with owner Karin, blond hair and beautiful in a long-flowing dress, originally from Australia. "This is my paradise, I can't imagine living anywhere else" she tells me as I sip the last of my delicious shake.
She and her Thai partner are a mainstay in the local community, have both this restaurant and a selection of villas to rent around the island along with the wine bar they just opened. In the adjacent shop to the restaurant is a little shop selling homemade jewelry and other goodies. It sort of reminds me of a very authentic 'eat, pray, love' kind of place, just a hell of lot less pretentious and more in-tuned with nature and community.
Reason #74878749 To Visit: Island Hopping 
One of the hands-down boat excursions to do here is to hire a long-tail boat to explore the surrounding islands around Yao Noi, in addition to kayaking or hiring a speedboat. Our guide was only 29 year's old but had a lifetime of experience. We visited Ko Han Tu first, a little beach that disappeared between two current, we were the first to arrive and I reveled in this. Just imagine pure emerald waters, a deserted sands and just three people in one of the prettiest oceans in the universe.
It was inspiring, it was like another world
I wish I could have remembered our guide's name. We made fast friends with his shy smile as he opened up on his experience during Thailand's 2004 tsunami. He volunteered himself to help in the recovery, where over 5,000 people died and so many unaccounted for on that horrible day on December 26th. "We had a system using sticks, different colors meant if someone was found, dead or alive". Despite our heavy conversation, I found him to be great company. He loved his job, he has a girlfriend, he spends the day ferrying people like Nico and I to private islands or Six Senses guests to and fro the resort.
We arrived to a lagoon inside one of the islands, the water so green and beautiful I felt like I entered a scene from 'The Land Before Time'. We jumped off the boat and I paddled my way to Nico whispering "can you believe we're here?" One of many moments like that we shared during this leg of the trip.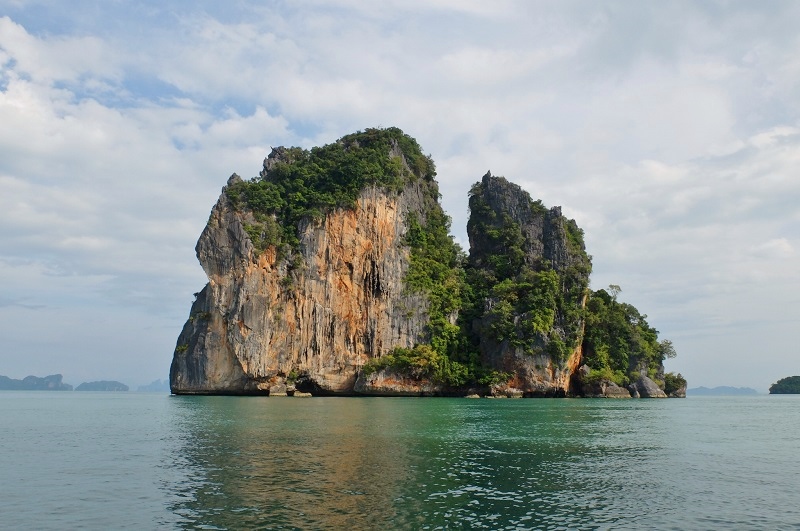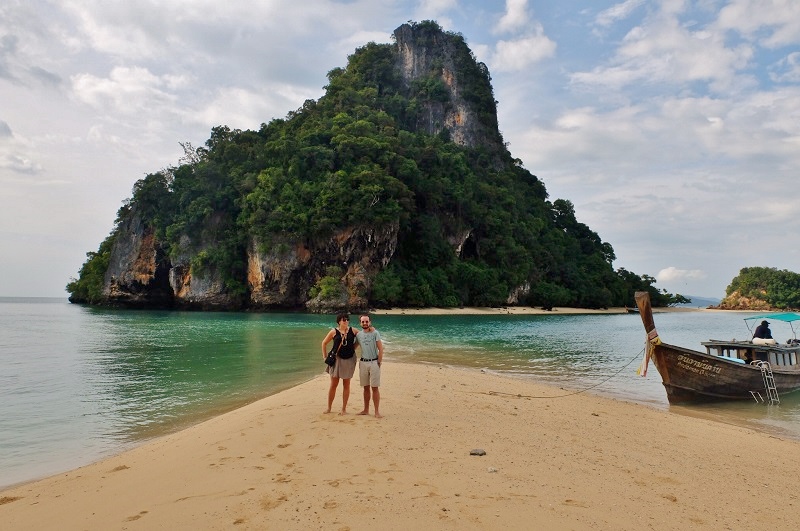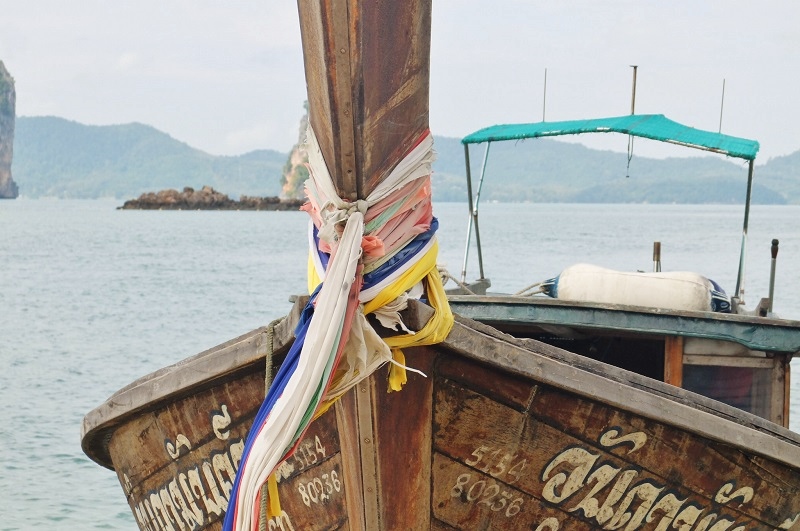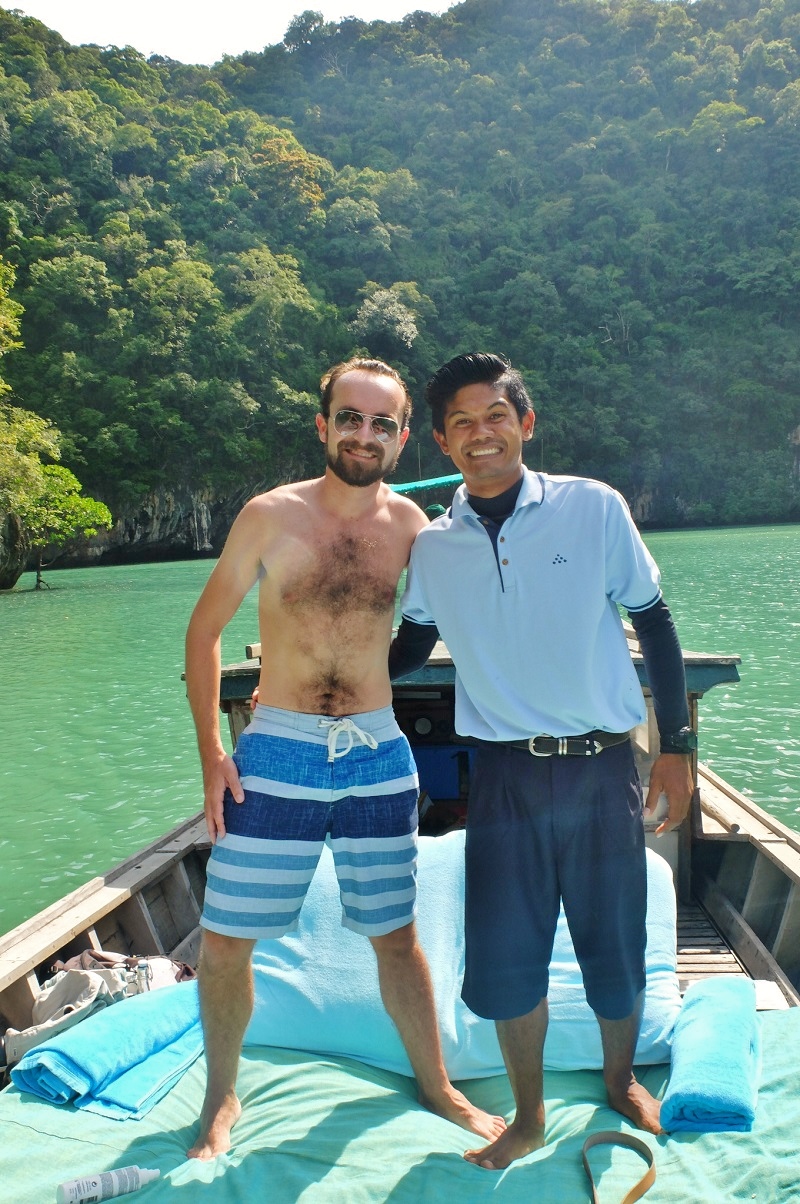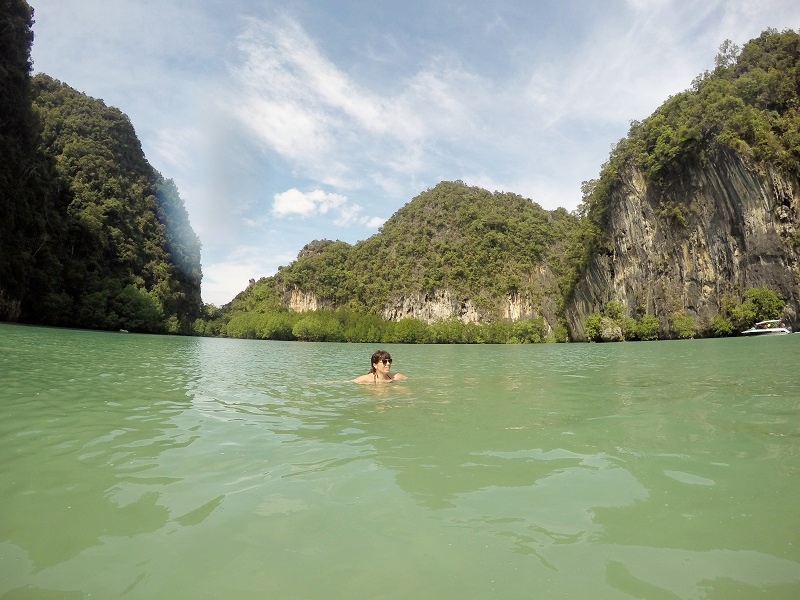 Yao Noi Vs. Other Islands
Koh Yao Noi is the antithesis to Patong in Phuket, think of it as more of a sleepy fishing village than a huge tourist attraction. In fact, nice beaches here are far and few between, they tend to be small and murky yet to me, but no less beautiful. Instead it's more about enjoying the peaceful local pace on the one two-lane road circling the island, boats at the ready to take you island hopping from its shores. Nature lovers will like this place too, besides the empty beaches, there is a beautiful mangrove forest in nearby Krabi to explore in addition to plenty of kayaking opportunities. Basically it's a great place to stay.
Another reason to love it here are the friendly locals, some of the nicest people I met in Thailand. We spoke with countless employees, many of which shared how much they loved living in this idyllic, quiet paradise. One day I snuck up on one of the employees and asked where they would go for supper, just to have a local experience, they told me that recently a restaurant opened with an amazing sunset view, just beyond a dirt track off the main road. They called the restaurant and even managed to hitch us a ride on the back of a guy's truck. How I reminisced from my more 'adventurous' days in rural Texas.
After a very bumpy trip up, we were treated to stunning views and a simple wooden shack restaurant where we would spend a few hours. What amazed me is just how close-knit the community is here, even when we didn't have enough cash to pay for our under 10 euro (seriously) dinner, the driver took us to an ATM and brought the cash to the restaurant for us. Remarkable.. Note to people who visit, bring cash! I wish I could give you an address but the best I can do is provide a photo of the entrance from the main road. Trust me, you'll find it.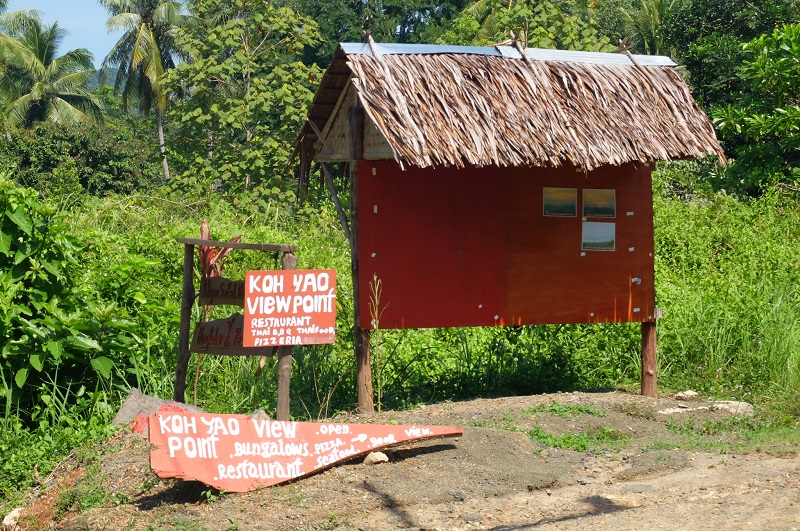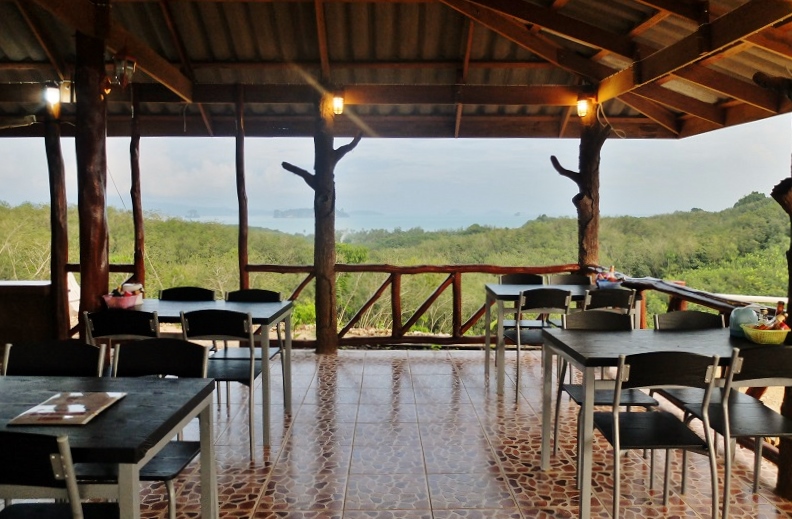 I've read up on other unspoiled paradises locally too, one that's on my radar for a future visit is Koh Lanta, which I read on the blog Adventurous Kate as she discussed 'island snobbery' in the sense that everyone wants a bit of that hidden paradise while snubbing popular hot-spots: ie Phayam.
Personally, I agree with her whole-heartedly in the sense that while we all want to avoid being a 'typical tourist', we forget that we have higher expectations in what we need in a place (working electricity and WIFi for one). Hell I even loved Phuket at the end of the day.. I see that same attitude in Italy btw, a lot of 'Florence is overrated and full of people' (I agree with the 'full' part), I'd rather visit xyz. which is 'so much better' in Umbria. Sometimes places that do make the map, are worth visiting too. I found Yao Noi to be a perfect middle ground after busy Bangkok, Phuket and Chiang Mai.
For other ideas on more remote islands in Thailand, have a look at this nice list by The Telegraph.  
Getting to Koh Yao Noi 
We took a speedboat from Ao Po Grand Marina organized by the hotel which does a round trip from Phuket airport, but there are also Long-tail boat ferries from Bang Rong Pier on Phuket. Fare is around 50 baht and they leave three times a day (9:30am, 12pm, 5pm). For high-flyers the Six Senses can arrange for a helicopter transfer from Phuket airport.
Where to stay
Luxury: Six Senses, Barefoot-chic luxury resort, luxurious private villas with infinity pools, outdoor cinema, and a stunning spa. (56 Moo 5, Tambol Koh Yao Noi, Amphur Koh Yao, Phang Nga 82160; 0066 (0) 76 418 500. Six Senses site. Rates from 650 euros a night (high season).  Can't get better than this place!
Mid-range: Lom'Lae Beach Resort, eco-friendly resort with 10 bungalows that come with with fans, mosquito netting, kettles with free coffee and tea, mini-fridge and private hot water showers. P.O. Box 9, Koh Yao Noi, Phang-Nga Thailand 82160. Price 3,000 – 7,500 THB per bungalow.
Budget: Hill House, cozy bungalows that resemble tree-houses with a view of the Andaman Sea. 6/4 Moo 4 – Koh Yao Noi Phang Nga 82160THAILAND. Price: start from 1.100฿
Getting Around 
This part's easy! The island is so small, you could rent a bike on the island (there are some hills) or a scooter for around 200-250 baht per day, which is a pretty good deal.
Where to go
Most people come for the relaxation, so don't expect any major sites or museums. However visiting the little shops and ONE 7-eleven on the island is fun, as well as exploring the beach areas. I also highly recommend taking a long tail boat or speedboat to visit the islands around Koh Yao Noi. I also saw a Thai boxing school and cooking class, all of which can be found if you circle that main road ;-). Yoga is also quite popular here, with this company mentioned as the ones to try.
Restaurants & Bars
Chaba Café and Gallery

, Koh Yao Noi, Ko Yao, Phangnga, Thailand 82160, located along the main street. Just next to ParaBar or behind Island Resort. Open Mon-Sat 9am-5pm. Breakfast, Brunch, Sandwiches and Vegetarian (only cash).
Sunset Mountain View Restaurant,

Koh Yao Noi, off the main ring road facebook page. 
Je T'aime,

 21/1 Moo 1 | Market, Ko Yao Noi 82160, Thailand (close to the 7-11). Upscale French/Thai food.
The Living Room and Dining Room restaurants

, Six Senses, 56 Moo 5, Tambol Koh Yao Noi, Amphur Koh Yao, Phang Nga 82160; 0066 (0) 76 418 500; [email protected].
Rice Paddy,

open tuesday – sunday: 12:00 until the last one drops. Website 
Drinks: 

Charlie Bar

– chill spot on Pasai beach, Koh Yao Noi. facebook page.
When to go
Picking the right season is important so keep in mind that high season is from November to May. From what I've read you can partake in bird watching all-year while October to April is the diving season. All the Thai holidays are celebrated, such as the Songkran water festival (Thai New Year) in April and Loy Kratong in November.