When one imagines visiting Thailand, they envision the clear blue waters depicted in movies like 'The Beach' or 'James Bond', which the country has been capitalizing for a long time now on tourists. Phuket however, has a bit of a sketchy reputation, not totally unlike what I had heard when we visited the Greek island of Corfu. 'Oh yeah that's where people go to party.' But there has to be more than that, right?
However, since any decent honeymoon should probably come with a little beach time, we took our chances and hopped on an easy flight with Air Asia from Chiang Mai to Phuket International. The great thing about this place is that it is a great starting point to visit the many, gorgeous Thai islands. A few things to know, Phuket is on the south west coast of Thailand in the Andaman Sea, the largest island in the country and roughly the same size as the country as Singapore. Us Americans probably try saying the 'h' in Phuket while it sounds more like 'pooket.' It was a lot larger than I pictured it and a bit more difficult than I realized, only because I am of the curious sort and not super thrilled to just sit at the resort. I need to explore. Rest assured though, there are good reasons to visit Phuket, I actually had a wonderful time and would go back again, at least now I know what to do while there. Here are a few highlights from our recent adventures and please feel free to comment and add your own.
Before You Go – Research!
We got our ride from the resort we stayed at, the lovely Twinpalms, on Surin beach. I had read quite a bit before on how overpriced taxis were due to the taxi driver's lobby here which makes traveling across the island a bit difficult, and makes it pretty expensive for tourists without a car (think 600-800 baht one way!). The best advice I got was to hire a taxi for the day, having him sit and wait for you as you visit various places, fix the fee at the beginning. We did this to hop around Phuket one of the days we were there which ended up working out quite well. We also took the Songtaew – blue open-air buses that run
Our plan was to stay four nights at a resort and travel around the island, do a boat tour and then go to the last leg of our trip to the more private Koh Yao Noi Island for two nights.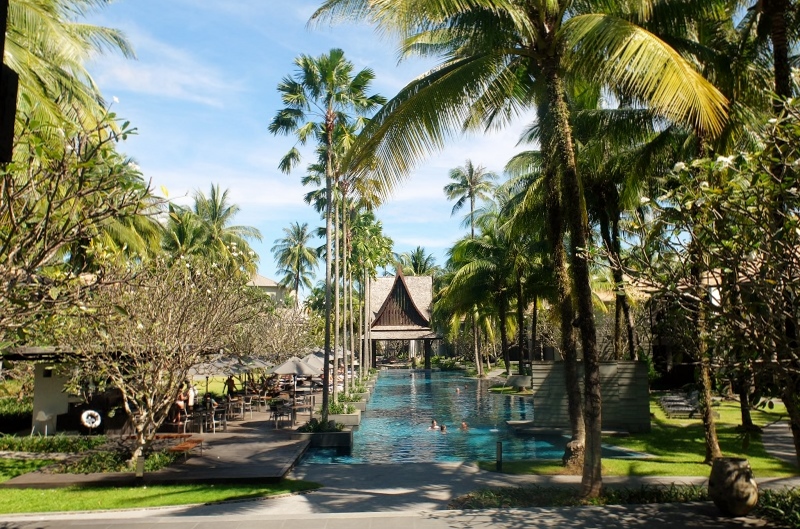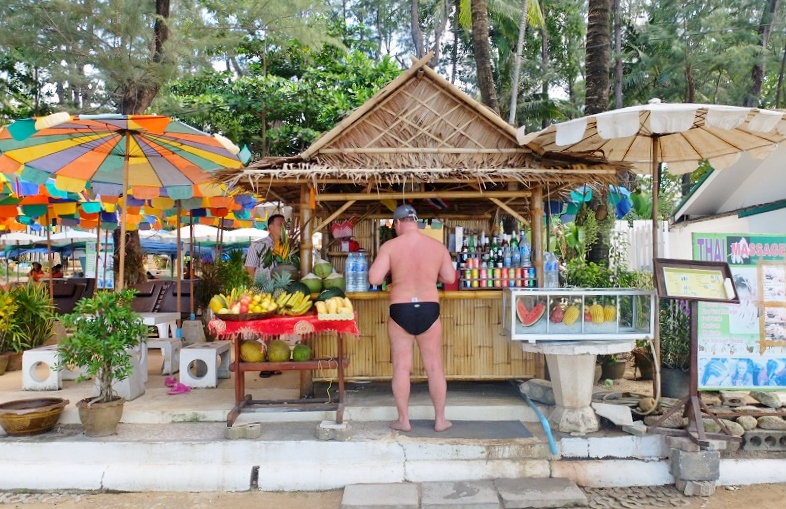 Like anywhere that is extremely popular, Phuket is one of those places I would plan in advance. The hotels and resorts are more expensive here than other areas of Thailand but they are well worth it, one such resort is the Luxury Trisara Resort in Phuket, it's not called a luxury resort for nothing it's truely breathtaking and definitely somewhere I would consider staying upon my return to Phuket.
The high season runs December to March, when you can expect the best weather. You can go in off-season and save money, but the weather probably won't be to your liking. We went in early-mid December, which meant we were probably going to pay premium.
Twinpalms was a nice choice. Besides the absolutely stunning communal pool, our room was enormous. Literally bigger than my apartment and they filled the tub with rose petals upon our arrival which was nice. Very modernly decorated, we also had a Nespresso machine which was a nice tough and glasses/plates in case we wanted to eat in the room. Inside the resort, there is a nice restaurant, the Oriental Spoon (also the breakfast restaurant), and offered us a free sampling of appetizers and sparkling wine the first night we arrived. The food was quite pricey for what it was, but honestly I was in full honeymoon mode at that point. There weren't that many others in attendance, we had a great time clinking glasses to the beginning of our beach holiday, it was a nice beginning.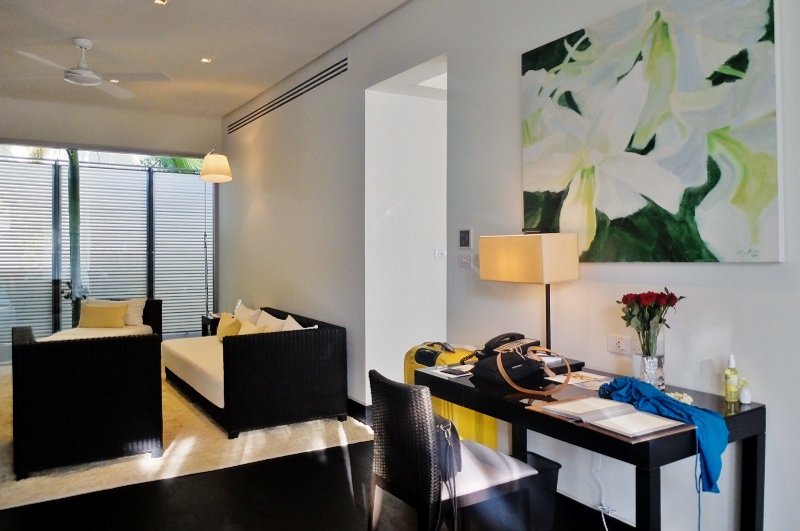 We also had dinner one night at the Twinpalms seafood restaurant, which opened in early 2015, an experience in itself for us two lovers of anything fresh. Stylish and contemporary, it is located on the Bangtao beachfront. There was an insane thunderstorm the night we dined which only made the night more interesting. I enjoyed humongous king prawns in a spicy sauce and Thai fish cakes, everything was great and the service, as it typically was in Thailand, was excellent. When you make a reservation from the hotel, they provide shuttle service which is nice.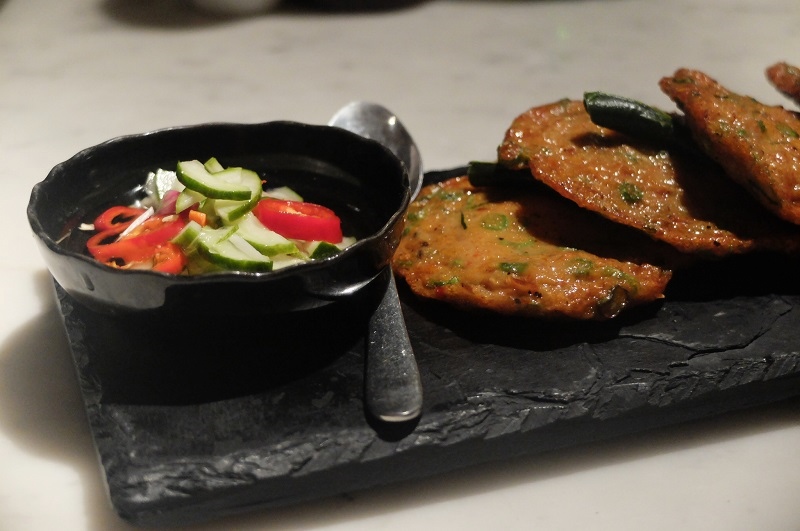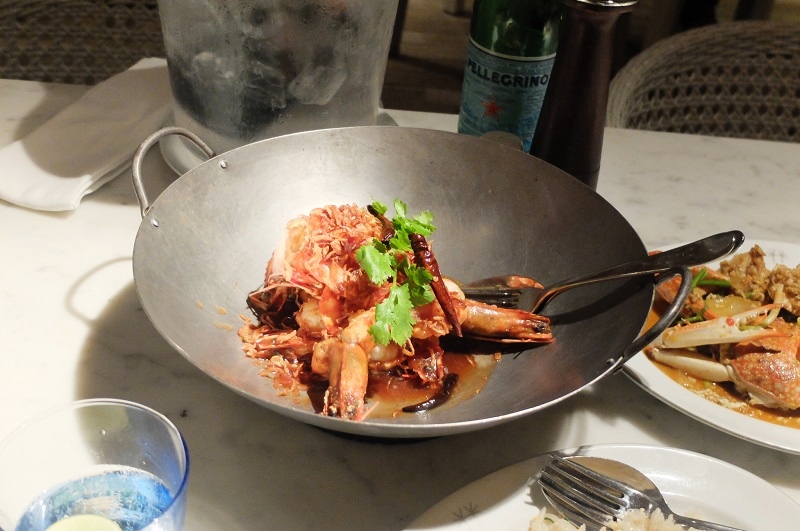 The Beach Life
Ah the beaches of Thailand, they really as pretty as you'd imagine they'd be, and I'm not referring to just Phang Nga Bay. 
There are numerous sandy spaces to choose from here, with the nicer ones being on the west coast (the east side of Phuket is rockier and covered in mangrove). Besides the famous (and overrated Patong) you can visit Suring, Kata, Karon (which has a great viewpoint), Kamala, Bangtao, and more quiet ones on the Northern side: Maikhao, Haad Sai Gaew and Naithon. Another gem near Surin beach is Laem Sing beach.
Our preference was to stay near a beach that wasn't Patong so we opted for a resort near Surin, which is well-known for being really beautiful. Twinpalms resort was a nice choice for us, because at this point we wanted something modern and comfortable to be lazy and this had it all. Spacrious, modern and easy — we liked it. This was meant to be a more lazy part of our holiday and things we looked for were a great pool and beach proximity. Along the expansive Surin beach, we had everything from popular beach clubs (Catch) to an open-air food market, to massage parlors and coconut sellers. It was beyond a great spot.
While we didn't have beach chairs, only padded lounges on the sand, this was due to the fact that recent regulations banned any sort of 'beach takeover' by the local government. The battles of the beaches seems to rage on, with bewildering rules on what can and cannot be on the beach.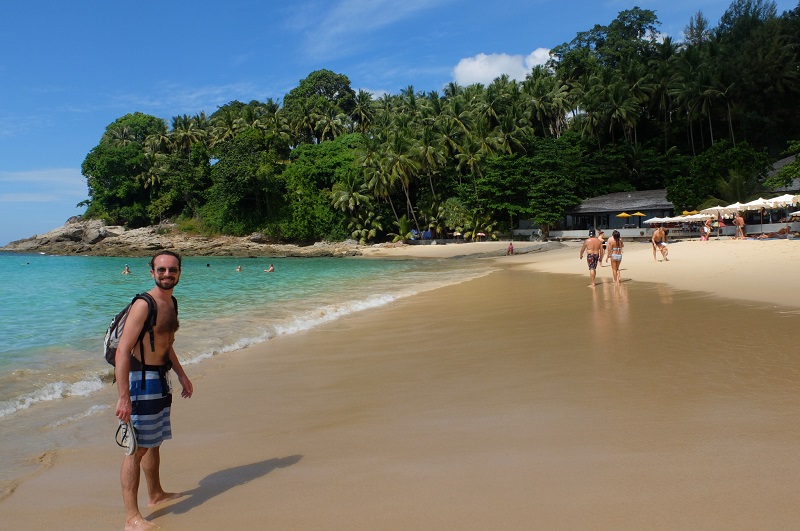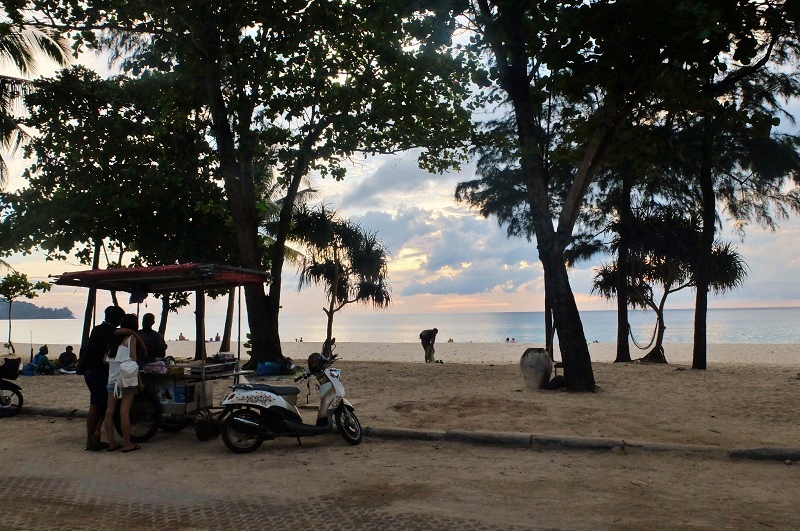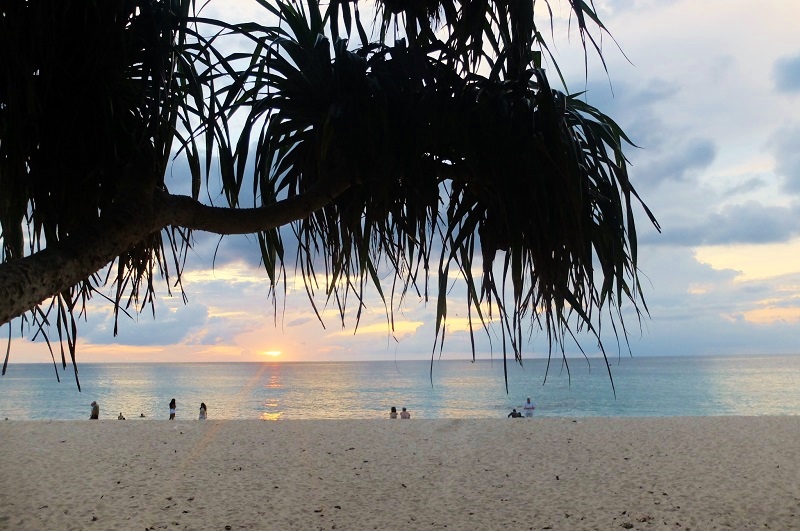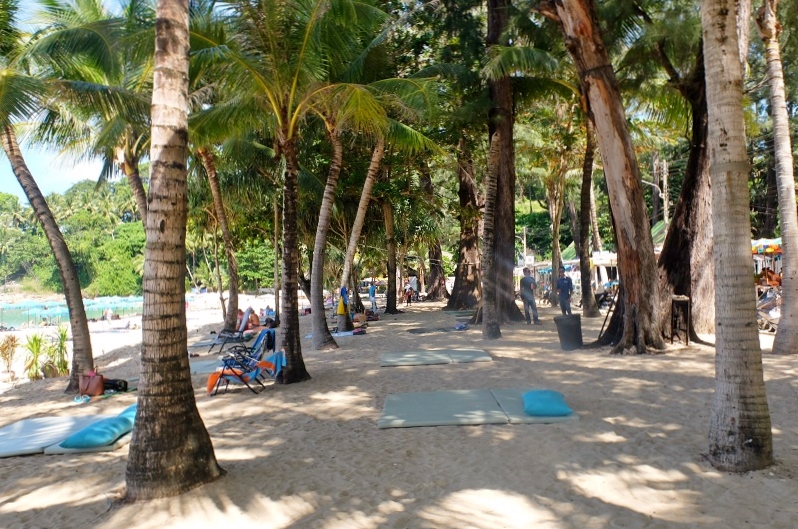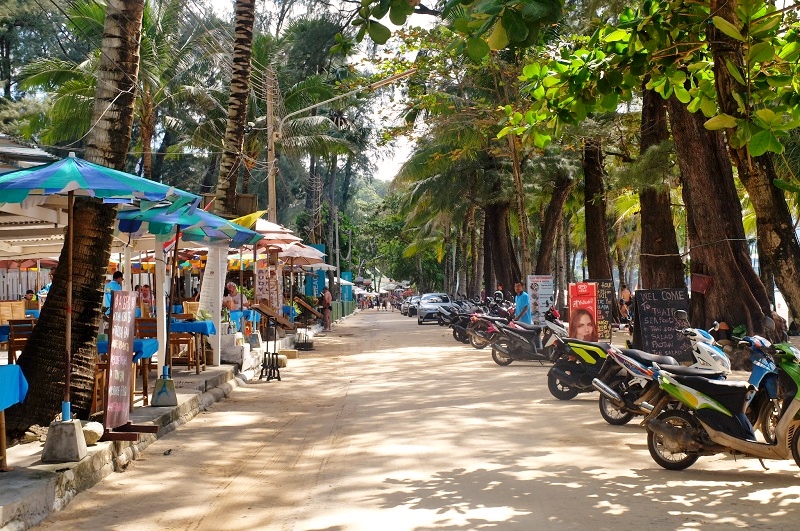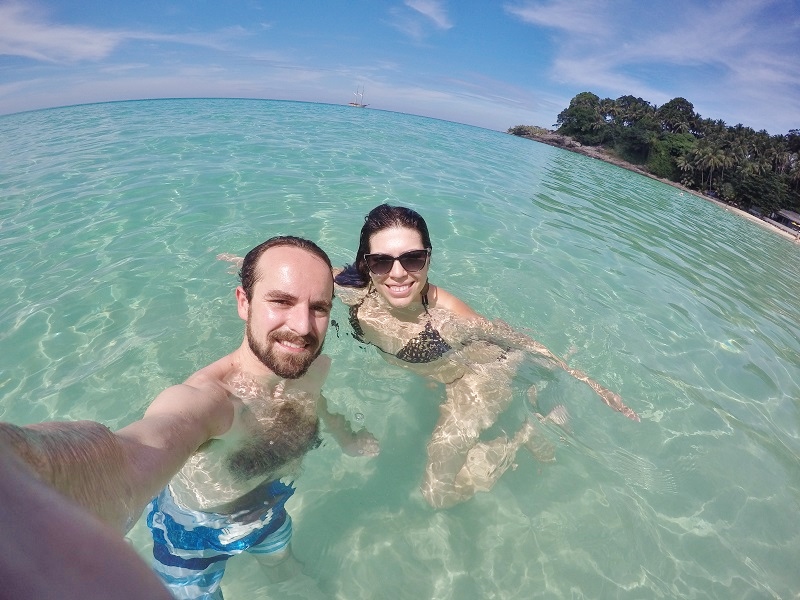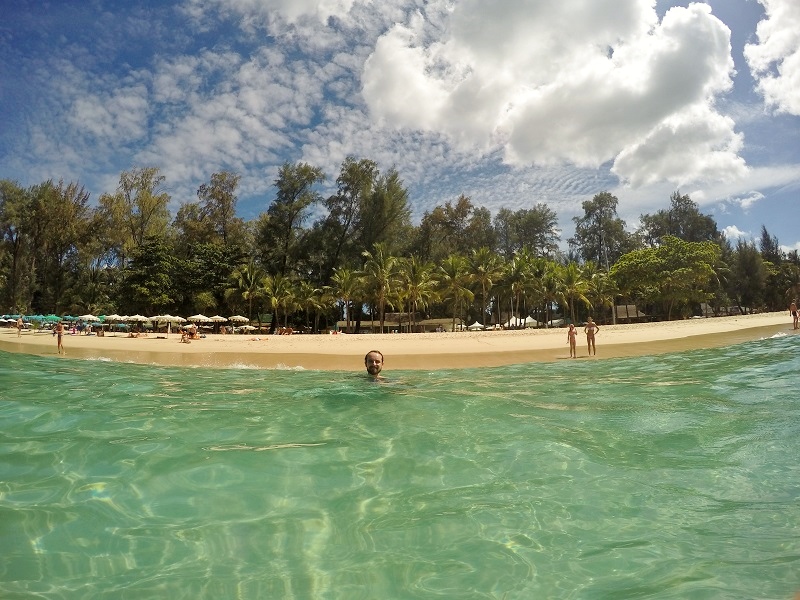 For A Dose Of Culture And Excellent Coffee: Go To Phuket Town
A visit to Phuket should really include a visit to the main city known as 'Phuket Town,' with the main road Thalang Road gaining UNESCO status due to the beautiful Sino-Portuguese architecture. And beautiful it is.  And you can learn more about it by visiting an ex-school turned museum, Thai Hua museum. Other notable sites include the 'Blue Elephant' restaurant, 'Baan Chinpracha House Museum', and 'China Inn'. The best bet is to have your taxi driver drop you off at Thalong and just walk around (better in the morning before it gets too hot).
For more architecture worth visiting, you may need to go outside of the town and visit these spots.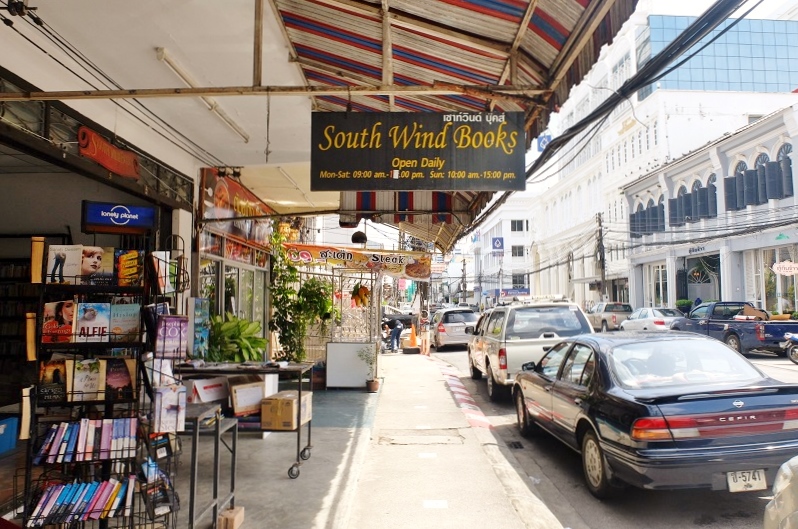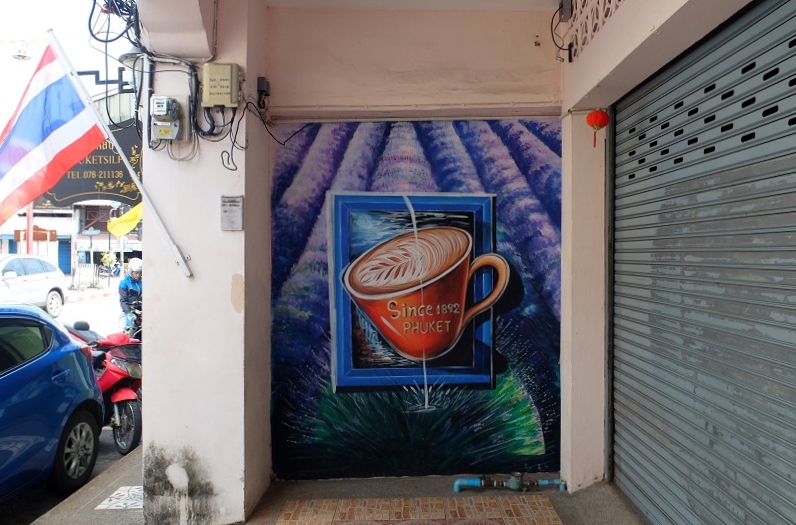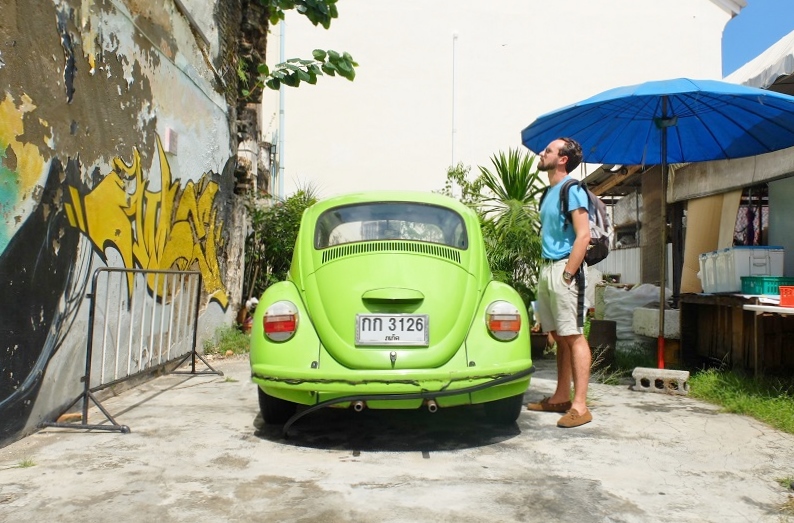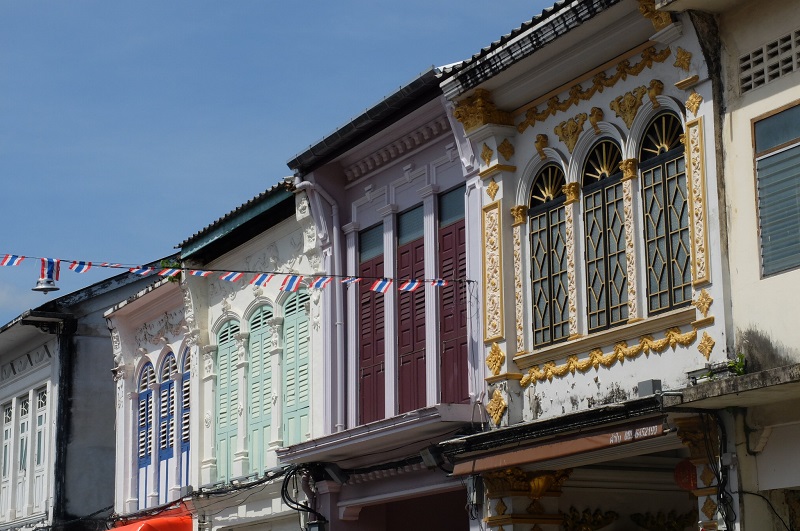 I've heard that there are a couple of great coffee bars here, thanks to Alana's helpful blog Paperplanes (once again – get advice from bloggers, they do their homework). One of our first stops was for coffee Bookhemian on historic Thalang Road , a hipster paradise in a century-old Chinese shop house. I got the ice coffee toasted with roasted marshmallow, I kid you not – this was amazing! What I liked about the place besides its cool interior decor, were the cool upmarket souvenirs and art magazines, it seemed like the place where you can pass a bit of time during the hottest hours of the day and get your caffeine fix covered.
Another cool cafe worth visiting is the Factory Cafe, a cool urban space that seems like a design studio on 81-83 Satoon Road.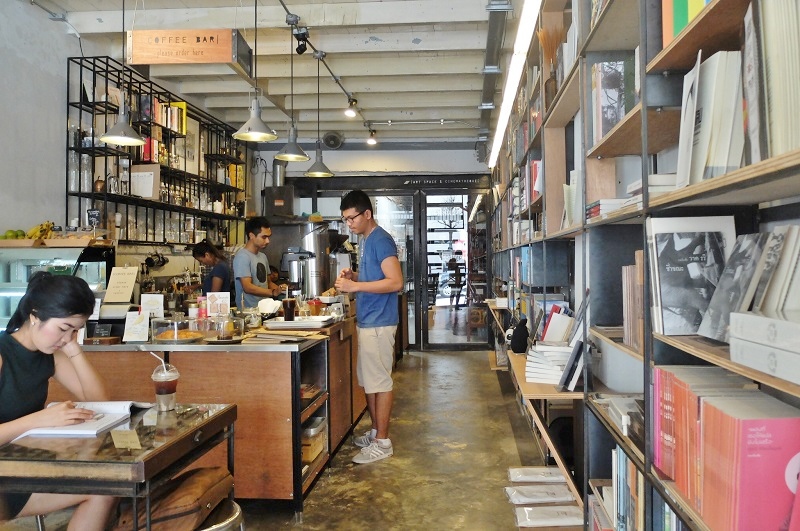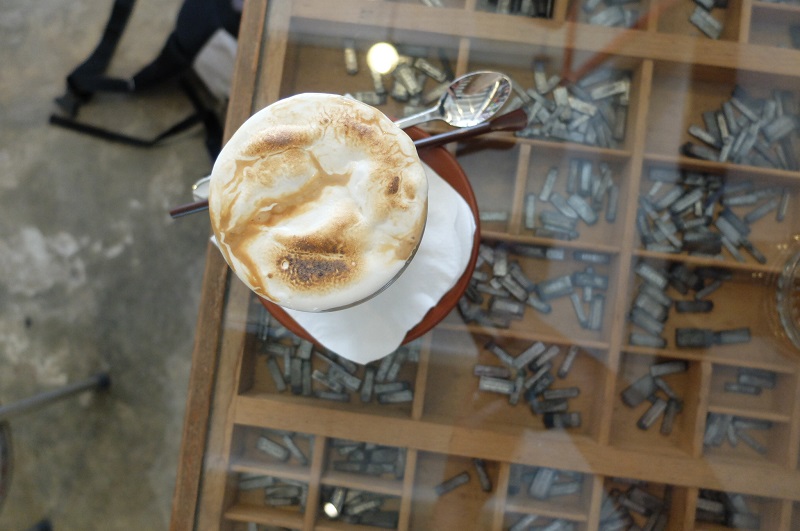 Another cool find along our Phuket town adventures was Rommanee Boutique Guesthouse, in the heart of the Old Town district in a beautiful building — a perfect spot for hip, budget travelers who don't mind staying a city and not on a beach in Phuket. This area is so perfect for wondering and shopping, we popped into many tiny shops to get treats like the ones below for friends and well, ourselves.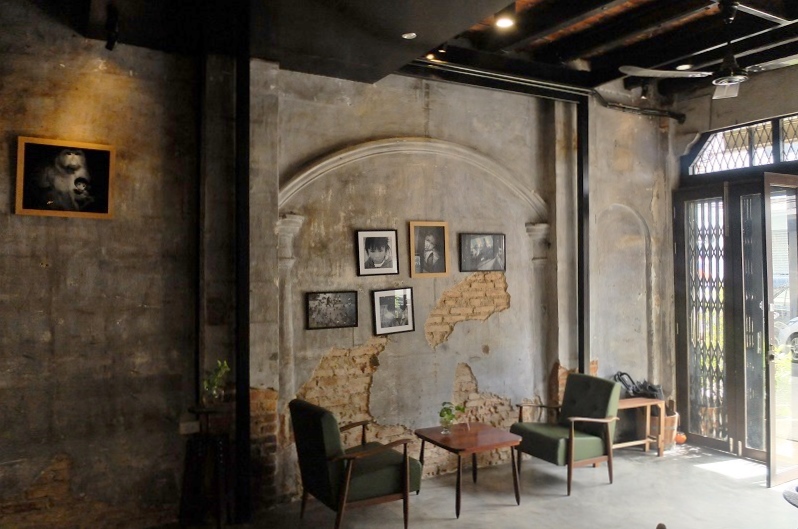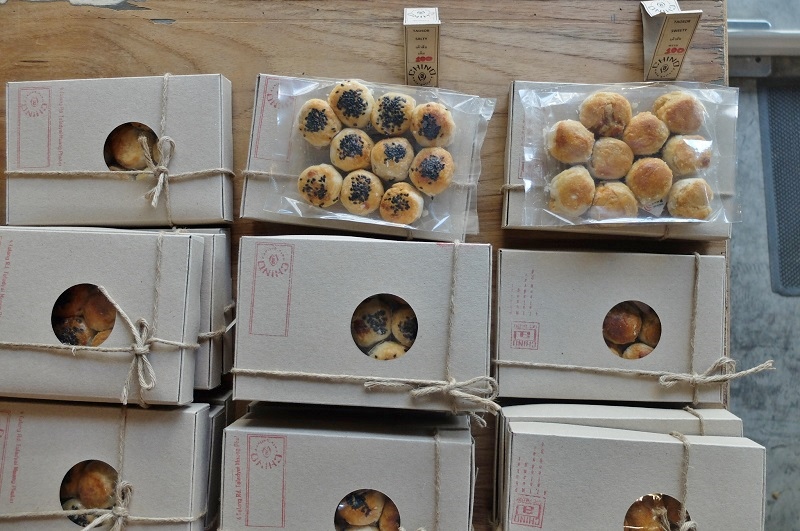 Lunch was at  Tu Kab Khao, another Paperplane's recommendation, housed in a beautiful building spanning over 100 years of history. This place is a real find. They were hosting a party that day so we only were able to stay a short time, but wow. This was probably one of the best meals we had in Thailand. Besides the fantastic mixologist that brought an entire mixing lab to make my drink, we had the most delightful jackfruit curry. Despite the fact that both Nico and I had sweat bullets as the sun rose ever higher, this was quite the refreshing hour and a half.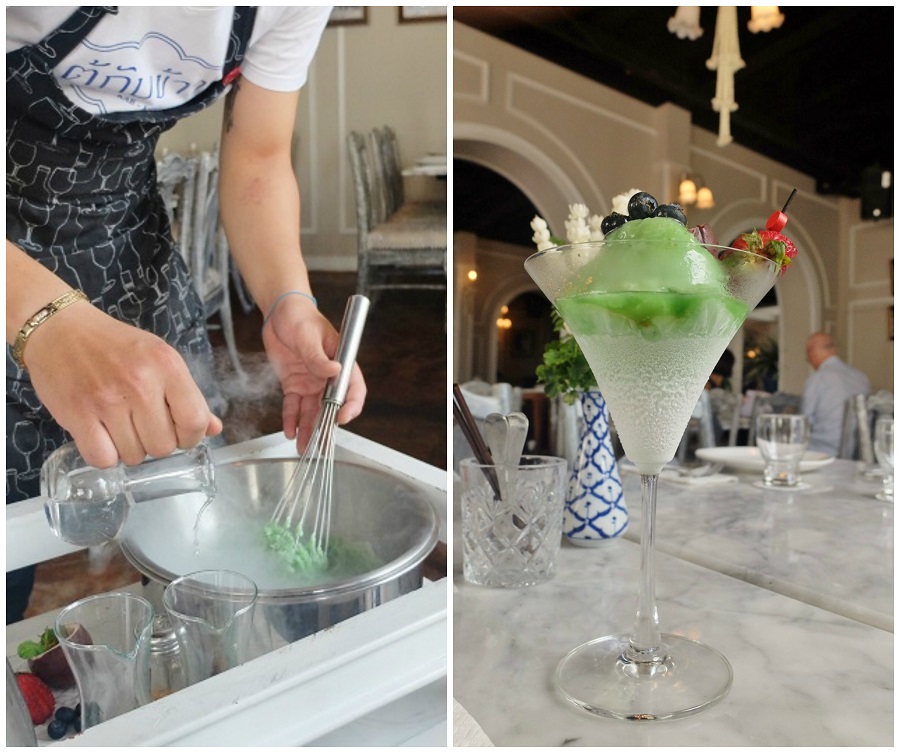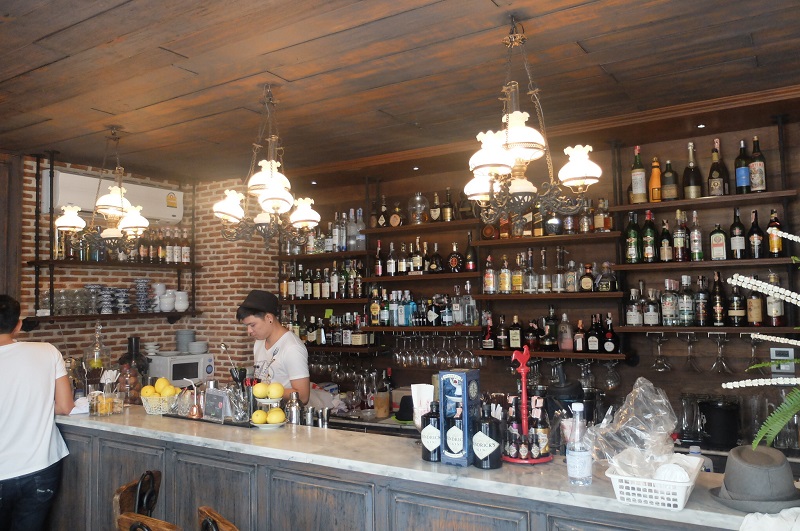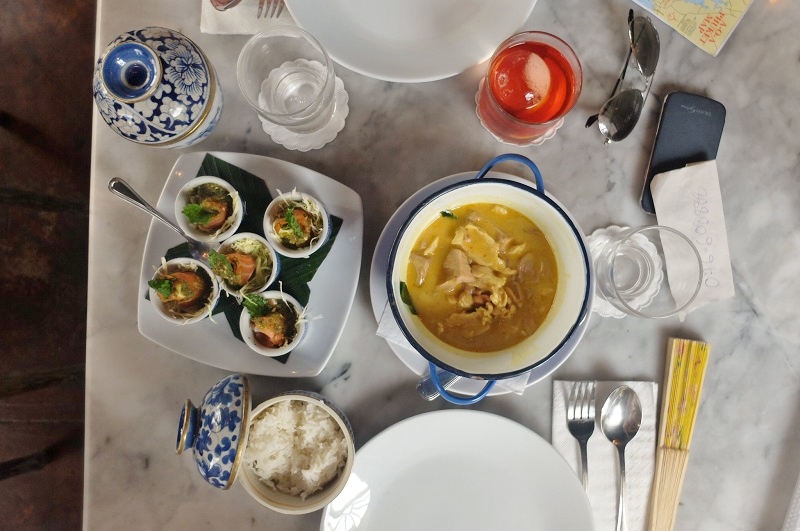 Patong? The Real Talk
I should say that despite Patong's sketchy reputation, we opted to visit since I wanted to see as much as I could, creepy places included. We took a shared bus otherwise known as a Songtaew, these are blue open-air buses that run from Phuket Old Town (near the market on Ranong Road) to Patong beach from 7am-6pm. They come with no air-conditioned and crowded, it was actually more fun than it sounds and a hell of a lot cheaper than taking a taxi, about 20 baht to get there.
Patong was just as I kind of thought it would be, you know, overrun with chain restaurants and crowds of people. People seem to love it and I'm not sure why, perhaps it is the fact that there are recognizable places like 'Starbucks' to make people feel at home. I knew something was up with this place immediately because I tried to buy a fresh coconut and they wanted to charge me around 80 baht…complete with a scowl.
We wandered around the beach and made our way through the very busy main boulevards where open air bars advertising 'cheap drinks' as bored girls looked through their phones as creepy old men chatted them up, we passed lady boys in full makeup and sun-battered tourists on their 20th beer. The shopping kind of sucked too, very kitschy and cheap merchandise, I really couldn't wait to get the hell of there to be honest. At night, it supposedly gets crazy, with 'ping pong shows' that I won't go into detail but just google it and avoid the 'image' search.
That's all I really have to say about this place, not my thing but at least I saw it for myself.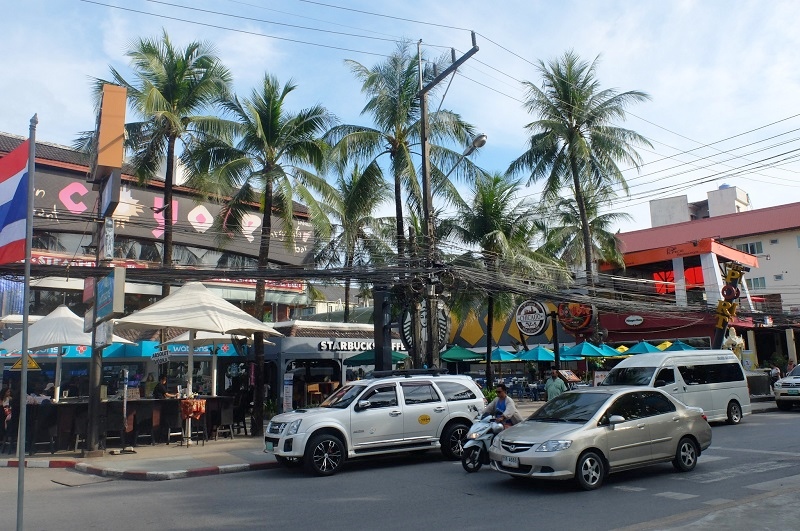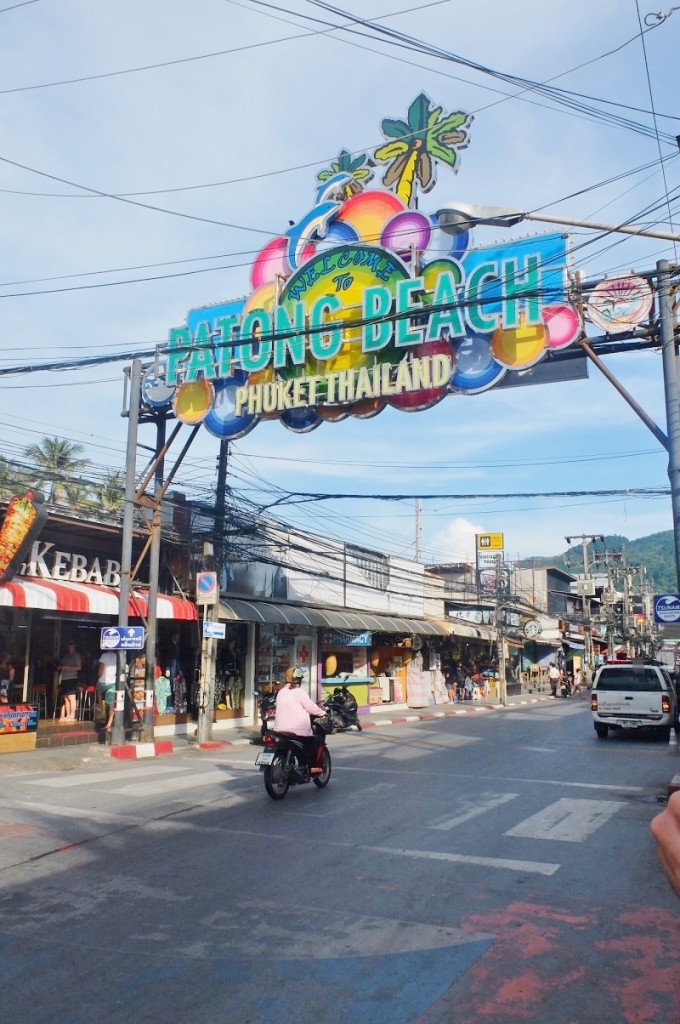 For other places to party, I've heard that Kata and Karon are a hot nightlife scene though we opted most nights to stay at our comfortable Surin, which actually hosts a beautiful beach  club 'Catch.' Every night the music was bumping and we actually had a great time despite the illegal fireworks going off, I kid you not, next to the 'no fireworks' signs all over the beach.
Island Hopping – Exploring the Phi Phi Islands
It would be almost impossible to come to Phuket and not take a trip to the islands. We actually took our hotel's recommendation to join one of the tours organized by a company called 'Laguna' that charters smaller boats to visit the Phi Phi islands which if you've seen Leo DiCaprio's 'The Beach,' you might have heard of the famous Maya bay located here.
Our choice was a full-day excursion, which while absolutely not cheap, ended up being so worth it because there were only 5 guests (including us) on the boat instead of 12. This meant we had plenty of room to breath and our host was hilarious. In between cracking jokes and funny faces, he insisted on taking photos of us and telling us about his life. It was a pleasure to sit back and let ourselves see some of the most beautiful areas in Thailand, including some interesting caves.  We ended up avoiding stopping at Maya because it was too crazy and honestly there are plenty of pristine sands to choose from here.
We also stopped by Monkey island which is two parts gorgeous, one part freaky. The shoreline is quite narrow and there are long tail boats crowding at every turn, but the monkeys, they know. They jump from all sorts of crevasses in the island bush to beg for bananas and scratch you if you're not careful. I much preferred Bamboo island, which is something out of another world. We stopped here for a bit, and were given a delicious packed lunch to enjoy on our own, beach-side.
If you are looking for a budget way to get to the islands, you can always hire a long tail boat. The thing is for me, I did this in Bangkok and while it was fun, I didn't think it would be that great all day, hopping from spot to spot, because it just takes a lot longer and can be quite bumpy. Just check the flags on the beach and if they are red, perhaps avoid taking one out that day (red means rough seas). From what I had read/seen and asked, I felt we paid a decent price for our trip with Laguna and it included lunch, transportation to and from the hotel, water and snorkeling gear (about 4000 baht). Also consider hiring a long-tail boat to the less-visited Coral Island.
If you can't make it out on a boat, there is a cool snorkeling spot at Yanui beach or head to the shoreline at Rawai. Next time I'm in Thailand, I will make it my mission to visit the Similan Islands which I have heard such wonderful things about.
Also regarding islands, I was lucky to come across Alana of Paperplane's blog recent post on how to plan island visits in Thailand. She breaks down the options quite nicely and it's a great starting point to seeing where you might like to visit.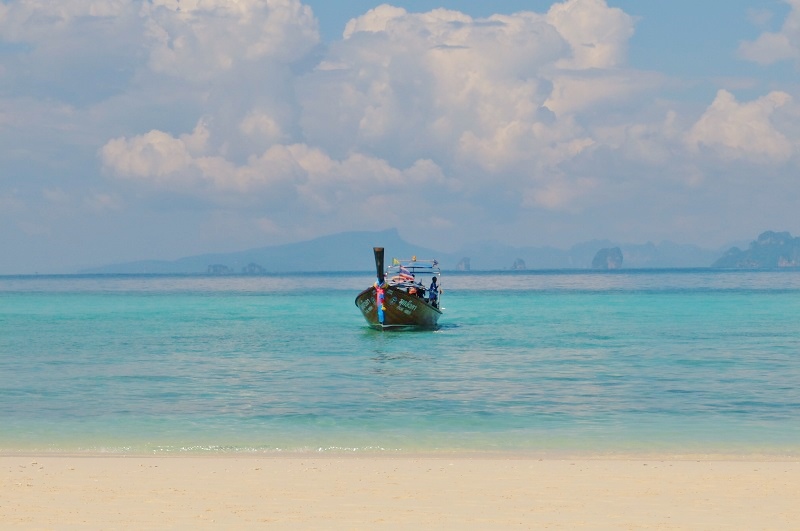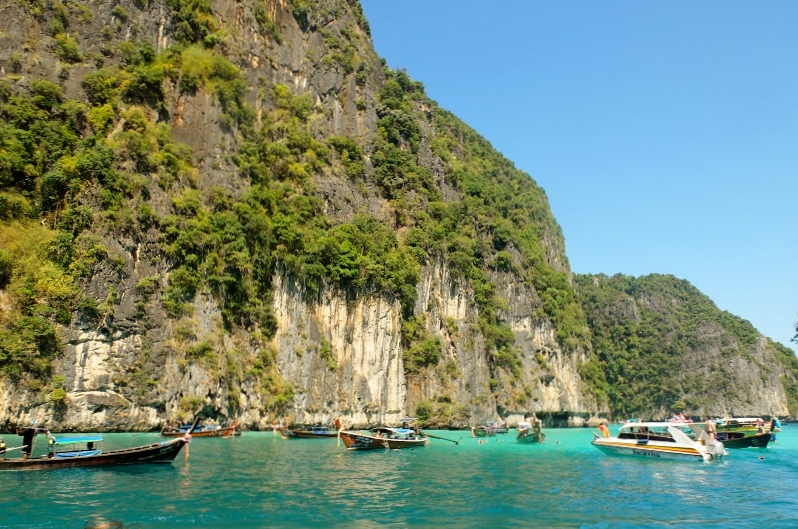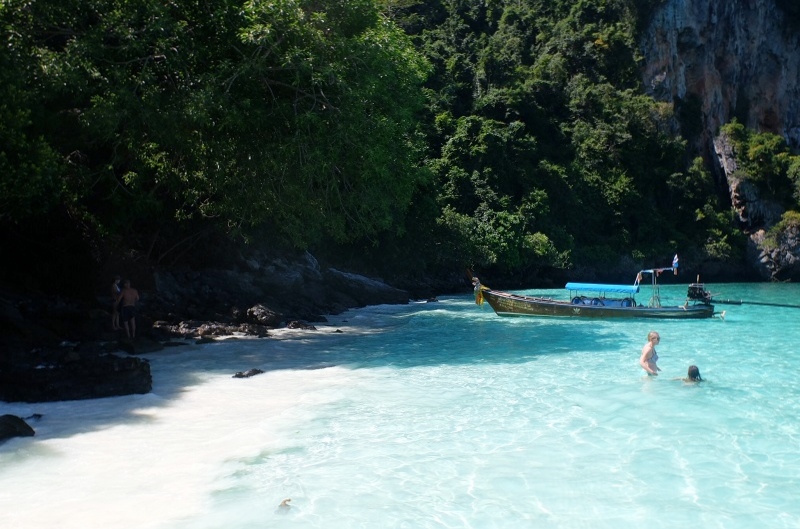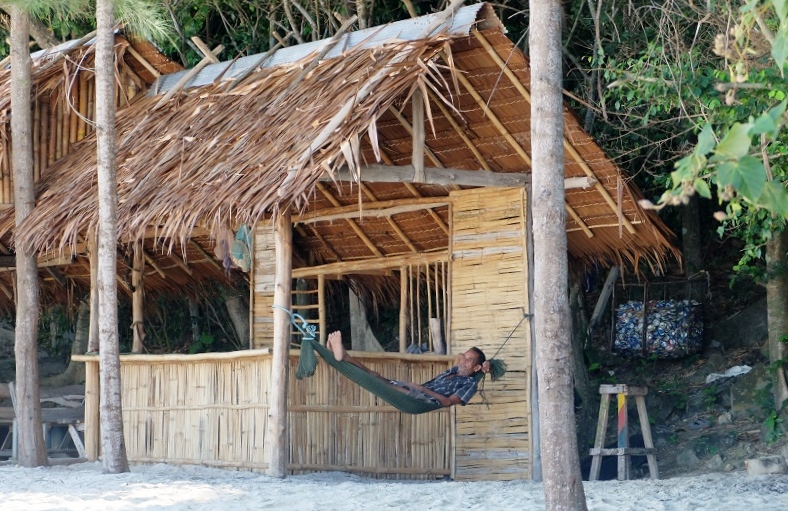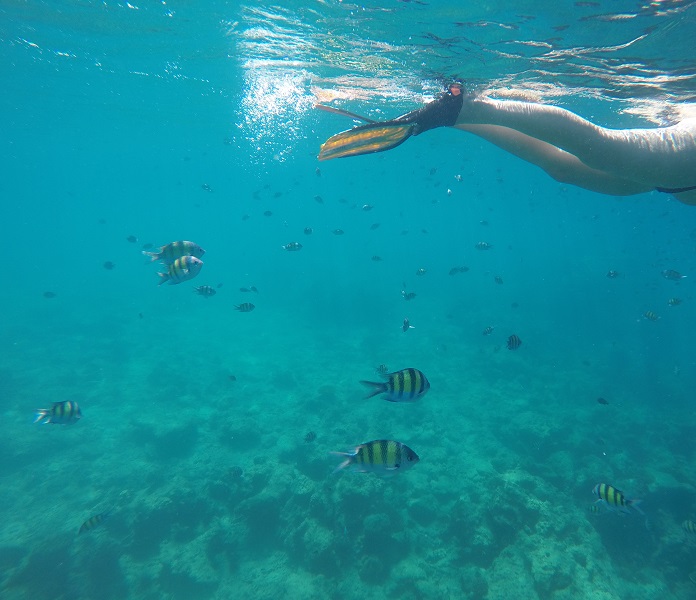 The Best Bar In The World? Say Hello To Baba Nest
One incredible find during our stay in Phuket was 'Baba Nest,' a bar unlike I have ever seen overlooking the sea, it was recently included in an insider's best pics by CNN.  You have to make reservations in advance because there is limited space on the platform, but it is worth it and then some. We hopped into a taxi and got there just in time, in fact finding it can be a bit of a maze as it is nestled in a fancy, five star resort called Sri Panwa.
The bar is on a 360-degree platform enclosed by a narrow infinity pool on the highest pinnacle of the southeastern peninsula. Quite frankly, it doesn't get any cooler than this. We also enjoyed a few cocktails and their 'Mexican' tapas which were quite nice.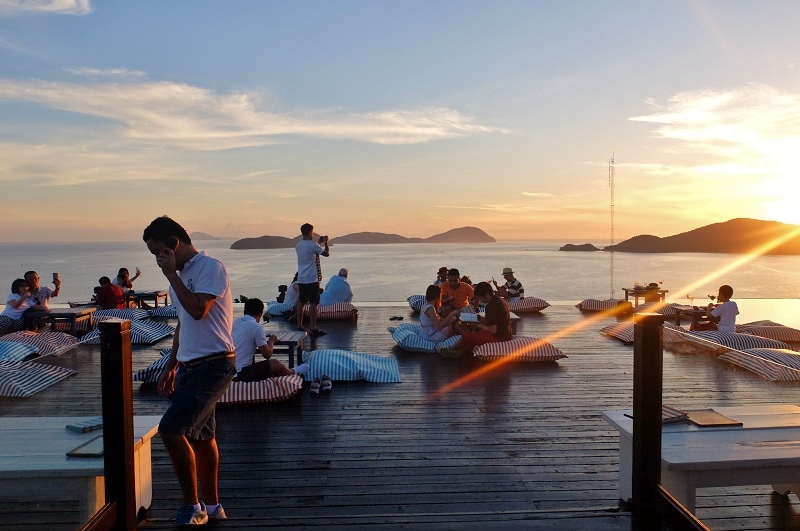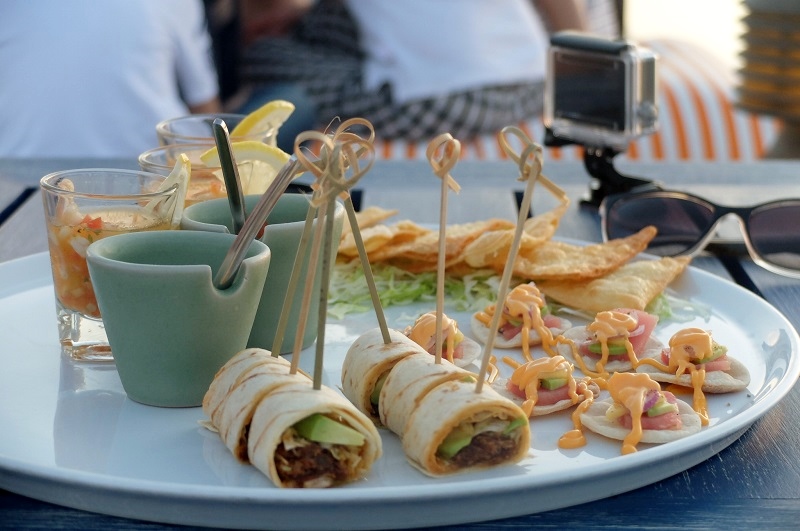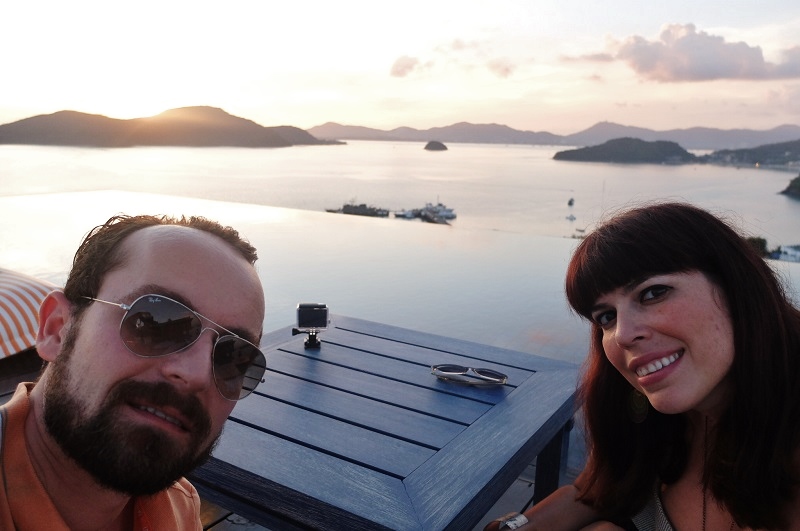 https://www.instagram.com/p/_H3dPoRTGD/?taken-by=girlinflorence
---
Quick Details
How To Get To Phuket
From Chiang Mai, Flights are easy and frequent, prices cost around 100$ for the 2 1/2 hour trip on Air Asia. From Bangkok, prices start at around 59$ one way. The Phuket international airport is well-serviced. You'll need a taxi from the airport or arrange a shuttle beforehand, prices can range from 800-1,000 baht plus due to the taxi monopoly. There is an airport bus (actually two) and prices range around 80-100 baht one way. More info is here. 
For amazing views, you have a few options. I obviously loved Baba's Nest but the locals told me that 'Radar Hill' is also the place to go to get a supreme look of the island, it's not that easy to get too and is high above Patong Beach. For amazing sunsets, the place to go is Promthep Cape,  the southernmost point of Phuket island.
Where We Stayed
Twinpalms, 106/46 Moo 3, Surin Beach Road, ???? ???????? thalang, ?????? 83110, Thailand
Phone:+66 76 316 500. Stylish contemporary resort on one of the best beaches in Phuket, Surin!
Where we ate and drank
Phuket Old Town: Bookhemian Coffee Shop, 1 Thalang Road, Phuket Town; +66(0)76 258 254; open Tuesday-Sunday 10 a.m.-7p.m.
Phuket Old Town:  Tu Kab Khao, 8 Rd., Phang-nga, Talad Yai, Muang, ?????? 83000, Thailand.
Surin Beach: Catch Beach Club, Choeng Thale, Thalang District, Phuket, Thailand
BangTao Beach: Palm Seafood, 110/2 Moo 3, Cherng Talay, Thalang | 300m. Pass Amanpuri on BangTao Beach, Phuket 83130
Baba Nest, 8, 88 Sakdidej Rd, ???? ????? ???????????????? ?????? 83000, Thailand.
What We Did
Island Boat Tour With Laguna Tours. 
Baan Teelanka, the 'upside down house', perfect for kids or well, curious adults. The best way to describe it is a sort of cheesy experience housed in a three-storey house built literally leaning on its roof. This is fun for families and we only briefly stopped in to see the 'madness' for itself.
Thai Hua Museum, 28 Krabi Road,  in the Phuket Old Town area — walking distance from the famous Soi Romanee and Baan Chinpracha Mansion.
Wat Chalong (largest temple in Phuket), Phuket, Mueang Phuket District, Phuket, Thailand. It is 8 km south of Phuket City so  you'll need a car or taxi to get there.
Annual Events
Apparently the time to go is during the famous Phuket Vegetarian Festival which takes for nine days every October  near six Chinese temples around the island, including the Jui Tui Shrine  in Phuket Town. Here people are celebrating the Chinese community's belief that abstinence from meat and various stimulants during the ninth lunar month of the Chinese calendar will help them obtain good health and peace of mind. Legends has it that the origins stem from a Chinese opera group falling ill of Malaria while performing on the island. The festival is well known for the bizarre self-mortification that takes place there, think extreme body piecering and firewalking.  Read more about it here. The tentative dates for this year's festival are September 30th to October 10th.
Cool Markets
Though at this point we were all 'market'd' out, one I think is worth noting is the relatively new Phuket Indy Market 'laadploykong'  in Phuket town, off Dibuk Road, it only opens Thursdays and Fridays from 4pm to 10.30pm. Here you can mix with locals as they browse through various cheap but customized goods and listen to live music.
Every Sunday there is a Phuket Walking Street which is held in the heart of Old Phuket Town on Thalang Road. from 4pm – 10pm, which is meant to be like that of Chiang Mai. Selling an assortment of goods, both artisan and not, this is also a perfect time to mingle with locals.