"sah wah dee khrap"
Says the man opening the door at the Mandarin Oriental Bangkok, while he clasps his hands together and bows, a genuine smile spreading throughout his face. A delightful and humble greeting to welcome a twosome of disheveled and probably slightly stinky from a trip around the world just -married couple. We stumbled into this legendary hotel an oasis to our thirsty and tired selves, a place that dates back to 1887 when it hosted similarly weary seafarers along the bustling Chao Phraya River. I could barely contain my excitement, despite the drip of sweat that threatened to completely ruin any remnant of makeup I had on from the plane.
That day the humidity was high in Bangkok, but the high-ceiling lobby featuring bird-cage chandeliers of The Mandarin was like an oasis of calm — and cool. Brace yourself Georgette, you haven't even gotten to the room yet.Though not terribly central, one thing you'll realize in Bangkok is that people don't really 'walk' anywhere, they prefer the BTS sky-train or taxi rides instead. We took a combination of the two throughout our four days there which was not expensive at all.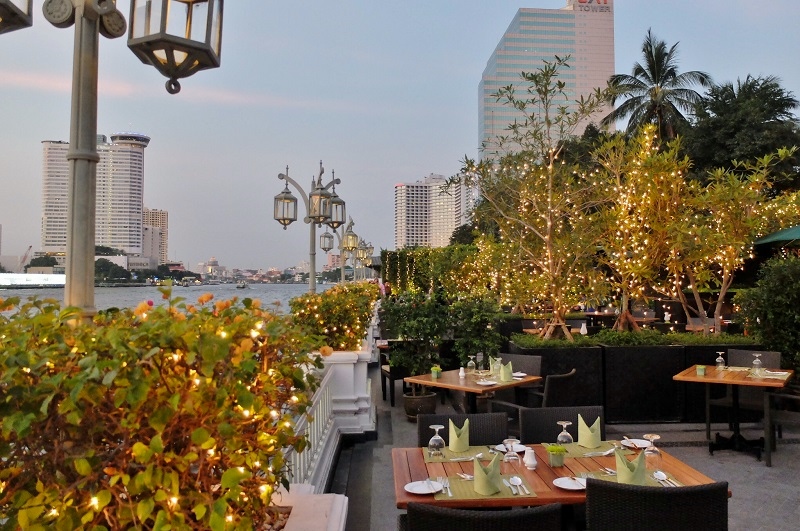 After checking in and getting a pretty Thai flower hand garland, we met Michael, the manager and person I had been speaking with throughout our travel-planning. With Lebanese roots and speaking 5+ languages (seriously) he was a true doppelganger for Christian Bale in American Psycho, I kid you not. As an American, I always feel slightly, ok a lot, embarrassed that I don't speak more languages when I meet so many people that do, and make it look easy. As we sipped espresso (sorely needed at that point) he offered us a few personal suggestions on where to eat and what to see, which as an eager wannabe local, I was more than happy to listen.
The first night, our pathetic jet-lagged selves relished a before dinner shower before taking the teak-wood shuttle boat across the river to dine at their traditional Thai restaurant Sala Rim Naam. We watching boats hurrying down the canal, a mix of dark barges slithering through the water and party boats with the latest Beyonce remix to exuberant Chinese tourists. The food was excellent, we snacked on appetizers and dumplings before digging into our tasty mains of peanut satay chicken and the omnipresent pad thai. While there were other restaurants here, we actually liked this place the best and dined here twice during our four-day stay.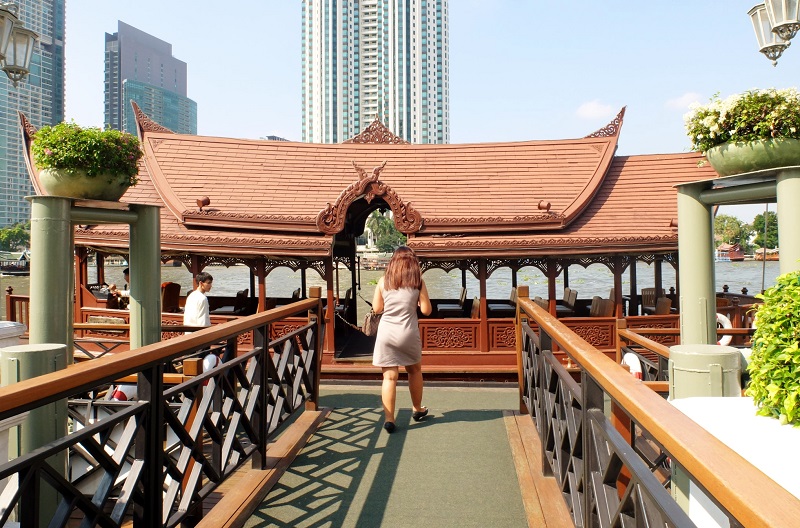 At this point in my life and career, I've stayed in some pretty awesome hotels or at least walked through them. While I wouldn't categorize the Mandarin as the most ostentatious or modern of places, what I found cool about it was the history, and this place has 140 years worth of stories. Every evening people meet and greet in the famous lobby, with a live string quartet playing classical music as symphonic background likened to a novel that you'd never want to finish. Guests are combination of honeymooners and guests like us, and people their for business, they host a fair amount of trade conferences.
The original structure was opened in 1876, the first hotel in Thailand by a pair of Danish captains and later acquired by the Mandarin Oriental Hotel Group in the 1970's. Staying here is a bit like being in a film — in fact stars such as  Lauren Bacall, Sean Connery and Audrey Hepburn have all stayed here. In addition to the late Diana, princess of Wales and Prince Charles, who all sat in the same traditional Thai teak furniture that I did. Pretty damn cool.
You can see the original building in the two-story Authors' Wing which pays homage to authors who have all sojourned here — including Noel Coward and James Michener. Unfortunately it was undergoing renovations when we stayed there — but I'll give you a peek of what it looks like from the outside. The renovation will add fourteen new suites to the Oriental's current mix of 393 rooms and 35 suites.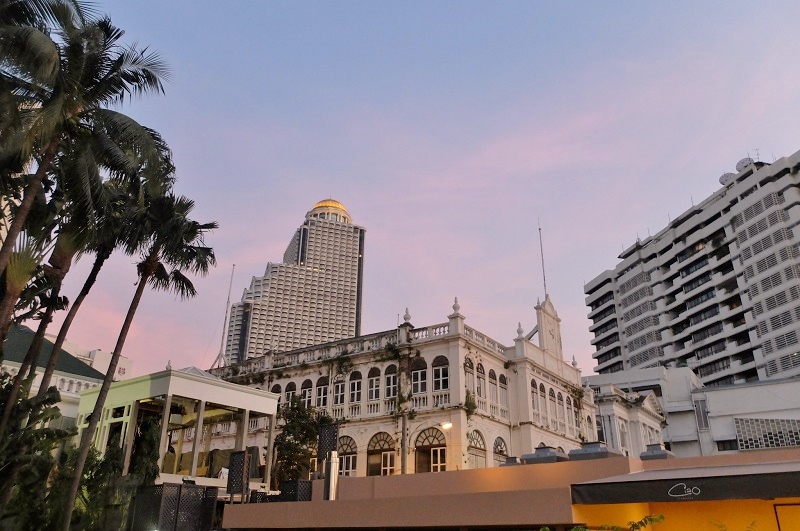 Our room was quite small, but we had a floor butler who was always quick with a smile of compliment, especially for my husband Nico. We had a beautiful river view and plenty of fresh flowers. Every day they left us local fruit with a pretty illustration explaining what it was. After four days, I definitely got an education in all the bounty in this land thanks to sweet touches like this. Turn down service was equally nice, every night they left inspirational quotes by authors which is a poignant touch.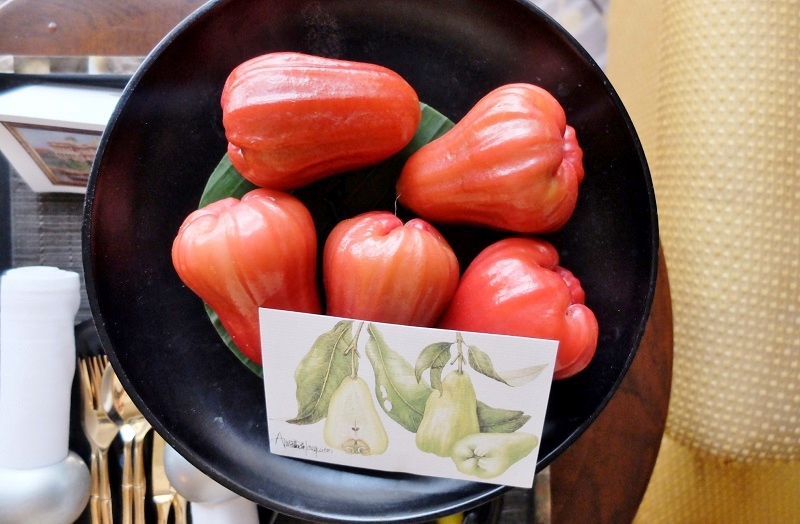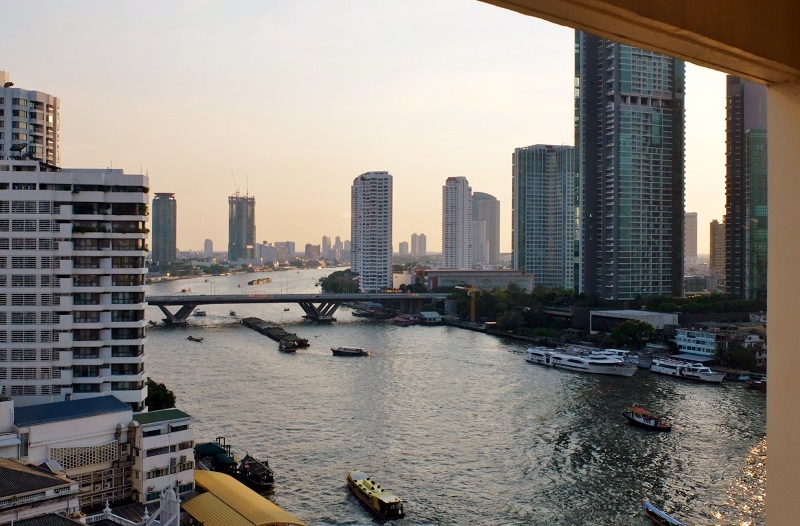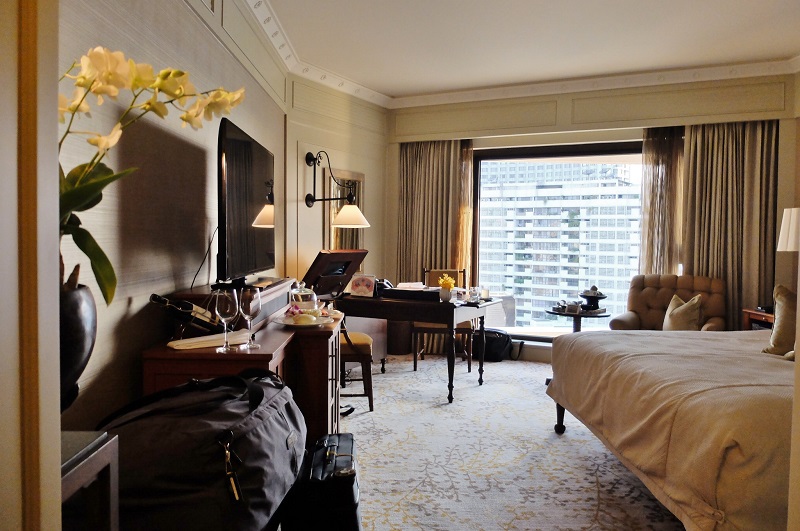 Breakfast was one the highlights of Bangkok. I am a girl who loves her food, if you can't already tell from my very hungry blog posts. Obviously in Thailand, getting a bad hotel breakfast would be a crime, but here it is the best of the best. Dining on the riverside terrace was a highlight as well since it was the prime people watching spot as we gazed upon fellow honeymooners and people meeting before work.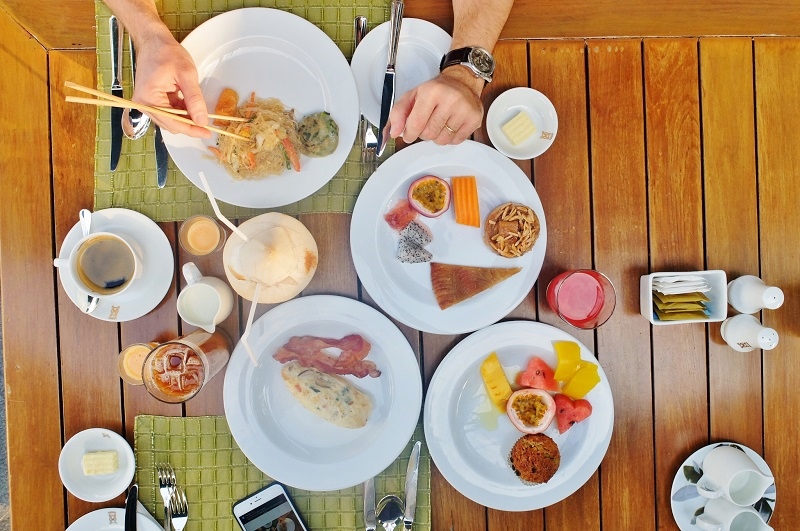 Another highlight was our couples massage the day after we arrived. Still a bit blurry after our long flight from Florence, it was beyond incredible and the spa structure itself is as ornately luscious as spas get. You can read more about the experience here.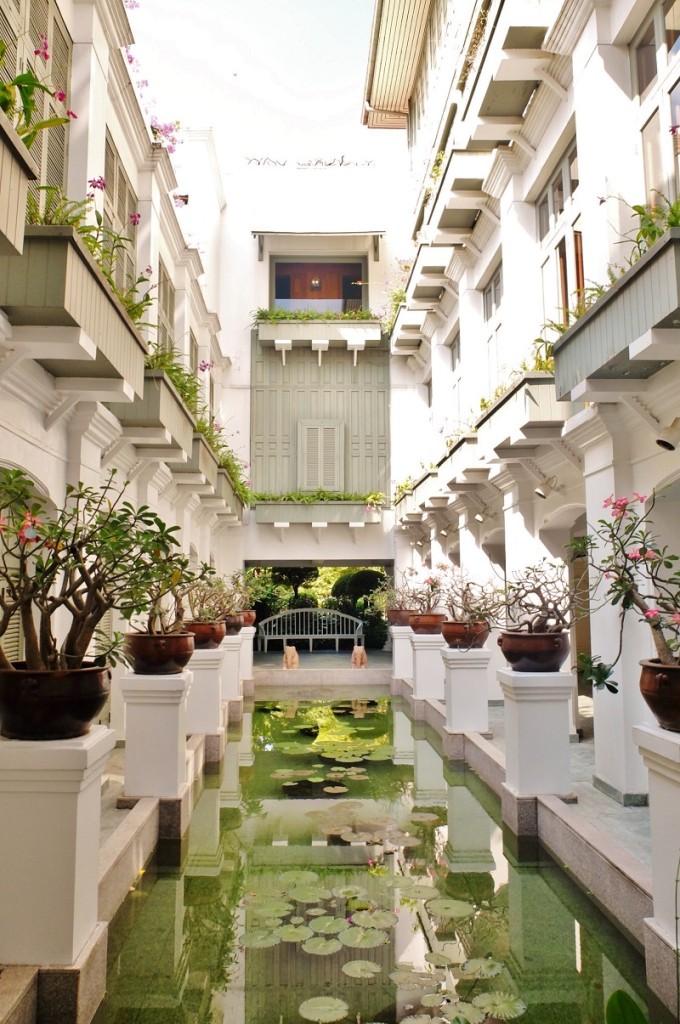 After a much-needed rubdown, we spent an hour or two at the pool. Choosing from two could be hard for some, but why not go for both. One morning, a man was doing yoga by himself in the gardens just beyond the smaller pool. Though The Mandarin is absolutely an urban hotel, they do their best to create a sense of peace by perfectly maintaining the outside space with fresh, local flowers and an overgrowth of plant life.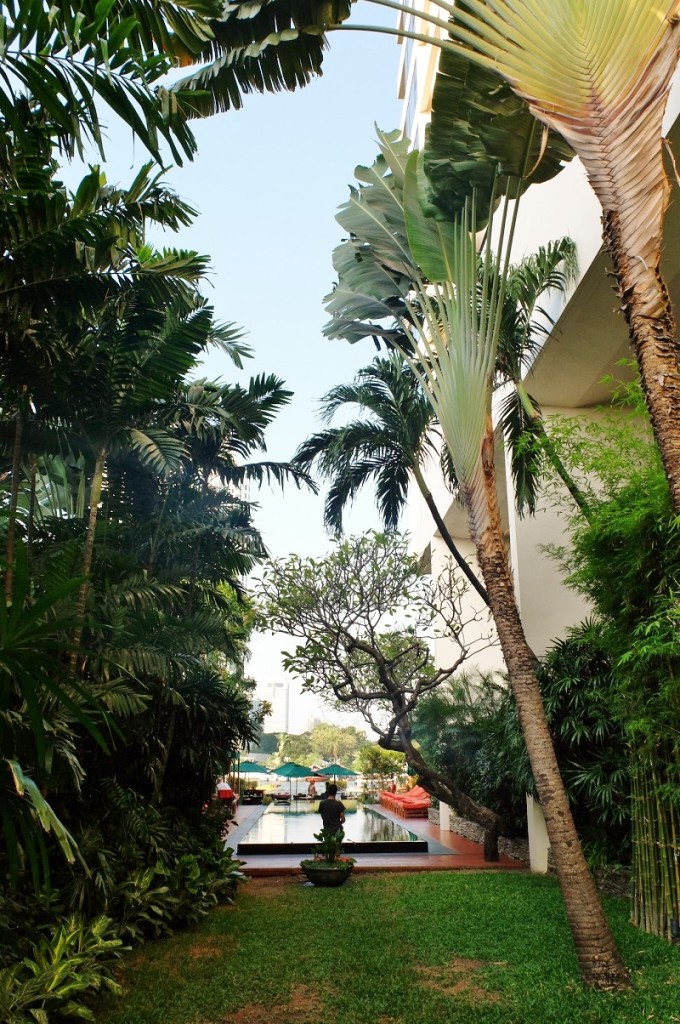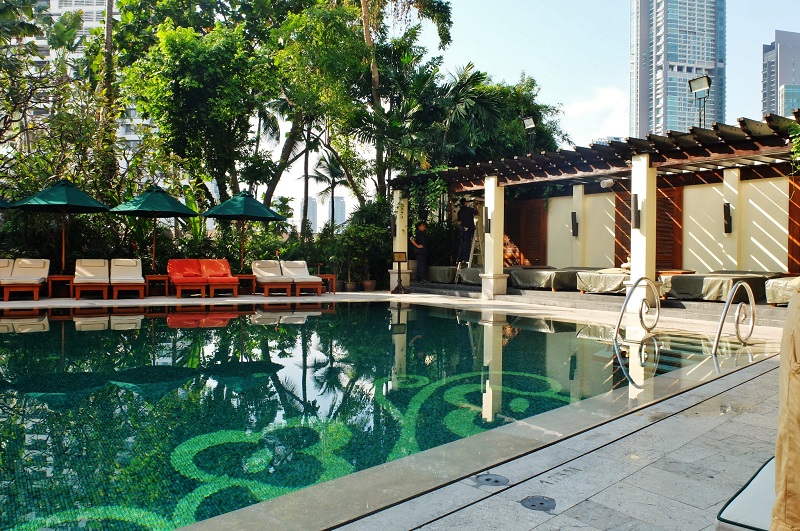 As if that wasn't enough, we got an invite for happy hour at the esteemed and might I say sexy Bamboo bar with award-winning mixologists (this place boasts six restaurants + this bar), covered in dark wood and comfy armchairs. It doesn't get classier than this place, this place exudes a luxurious atmosphere, it also was renovated in 2014. We ordered from the book menu, keep in mind they also make their own concoctions, and settled in. I chose from their innovative cocktail menu including their signature Negroni (we're so Italian, I know!) with homemade caramel gin, antica formula vermouth and dry orange campari, served with one of their homemade Oriental Coffee Tiramisu Macarons. They bring in local jazz singers to croon out old tunes from 9pm onwards, Monday through Saturdays.
Said best by author William Somerset Maugham (and former Mandarin Oriental resident)
His fancy was rich with pictures of Bangkok; the scents of the Orient intoxicated his nostrils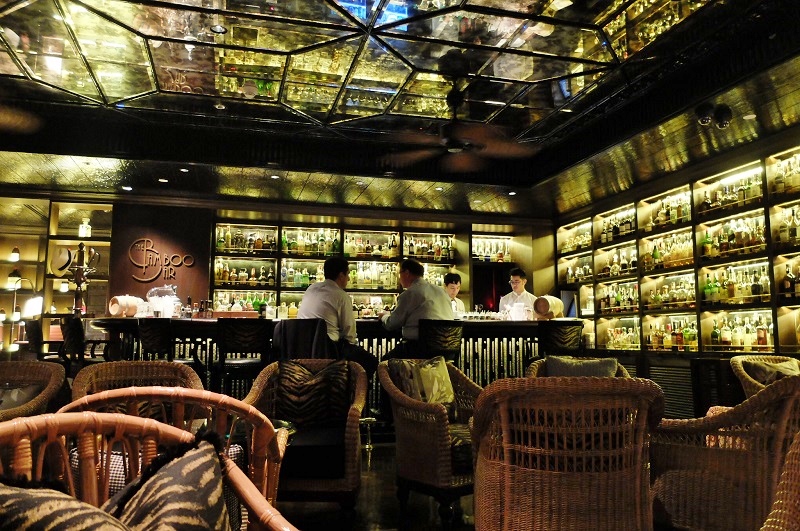 Highlights Of The Hotel – And There's Plenty
Outstanding breakfast at the riverside cafe, possibly the best we had in Thailand. Fresh fruits, Asian choices, omelettes made to order, ice coffee was spot on, fresh coconuts, excellent five-star service.
Turn-down service was always nicely done, with slippers, water and inspirational quotes from famous authors
Fantastic watering hole 'Bamboo bar' which also has a daily happy hour — the bartender is one of the best in the country.
The Thai restaurant across the river is extremely good, with a great lunchtime buffet and nightly traditional entertainment
Two pools means you can choose from a larger, more traditional option to a smaller, more intimate affair
The spa is one of the best in the city (if not the best) – we loved our Oriental Traditional Signature couples massage which mixes both European and Thai methods.
There is a convenient shop inside the hotel where you can get a SIM card for your phone (not expensive either).
Location was great, the hotel shuttle boat runs frequently and can take you to the SkyTrain's Saphan Taksin station.
The concierge was very helpful in booking us a private long-tail boat tour to visit the temples. This was much better (and not very expensive) to visit some of Bangkok's most popular sites.
Plenty of complimentary services, such as yoga classes, fresh fruit daily, shuttle service and more, just ask!
Mandarin Oriental Bangkok, Address: 48 Oriental Ave, Bang Rak, Bangkok 10500, Thailand. Rates range from around 11,000 THB to 15,000+ THB per night. $320 USD + per night.
Disclaimer: While we did enjoy the media rate for our four-day stay at the Mandarin Oriental, all opinions are 100% my own.