Our journey started in Bangkok.. 
Or rather the real name is actually "Krung Thep Mahanakhon Amon Rattanakosin Mahinthara Yuthaya Mahadilok Phop Noppharat Ratchathani Burirom Udomratchaniwet Mahasathan Amon Phiman Awatan Sathit Sakkathattiya Witsanukam Prasit." Which might even outdo German as the craziest language ever.
During our wedding planning in 2015, where to honeymoon remained high on the list. The notion of escape to somewhere exotic, totally foreign to us both, kept us from freaking out during the stress of planning essentially what is an international event all while working at the same time. My motto in November was 'when in doubt, just pinterest Thailand ;-). In Italy, when it comes to gift giving, registries are almost unheard of and couples typically always ask for cash to use on a honeymoon or house. We went the Italian route and thus planned to use anything we got towards a two-week to beautiful Thailand, hopping around its majestic border before going to Texas for the holidays.
Like any couple honeymooning, we did a whole lot of everything, including staring at our rings exclaiming 'oh my god we're married' and took way too many photos and videos. We saw a special ceremony for the birthday of His Majesty the King Bhumibol Adulyadej and visited some kick-ass terraces with views that would make a monk cry. To spare you all the pain of our loved up selfies, I will be breaking up this trip into smaller posts that hopefully will help anyone planning a trip here.
Bangkok tends to be the spot that people begin their trip, usually escaping after a day or two which I personally think is a mistake. We stayed in the Asoke Hotel Bangkok which was an absolute treat, it even had a memory foam mattress! It's safe to say, we slept well! It is a city of contrasts and hidden secrets, vertigo-inducing skyscrapers and wooden shacks along tiny canals. Thailand isn't just white-sand beaches and fresh coconuts. Yes it can be an assault on your senses for first-timers but man oh man is it fascinating.
Give it a chance, seriously. Ps. We were there for four days in total before Chiang Mai and I wish we would have had more time.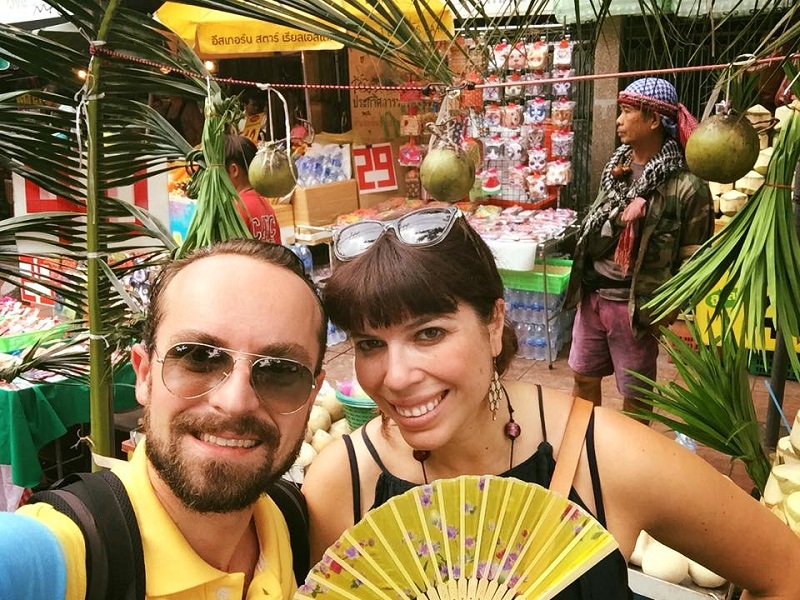 Some quick tips to start you off upon arrival
First things first, research is important. You want to make sure to call your bank and notify them that you are traveling abroad and to not block any charges from your credit card (or call you first).
When it comes to money, you can pay with your card at hotels and nicer restaurants but when it comes to cash, get it from the ATM but try and withdraw in odd-number increments (i.e. 2,900 instead of 5,000) so you have smaller bills.
Skip the expensive hotel chauffeur and just get a taxi. We just walked outside the airport and got one for 700 baht to the hotel (fixed fee). It was the only time during our four day stay that we paid too much for a taxi but I really didn't want to argue after such a long flight. Plus it was still a hell of a lot cheaper than what the hotel was charging. Note to all: metered taxis only and avoid tuk-tuks.
Once in Thailand, I highly recommend getting a sim card for your phone. It's super cheap and you can do so at any 7-eleven. Actually we got ours at the gift shop at the hotel. I think I spend around 20 euros for a phone/data plan.
When it comes to clothes, pack light — easy dry-able clothes as it is very humid. If you plan on visiting temples, make sure you are not wearing short shorts and that your shoulders are covered as these are sacred places.
Don't talk about the Monarchy, insulting the king is a crime punishable by law
Dress appropriately when visiting temples and remember that is a huge insult to sit with the bottoms of your feet facing the image of Buddha. It's also mandatory to remove your shoes before entering a temple.
Thai people are extremely friendly, but be very wary of someone randomly approaching you in the street and asking questions about what you plan to do in the city. If someone tells you an attraction is closed, they're lying and probably want to scam you by suggestion you visit their friend's crappy jewelry store to sell you some fake gold. Just walk away. It happened to us at least two times.
Pick The Right Hotel, Who Am I Kidding, Pick the Mandarin Oriental
In Thailand accommodation prices wildly vary, you can get a hostel for less than 10 bucks and a nice room for around 35. Naturally, this being our honeymoon, we wanted to spoil ourselves with nice hotels since knowing myself, I would be dragging Nico to the far ends of Bangkok, in a sweaty mess. We needed a cool oasis and there is really nothing that compares to the historical Mandarin Oriental hotel. In fact, I liked it so much, I plan on dedicating an entire post to it and its glory.
The hotel is located on the Thonburi side of the river and to get around, the best way is to take the Mandarin shuttle boat to the BTS station where you can get pretty much anywhere. Or hire a long-tail boat as we did above, also keep in mind that taxis are plentiful, cheap and efficient.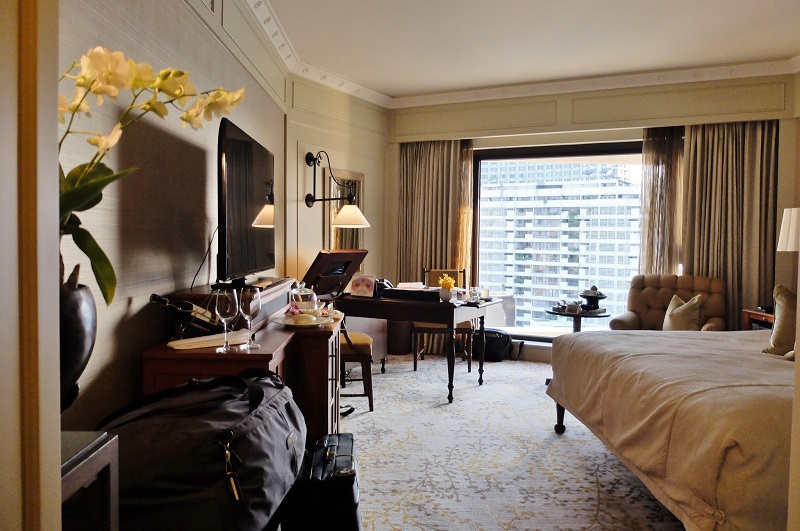 Creative Transportation: Hire A Long-Tail Boat And Temple Hop
Bangkok is not a small city by any means, in fact with a population of over six million people and covering an area of 1,569 km². You better have an idea on how to get around. The cheapest way is obviously taking the sky-train which is what we did most of the time (besides taxis) and the regular ferries that travel up and down the Chao Phraya River.
We took the orange flag boats which operate between Wat Rajsinkorn (Pier S3) and Nonthaburi (Pier N 30). Fares are set around 15 baht per journey, and it stops at all the most popular piers along the route from 5:50 to 7pm. It was often super crowded and a little bit overwhelming at first, you can read about all boat transportation options here.  One night we met an Italian couple bronzed to perfection complaining about how much they hated Bangkok after visiting the island (I did not agree with them).
For a truly special experience,  I highly recommend hiring a private long-tail boat for a few hours to see Bangkok via the waterways. This is a great way to avoid traffic, more personalized and we were able to visit a few temples (Wat Pho and the Grand Palace) before our hilarious driver (he spoke no English) took us through an area where many locals live. While communicating meant more of our driver leughing at us between asking us to shift our weight during certain turns, he did a great job and nothing shady occurred money-wise.
We were able to arrange ours through the Mandarin Oriental (and got a great price) but you can head to Sathorn Central Pier where many of the drivers hang out. There is no 'clear' pricing structure, it just depends on the distance and number of hours but don't be afraid to negotiate, or if that's not your thing, book a tour which can range around 1600 baht and upwards per person.
The canals, or klongs, are a fascinating web of waterways connecting Bangkok's many districts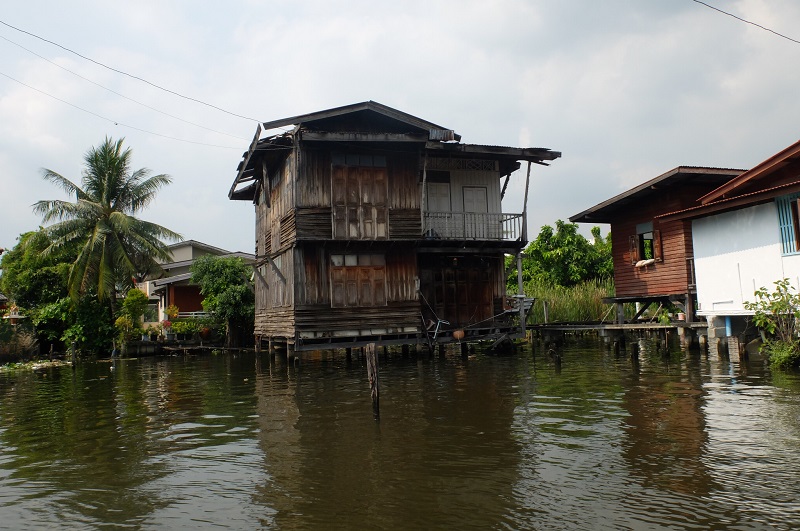 Our first stop Tien Pier, is home to the Buddhist temple, Wat Pho – the Temple of the Reclining Buddha — considered one of the most important temples in the city, famous for its giant reclining Buddha that measures 46 meters long and is covered in gold leaf. It is actually quite large, so plan at least an hour or so, and consider getting a massage since it is home to one of the leading massage-schools in Bangkok. It is open daily from 08:30 to 17:00, so don't listen to any 'helpful' person who tries to tell you the temple is closed. It's not.
It is such an incredible place, I really have never seen anything like it, every details so intricate and thoughtfully placed. Purchase a bowl of coins to drop in the 108 bronze bowls which line the length of the walls (108 is a significant number for the Buddha).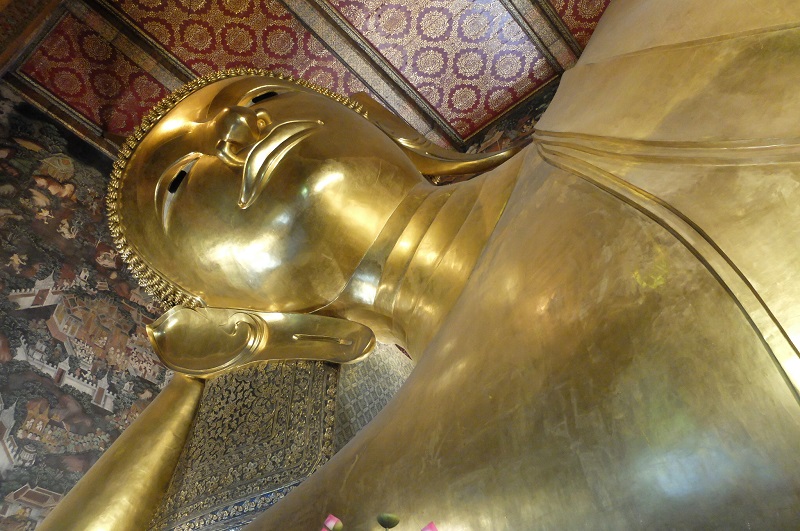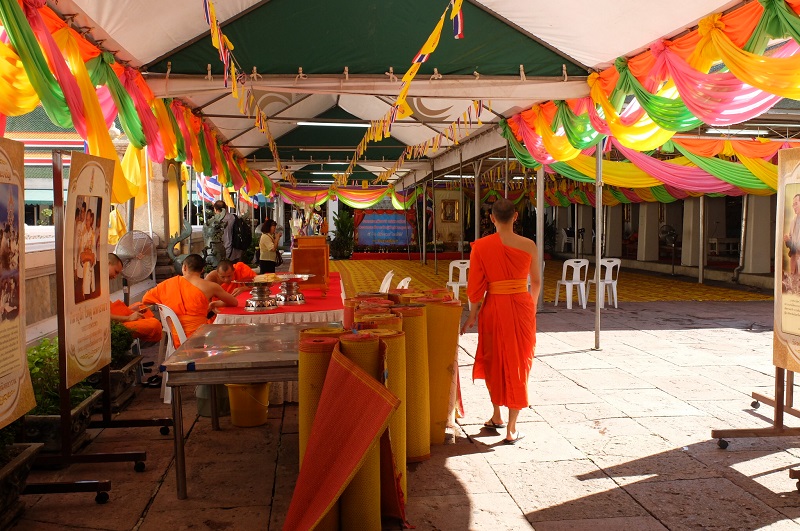 What blew me away was the Grand Temple Palace, once home of the king and for a long time, his entire government (oh snap!). Construction began in 1782 during the reign of King Rama I, the founder of Chakri Dynasty. It is divided in three main zones, the outer court (Temple of Emerald Buddha), the middle court, and the inner court.
It can be somewhat disorienting to find the entrance and once again, listen to no one who tries to tell you that it's closed, this is a famous scam in Thailand. Keep in mind that the palace complex, like the rest of Ratanakosin Island, is laid out following the general outline of Ayutthaya palaces and don't just explore the front part, it is a bit of a maze but it is worth getting to know slowly. The entrance fee is expensive (500 baht) but it is completely worth a visit. In fact, I loved it so much despite the sweltering weather and crowds, we made a Go Pro video out of our experience.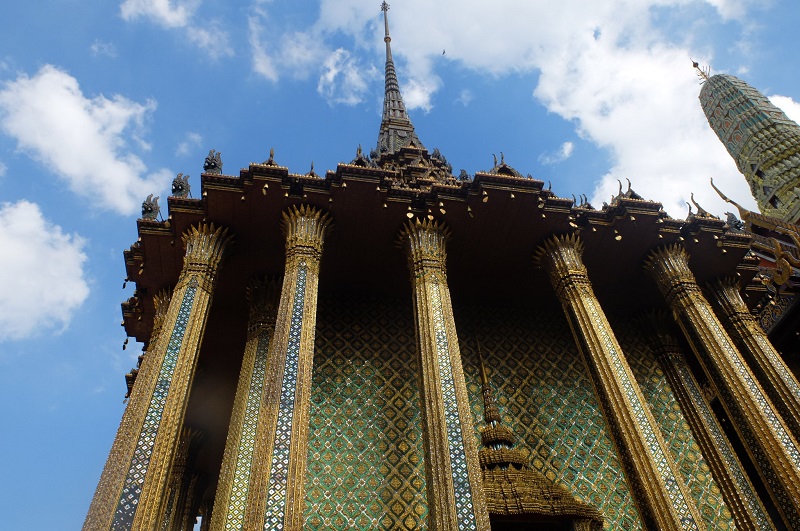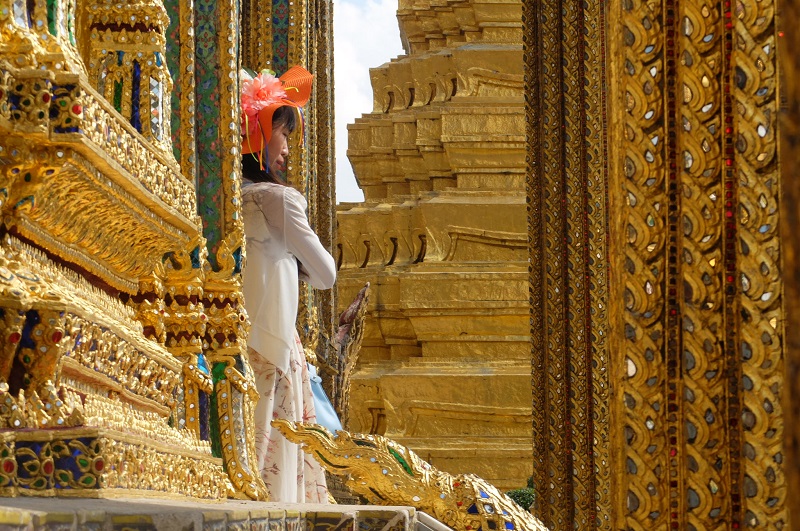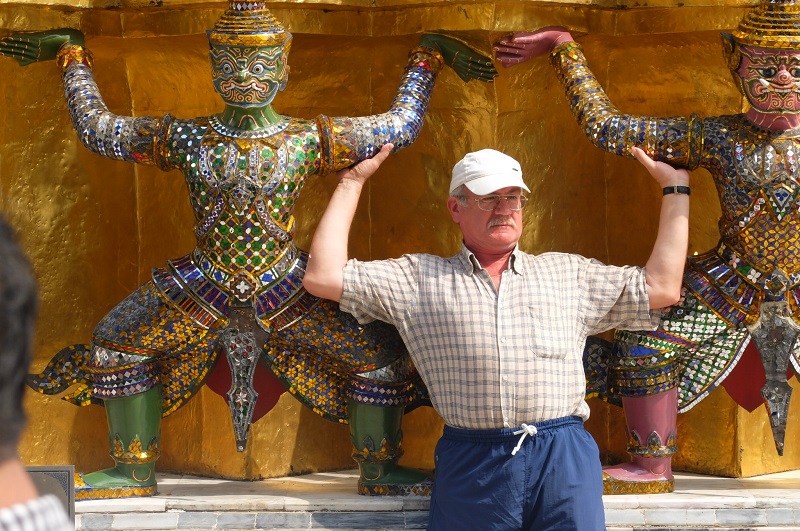 https://www.instagram.com/p/-5SzYgxTE6/?taken-by=girlinflorence
Cook Your Way Into High Heaven At The Blue Elephant
Thai food is like a sexy dance upon your tongue, different layers of spice, herbs and flavors can be tasted all at once. Itching to take a cooking class, a friend told me about a really cool restaurant/cooking school started by a legendary chef in Thailand. I am fascinated with the range of flavors in Thai cuisine, like most places, it varies regionally and I knew I wanted to take a course somewhere good. This is probably the most acclaimed spot to take a course in the city.
Interesting enough the pretty yellow building housing the Blue Elephant itself was once home to the Thai chamber of commerce and Japanese command center during WWII. I contacted them immediately and arranged for a class for Nico and I, excited to learn some true tricks of the trade to then use in impressing my friends in Florence. This place is as classy as cooking school gets, think Colonial-era house on Sathorn Road making up-market Thai dishes using the freshest of ingredients. Classes run twice daily, join the morning version for a trip to the market or the afternoon class (which we did) that focuses more on Thai ingredients.
Walking inside, we were greeted with traditional Thai wooden interiors with a first-class restaurant to boot, I prepped myself by ordering a Thai iced tea. Walking upstairs we met our young instructor who was going to walk us through a few different recipes, of which I will get more into in a later post just about this experience. To whet your appetites, just be assured we used plenty of ginger, lemon grass, kaffir lime, galangal for our spicy soup, cooked fish, and cold salad.  After our lesson, during which we made the dishes in a completely hands-on experience, Nico and I settled at a table downstairs to dine on our masterful creations.
Stay tuned for my post specifically about this incredible experience that we both loved.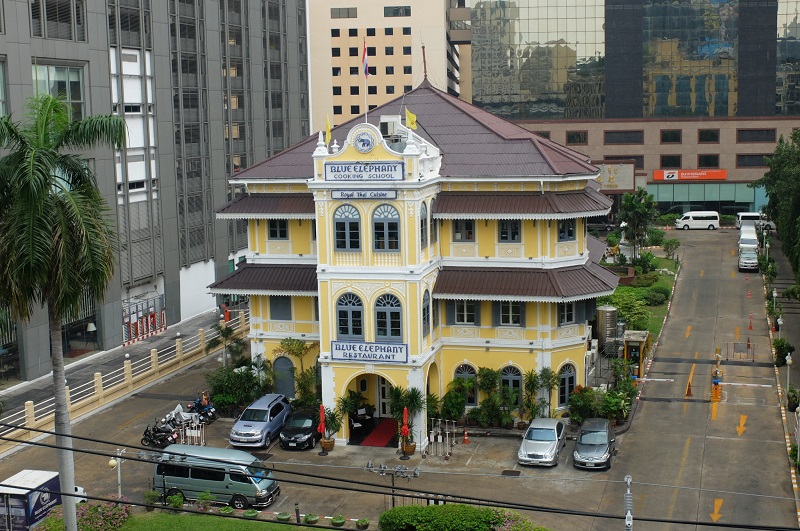 Explore And Then Explore Some More
One day we decided to walk from the Paragon shopping mall (BTS: Siam) which in itself was a fascinating place. Thai people adore malls, probably because pollution and humidity can be stifling and it's a bit of a nice oasis to break from the chaos outside. Here you can discover both high-street shops and the fancier versions. We had a surprisingly nice 3 euro lunch in the food court, before getting some Thai-iced teas (amazing) and embarking on the walks of all walks.
I'll admit that it wasn't exactly 'fun' to walk here. Sidewalks are over-crowded with steaming street food vendors, cars can be dangerous and it's not always the cleanest situation. On the other hand, we got a bit of an inside look at streets filled with locals. From shirtless men to schoolgirls getting snacks from the fruit vendors, you see it all.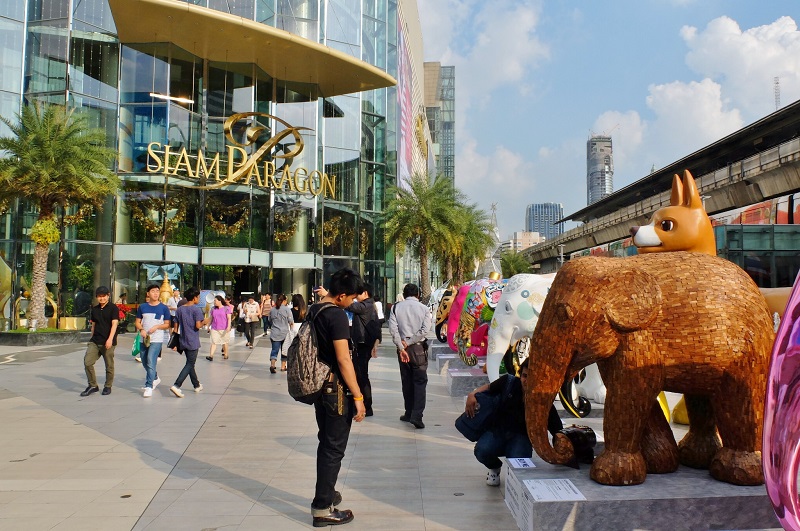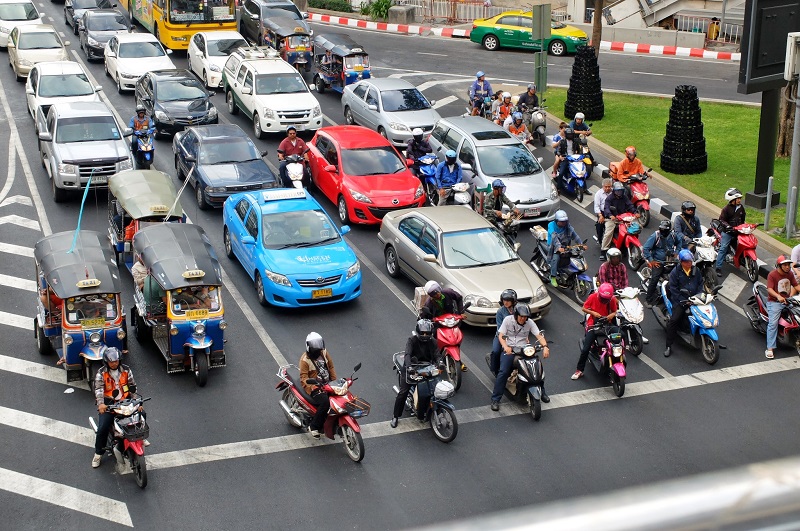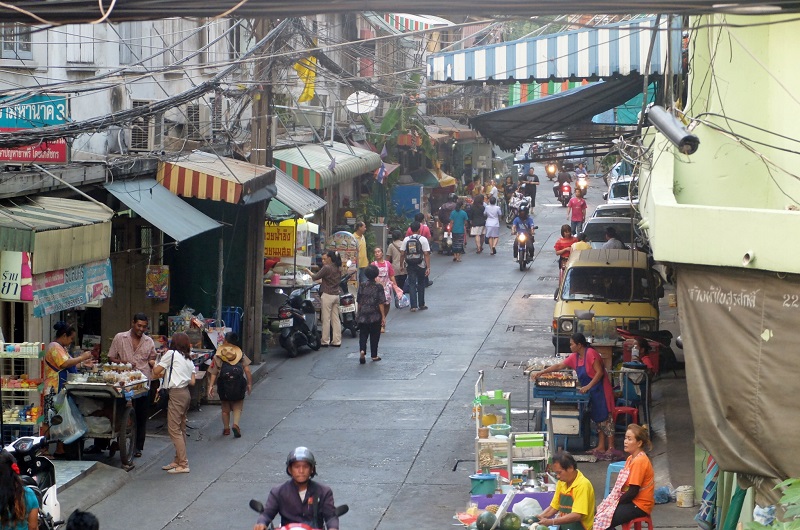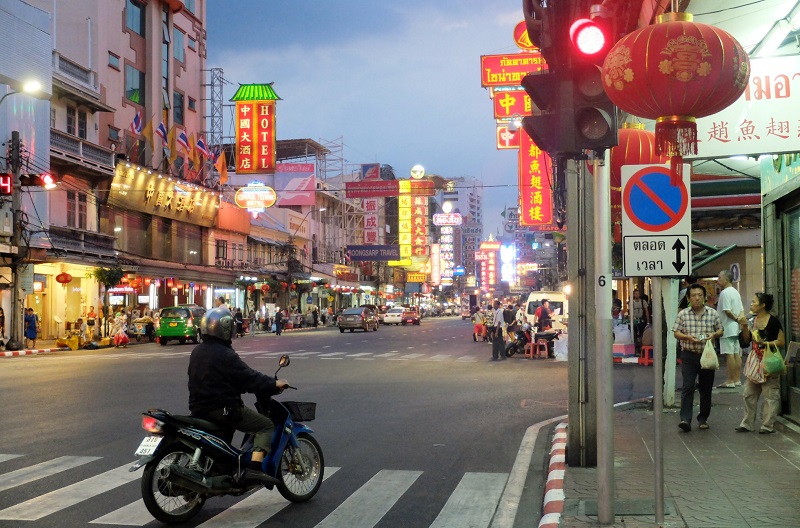 Another recommended visit (in all of the guidebooks) is the home of American silk magnate, Jim Thompson on the banks of the Saen Saeb Canal. His story is fascinating, after retiring from the military in 1946 he decided to make Bangkok his home. Mysteriously, he disappeared in 1967 in the jungles of Malaysia and no one has heard from him since.
Dspite walking down a road that is anything but beautiful, the Jim's house is an oasis of traditional Thai glory, with several homes blended in one. He had a decidedly sophisticated taste and collected South Asian antiques, and sought to revive the silk industry by introducing it to major fashion brands. Tours run every half hour in a variety of languages, and we hopped room to room to see the remnants of this curious man's life and dedicated to local culture.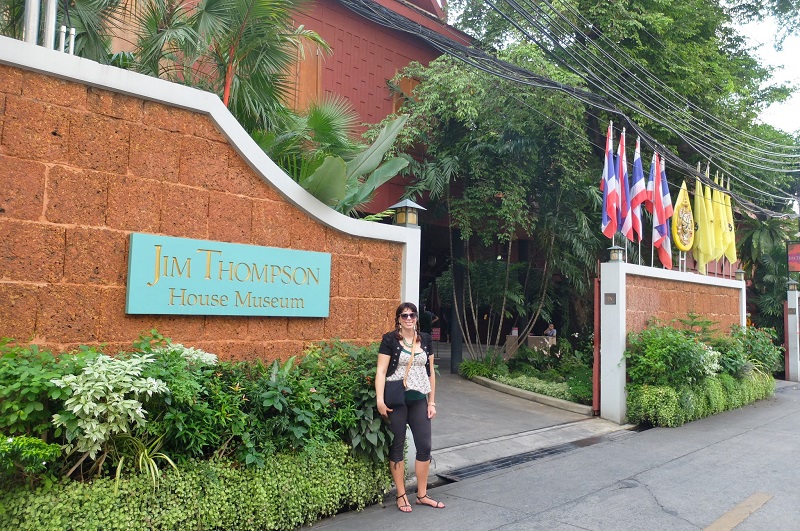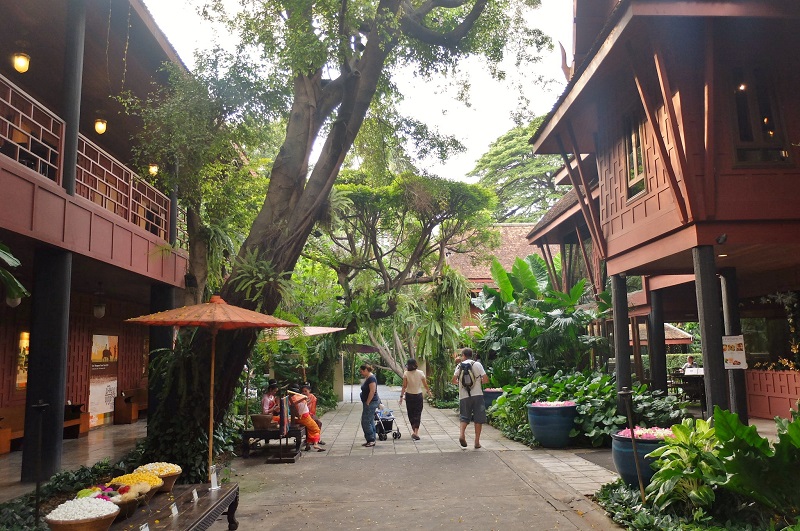 Bangkok Got You Stressed? Get A Massage
While I loved Bangkok, a 20 minute walk in 35 degree heat with 100% humidity can turn anyone's mood a little sour. The great thing is, you have massages anywhere you look. Seriously I saw signs for 60 minute rubdowns for 200-300 baht (around 5-10 euros) and plenty of places that look like they do happy endings or 'soapy' versions (yikes). We were lucky enough to try the spas of all spas at the oriental spa at Mandarin Oriental. We opted for the traditional Thai version which focuses on pressure points, first enjoying a Jacuzzi bath and steam before our 60-90 minutes in heaven.
I would use common sense when booking a spa, it if it looks shitty, it probably isn't the cleanest place in the world. While I don't think you need to go fancy every time, go for middle-of-the-range places at small hotels or shops and remember the massage school at the Wat Pho temple. You can go for something like the Asia Herb Association, which has several locations with prices ranging around 400 bahts per hour (book ahead) or Health Land Spa which is more or less the same concept. One highly recommended spot is done by masseurs who are blind, book at Perception Blind Massage.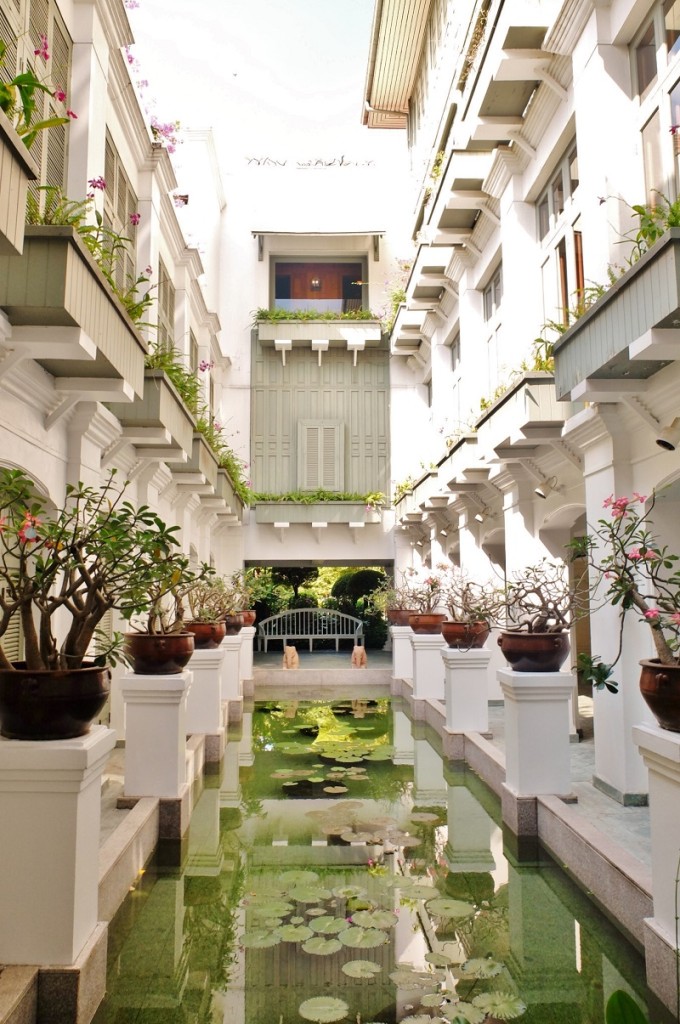 Eat Absolutely Everything
Food in Thailand is everything I imagined it to be and more. There is a reason my dog is called Ginger, and it's not because she has cute reddish-brown spots. It's really because I put ginger root in everything I eat. Knowing that the reality of food in Thailand might be different than what I tried previously, I was ready to expand my palate and the truth is, I found nothing in Bangkok that I didn't like. Obviously I fell in love with mango sticky rice (like everyone who comes) but another underrated favorite was papaya salad with sticky rice, or Som tum and khao neow. 
When it comes to the spiciness of local food, always ask for less. Seriously, I consider myself a lovers of the spiciest dishes a girl could imagine but peppers here will sizzle your taste-buds right off if you're not used to it. I always asked for 'a little' of spice and it was even then almost too much.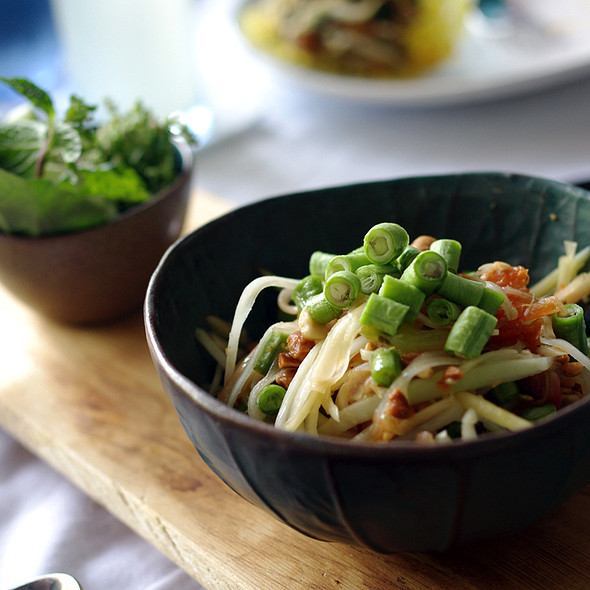 What especially was awesome, were the insane amount of fruits I had never seen or tried, such as custard apple (Noi-Na), dragonfruit (Gao Mung Gorn), jackfruit (Khanoon), langsat (Lang-sard), longan (Lam-Yai), rose apple (Chom-Poo) and the list goes on — I would avoid eating or trying the controversial 'durian (Tu-Rian)' spiky fruit with a horrific smell that will knock anyone off their feet.
We ate at fancy restaurants on rooftops and in the mall for 4 bucks, simple plates of sauteed vegetables and rice or noodles. My favorite places in Bangkok as a traveler were definitely the Thai restaurant that is a part of the Mandarin Oriental, we just hopped on the shuttle boat and ate riverside our first night. A special treat was historical restaurant Issaya, a twenty minute taxi ride away and in a leafy oasis. My curry was made at the table, our cocktails were expensive but really, really good.
I enlisted the help of a cousin of a friend in Florence (as you do) who actually lives in Bangkok and is a blogger. Seriously guys, bloggers know what they're talking about. He also recommended a foodie friend of his, the 'Bangkok Glutton' which is a fantastic resource for picking restaurants based on his reviews.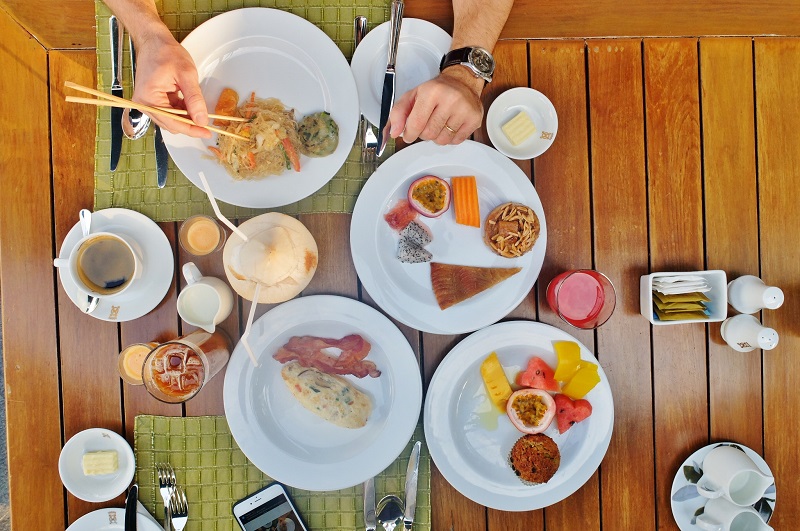 Breakfast at the Mandarin Oriental was possible the best hotel breakfast I have ever had. I am almost emotional writing this because I wish to be teleported back to this beautiful buffet of endless fruits, Thai-omelettes, noodles, fresh coconut, ice coffee, all eaten with a river view as busy boats shuttle back and forth as Bangkok wakes up.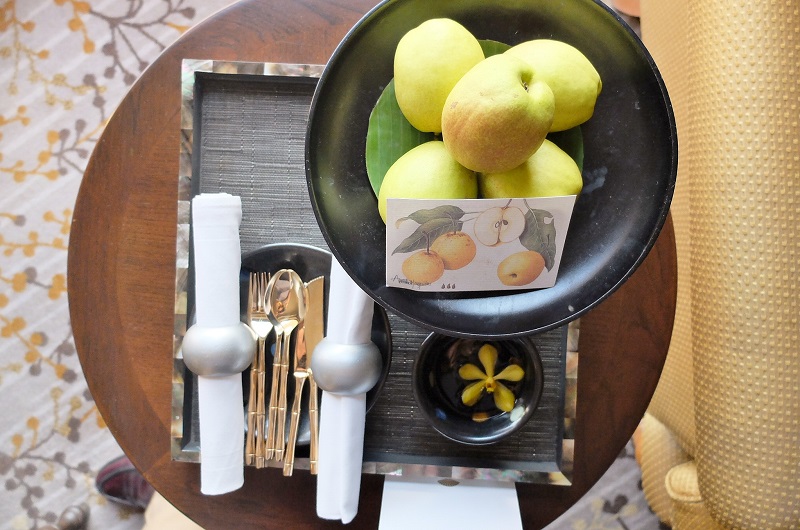 When it comes to street food, go for it! I have somewhat of a sensitive stomach so I avoided anything too dodgy but there are more good than bad, for example the choices at the Chatuchak Weekend market seemed just fine and I have a few recommendations below on where to go. For a rundown on what to order, this post by Nomadic Matt, a local expert, has you covered.
Screw Vertigo: See Bangkok From The Sky (Bars)
Ah yes, the rooftop bars of Bangkok. Whether it's cliche or not, I enjoy having a drink with a bird-eye view of the city, and luckily for me, Nico agrees. Yes the drinks are seriously overpriced, but just get one and get a bit camera happy like we did before finding a more affordable placer to drink. While we didn't get to visit every single one, that would take a while, some of our favorite spots include the majestic Banyan Tree's rooftop Moon Bar, the Sky Bar, Blue sky. We splurged one night for dinner at the Sofitel So rooftop restaurant and bar. Pulsating with class and a trendy crowd of Thais, it was extremely romantic — they even brought us out a special honeymoon dessert on the house.
For lesser-known rooftops in Bangkok, go for the Red Sky Bar at Centara Grand, Octave at the Marriot, and the Deco by the river (details below).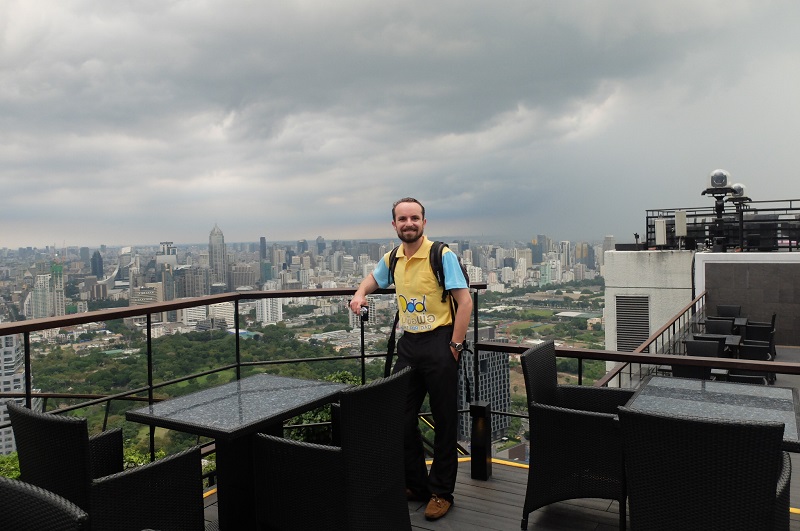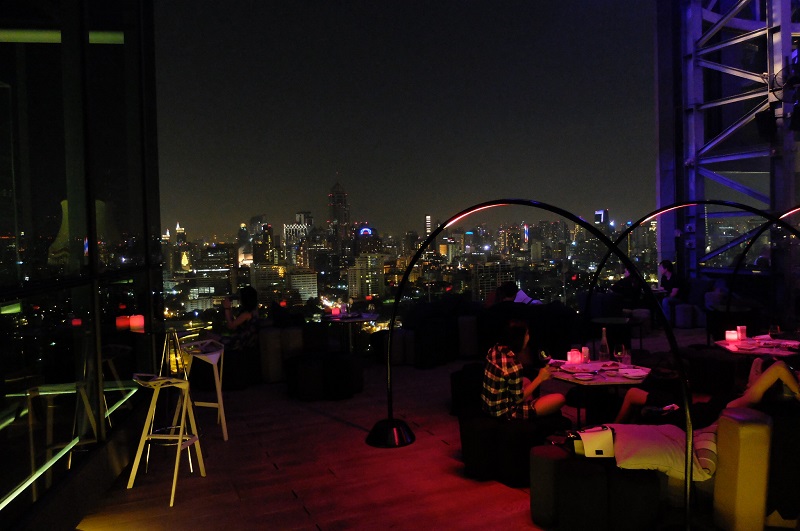 Lose Yourself In The Chatuchak Weekend Market
I have to admit, after a blogger friend informed me that the floating markets near Bangkok were a touristic no-no. My friend did tell me that the Amphawa weekend market is a way better choice than the Damnoen Saduak Floating Market. I was left thinking, is anything sacred anymore? After all I am really like an eighty year-old Italian nonna who revels in getting two-euro bras at the morning market in Florence. Luckily, I got a second wind after hearing about the Chatuchak Weekend market on Kamphaeng Phet 2 Road. The largest market in Thailand (seriously) since 1942 and super easy to arrive, just take the sky train (BTS) to Mo Chit Station and follow the crowd. We avoided the afternoon heat and went after breakfast, being that it was Saturday the crowd was already quite packed but the market was a real experience.
Everything and anything a person could want is here. Name-brand jeans? Check. Mango Sticky rice? Check. Perfumed soaps? Check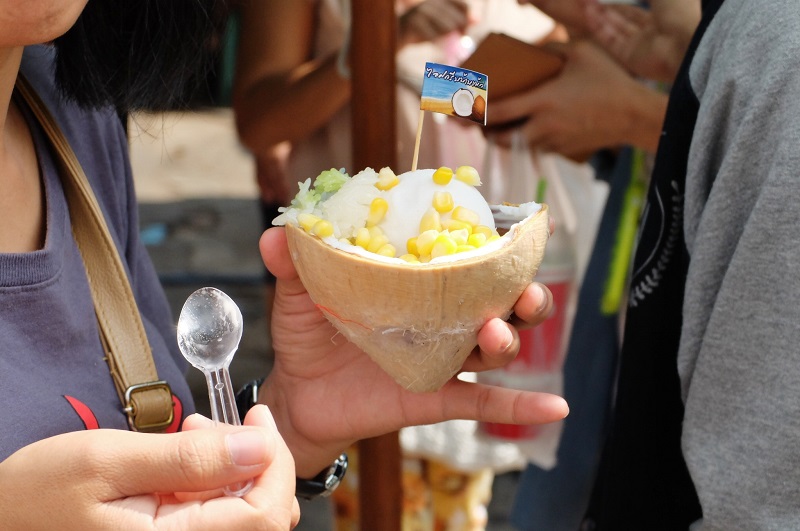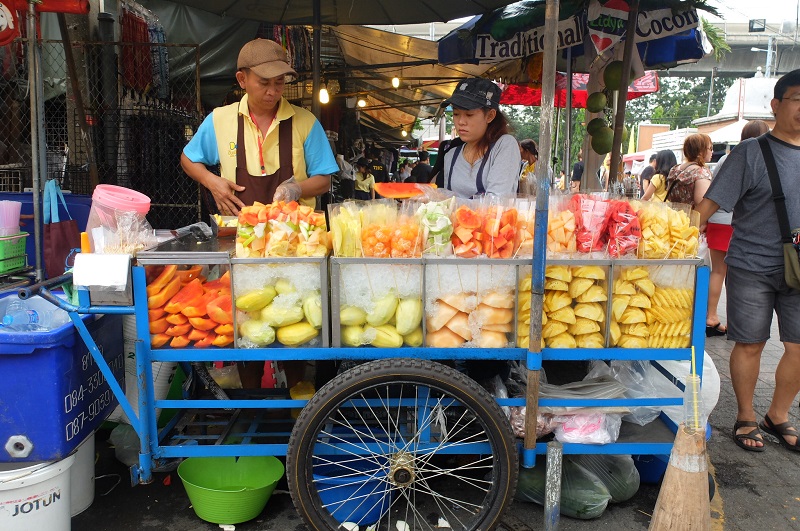 This was just my non-expert-firs-time in Thailand experience so I am curious to know your own experience in Bangkok. What should a honeymooning couple not miss?
---
More Details
Attractions 
Wat Pho – Temple of the reclining Buddha: Opening Hours: Daily 08:00 – 5pm, massages until 6pm.
Location: Maharat Road. Close to the river (about a half mile south of the Grand Palace), Old City (Rattanakosin)
Price Range: The entrance fee is 100 baht, more info here. Stop:  Tien Pier
Grand Palace. Na Phra Lan Road, Phra Borom Maha Ratchawang, Phra Nakhon, Bangkok. Open  8:30 to 3:30pm daily.  Free guided tours in English are available at 10:00, 10:30, 1:30 and 2:00, and you can rent an audio guide.
Blue Elephant Cooking School & Restaurant, 233 Sathorn Tai Rd, Bangkok
, T: (026) 739 353, (026) 739 354 , http://www.blueelephant.com. There is another location in Phuket.
Lumpini Park, 360 acre park in the center of Bangkok.  Named after the birthplace of the Lord Buddha in Nepal, here you can rent paddle boats, job, bike-ride, check out crazy large lizards and just chill. Take the MRT Subway Silom or Lumphini Stations which will drop you right opposite the park.
Bangkok National Museum, 4 Na Phra That, Bangkok, Phra Nakhon 10200, Thailand. It is the largest museum in Southeast Asia and features exhibits of Thai art and history. Open from Wednesday to Sunday from 9:00 a.m. to 4:00 p.m
Jim Thompson house,  ??? ?????? 1 Wang Mai, Pathum Wan, Bangkok 10330, Thailand. . Guided tours are available daily. Get there: Take exit 1 from the BTS National Stadium Station, turn right into Soi Kasemsan 2 and continue walking all the way to the very end. The museum will be on your left-hand side.
Bang Krachao, an expansive green space in Bangkok, perfect for a bike tour.
Bang Lamphu Walking Tour, an old part of town known for Khao San Road, where many backpackers visit. Check out this map.
Spa (more locations on the saved google maps). 
The Oriental Spa at Mandarin Oriental, 9am – 10pm (Daily). The signature massage will set you back THB 4,500
Spa Botanica (luxury), Sukhothai, 13/3 S Sathorn Rd, Thung Maha Mek, Sathon, Bangkok. 90 minute The Sukhothai
Signature Massage costs THB 4,500 (115 euros)
Perception Blind Massage, 56,58 Piphat, North Sathorn Road, Soi -, Silom, Bang Rak, Bangkok 10500, Thailand. Average prices are 60 minute aromatherapy massage for 800 Baht (20 euros).
Myth Spa (traditional Thai massage), 28/3 Soi Ruamrudee, Wireless Road, Lumpini, Pathumwan, Bangkok,
Shopping
The Chatuchak Weekend Market. Beautiful market with everything a person could hope for, no aggressive sellers, laid back and seriously cool.
Thai Craft Museum, Gaysorn Plaza, 999 Phloenchit Road, Bangkok. On top of a shopping center but resembling an old bazaar.
Flower Market "Pak Khlong Talat,"the biggest fresh flower market in the city and quite the site to see! It's recommended to visit early in the morning or late at night.: Take the Chao Phraya River Express to Pak Khlong Talat Pier or take a taxi from MRTA Hua Lamphong station.
Restaurants/Food – For more tips, save this list. 
Issaya Siamese Club,  4 ??? ???????? Chuea Phloeng Rd, Thung Maha Mek, Sathon, Bangkok 10120, Thailand. Open daily 11:30-2:30pm, 6-10:30pm. Reservations recommended. Traditional Thai in a beautiful, historical ambiance. Fantastic cocktails!
Sala Rim Naam, 48, Oriental Ave, Bang Rak, Bangkok 10500, Thailand (Mandarin Oriental). Traditional Thai food along the riverside, just take the hotel shuttle boat from the Mandarin to arrive. Nightly they offer a classical Thai dance show.
Vogue Lounge, 6th Floor MahaNakhon CUBE 96 Narathiwas Ratchanakharin Rd, Silom, Bang Rak, Bangkok 10500, Thailand. An international menu served in "VOGUE Lounge Bites" created by chef Cyril Cocconi. Fancypants approved.
Suppaniga Eating Room, 160/11 Soi Sukhumvit 55 (Thonglor) in Klongton Nuea, Watthana District. Home-cooking, recommendations recommended.
Park Society Restaurant at Sofitel So (amazing rooftop),  2 North Sathorn Road, Bangrak, Bangkok 10500, Thailand, book ahead.
Sukhumvit Soi 38 Street Food, Sukhumvit Soi 38, bangkok. Great market with a wide selection of street food.
Rocket Coffeebar, Sathorn 12 at 02-635-0404 or Sukhumvit 49. Brunch and great coffee.
Bars We Loved
Bamboo bar, Oriental Ave, Bang Rak, Bangkok 10500, Thailand. Go for happy hour!
Rooftop: 360 Rooftop Bar at Millennium Hilton,  123, Charoen Nakhon Rd, Khlong Ton Sai, Khlong San, Bangkok 10600, Thailand.
Rooftop: Hotel Sofitel So, 2 North Sathorn Road, Bangrak, Bangkok 10500, Thailand.
Rooftop: Red Sky at the Centara Grand Hotel, Centara Grand at CentralWorld 55F, Thailand.
Rooftop: Octave Rooftop Bar at the Marriot, 2 Sukhumvit Road Soi 57, Bangkok 10110, Thailand.
Rooftop: The Deck Restaurant, Maha Rat Rd, Phra Borom Maha Ratchawang, Phra Nakhon, Bangkok 10200, Thailand.
The Iron Fairies,  ??? ??????? ??? ???????? 55 ???? ???????????? ??? ????? Bangkok 10110, Thailand. Designed like an ironsmith's workshop with a 1920's jazz feel.
Rooftop: Above Eleven, 38/8 Soi Sukhumvit 11, Khlong Tan Nuea, Khet Vadhana, Bangkok, 10110, 10110, Thailand.
Tuba Design Furniture & Restaurant,  34 ???????????63 ?????????21 ???????????????? ??? ????? ????????????? 10110, Thailand.
Smalls Bar, 178 1 178/1 ?????? 1 Thung Maha Mek, Sathon, Bangkok 10120, Thailand,
Where We Stayed
Mandarin Oriental Bangkok, 48 Oriental Ave, Bang Rak, Bangkok 10500, Thailand.
For other hotel recommendations at various price points, please check this list.