There's just something about Milan, everyone keeps talking about the city that has exploded in popularity this year dear to the World Food Expo, publicity for this city seems to never have ceased. Heck, when the NY Times does a 36 hours there, you pretty much know your golden. Why I was there, started as pretty much an accident. I'll admit I have never been a huge fan of this city. It always felt a little too busy, a little too imposing, the kind of place with high rents and long work hours, but not the pay to match. I made fun of the Milanese like the rest of Tuscans, but I knew I needed, and still need, to give this city more of a chance. Since I didn't stay long enough to warrant a full-out guide like I typically do, enjoy this photo diary of a day spent wandering around the center of town.
What gave me a reason to go for a day, not even 24 hours, more like 19, was because Nico and I were returning to Finland. I first traveled to the real home of Santa Claus last December, for an education in saintly traditions and a beautiful invention called gloggi and now we were going to experience the 'warmer' months in Helsinki. Since it made more sense to leave from a larger airport hub where we wouldn't have any connections, Milan was the natural choice. We scored the chance to stay at the newly renovated Excelsior Gallia hotel directly in front of the central train station and I booked my train ticket faster than you can see 'andiamo!' Though I have been dying to see the Triennale and Brera art gallery, I skipped museum visits, but instead just went on some really long walks and met up with a few friends in the city.
Because that's cool too. The Last Supper clearly isn't going to get up and walk away.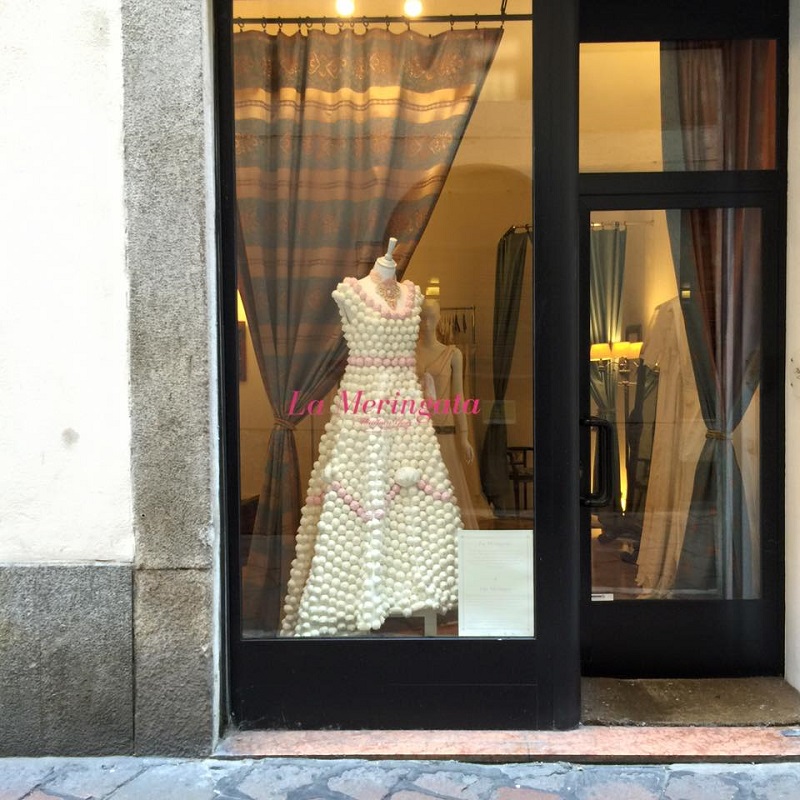 You guys know my horrific tale about wedding dress shopping in Florence, well Milan just may have the answer to my problems with this wedding dress made of actual meringues. Matthan Gori for anyone interested.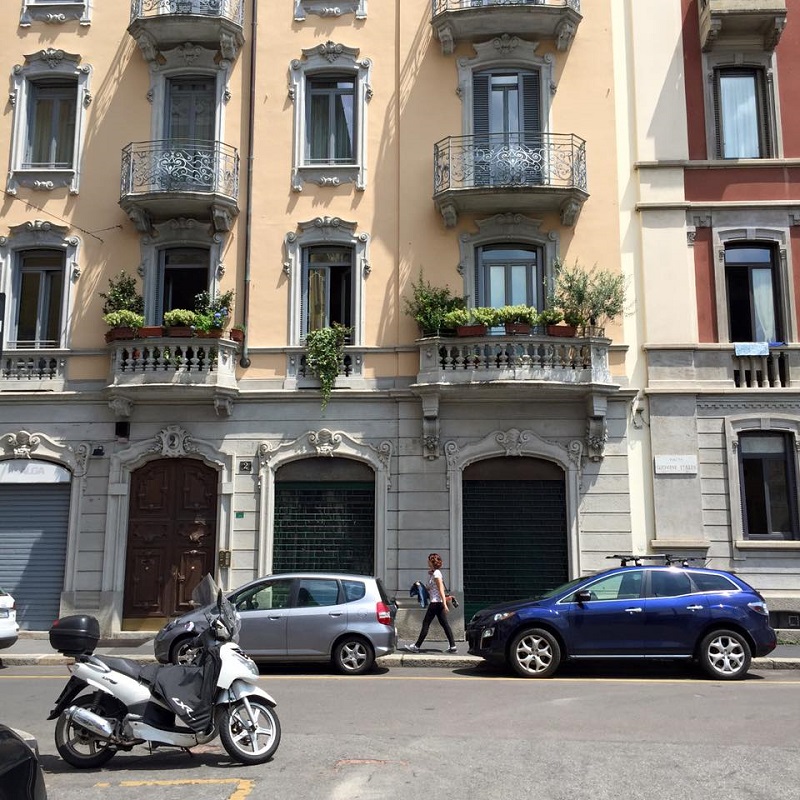 Sweet streets near pasta da giovanni, these elegant apartments had me sighing at every turn.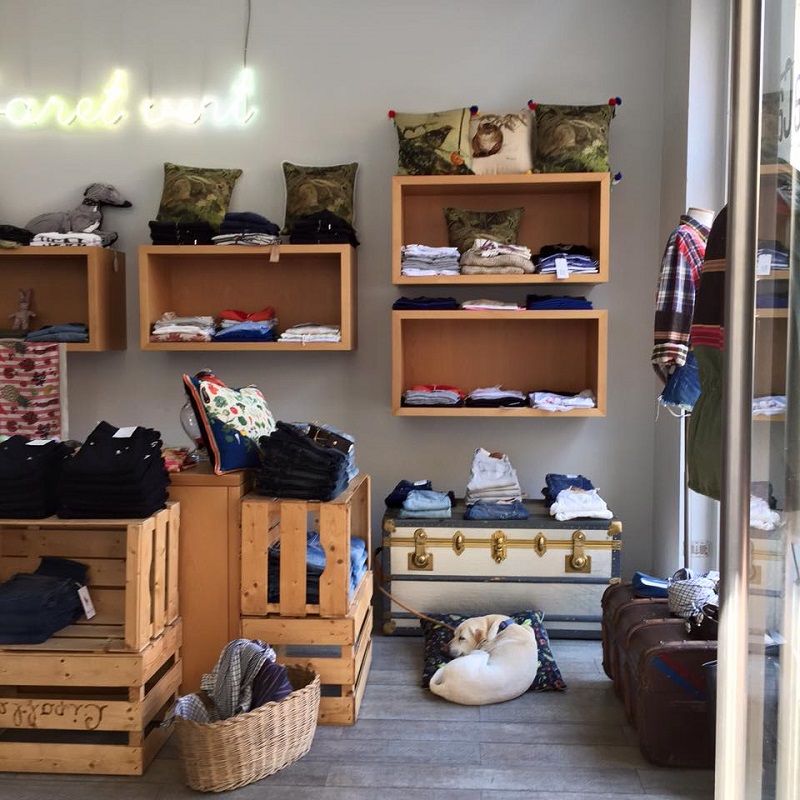 I promise you the dog isn't for sale, but I definitely did my fair share of window shopping. My rule of thumb is the less amount of clothes and nicer the store, well it is probably a little too expensive for me.
Now let's talk hotels, or rather the adult, futuristic version of Barbie's dream home. The Westin Excelsior Gallia.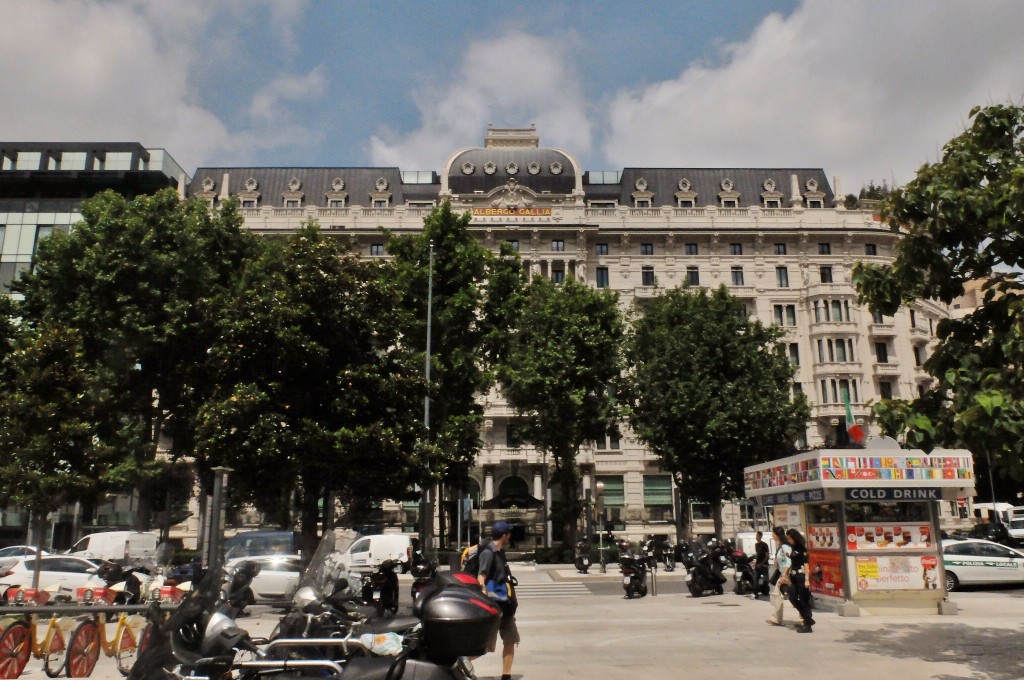 This architectural wonder has caught the eyes and ears of many, after an extensive restoration this place is as shiny and awe-inspiring as they come. As I exited Milano centrale, I couldn't believe this is where we would be holed up for the night and it was truly one of my favorite hotels that Nico and I have ever stayed in.
https://instagram.com/p/4BwkswRTMr/?taken-by=girlinflorence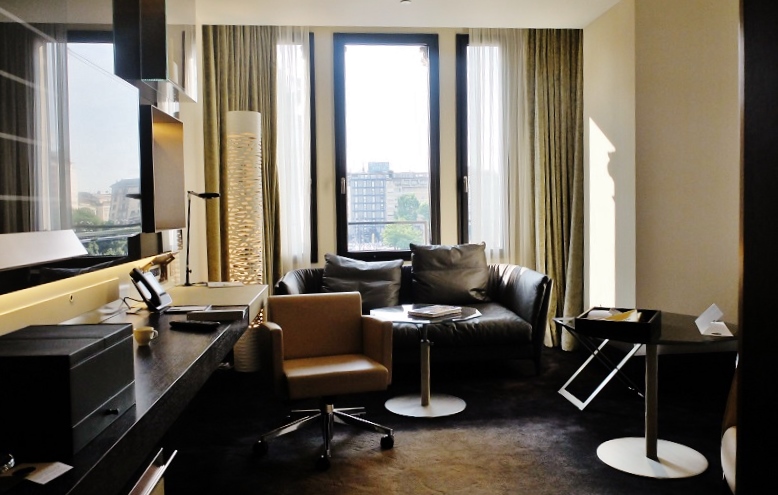 Being here feels like taking part in a sexy James Bond film, mingled with a bit of romance of Great Gatsby. The area is called 'Porta Nuova', and Marco Piva is the one to thank for the sleek design filled with Italian designers adhering to both La Belle Epoque and more modern influences. I don't think I've ever seen anything like the cascading 30-meter chandelier in between the winding staircase, I could have stared at it for hours. This kind of hotel needs a permanent soundtrack as you walk through the cool art deco interior, I'm pretty sure this is hotel of the future, even Marty McFly couldn't predict this. The men's bathroom features cube-shaped urinals, this is a long way from the public bathroom in front of my house.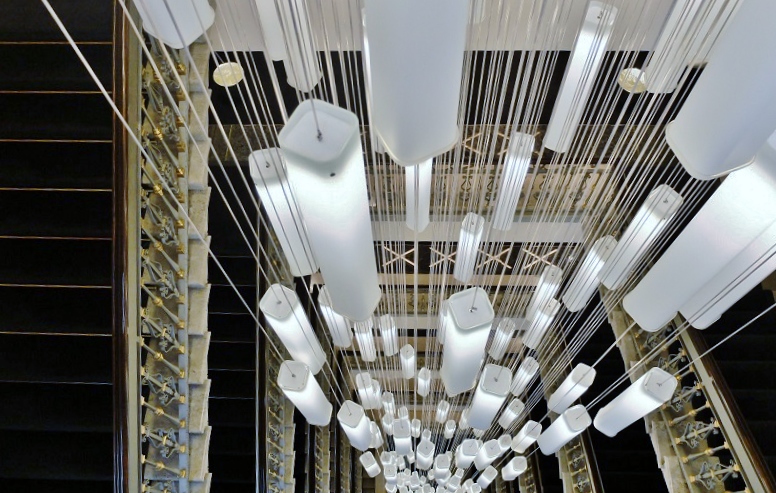 225 rooms in total, with sensor and motion sensors to complete the Jetson-like experience. I appreciated the nespresso machine and actual-working-free (thank you) WiFi. I ended up going to bed at 4am that night to catch up on work in such comfort. The view from our room was the imposing Milano centrale, an art nouveau  masterpiece built-in 1864, pumped up with muscular statues by Mussolini, and is one of Europe's largest railway stations. I felt like donning a full leather cat-suit and straight-ironing my hair, and bust out my rusty heels — it's that kind of place.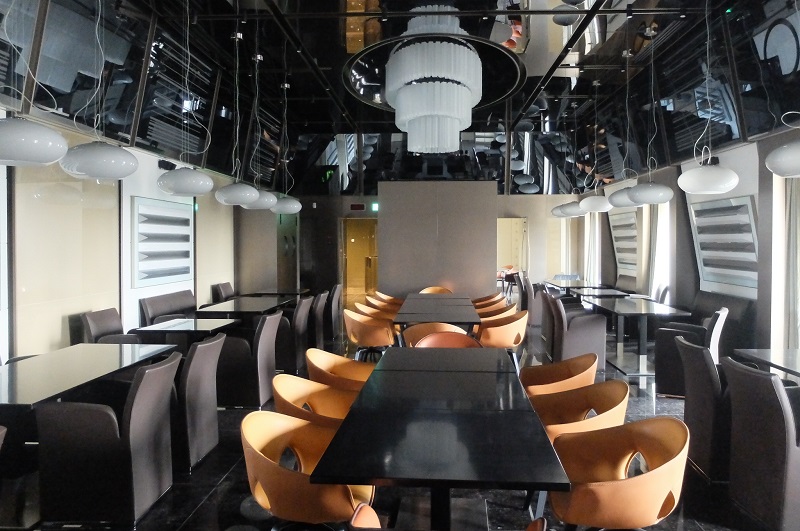 They offer a car to the center but I decided to a badass and take the metro instead, such a rebel I know. I got my urban day pass for 4,50€, which works on the rail network too. I arranged to meet a few of my instagram friends, Elena & Laura (yes you can actually meet cool people through this network quite a bit) at little restaurant in a nice, residential area of town, in piazza giovine, Pasta Fresca Da Giovanni. I wish I could kidnap these girls, Laura with her devilishly amazing food photos and Elena's fun attitude, they rock.
As for the food, because we are three girls who like to eat, this place is fresh pasta shop turn little local hangout, you order your pasta and sauce separately from the few choices on a chalkboard. Cute minimalist interior, the place often gets packed with a sneeze and can fit only 20 people in the minuscule space. Definitely worth the wait, I loved my simple tomato pasta (6-8 euros) with fresh pici, a thick long affair that will turn any carb-hater into a pastaholic.
https://instagram.com/p/4CPFtYxTOn/?taken-by=girlinflorence
After, I still had a bit of time to kill before Nico met me after work so I decided to be a tourist and head towards the Duomo. After all, the last time I was there the front facade was covered in scaffolding and I wanted to see this in person. This Gothic marvel that D.H. Lawrence once likened to a 'hedgehog' certainly didn't disappoint and I took my time to wander around and stare at every nook and cranny. I didn't have time but if I did , I would have climbed the roof to check out its 3,600 statues and 135 spires. I of course wandered in the Galleria Vittorio Emanuele, built in 1867, which is an instagrammer's dream. Marble floors and glass-topped ceilings, plus plenty of stores that I can't afford. I didn't end up staying long because Michelle Obama was there and half the Galleria was close to the public, saving any risk of me buying something I can't afford. I'm sure Nico arranged that in advance ;-).
https://instagram.com/p/4EpOupRTDu/?taken-by=girlinflorence
After a few hours, I met up with my friends Marzia and Marco, she a coder (which as a female – truly respect) and him too, both of them love travel and are my 'eyes' to Milan wjen I'm not there. Their creative eyes and photos have made me appreciate that city so much more, we met on a blog/instagram tour in San Giuliano Terme last year where we worse historical costumes and took funny photos in the local thermal pool. We laughed over spritz's and fruit in a little cafe not far from the Duomo.
Later after meeting Nico, we found a little place to eat near the theater, Cucina del Toro. My friend Elena warned me that restaurants in Milan were quite famous for small portions and high-prices but we were so excited, we didn't even care. The menu was interesting, with dishes ranging from gnocchi to Crispy iberian suckling pig and Culatello with homemade focaccia , dishes range from €15 – €30, a little higher than we typically pay but it was quite good.
I had a beautiful millefoglie of veggies that was light and crispy, and we shared a fabulous cheese plate. Great place for a romantic dinner in the center of town despite the extremely intense discussion we overhead between French doctors arguing over surgical procedures. Naturally my French isn't elevated enough to understand the conversation, but from what Nico was telling me, someone was getting their ass handed to them in a verbal sandwich.
The next day, we left our uber-sexy lair at the Excelsior and hopped on a plane to Finland. Milan, I can't wait to see you again and do a visit justice!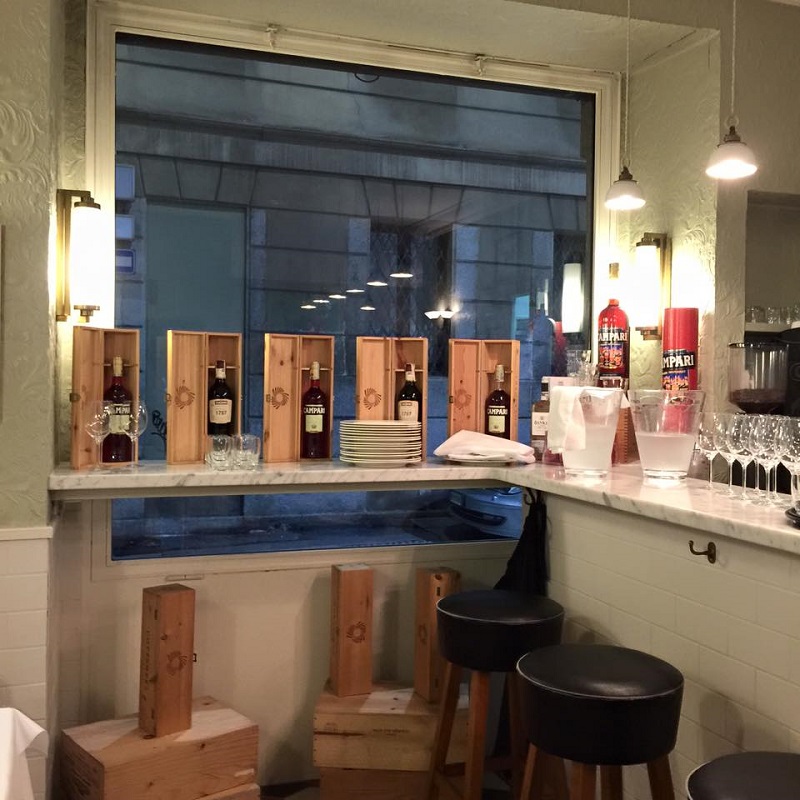 ---
Where We Ate
Lunch: Pasta Fresca da Giovanni: address, Piazza Giovine, Phone number +39 335 5215743. Open from M-F 8:30 am-7pm.
Dinner: Cucina del Toro: address, via Camperio 15, +39 02 875107. Closed Sundays.
Where We Stayed
Westin Excelsior Gallia, Piazza Duca D'Aosta, +39 02 67851, website. Rooms start from €395. The Gallia was gracious enough to host Nico and I for one night but as always, all opinions are 100% my own. The hotel is simply a marvel and a gem. Plus a rooftop bar and restaurant is coming soon.