This week, my beloved crew of COSI bloggers are back this Friday with a topic that is pretty relevant to us all. In the unfortunate sense, it's not pretty beaches, slow food or simple town life in Italy, but it's basically how we have all been affected by various acts of 'furbizia' (craftiness), or the feeling of being ripped off or conned.
It is not unique to Italy, it can happen anywhere or anytime, but since this is where we live and breathe, it makes sense to talk about our own personal experiences. I will also make a point of saying that I personally find Italians to be some of the most generous, heart-warming people I have ever met in the world. My experiences are mostly positive, especially now that I speak Italian and 'get' the culture. Namely that it's sort of the kind of place where rules or laws are meant to be a little bendy, kind of like a figurative 'Gumby'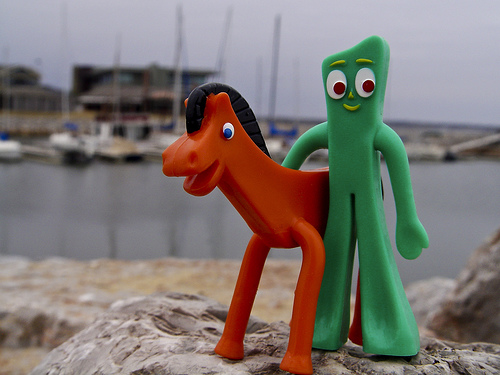 What started off this conversation and blogging topic was something that recently happened in our group. One of our members was getting ripped off from a 'furbo' company that was refusing to honor their end of their agreement. We all chatted together about this, on how to handle an unapologetic asshole, and my stance was to cut off all ties with this company because clearly they do not value the relationship, it showed through the type of email sent. As I mentioned above, I am 100% a 'pignola' (when it comes to these things), you made an agreement, thus you should honor the agreement no matter what.
The icing on the cake from this small, but not uncommon event, was that this same company contacted me for a potential partnership just a few days later. I immediately replied basically saying I was not interested and exactly why, I didn't even hesitate on that one.My hope that they change their business practices in the future and embrace a more humble approach with these sort of situations. Saying 'we rent x number of properties' a year to high satisfaction does not really make me give two flying shits to be honest.
Like Darwin's Theory of Evolution: Becoming Street Smart After Almost a Decade in Italy
I should say that after almost a decade of living in Italy, I am very much a different girl than when I arrived in 2007. I can totally admit that my family definitely thought of me as very book smart, but lacking a certain amount of street smarts, which as you can guess, is not the best recipe for success when moving to Italy. Personally, living in Florence, I do not feel overwhelmingly taken advantage of in any particular way, but that also has to do with how much tougher I have become. Especially when it comes to getting paid for work that I do, getting high-quotes because I am an American in Italy, or just plain getting a receipt in various businesses. There is something different about being street smart and just trying to cheat the system (however small).
The fact is, almost every single one of my friends has had an experience that has meant them not getting paid, or underpaid or having to lightly threaten someone for a very basic service that should have been straightforward. Being overcharged for bills, coffee that should have cost a euro but instead costs 10. It's annoying but when it happens you better look straight into the eye of the offender and say 'anche no!.'
Nico and I, often have these conversations at two in the morning when he probably wants to sleep, but it just seems like the perfect time to talk about life. We typically chat about the concept of meeting people we would describe as 'furbo,' The ones who claim to not have any money, recount you with all the woes of the world as they overcharge you and drive away in their Mercedes for a two-week holiday in the Maldives, you know what I am talking about.
Are You Furbo or Pignolo? 
It almost seems that in this country there are two types of people 'furbo' for the clever person who 'bends' the rules legally and 'pignolo' a way to describe someone as having a kind of stick up their 'you know what' and abiding by every rule. Honestly, both of these terms pretty much suck and I wouldn't want to fall by either, although I have the uncanny feeling that I am considered a 'rules' gal. The sad thing is, you see this 'deceptively clever' adjective 'furbo' being used quite commonly, like watching a mother tell her son 'che furbetto' when he steals his classmates pencils, but doesn't really do anything about it, or 'farti furbo'.
It also has a historical side, when you look at people like Giovanni Giacomo Casanova (1725-1798), known commonly as a 'ladies man' whose mindset can best be described in this quote "deceiving a fool is an exploit worthy of an intelligent man."
Lately, the talk between us has been more about the crisis in Greece, which as you know has even contemplated leaving the Euro over not being able to repay its debt. We talked about how it could get to that point, what happened exactly? This NY Times article is a good start.
Where as I don't think it is as openly obvious as it might be in, lets say the south, I realized when thinking about this post how ingrained in my mindset to avoid being cheated is. This means with every work contract, or even considering buying a home, or getting quotes for various services for #MyTuscanWedding, I am always a little on the defensive and have become kind of hard-line negotiator, probably sometimes when it is not every necessary. I check my change at every exchange by default, especially in taxis where the 'wrong change' tricks is a popular tourist scam, read this case-in-point by Amerciana A Rome. I'll give you a few examples.
My first solo trip to Rome for a work function resulted in my close to tears as I stood at the Termini tax stand looking for a guy to take me to my hotel, but since I balked at the 30 euros I was quoted for the 10 minute (if that) journey when the guy tried to explain to me that the hotel near the Spanish Steps was not actually in the center, I was the social pariah of taxi clients and stood there for a good hour before someone gave me a lift, I paid 10 euros.
I've had to send repeated invoices to clients that paid when they 'felt like it' or not at all. Luckily this happens much less because I make it very clear from the forefront that I lay out my payment expectations quite clearly (and when). But it has happened that I have been paid months and months after a job was completed and when I had almost lost all hope. I always inform them that instead I am obliged to pay my rent the first of every month, on time.
An ex-boss was being 'furbo' in trying to get off paying me my last paycheck, actually she tried to give me half and send me on my way. I in return grew a pair of balls and threatened to sell her office keys to the smarmiest guy I could find in an alley in Florence. I knew she kept her money there so, needless to say she caved in and paid me. Sad that it had to get to that point but this really did happen, life lesson at the tender age of 23.
One of my good French friends was on a hunt for the perfect leather jacket in Florence, she went to one shop near San Lorenzo and saw one she liked. She decided to come back again later because dropping 100 + euros on something when you make a 1,000 euros a month is no small decision. When she came back, the seller decided to mutter to his colleague, thinking she didn't understand Italian, she isn't going to buy anything anyway, just charge her X amount over and send her on her way. Needless to say she didn't get her jacket there and gave the guy a pretty decent stink-eye. I also witnessed a lot of shady dealings in leather shops in Florence in general, be very careful since a lot of these crappy places near S.Lorenzo will asses where you are from and overcharge for leather that is anything but premium, go to the leather school in Santa Croce instead.
How To Manage A Society
My worry is in cases like this (which are quite broad) and in even the smaller ones, is how ingrained little acts of cheating, not paying taxes, not sending an invoice, over-quoting foreigners, cutting in line at the post office, being so clever to figure out how to get you what you need in another way, affects the entire economy? When you think about politicians like Bettino Craxi, leader of the Italian Socialist party from 1976-1993 and prime minister from 1983-1987, you kind of 'get' where the idea of furbo comes from.
This guy, who was the leader of the country mind you, once justified corruption (mainly his lavish lifestyle) with the necessities of a democracy. Now what are the populace supposed to think? This illustrates that Italians are wary of untrustworthy people, but also admire it when they skirt around the law.
After being involved in various corruption scandals and eventually escaping to Tunesia, what was most telling to me was that Craxi was also known for never apologizing. According to wiki, 'as a matter of principle; whereas some did like this autocratic trait in his successful years, most Italians expected an apology after the corrupt system had been exposed. Craxi never apologized, stating he had done nothing that everybody else had not been doing, and that he was being unjustly singled out and persecuted.' Once again the offender claims to be the victim.
The latest recent news comes from the Wall Street Journal regarding our former prime minister in Italy, Berlusconi, stating 'Italian authorities accused Silvio Berlusconi of paying more than 10 million euros to buy the silence of 21 girls who testified in the so-called "Bunga Bunga" trial. Lawyers for Mr. Berlusconi previously said they offered money to compensate the girls for stress.' Or on the flip side, corruption over the public rigging of  contracts awarded for the management for migrant centers in Italy, something I have seen quite often in the news. Or the public contracts for this year's world EXPO in Milan, I don't think anyone is surprised there either. A bunch of 'furbo' characters who hopefully will pay for the crimes they commit.
These are examples of big corruptions scandals in Italy but what is more interesting to me is the result of every single tiny act of 'furbizia'? Short-changing people at the bar, paying someone under the table for a service. How normal has this all become?
And on a large scale, consider companies that bankrupt, never pay their employees and then reopen under a different name a few years later (this happened to a friend of mine), you can read more about living in Italy here.
Every little act has a consequence, multiply that by millions. Cheating the system, or someone else should not be a trait that is admired.
On the flip end of WTF moments, I often see other things that are just ridiculous, police that fail to investigate true crimes like vandalism or theft but then will actually make a house call because your neighbor's called to report the fact that you pruned a tree wrong. That makes me think of a retirement community in Florida where someone gets fined for letting their grass grow about a centimeter, well it happens here too. I bet that neighbor had a vendetta and decided he was going to get a little furbetto. 
https://instagram.com/p/30YohvPHWf/?taken-by=eminchilli
'Working' The System
I also think that a lot has to do with the type of work you can get here. While I won't be masochistic enough to go into Italian work contracts, I have sort of put people in a 'have' or 'have-not' situation. Those who have the holy grail of work situations, a decent, well-paid job with plenty of security, think contratto indeterminato, or those who are on precarious temporary contracts with little or no benefits, even trying to learn what these contracts mean is as byzantine as it gets.
This results in a lot of grey areas in the country, basically with high taxes and a general feeling that their money isn't being used properly, as a friend recently said 'people regulate the system themselves'. I have a partita iva and yes it kinda sucks, my commercialista is an almost god-like figure in the fact that he gets everything that I do not. I pay my taxes once a year, my bills and rent every month, declare my bank account in the USA, and I definitely don't hand him every single coffee or wine receipt as a write-up as I've seen others do, but maybe they're the smart ones.
This is very worrying to me because I just want to be a normal person, working and paying my taxes with the possibility of being able to buy a house with my future husband without help from our parents. I don't like grey areas and I don't want to have to use every personal contact I know to buy a house.  I know it is possible, Nico's colleagues are wonderful examples of that, but they also are highly-trained engineers with good contracts, who tend to stay home a lot.
If anything about work and life has taught me well in Italy, it would probably be that working with your friends or relying on 'knowing someone' doesn't at all guarantee you better treatment. If anything it means that people can slack off more because you are friends. If anything I believe in keeping your business professional, and your private life private. It makes me think about the plumber that my ex-boyfriend's family used to use. He frankly sucked, the toilet broke every third month but yet they continued to call him because he was recommended by a family friend, as 'furbo' as you can get.
Or what about buying a house? After chatting with the wonderful Annette Joseph Style over lunch yesterday, she recounted a little about her own property purchase experience in Italy. How the first question you should ask is not 'how much is the house' but instead 'how many people own the house', a lot of potential buyers from other countries should be aware that properties here can often have multiple owners which means long, dragged out purchasing procedures that often are delayed because people are dishonest about the details of the house. She told me to be careful, that people might often think they have bought a house to realize finally that they actually didn't, I highly recommend reading her house-hunting series.
What About Now? Will It Ever Change?
I have a feeling, which maybe is naive but I hope not, that things are changing. I don't think the younger generation is so enthused about finding ways to cheat the system or one another. With the creation of the EU, people have had gotten the very awesome chance to see other countries, different systems in general which then influence how they choose to live from day-to-day. Plus it is so exhausting to be always on the defensive.
My personal viewpoint is that I believe in being a good person, in good karma and not being in asshole. Cutting people off, fixing the system, collecting money they isn't yours, not paying taxes, taking the wrong change, actually has an effect, it really does hurt people. My idea of being cool is being able to sleep at night, knowing that nothing I did caused someone else distress. Cheating isn't ever really worth it because the goal earned doesn't feel all that sweet.
Part of loving and living in a country is the ability and want to have a critical discussion every once in a while. It's not about venting on what is 'wrong or right' but rather encouraging talks like this on things like what it means to be 'furbo' and how it can affect a society. I'll stop my ramble now but I want to hear your thoughts about 'furbizia' in general? The reason that the COSItaly group has chosen this topic is that we hope to start an open discussion on this, feel free to share your thoughts and let's talk!
Rick Zullo – What Does It Mean To Be Furbo
Surviving in Italy – The Italian Art of Being Sly
Englishman in Italy – Furbizia
The Unwilling Expat – Italy's Cheating Heart 
Sex, Lies & Nutella – Tourists Beware: Fighting Furbizia in Italy 
Married to Italy : Furbizia, A Blessing or a Burden? 
The Florence Diaries : A Life Lesson in Con-Artistry