July has arrived with a lovely heatwave (lovely to those who have air-conditioning) and as I write with a fan blasting on me 24/7, well at least its summer!  It's my birthday month and we are escaping to Calabria on the 8th for a week-long vacation in an area of Italy that I actually no nothing, not even a little, about. In fact if you have some tips, please comment and let me know! While we are in Florence, you know what this kind of heat means, hiding in your house with your shutters with the fan on full blast if you don't have air-conditioning like me. For those of you who are planning to visit Florence this month and are already dreading the heat, don't worry because there are plenty of activities all around town, and cool new places to eat and drink that will take your mind off the sweltering temperatures. Plus I will add a list of pools that you can escape to if you find yourself unable to think other than ordering the odd caffe shakerato (iced espresso happiness) and the usual suspects in awesome rooftop views of the city.
One group that I also recommend following, is the brand-new drawing club, created by Trinity Mitchell, this really warms my heart because it's just about a group of people who love to draw (no pressure if you are not an expert) and meet up from time to time in Florence. I met them at the Creative People in Florence aperitivo and on the first Wednesday of every month there will be an open-mic night at the Tasso Hostel in Florence for writers (and yes it includes wine) where they also meet up to draw and get inspired. I encourage you to join the group on facebook and see what they are up to, they are good people.
Also check out the events going on in the YELP Florence community, which always adds cool new happenings in the city with a fun group that is mostly Italian if you want to meet locals.
Sales | All over Italy from July 4th!
Yes this is absolutely worthy of being put on a list of July events. Sales are regulated in Italy and this is the official start to the summer period when big names and small alike, slash their prices. I always stock up on things that I typically hold off buying during the year, like shoes or blenders and let's face it, tons and tons of blazers (this girl has an obsession). Stores like Dixie, Rinascente, Coin, Tezenis, Calzedonia or good ones to stock up at.
Summer Party | Plindo Summer Party @Le Carceri, 7:30pm, July 1
Because who doesn't want to throw back a few beers in an ex-prison in Florence? Start off July with a bang with a fun summer party sponsored by Plindo in collaboration with Diaframma Aperto and Citti Firenze. There will be live music from the 60's via the band  The Goosebumps. Free to go, the facebook event can be seen here.  Address: Piazza Madonna della Neve, 3.
Vintage | 'The Colors of Food' Vintage Selection, July 1-4th, at Stazione Leopolda,
For all of you who love vintage, start off the month of July by browsing the retro clothes, accessories and whatever else they have store at the Stazione Leopolda, this year vintage food trucks (beer, pizza, gelato) will also get a spot in this coveted fair in its 26th edition. Website (warning the English is uh.. well confusing) but the fair is quite fun, I recommend popping in. Special events include free swing dance lessons from 8-9pm on July 3rd and 4th. Cost: 5 euros (reduced price if you purchase online). Address: viale fratelli rossi 5 (tranvia stop: porta al prato). Open 10am- 10pm Wed-Thu, 12pm-12am Fri-Sat.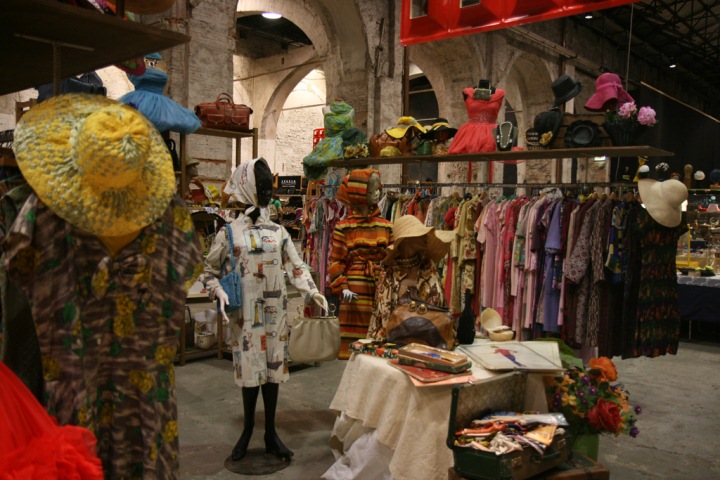 Meet-UP | Creative People of Florence Aperitivo, July 2nd, Rari Nantes, 7:30pm
In Florence for a bit and want to meet some movers and shakers? I highly recommend heading to this Thursday's CPIF aperitivo meetup, at a really cool bar in town along the river arno. Everyone who comes has a story, many are local artisans who seek out like-minded collaborations and I personally find the group extremely friendly and open to newcomers. Plus Rari serves good drinks (bring your mosquito repellent as being next to the arno river does come with a few disadvantages). Facebook event here. address: lungarno ferucci 24.
Festival | Celebrate the Japanese Custom of Tanabata, July 4-5th, Limonaia di Villa Strozzi, 5pm-11pm
According to WIKI: Tanabata is a festival that is celebrated every year on July 7 (or August 7 in some places). When this time of year comes around, people write their wishes on strips of paper and hang them on bamboo trees, along with decorations, fortunately it is happening a little sooner in Florence of all places, at the very cool Limonaia di Villa Strozzi, a cool oasis from the humid city center (bring your bug spray). Meet other people who love and embrace Japanese culture, there will also be street food and dance!  Official facebook event. address:  Limonaia di Villa Strozzi, Via Pisana 77, 50143.
Museums | Free First Sundays, July 5th, all over Italy
Free first Sundays means you get to visit state museums all over Italy (and that means Florence too) for free. The fact that its Sunday means that it tends to get REALLY crowded at places like the Academia so I recommend coming early or an hour before closing if you don't want to bang your head at the wall or wait in the intense heat. I do however think you should head to the Uffizi to see the just opened show by Piero di Cosimo, Pittore fiorentino "eccentrico" fra Rinascimento e Maniera, the lovely girls at Florence For Free got to see a sneak peak in Washington DC before it came to us in Florence this late June, check out their thoughts here.
EXHIBITION | 'SCULPTURE CURRENTLY UPDATING', Until JULY 5TH.
Sculpture Currently Updating is a student exhibition and collaboration between Fondazione Palazzo Strozzi and the European Institute of Design ('IED') featuring artworks by students from Fondazione Studio Marangoni, the Accademia di Belle Arti di Firenze and LABA ('Libera Accademia di Belle Arti'). This project derives its thematic inspiration from certain considerations of sculpture's existence over time and, more specifically, from the exhibitions currently showing at Palazzo Strozzi and Strozzina – Power and Pathos, Bronze Sculpture of the Hellenistic World and Sculptures also Die. The exhibition will be curated and organised by Masters students from IED as their final semester project. The exhibition will run from June 26-July 5th, IED: Via Maurizio Bufalini, 6/R, Firenze ZAP: Piazza di Santa Maria Maggiore, 1, Firenze. Opening ceremony/presentation, June 25th, 6pm at ZAP.

Music | Hot Shot! '90's Night' at the Cascine Park Amphitheater , July 3rd, 8pm – 2am.
For all of those who appreciate the 90's stand up! Since I am definitely in the generation of 'My So Called Life' and 'Nirvana' this is right up my alley as this Friday hosts a cool 1990's party celebrating pop culture. address: via Galoppatoio dei Barberi. pre-purchase tickets here. €8.00 + 1 if you book online.
Party | Celebrating US Independence Day, July 4th, Nuovo Parco Urbano in Scandicci
Yep, it's time to party like an American and if you are feeling the red, white and blue, head over to Scandicci for a little street food, music and fun times, naturally everyone is invited. The event is being hosted by the Tuscan American Association, the US consulate, Harding University and the Comune di Scandicci. address: via Galileo Galilei Scandicci – 15 min from the Santa Maria Novella Train Station, take – Tramvia to stop 'De Andrè.'
Party | Celebrate US Independence Day, July 4th, Al Fresco Trattoria at the Four Seasons Florence
I can't think of a better place for a beautiful outdoor lunch on July 4th than the Al Fresco restaurant, poolside, at the Four Seasons (one of the most magnificent buildings in Florence). Chef Vito Mollica makes this typical Italian trattoria come alive with interesting daily dishes,, plus they make to-die-for fresh bellini with peach puree and they plan on having swing music from the 1960's. I will be there with my Frenchy so come say hi if you are there :). address: borgo pinti 99. Reservations recommended: + 39 055 2626 1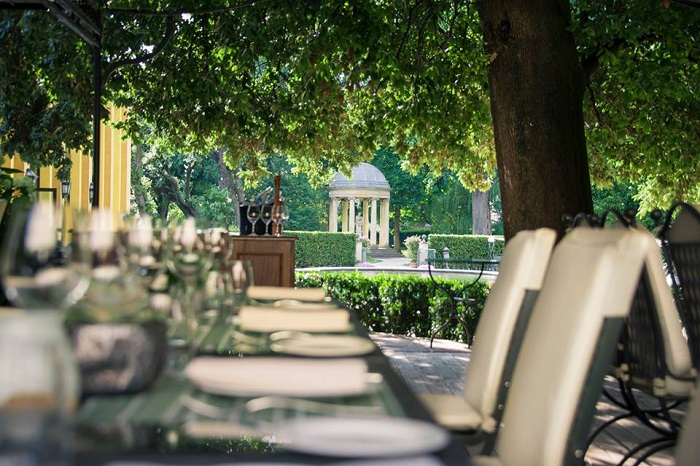 Music/Dance + More | 'Summer At The Bargello', Until September.
The Bargello museum has long been a personal favorite of mine, while so many have skipped this museum for fan favorites like the Uffizi, the ones who instead head here are typically really impressed. It gets even better in the summer months when a rich calendar of events lends to the suggestive, Renaissance atmosphere, a series of music, dance and theater in the inner courtyard that is really something to get excited about. This July the Florence Dance Festival will be putting on plenty of performances that I truly believe will be simply awesome, browse the list of events here. Bargello museum, address: Via del Proconsolo, 4.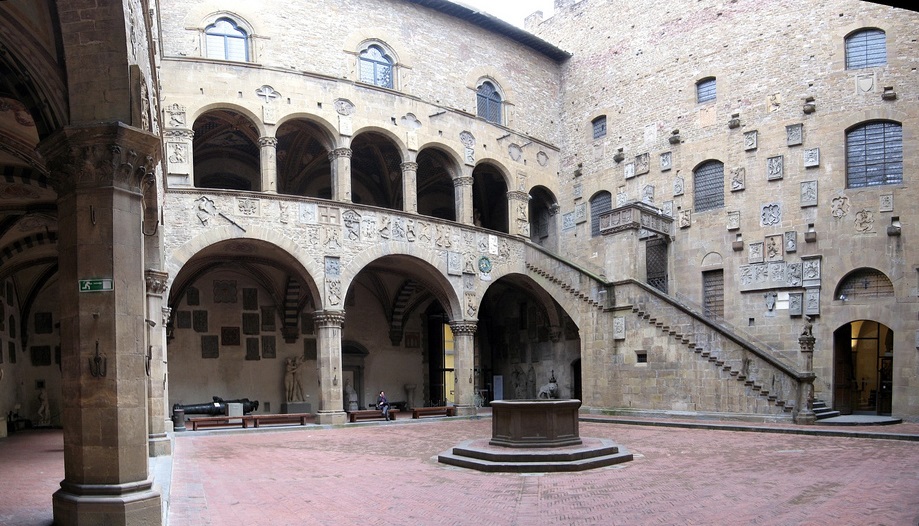 Marathon | 'Corri al Alba' July 11th, 4:45am at Cascine Park.
I really can't believe that I am actually adding an event that involves two things I sorta hate, getting up earlier than dawn and running. However, for this blog, I realize there might be people out there that are much more motivated than myself, and don't resemble a paralyzed turtle when jogging. This marathon on Cascine park (which is exploding with events lately it seems) is all about running directly into sunrise with around 800 of your closest buddies (well maybe) for eight kilometers, there is also a shorter, 4 km walking option. The meetup point is Club Sportivo Firenze: via del Fosso Macinante 13. Register here (8 euros if you book before July 6th).
Theater | Medici Dynasty Show, Five Shows A Week, 7pm, Central Florence
The coolest Medici Dynasty Show on Planet Earth! Almost 300 years later, the last two heirs of the Medici Dynasty are brought back to life in a multimedia masterpiece of "infotainment," that combines digital reproductions of the family's extraordinary and invaluable artistic patrimony with live theatrical performances. The Show honors the memory of this legendary family and its artistic, scientific, cultural, and spiritual contributions both to the society of its time, and to society today, as it has served as a source of inspiration across the world. facebook. There are five shows every week from Wednesday to Sunday at 7:00pm , duration 1 hour. All shows will be held in English. where? San Giovannino dei Padri Scolopi Library (piazza San Lorenzo, n. 6). More info: email [email protected]. full 29 €, students (to age 25) 20 €, children under 12 free, family options are also available. official event website.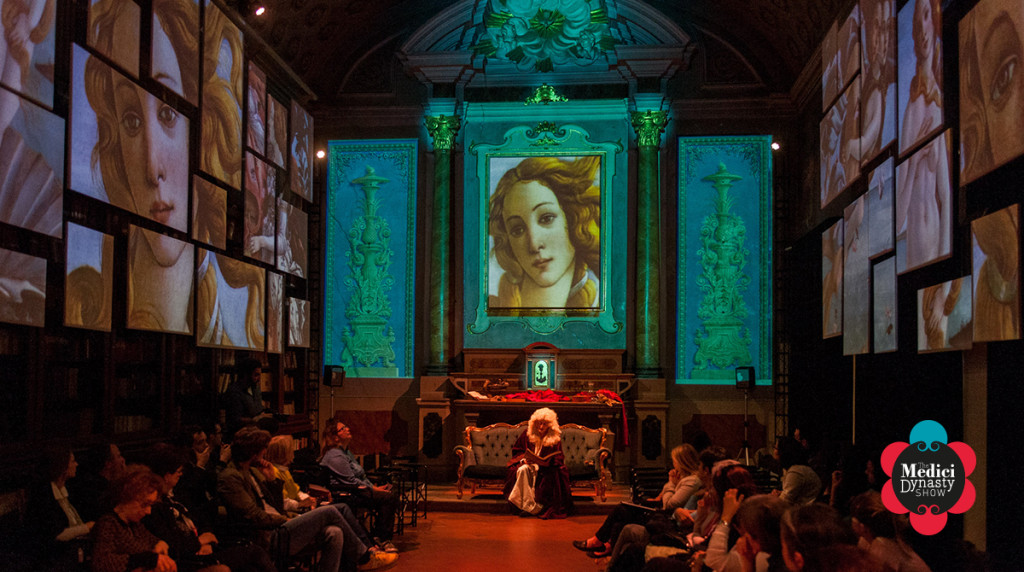 Festival | Bastille Day  in Piazza Ognissanti (where the French Consulate is located). July 14th
France has been through a lot lately, which makes this event (at least to me) stand out a little more. Bastille Day is the French Independence day and the Institut Francais, Associazione Borgognissanti and the French Consulate are hosting this bash which will take place in the piazza, from 8pm to midnight, everyone is invited! Food and drinks will be available for sale and for more info call +39 0552718801.
Exhibit | Magnificent at the Palazzo Vecchio (Video exhibit hosted in the Arms room), Until October 30th
The way we see art is getting a little more '2015' as I like to call it with special exhibits like Magnificent. Described as a 'visual experience recalling qualities evident in animated films and video art installations. Experience how Felice Limosani used digital techniques to put together the greatest Renaissance paintings and sculptures, adding a captivating contemporary touch to the story. A story by Felice Limosani narrated by Andrea Bocelli. official website, 8 euros (full price). Mon-Sun, 10am -7:30pm, English versions once an hour.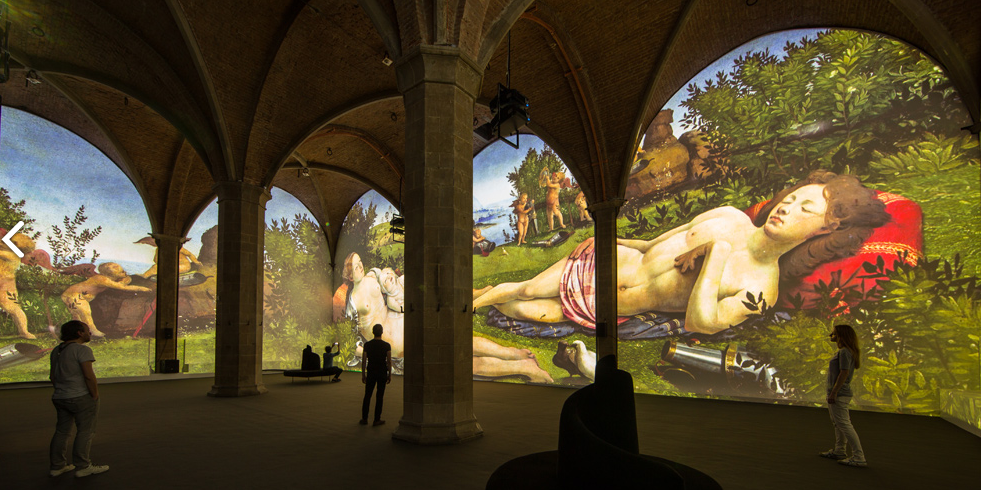 Opening | Climb the #Sannicolotower in Florence, Until September 30th, from 5-8pm (guided tours).
One of the most interesting towers dating back to the early 1300's (and one of the few remaining) in Florence, since you've probably walked past it on your way to piazzale michelangelo, come check out this high vantage point. Opening times: from 5 to 8pm, with guided tours in Italian, English, French and Spanish, every 30 minutes (booking recommended). In case of rain, the tower is closed. Tickets: 4 € For information: phone +39 055 2768224 – +39 055 2768558, [email protected]. more info here.
Pop-up Party | Lost In Florence Pop-Up Summer Party, Thursday July 23rd, 7:00pm, La Serra MK Textile Atelier
My girl Nardia aka Lost in Florence has teamed up with some local artisans for a special pop-up summer party in the san marco/piazza liberta side of town. From 7pm onwards, you can enjoy a cocktail, browse some fabulous local textiles in a secret garden in Florence along other interesting items. address: Via Salvestrina 1, 50129, Florence, FB event.
Summer Garden | Summer Events and Live Music at '"Light il Giardino di Marte' in Campo di Marte
A new space has opened up just for the summer months in the gardens next to the stadium in the Campo di Marte neighborhood, an easy bus ride from the center of Florence, or walk  if you are feeling a little more adventures. Every day they are hosting various live musical performances (think jazz, swing and more), cultural meetups, children activities and much more. They also have open-air cinema which makes this my kind of place. I remember rolling up in my car in Texas to old drive-ins where we would bring a ton of snacks and sit on the hood of the car, ahh, the good ol days! Check out the lineup via their facebook page. address: viale manfredo fonti 8.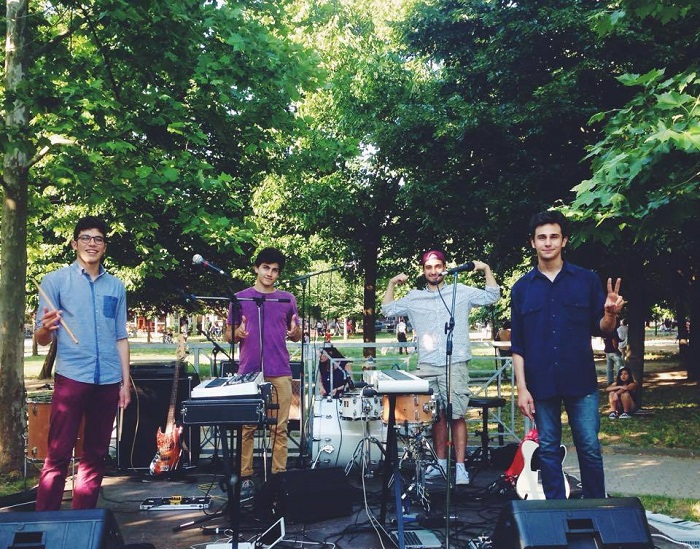 Urban Beach | The Arno River's 'Easy Living' summer bar and space, until September.
The Easy Living summer beach bar along the arno river in front of the San Niccolo area is back and better than ever. People come here to get a little sun on beach loungers without actually having to go to a proper beach. I used not be a fan of this place but honestly it has grown on me quite a bit. This summer they have new initiatives like yoga every Wednesday at 19:30, just bring a mat and join the fun! Official website. Every Thursday, Friday and Saturday there is live music at sunset, and a variety of sport activities such as beach volleyball, rugby, bocce and even stand-up paddle (though I shudder at the thought of stepping one foot into the arno river itself). Easy living address:  Piazza Poggi, Open every day, from 10.00 AM to 1.30 AM. You can even arrange your own private beach party, complete with catering, they are moving on up folks!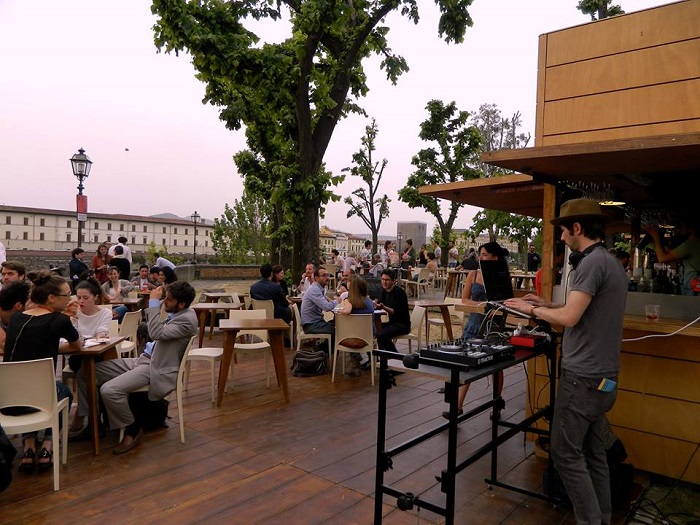 Cinema | Watch Original Language Films in The Beautiful Piazza of Santa Maria Annunziata, Until July 23rd.
Being the Texan that I am, I love an outdoor cinema, and the fact that they are hosting these films in such a gorgeous location as Annunziata actually warms my heart and gives me all sorts of fuzzies. The films are in their original languages, with Italian subtitles which is quite cool. An added feature is a snack bar stand managed by Panino Tondo. Free to go, spots are first come, first serve. I love love love this! You can check out the full program here. google map.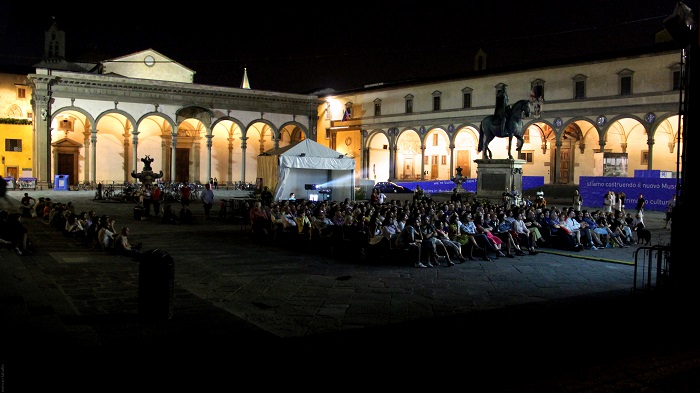 Festival | 'Fiesole Summer/ Estate Fiesolana, Until July 27th.
There is finally a bit of information for the annual 'summer in Fiesole' which is a pretty highly acclaimed festival of music, cinema, jazz and theater in the 'fresher' hills above Florence, now in its 68th edition. In addition to happening in the old Roman theater, they will also, for the first time, be hosting events in the archaeological area which is really quite spectacular.  You can find the official website of events here. Address: Via Portigiani, 3, Fiesole FI.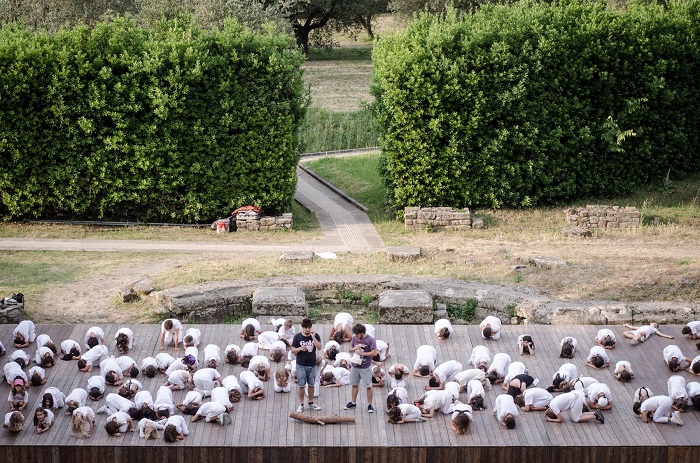 TERRACES! APERITIVO WITH A VIEW IN SOME OF THE BEST LOCATIONS IN FLORENCE
While not exactly a specific event, June marked the opening of many of the city's terraces, most on top of hotels, where anyone can go for an aperitif drink or sometimes even stay for dinner and of course they are open all July as well. The bonus is you get a beautiful, panoramic view of the city. This is definitely one of our favorite activities on a beautiful summer evening. Favorites include:
"La Terrazza" on top of Hotel Continental is open to the public and is a sexy, sophisticated spot to sip a moscow mule with a birds-eye view of the Ponte Vecchio. Pricey, cocktails cost around 16 euros, open daily from 3:30pm-10pm. address: Vicolo dell'Oro, 6r – 50123 Florence, Phone. +39 055 2726 5806 , E-mail. [email protected].
Sesto at Hotel Excelsior is a prime spot for fashionistas to grab a drink on one of the best terraces in town. I would skip dinner here and just get the drink. Piazza Ognissanti, 3. Open 7:30pm-10:30pm.
My favorite 'hidden' place to get a quick drink is also one of the highest points in town, a cool rooftop bar on top of a tower (no joke) in a three-star hotel, Torre Guelfa. Drinks are nothing to write home about here but the views and service are awesome. You can't make a reservation so just pop in when you're in the area, it is very close to the Ponte Vecchio and off of via tornabuoni (the fancy street). address: borgo Santi Apostoli 8.
https://instagram.com/p/4cef6WxTGc/?taken-by=girlinflorence
Say hello to the Duomo! Grand Hotel Cavour is my usual choice to take people for a drink with an awesome view. I like its intimate feel, not outrageous prices and niceness of the bar staff. Drinks aren't as great as Continental but I assure you, this place is worth visiting. address: Via del Proconsolo, 3.
Say hello to one of the new terraces in Florence, the beautiful Empireo American bar on top of Plaza Lucchesi Hotel, along the arno river close to the National Library. I recently went to a fun Yelp Firenze event there and we had a blast, the views here are stunning!  address: Lungarno della Zecca Vecchia, 38. Drinks are 14 euros.
https://instagram.com/p/4ZhfUuRTHL/?taken-by=girlinflorence
Feel 'Human' While You Drink. Cocktails at the Forte Belvedere are always a good idea, also because the latest exhibit is one I truly can appreciate. Come for an early drink around 5-7pm as it closes quite early. check updates on their facebook page.
Oblate stays cool. On top of the Oblate library lies a cafe that is quite popular with the Italian student population. The great thing is you can also get a drink here and prices are cheap so this is a wonderful option for those who are on a budget, but still want the Duomo smack in their face. address: via dell'Oriuolo, 26. Cool place to organize a private aperitivo as well. Info here.
Grande Hotel Minerva, '360 Three Sixty' Rooftop Bar: has a new menu for 2015. Next to the pool in piazza santa maria novella, this place is too cool for words. Open daily from 7pm-midnight, you can order salads, tagliere with cheese and meets and various items for around 16-18 euros a platter. Drinks range from 6 euros for a glass of prosecco and 12 euros for a cocktail. Email [email protected] for a reservation.
Pools in Florence (Open to the Public)
Il Pavoniere. Where? Cascine park. One of my favorite public pools, it is nestled in the cool park and remains (to me) one of the prettier public pools, come early to grab a spot. They also have a restaurant where you can eat at night next to the pool (and reserve it for private parties), it is very popular with local Florentines, and gets very crowded on the weekend. address: Viale della Catena, 2. tramvia stop: Cascine. open daily 10am – 7pm. € 8,00 (1o euros on holidays).
https://instagram.com/p/4eC3onRTCE/?taken-by=girlinflorence
Bellariva, large pool along the arno river a little further away from the city but an easy bus ride on bus 14 towards ripa or girone, get off at Aretine 02. address: Lungarno Aldo Moro 6. Open daily (during the week 10-6pm, weekends 10-7pm).
Costoli, which is rather large is a wonderful options for family, they also have a diving board. It is located near the Florence stadium in campo di marte, address: Viale Pasquale Paoli. How to get there: take bus number 17 in the direction "Verga 02" and get off at stop "Mille 09".
---
Interesting Links For Surrounding Events in Tuscany