If you have been following me for some time, you may know that I have been talking a lot about weddings lately. While I am definitely not the kind of girl who subscribes to shows like 'Say Yes to The Dress' or anything like that, I am curious to how people choose to celebrate this special day. From a Vegas 'quickie' to a long-drawn out Southern Italian affair, I love the details. Since I am getting married this year to my best friend and dare I say it 'love of my life' Nico, I am covering all of the planning, and plenty of red-tape, with a special series of wedding posts on the blog. I asked a few people that I knew who got married in Italy if they would be willing to share their story, a bit like my 'locals I love' series interviewing those who made the move or even changed their life in some interesting way, wherever they are, on the blog. A special thanks to sweet Elyssa, of Romewise and Daphne Inn, who answered my call for help right away.
Introducing: provide your name Elyssa Bernard
nationality: American
profession: B&B owner (with husband Alessandro); website publisher; offering tours in Rome
favorite: drink wine
Where are you from originally and where are you currently living?
I was born in Florida, but lived in various places in the US and abroad, and was living in Boston when I met my husband Alessandro. We moved here from Boston in 2001 and we live in Rome since then.
Tel us a little more about you!
Besides living in various countries in my life, my dad is a professor of anthropology and we moved to places where he worked, either as a professor or as a researcher (mostly Greece and Mexico.) I went to the University of Florida, and got a B.A. in Cultural Anthropology.
In September 1997 I was back-packing in Europe with a friend, and stopped in Rome at the very end. We arrived tired and disheveled, hot and hungry, at this Termini hotel late in the evening. Alessandro was there to check us in. And I guess you could say it was love at first sight.
I came back to visit him, he came to visit me, and we got married in the US and in Rome, both in May 1999. In 2001 we moved to Rome and opened our first B&B, Daphne (still called this today), with only 3 rooms and one bathroom. We opened in time for New Years and have been going since then.
We now have 2 locations, each with 10 rooms. We work year-round on our business, but we have started to focus more and more on the additional services we have always provided our guests and are now creating a separate tour company. My website, www.romewise.com, came out of my love for the city, and for helping people getting more out of their Rome visit than they might have imagined. I have done this for years with our guests, and thought a website for this would be a great way to do it for a wider audience.
Tell us about the proposal! How did your other half pop the question? And do you think proposals in 2015 are getting out of hand?
We were visiting New York City together. It was an utterly freezing February in 1998. We had been to the top of the Empire State building, and yes, the top of The World Trade Center. It was a romantic trip because my husband had never been to the US before that trip, let alone NYC. He was enchanted with it all, and we were with each other! We had known each other 6 months. We were talking in our hotel room about how we wanted to be together, and how could it happen, and that's when he said we should get married!
I really have not heard enough about any proposals recently to judge if they are getting "out of hand."
What made you choose Italy as the destination for your wedding?
We had actually gotten married in the US first, for my husband to have a green card. It was him, me, my friend Catriona and the judge and his secretary, in the judge's office in Providence Rhode Island. I wore a black Max Mara dress that Alessandro had picked out for me. Then we went to Salem, Massachusetts and had lunch there. That wedding was just for us.
We decided to have "the wedding" in Rome because there was no way his mother or brother would have made it onto a plane. And my family likes to travel.
How did you start planning, can you walk us through the red-tape you needed to do before getting married?
I suppose you don't need to know about the red tape we encountered in the US, which was next to nothing. Each state has difference requirements, which is why we popped over to Rhode Island to get married instead of in Massachusetts. (There was actually a little bit of red tape relating to HIM being Italian, so if you want to know, tell me and I'll be glad to enlighten you!)
For Italy, we had a little less red tape than some might encounter.
First of all, we only had a Comune wedding. My husband is a non-practicing Catholic (of course), and I am a pretty non-practicing Jew. Neither of us cared about having a religious ceremony of any kind (also because my sister had already done this so I got to enjoy it through her!)
Second of all, since my husband is from Rome, he knew how to get the process going. First he went to Campidoglio and requested a date around when we wanted (May.) You cannot always get the exact date you want, but we got either our date or close enough.
Then he told me about the form I had to sign, with a witness (a friend of mine), and stamped (the famous bollo), saying I was "nubile." I was not yet very fluent in Italian and I thought that wording was just hilarious.
I was incredulous to discover we had to post our names at the Campidoglio for X amount of time (can't remember now but I am pretty sure it was at least a month) in advance of the wedding – in case someone wanted to come forward saying they were already married to one of us!! Suffice to say, nobody came forward.
Did you use a wedding planner or not? Please explain why
I didn't even consider using a wedding planner. First of all, it was less of a "thing" then. Second of all, we kept the wedding and guest list very small. I just did it all, mostly from Boston!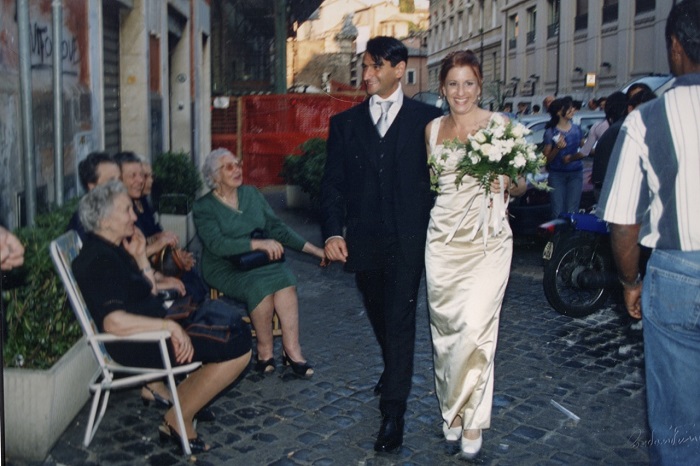 What were the hurdles you ran into while planning a wedding in Italy?
I was still living in Boston and Alessandro was still living in Rome when we planned both weddings. So I did a lot of the planning from Boston – guest list, invitations etc. I did search a bit for a dress there but in the end had it made in Rome. On various visits to Rome, he and I decided on the venue for our reception, the photographer and other little things. He took care of getting a videographer and the car. I guess it was a hurdle in part because I was in Boston and he was here. And in part because of these declarations we had to make about being single – having them witnessed. But it was fine.
Let's talk culture! What traditions did you keep from your country and which ones did you adopt here? Feel free to elaborate as much as possible.
I did the something borrowed, something blue thing. I don't think they do that here! My husband probably didn't even realize!
Probably the biggest custom I adopted for our wedding was to not have an open bar! We had a wonderful "aperitivo" on a hotel rooftop (Atlante Star, with views of St. Peters, and a completely flower-filled rooftop), then a sit down dinner with wine…but I am sure the Americans were missing the open bar!
Oh yes and we had some kind of (delicious) millefoglie cake. Definitely not an American style wedding cake. And no tastings before hand! Honestly, looking back, it made no difference so yet again, I'd say the cake is another thing to not spend too much time and money on, and certainly nothing to stress about.
Yes to the dress! How did you choose your dress and what advice can you give someone (like me) who is looking. Also did you do anything DIY for your wedding?
I tried finding a dress in Boston. Meh. OK yes there were some nice things but after having spent so much time here, I guess I was getting a little "European" in my tastes (I don't mean this in a snobbish way, just that my tastes in clothing had started to change.)
I was walking around the Spanish Steps, and walked into a boutique that had wedding dresses. I went in and saw some but they were a little over the top. I can't remember prices she started quoting me but it was way out of my budget.
I saw another atelier and went in. I met Donatella Muraglia, who became my first friend in Rome, who witnessed the document that I was "nubile" and who made my amazing dress. It was a fantastic experience because she made it (over time) FOR me, TO me. To my tastes and style. And in typical Rome fashion, I paid for it a little bit at a time while she made it. I don't remember the exact cost now, and actually it was in Lire, but I think I must have spent around $3000 at the time. No regrets.
I did so much that was DIY for our wedding. And saved a LOT of money. I went to a stationery store and bought hand-made paper, the thick kind with little flecks in it. I bought a bunch of vellum paper, and I designed our invitations on my computer. I printed the invitations onto the vellum. Then I punched two holes in the hand-made paper, and used colored twine to attach the vellum to that. I printed our RSVP envelopes and also the main envelopes so I saved a lot in printing costs.
Also, I think I paid about 300 Euros total for flowers. We didn't buy any for the wedding itself since it was at the Comune. And our reception dinner was on a flower-filled rooftop, and the hotel provided some basic centerpieces for the tables (and even the cake!) (The hotel included the cost of the cake in the price of the dinner, so I think that was another savings.) I bought only my bouquet and some for my bridesmaids.
We did not have any rehearsal dinner, and the dinners before and after were just for everyone visiting from out of town, at trattorias near us, and everyone just paid their way.
If you had to get married again, what would you change? (if anything)
The only thing I might change would be to not have the bridesmaids get makeup and hair done. They looked too made up, and they didn't like it and neither did I. I liked mine though, and it worked out well for the pix.
(Little hint – you are already beautiful! But in case you want to try this: I used some fake eyelashes just on the outer part of my upper lid, and it made my eyes stand out even more, and the photos even nicer.)
What advice can you give a future bride on what she should focus on for the big day, and what maybe should be a little less of a priority.
I hope I am not stating the obvious but the bride should focus on the moment, catching and holding onto the memory. Not the money being spent. Not whether other people are having a good time. Just her, her husband and everything they are experiencing that day, even the glitches!
Best memories from your big day – please share!
One of my favorite things about that day was being finally dressed, coiffed and ready, and stepping down from my friend's atelier to the waiting convertible 1920's MGB Alessandro had chosen for us. Getting into that car, with my parents, and driving through the center of Rome, from the Spanish Steps to Campidoglio, knowing I was getting married, and having my family there with me, I just shook with joy. I was literally speechless.
And the other amazing memory was just after the ceremony…after all the guests left to go to the reception, but Alessandro and I stayed to take photos…at Campidoglio, but then, into the Jewish Ghetto, so as not to have the same photos as everyone. That was the best walk. We just walked through the ghetto, dressed as we were, with the photographer and videographer following us from in front. Someone gave us pizza bianca from one of the famous fornos there. And an adorable little blonde girl of about 5 years old ran after me, so excited, crying "la sposa, la sposa!" I'll always remember her and her sweet voice.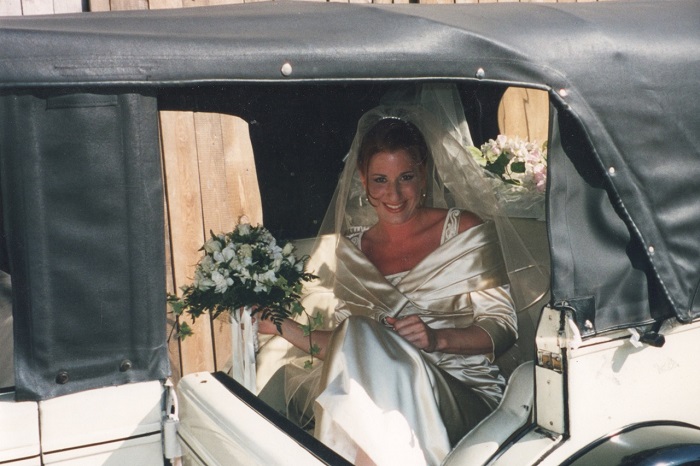 Lastly let's talk honeymoon! Where did you go and why?
We did not immediately take a honeymoon. Right after we got married in 1999, I returned to Boston. Alessandro followed soon after, and we lived there for about a year and a half before deciding to move back to Rome. So in August 2001, we packed our stuff and our kitties, and brought everything to Rome. At the end of August, we left for Tonga and Fiji. We knew once we started our new life in Rome, running a hotel business, we would not have such a trip again.
We both love scuba diving, warm weather and the beach, so Fiji was the main choice for all that. But Tonga emerged as the first stop, because it was so completely different from Fiji in every way, yet so physically close to it, that it made it easy to have half the trip in Tonga first, then the other half in Fiji. It was an unforgettable honeymoon and I highly recommend both locations if you are into this kind of vacation. Unfortunately, we were in Fiji on September 11 2001 so it is another memory of our honeymoon that will stay with us always.
---
Thank you so much Elyssa for sharing your special moment with me. I loved hearing about your wedding day, especially since you too married someone from abroad. Grazie ancora! If you would like to keep in touch with Elyssa check her website with a plethora of Rome knowledge out at http://www.romewise.com/, twitter, instagram, facebook or pinterest.