You may know him as the man behind 'Every Breath You Take', but musical superstar and English singer-songwriter, multi-instrumentalist, activist, actor, and philanthropist Gordon Sumner aka 'Sting' has much more hiding up his sleeve. The last I heard about him he was appearing out of retirement performing songs from his latest album, The Last Ship with the help of 700 schoolchildren from Gateshead and Newcastle or was offering people the chance to pick grapes/olives, for a fee, at his Tuscan estate, Villa Il Palagio.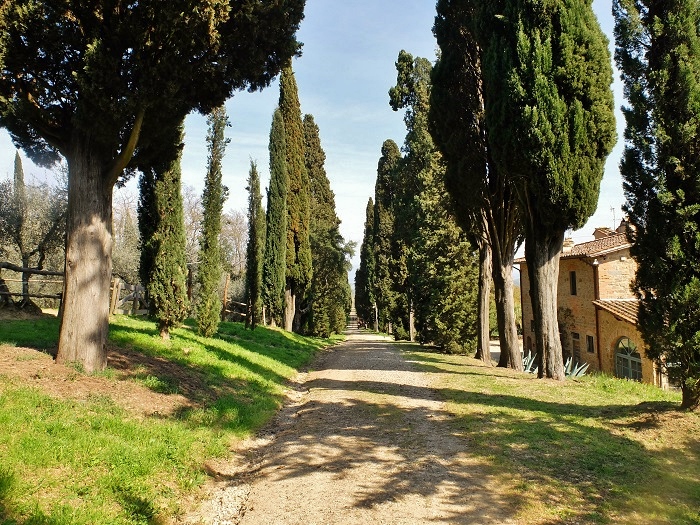 The more I researched Sting for this article, the more I liked him. With a fortune of over 300$ million dollars (wow) he made headlines  in 2014 when publicly saying he hadn't planned to leave his large fortune to his kids, instead choosing to give most of his wealth away to charities like that of Mark Zuckerburg and Bill Gates. In fact, you can read more about his and Trudie's charity helping to save the Amazon rain-forests.
It's a far cry from a poor working-class upbringing in Northeast England, where coal mining and manual labor after high-school was what you typically could expect from a boy. However, after finding fame with 1970's musical group, The Police, he then embarked on a thirty solo career which includes a grand total of seven grammy awards and is a household name the world over. He produced of five of his solo albums here at the estate, and no one could blame him for the constant natural inspiration and splendor you probably get from being in such a place.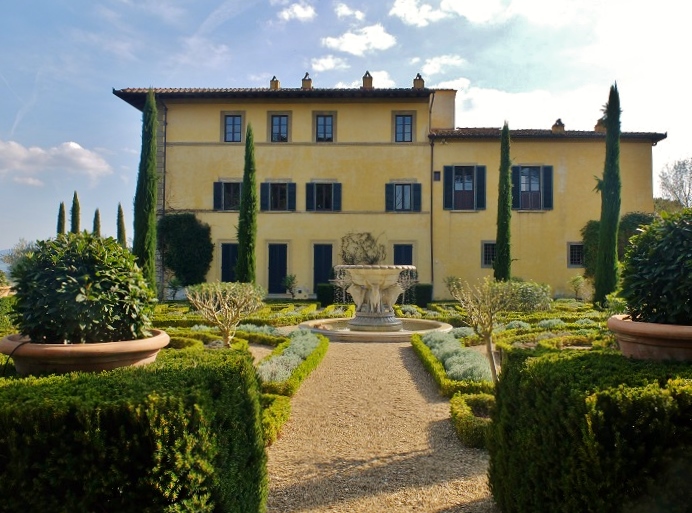 While I had heard about Villa Il Palagio, I never thought I might actually get to visit, but thanks to my friend Eric who is the manager at Sting's neighbor, Villa La Palagina, we got to a first-hand tour of this beautiful place located in the Figline Valdarno, 45 kilometers south-east of Florence.
Just breath in 350 hectares of absolute beauty, much of the area is wild forest-land with a beautiful private lake that invites all sorts of whimsical fantasies. The photo above features a fountain that was once was owned by Italian actress Sophia Loren. I laughed when Paolo told us how it was stolen from the actresses garden and was auctioned off when recovered ten year's later. Sting and Trudie decided to buy it and it now sits in a prime spot in the beautiful garden in front of the villa.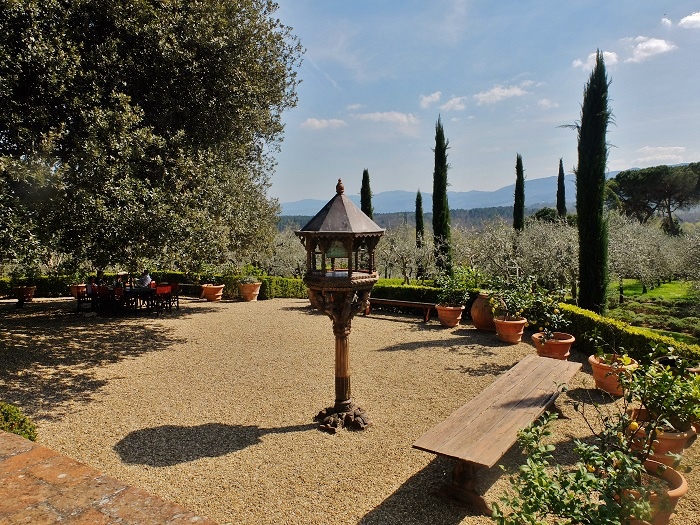 How Sting and Trudy Saved A Crumbling Estate
The first question that came to mind was 'what was here before?' Or as I cheekily referred to as 'BST' (before Sting & Trudy). As much as we'd like to think that places like this were conjured up in thin air, in many instances they are a labor of love in Italy. Often the product of someone's passion after the place itself was left to disrepair. This was the case with Il Palagio. The Martelli family owned and expanded the 16th century villa and estate in the late 1700's before selling it to Countess Carolotta Barbolani of Mounauto (a mouthful I know).
After 150 years in the San Clemente dynasty, Trudie and Sting came across this area in need of a help and purchased the property in 1999. Trudy apparently pushed for a place that could be their sustainable sanctuary. After a long seven-year restoration, they restored the Villa and surrounding buildings to their former glory. They hired landscape architect Arabella Lennox-Boyd who transformed the gardens into a beautiful, sustainable dream including vineyards producing bio-dynamic wine and olive groves.
A beautiful place to rest and place, now the place includes nine bedrooms in the main villa, five guest houses (and a playhouse that looks like it belongs in Hansel & Gretel. Did I mention a private lake and tree-house? Oh yes, and we mustn't forget whose house it is, it also includes a state of the art recording studio. I climbed up the tree-house in shoes that were probably not best for the occasion and I think I was wearing a skirt, but every child in Texas could only dream about a place. For one moment, I imaged what it must have been like to be one of Sting's children, who could enjoying looking at nature through their own stained-glass tree-house window.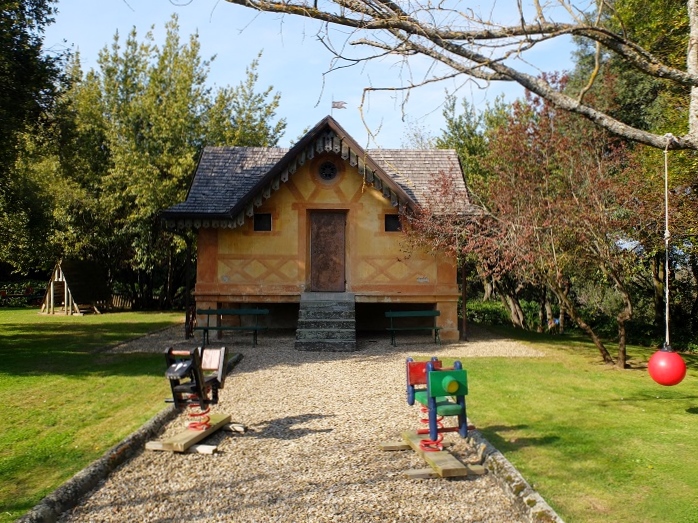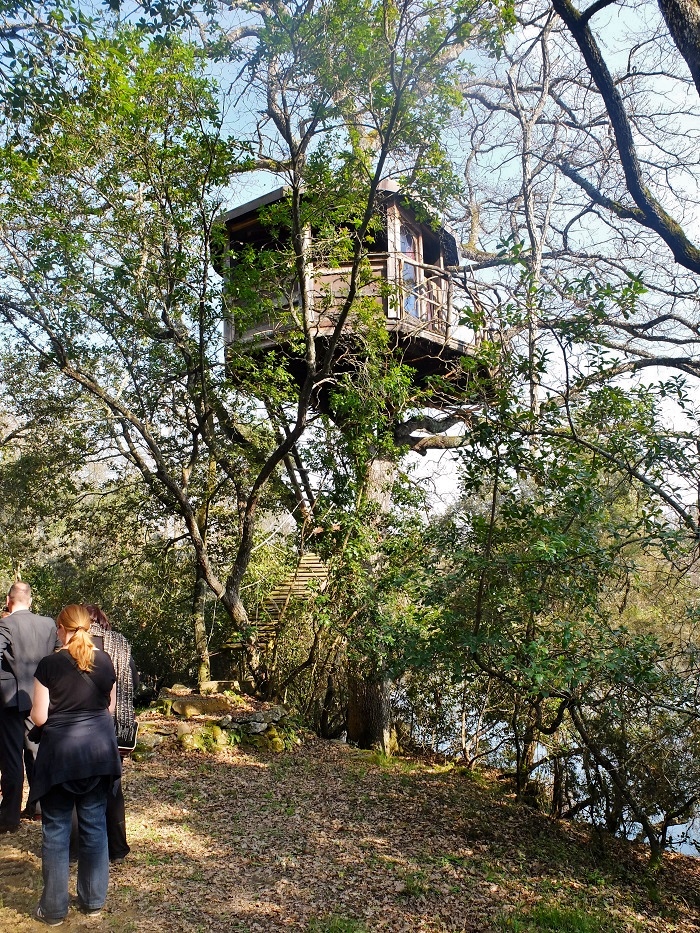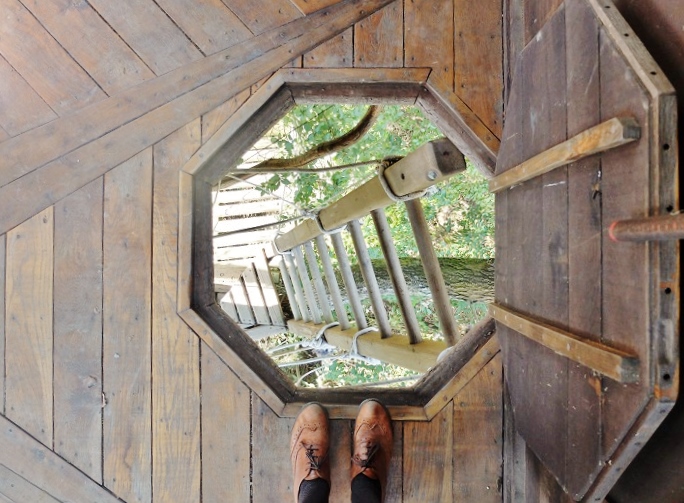 As a bonus, they kept on Estate Manager Paolo Rossi who was born in the villa as a connection to the past, his father held the exact same position and it made me think that some jobs choose you rather than the other way around. We had the pleasure of meeting him and seeing his love for the place as he showed just how much has happened in this corner of Tuscany. He smiles as he recounted how he was supposed to take a sabbatical after a year working for Sting, naturally a strong relationship grew, his love for the place remained, and he still hasn't managed to take that sabbatical.
We chatted with him while sipping wine in the kitchen table that Sting and his family sit at when they visit the estate, we spotted the children's names on the back of each chair and of course 'dad', which made me smile that they too value the simple luxury of eating together as a family. 
While touring the estate, I couldn't help but notice that every corner is tended to with care, each plot of green more vibrant than the last, thanks to Paolo. Even the doors look like they unlock some sort of 16th century mystery. And I loved it all.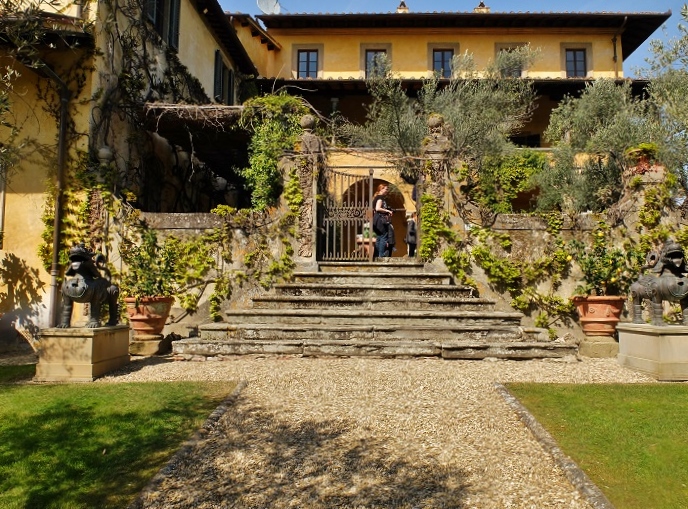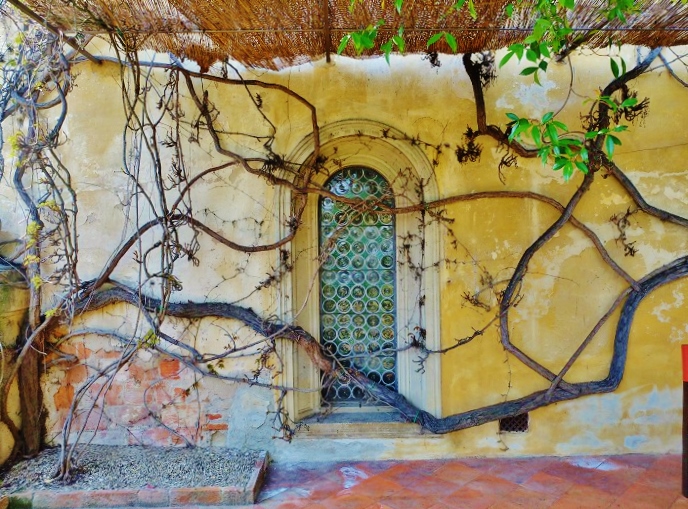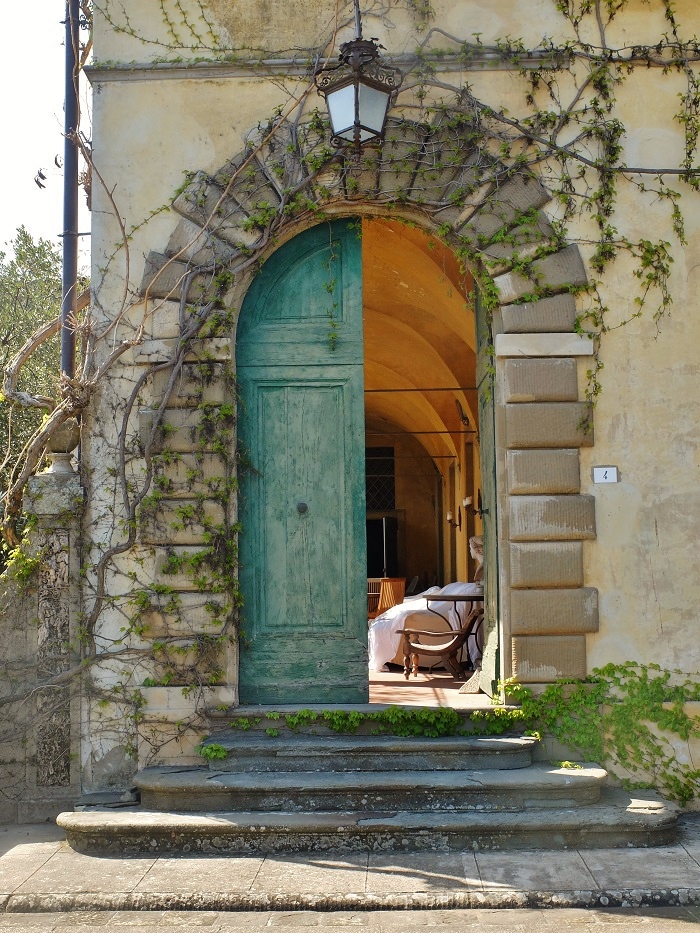 A memorable moment was trying their honey in the beautiful conservatory, which I mentally beat myself over for not taking any home. Varieties include the classic acacia, thousand flowers and the unique 'Erica' version. Each packed a punch and made me wonder, why do we eat sugar when we have this? There are 80 happy bee-colonies on the property and you can purchase the honey direct from their shop.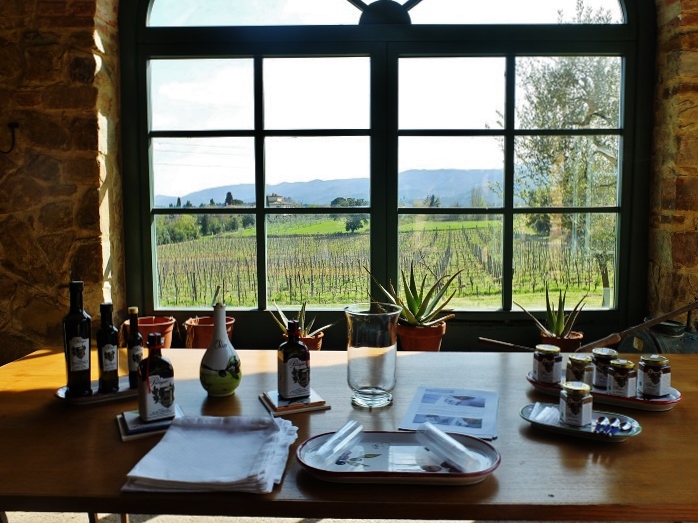 Let's Talk About Wine
Wine making has been left to estate manager Paolo. I am pretty sure he shares Sting's love for music because the way he describes making wine could be a next huge musical hit. In Paolo's words 'Wine is like a beautiful piece of music already written. An opera that the musician or the tenor has to perform. The notes are always the same, but the result is always different and often exciting. Every day I work to become a good interpreter of the grapes; grapes that with great care and sensibility are cultivated by using all the instruments, antique and modern, that allow me to express their quality."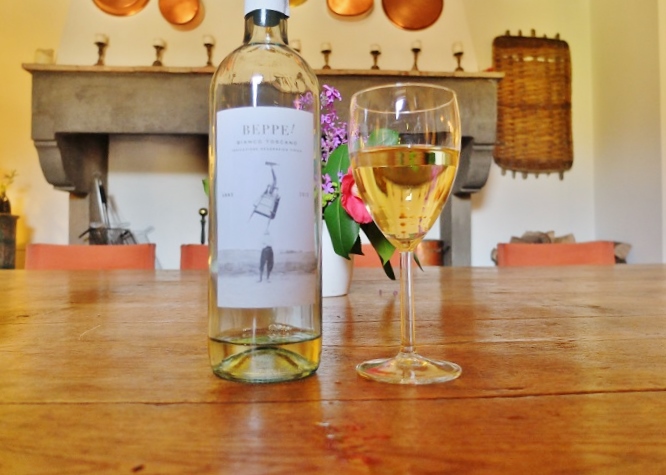 I love the names of the wines they produce. Unlike the names you often see in Italy, throwbacks to centuries of wine makers or complicated three-word last names that not many can remember, these names are fun.  'Message in a Bottle' is a red Toscana IGT that can be paired with a variety of dishes, and has been aged for 12 months in French oak barrels. Or what about 'Sister Moon?' This is a homage to Sting's song by the same name and was was the first IGT Toscano wine produced at this villa. A Strong red with an alcohol content of 14.9% and aged for 24 months in new French oak barrels. I missed the wine cellar tasting but I will still bet it was quite magical.
Besides touring the estate, I also asked about what sort of events can be done there. Typically here they host events of the swankier variety and exclusive weddings. I wish I could get married here but I have a feeling that this is probably way out of our own #MyTuscanWedding budget.
---
Tell Me More
They also sell what they make at a local shop, the exact address is Via Sant Andrea in Campiglia 11, 50063 Figline Valdarno and it is worth noting that part of the proceeds will be donated to charities supported by British couple. The Villa is not open to the public but some parts can be rented for private events, for more information check put the official website.