If you're a blogger or writer who has been trolled, please raise your hand.
I get, it happens, you work online and have your life in the public sphere – you should expect it right?
Well, that doesn't mean it doesn't hurt. Recently I got a really negative comment on the blog from a troll who I'm pretty sure changed his/her name but generally wrote me twice the same thing about how she didn't think I was telling my readers the truth about Italians, well more specifically Florentines. How rude they are, how they treat foreigners, especially Americans, like shit. My happiness with an also non-foreigner annoyed her and in the second comment on this post that I decided not to publish, instead I will post it here.
'Who is this guy? He is FRENCH. you are AMERICAN. No matter how well you have learned the Italian language and how well you have mastered the hand gestures (omg, so cringe-worthy) neither of you will ever be Italian, and more specifically neither of you will ever be Florentine. To say that people need to prove themselves to anybody, regardless of where they are in the world would need to signify that there is something worth having at the end of the struggle. What prize does anyone get for suffering through their racism, rudeness, money-grabbing and absurd aloofness? Their friendship? No thanks! Worthless Prize 😉 Prove ourselves??? Are you serious?? Get a grip! On the positive side you and this guy are well matched – both of you are equally deluded. You should think about telling people the truth about Florence so that they know what to expect in reality, especially Americans who are all completely shell-shocked by the rudeness in Florence which totally ruins the experience, and every single one of the Americans I have met have left Florence with the same story and the same bad experiences. And that's only the Americans. Other nationalities don't escape the bad treatment from Florentine people and all have the same story of experiencing extreme racism. Pretty pictures but you are not an honest blogger.'
Besides the fact that it is so absolutely rude and hateful. I 'love' when people tell me, that my nine years living in Italy is false, and that I am not entitled to share my own personal opinion. I do believe that I am very honest with reader's expectations, especially posts about what it is like to move here, and really live in and work in Italy.
What is a Florentine anyway? Every day I am here it feels like it has become more multicultural and changing every single day. Sure it's slow, but I see it. Many of my Italian friends are in relationships with foreigners and all sorts of stores, restaurants, concepts are challenging the more traditional ways people are seeing themselves here, which is cool.
On a more personal note, my thoughts about this is, I never presumed to be anything else other than me.
Ok, I like saying a 'Tuscan Texan' and often muddle my phrases with Italian, hearing Nico and I talk is downright confusing. But my passport is blue, I like pop-tarts, played in abandoned derelict houses as a kid, moved out at 18. I know that I never get confused as una Italiana and guess what, I am 100% ok with that. I talked about this with Misty, part of the COSI Blogger roundtable who wrote this post 'Sigh, The World is Full of Assholes.'
So on the commenter above, aka Natalia's behalf, I am dedicated this post to her. 29 Ways to Tell If You Are Becoming a Florentine, because sometimes we foreigners in Florence like to act like locals from time to time, sometimes terribly. And please, Italians, Tuscan Americans, German African Florentines, Greek Russian Toscani, feel free to comment and let me know what you would have added to this list.
—
1. If you start saying that every festival or event was ''era meglio prima" (everything was better in previous years). Nostalgia is a strong feeling here.
2. If your plans are revolved around when the Fiorentina plays. Otherwise, your boyfriend will never come to dinner during games. You know the drill. 
3. If you know, have seen or met the 'walking Dante' who recites poetry on city corners in his long black cape. His shoes change according to season.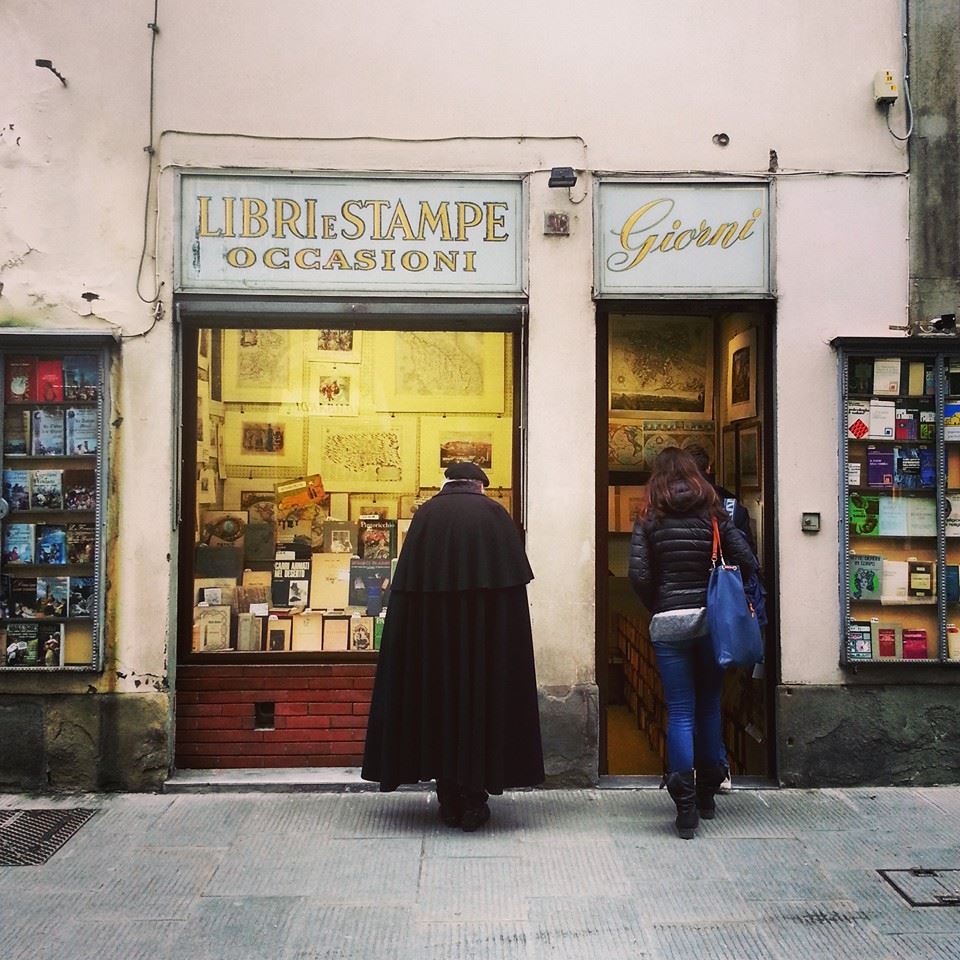 4. You love the street signs modified by street artist Clet and often take pictures or share his news on Facebook. There are plenty other street artists you'll notice too, like scuba-diving famous figures. That's Blub y'all!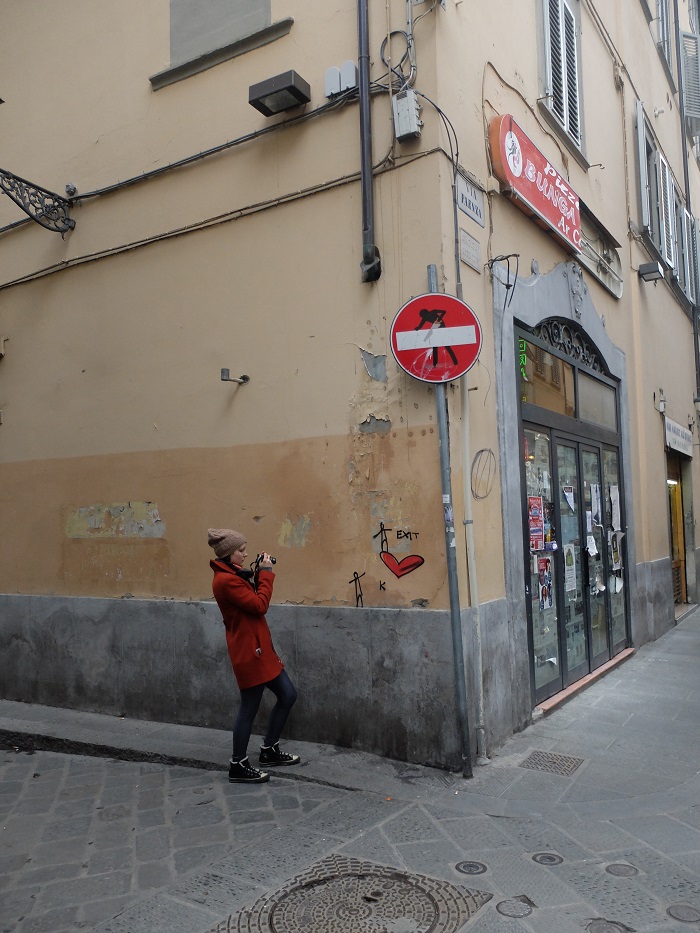 5. If you talk frequently about panini al lampredotto and trippa (animal intestines that are near and dear to any local) traditions to any foreigner even if you don't really like it yourself (I am in this category). For those who DO love it, read this post from Jul's Kitchen written by Emiko Davies on Florentine's most famous street food. Also your favorite cocktail? A negroni naturally!
6. If your gelato preferences rival how Michelin star chefs are selected in France. 'Gelato snobbery' is ripe and saying you like the wrong place can cause judgement for years. If you really want to piss someone off, tell them you only ever buy gelato from the same places that offer waffles to tourists.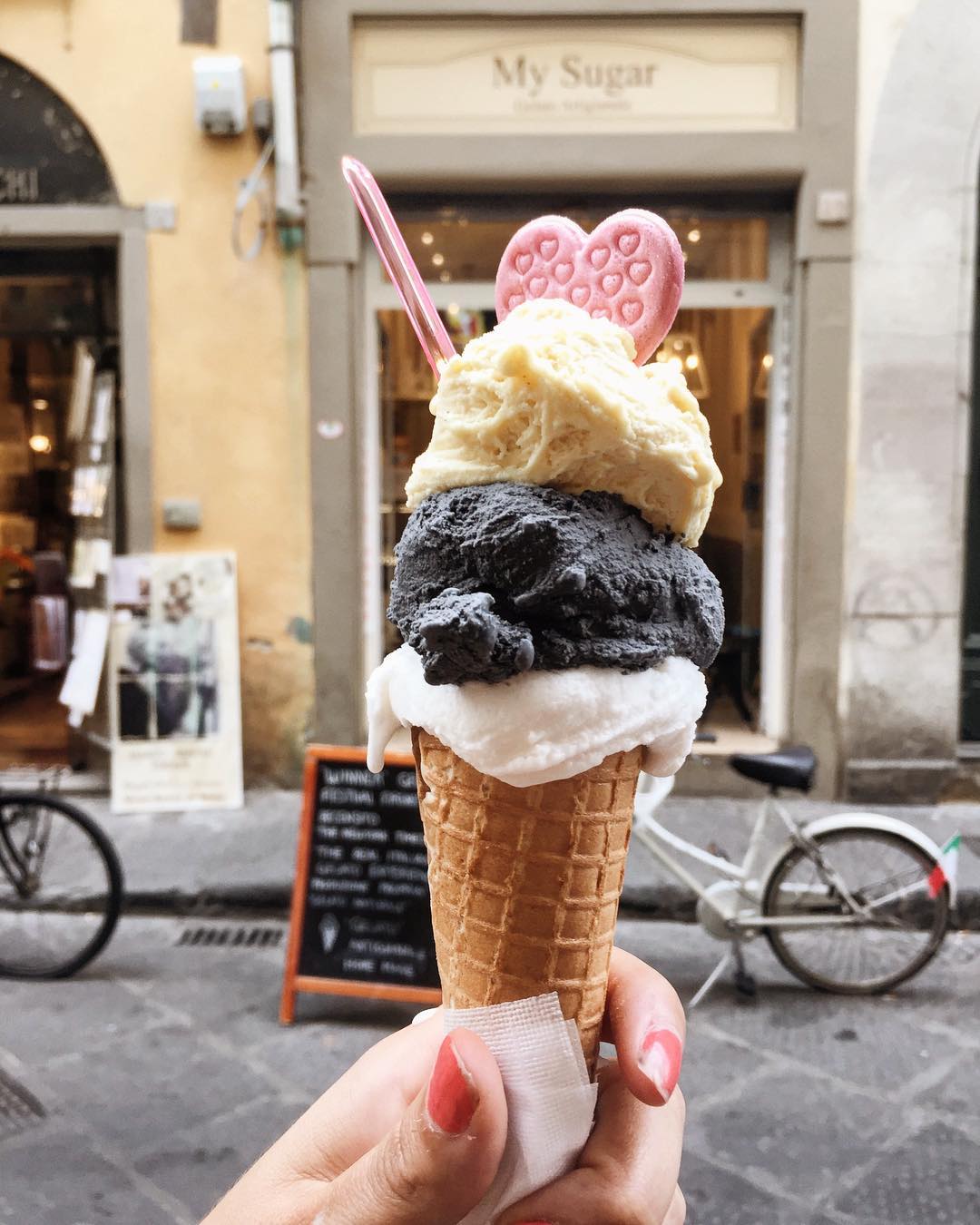 7. If you met, kissed or almost got puked on by someone in Space club, the old 'Central Park' disco and Dolce Zucchero, or Red Garter. Perhaps you even knew about Meccano and how it was supposedly burned down by the ex-Central park owners. And your Italian parents talk about visiting the Red Garter.
8. If you know the story of a window that is always open in the far right window on the second floor of the Palazzo Budini-Gattai in Piazza Santissima Annunziata. A ghost is always there waiting for her husband to come home, which you can read more about here.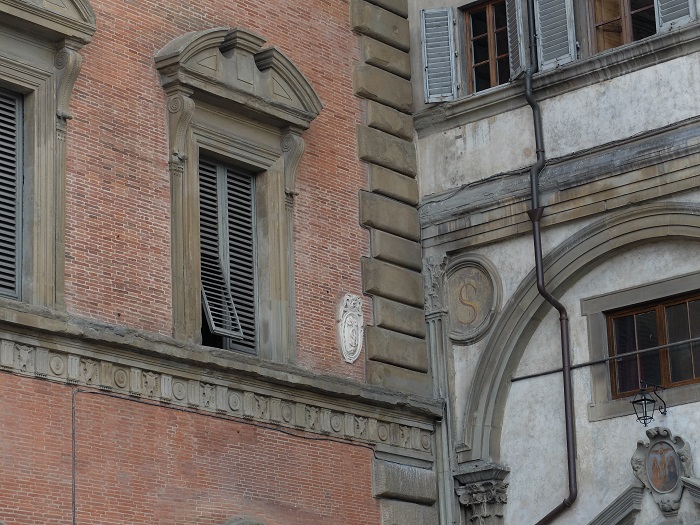 9. While cleaning the floor you might mutter something like 'devo dare il cencio" which unfortunately gets me mixed up with a delicious carnival treat. Oh yeah and don't forget that watermelon is cocomero (local dialect) not anguria (the actual Italian word). Also the letter 'c' often gets replaced with 'h', coca cola anyone? Nope it's 'hoha hola' to you ;-).
10. You know about the 'cornuto' or Bull's head on the Duomo cathedral's facade. Legend has it that the wife of a baker living in front was having a long affair with a carpenter who was working on the cathedral, who then put this bull's head to remind the guy of being 'cuckolded'. You can read more about this tale here.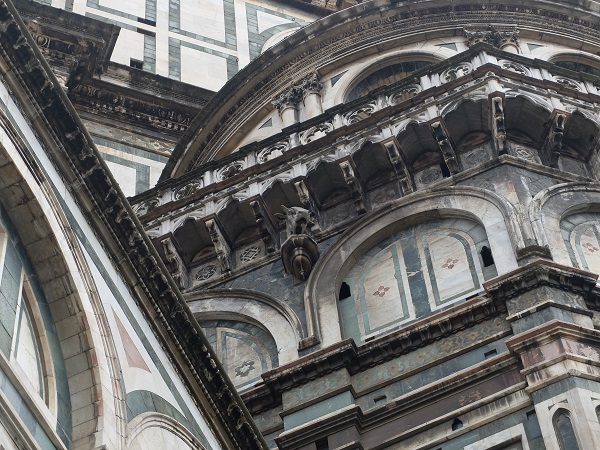 11. Or if you want to refer to that person in the group that always gets up to go to the bathroom when the bill arrives to the table as cheap, you'll probably mutter 'tirchio'. And here you'll want to say that they 'hai i braccini corti o le tagliole in tasca' (have 'short' arms or something in their wallets).
12. You've been hearing about the city expanding the tramvia system beyond Scandicci for years but it seems likely to happen when humans can reasonably inhabit on Mars. One day guys, un giorno..
13. If you've grown up here but still have never been to the Uffizi Gallery, the Medici Chapels or other famous monuments. Always later or during the first free Sunday of the month when everyone else decides to go too.
14. If you shop for your fruit and veggies at the Sant. Ambrogio morning market and not grocery stores, unless you are collecting punti, which must be guarded at all costs.
15. The word 'mi garba' replaces 'mi piace' (I like) to which you totally accept and ask for a plate or ribollita. I say this at least five times a day.
16. If you've gotten pissed about how long the number 14 ATAF bus line runs, a ridiculously long bus line from the hospital on one end of the town, all the way to Girone. And when it rains, you might make it to Moscow on foot sooner.
17. You've had an after dinner/late night drink standing in the freezing cold at a kiosk by the river or deserted square at night, just because. Perhaps this was after you had partaken in Rifrullo's apertivo buffet.
18. You've gotten mad at someone, like a bus driver, and replied angrily with a M'IMPORTA UNA SEGA. Basically a very 'interesting' way to say that you don't give a damn.
19. You have a 'giglio' (lilly) somewhere either on your body, in your house or better yet on your carnival pastry!!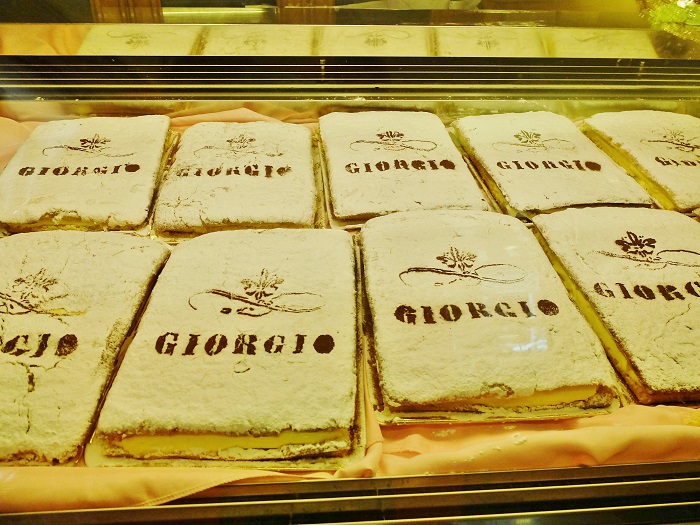 21. When you are convinced that the best food is not only simple, but that also originally comes from the time when Italy wasn't the rich power that it is today (some might argue that it isn't still but I think you get my drift). Dishes like 'Pappa al pomodoro'  made with stale bread (without salt), tomatoes,  extra virgin olive oil and fresh basil and ribollita made with bread, beans and vegetables.
22. You will invite a friend from Livorno and one from Pisa and ask what could possibly be the difference between the two places. This is cruel.
23. You have tried to count the bee's surrounding the Queen on the Equestrian Monument to the Grand Duke Ferdinand I, Medici (hint. There's 91!)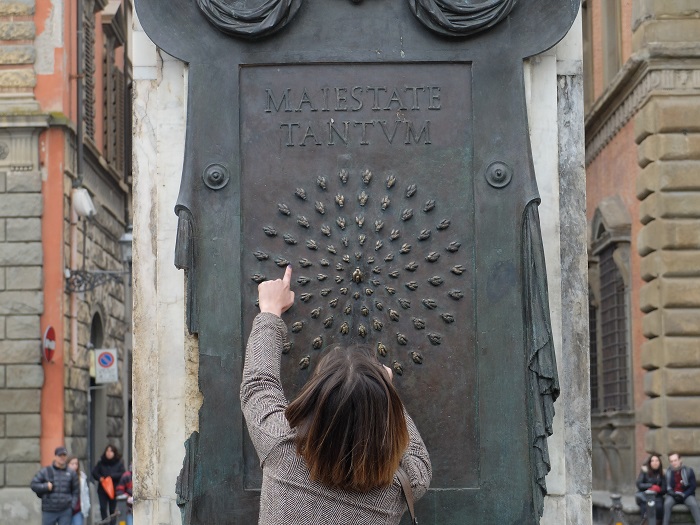 24. If you know that getting your groceries at Coop or Esselunga on Saturday is like entering Dante's seventh circle of hell, yet you do it anyway. WHY? Especially now that they offer delivery to your door.
25. If you eat bread without salt and claim it's the best bread in the world. Toasted bread with new olive oil and (maybe) garlic is the best snack you could ever imagine. Especially in November.
26. If you've been offered light illegal substances in piazza ss. maria annuziata by 'i' Malva'. Florentine website TeLeDoIoFirenze actually wrote a brilliant post including him as one of the four 'characters' in Florence.
---
Other 'Florentine' Resources
One of my favorite features of The Florentine is most definitely the 'florentinisms' section which give you insight on local slang. Or check out a facebook page dedicated to 'You are from Florence if.." 
On Trolls
Fellow bloggers, writers or for anyone who has been trolled, I highly recommend you listening to this podcast by NPR's This American Life, If You Don't Have Anything Nice to Say, SAY IT IN ALL CAPS. Seriously, brilliant.