This week's local I love is someone quite near and dear to my heart, my other-half or as I like to now call him, my 'franco fiorentino' who has (through mild coercion) finally agreed to be one of my interviewee and I am thrilled. Mainly because I think it is more important to learn through a person like him, a perspective of life in Florence more 'normal' than even someone like me working in social media and blogging or as I like to call it 'fantasyland'. Nico is a normal person who came to Italy because of work and shares his unique perspective on Florence and what it's like to move abroad. I first met Nico 6 years ago when his Italian was worse than mine (I can never say that again) and  so many years later, he isn't just 'my friend Nico' anymore :). Let's get to know this French Italofile and read, in his own words what he has to say about life in the Renaissance disneyland.
Name: Nicolas Pradier
Nationality: French
Profession: Biomedical Engineer
Favorite drink: Margarita, Negroni
How long have you lived in Florence and where are you from originally?
I come from a small town called Castelnaudary, located in the South of France, near Toulouse. That's where I grew up until the age of 16 years old, when I decided to study engineering in Toulouse and then Marseilles until 2006 which is the last year I was an actual resident in France.
I started living abroad since then: a few months in Norway, 2 years in Montreal and I ended up in Florence in August 2008. I've consequently spent more than 6 years now in Italy… it went by so fast that it doesn't even seem real!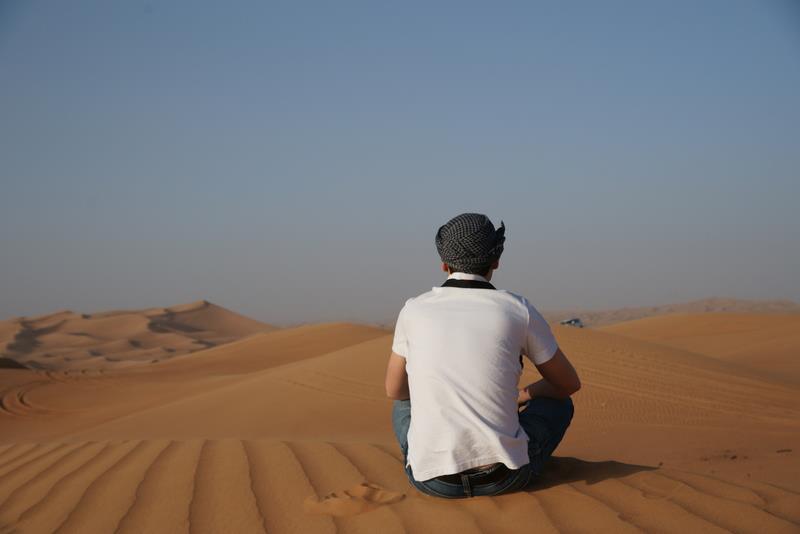 Nico reflecting in Dubai
What brought you to bella Firenze and why did you decide to stay?
After my studies in Montreal, Canada, I was very determined to continue living abroad and was looking for my first job anywhere but in France. I got very lucky when a French company contacted me for a job in its Italian site located in Florence. I got the job right after one interview in the headquarters in Lyon and, even though I made clear that I didn't speak a word of Italian, they did not seem very worried about that and confirmed my hiring.
It was so unexpected and sudden that I was really excited and scared at the same time. I would never have thought to go live in Italy and, even if I had the occasion to travel to Italy in the past (Sicily, Naples, Venice), my knowledge of the country was still very close to the bad stereotypes about the Italians: hand-gestures, speaking too loudly and preferring to eat pasta in order to save money and show off those Armani suits! Trust me, I hate stereotypes now !
My first day of work was on August 4th 2008 and, even if the very beginning was hard (first job, new language, new people, new culture, no friends…), I fell in love with this city and its unique atmosphere… I love the way of life in Florence and this is definitely why I decided to stay.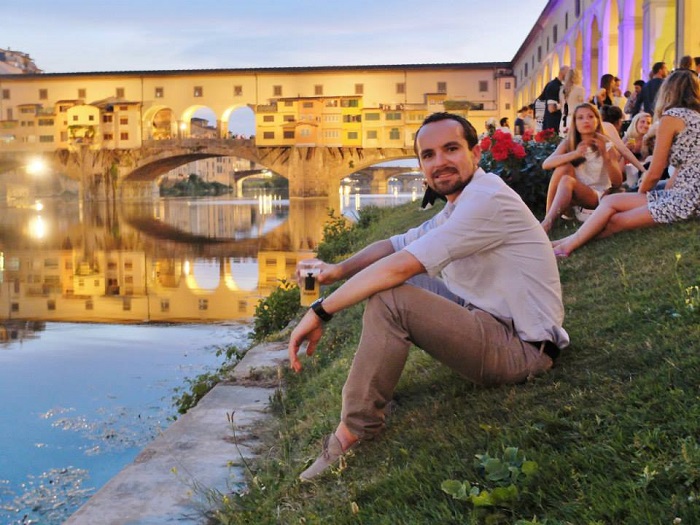 What are you up to in Florence? Work, daily life, passions?
I work for a French company located in Bagno a Ripoli, just outside Florence. I am a biomedical engineer and work in Research and Development of new in vitro diagnostic devices for hospitals and laboratories. In other words, I participate to the design of new devices for blood analysis.
In private, I live with my "Girl in Florence" Georgette (please notice the French name) and my dog Ginger, who are the two beloved females of my life. I participate in many of the blogger adventures of the former while I try to control myself in front of the destructive appetite of the latter. I love my life, it being well-balanced between scientific approach at work and craziness at home – craziness to which I'm now addicted.
If I had to pick only one passion, I would say traveling ! I am all about discovering new places and enjoying some good moments with my Florentine family. I had the chance to travel since I was 7 with my parents and it has become a drug!
I also play the piano, which is a sort of stress relief for me and I honestly wish I could play more. Unfortunately, this is the kind of hobby that can be very time-consuming and I can't manage to put it in my top priorities.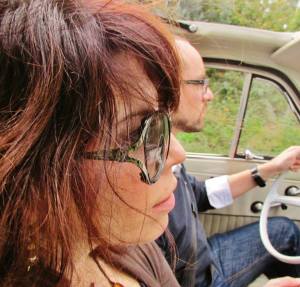 What annoys you about Florence? Tell me the truth!
The everyday struggle to find a parking spot for my Fiat 500 car is what is the most annoying problem is for me in Florence. I live in the historical center and, even if I can drive almost everywhere since I am a resident there, it is still necessary to drive around my neighborhood for a minimum of 10 minutes in order to be able to find a spot… I don't mind the way people drive here (I am actually worse than most of them !) but the lack of parking lots and the incredible number of cars in circulation is insane. Italy is the country with the highest quantity of cars per capita in Europe, and believe me, this drives me crazy!
Do you think life in Italy is for everyone? Why does it work for you?
Life in Italy is not for everybody, that is for certain
To live in Italy you need to naturally own a certain level of adaptability, flexibility and patience that is definitely above the average norm. To me, the people here in Italy are wonderful but it requires a lot of time to get to know them and to let them open up and welcome you completely. In other words, you need to prove your worth… and not any foreigner can handle that.
I think it works for me because my personality is very similar to theirs', I am Mediterranean as well (with the good and bad things that go with it), I love the culture, the language and the diversity you can find here. Besides, I know how to appreciate some very small details in my daily life here, which is key to fully enjoy what some would call the dolce vita… and this helps to forget for a while the stress and the annoying little things that Italy can sometimes generate within us.
It often happens that some people think I am Italian because I guess I really adopted their manners, way to communicate and sense of humor… which are drastically different from the ones in France! That is a weird feeling but I think I was actually more predisposed to live in Italy than in France.
Hence your nickname 'Franco Fiorentino'. What advice would you give a person who has just arrived?
I would recommend not to judge anyone or Italian behaviors in general, essentially come with an open mind. If you come to Italy from a foreign country, it is because you are looking for something different, so why would you complain? Instead, ingenuously share with Italians your enthusiasm for the things you like in Italy and that are very different from your original country and trust me, everybody will love you!
As paradoxical as it could sound, I think that it is a good thing for a foreigner who just arrived in Italy to meet some people from their same country and that have been living in Italy for a while (the ones who are actually enjoying it !): it is simply an easy way to speed up the integration process and meet some of their local friends, smoothing a little bit the trauma of not speaking the language.
Learning Italian is of course the first thing to do. No need to be perfect, but the will to learn must be really there… simply because the language goes with the culture and being reluctant with the Italian language would automatically lead to fail at being well-accepted.
Something that all the foreigners who want to live in Italy should keep in mind is that they are the "new" ones, and that no Italian was waiting for them to go ahead with their business.
Always remembering that they are the only ones that must adapt and being as humble as possible is the only true advice that I could give to newcomers.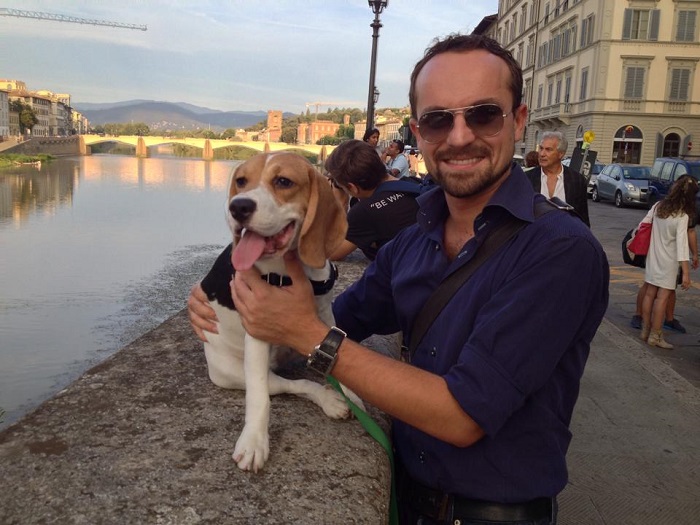 Great advice! Three finds/places everyone should know about in Florence?
Piazza della Passera (close to where I live, beautiful and very bustling piazzetta !). You will find there good cocktails, Tuscan food, tapas and even amazing gelato
The Corridoio Vasariano, for the best view over the Arno and for the feeling of mysteriousness it;s visit provides. Unique!
The roof terrace of Hotel Cavour, for me the best view of the city! Having an aperitivo there will make you forget the small stuff!
What's the weirdest thing you have seen/experienced in Italy?
The gypsies who are slightly smelly covered in white paint (trying to be 'street performers) trying to noisily kiss people and kids while running like a fool in Piazza Santa Croce and asking for money. Super creepy!
What can you do here and nowhere else?
Take a walk, honestly wherever in the city center, and have the feeling to be truly privileged. I really believe there is something in the atmosphere of this city that it is impossible to find anywhere else. That sounds cheesy but the more I travel, the more I appreciate Florence when I come back, and I am very grateful for my life here.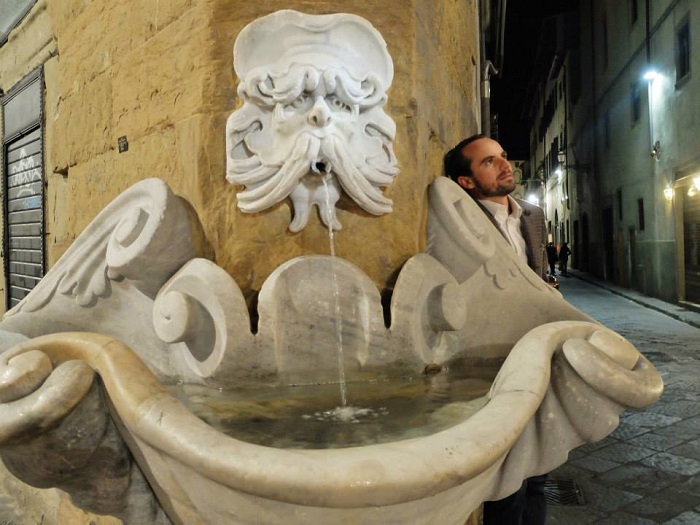 Favorite food? Doesn't have to be Italian 😉
French cheese – bien sur! (Camembert, Roquefort…), Tagliolini al tartufo, pasta al forno (by G.J), tacos and G.J's mexican food, Sushi, Indian food like curry and samosas.
I did not pay him to say that! If you had to make up a tagline for the city that you truly believe – what would it be? Be creative!
Il y a des villes comme Florence et les petites villes de toscanes (…) qui portent le voyageur, le soutiennent à chaque pas et rendent sa démarche plus légère. D'autres qui pèsent tout de suite sur ses épaules et l'écrasent (…) et il faut y apprendre peu à peu à se redresser et à voir.
"There are cities like Florence and the small towns of Tuscany (…) that carry the traveler, support them with every step and make its lighter approach. On others, weighing immediately on his shoulders and crush (…) and you have to learn gradually to recover and see"