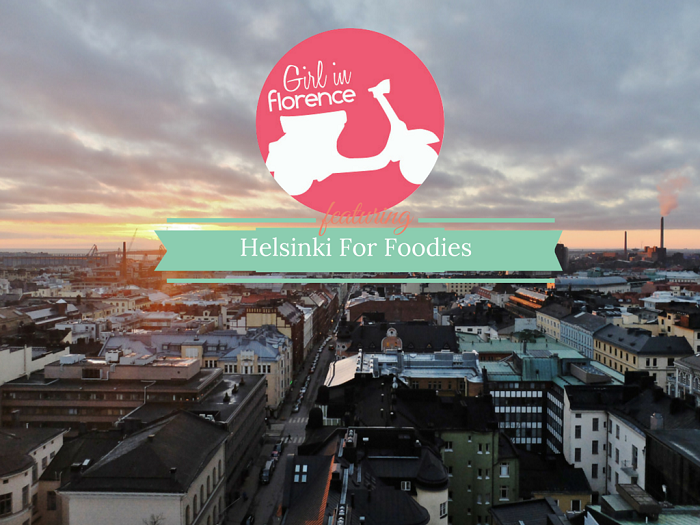 If I had to describe what food is like in the Finnish city of Helsinki – I would  first imagine myself lingering over a sumptuous bowl of porridge. Creamy, full of butter and peppered with red berries and a dusting of cinnamon. Or perhaps breaking a piece off a steaming cinnamon bun to dunk into my coffee, or tasting a first bite of smoky, perfectly cooked Salmon.
While I may at this very moment be drooling over my laptop, I admit that I probably ate my weight in gold while in Helsinki or let's be honest, anywhere we go. Starting with the beauty of a nice hotel breakfast.
The thing about hotel breakfasts is that it doesn't really matter if I am hungry or not, if the breakfast buffet looks good, I will attack it with a ravenous force that I never feel at home. Well perhaps skipping the smoked herring at 8am. Luckily for us there was not an overcooked croissant or soggy banana in sight.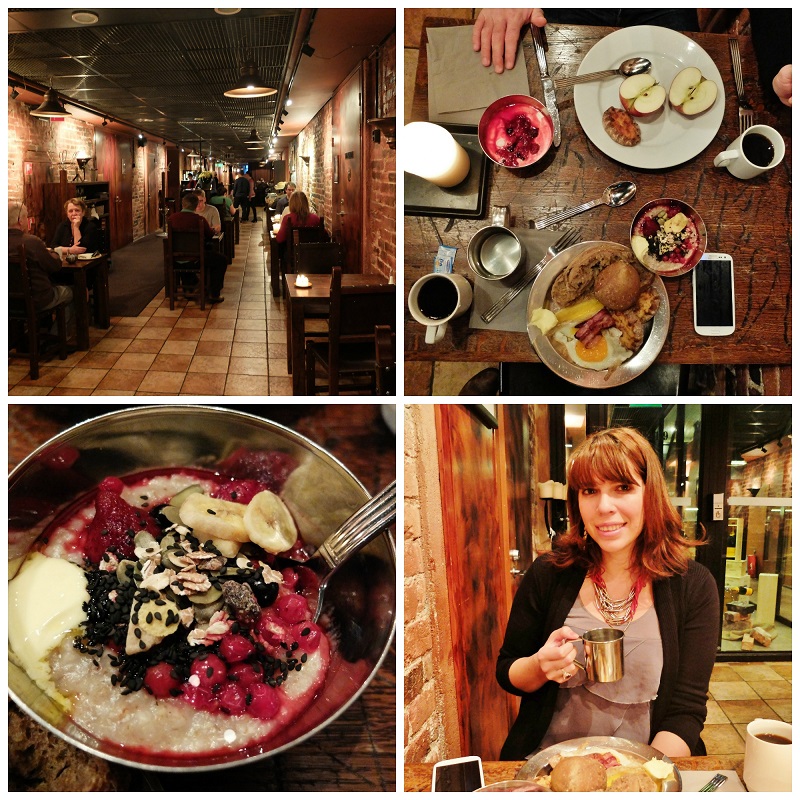 On our recent short weekend break in Helsinki, we ate like kings. I don't know what I was expecting but I was so surprised at the quality and variety of flavors that this Northern European country has to offer. Seasonal is king and we were there in December which meant ham, rosolli salad, root vegetable casseroles, ginger biscuits, Christmas pies and my favorite mulled wine were what we needed to sample. When in Finland, don't freak out if you don't recognize the dish, ask for help and be open to trying new foods, we were never disappointed here.
Night One – We (er) Ate Rudolph
After a pretty hellish layover in Munich for seven hours, when we arrived at the airport in Helsinki, we hailed a cab and made our way to the hotel to drop everything off and look for a place for dinner. I wasn't in the mood to search on Yelp or online since it was quite late, veering on 9:30pm but we actually took a risk and stopped at a place in front of Senate Square, arguably the most touristic area of town. The restaurant was called 'Sunn' and was located above Cafe' Engel facing Senate Square.
We walked up the stairs to find a restaurant absolutely buzzing with locals celebrating pre-Christmas parties. They were able to accommodate us and we started off with a mulled wine cocktail with plenty of ginger to warm us up for dinner. We shared a starter, since beets were in season we went for the roasted beet root and calvados pumpkin with spicy sausage and quinoa. Beyond delicious, this was bursting with flavor – the perfect start to a good meal. I chose a dill-marinated cray fish salad served with a brioche, cucumber with lemon and French cream dressing while Nico decided to eat Rudolph or rather elk meatballs with brussels sprouts.
The last dish doesn't sound all that appetizing but apologies to Santa aside, it was one of the most fabulous meatball dishes we both have ever tried. My salad was  fresh and flavorful, and was my first foray with fish in Finland (definitely not the last). Besides the wonderful food, the ambiance was warm, inviting and not at all stuffy. If you call for a reservation, make to ask for a window table facing senate square for some magnificent views. Prices are higher in Finland than Italy but this was not at all a very expensive restaurant, you just want to be careful adoring alcohol because it is very highly taxed here.
I have never eaten this well in a touristic square, they could teach Italy a thing or two about that.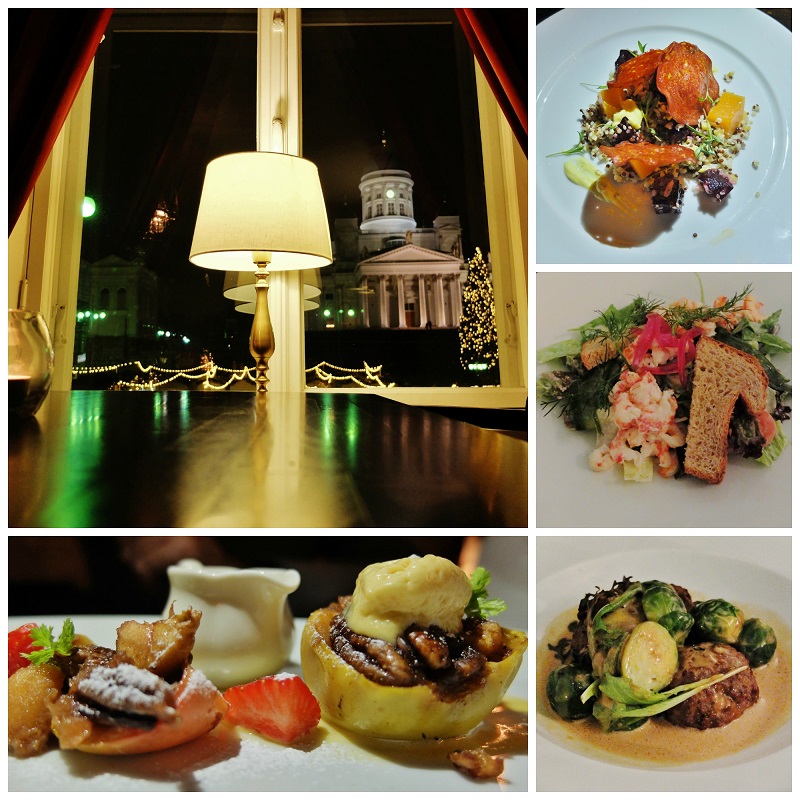 Saturday Morning: Regatta Cafe
How can I describe the wonder that is the Regatta Cafe in Helsinki? I knew I wanted to visit what was described as a small wooden cafe along the water close to the Sibelius Monument in the Töölö  area. The cover picture features korvapuusti aka a cinnamon bun from Regatta and it was really was the best I had ever had.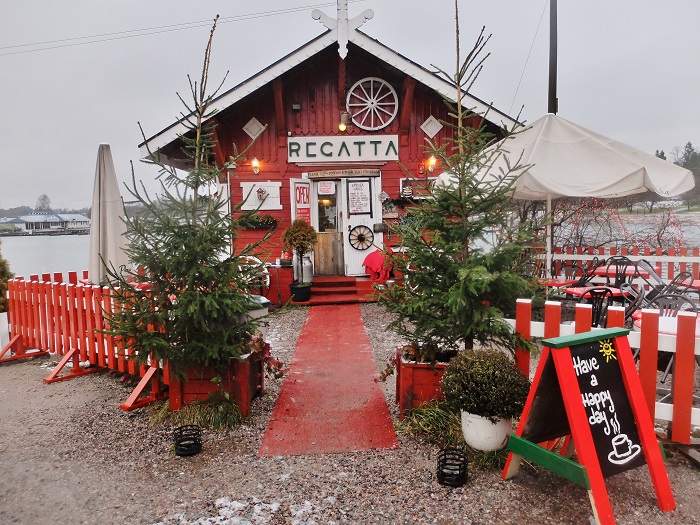 The girls working there were even kind enough to tell us about some of the activities around Helsinki that weekend (St. Lucia) and it is one of those places that I wish we could have went a second time. The next time we're in town this will most definitely be on our list to see again for its essential Finland feel.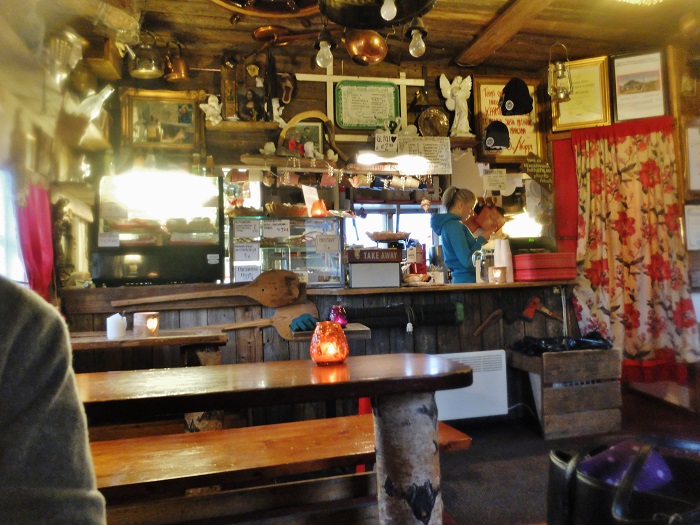 Every City Has Their 'Harrods'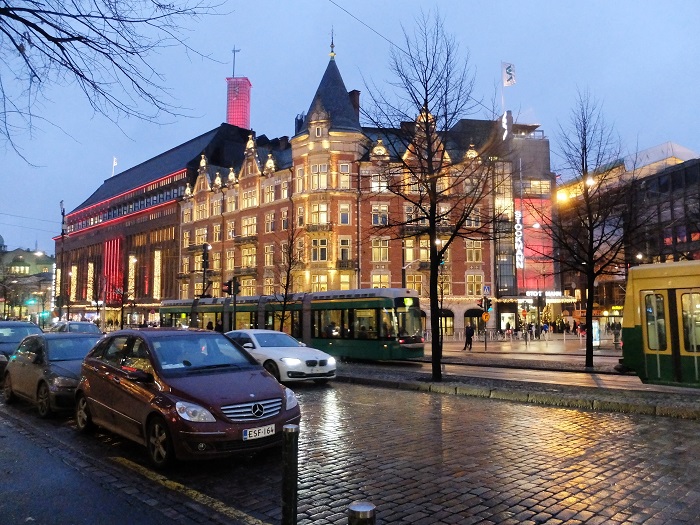 One place that many locals recommended we stop by was the Stockmann department store located in the center of town with seven floors that people can visit, including one with a visitor's center and even offering free tax advise (wish Italy had that!). For the spirit of Christmas, we decided to stop by and do a little browsing. Despite a live concert in the menswear section with Helsinki tweens snapping pics on their iPhone, we stuck to the area we cared about the most. The food. 
Knowing that there is always a gourmet foodie level in these sorts of stores, we headed straight there to gaze at gingerbread houses shaped like the senate square and grab a few presents to take home as well since Finland produces a lot of wonderful things, not least of all quality chocolate and candies. I am not a 'chocoholic' like many other women are but Nico is so as soon as we learned about Fazer chocolate, we took home at least five bricks of the stuff. The best being the original Karl Fazer Milk Chocolate bar, sweet sweet heaven! You can even visit the factory in Helsinki if you arrange in advance.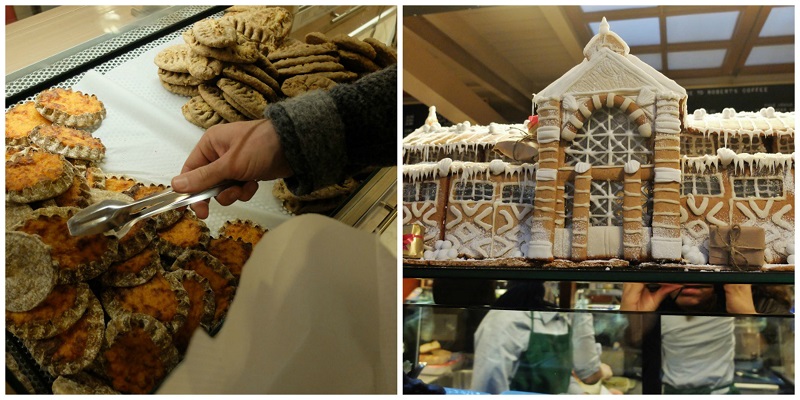 We also picked a few fresh Karjalanpiirakka, which a sort of 'rice pie' served along with egg butter that sounds a little weird but that I promise you, insanely good. I liked them so much that as soon as we got back to France I looked them up online, using every constant in the English alphabet and eventually found what they actually were, plus this recipe from the blog Cake crumbs & Beach Sand.
Let Me Tell You a 'Story'
Near the water in the south harbor lies the Old Market Hall, a beautiful small building gracing Helsinki since 1889. For me, felt a built like it belonged in Boston. Here you can buy shellfish, get a coffee, pick up a can of bear pate, eat salmon 'roe' (eggs) chat with people and have some wine. It's the first fish market that I had ever been to that didn't actually smell of 'fish' or rather perhaps it was so fresh. We had a blast checking out what was in season among many other people doing the same exact thing.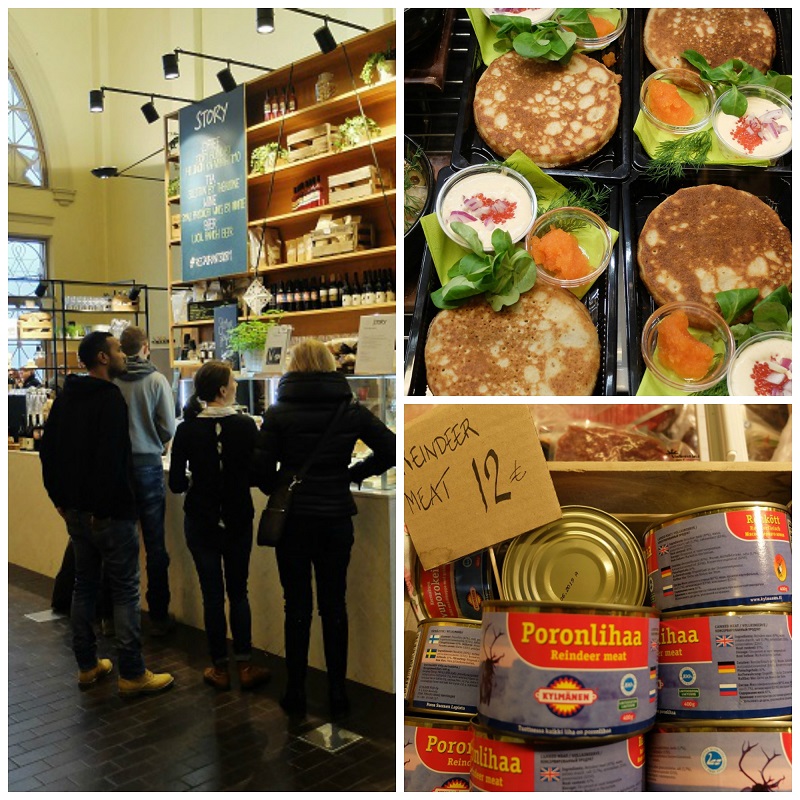 While we ate at a tiny place in the corner of the hall, trying salmon eggs over savory pancakes (great), I sort of wish we could have eaten at Story, the 'prize' of the hall. Only open since last summer, they serve fresh sandwhiches, soups, burgers and seasonal salads – everything looks like it came out of pinterest. Even the water is artistically presented. Another good foodie choice in the Old Market is the soup kitchen or (Soppakeittio) as its known to the locals. An affordable lunch option, they serve three different soups every day along with fresh bread, generous portions.
Keep in mind that they also have an open-market the first Sunday of the month at the Hakaniemi Market Square. We were actually there the second Sunday and there was a small outdoor market in front of the harbor, so perhaps opening times are flexible. Besides purchasing a few gifts and a nice print of the city, we also spotted many jars of 'lakkahillo' aka cloudberry jam, a local berry only found in Northern Europe. Thinking back, I wish I would have picked up a jar since I certainly am not going to find this in Italy.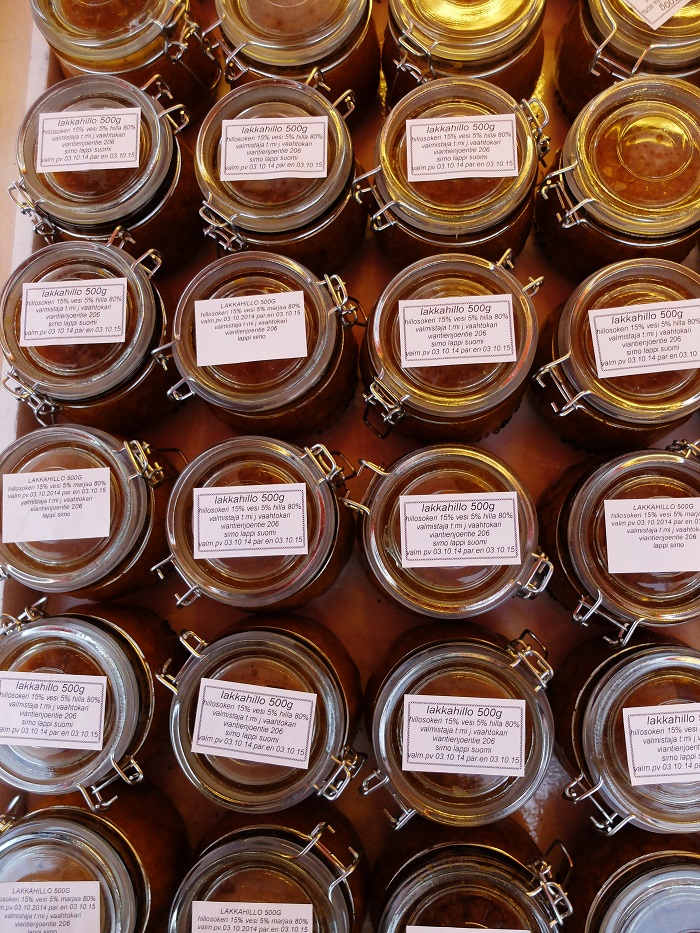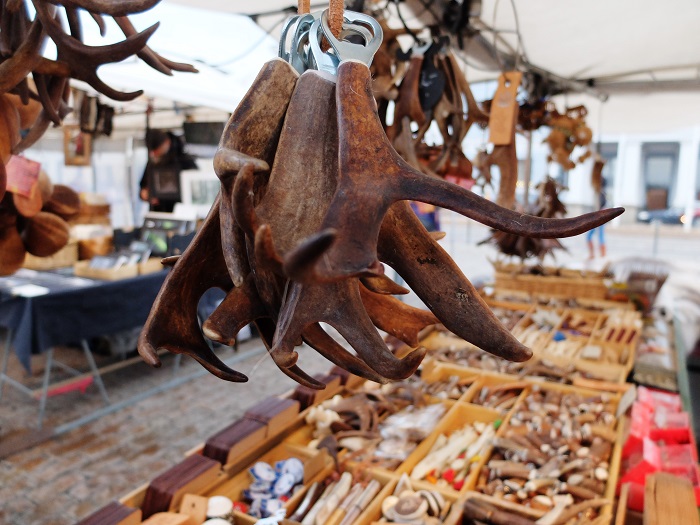 Buffets that Make You Actually Like Buffets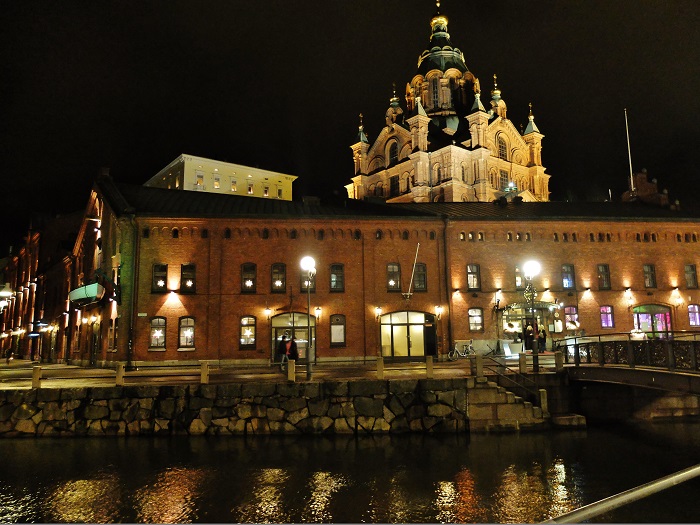 While I am definitely not the kind of gal you would see at a 'Hometown Buffet' I heard nothing but good things about the Finnish version, especially around the holidays. Nico and I were invited by Visit Helsinki to try the Kulosaaren Casino out with our guide Maria, which is situated on a beautiful archipelago on the waterfront. According to wiki "Designed by the architect A. Nyberg and completed in 1913, it was created for the use of Russian imperial officers during the period of the Grand Duchy. The building was seized by revolutionary forces in 1917 and, since Finnish independence, the place has become a favorite venue for various Finnish military organizations"
Even though my luggage had yet to arrive from Lufthansa, I double-applied my red lipstick and put on extra perfume as this place was quite elegant and teeming with well-dressed Finns.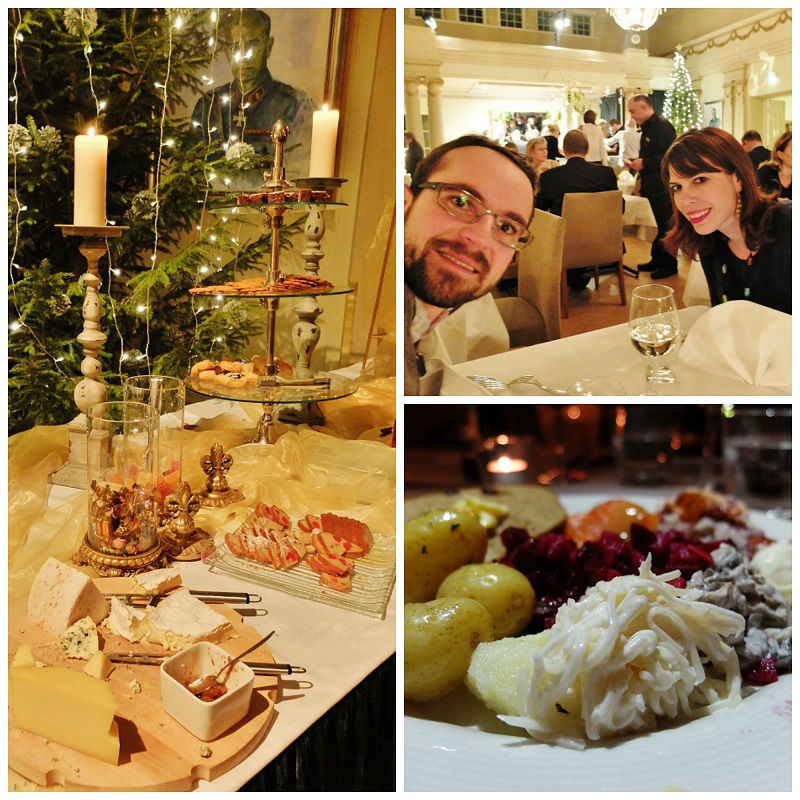 The ambiance was very 'old world' with white tablecloths and old photos of famous Finnish military figures. Though I was feeling less than 'fresh' luckily for me the food was, we were treated to a traditional array of starters, main courses and desserts that are all normally part of a Finnish Christmas buffet. We all preferred the starters, especially the very fragrant and flavorful smoked salmon, roasted beets and blackcurrant sauce. The casseroles were very nice too even I couldn't remember the names, one most definitely was made with sweet potatoes and root vegetables.
I could have lingered here for hours, but as we left we saw a wedding reception in a downstairs ballroom. The bride and many of the guests waltzing to traditional music. It almost felt like we wandered into a Gone With The Wind movie set. I asked Maria how it was possible that so many knew how to dance and she told me that in Finland, students learn traditional wedding dances before they graduate. If that isn't a civilized society, I really don't know what is.
Since this was a short trip, just a weekend, we only had time for one more memorable meal. Lunch before departing back to Italy on Sunday. The place we chose was yet another buffet and located in the basement of a department store in central Helsinki, called Armas Kitchen & Winebar. I am so happy that this was our last foodie memory of the Finland.
Once again, the design is spot on. Very clean and modern, with plenty of wood and colorful chairs. The menu was small and easy to decipher. We ended up going with their brunch buffet which was better than we could have every imagined. The cook explained each and every item on the menu and next to us, a large church group had gathered. Drinking prosecco and eating smoked fish kebabs with a fury that only meant that we came to the right place.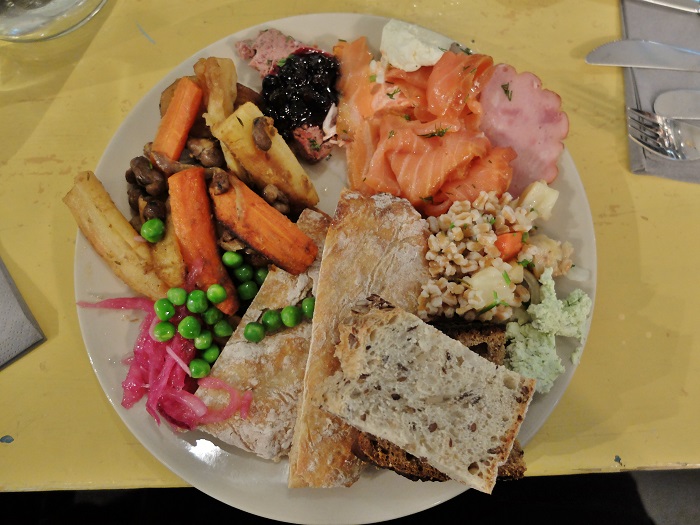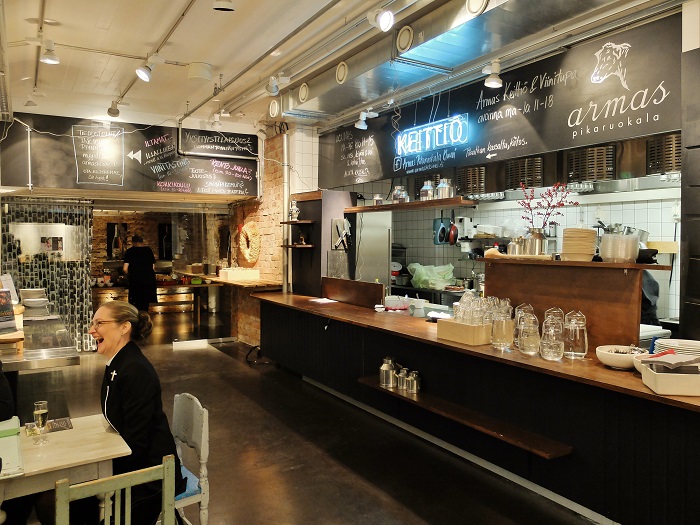 Armas was a find by Nico, my Frenchy is becoming quite the 'foodie' himself and also looks for something fresh but representative of the place we're visiting. Finnish food is simple, unpretentious and delicious, probably one of my favorite cuisine in Europe, also because its refreshingly different.
We also stopped by many times to their local coffee pride and joy, Roberts cafe. Like their version of 'Starbucks', only they aren't trying to take over the world anytime soon. Finns love, I mean love their coffee and its nice to know that they have something of this level of quality that has remained local.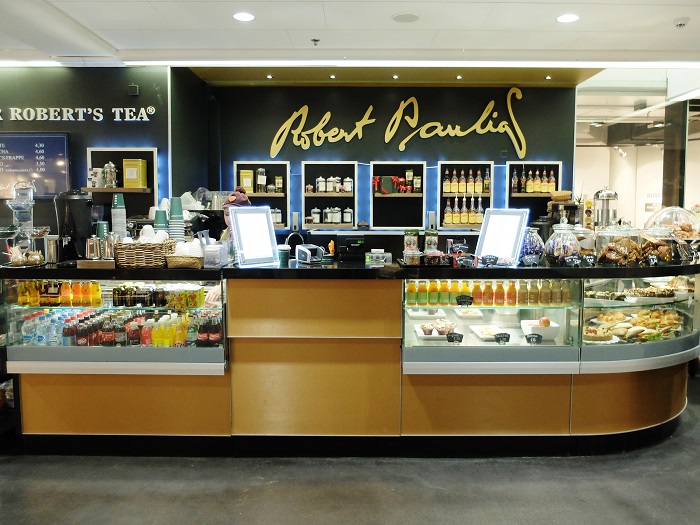 Have you been to Helsinki, what places should I add to my list of foodie hotspots for our next (hopefully summer) trip? 
---
 Foodie Resources and Article Mentions
Before going, read about Finnish cuisine here to see what's in season during your trip. I relied very heavily on the 'eat' section of Visit Helsinki while researching this trip that they so generously sponsored flights & accomodation. All opinions are my own and one thing is for sure, I will be back, fork or spork or spoon in hand,