My first impression of Helsinki was that of calm tranquility and the overwhelming feeling that this is a city that treats its residents quite well. Something I don't always feel while living and working in Italy. While for me personally, it doesn't have that immediate 'wow' factor that many cities like Rome or Florence have. Italian cities have an uncanny way of delighting the senses, must be the wine. Instead in Helsinki, the longer you linger, the more you seem to notice the pretty incredible details.
A quiet calm omnipresent, which you eventually really appreciate and crave.
It's the kind of place that embraces quirky ideas, such as the four-times-a-year 'Restaurant Day', when anyone can transform his or her home into a temporary eatery.
After spending a weekend in the city named 'world design capital' in 2012, this post is part one of three posts I am writing on my recent visit here this December courtesy of Visit Helsinki.
While both Nico and I tend to love being around crowds, we both adore the buzz of a crowded restaurant where we safely cocoon ourselves with a bottle of wine among the busy chatter. But here, we embraced a rare feeling, that of feeling truly 'relaxed' giving us the chance to observe more.
The more we walked around, the more we started to actually notice things, small details but ones that needed to be noticed. Art-nouveau doorways, a bustling cafe full of pre-Christmas parties with locals, the vantage point below a myriad of steps of the majestic Uspenski Cathedral, a unique window display, and most of all – the simple kindness of the people.
Helsinki is full of hidden corners, so many that I left feeling like I really needed to come back.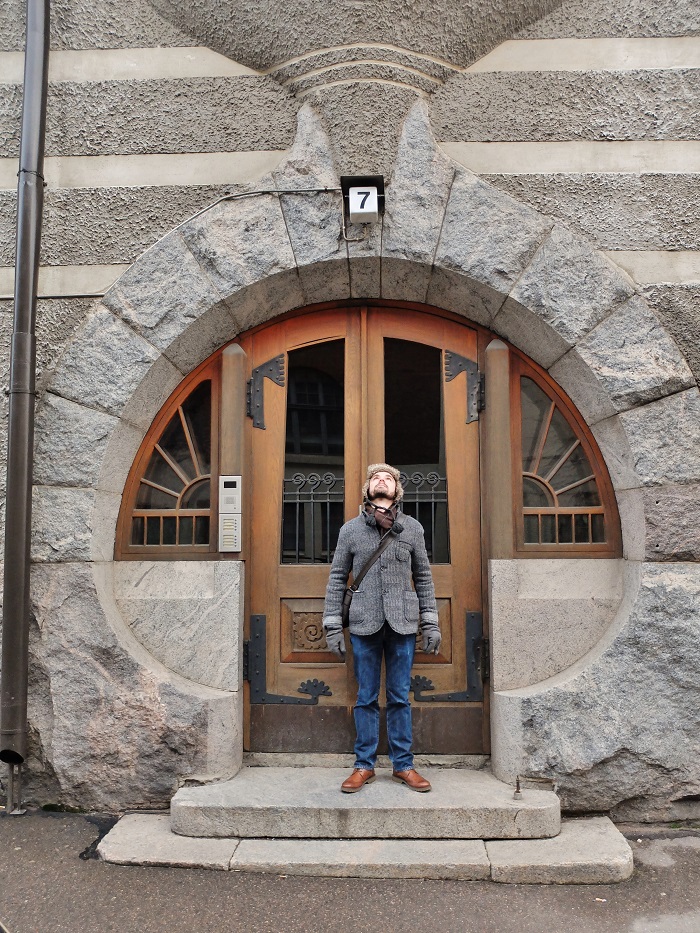 The Art of Simply Being 'Courteous'
No doubt we felt this due to the fact that people were not clamoring to be first in line looking for an opening to squeeze ahead, choosing not to scream over one another but quietly chatter. I didn't have to arm wrestle an old woman to see the famous 'St. Lucia' annual parade where thousands of people gather in senate square. Instead people instinctively moved over when you wanted to pass. We both stopped our normally 'aggressive' stances, learned and finessed over years living  in Italy, after just day two in Helsinki. No longer did I need my 'oh hell no' glance. From what I can gather the Finns are a pretty awesome bunch. They are there when you need them but never impose on your personal space. The biggest privilege of every citizen here besides civil liberties is most definitely personal privacy.
Neo-Classical Nucleus 
Probably the most iconic building in Helsinki is the Lutheran Church, one of the three dominate buildings in senate square which were all designed by Carl Ludwig Engel on authorization of Czar Alexander I. The steps in senate square (pictured below) are a famous meeting point for many of the city. From below, they give the impression of being almost never-ending. During the annual St. Lucia parade, the girl chosen to represent this famous Saint makes her way down the steps to happy onlookers, her golden hair glowing with a wreath of candles.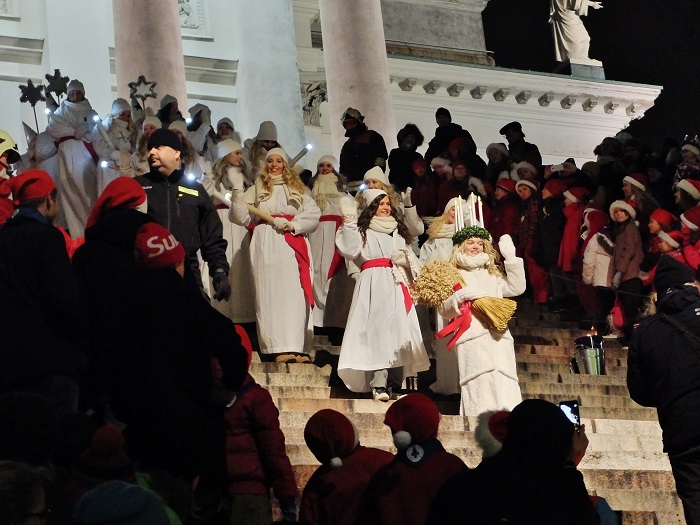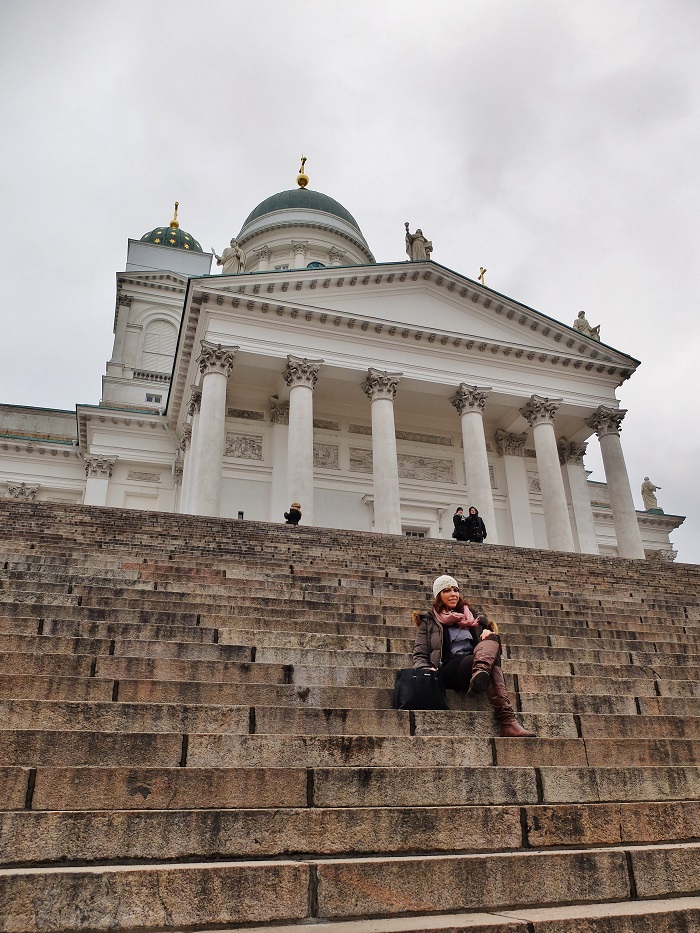 A Design District to Write Home About
In 2005, a local initiative had a pretty unique idea. Why not put creative local businesses (jewelry makers, design and antique shops, fashion stores, museums, art galleries, restaurants, hotels and showrooms) all in one neighborhood, in a span of 25 streets in the districts of Kaartinkaupunki, Kamppi, Punavuori and Ullanlinna (and no, I cannot pronounce any of them).
We were lucky enough to have the map in hand, along with our trust Helsinki Card which took care of public transportation and many major attractions. Our plan was to be 'very American' and get a coffee to-go, the local Robert's Coffee, founded in 1987 in the harbor district of Helsinki and dare I say much better than Starbucks. That's what happens when you have seven generations of coffee experts running a business in a country that consumes more coffee per person than anywhere in the world (average is 12 kilograms of coffee per Finn). Condenast recently named Helsinki as #1 in the world for coffee drinkers, so as you can see, I'm not alone!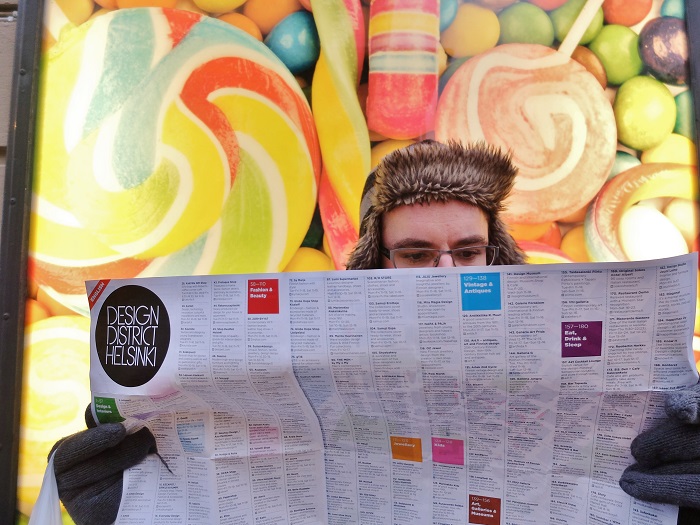 Armed with our trust 'Design District Helsinki' Map and ready to explore.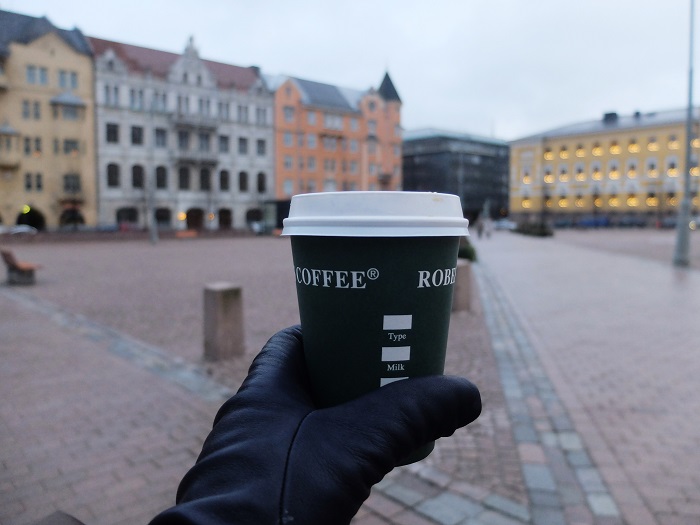 Together with a cup of Robert's (gingerbread latte) coffee, our shopping exploration is properly caffeinated. A must for this girl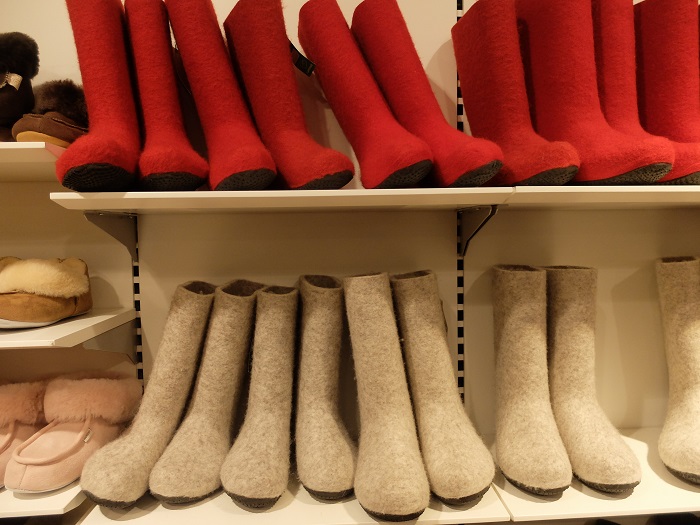 Artisan-made local boots for those cold winter days, and there are many!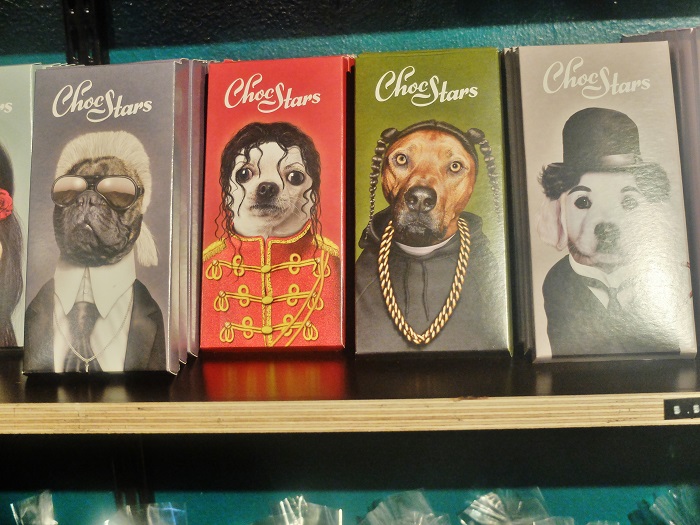 Our first stop was new candy shop Roobertin Herkku run by siblings Martti and Marja seeking to revive a dream first thought about by their grandmother who had a deli by the same name in the 60's. Inside you will see bright pops of color together with tons of options for the sweet-obsessed (like Nico) plus an area with hard to find American favorites like Sugar Daddy's and Pop Tarts.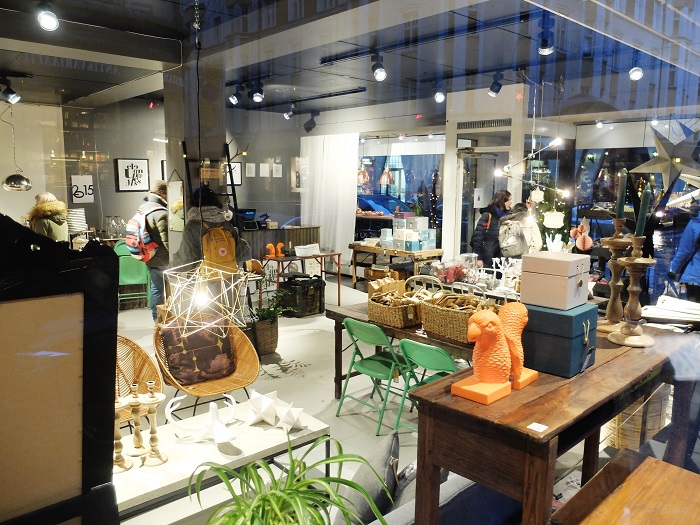 The home design shops in this area are dreamy. If you are a fan of pinterest, especially anything designing your living room or office space – everything looks like a 'pin' in the design district in Helsinki. Everywhere you turn you stumble upon floor to ceiling windowed interior design shops and I loved them all. Cheap they were not, but you definitely can tell that quality was high. Check out this list of shops in the design district.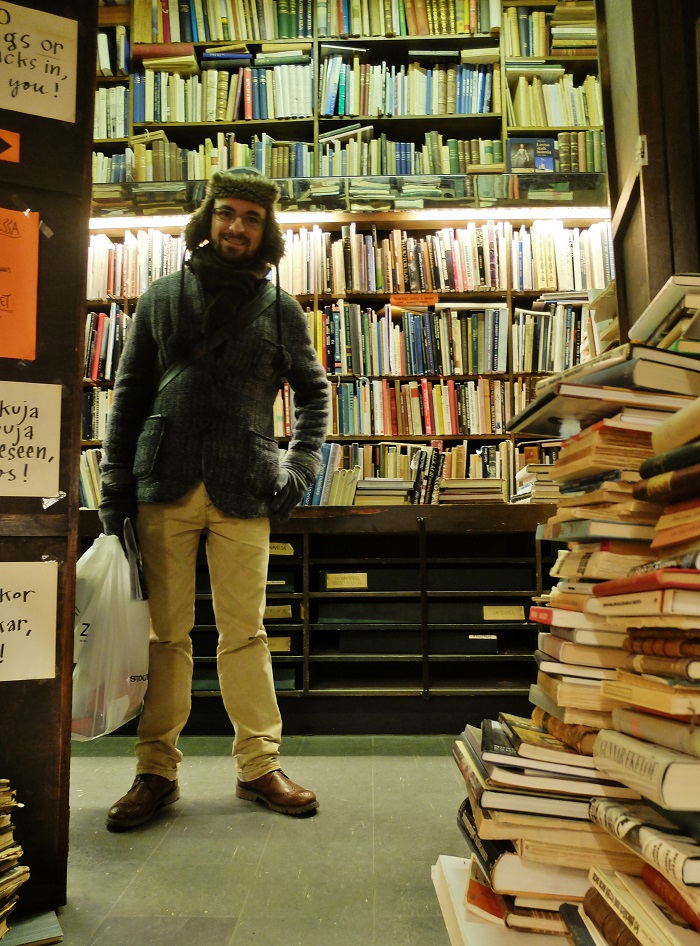 An unexpected find was Hagelstam's International Bibliophilic Antiquarian Bookshop in the design district which had to stop at. I am a sucker for bookstores, which are dying due to technology and fewer people buying real books. I have a kindle but I certainly still prefer opening that first page of a good book, who wouldn't? Hagelstam feels like another world, one which I am convinced that anyone would find charming. Books can be found in all languages, plus a selection of rare editions, maps and prints from 16th-21stcenturies.
For the Love of Trains
You might be wondering who would visiting a tram history museum besides my late grandfather and those who love toy trains but you would be surprised. I actually wasn't planning on visiting this museum because it was a little out-of-the-way but as we were returning from a visit to the Sibelius Monument in the district of Töölö, we stumbled upon this old tram depot and decided to pop in for a look around.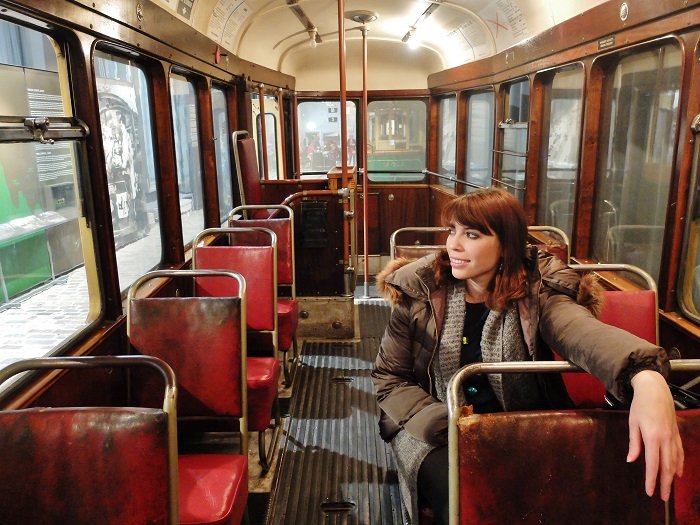 The tram museum is part of the Korjaamo culture center, free to visit (it is very small) and is more interesting than you might think. Trams have been running here for over a 100 years and in this museum, you are treated to what it was like to be a passenger, even from a century ago.
At the same time, there was a pop-up Christmas market in the cultural center which we visited and ended up purchasing some local tea and items that were made by local artisans. It was the cleanest, calmest market I have ever been to with lots of interesting designs for items like pot-holders or piggy banks.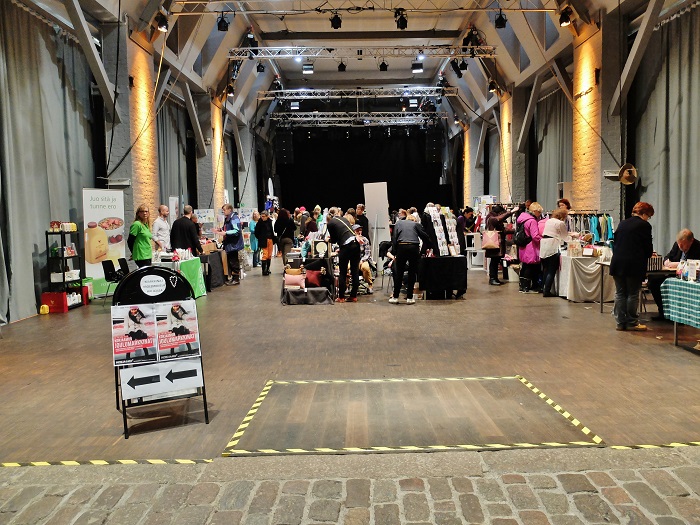 Hometown Heroes
I had no idea before this trip that Helsinki was home to some really famous and talented designers, revolutionary in their own way and according to locals – still remaining humble. Thanks to our incredibly informative tour guide, Maria Hanninen, we now can obsess over these fashions as much as the Finns.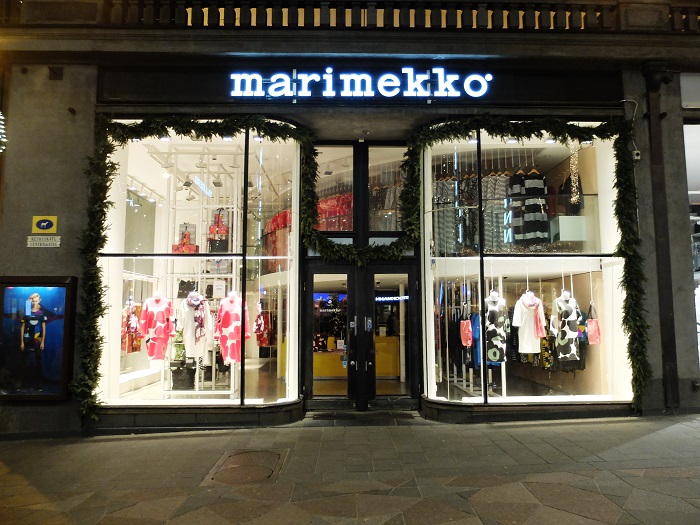 Marimekko has been around since 1951, founded by  Finnish couple, Armi and Viljo Ratia. Their textiles and patterns are quite bold, most locals can recognize their products on the street, a label that invokes childhood memories. Famous people who have loved this brand include Jacqueline Kennedy Onassis.
According to apartmenttherapy.com "Marimekko fit neatly into 20th-century Scandinavian design in general. Scandinavian design is characterized by simplicity and practicality, clean lines and hygiene, bright colors, references to nature, and, fundamentally, the idea that things must be easy and comfortable for all people to use, including children. Marimekko embodied these traits not only in their designs but even in their marketing." One disclaimer about whether or not Finland is part of Scandinavia, it isn't (instead it is labeled as a 'Nordic' Country) residents don't mind if you confuse the two, after all it was once in the hands of Sweden.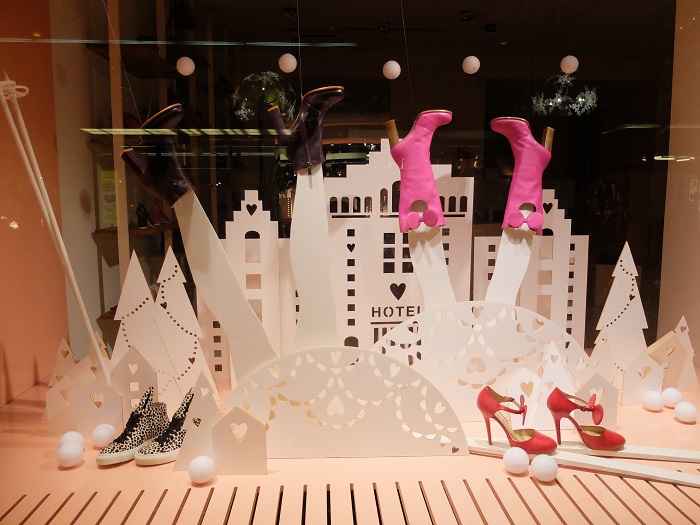 My next favorite is definitely Minna Parikka, who was started by a young Minna only 15 years of age who decided she was going to be the next shoe maven in Helsinki. Her designs are so popular that they grace the feet of Lady Gaga, Taylor Swift, and hopefully mine one day. She's bold, she's fun and she's been featured in Vogue. If that's not a success story, I'm not sure what is.
"My designs are like love letters from one shoe lover to another. Life is too short to stake style too seriously"
That is 100% Minna and shows you just what kind of person she is. Her shoes are a mix surrealism, playfulness and contemporary design and a visit to her Aleksanterinkatu 36 Helsinki store is a must. Not least of all for the mirrored kissing booth inside.
The Men Who Bring Light
A visit to Helsinki wouldn't be complete without a visit to the central train station, if anything to see the interesting architecture as explained by our guide Maria. Designed by Eliel Saarinen in 1909 after winning a competition. The building itself is constructed using pink granite and you can't help but miss the (below) huge statues at the main entrances to the station, a clever way of incorporating light. Also note the beautiful copper-topped clock tower.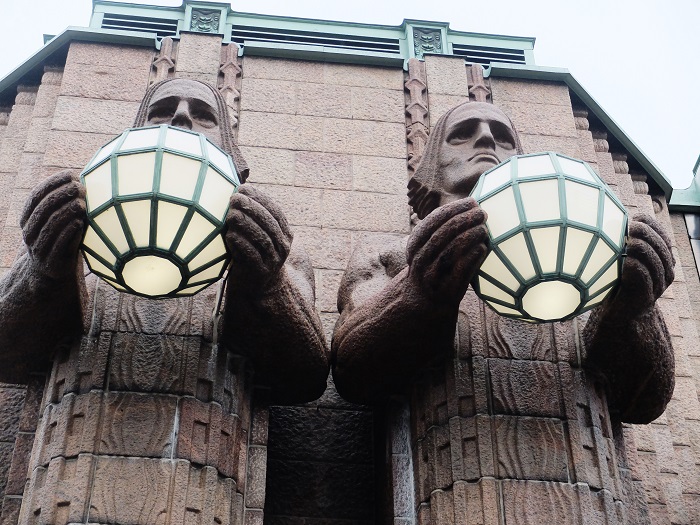 What I found most interesting is that Eliel also had a son, who became just as famous as his dad, Eero Saarinen. Not only do they share the same birth date, they both became major players leaving lasting influences in the cities featuring their work, like Helsinki. While father Eliel did more art nouveau-inspired works (a style later christened as Finnish National Romanticism), Eero was much more into international style, and designing curvy landmarks like the TWA Terminal in Dulles International Airport.
The Sarrinens moved to the US after Eero was born, but Helsinki beckoned and after graduating in architecture from Yale University, a young Eero  received in 1934 a travel grant from his alma mater permitting a two-year stay in Europe. which he mostly spent in his birthplace in Finland. His major work in town were the extensions to the Swedish Theater in Helsinki. A dynamic father and son duo if you ask me. Read more about them here.
---
Useful Resources
I could not have planned this trip without the valuable help of Visit Helsinki, who are the ones who graciously sponsored my trip to their beloved city, follow the fun at #visithelsinki. Some of the articles I found most valuable to help plan your 'devil in the details' tour and which correlate to this post are:
Local Tour Guide: Maria Hänninen, find her here and check out her great instagram.
Places mentioned
Roobertin Herkku Candy Shop, design district, Fredrikinkatu 19, 00120 Helsinki, Finland. Open daily 10am – 8pm.
Hagelstam's International Bibliophilic Antiquarian Bookshop, Fredrikinkatu 35, Helsinki. Open Mon-Fri 10-6pm, Saturday 10 – 3pm. Website.
Helsinki Tram Museum, Töölönkatu 51 A. 00250 Helsinki. Open Daily at 11-17. website
Marimekko stores in Helsinki, list of addresses here.
Minna Parikka Universum: Aleksanterinkatu 36, Helsinki, Finland. Open Monday to Friday, 10 – 6pm, Saturday 10 – 5pm.I highly recommend checking out this photo diary from an instagrammer, Sarah Kunst, photographing Helsinki during her own weekend trip, capturing many interesting details viaUrban Outfitters.
Stay tuned for part two and three, I am planning on touching foodie hotspots as well as give a fun weekend itinerary. If you too have been to Helsinki, let me know what you thought of the city!