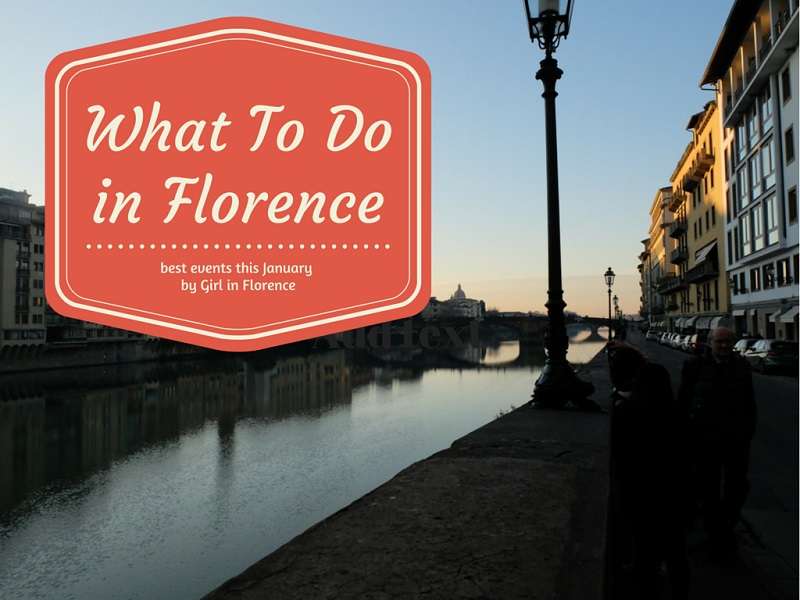 I'm back from one of the best Christmas and New Year breaks I have ever had, basically we spent a week doing nothing in a small town in the Midi-Pyrénées in France followed by an incredibly busy week in 'east meets west' Istanbul. Basically my idea of heaven. While I am definitely dedicating many posts to my travels this year, home is where the heart is and in my case, that means Florence. We drove 10 hours from the south of France to Firenze yesterday so as promised, I am starting this Wednesday by publishing my first post of 2015 – your monthly 'Girl in Florence' events for January.
This month has started off by giving locals & visitors alike wonderful weather, I know because I saw a lot of amazing Florence pictures on instagram, already that puts the normally depressing month after Christmas off to a good start. Second the sales have started – you know when the state tries to get you to buy things after you just did for the holidays, brilliant marketing if you ask me ;-). So what's hot in Florence this month? Plenty! From fashionable fairs – Pitti Uomo to the return of English and original language movies to the Odeon. Whatever tickles your fancy, you should be happy this month. Also check out the local comune's pdf list of events here. Also for wider Tuscany, you must read this post written by my friend Sophie via blog Too Much Tuscany. It's a good one to bookmark! There is a fritelle festival  in San Donata that I am dying to go to..
New to Florence? Than I highly recommend you get involved with the local Yelp community, no they are not paying me to say that (I wish), I just am so impressed with how much the events are and the opportunities to get to know new people from all over Florence and the world & new places.
Sales € | All Over Italy. Yep guys and gals, it's sale season and though your wallet might be tighter than an Italian man's speedo, you still might fight with that spending urge. Already over 200,000 people have visited the ValDiChiana Outlets in Tuscany (close to Cortona). Expect prices to be around 30/40/50% less so this is a great time to buy seasonal clothes that are too expensive otherwise (jackets and shoes especially). I too fear the crowds so when you can, go shopping on a weekday.
Some recommended shops besides the major outlets like Barberino are
Boutique Nadine. Unique clothes/things for men and women, address: Via de' Benci 32R (Santa croce neighborhood).
Moijejoue, great women's fashion.  Address: Via Gioberti 70R (Beccaria Neighborhood). I recommend walking the entire via gioberti street because there are many interesting shops here, plus cool coffee bars.
Société Anonyme, cool concept store.  Address: Via della Mattonaia 24 (Santa Croce Neighborhood).
Calzedonia, Tezenis, Golden Point. These are underwear, tights and more shops. Believe me, you want to stock up on these items since they are normally around 50% off and you will use them all winter season.
Party in the Piazza | January 11, from 10am to 8pm. Sunday in Piazza della Carmine. Head down to this piazza undergoing a transformation via the comune of Florence, activities for kids, food stands and general good cheer. Should be fun!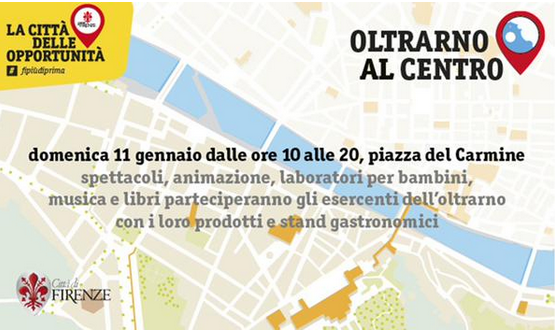 Contemporary Art | Bianco-Valente 'Tu sei qui'  What? Site-specific installation for the Courtyard of Palazzo Strozzi until January 25th. Free admission. Daily  from 9am to 8pm, Thursday until 23.00. More details:
'You Are Here': passage, transit, detour
Keen explorers, through their work, of universal themes such as the relationship between body and mind, between story and perception, Bianco-Valente have designed a site-specific environmental installation for the Palazzo Strozzi Contemporaneo cycle entitled You Are Here, an artwork reflecting on the unique nature of experience and symbolizing the dynamic of choice and the pressures and influences that determine that choice.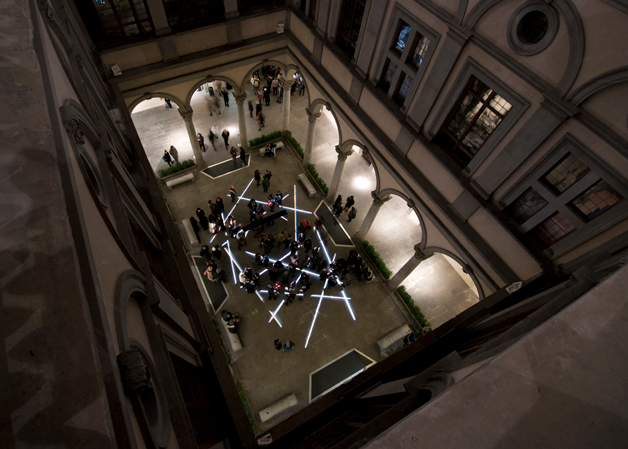 Fashion | Pitti Uomo 87 & Pitti Immagine W.When? January 13th to the 16th. Where?Fortezza di Basso. One of the world's most important platform for men's clothing (and women) plus accessory collections. This is also the time they launch new projects in men's fashion. Pitti Uomo was created in 1972 and is held in Florence twice a year.Walkabout Pitti is the title-theme of the January 2015 Pitti fairs and it will explore the essential, endless and always current theme of traveling on foot. And this does not simply mean getting from point A to point B, but rather following the path that connects the two…on foot. Obviously many of the runway shows and the tradeshow is not open to the public but there are many fun events that you definitely want to attend. Here are the top free to the public ones
January 12th, 13th, 14th from 7pm. Street Food @ Flora e Fauna. Where? Ristorante Flora & Fauna, Ville sull'Arno. What? Flora e Fauna is representing the best Florentine Street Food Style. Enjoy the Executive Chef's special. Cocktail euro 15.00 info: +39 055 670971
January 15th 10am – 5pm, So/Fashion. Where? IED Florence Address: Via Bufalini 6 r, Firenze
What? Free workshop – registration mandatory by MORENO FERRARI, MARINA NELLI, NICOLE LEONARDI with Centro Studi Poltronova, Bisbag and with the support of Archivio Store.
Exhibition+Aperitivo by Archivio Store 6pm.
info: sara.rosati@ied.it – http://www.ied.edu/florence/blog/pitti-immagine-uomo/13997#.VJL5ZMADs
January 15th, 7pm – 11pm. Cheryl @ Palazzo Strozzi. Where? Palazzo Strozzi
What? Performance live and videos by the New York collective CHERYL admission free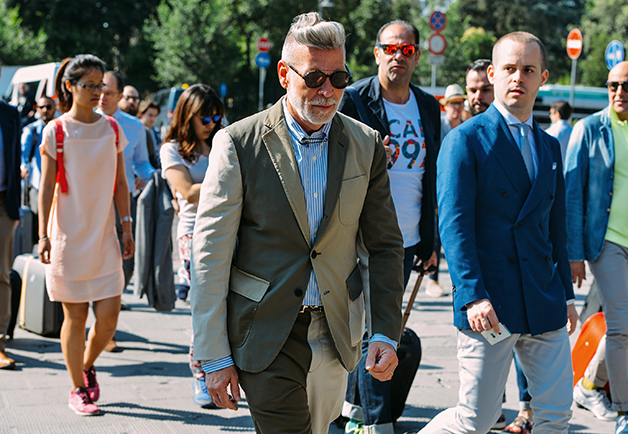 Organic Market | January 18th. 9am – 7pm. What? Fierucola organic market: every 3rd Sunday in Where? piazza Santo Spirito, Florence. More info here. 
Antique Market |  Fortezza Antiquaria. When? January 18th & 19th, 9am – 7pm. Where? Fortezza di Basso garden. What? This is the monthly antique market near the fortezza di basso. Good fun searching for that unique antique plus a very beautiful Russian orthodox church is nearby which I highly recommend visiting if you go to the market.
Winter Sports | Firenze Winter park. When? Until March. Where? Along the arno river, lungarno also moro- obihall. I mentioned this in my December list of events but I also think this is an awesome option for lazy days in January as well. Plus where else can you snow tube and ice skate in the city, plus it's reachable by an ATAF public local bus (14 towards Girone). Rent ice-skates on the premises for a few euros. Official website.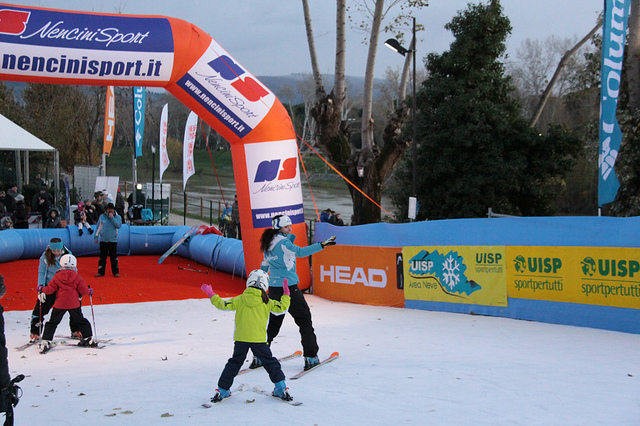 Special Tour | January 24th (Saturday) 'So You Think You Know Florence'.  One of my favorite tours run by the lovely and super witty Alexandra Lawrence is back this 2015 with a visit to two Florentine historical charity institutions, the Spedale del Bigallo and the Misericordia, both located in Piazza Duomo (and very special). Space is limited to 20 people for this visit. Email a.lawrence@theflorentine.net to reserve your spot!

Run | January 24 at 9am. Where? Cascine Park and all over Florence. A special event that requires no registration, just your running shoes to stand up against domestic violence. The fun starts in piazzale delle Cascine and it is a casual affair. Check out the facebook events here.
Skating | January 24, 25th, International Skating Awards at the Mandela Forum ( Viale Malta, 6, 50137 Firenze). Florence will again host these special awards which last year brought over 8,000 spectators to see skate stars spin on their wheels. Also expect to see aerial dance, gymnastics, acrobatics. A lot of fun to attend and on Sunday the 25th look for the special show "VOGUE", a story referring to the fashion world and its evolution over the years. Book tickets and get more info here.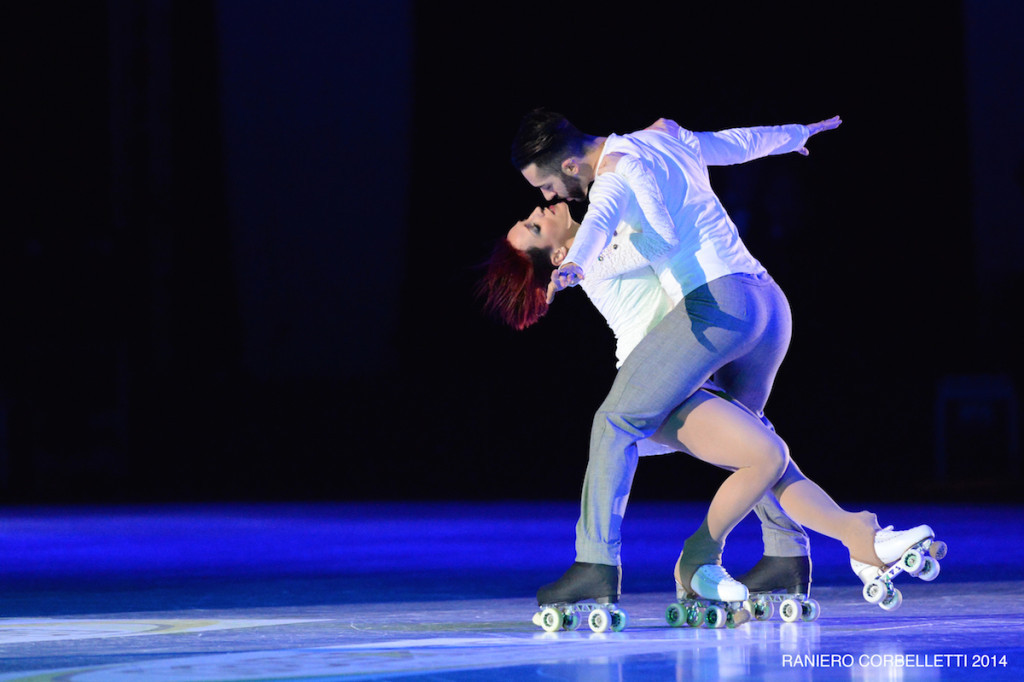 Wine! | God Save the Wine comes to Hard Rock in piazza della repubblica, When? January 29th at 7:30pm. Wines featured at this interesting invent include La Montina Franciacorta, Champagne Jacquart and more. reserve your spot by emailing info@firenzespettacolo.it
Fashion | Vintage Selection 2015. When? Jan 29 – Feb 1. 10am – 9pm. Where? Stazione Leopoldo, Viale Fratelli Rosselli 5 (google map)  One of the coolest places in Florence, Vintage Selection is in it's 25th year of existence always a lot of fun and I highly recommend checking it out, if even only to play 'dress up' for a moment, have your picture taken and browse through a bit of fashion history. This year the theme is SILVER to celebrate the 25th edition, as always there will be extra events, aperitivo, exhibitions and more. Entrance: 5,00 Euro. Website. www.facebook.com/vintageselection
Tel. +39/055/212622.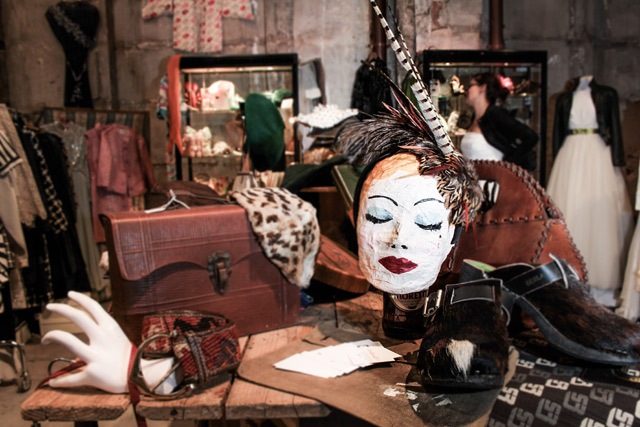 Cinema | Original-Language Movies at The Odeon. When? The month of January. Where? Odeon Cinehall, piazza strozzi. So let's be honest, even a person as social as myself really doesn't do that much in January. It's cold, I don't have a lot of money, and it gets dark early. What's a girl to do? Go to the movies. And since I hate subtitled films, the Odeon is a wonderful place in town to watch movies in their original language. And there are plenty this month, check out the program here (just until the 15th and then you can keep checking the Odeon website for the next program).