"You can't climb trees in a dress"
A clever, and true phrase by Susan Nevelson, artist and textile designer aged 91. The quote above referring to her time in a boarding school in New England, when wearing 'pants' was going against the grain, though she did it anyway to pursue a bit of tree-climbing debauchery. Who doesn't love that? We were sipping tea in her charming apartment in the Florence oltrarno, every item inside an artifact of Susan's life.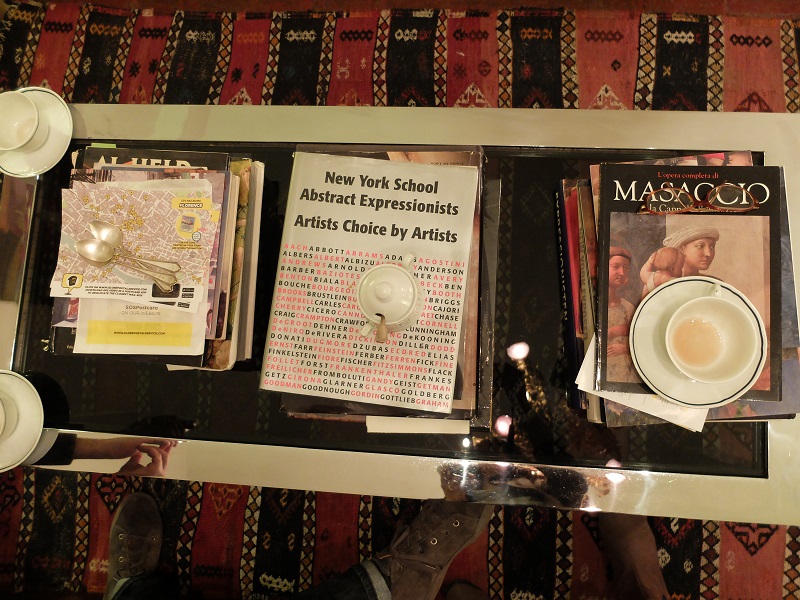 A home of stories and many people who pass through its doors, she managed the 90+ steps each day and lives with her lovable chihuahua Khios. I fed Khios a few treats in Susan's kitchen, a place that can only be thought of as a relic of the past.
Flashback to the first time I met her, at her art exhibit event in early December on via di santo spirito, at a place called Wave that does hair and spa treatments. A small group of people, most of them who know Susan personally, was there to celebrate her and buy some of her art, which covered the salon's walls.
My friend Sophie, blogger of the biggest Dutch blog in Italy introduced me to her friend Eric Veroliemeulen, the managing director of Hotel Villa La Palagina – right next door to Sting's Tuscan villa (snap!). Eric wanted us to meet Susan, who looked beautiful outfitted in one of her own printed scarves, sipping prosecco and talking with the guests while we gawked at her beautiful art. We chatted with her as everyone patiently waited to greet her, at one point she whispered in my ear 'I hope they buy the art!' which immediately made me like her.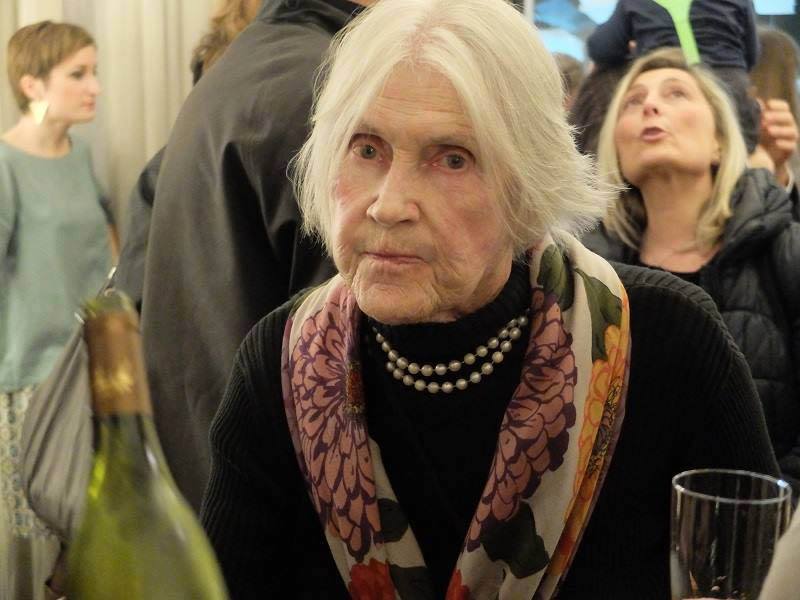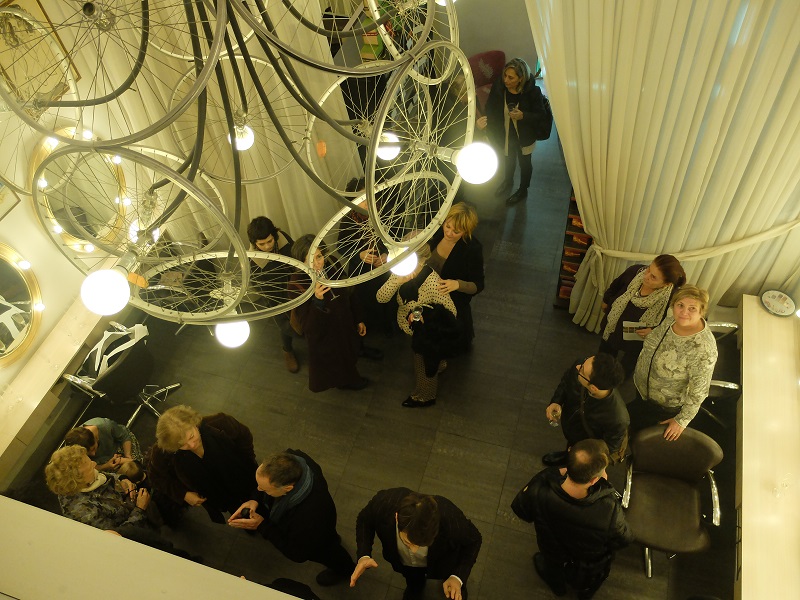 To best understand Susan, you have to imagine the exuberant 1960's, bright clothes, psychadelic designs and fashion icons, and Susan was prime for stardom as she was to become the chief designer of Ken Scott. Some famous named donning Susan's work include Jackie Kennedy and Audrey Hepburn. she rubbed elbows with Andy Warhol and sailed on the Bosporus with Ken Scott on a purple sailboat. Her designs reflective of the incredibly colorful life she lived. She is even featured currently at the Pitti Palace Costume Museum, in an exhibit titled,"Women In the Spotlight of the 20th century."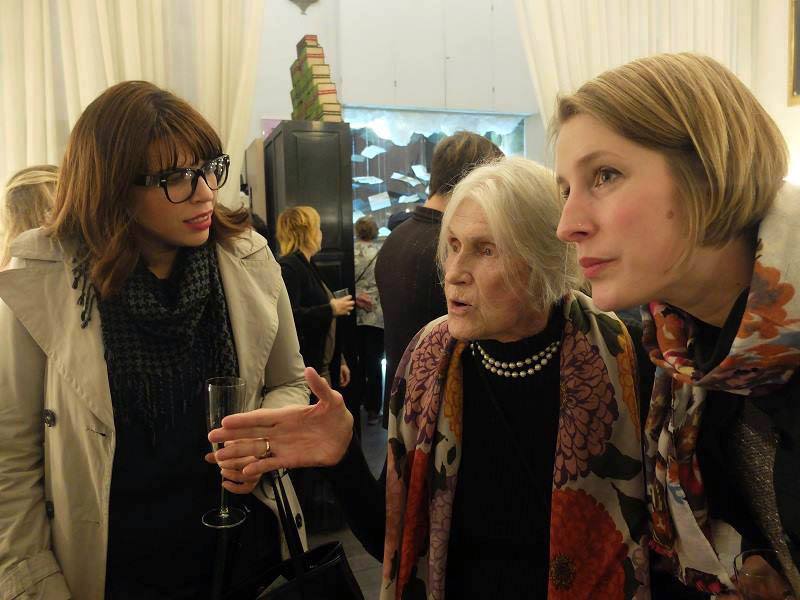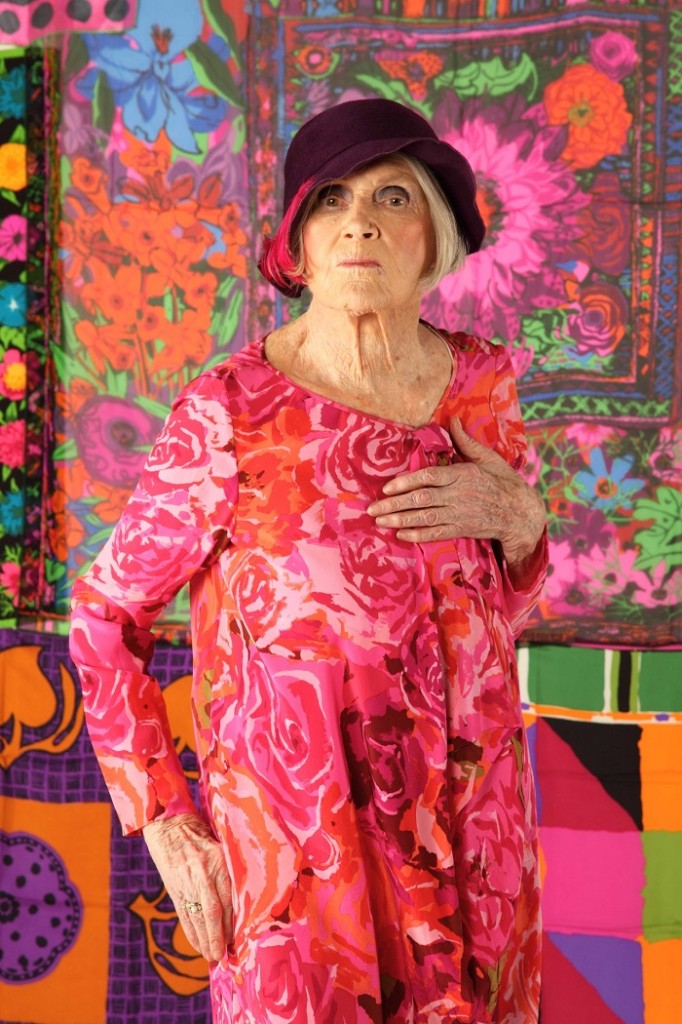 Susan Nevelson – image on display at Palzzo Pitti Museo del Costume, Florence Italy in the exhibit 'Women In the Spotlight'/'Donne Protagoniste del 900′,Photo by  Jerry Lee Ingram. Styling Kelly Dunagan, Hannah Marion, and Luca Cardelli, HMU Ronnie Cosma Bigalli
I love the image above because for me, it represents Susan. A woman with an extraordinary life. 
I would not be surprised if her story ends up becoming a holiday blockbuster, with Leo DiCaprio playing Ken, but really – who could play Susan? At 91, her mind is sharper than mine. While I regularly misplace my keys and forget to answer emails, she remembers finite details with a comfortable ease. When we visited Susan she first took us up to her painting studio with a 360 panoramic view of the city. Yes, she still paints daily – currently she is working on some floral watercolors.
Inside, there is even a swing because as Susan claimed 'a friend said I must have one'.
Susan is an easy person to talk to. She enjoys telling her almost unbelievable story and both Sophie and I were more than eager to listen. As a young girl in the 1950's, her artist friend Silvia hired Susan as a model for the magazine 'Flair'. In those days, sketches of models were more of the norm. Susan never had the career of a fashion model because the photographers claimed (in her words) that "she was too interesting looking, they (the audience) would have preferred her and not the clothes".
The first time she came to Florence was in 1951 with her friend Robert. noting the wooden bridges – still not replaced after the second world war. Her love to travel was inspired by her grandmother who raised Susan, she traveled extensively and recounted her incredible trips. Susan's mom died when she was only 7 years old, and Susan was sent to a boarding school in Maine where she broke the rules wearing pants (see first paragraph). After graduation, she head to New York, where her work in textiles and design began. That's where she met her first husband, Mike, a merchant seamen who fell in love with Susan's interesting personality, bell-bottomed sailor pants and tomboy hair.
When he first asked her hand in marriage, Susan replied with "Marriage? That's for old people!". She also talked quite about Mike's mother, Louise Nevelson, an acclaimed American sculptor known for her monumental, monochromatic, wooden wall pieces. Louise gifted the newlyweds a sculpture of a women with two-faces. This love affair didn't last long, Susan eventually left Mike because as she told us frankly "I wasn't physically attracted to him and avoided sex".  When she left Mike, she also left Louise's sculpture behind, but together they had a daughter. She later reunited with the piece (pictured below),and  it now sits in her apartment in Florence. Perhaps now she has grown to appreciate it.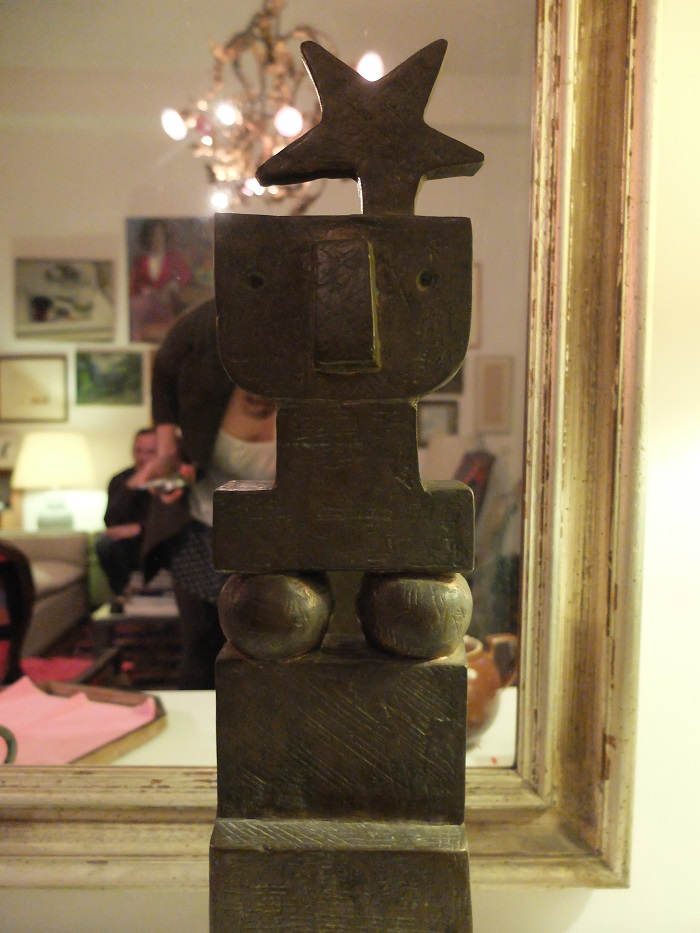 Her first trip to Europe was by boat, Susan saved $5,000 and traveled from NYC to Paris with her friend Albert. Staying in the same building as one of the 'Room with a view' film scenes. They made friends (even with nobles such as the Giustis) and Susan purchased a Lambretta scooter for 150$, and explored the countryside. Days when tourism wasn't as vast in the region as it is now and when you could throw a stone and not hit an American visiting Florence.
After that trip she returned to NYC where she met Ken and started working as a print and textile designer, honing her trade from an apartment costing 12$ a month. Longing to return to Europe, Susan got a job in Switzerland and made her way back, spending the Christmas of 1959 in a small French village, After the Giustis visited, they convinced her to quit her job and come to Florence, which she did, first living in Settignano and purchased a Renault dauphine. She transferred to the center, piazza pitti to be exact and continued doing fabric design, starting to work with Ken (who was originally resistant) officially from 1962 until today.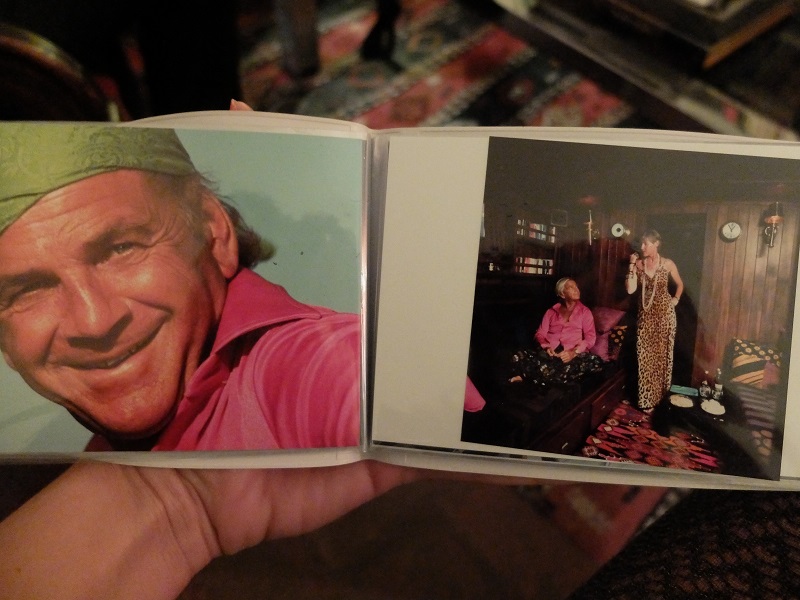 Susan's private pictures of Ken Scott and herself, always elegant and on the move, sailing around the world and changing fashion history.
Susan was in Florence to witness the great flood of 1966, losing her 850 fiat spider as the water quickly rushed over the city's walls. When this happened Fiat decided to give a 50% discount for everyone who lost a fiat car during the flood. In true Italian style, there was even a man who dipped customer's cars in the arno river for 10,000 lire so they too, could get a 50% discount for a new fiat.
At this time Susan was staying in Palazzo Serristori, luckily her apartment avoided damage because she was on one of the top floors. She told us about no electricity or water. The city hiring water trucks to give residents access to this vital liquid during the trying time.
When she talks about Ken Scott, you can see how much she thinks of him. This dynamic duo were as thick as thieves, designing, working and playing together in the same ranks as Valentino and Pucci. She showed us her beautiful scarves, her friend Mike, a Malaysian sculptor living in Nice, France and visiting Susan for the weekend holding up each one for us to see. My eyes didn't know where to dart first.
I am still a bit awed that I was able to visit her in the same place where so many people, much more important than this little blogger in Florence, have passed through. A lasting thought is that I can only hope that I am half as wonderful as Susan at 91 year's old. Clearly she has a loving support system of friends, like Eric, who help Susan any way  they can.
Obviously as the year's go on, it is harder for Susan to pay the bills, which she mainly does through the selling of her artwork, either at temporary exhibitions like the one we visited at Wave, or by visiting her private home. If you are interested in seeing and perhaps purchasing her art, contact me here and I will forward the email to Susan's friends. You can see her tumblr account and photography by Jerry Lee Ingram here.
Women like Susan are anything but ordinary, breaking down barriers in a time when most people never even left their hometowns. Her relationship in Florence is as vast any any of ours, and it makes me think which living room I will be drinking tea from in my 90's. I could only hope it is as interesting and filled with artifacts from a life, truly lived, like Susan's. I think when I think of her I will imagine the song by Edith Pief  "Non, Je Ne Regrette Rien". In Susan's case, the meaning less about love and a little more more about life.
No, no regrets
No, we will have no regrets
As you leave, I can say
Love was king, but for only a day