It happens to us all, you're passing through Florence and you want to grab a quick bite to eat, all you see is a shady looking McDonald's, a huge plastered Burger King sign (when did that become ok?!) and plenty of panini that look about as fresh as a used athlete's tube sock. Not pretty, I know. I'll admit that I have spent too much money on lukewarm Coco Cola Light and sandwiches with a strange almost 'lighter' version of iceberg lettuce.
Is that even possible? To save you the trouble of eating rubbery mozzarella, I wanted to write a list of places you can grab a bite to eat near the Santa Maria Novella Train Station in Florence, updated to reflect what's good in 2016 for people who like to eat. I should note that there are some decent places to grab food in the station, including Fratelli Cuore, which is open 24 hours. Regarding  my tips, I have them listed by type, along with a fun map to find each place easily. Also I love suggestions, so comment add your own & please share. On a side note, the piazza of santa maria novella has come a long, long way than my student days when I did my best to avoid this place.
Now the benches are filled with people taking breaks or eating outside and it is often home to cool seasonal markets. Nearby you will find the incredible Santa Maria Novella Church (worth visiting, and my favorite place to shop for gifts,  the Officina Profumo Farmaceutica di Santa Maria Novella. Plus they have just added new contemporary museum, Museo Novecento which only adds to its charm. If you need vegetarian, vegan or gluten-free restaurants in Florence, read this.
Light Meals/Snacks
Shake Cafe
This is a recommendation by my friend and The Florentine editor, Helen Farrell. A little spot directly inside the piazza itself, they serve up healthy juices with carrot, ginger and loads of yummy ingredients and Helen has also assured me that they have great bagels as well. Perfect for an easy snack or a pick-me-up juice.
Shake Cafe, Via Degli Avelli 2/R ( Piazza Santa Maria Novella), 50121 Florence, Italy
+39 055 295310. Opening hours: 6am – 10pm, Sat-Sun.
Rosticceria Spada
The rosticceria is the to-go version of the restaurant La spada but it where locals line up on their lunch break for some Tuscan favorites like bean soup, roasted meats and vegetables. I recommend stopping here and eating in the piazza (if it's not too cold)
Rosticceria Spada, Via spada 62r. Florence, Italy. Facebook.
Restaurants
Trattoria Sostanza
This is one of those iconic restaurants that happens to be a local's favorite in Florence since well you know, 1869 (previously called 'troia). Your typical no-fuss trattoria with white-washed walls serving up pollo al burro (chicken cooked in butter) that would make a grown man cry. Other traditional favorites that are a must-try are  tortellini al brodo (the Tuscan version of chicken soup) and bistecca alla fiorentina (best steak ever). They talked about it on CNtraveller and I loved this post Sophie via The Curious Eater whose photos of the place tell more of the story than I ever could. Open daily for lunch & dinner, closed Saturday & Sunday. Price per person: around 45 euros.
Trattoria Sostanza (used to be called: Troia), Via della Porcellana 25 r, 50123 Florence, T +39 055 21269. Reservations recommended.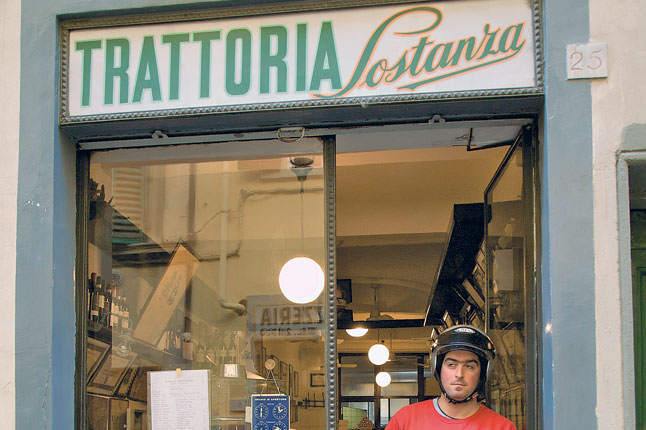 Ristorante Braciere Malatesta
This place got a bit of refresh lately and I am truly digging the contemporary decor. Known for the meat-based menu, there are plenty of interesting options here. It could be one of the better places near the station to try Florence's char-broiled T-bone steak. In the warmer months, you can also enjoy your meal on their al fresco courtyard. Also notable are their thin, crispy pizzas.
Braciere Malatesta, Via Nazionale 36, 50123, Florence, Italy.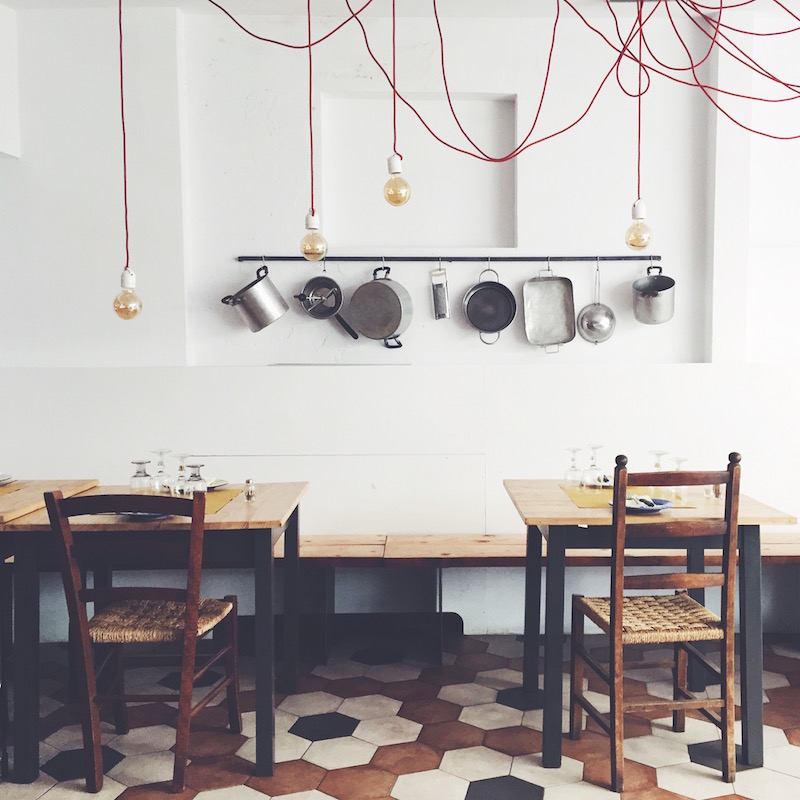 Trattoria Da Giorgio
This place is wonderful for those on a budget as they have a set menu for 14 euros a person that doesn't suck. Plus they have been doing great value meals since 1977, for that alone I have to credit them! I have been there a few years ago and some friends say that it is still good so I'll take their word for it. Open every day but Sunday for both lunch & dinner. You can't make reservations.
Trattoria Da Giorgio, Via Palazzuolo 100r, 50123 Florence, Italy
Ristorante Terrazza Brunelleschi
I will admit that I have never eaten here but have only been for drinks and aperitivo. From the top of Hotel Baglioni you will experience one of the best views of the city. Of course it's closed during the winter months but the restaurant is also on this top floor. I have seen that their menu does sound quite interesting and I would be game to try it, so I thought for that terrace alone, it deserved a spot on this list. The yelpers seem to like it. Expect to pay around 50-70 per person.
Ristorante Terrazza Brunelleschi, Piazza Dell'unità Italiana, Florence, Italy. +39 05523588865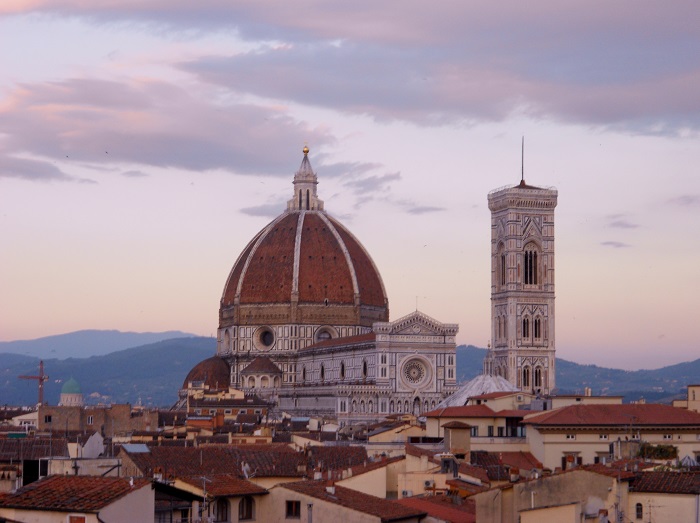 Banki Ramen
Not Italian at all but it deserves a spot on this list because it's literally the perfect meal on these cold, rainy November days. You can read about it on my post here, and come early, Italian 'early' which means around 7pm when they open.
Banki Ramen
Via dei Banchi 14r, Firenze, Italy 50123, +39 055 213776
Open Tuesday through Saturday from 7pm onwards ( closed Sundays & Mondays ) for dinner.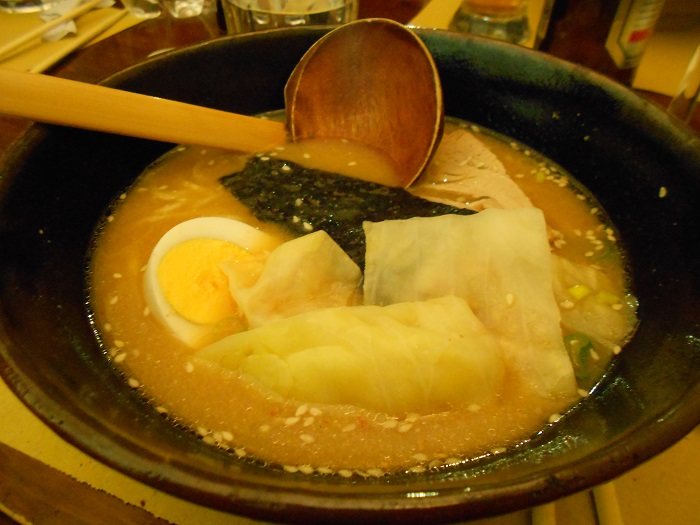 Coffee/Pastries
Todo Modo
This independent bookshop/cafe/theater is a recent addition to Florence and what an addition it is! 180 square meters of space, 15,000 titles, a wine bar, all the coffee you could want. Free WiFi, events, readings and more – you could say that I am love with this place and you would be right. Plus the design is almost Scandinavian, plenty of wooden tables and signs – the day I worked from there, a dog wandered through the shop. Highly recommend. Open every day but Monday, 10am – 8pm.
Todo Modo, Via dei Fossi 15/R
Florence, Italy. Tel: + 39 055 239 9110, website, facebook.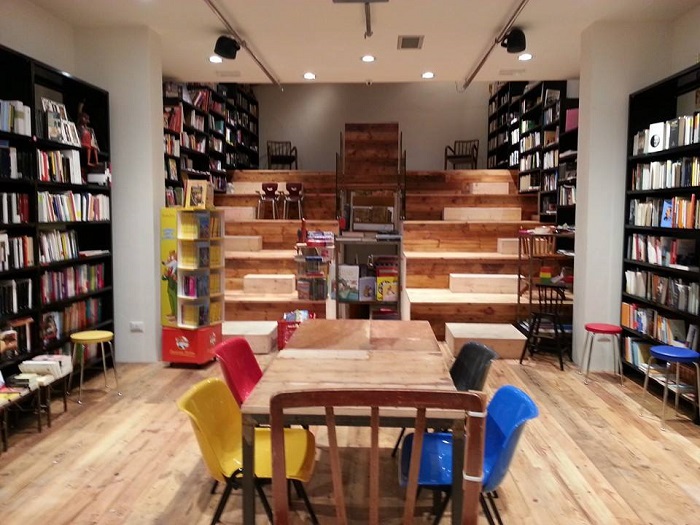 La Boulangerie
Cute place to get a coffee & a pastry near the train station. I've been there a few times after awkward questura visits or to weather a rain storm. I am pretty sure they also serve a light lunch.
La Boulangerie del Rifrullo, Via de' Rondinelli 24R. 50123 Florence. Italy
Santa Maria Novella
Phone number +39 05 5281658
Arnold's
This cafe is scarily similar to Starbucks which is what I think they were going for ;-). While I wouldn't say they serve up the best coffee (my lukewarm latte was a little 'eh'), they do have free WIFI and comfortable seats which is a haven when you are looking for somewhere to chill for a few hours. Plus it is literally 2 minutes walking from the station itself. Homesick Americans will love this place.
Arnolds, Piazza Unità Italiana 15, Via degli Avelli 8, 50123 Florence, Italy.
Drinks
One of my (now) favorite places for a drink in town is the bar L'O inside of Hotel Orologio just off of piazza santa maria novella. Every Friday night there is live International folk music and their bartender mixes a pretty good array of cocktails. Margaritas with Patron tequila, a perfect moscow mule, you get my drift. address: Piazza di Santa Maria Novella, 24, 50123 Firenze.
https://www.instagram.com/p/BL1xfjchZJp/?taken-by=girlinflorence
Sei Divino
I have been coming to this place for ages, it's a fun little aperitivo bar that mixes good cocktails (like my favorite 'moscow mule') and has wine to boot. It has changed ownership a few times but honestly, it still remains more or less pretty similar. I still go there and think it is the perfect place near the train station to get a drink, meet friends or have aperitivo. Check out this cool post by AllaFiorentina about the place.
Sei Divino, Borgo Ognissanti 42, Florence, Italy
The Fiddler's Elbow
I'm pretty sure this Irish pub has been in Florence longer than Florence itself. It is your run of the mill pub in the piazza serving up lager and starting conversations. Unlike many student-saturated places, this remains pretty legit and clientele can be quite loyal. You can come here to watch major sport matches and access free WIFI, rumor has it they also have a small pool table, I just haven't seen it yet. Every Thursday is open mic night. I like this place.
The Fiddler's Elbow, Piazza Santa Maria Novella 7R
50123 Florence
Italy
Phone number +39 055215056
To help you guys find these places a little easier, I have created this fun, custom map (isn't google great!) so you can bookmark it on your next trip to Florence.
Also if you get the chance, head over to the new & improved Mercato Centrale (central market) by San Lorenzo, the new first floor 'fancy food court' is awesome and isn't too far from the station, they have a truly great selection of local foods and they are open every day until Midnight.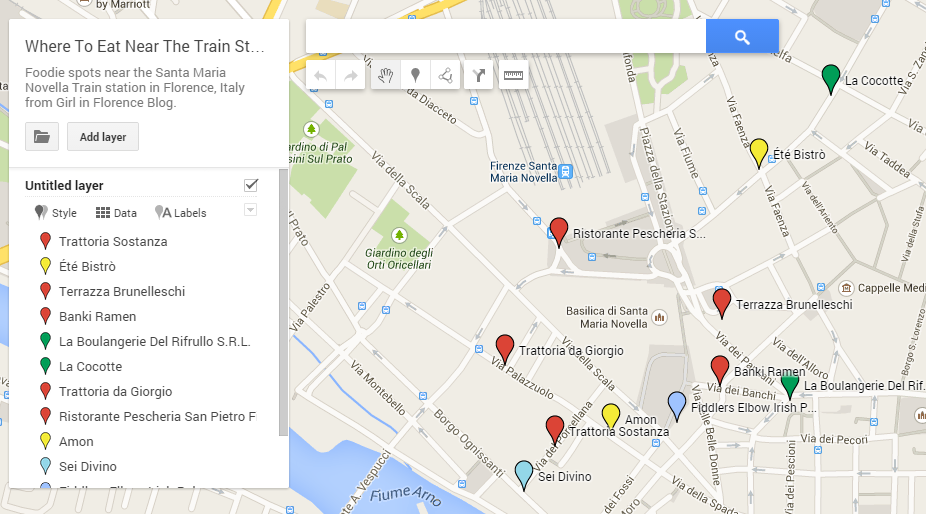 ---
If you're looking for my top recommendations for where to eat, drink and be merry in Florence besides this neighborhood. Check out this page with all of the dirty (read – delicious) details and please comment with your top favorites! 
Some additional places I didn't mention above plus those suggested to me by you readers are:
Trattoria 13 Gobbi (a bit more on the pricey side) but still a good option.
Also they just opened a 1950's American diner on via del moro that I have yet to try. I am sure I will update this list regularly btw.
Also on via nazionale (very close to the station)  is the Conad supermarket where you can get things a lot cheaper than in the station, literally less than 5 minutes walking, it's added to the clickable map above.
Trattoria La Carabaccia, Via Palazzuolo, 190/r | Via il Prato 36/r, 50123 Florence, Italy. Tuscan home cooking suggested by my friend Lisa Condie, she say's to ask to eat in the cellar!
A great suggestion by local tour guide Molly McIlwrath is the charming Hotel L'Orologio Firenze, Piazza Santa Maria Novella 24, 50123 Firenze – Tel: +39 055 277380. Perfect place to linger over coffee and I have seen them do the occasional aperitivo.
For a fun reads about the area in and around Santa Maria Novella, I enjoyed this blog post by Sauce Magnusson (great photos), this informative post by Discover Tuscany, a Fresco Tour by The Florentine & 36 Hours in Florence by The New York Times.