As if wine in France couldn't be more amazing, the sudden surprise of finding a region that might be utterly unpronounceable to me so far, the  Languedoc-Roussillon, is a real delight. The reason I even know about this place is because it is the childhood summer destination of my boyfriend Nico who is originally from Castelnaudary. Every summer his family would make the short trip from Castelnaudary to Saint Cyprien for a month or two under the (not always that warm) sun. This trip, we also had the chance to visit  the beautiful artist & poet paradise that is Collioure, an absolute must-stop. I would describe this area of France as lush, green wetlands close to the Mediterranean sea changing the closer you head inland towards the Pyrenées, called Les Causses.
This September Nico's dad decided to surprise his wife by throwing a birthday party for her there and inviting us (incognito of course) all the way from Italy. This is a man I lovingly call 'batman' because he drives a sporty black Peugeot and takes charge of any situation while treating his wife like a princess. He also works out like he is training for a monthly triathlon putting us all to shame. This covert mission was all too much fun for us, even though it was a weekend after we returned from Bordeaux, we happily hopped on yet another Ryanair flight from Pisa to Barcelona. We easily picked up our rental car and drove about an hour and a half across the border to the 'Languedoc' for a quick, memorable trip with four generations of Nico's family.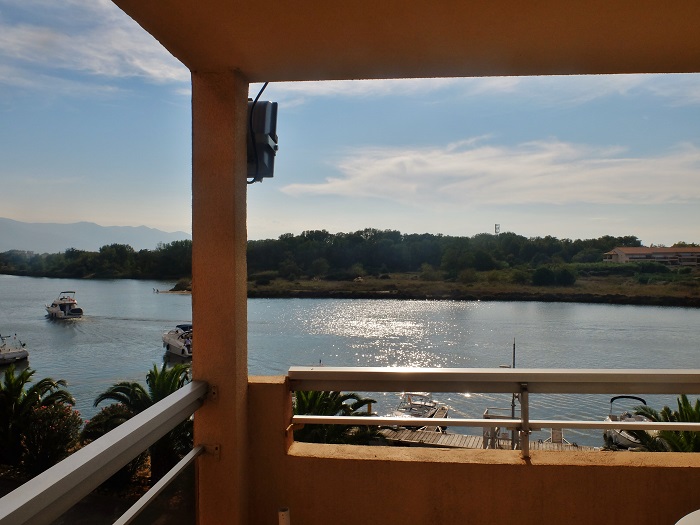 View from our room in French coastal town, Saint Cyprien
Like any good American girl, I love surprises. Especially when they are so especially sweet and well-thought like this one, swoon! As you can imagine, when we creeped out from our very badly chosen hiding places the next day at lunch she was so happy the tears couldn't help but come. That same night to celebrate in style, we headed to the Les Clos de Paulilles winery along the water for dinner which was my first introduction to just how good the wine in this region is.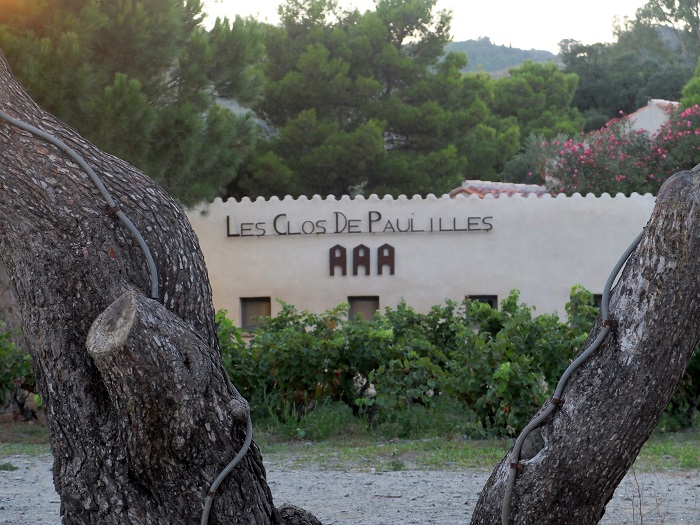 Front of the winery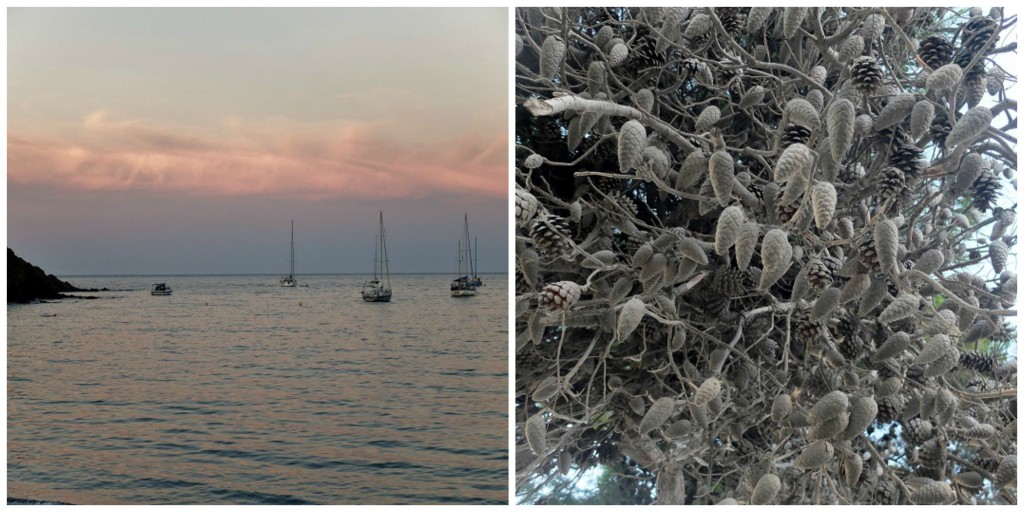 Sunsets, sea & vines, can't think of a more perfect place for a birthday dinner
Behind a beach in Paulilles, this winery offers up some wonderful wine from the Cote Vermeille with superb and creative cuisine. They have a 39-euro-a-person dinner with seasonable options and wine pairings for every course, while not a vast amount of choices a small menu usually is telling of pure excellence. Specialize in a few things instead of being mediocre at many. We exchanged gifts and tried some of their wines in a special room adjacent to the terrace where dinner was served. Candlelit, romantic, with an attentive multilingual staff – I was extremely impressed with both the food and the wine (especially the rosé). Plus it was quite an honor to spend such a special night with four generations of the same family who doesn't wince at my still terrible French. A stand out favorite in the wine arena was the Banyuls Rimage port-like dessert wine.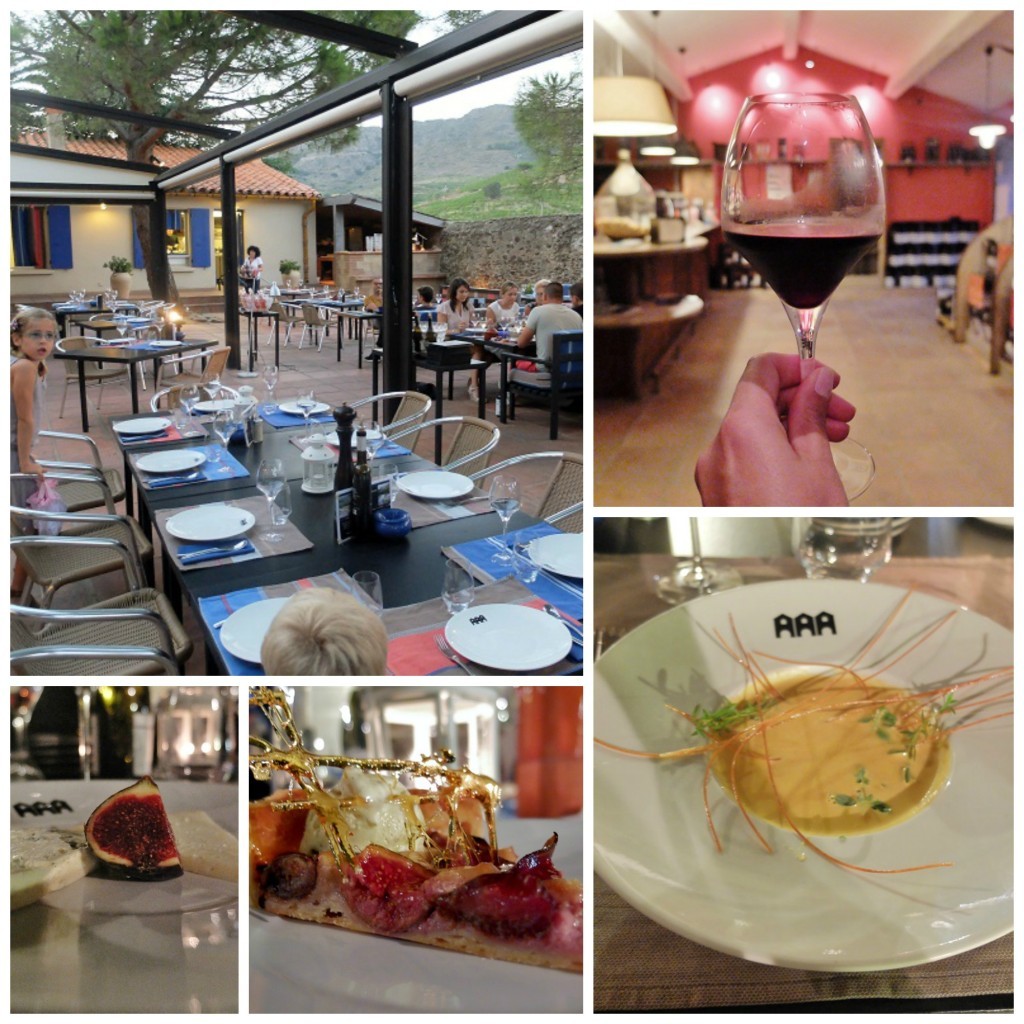 The following day, Sunday, our flight didn't leave until the evening so we got the chance to join the family for a last lunch before parting ways. We headed to another winery further inland owned by The Dauré family (who also are responsible for Les Close de Paulilles) called Château de Jau, built in 1792 on the Roussillon slopes of the Corbières Mountains in French Catalonia.
This beautiful winery produces Côtes du Roussillon Blanc, Côtes du Roussillon Villages Rouge, Muscat de Rivesaltes, along with some cleverly named "le Jaja de Jau." According to nuitrose "Jaja is a slang for the region's delicious full-flavored, everyday wines. It is the house selection in local bistros and restaurants. The Label was designed by Benjamin Vauthier, founder of the "fluxxus" movement of contemporary and graphic art."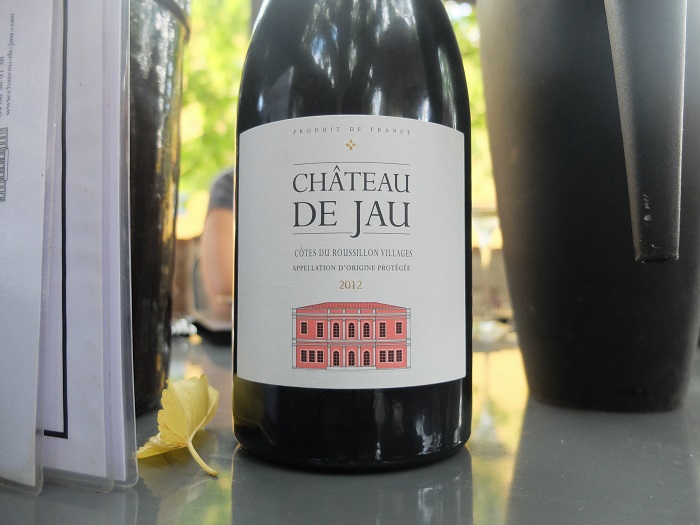 Of course we were there to eat, drink and be merry. I knew I would be heading back to Florence lost in a happy wine glow that only further increases my love for this region. The menu here is one that is more geared towards simplicity and meat lovers. The focus is of course on the wine so don't expect anything fancy but rather more like an outdoor BBQ in a beautiful setting which was more than fine with me.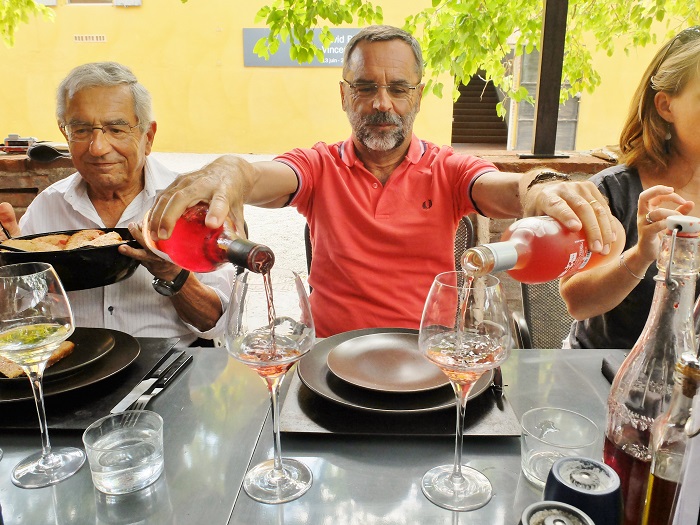 Nico's dad aka 'Batman' has also perfectly the 'art of the pour' 
One of my favorite parts of lunch was the skillet grilled 'tomato bread', so simple but mamma mia, it would have made a nonna cry it was so good. We feasted on  juicy red 'bistecca' tomatoes, grilled sausages, generous amounts of Roquefort cheese and lots, and lots of wine for less than 36 euros a head. We sat outside on a pretty terrace next to a fish pond for at least three hours which flew by as I played with Nico's nephew and niece, the kids teaching me French faster than my Duolingo app.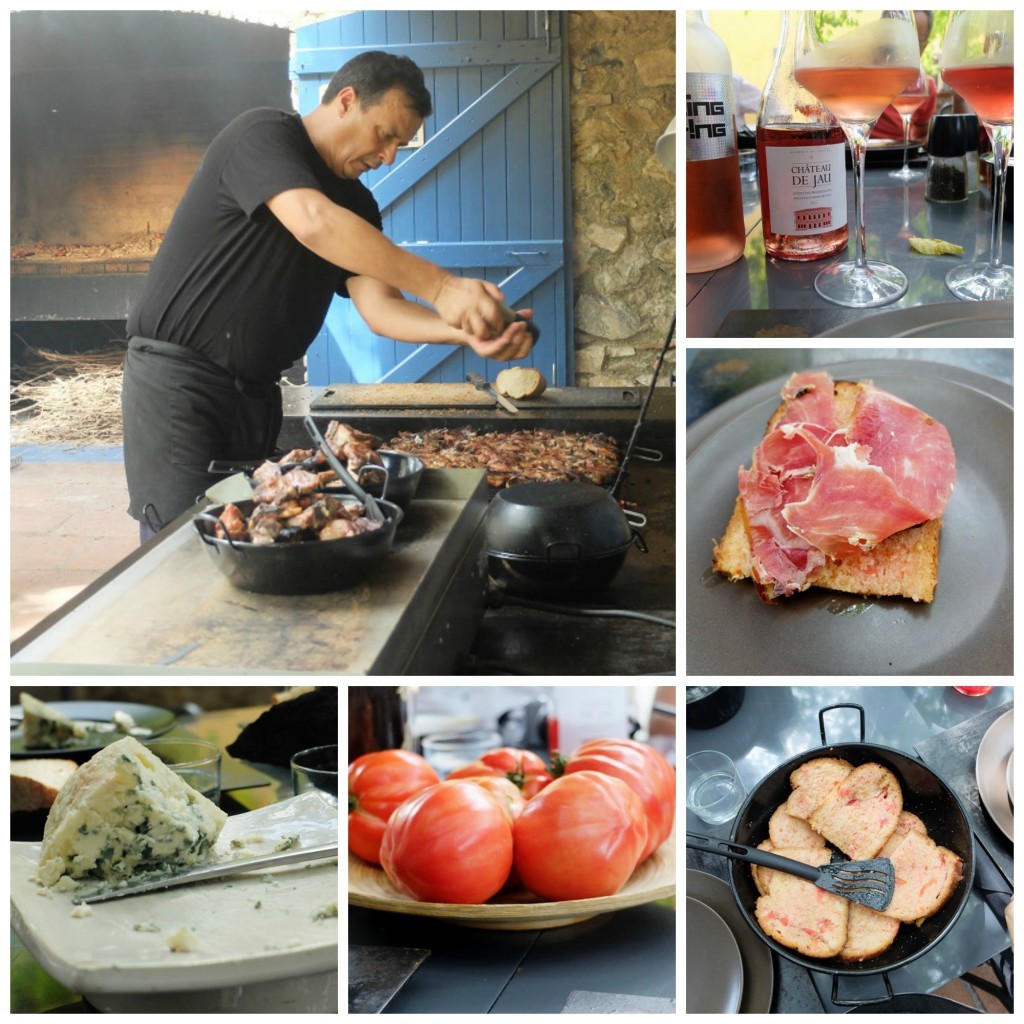 Another cool aspect of this winery is their contemporary art gallery, established in 1977 and which hosts a new exhibit every summer from mid-June to Mid-September. Famous names such as Tapies, César, Arman, Debré, Ben Martinez, Zakanich  have showcased their art here. Yes it is a little weird (just look below right) but can I just say how much fun it is to check it out with a pretty good wine buzz going on? Somehow it makes those trapped animals in some sort of wire just make a little more sense ;-).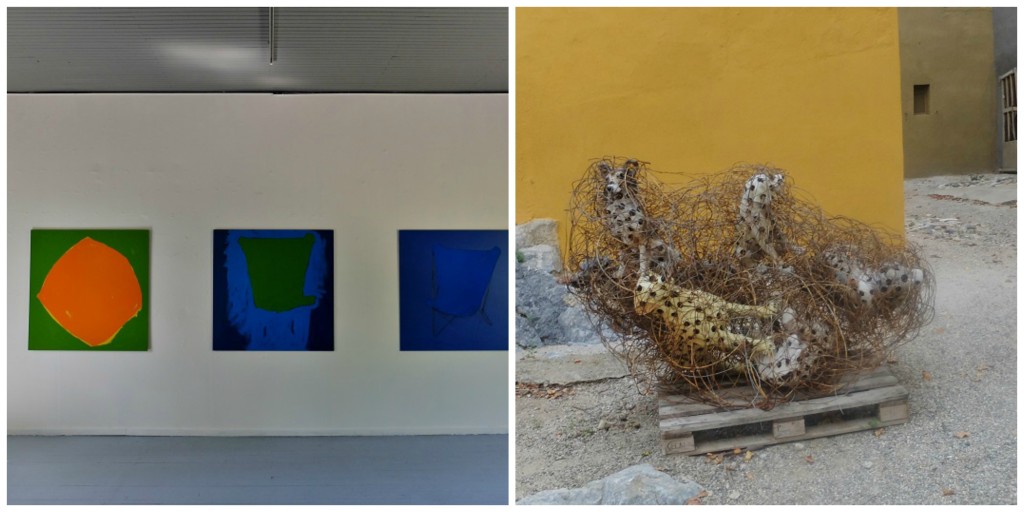 Needless to say I hope that this will be the beginning of many visits to this fruitful wine region. I am only now being acquainted with the wonders of Languedoc-Roussillon and I can 100% say that my level of intrigue is very high. The more I see, the more I have yet to see.
If you have been to the LangueDoc and have some awesome food, wine or interesting suggestions, feel free to share and comment. I am always looking for that next amazing place to explore, especially since I know I will be back.
---
Wineries Mentioned
1. Les Clos de Paulilles, Baie de Paulilles – 66660 Port-Vendres
+33(0) 468814979. facebook page
Opening hours: Between May and October, every day for lunch and dinner from noon to 3pm and from 7.30pm to 10.30pm. The wine shop is open every day from 9.30 am to 7.30 pm.
2. Château de Jau, Cases de Pene, 66600 Cases de Pene, France
website, make a reservation (required) +33 04 68 38 91 38.
Another  great resource is this article from The Guardian newspaper which details a wine route in the Languedoc region with plenty of winery suggestions that I'd like to visit the next time I'm there.