So while I haven't exactly kept up with my promise of posting this once a week, I am attempting to grow a section of the blog titled 'Ask an Expat'  in order to touch more on frequent questions I get from you guys, my valued readership. By answering the questions here, and by keeping the questions anonymous, everyone benefits by being able to read what I would answer right here on the blog and we can use this post as an open discussion, just add your own two-cents by commenting.
Today's question is one I've gotten emailed enough times to write about. People asking how to go about volunteering in Florence. This makes me happy for a number of reasons, one being that so many people are looking and willing to donate their time for a worthy cause that they are emailing me about it and two it gives me motivation to do some research and see what options are available in 2014.
I'll never forget this quote that always resonated with me by James D. Miles 'You can easily judge the character of a man by how he treats those who can do nothing for him.'
I did a little research and came up with this list of organizations readily accepting volunteers in Florence and I would be happy to include any that you guys might know about, just comment with the info and I'll add it! When I studied abroad, one of the great things about our study abroad program was that they offered information on how to contact organizations directly and get involved during our study abroad year. Since this info would be great for anyone who wants to lend a hand in Florence. One thing to keep in mind is that it might be a little more tough if you don't speak Italian, it is definitely something you should ask if you reach out to them.
Read This First
The best list of volunteer organizations has already been written by The Florentine English newspaper, albeit from 2012, but still one that I send to people all of the time and is still very much valid (I hope), How to Volunteer in Florence .
UIDU.org
When I first thought about this question, 'Angeli Della Citta' came to mind since in Florence they are a well-known volunteer service who has been helping people in difficult circumstances around the city for years. When searching for them, I came across this website, UIDI which basically connects volunteers with companies looking for them. I just did a simple search and came up with this list from all over Italy. I think this is a good first step to seeing what companies are accepting volunteers in Italy at the moment, you can make an email list to contact from here.
Meyer Children Hospital
One association that is wonderful to get involved in is the Meyer Children's Hospital who work with several volunteer organizations that are accredited and non-profit. Check out the list of options here , since everything is in Italian here is an example of one of the options below.
A.V.O. – Associazione Volontari Ospedalieri. Their goal: Distract sick children by playing games both at the hospital and in their home life, which also gives their parents a break as well. Also lend a hand to the parents for small tasks. Tel. e Fax: 055 2344567, e-mail: [email protected] , website: www.federavo.it 
The American International League (AILO)
This group started as a meeting point (informal) for women based in Florence, Italy and is now an International non-profit organization involving both men and women who want to help  in the Tuscan community. They have over 200 members from all over the world and the official language in the group for meetups and whatnot is English. They have a monthly meetings from October till June, normally on the first Tuesday of the month and they are currently looking for new members, check out their website here. They also have an annual Christmas bazaar with proceeds going to charity on December 8th.
 European Voluntary Service program (EVS)
If you happen to be young and European, there is a really cool opportunity for those to volunteer abroad and see a new place while doing so (with options in Florence!). From the Comune.fi website: "The program is open to all young people aged 18 to 30 that legally reside in one of the 27 member states of the European Union. These youngsters get the opportunity to work as volunteers in another country of the EU, in Iceland, Norway, Liechtenstein and Turkey, or in one of the other partner countries. The duration of a project can vary from two to twelve months."
The city of Florence hosts foreign volunteers who wish to have a working and learning experience in several areas. Projects are organized in the city's libraries, museums, youth centre, the social promotion department, the environmental awareness office and the communication department. On arrival the volunteers will have two weeks of intensive language course. After that, they will continue learning with four hours of Italian per week." For more information visit the Ufficio Servizio Civile, Via Palazzuolo, 12 50123 Firenze, email them at [email protected] and check out this website. 
AWAF | Advancing Women Artists Foundation
Another organization that I highly recommend getting to know better is the AWA, Advancing women artists foundation, created and founded by Dr. Jane Fortune in 2003. They are committed to identifying and restoring artwork by women in Florence's museum storages and they hold lectures, fundraisers and a number of interesting event that have made this a subject very important to me. I wrote this post from a tour I did earlier this year with Alexandra Lawrence where we saw some of the artwork from women artists that the AWA played a big part in getting seen. From the mouth of Linda Falcone co-author of Invisible Women: Forgotten Artists of Florence "Throughout its history, Italy, a country characterized by predominantly male creative excellence, has dedicated few of its resources and little of its coveted space to female artists, thus relegating them to the category of 'lesser known'." Their official website is here, I definitely can personally recommend this organization. I am not sure if they currently have volunteer opportunities but they certain accept contributions, you can read more about that here.
Friends of Florence
Another organization that is completely dedicated to artistic heritage in Italy who always have a rich array of projects that require special restoration attention. Friends of Florence is a U.S. based 501-c-3 not-for-profit organization and are the primary source of funding to the renowned Florentine restoration laboratories and skilled preservation professionals who work to ensure the survival of Florence's art and architecture impacted by the ravages of time and pressures from modern development.
Notable projects include the recent (2016) expansion in the Uffizi gallery aka the "Botticelli rooms," the restoration of Michelangelo's David and  even smaller projects like restoring location tabernacles around the city. Click here to see how you can support them, either in person or by becoming an art patron.
British Institute Harold Acton Library
One of the best hidden locations in Florence is located in the Oltrarno, the Harold Acton Library as part of the British Institute which has merged cultures for many years in this humble palazzo in Florence.
Thanks to "friends" of the library, local volunteers, they help organize events (Shakespeare week for one), a reading group and support a variety of the library's causes. In fact, I would consider this a really amazing organization to be a part of, also because they keep this place open despite a real lack of funding. Find out how you can be part of the volunteer team here.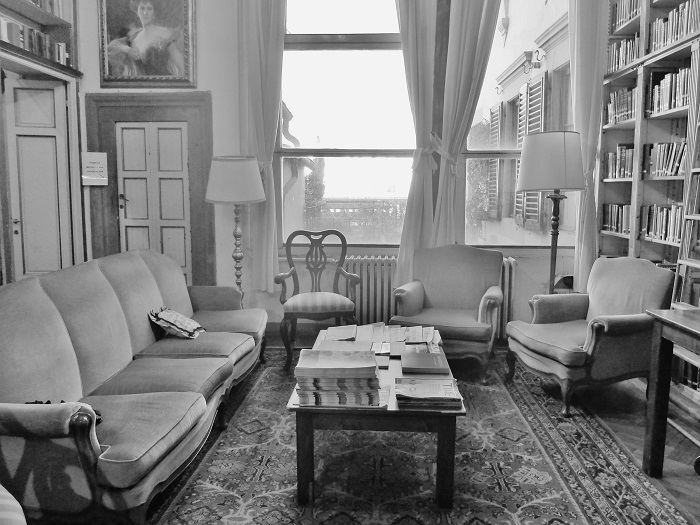 ---
My thoughts are also that if you are really looking to help someone but don't know how, be creative and start small in your own neighborhood. Ask a coffee shop or local place if they personally know of any organizations accepting help. Try and think of a personal way you can help someone, like offering to get the groceries for an elderly neighbor or even just by stopping by once a week for a chat. I am a big believer in a sort of 'make your own' volunteerism if you can't find an organization that fits what you are looking for. Why not? 
Also I want/need to hear from YOU. Do you know any organizations accepting volunteers, even ones that don't require fluent Italian? I want to know!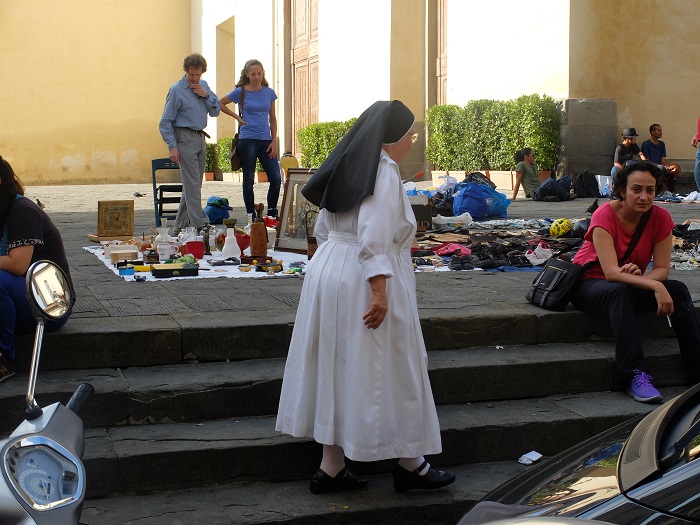 Nun on a mission at the Santo Spirito Sunday Antique Market