Updated for 2019
The magical month of August in Italy means many things: virtually empty Italian major cities, copious amounts of parking for tourists, buses that never come and that soul-crushing moment when you walk up to a restaurant or bar you've read about only to see that they are 'chiuso' from August 1- 25th or some variation of the sort.
Yes my friends, it's time to embrace 'chiuso per ferie' August, a period that bewilders some of us, namely because it seems so economically dumb to not work for 4 weeks, but that's life. For me the concept of a month off is almost impossible, and for the kind of work that I do, very improbable. A great post about the tradition of the holiday can be found here, written by my friend Alexandra Korey and how it's evolved at Italy Magazine.
For those interested in learning more about the actual holiday keep in mind that Ferragosto coincides with the Catholic feast of the Assumption of Mary. This is a holiday that goes back to Roman emperor Augustus' times when there were several celebrations (mainly horse races) during this month to celebrate the harvest. In fact, Augustus introduced the 'Feriae Augusti' in 18 BC to provide a longer period of rest after the harvest, a time of intense agricultural labor.
During Italy's Fascist period it became the norm to travel during Ferragosto with special trains organized at discounted prices for the populace during the 13, 14th and 15th of August allowing the less affluent to enjoy time at the mountain or sea.
My thoughts: It would be nice to have 4 or 5 weeks of holiday distributed throughout the year, so that the seaside doesn't become saturated and outrageously expensive. Keep in mind nowadays in 2019, this is starting to occur as I have more and more Italian friends opting to travel during other periods of the year.
There's another reason as well. For those heading to the beach, just plan on dropping from 20- 45 euros for an umbrella and chair for two on most private beaches this month and expect them to be heaving with people, the very opposite of relaxing as people curse over stolen parking spaces, balls thrown at their head and someone talking very loudly about they digestion issues next to your towel..
When I tell people outside of Italy that  many businesses here close for a month, some people's heads shake in a sort of disbelief believing that Italy is stuck in some whimsical idea of the past, while others embrace the idea of slowing down and enjoying time with family and friends. It is now a time for water balloon fights and barbecues. Whether or not people make it to the beach there are two sure things that will happen; lots of food will be consumed and there will most certainly be a pleasant, holiday feel.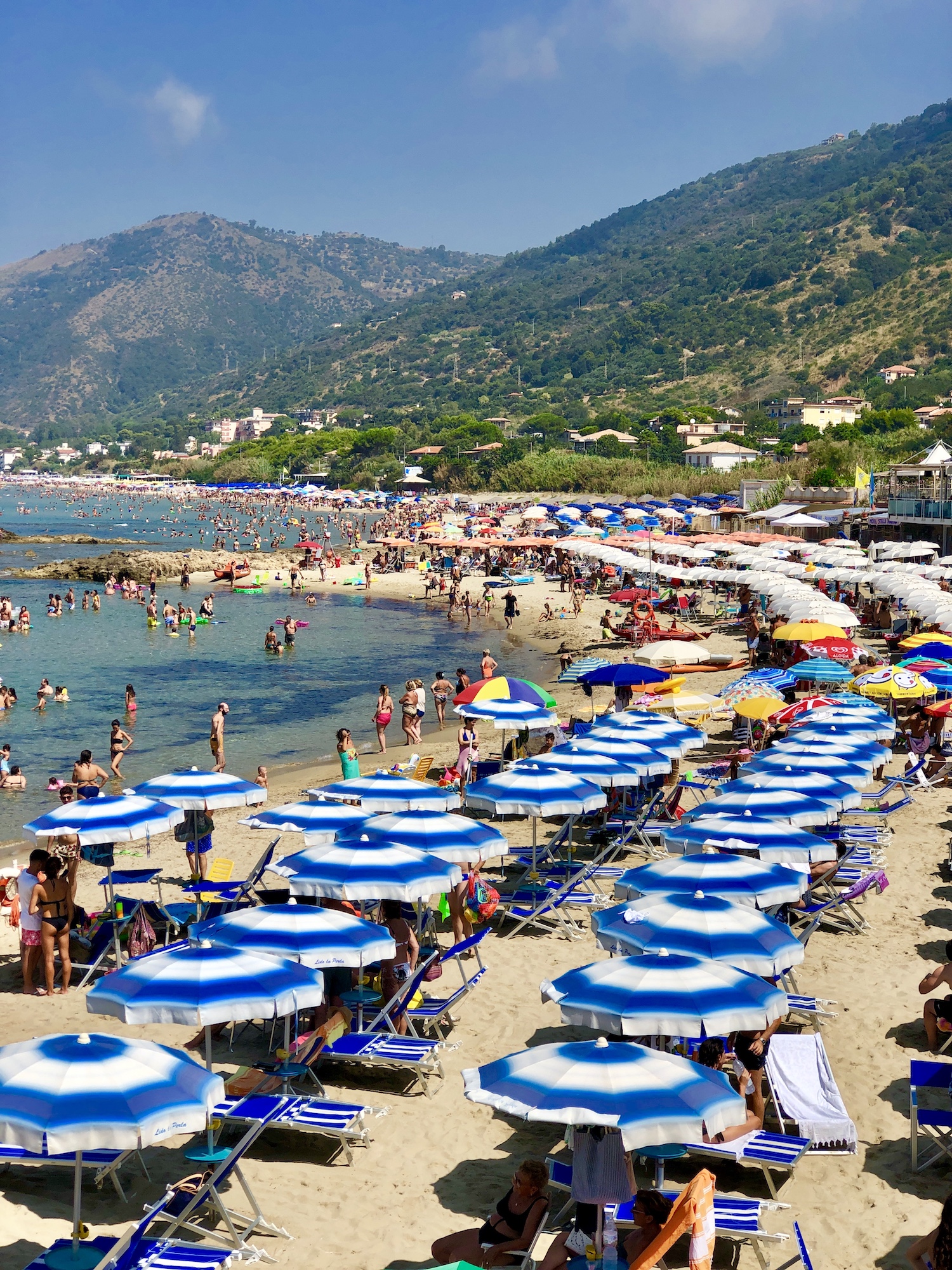 I can see both points, I really can – we came to this country and must embrace local traditions, even if it messes with our plans a bit and I've grown to really enjoy a period of not getting hounded by email. I can say that I never feel guilty taking more time for myself this month, Italy is always a wonderful place to remind you what's important in life because your constantly met with challenges to overcome.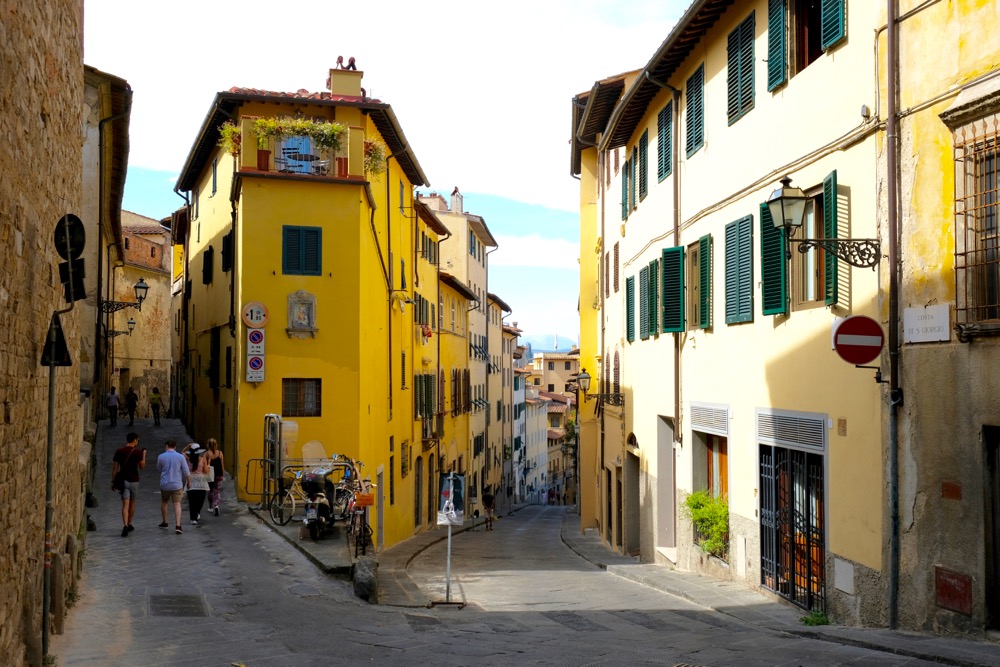 Walking in Bellosguardo, one of my favorite stomping grounds in August
Of course there are the exceptions to the 'off in August' card, like the many nameless people on temporary work contracts, who get little to no vacation and whose August will certainly be as sweaty with work as any other month. This probably represents most of the young people I know in Florence, though most are taking off at least a few days to a week.
Or the ones that work in tourism, in the height of tourist season having the awkward position of explaining to people visiting that the restaurant they want to book tonight won't be open for business while they're in town however lucky for you I have this list of places open this August (2019). Obviously times are changing [somewhat] and many places are opting to close for only the week of Ferragosto, however that still leaves one simple question.
What is someone in Florence left to do on the 15th?
I have decided to make it my personal challenge to suggest a few cool things to do on the 15th and most of August, also so I know whats out there myself.
I have already made a list of events for the month but this post is specifically for Ferragosto, the 15th of August and some fun tips for what to do when here. Since I get asked a lot via this blog, if you are looking for a place to stay in town while here, here are my top choices. 
A few things to know before you come, this summer has been quite hot and make sure to plan most of your activities early in the morning and later in the afternoon (morning is better) leaving the hottest time of the day between 2-6 indoors. Sunscreen and hats are your friend and carry a water bottle you can refill (less plastic please) at local fountains.
* Also while I will keep this post updated the best I can, opening hours and dates can change faster than you can utter 'Mamma Mia' so just expect the unexpected this month.
Become a museum lover – even for a day
I get that not everyone's idea of a good time is visiting a museum, but becoming a city with so many amazing works of arts, it would be a shame not to at least give them a chance. Luckily, many are open this Ferragosto (see below) which would make for a great after-lunch activity and I have a few suggestions to making a visit to them much more fun with a little help.
*updated for 2019
Palazzo Vecchio will be open from 9am-11pm
Santa Maria Novella will be open from 12-6:30pm
Museo Novecento 11am-4pm
Forte Belvedere 11am 8pm.
Villa Bardini will offer free entrance today for Ferragosto as will the Museum of San Marco!
Uffizi Gallery

The Uffizi is a must-visit for so many reasons, seeing The Birth of Venus by Botticelli is just one of many famous artworks that can be gawked at in this enormous gallery. Yet I know personally how overwhelming it all can be. I left a few times in frustration that I didn't really 'get' what I was looking at without an art-history degree and a little guidance that isn't monotone. I really dislike being part of large tour groups due to the overwhelming boredom that usually takes place when being part of one so instead I recommend either hiring a private guide or going it alone, you can download an app like this to help you learn as you go!
The Accademia
Home to the most famous derrier in town, "The David", and before you go read more about Michelangelo's masterpiece with this great book 'From Marble to Flesh: The Biography of Michelangelo's David' by Victor Coonin, a project by The Florentine Press. Discover behind-the-scenes secrets about The David that you never knew before, plus learn the reason why this 500 year-old statue continues to fascinate people every single day. I have no doubt that it would psych you before visiting The Accademia and don't forget to take a selfie with the most famous man in town while you're there ;-).

A list of other museums that are open August 15th include The Bargello Museum, The Medici Chapel, Museum of San Marco (one of my favorites), Palazzo Vecchio and the gorgeous Torre di Arnolfo, many Medici Villas, Palazzo Pitti and the Boboli Gardens, and the Museo del Novecento (Contemprary art). I will add to this list as I find out more information that I can guarantee. You can see the full list of Ferragosto Museum & Church openings with hours here, thanks to Firenzecard (I'm really impressed with just how many are opening their doors). Needless to say you won't be bored!
Embrace the Ferragosto tradition of eating too much food 
The 15th of August is all about eating a huge lunch with family and friends, usually at home or at the seaside which will, as you can imagine, be filled to the brim with men in speedos. I have spent many a happy Ferragosto at home, making a huge roast or clam spaghetti, sipping wine and doing not much of anything – hoorah! The luxury of catching up on a few shows, reading some books, paradise during years that run thin with so many things going on every single day. There are places that will be open on this holiday, including Enoteca Vigna Nuova and check out this list if you need more tips.
My first advice would be to find a picnic spot in Florence, like Cascine Park or the beautiful Pratolino park with the colossal (bus 25), invite a few friends and go shopping a few days before.
Or take the number 7 bus from Piazza San Marco to Fiesole, a charming Etruscan hilltop town close to the city where you can picnic with an amazing view of Florence, an unbeatable activity! Wine, salami, pecorino cheese, fresh fruit is all you need for a nice lunch unless you decide to go gourmet and pack some homemade Sicilian Arancini Bomba, or roasted red-pepper hummus 😉 if you want to be a foodie fancypants.
While it's only open for dinner and not lunch, the Feste del Mugello sagra is the perfect spot to enjoy a fun Ferragosto evening with friends. I went there a few year's ago and was very pleased with my shaved truffle pasta, grilled Florentine steak, Tuscan-style beans and savory grilled bell peppers.
The wine was decent and they have plenty of tables for big groups. I called ahead to make sure they don't close on the 15th which means you're in luck! Nothing says 'Italian summer' more than attending a local sagra, plus I made friends with a balloon guy who showed us a few tricks, fun for everyone and they have a few hay bales to liven up the country atmosphere ;-).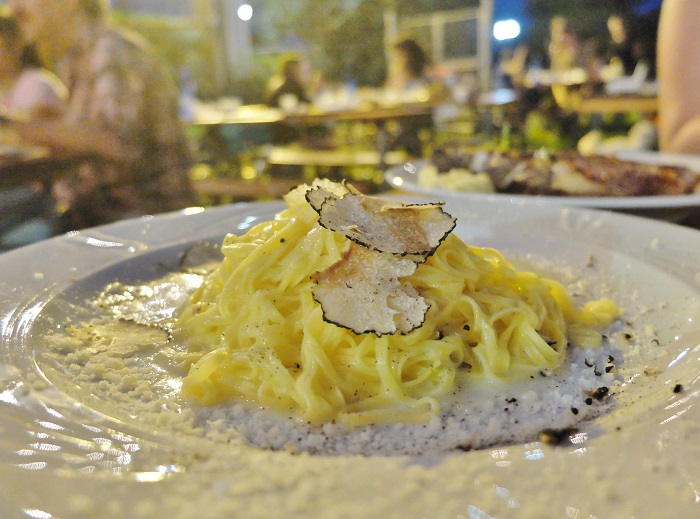 Does anything compare to the power of a good book?
When you're done visiting museums, eating and enjoying gorgeous panoramic views in Florence, pick up a good book and get lost in a story that will inspire you to travel for years to come. I am total book nerd myself, I devour novels even if lately it's been a little tough to find time to read.
Lately (updated for 2019) I've just finished Leaving the Witness: Exiting a Religion and Finding a Life – a fascinating tale of a woman finding herself (Amber Scorah is the author) and questioning some of her long-standing beliefs and No Happy Endings: A Memoir. Both of these books contain stories about loss, which unfortunately is something I know all too well after a tough year. 
Visiting Florence will be so much more fun after reading A Room With A View by E.M. Forster or The House Of Medici: Its Rise And Fall by Christopher Hibbert, a must-read to understand Florence's most powerful family.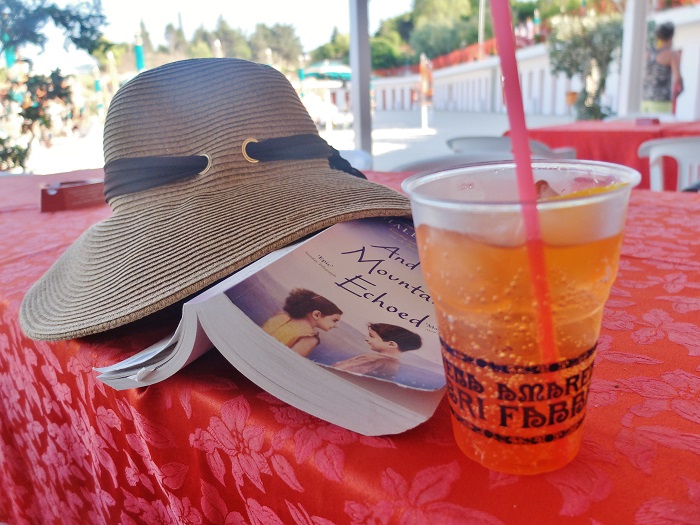 Remember that most people will be at the seaside on this day so unless you enjoy wading in a sea of people, I would lay low and stay in town – a good bottle of prosecco and a few friends is all your really need to make the most of this holiday. But if you insist on exploring a Tuscan Coast, this is a great list of where to go.
Check out the Arno (river) beach and Outdoor parties
Updated for 2019: Next to the river at the "urban beach" (I can't keep track on who actually owns it) you can expect some fun times at the sandy space directly across from Torre San Niccolo   under Piazza Poggi.
Alternatively head to Flower at the Piazzale Michelangelo from 7.30 pm for a special performance by Tarabaralla, a show that traces the history of the folk songs of the Tuscan tradition from the Middle Ages to the Renaissance all the way to music of the late 19th century.
The Giardino Artecultura aka the horticulture garden will also hold a musical concert starting around 8pm and at there will be a lively Brazilian atmospheres at the park at Anconella.
In the piazzetta dei tre Re (Serre Torrigiani in piazzetta) you can indulge in a free guitar course at 5pm followed by live music, otherwise there will be Cuban and Latin American music at the Toraia on Lungarno del Tempio from 9pm to 11pm.
---
È COSÌ! 
Today's topic was part of our 'C.O.S.I' roundtable discussion, discussing 'ferragosto' and our perspectives and tips on this famous Italian holiday. And mark your calendars for today's Google Hangout with our crazy group of expat bloggers in Italy. This will be your last chance for a while—we're taking off for August, too! Anche noi, chiuso per ferie ;-). I also want to hear from you, what are your plans on August 15th in Italy? 
Here are some of the posts written by my accomplices
'My love-hate relationship with Ferragosto' – Married to Italy
'Ferragosto! Pirates, Family, And Eating Until You Explode' – Surviving in Italy
'Ferragosto in Rome' – Rick's Rome
'Ferragosto' — Englishman in Italy
'Insights into Ferragosto' – The Unwilling Expat