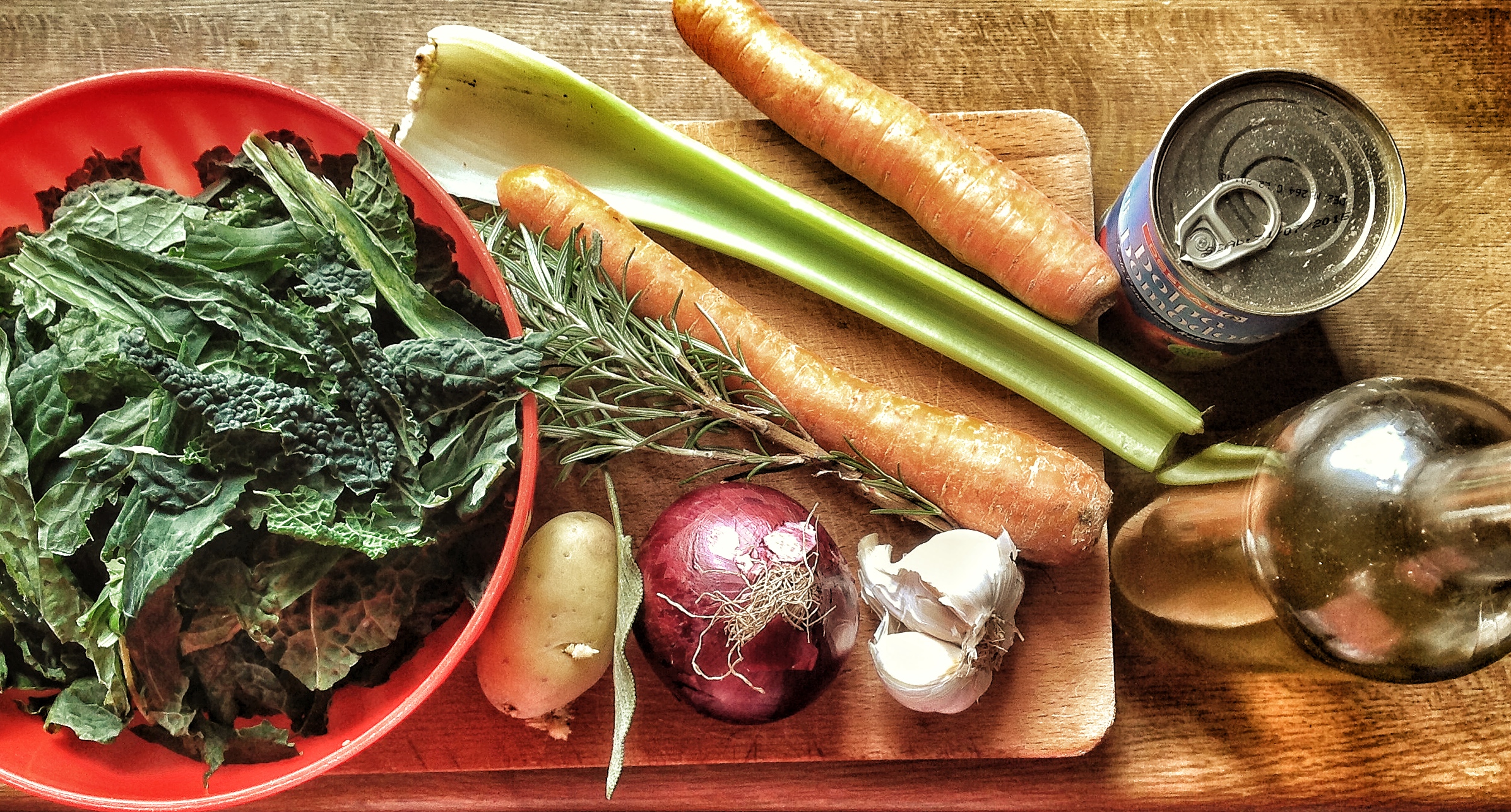 A Florentine winter – while this year the cold has creeped in a lot slower than normal, personally I officially class the first day of 'inverno' as the day I finally turn on the riscaldamento (heater) in my house. If you don't already know, gas & electricity are very pricey in Italy and this is not the country that you would want to leave your heat on 24/7 unless you want to be the gas company's personal piggy bank.
So what is a girl to do as these days get shorter and the sun sets around 4?
Make soup

You may remember my minestrone recipe of a few weeks back which is pretty similar to this one. This time around I really needed to use up a leftover batch of cavolo nero (black kale) that I picked up at the market on Friday since it's green stems were calling my name. This winter veggie is versatile to say the least. In fact the day before, I covered some leaves with oil, vinegar & salt and baked them into chips in the oven for a crispy treat. Yum! 
Since you really can't keep fresh cavolo nero for more than a few days, I stripped the stems and decided to make a hearty winter soup. The recipe is super easy and will last you a few days if you make a big pot. Highly recommend serving with crusty toasted bread, rubbed with raw garlic and topped with olio nuovo (new olive oil) and salt. This spicy green oil is my current new obsession.
Zuppa di Cavolo Nero – Black kale soup
Ingredients
2 black leaf kale plants, about 1 kilo (cavolo nero)
A medium onion, minced
2 cloves garlic, crushed
A medium carrot, minced
A stalk of celery, minced
A sprig of fresh thyme
Olive oil
2 canned plum tomatoes, crushed
Salt and pepper to taste, i added a bit of paprika
1 1/2 liters vegetable broth
Fresh rosemary and sage
1 potato
Preparation 
Rip the leaves of the black kale stems and make sure to wash thoroughly. Add about 1/4 cup of olive oil to a big pot and simmer the carrot, celery, garlic, potato, and onion for about 5 minutes.
Add the thyme, rosemary, kale to the pot and stir for another 5 minutes. Next up is to add the broth, canned tomatoes and seasoning – bringing to a boil and then lowering the heat to then simmer for at least 30 minutes, until the kale is tender and voila! Masterchef is YOU.
You can add anything you want to this soup. For a heartier version, add some Tuscany beans and farro or even a bit of bread. I tend to make this on Mondays to eat throughout the week when life gets a little crazy for me with work. Also lets be honest, if I am making a meal for one, I can tend to be a little lazy. The great thing about soups like this is that they are amazingly easy to make and are super tasty to boot! Italians really are the masters at using fresh, local ingredients to the fullest.
Now it's your turn! What soup do you crave as the weather gets chillier?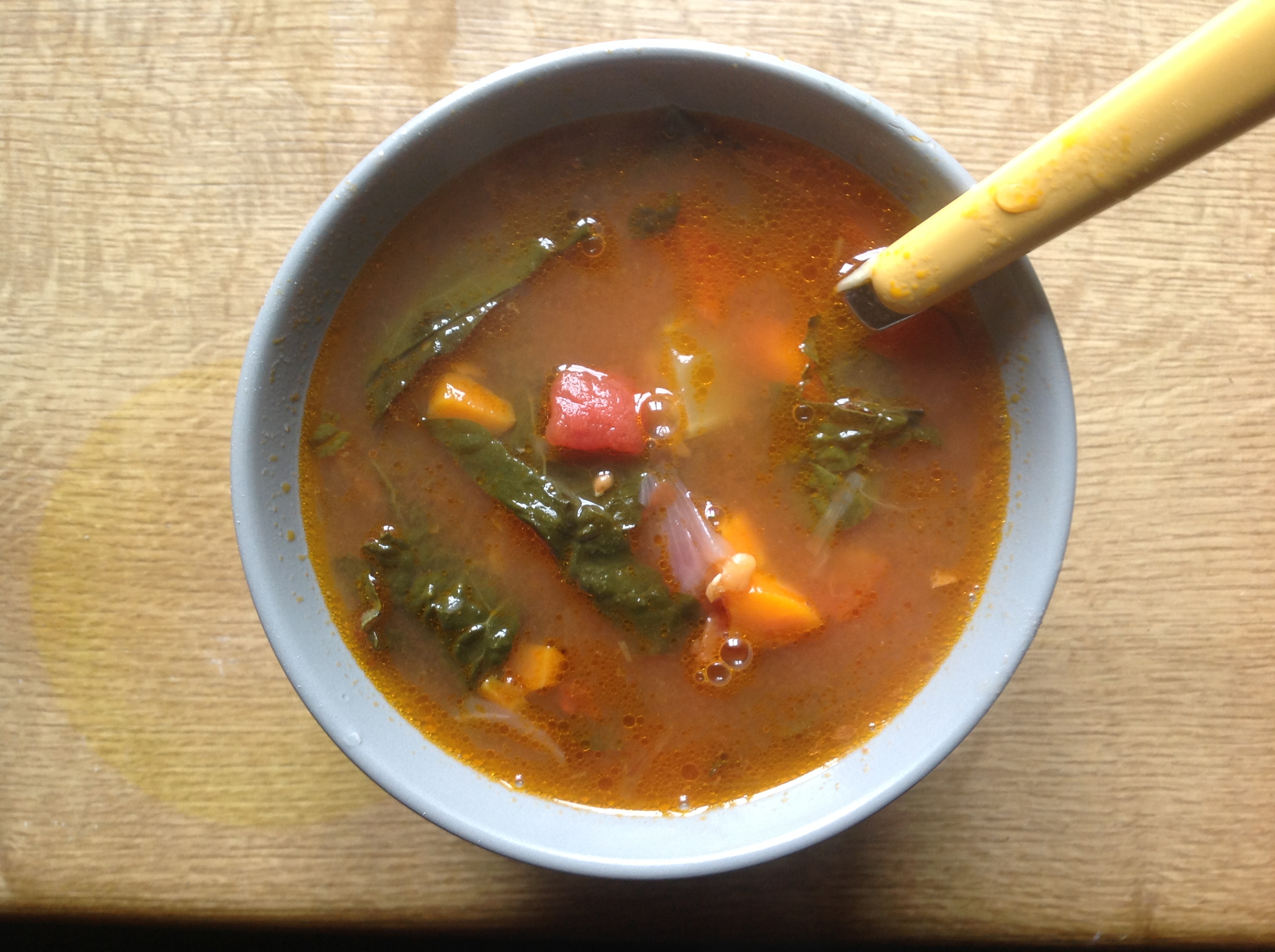 Related articles