This past Sunday was t-mans and my seven-year anniversary. Seven years of being together and dealing with horrendous red-tape. Seven years of making very adult life decisions earlier than most couples and many many cultural misunderstandings. We fell in love over a shared sense of humor and a love of food. Not to mention  a true desire to remain together – since Italy certainly wasn't in any hurry to help us.
You may be wondering does this have to do with bistecca? 
Quite frankly if I was going to liken my relationship to a food – bistecca fiorentina would be my top choice. Its cooked rare (if you know your steak) valuable and delicious . I often think about my choices in life – moving here and choosing to live an existence that can never be described as easy. Being in your twenties and moving to a country with high unemployment and not being part of the EU, married or have a great grandparent who is Italian ensures quite a difficult road in il bel paese. However, one word that never comes to my mind is regret. If that labels me as delusional for thinking that creating a life here would be better than an easier one back home, then so be it. I am very happy with these past years – hard as they were and still are. I truly believe anything is possible and that I could be shipped anywhere in the world and live a happy existence because it's not Italy that makes me happy but rather my own state of mind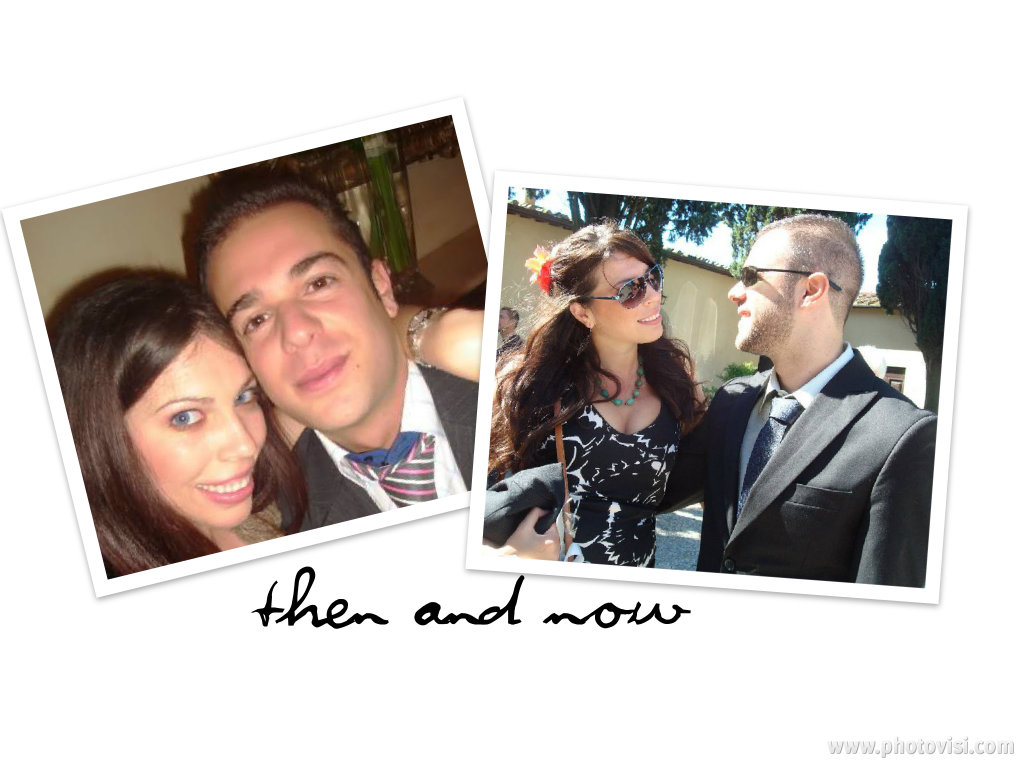 I met t-man in 2005. I was wearing an 80's outfit (going to a themed party) that probably could have deemed me hooker material in the eyes of an Italian man. Imagine  a bright pink pleated skirt and 'pleather' (I cringe while writing this) boots on a 5'9" American girl. We met at the now-non-existence dance club Dolce Zucchero and I was dancing with my friends. Not planning to meet anyone, especially not an Italian guy. He was wearing a nice shirt with not-so-nice 'sporty pants' but I had not one care in the world. I gave him my number, he had his friend call me, and at our next meet up I forced a friend to come along for 'security'. As soon as I saw him in the sober light of day, big bright smile, great teeth (important) and equipped with a refreshing wise-cracking sense of humor –  my friend took the hint and left us alone to have our first kiss on the Ponte Vecchio. From then on.. a romance was born.
I often wonder if I should fib and say we met while browsing in the market, our hands brushing while reaching for the same tomato – Woody Allen style. But does that ever really happen? Or is my story reflective of how you really meet someone? Your guard down and a split decision to just take that chance. Even if you don't speak the same language. I was raised mostly in Texas with a large mixed-culture family and left at 18 yrs old off to live in California. He grew up in Florence, a single bed sharing his house with his parents and grandparents never having lived outside his localita.
Despite a lot working against us, at times ourselves included, here we are, in 2012 celebrating our seventh year together. T-man has seen America, suffered through public transportation in Los Angeles, seen my family sing drunk karaoke at Christmas, accepted a re-gift with a smile, and tried more versions of diet-coke than any human being should. I have dealt with seven years of pink teddy-bear pajamas, impromptu-house visits and on the flip side – lots of delicious food and being proud to be a part of una famiglia Italiana.
I know I am lucky, but I also know that me and him took some very real chances in life and especially with one another. You never know what will happen in the future and if your relationship will stand the test of time, me included. I hope that one day my future kids will speak two languages with ease and have insane opportunities for work/university in both the USA and Europe.
But like I said – life is about living in the moment and enjoying that bistecca today, not tomorrow.
Related articles