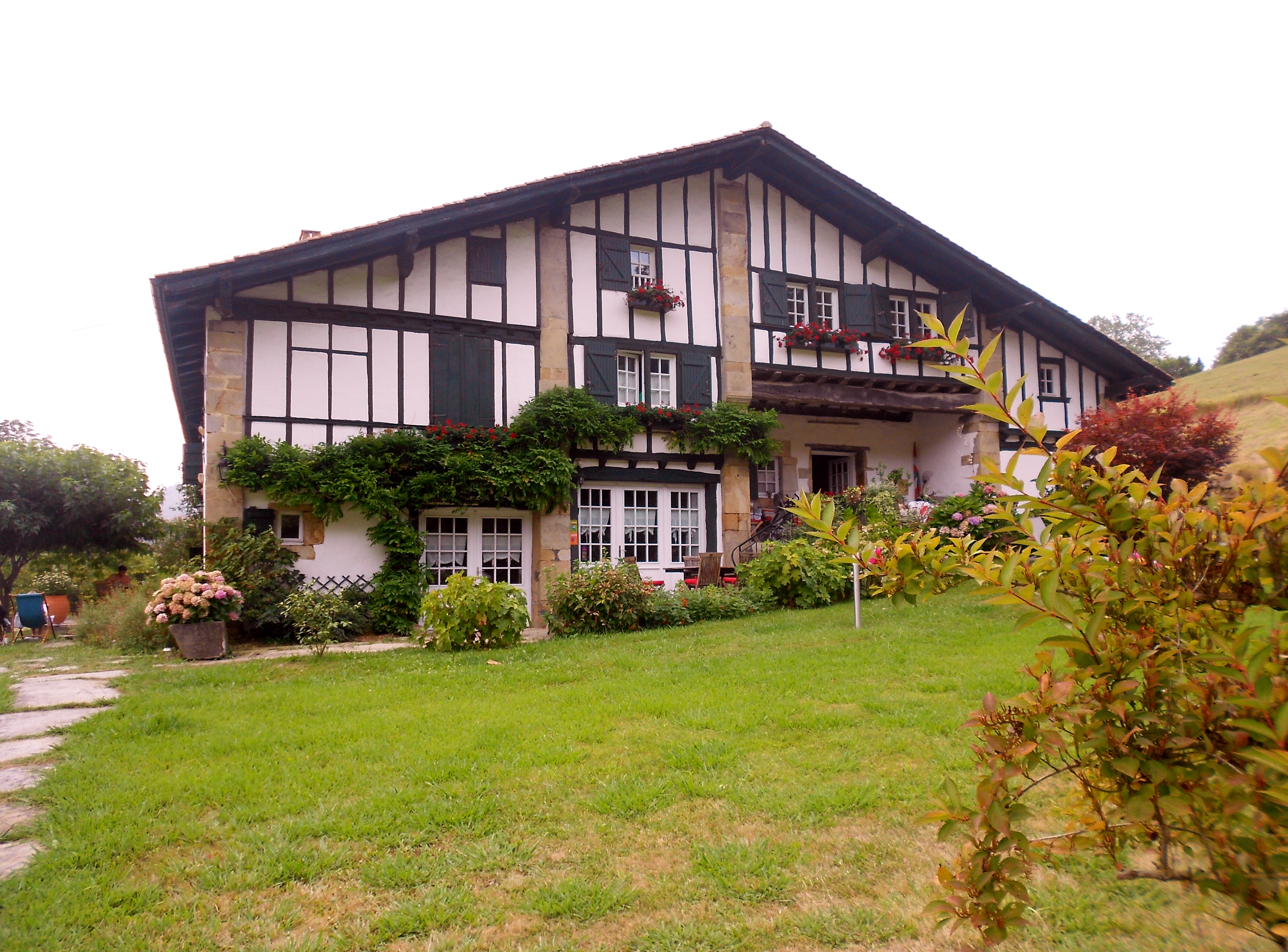 Part of of our France adventures involved a 4 day foray into the Basque country (Euskal Herria). To be honest I have only heard of this region recently but yet there was something about it that made me really want to see this part of Europe. The Basque itself is comprised of the area around the western Pyrenees and encompesses both France and Spain along the Atlantic coastline. According to wikipedia:
The modern claim for the extent of the Basque Country, coined in the nineteenth century, is seven traditional regions. Some Basques refer to the seven regions collectively as Zazpiak Bat, meaning "The Seven [are] One".
Some fun facts about the Basque include:
The Basques do not have a country of their own, however this area is generally known as Basque Country. The greater part is in NW Spain
Euskara is the Basque language. An isolated language, unlike any other in existence. cool! French and Spanish are understood and spoken depending which area you're in.
Modern science claims that the Basque population is genetically and culturally distinct. They are believed to be prehistoric inhabitants of Europe and quite possibly the direct descendents of Cro-Magnon man, who appeared in Europe and the Middle East some 36,000 years ago.
We decided to stay in a small bed & breakfast (pictured above) in the French Basque country (Pays basque français) in a small town called Sare (in the Labourd province), which is was 15 minutes from the coastal town of San Jean de Luz. This small town is famous due to the Petit train del la Rhune which we didn't end up using because it was massively crowded everyday and quite expensive to boot. We ended up wandering the countryside ourselves instead. The center of Sare is charming and pretty – a hot-spot for trekking enthusiasts and full of traditional wooden Basque houses.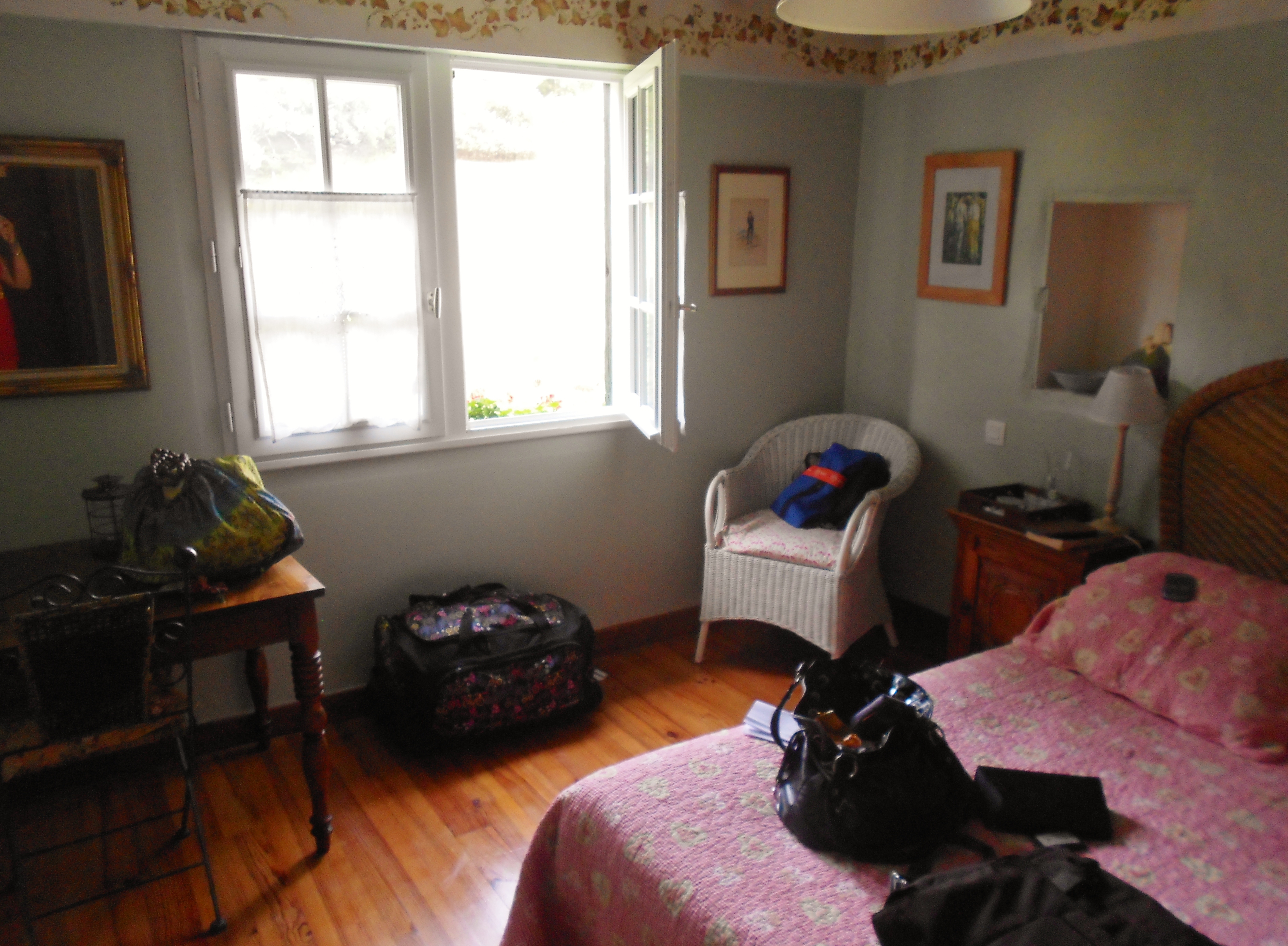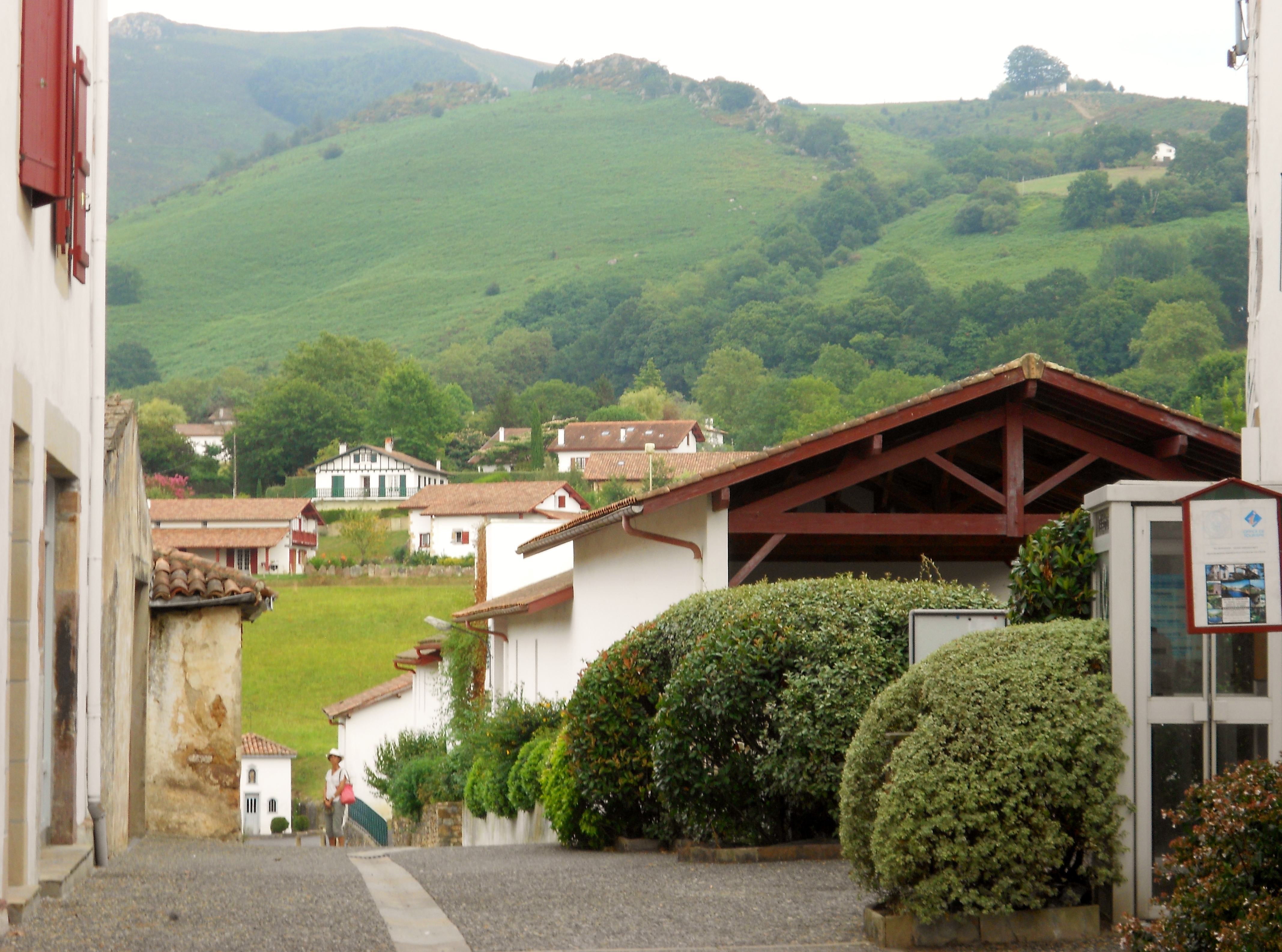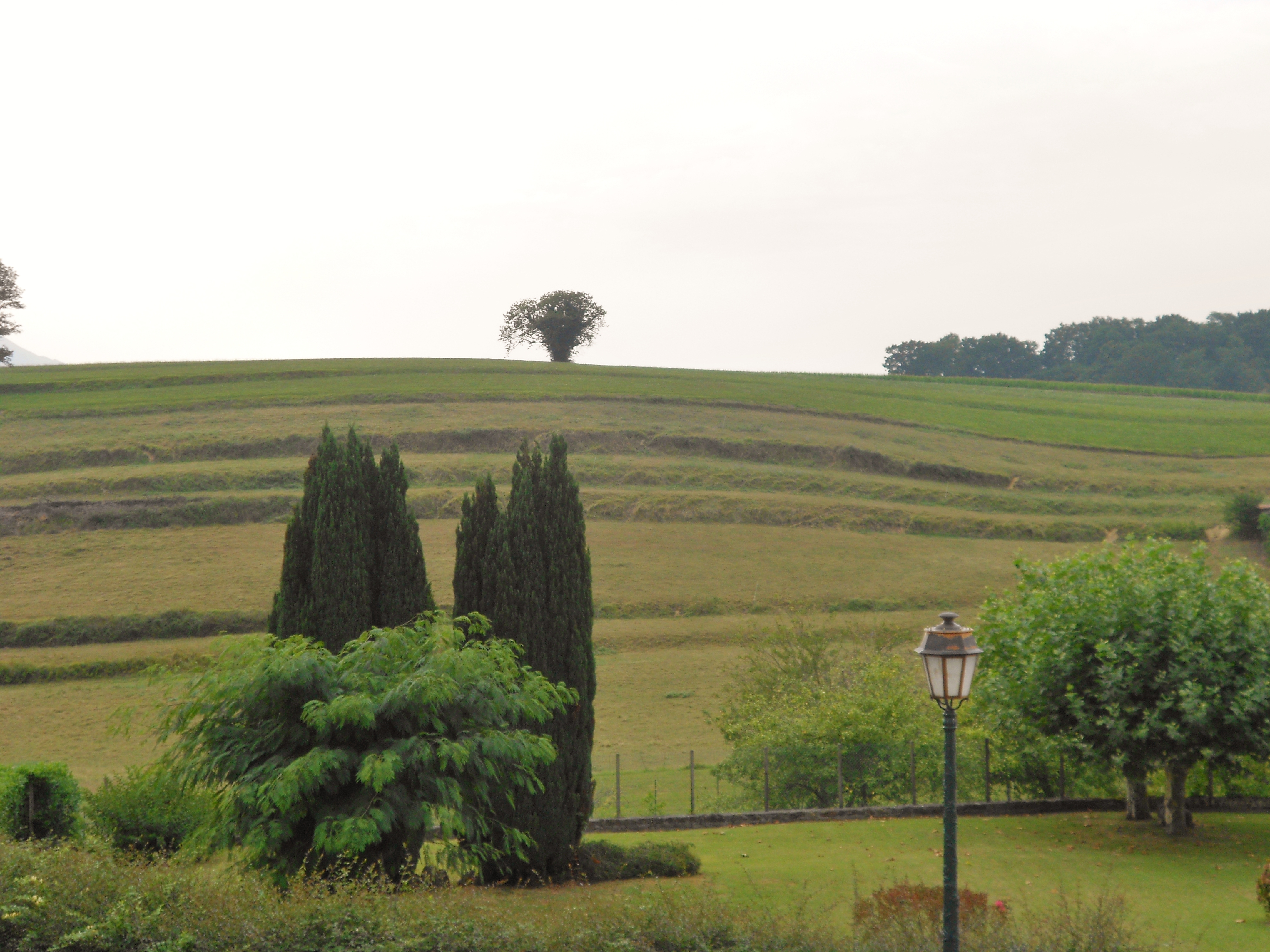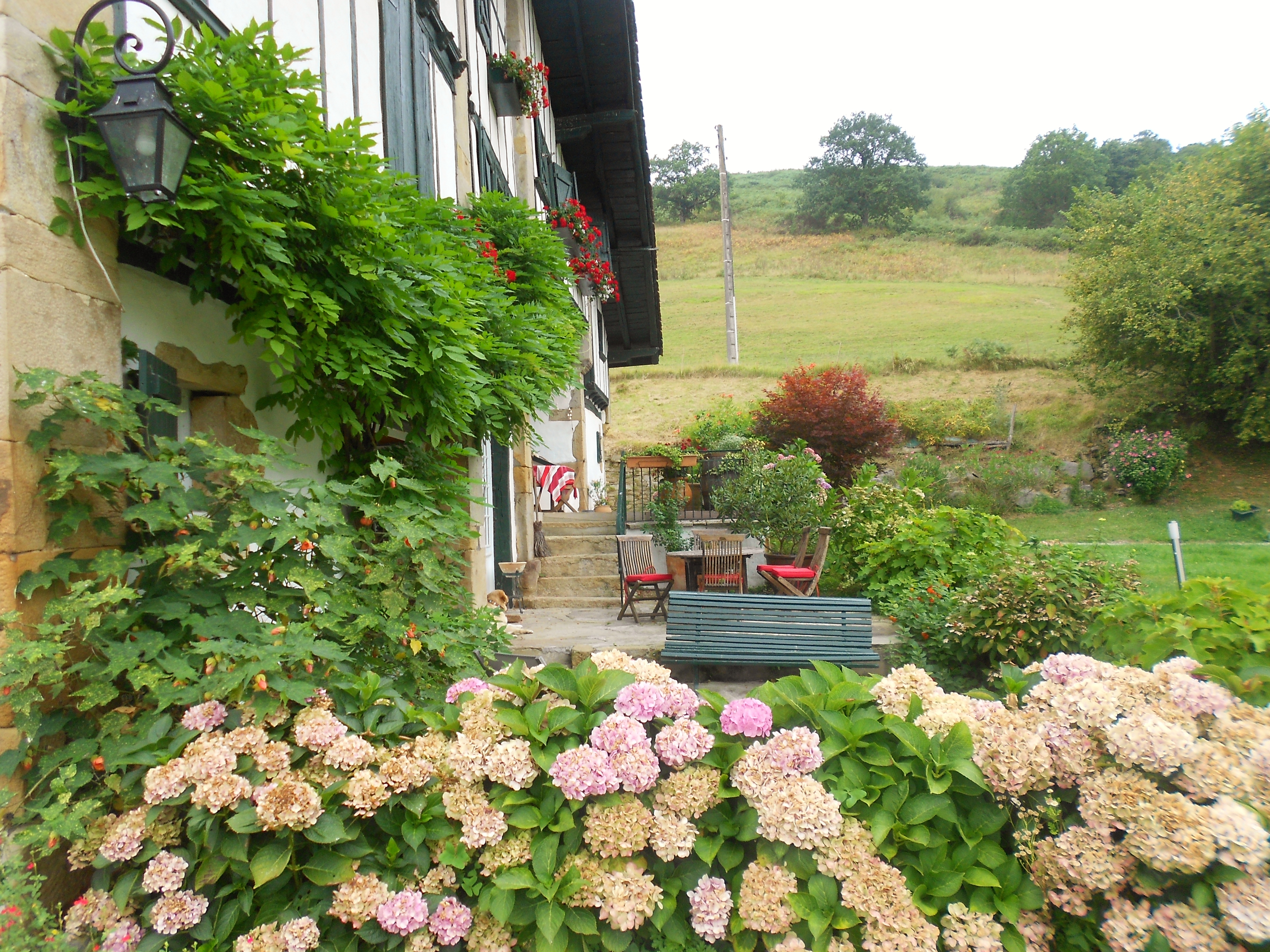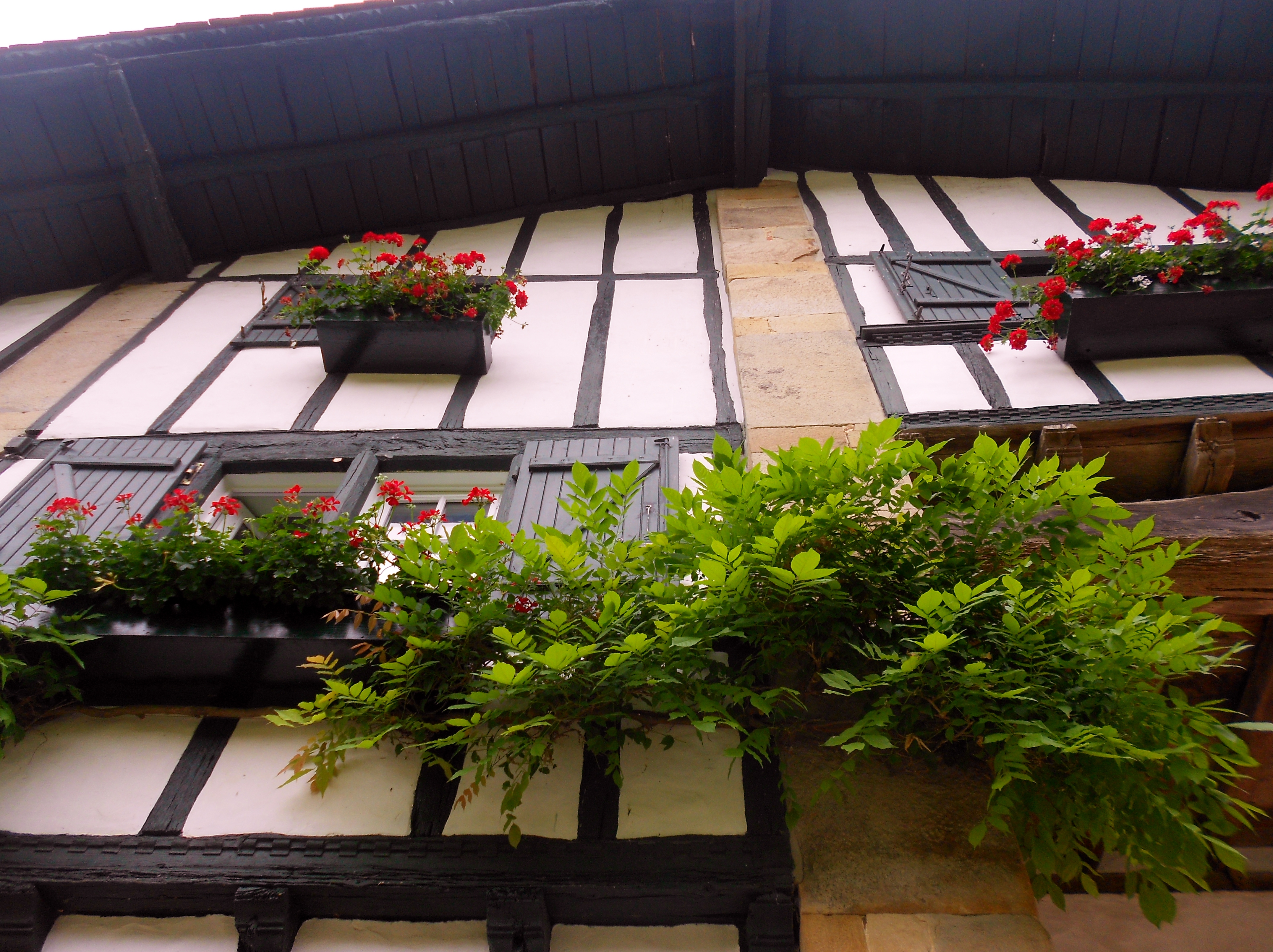 After checking in to our charming B&B that happens to date back from the fifteenth century (at 65 euros a night including breakfast, this was a steal in mid-August), we chatted with the friendly owner who although didn't speak English spoke a mix of French-Italian-Spanish and was eager to get to know us. Every morning we woke up to the tinkling of sheep grazing in a nearby field and enjoyed fresh croissants with marmalade and fresh-squeezed apple juice from the trees on the property while joking around with Michele and his wife.
We headed to Ainhoa, another small village in the pays basque known as being one of the prettiest villages in all of France. Similar to the layout of Sare, there were many local shops selling berets, wine, gateau basque (traditional cake from the area), salami, sauces, linens, perfume and tons of sheep-related goods (lots of funny basque themed place-mats). If you have a car you can certainly visit a few of these villages in one day while the coastal towns probably need an extra day or two depending on the weather.
One item I wish I would have grabbed while  we were there are table-linens. Striped and colorful, the linens in this part of the world are gorgeous, good quality and made with a deep texture. I think I may be doing some online shopping very soon to try and get a tablecloth or two.
The food in this region is heavenly and I especially loved the cheese with locally made jam and hard cider. If your wondering why the above photo is of a wall, that actually happens to be where locals in the Basque country play a variety of court sports involving a racket and ball. We saw these courts everywhere and even got to see a little bit of a local game and I have to say – they mean business. We spotted some posters around town with two very attractive men holding xistera (basque long-pointed curved baskets) who were due to face-off in a few days time. Too bad we couldn't have seen the game… next time?
I have to say, now sitting back in my apartment in Florence that I can't help but think there is something really mysterious this place. The feeling I had when walking around and taking in the sites was  that this was a country of contrasts and secrets, landscapes included. To us, the locals were very friendly and warm, and I never rushed into speaking English but instead memorized a few key French phrases (however terrible my pronunciation is). These are a proud people, completely in tune with their heritage and eager to share that with you.
Plus who needs language when expressing your happiness over a good meal or a nice day, your smile say's it all, and mine just happened to stretch from ear to ear.
Part two of our Basque exploration is coming soon – from the ocean's waves kicking our butts to an extreme food hangover in San Sebastian.
Related articles