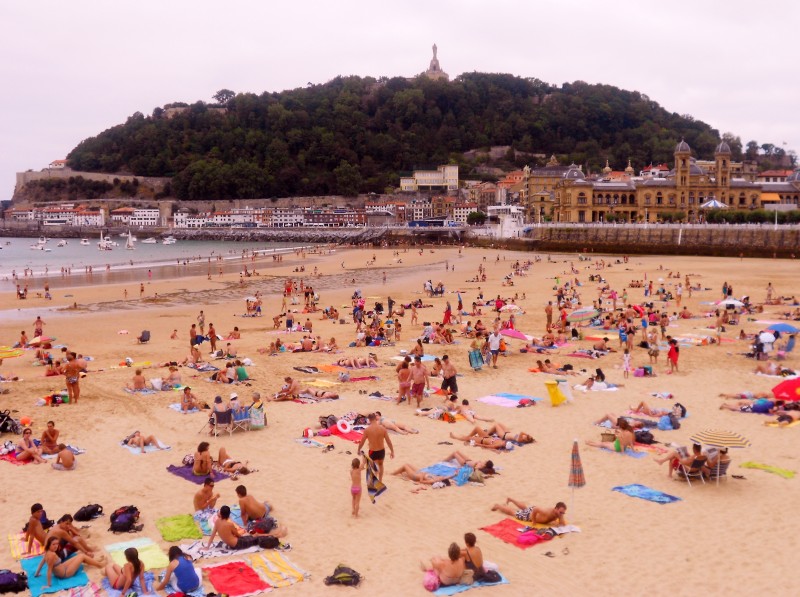 Our last day of adventures in the Basque led us to San Sebastian or Donostia (in Basque language) which is located near the Bay of Biscay and near the French border – with three famous beaches Concha, Ondaretta, and Zurriola. We decided to park our car in Hendaye and take the Euska train to San Sebastian since we didn't want to worry about parking and we wanted to focus on the important things while traveling, stuffing our faces and getting into trouble.
The city itself is beautiful and diverse – with an old town and new town full of charming streets featuring pinxtos bars and bustling tree-lined boulevards with tons of shopping opportunities. We spent more time in La Parta Vieja – old quarter than the newer areas but I think next time I would like to do more comprehensive exploring. One day is certainly not enough time to properly see the city and enjoy all of the gastronomic treats this place has to offer.
San Sebastián contains an old quarter, La Parte Vieja, with narrow streets, hidden plazas, and medieval houses, but it is primarily a modern city of elegant shops, wide boulevards, sidewalk cafes, and restaurants.
We decided that in order to really get to know this city – we needed to start with a fabulous lunch. Luckily for us, we made fast friends with a local in the tourist office who suggested a great lunch spot where for 26 euros in two – we had a bottle of really nice red wine and a complete meal.
I can't even describe how awesome this meal was. My steak was cooked to perfection and the potatoes crisp. They added a spicy-sweet red sauce under the meat which we found in several meals in the Basque country. T-man's fish with caramelized onions was top notch and the perfect portion-size. Dessert was light, yet we still had a  food coma for a few hours afterwards. We decided to walk off the meal tracing the panoramic path along the ocean.
At that point, it was getting pretty cloudy so we decided spontaneously to visit the famous aquarium along the waters edge. We pretended we were in middle school again and "ooooooh and awwww" with the rest of the young visitors and their parents.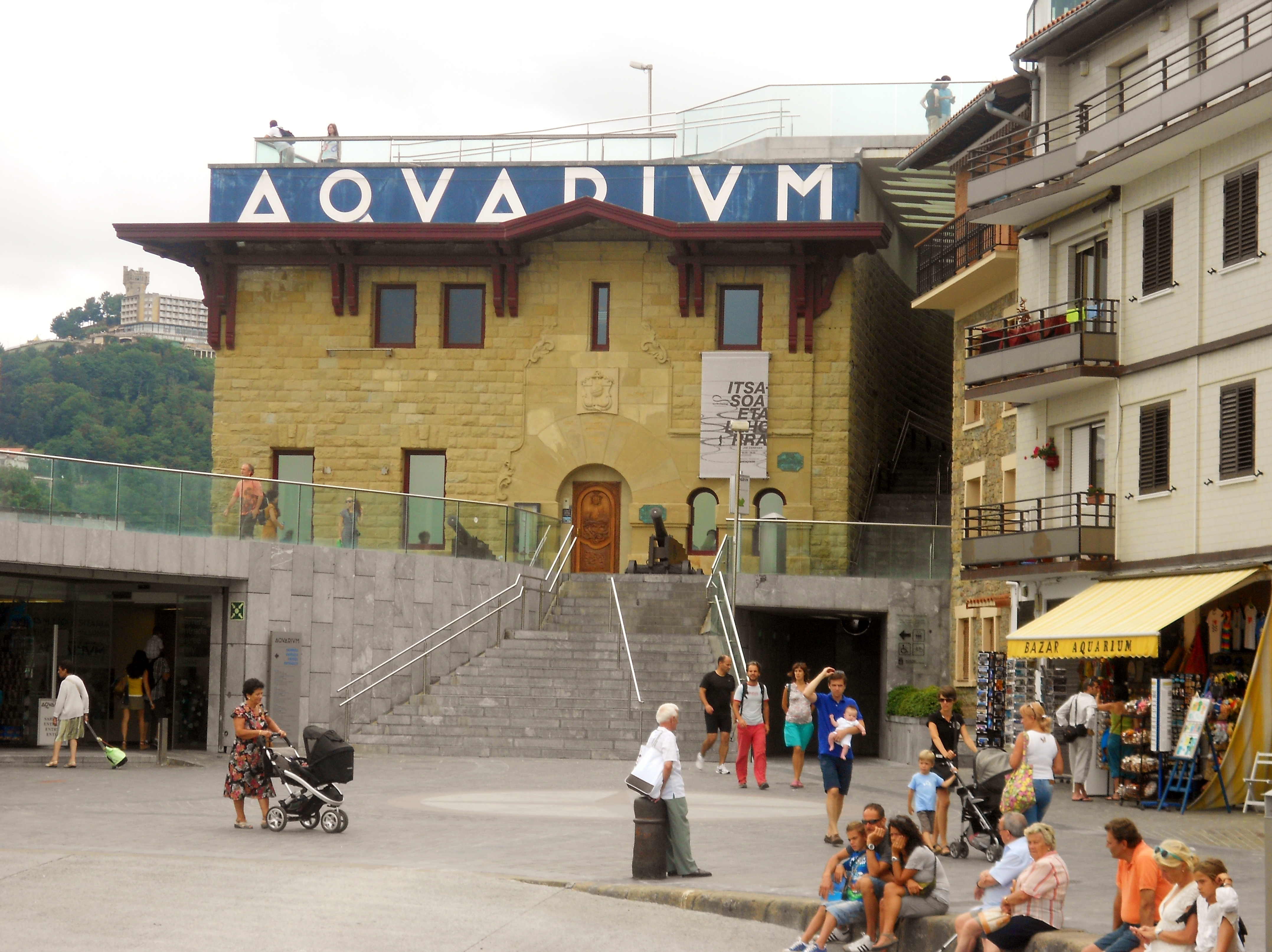 We were pretty impressed with all of the different rooms- this is not your average aquarium. They touch on the history of the place itself (which included a scary sting-ray in a jar) – the variety of fish was pretty vast. The 360 degree tunnel was fun. We got nose to nose with sharks and sting-rays. Lets just say I was happy there was a foot of glass between us.
Afterwards we meandered around the port area and caught a cute scene of a group of nuns carrying a guitar and a life-guard lesson in full swing. I don't know about you but I admit that I love people watching while on vacation. I am very curious to know how life happens for the people that actually live in any place we're visiting.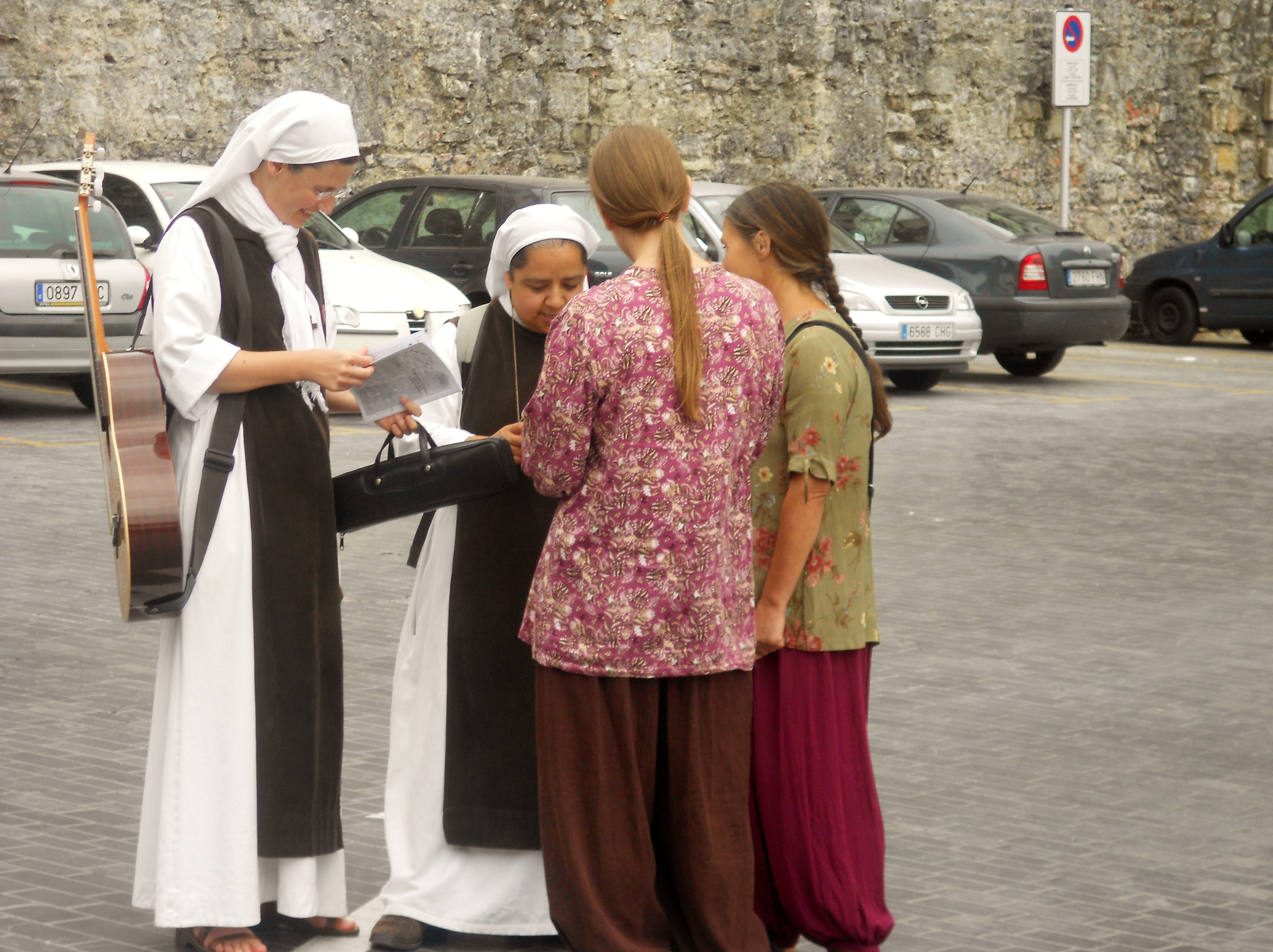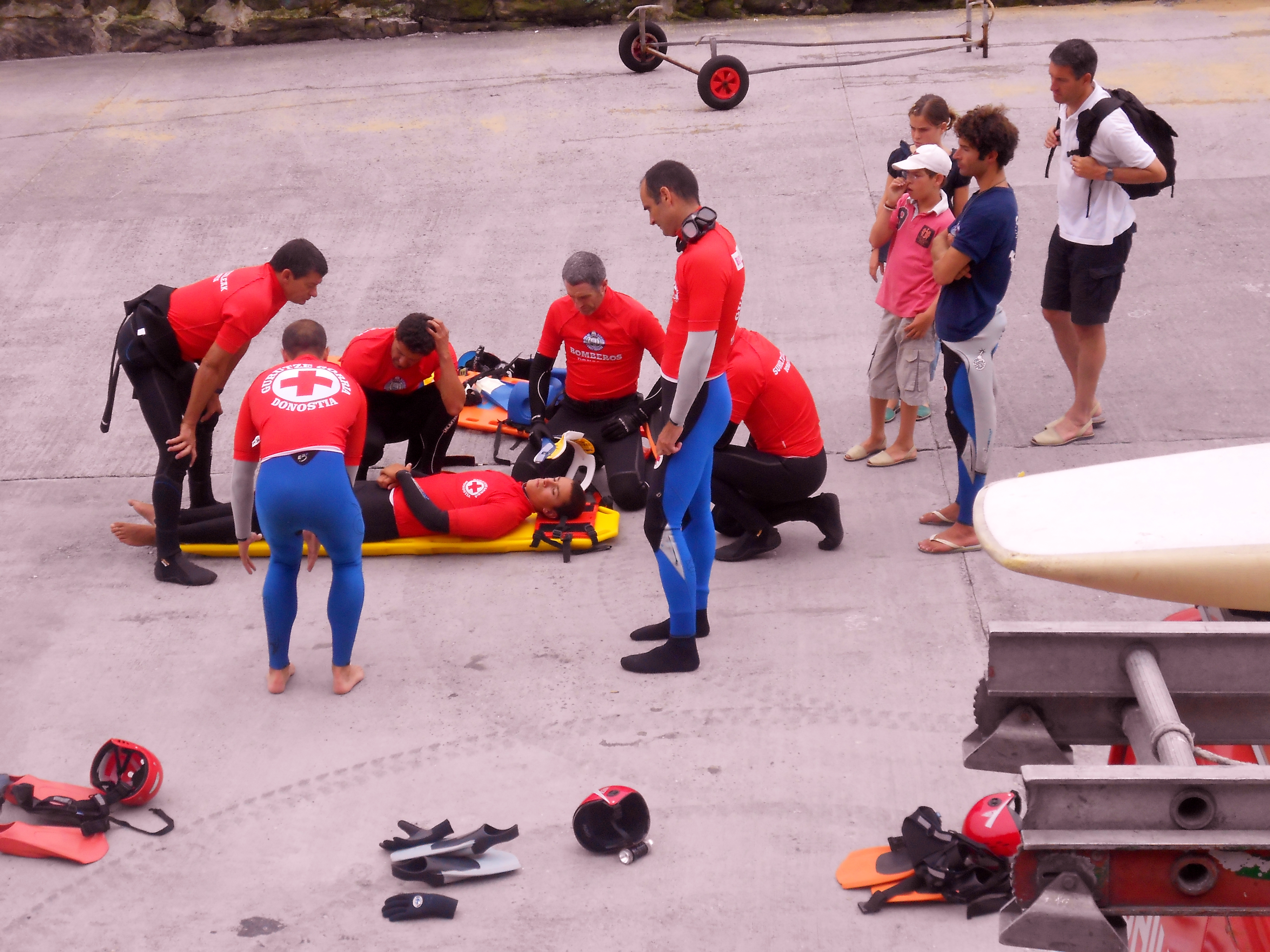 We walked so much that honestly in order to make it to dinnertime, I really needed to rest. We set down our towels and I took a power nap on beautiful Concha beach.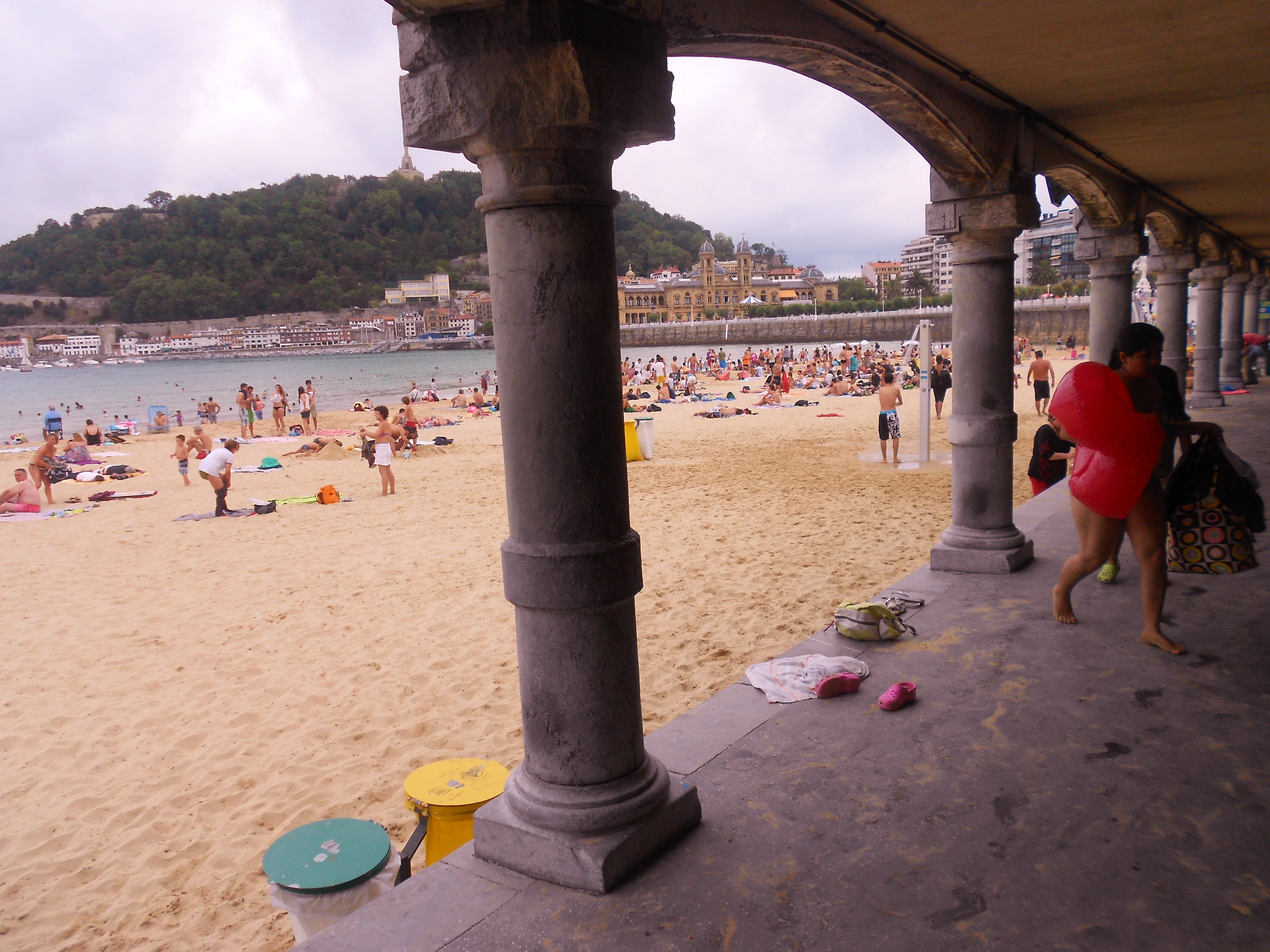 Our plan for dinner was to grab some pinxtos – local tapas at a few different bars washed down with a glass of Txakoli (local fizzy white-wine poured high above the glass). Before heading to the first bar we ran into a group of students playing classical music in the center. They knew what they were doing and slowly but surely their open guitar case soon filled with euro coins.
I really couldn't believe how pretty this city is – it's the epitome of fantastic food, nice beaches and interesting architecture. I am very intrigued by the Basque culture in general and welcome opportunity to spend more time in this region in the future.
We found a few streets in the old town with  pinxtos bars so we stopped in and grabbed a few crab-pies covered with slices of prosciutto which were delicious. Portions are small and they certainly pack a powerful punch of flavor. These are not your average tapas nor do they want to be. 
We changed bars and went to bar La Viña – famous for their anchovy cone filled with marcaspone. We tried one cone each (and I don't even like anchovies) and a savory meatball. Both were reasons enough to visit this city.
We had a train to catch around 9:45pm back to Hendaye for what later would be a very confusing and annoying drive back to Sare. This was because driving in Hendaye can be somewhat of a nightmare. One way streets and our gps was trying to lead us into the water (evil gps).
I think visiting San Sebastian can be done in one day but I would rather spend a week eating my way through this city. Or a month, or a year. So if you're a food obsessed junkie like me that also loves European old elegance and beaches – this is the city for you.
Also if you are in this area and really want a special local restaurant to eat at outside the city in the Basque countryside, my friend living in Spain recommended this place. We didn't get a chance to go this trip, and its a real shame considering it seems really remarkable. They have their own cider brewery that you drink using traditional mugs. Please go and tell me how it is so I can be extremely jealous and drool on my computer.
Etxe Zahar Jatetxea, link herePutxutxoerreka Kalea, 2
20180 Oiartzun
tel: 0034 943 49 32 26