Sale season in Italy has always been a much-anticipated time for many of us always keen on a good deal. Admittedly, I have always found shopping in Italy quite challenging at least in the clothing arena. As someone who is both tall with healthy hips, it can be discouraging to constantly play the "sizing roulette" in Italy hoping that things fit how they should (and they often don't).
Instead I am an accessory queen.
Shoes, jewellery, bags — I love it all, and while I don't splurge too often, I cherish the chance to pep up my wardrobe with anything that will (hopefully) last the test of time and Florence's unforgiving cobblestones.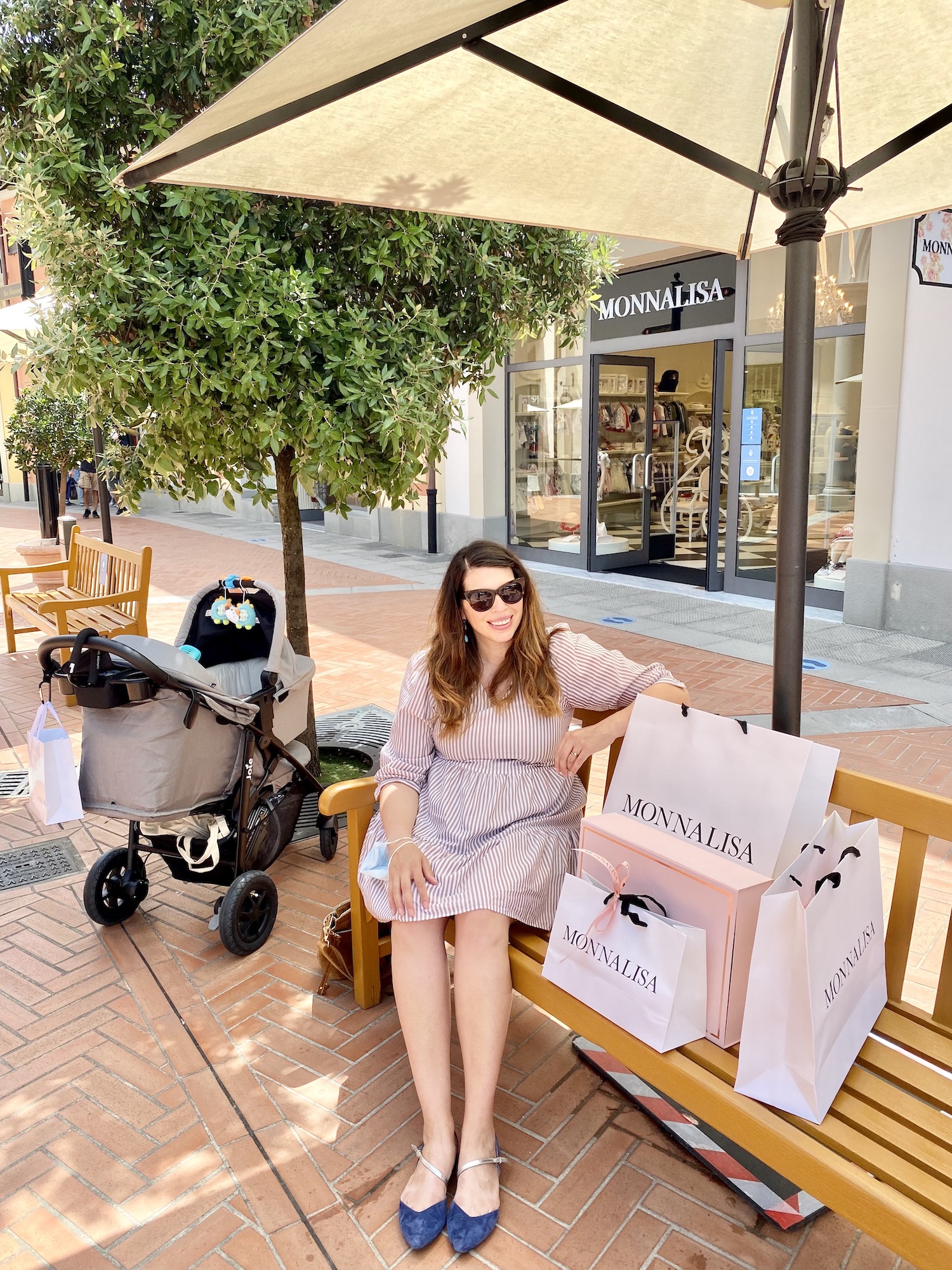 With the arrival of Annabelle, it has decidedly become more fun to shop since she can't tell us off for how we decide to clothe her (yet). I'm definitely quite careful and cautious in both spending the right amount and not accumulating too much stuff but I was very excited to come back to Italy to stock up some clothes and accessories for her that are more favourable price-wise than what we can normally find in Switzerland. It can be hard to know where to shop for kids in Tuscany but this is a great option for those who want to hit up a few stores up in one day.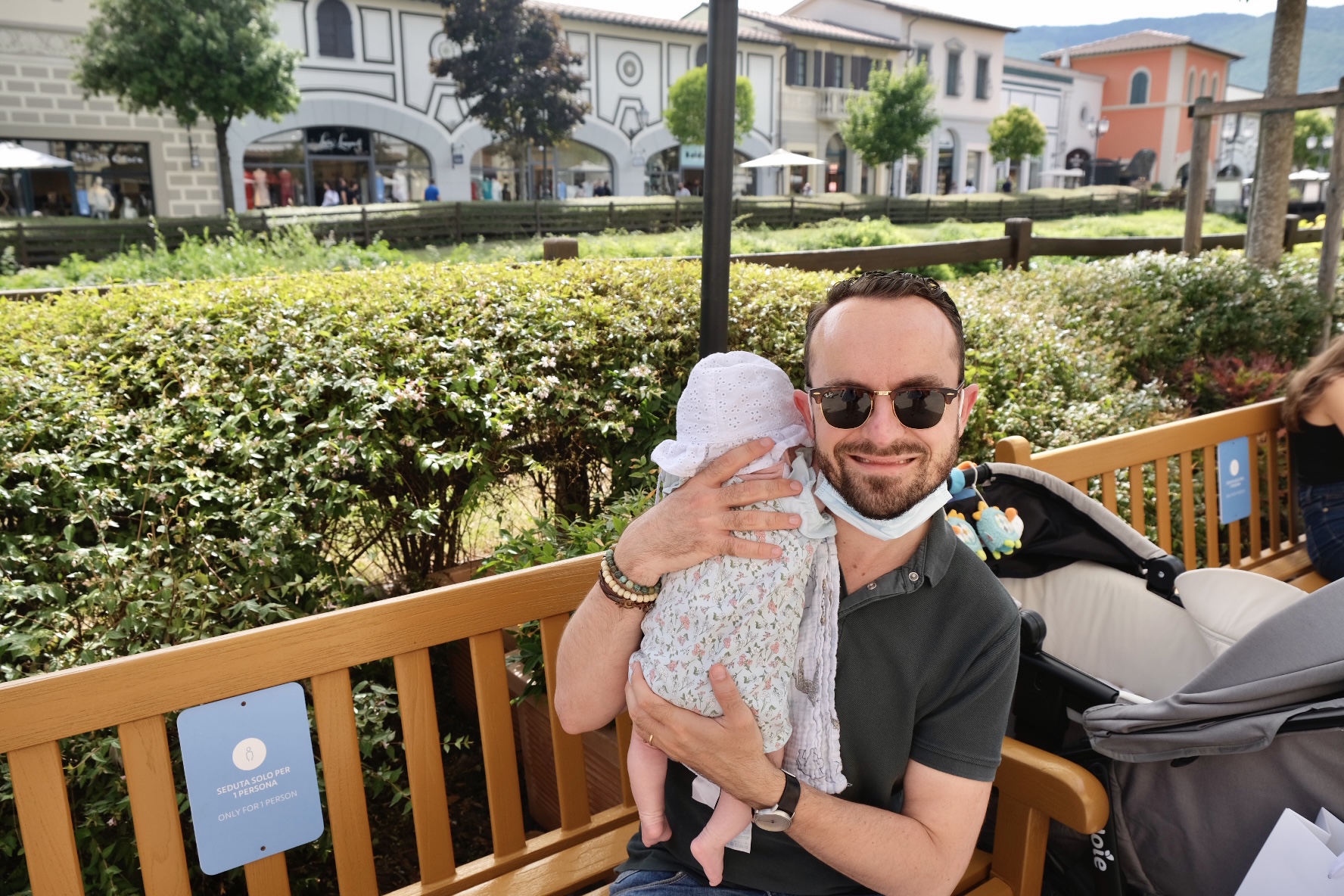 When Italy's saldi are current, now until August by the way, it really is the prime chance to stock up on much-needed items for the home (and for us!). This makes a trip to Barberino Designer Outlet in Mugello a great option if you're in Florence or Siena. As a bonus, much of what you can find in this outdoor shopping center designed like a cute Tuscan village has already been heavily discounted– think designer brands that are up to 70% off all year around.
Barberino is located only thirty minutes from Florence along the Sieve river and you'll find more than 120 boutiques, free parking, picturesque cafés, and restaurants making it a pretty pleasant place to stroll and shop in the heart of one of Tuscany's most beautiful areas near Lake Bilancino and at the Autodromo del Mugello. Think brands like Ralph Lauren, Converse, Karl Lagerfield and Lacoste, I was especially happy to see a Havaianas outlet (I picked up the cutest sandals for the beach) and Desigual, which always has some size-inclusive options.
Unlike some of the other outlets in Italy, I have always felt like Barberino particularly appeals to locals. There aren't bus loads of huge groups crowding up the walkways and people were extremely respectful of the current Covid19 guidelines. There is plenty of space to walk around (wide passageways) and stores were quite attentive about the number of people who could enter at any given time.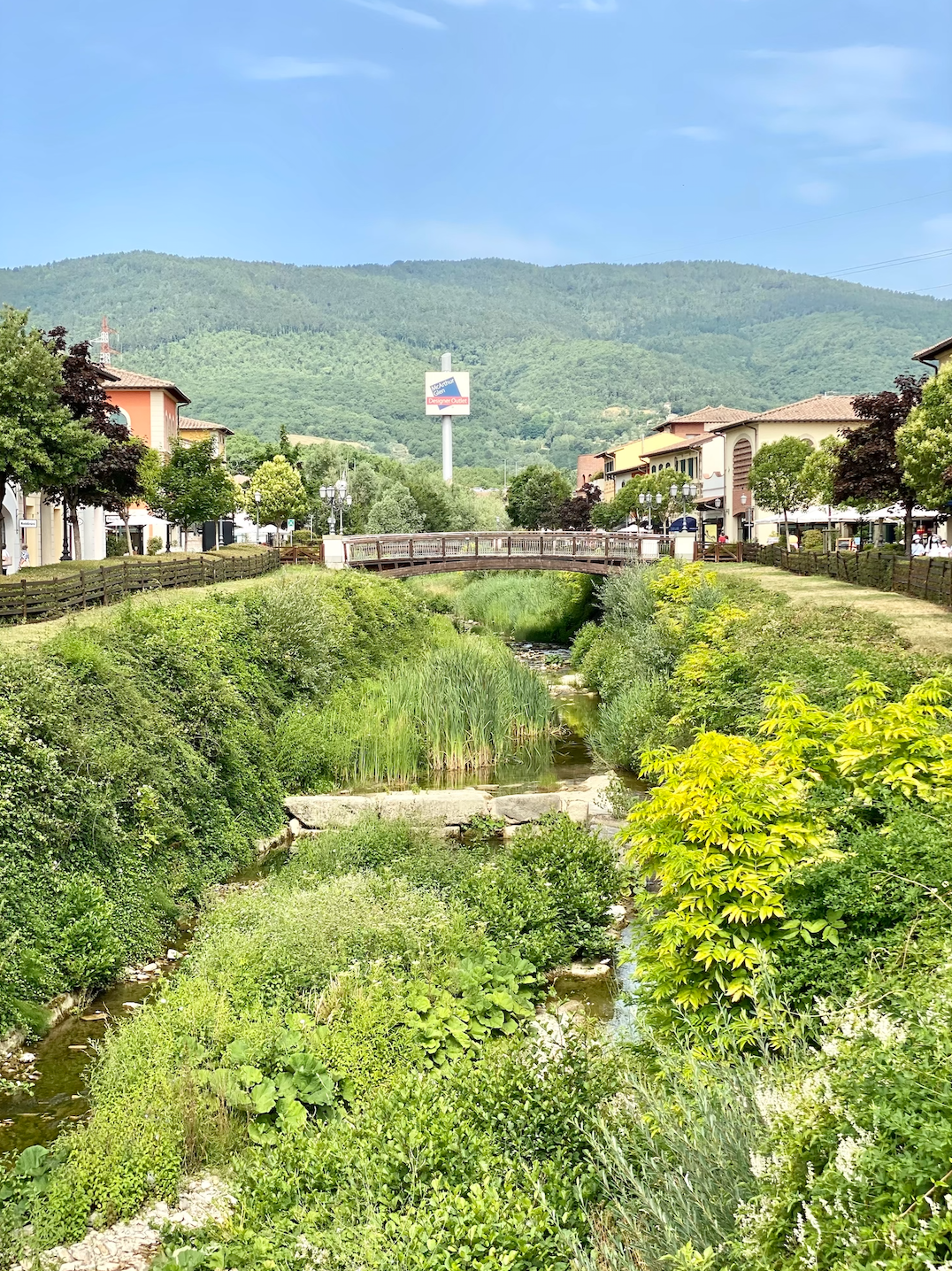 It's worth noting that the outlet is fully wheelchair accessible, family-friendly and they offer free WiFi throughout the center. For foodies, it is a pretty delicious area too– the Mugello is known for its many local specialties worth sampling like their famous square-shaped potato-filled ravioli served with a ragu sauce and there are plenty of restaurants to sample within the outlet making a shopping day out truly complete.
A Family Affair – Child-Friendly Outlet Close to Tuscany's Major Cities
I've been to Barberino a fair amount of times before but this latest visit was the first time we have been to any shopping center with baby Annabelle in tow.
I'm always a little nervous about bringing her to new places as I never know how it will go. Will there be a cumbersome number of steps and will the elevators be out of order? Also, since she is only three months, she is still on eating schedule of around every three hours during the day so I need a safe place to feed her in peace. Poop explosions and outfit changes are also quite common (woohoo!) and…. it happens to be summer in Italy when every human, animal, alike chooses to wisely hibernate inside during the hottest times of the day.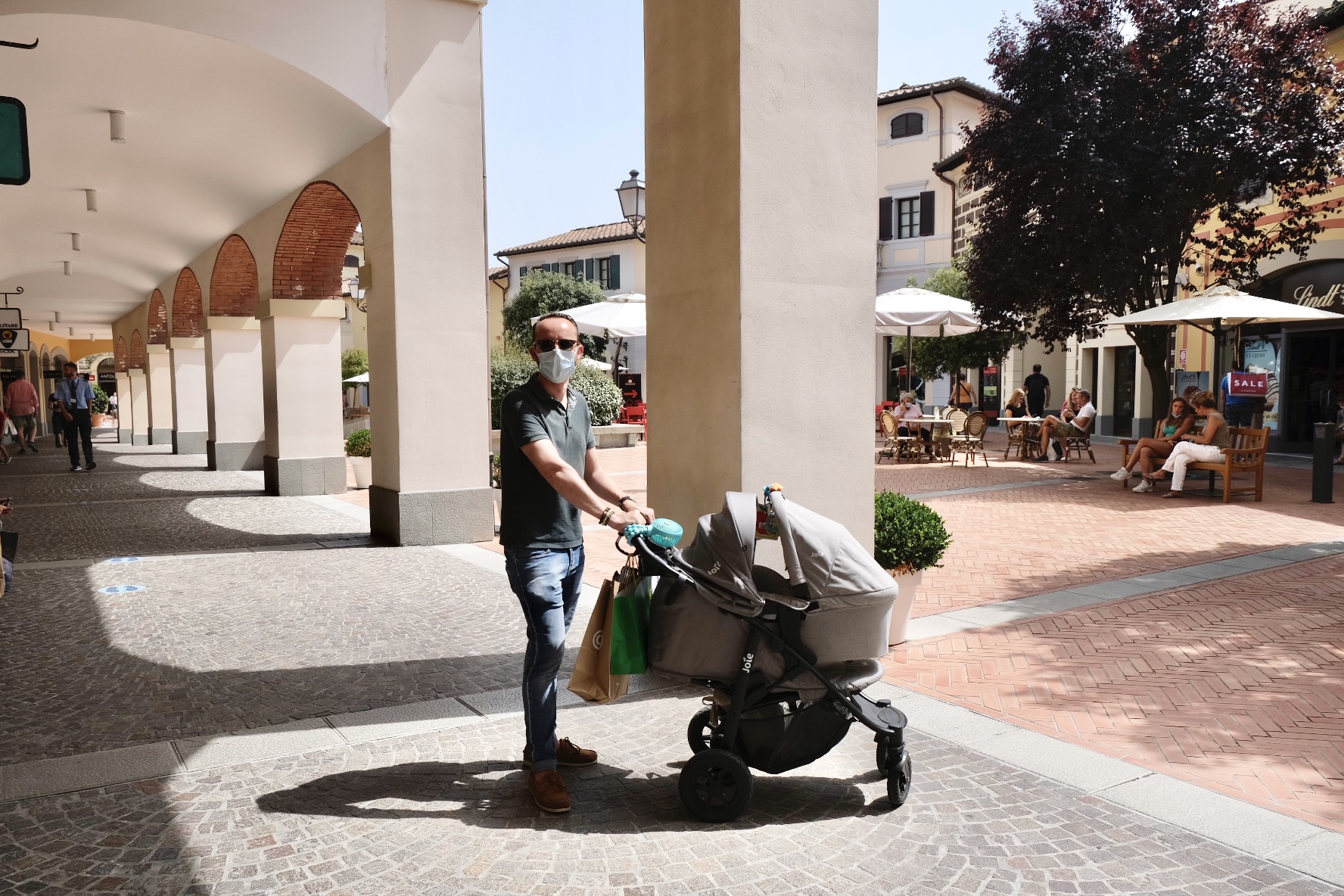 The first aspect of this Barberino visit was a simple fact that there was easy, covered parking. Hallelujah! This means our car wasn't going to explode in one of Dante's infamous steps of the Inferno, slowly morphing into a boiling hot metal machine in the high, Tuscan heat. For those in need, Barberino offers families strollers and a hygiene kit including diapers which you can access from the info point/guest services at the entrance.
They also have family changing rooms, a godsend for those poop explosions I mentioned before. Trust me, this is not something you want to deal with in a public bathroom among tons of foot traffic. For older kids, the outdoor playground offers a fab place to play so that the focus isn't solely on shopping.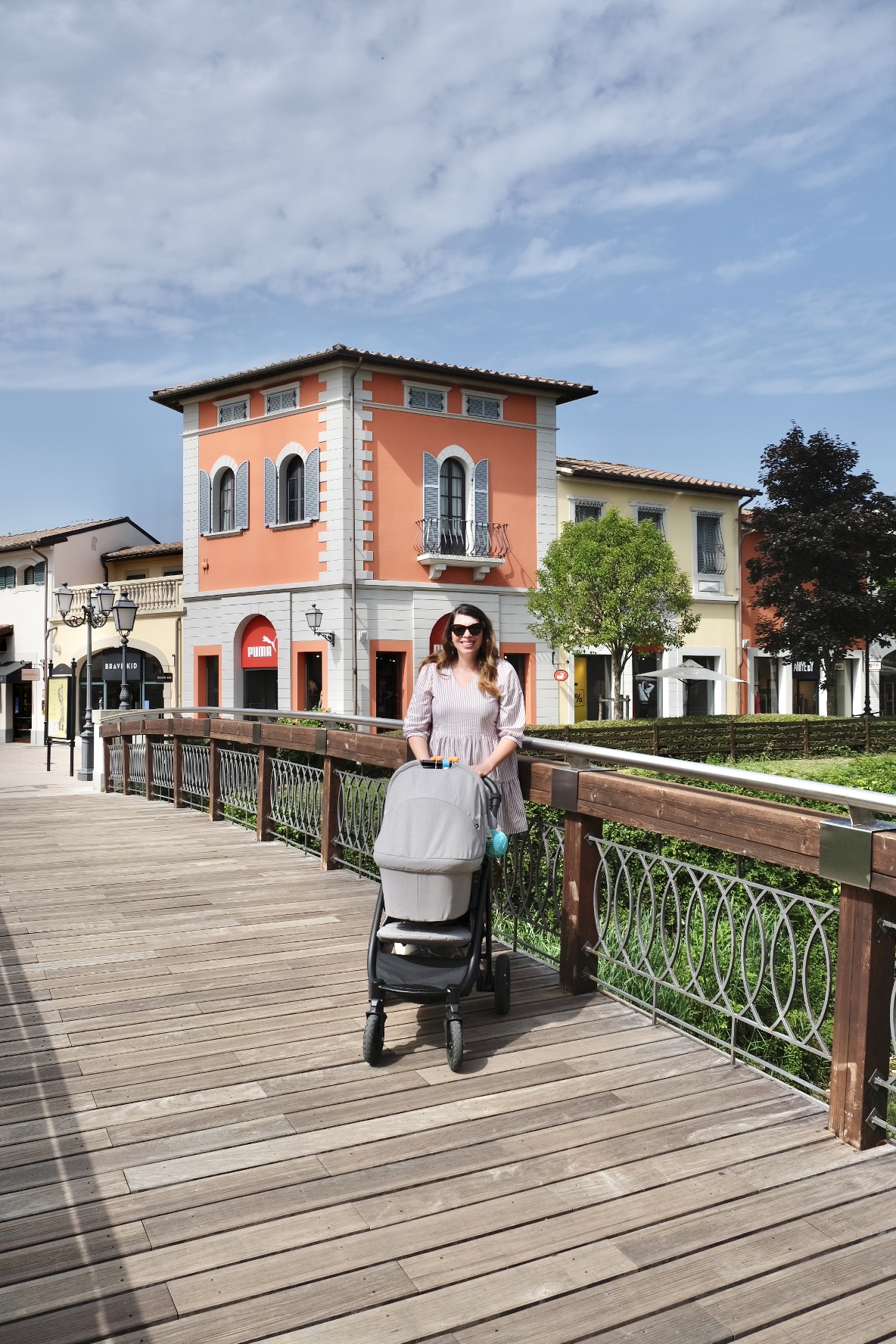 The Shopping Experience
We focused on visiting a few of their children's shops: namely Brums, Brave Kid, Monnalisa, and Nanàn.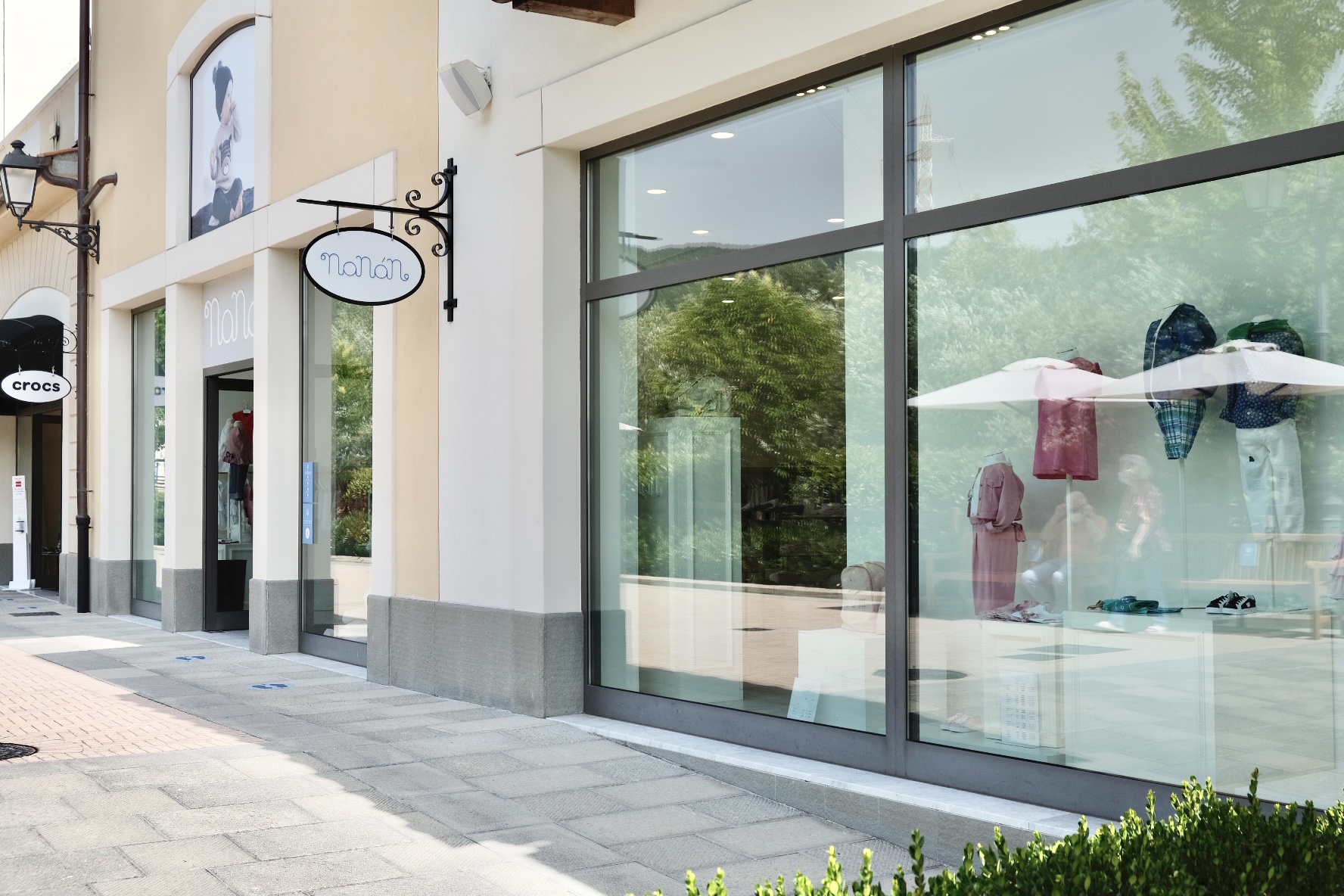 Our first stop was at an Italian children's store called Nanàn. Born in 1992 from a small family business, today Nanàn is an international children's furniture and clothing brand, based in Ravenna with shops all over the world. The bright and lovely space at Barberino is home to furniture, clothing, accessories, and much more with "Tato" the lovable bear often on display. Personally, I was a fan of the beautiful chequered dresses currently on display (we took home a black and white version for Annabelle for when she is six months old) and flower outfit options. As an added bonus, prices are more than competitive too as pieces range from 38€ upwards. For those looking for elegant, white, nursery room options – it is worth checking out their beautiful range of classy cribs, dressers, and chairs. I also spotted the below sandals that were eye-wateringly adorable!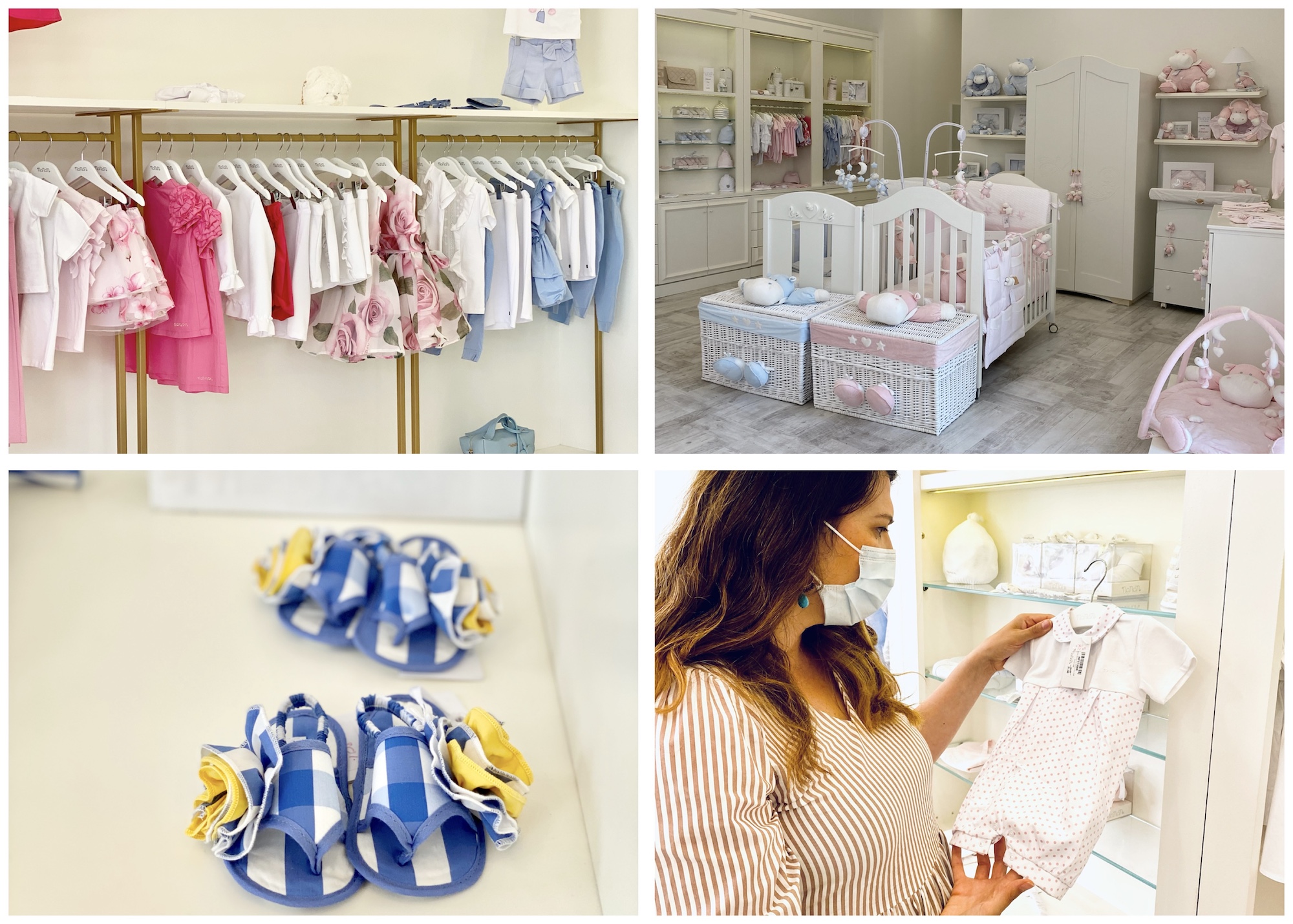 Our next stop was a brand established in Arezzo in 1968 by Piero Iacomoni called Monnalisa. Monnalisa designs, manufactures, and distributes high-end children's wear for ages 0-16 years and their collections are inspired by landscapes, art, and photography, a joyful and suggestive style that always puts beauty at the center.
At the outlet, this shop is nothing short of beautiful and if I had all of the money in the world, I would spend quite a chunk in this shop but luckily there were many deals to be had. Perfect for a baby shower gift or a nice occasion for your little one. They even have a special line together with Italian influencer Chiara Ferragni and offer a special fragrance line as well.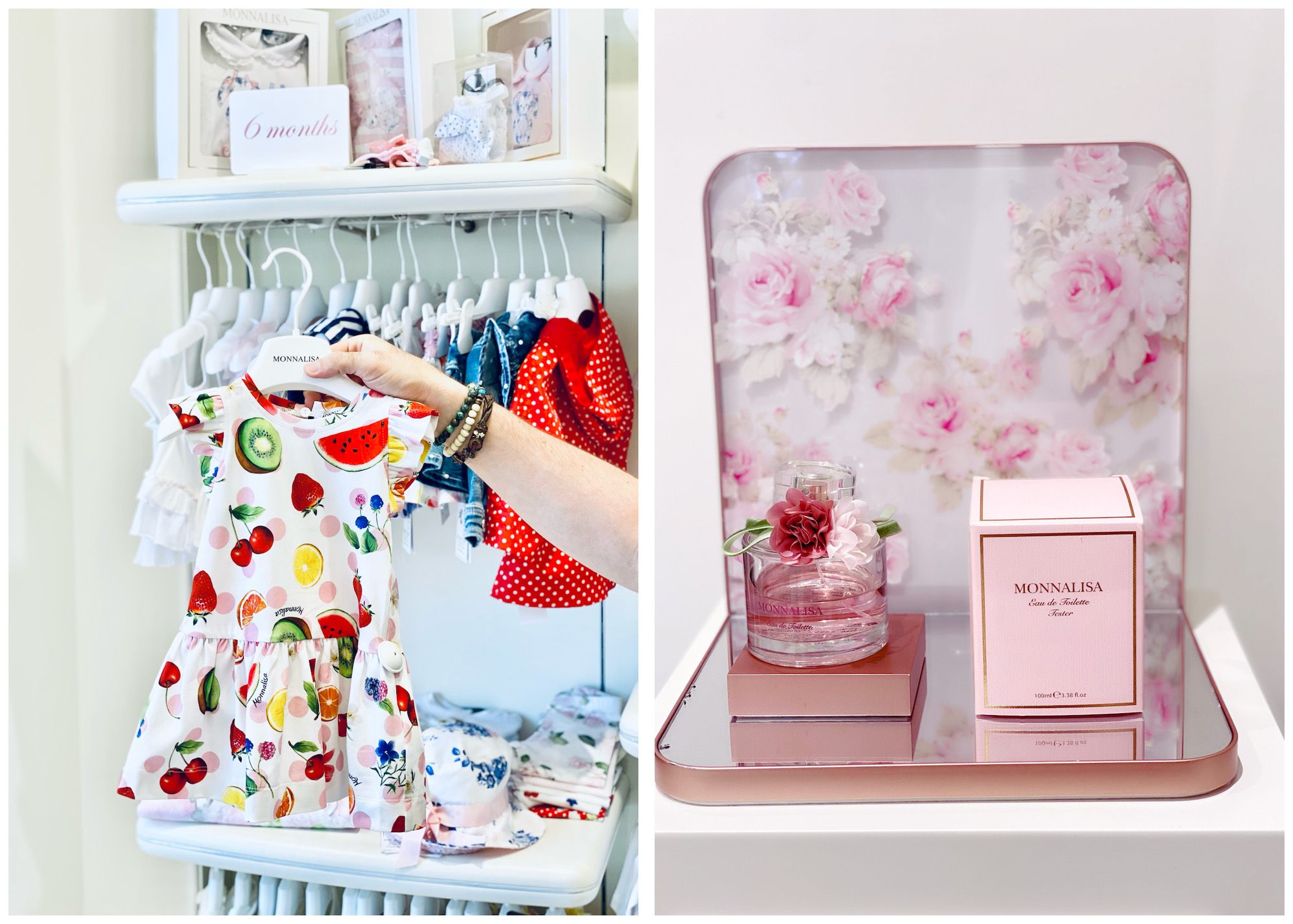 Another Italian option is Brums, a leading brand in the kids' wear industry, originally based from Milan. Preca Brummel was established in 1951, thanks to the intuition and initiative of Giovanni Prevosti and tt is still a family-run business — with the third generation of the Prevosti family continuing the solid leadership of the group. This is a great shop to find some seriously good deals for all sorts of clothing items, think shorts and zipped-up sweaters. All perfect for these crazy seasonal changes, especially back in Switzerland.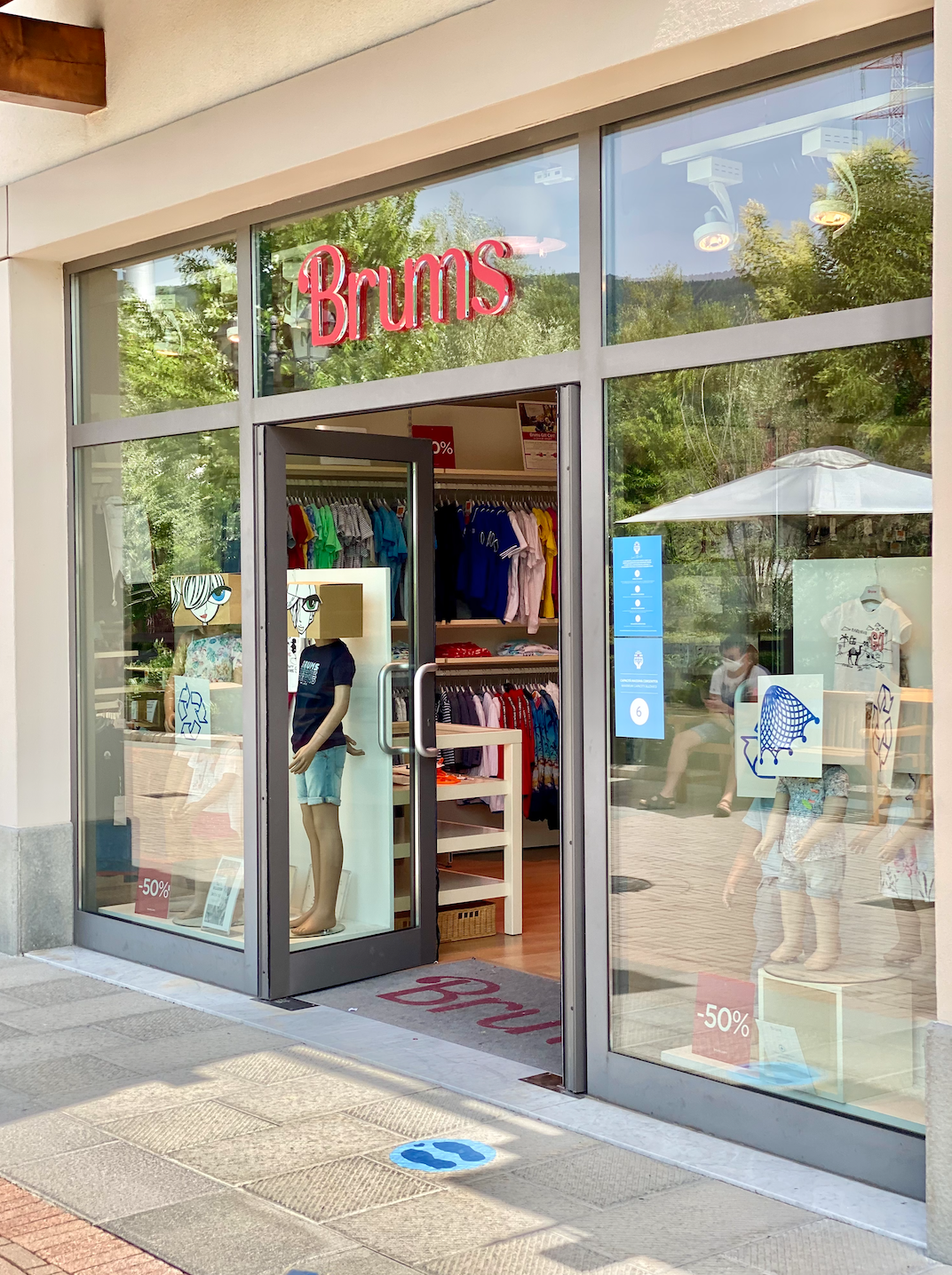 Brave Kid, instead, is a rather cool spot for those looking for designer labels such as Diesel, Marni, Dsquared2, John Galliano, and Trussardi Junior. I had been looking for a pair of overalls for Annabelle for ages and didn't find anything but luckily Brave Kid came to the rescue with the perfect jean outfit from Diesel at a seriously good price (under 40€).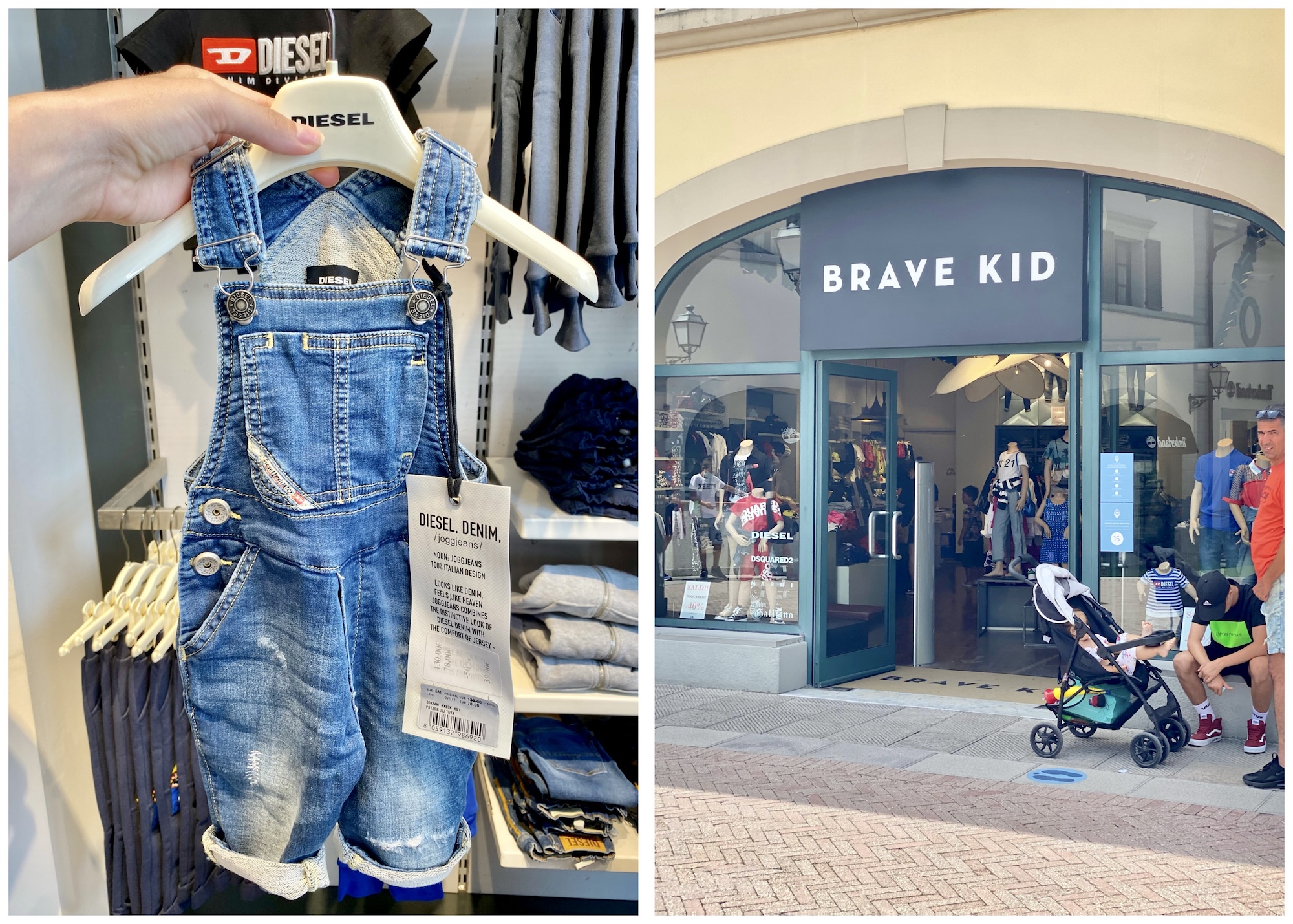 One thing to also keep in mind is that the Barberino Designer Outlet has a special clothing recycling program that encourages shoppers to bring their used clothes and in turn they will receive a 10% discount card valid in many shops on site.
The Ever-Important Aspect… Che si Mangia? What are we going to eat?
Barberino has many casual dining options for shoppers on site which is great since we weren't about to go exploring with a baby in tow in Tuscany's summer heat.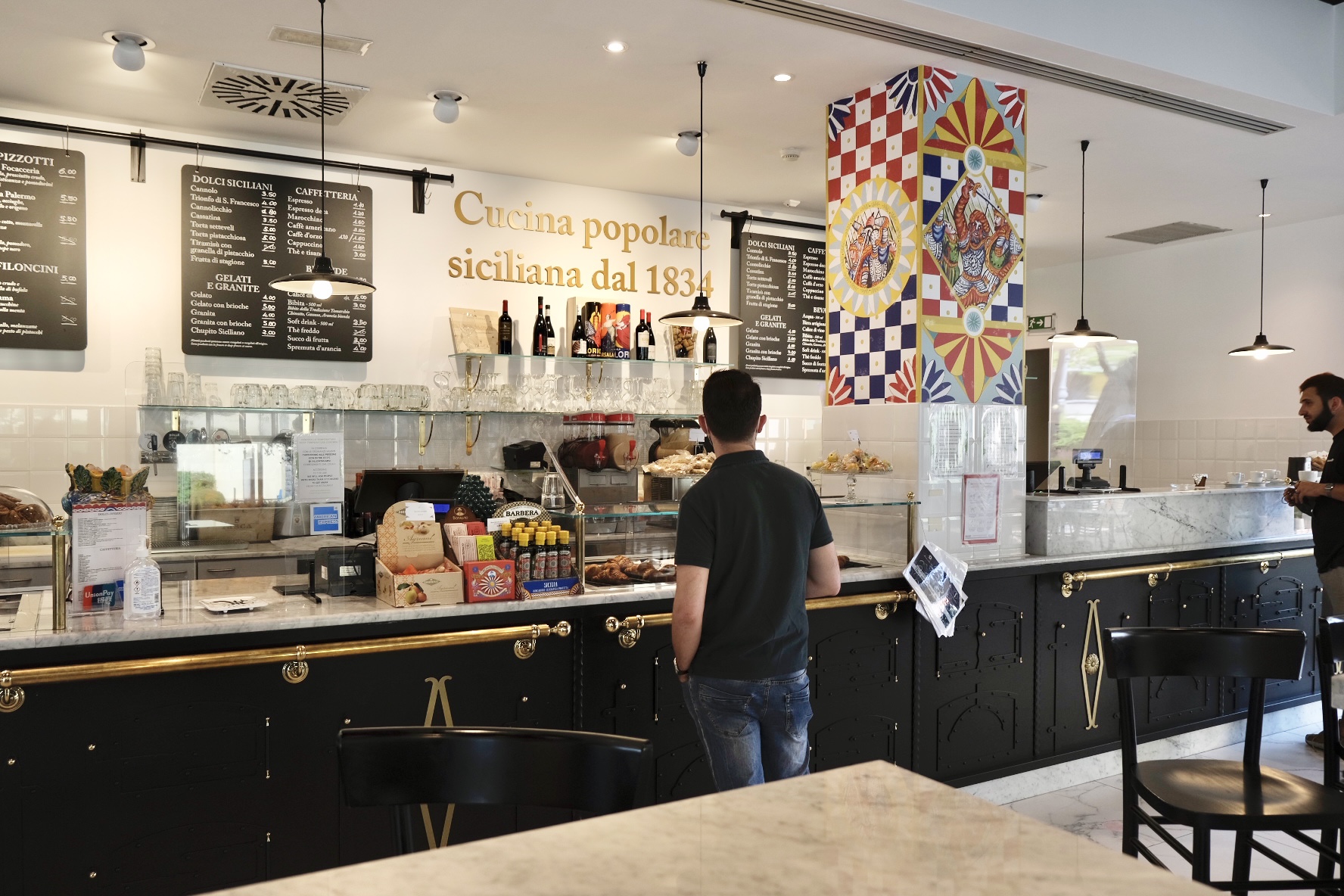 We chose Antica Focacceria, a Sicilian outpost established in 1834, located near the front entrance of the center. Perfect for both a coffee break or a delicious meal, you cannot go without trying their almond granite complete with fresh brioche, a Sicilian breakfast classic.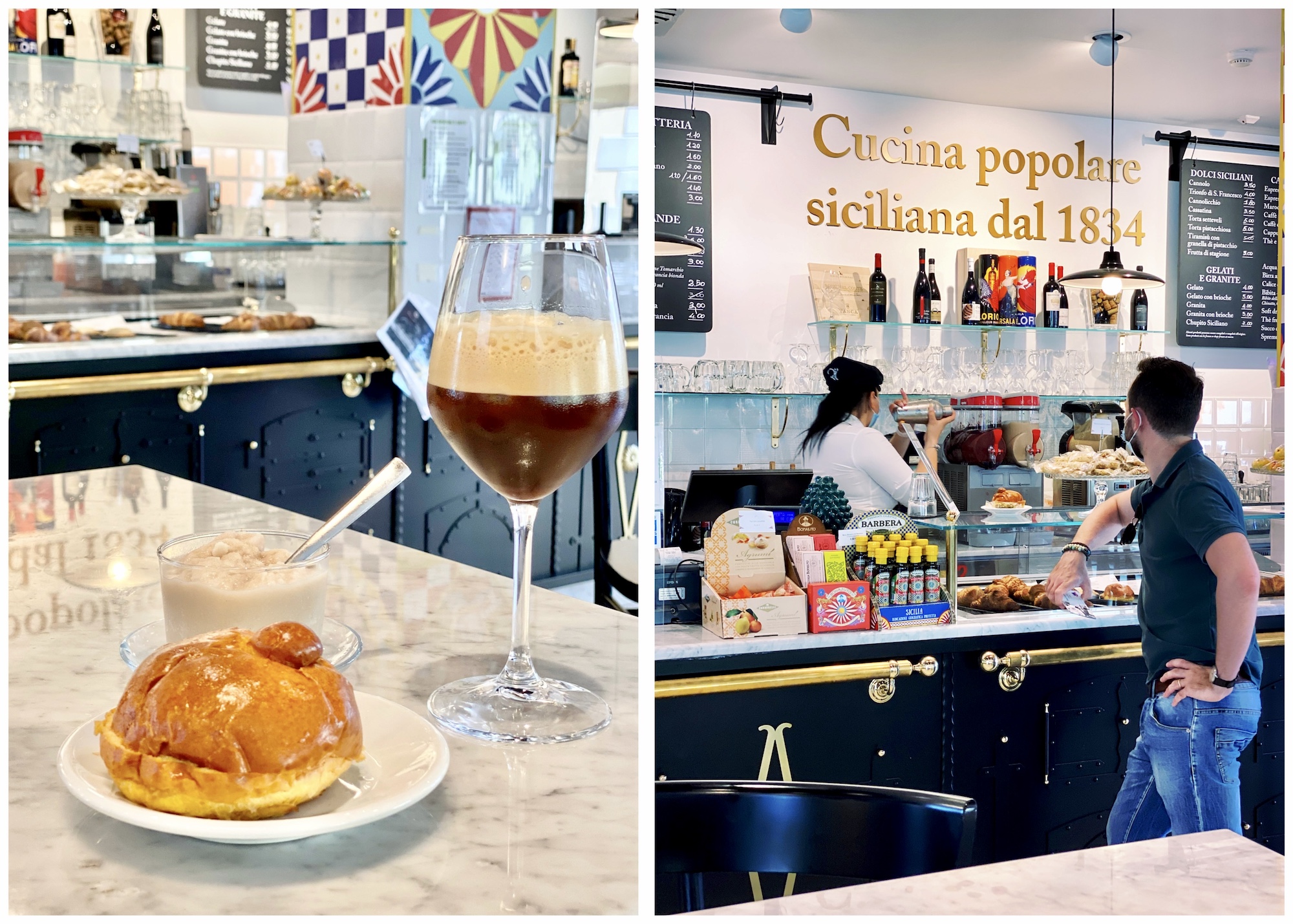 For lunch, we chose a mixed antipasto platter with a selection of eggplant rolls, eggplant caponata, fried rice balls with tomato sauce, fried eggplant, salted ricotta cheese, basil. It's ideal to share even if I did try to hide the fried eggplant from Nico because it was THAT good. I also went for the classic Sicilian favorite, Rigatoni Alla Norma, pasta with tomato, fried eggplant, salted ricotta, and basil while Nico opted for a tender tuna steak. Dessert of course was cassatina siciliana and again, that incredible almond granite because this girl is a glutton at heart.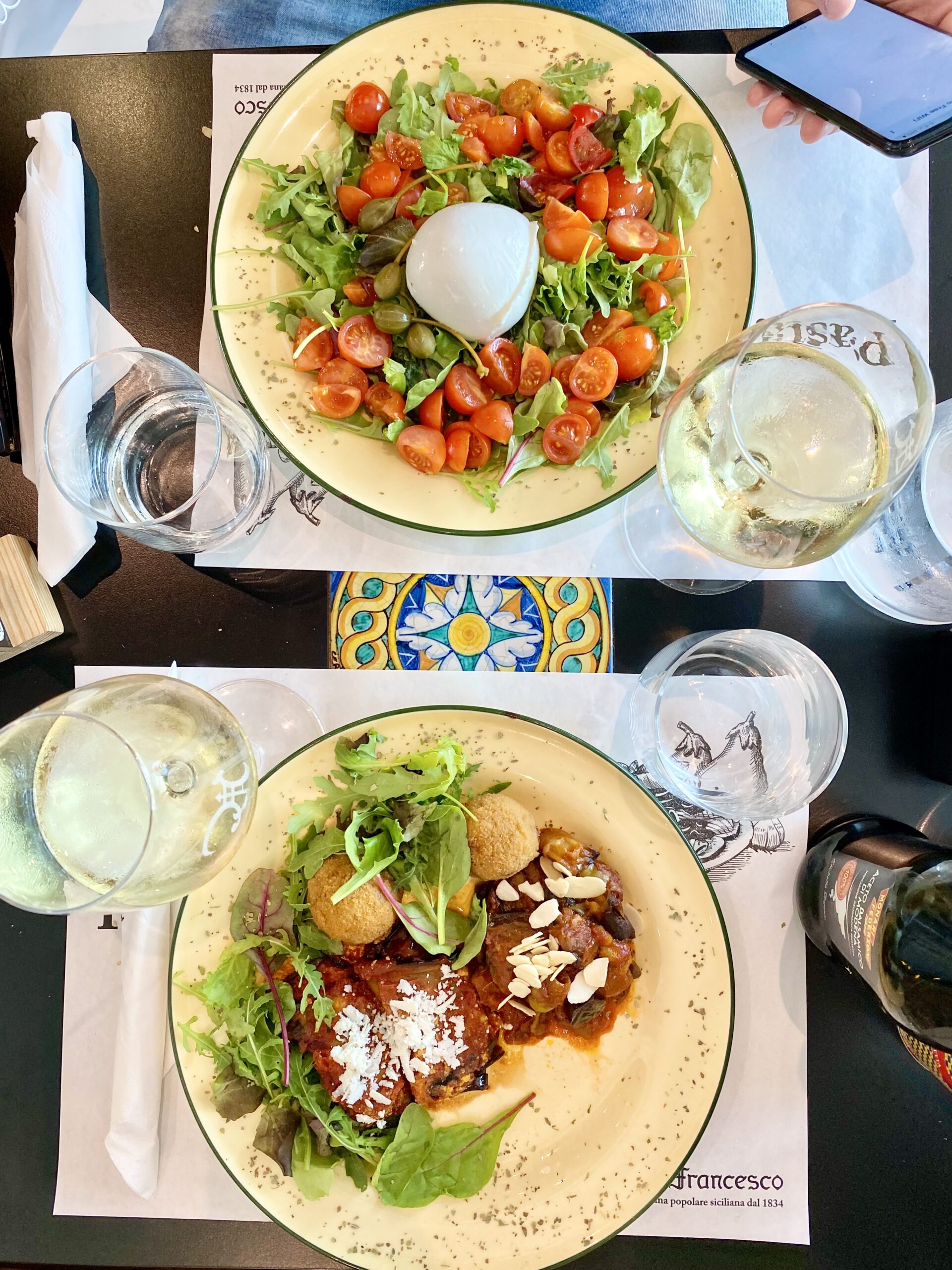 Fast details:
The annual national sales are currently on from July 3 – Aug 31. Current opening hours for the outlet are Monday –Sunday 10:00 – 20:00.
How to get there: Barberino Designer Outlet is located just 30 minutes from Florence by car. The shuttle bus is now active every Friday, Saturday, and Sunday with 3 departures per day from the Florence SMN train station. This service is available from June 11- August 29th every Friday, Saturday, and Sunday.
– Departures from Florence: 9:30 | 11:30 | 14:00
– Departures from Barberino: 13:00 | 17:30
Meeting point: 20 minutes before departure at the Sightseeing Experience Visitor Centre in the main ticket hall of Florence's Santa Maria Novella train station.
Extra Bonus: And just for you guys, my cara readers, Barberino is offering any GirlinFlorence reader a complimentary voucher for a coffee that can be picked up at guest services.
Disclaimer: This article is part of a collaboration with Barberino Designer Outlet managed by McArthurGlen but all opinions are 100% my own.