December, as you might expect, is chock full of exciting markets, festive cheer, ornate light setups and interesting events (here's a list for all over Italy). This is why we love it. The weeks leading up to Christmas and New Year's Eve in the city are quite busy ones for locals looking to stock up on gifts while also celebrating the year with treasured friends and colleagues. I particularly enjoy being here at this time as the streets are sweetly softened with the yellow and white gleam of Christmas lights and there is an excited buzz for the impending downtime in the air. Get your steaming cups of thick, Italian hot chocolate from Rivoire or spiced mulled wine from the Weihnachtsmark in Piazza Santa Croce.
It's also the season where my pants need to be stretchy and when I vow to go to the gym more… but don't.
As for our holiday plans, we will be here until the 13th before heading off to Los Angeles for one of my best friend's wedding celebrations. It'll be a quick trip, only five days but albeit intense in a way that being around people you love will do. This year Christmas is going to be in France, we'll make  headway on the grueling 11 hour drive a few days after we get from California because masochism is our middle name. Nevertheless, I so look forward to oysters and lazy nights, and finally getting through a reading list that hasn't made much progress this year.
We also will be heading to the city of Porto, a place I have been dying to visit ever since we spent New Year's Eve in Lisbon a few year's ago. As per usual, I will hound you all to send me tips if you have them. All we have managed so far is to book accommodations. The plan to be in the city for three nights and hopefully find a restaurant/place to ring in 2019; a year I hope is better than this one, for us, and the world at large ;-).
https://www.instagram.com/p/BcJ0-S9Drey/?utm_source=ig_embed
Before I tell you what events I'm looking forward to this month, enjoy your monthly dose of "link love."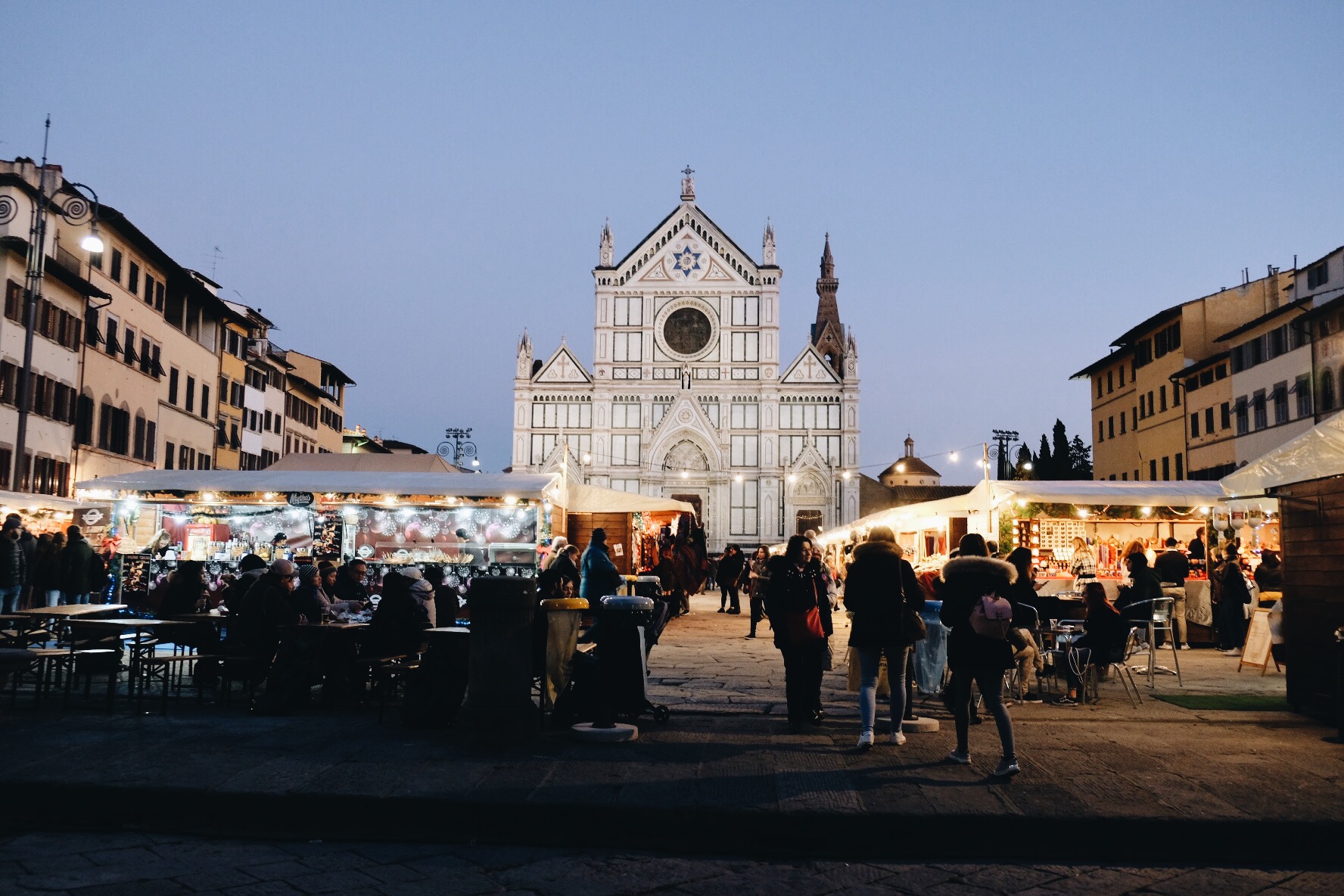 The Weihnachtsmarkt or German Christmas Market that annually takes place in Piazza Santa Croce has officially kicked off on November 28th until December 20th, expect to see mulled wine, holiday gifts, fuzzy slippers and the odor of sausage permeating the air. Oh yeah, I hope they have that burger food truck again, it's finger-licking delicious.  
Head over to Eataly Florence on December 5th for a wine chat all about bubbles guided by expert Fabio Ceccarelli. There will be four tastings, together with nibbles to pair, all for 25€ at FAC, their sexy new pop-up restaurant. Otherwise on December 14th they are hosting a lasagna (a classic dish served at Christmas in Italy) cooking class to help you learn how to make your own at home, only 38€ and a great activity to do with friends!
https://www.instagram.com/p/Bq5UUBClElw/
Etsy – the popular online platform, will be hosting a Made-in-Italy Christmas Market the weekend of Saturday and Sunday the 1st and 2nd of December.  This is the 2nd year they will be doing the market and this time they are including over 30 local artisans and in a new space: The Student Hotel in Viale Spartaco Lavagnini n70-72. Expect a wide range of interesting items: from textiles, to nature-inspired jewelry, scented candles, notebooks and a lot more. Entrance is free to anyone who wants to come browse, and they will be open from 10:30-7:30pm. 
Next up is a contemporary "block party" on via maggio this Saturday December 1st (afternoon to evening ) kicking off at 3:30pm, a street known for its antiquities but which has evolved into a more contemporary mixup of places in the past five years. You'll get to see some of the city's best shops extending their opening hours, the inauguration of Zhang Huan in Florence at Tethy's Gallery, and a general promotion of local artisans, live music and the official turning on of the lights by the local mayor, ps. don't miss the traveling muffin 
Head to my favorite independent bookshop Todo Modo on December 1st from 10-11.30am to buy the English or Italian version of Betty Soldi's Inkspired book as she will be leading a Calligraphic Conversation about Inskpired with Q&As that will be handwritten between the participants. She will be personalising books, sprinkling stars and bookmarks and making super duper gifts.
https://www.instagram.com/p/Bqwmlx7lfdR/
Storytellers in Florence is back Saturday, December 1st and the theme is laughter is the best medicine, so bring your funny stories!  As per usual it will take place at independent bookshop cafe Todo Modo (Via dei Fossi) starting at 7pm and ending at 9pm. You are more than welcome to just come and watch people share their stories, it is quite frankly one of my favorite evenings of the month and as linda says a great way to meet people, share some personal stories and get off the damn computer for a bit. If you have a story to share based on this theme, be sure to contact Linda on Facebook or by email at [email protected]. 
A musical festival  "Strings City" dedicated to all instruments with a string is taking place all over the city (Dec 1-2nd) in various venues around town (over 50 in total!). This is the perfect moment to get your classical music kick in some of the city's most iconic locations. Check out the full program here.
This year the AILO Charity Bazaar is held on the weekend of the 1st and 2nd (like everyone else) and will be held at the Giardino Dell'orticultura from 3pm-7pm. You can expect a plethora of amazing crafts, food and much more, all benefitting this great organization. I especially love that they will be having a "white elephant" table with second-hand items. Visitors can also look forward to American food on the grill and a special raffle with a variety of great prizes. Free entrance!
My friend Marisa is hosting an interesting workshop on December 2nd unlocking stories from the body at St. Mark's English Church. It is a series of exercises for writers, performers, artists, or anyone interested in hearing what their body might have to say. It doesn't matter which creative medium you express yourself through. This workshop will offer you another entry into inspiration, and new ways of withdrawing material from your inner world. Open to all. Email [email protected] to grab one of the last spots! 
One of my favorite charitable markets is at the impressive Palazzo Corsini alone the Arno river (near ponte santa trinita). For those who don't know FILE, it is the Fondazione Italiana di Leniterapia whose aim it is to assist terminally ill people and their families in Prato and Florence during the most difficult time in their lives. The market itself is one of the prettiest in town (you gotta check out the grotto) featuring a mix of high-quality items (clothes, vintage goods, toys, jewelry and much more), this is also a great place to pick up Panettoneperfile, a special Christmas cake (like a fruit cake) that they they always sell at this market. Open December 1-2nd, 10-7pm. 
December 2nd also marks the day when State Museums are OPEN to the public for free (this if of course means, more crowds) on a day that is also consequentially crowded with many, many Christmas markets. You can't do it all ;-). State museums include the Uffizi Galleries (Palazzo Pitti & Boboli Gardens too) the Accademia, Bargello Museum, the Museum of Palazzo Davanzati, the Museum of Casa Martello and the Medici Chapels. 
I grew up going to see The Nutcracker ballet and I'm happy to announce that The Royal Ballet in collaboration with The British Institute of Florence will be showcasing a show at the Odeon Cinehall on December 3rd, tickets will set you back 12 euros.
For those seeking Nativity scenes (I've already gotten a few emails and messages about this, you'll get to see a number of 'presepe' around town very soon. The most famous one will be set up outside the Duomo cathedral. I recommend heading to the Church of Santa Felicita in Piazza Santa Felicita and the church of Santa Maria dei Ricci in via del Corso for a peek, also because these churches are rarely visited by tourists. 
My friends over at Officine Nora have opened up their studio to the public this season to offer the chance to design a unique jewelry piece for your loved one (I honestly adore their work!). Their kick off party is on December 6th at 6:30pm so don't miss it! 
I'm very excited for the return of the "River to River Indian Film Festival" at Cinema La Compania from the 6th to the 11th December. This weather begs for more movie nights at this film festival and it will kick off on the 6th at 8:30 with the film "Sir", with both Italian and English subtitles (the synopsis is "Can social taboos keep two opposing but mutually-attracted worlds apart?") and the female director Rohena Gera will be in attendence. Here's the full program. In addition: Don't miss a special exhibition at Fondazione Studio Marangoni featuring "Like Sugar in Milk" —  Sugar in Milk documents the disappearance of the oldest monotheistic religion in the world. The Parsis are the last followers of Zoroastrianism, the religion of ancient Persia. Today they live in India and their community is rapidly disappearing. This work aims to document in pictures the various aspects of this precious community before the inevitable happens. Also on tap is a Pink Panther Bollywood DJ set at Amble on December 11th, 7pm.
https://www.facebook.com/rivertoriverfiff/videos/2208166266065208/?__xts__%5B0%5D=68.ARA0sPq8wn1zYAb8rOA1FrzzQESlhyiIwQrOUN_MzRgdplqw2mi5BkiG8VL6o8R4Np1s4WhKT5GTeBPzHkNQ2zICc4aDKjy4rsQf92uvR8PXaIwoTylkBK8YDmJlffwOK_XntJNf-F0djbtbHk_sSymAi9hw7-spl0YSWLfL7udfCTybavwdPOJgWF51Wk2Vx4mf9YdEMC4GO1NTsFedveIym6Ybc5xLKBgvTf1InHmD1xRUZFrbuEG_KS4g5ua7nxaRLOOf9JuCpPJD_RIoTK7VoQ06J7j894IacUXHuvgPOF9sczVAMWx72II3-2ZWxE31RwFFElbyujp-XdV54zGOUByX3qrmFttTituCGWH2j4RGopCVWBAzjrL4KAhsqz6By04ynfWYqAn7dBCXHnLYXz7yZh1IfJcjfn16M_nvi2qy5uinx7g-PKs&__tn__=-R
Love books, arts and crafts, homemade goods? All are welcome to the annual Harold Acton Library Christmas Fair on December 7th! Also, this is quite sweet and relevant to those with families, a special storytelling event at the British Institute of Florence on December 13th where they will read The Polar Express to children aged 3 to 8, but all ages welcome. 
Luminous Florence returns as the F-LIGHT Firenze Light Festival kicks off on December 8th with the inaugural lighting of the Christmas tree in Piazza Duomo at 6pm. As part of this lights festival you can expect many famous monuments around town to get "lit up" (sounds bad when I write it like that, but you get me). 
Looking to relax during this holiday season? Luckily there is a studio in Florence dedicated to 360 degrees of wellness and offers a variety of spa treatments, relaxations techniques, yoga and more. I love these people and absolutely recommend a pampering session or mind-body experience at Relax Firenze.
Join a festive pop-up event with the fine folks of La Serra MK Textile Atelier together with Numeroventi as part of their annual Christmas Event . They will  be showcasing a range of hand made printed gifts for Christmas. The fun will take place on the 8th of December from 4:30- 8:30 at Numeroventi for a glass of prosecco and to purchase special one off items .
Since December 8th is a national holiday in Italy – there will also be an open market in Piazza SS. Annunziata "Fierucola dell'Immacolata" until the 9th of December. You can expect food, gifts and plenty of wandering locals just enjoying a bit of free time from work, love these open markets!
"Banksy. This is not a photo opportunity" is a new exhibit will be at Palazzo Medici Riccardi until February 24th. Banksy is probably the most famous artist of the 21st century and the father of contemporary street art, this exhibit hosts a selection of the best 20 images produced by the original writer from Bristol, all the works that have the myth, becoming icons recognized all over the world.
A gospel choir is planning to sing at Puccini Theater in Florence on December 12th at 9pm. Tickets are an affordable 15 euros.
A special, Fierucolina di Natale, open market themed around Christmas returns to Florence with a special holiday theme in piazza di santo spirito on December 16th. Open from 9am-8pm, this is always one of my favorites!
Palazzo Strozzi, the city's foremost exhibition space, has opened its show Marina Abramović The Cleaner to great fanfare. This major exhibition features Marina Abramović, one of the most famous and controversial figures in contemporary art, whose works have revolutionized the idea of performance, testing her body and expressive potential to the limit.  Expect over a hundred works from her most famous creations, from a career ranging from the 1970s to the 2000s, including videos, photographs, paintings, objects, installations, and live recreations of her most famous performances by a group of performers specially chosen and trained for this show
The Firenze Winter Park is back in action along the Lungarno (you can take the number 14 bus) and offers a chance to ice-skate and "snow tube" down a man-made ramp. Great for kids and masochistic adults.
Don't forget that this year's open day at the Four Seasons Florence's Parco della Gherardesca will take place on December 16th, 10am – 4pm. One of the most beautiful private gardens in the city opens its doors one Sunday for a good cause. With an entrance fee of just 1 euro, they will dedicate the proceeds to the Istituto degli Innocenti, as it has been done for many years in the past. The project chosen this year is the completion of the educational-educational garden of the Istituto degli Innocenti, an area of almost 2000 square meters available to children, used for creative workshops. There will be music, an area for kids, Santa Clause and you can try a range of delicious winter foods like polenta, grilled meats, chestnuts. address:  Via Gino Capponi 54, Borgo Pinti 97 e Piazzale Donatello 12.
It's back, The Nutcracker at Teatro della Pergola, Dec 23rd, 5:45pm and 8:45pm. I'm a total Nutcracker lover, since I was a child my parents took me to see this ballet that tells a story about a certain toy coming to life and battling for his treasured friend. For those in Florence during Christmas season looking for something to do, why not reserve a spot at the esteemed Pergola theater for a special showing of The Nutcracker by the St. Petersburg Ballet. address: Via della pergola 12.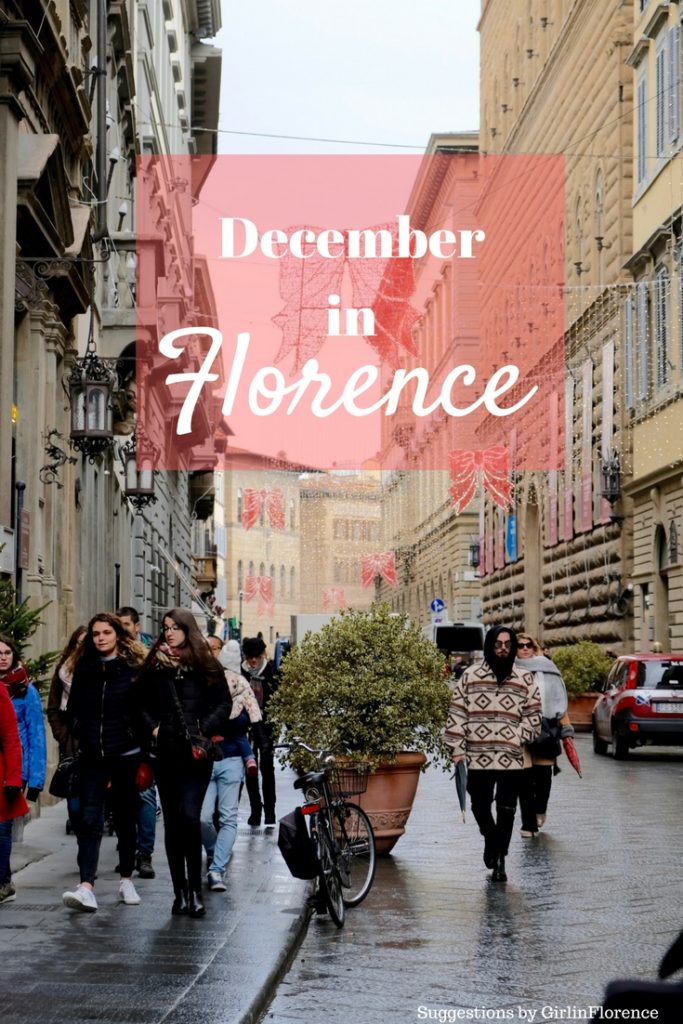 New Year's Eve in Florence (?)
People always write me about what to do for Capodanno or New Year's Eve in Florence. Truth be told, it's always remained one of my least favorite holidays in Firenze because it seems to be a time when locals get drunk for the first time ever and proceed to throw firecrackers at YOU while watching outdoor concerts. Not cool. My advice is to hold a house party with your best local friends or go to a local restaurant for a nice meet and glass of bubbles.
Warning rant coming your way: Honestly, the city needs to get it together with providing more info on New Year's Eve for visiting people (and locals), I NEVER can find anything before publishing the sport except for restaurants and crappy discos. It would be very nice to have a long, extensive and dare I say it, family-friendly list to give to people. One day Firenze, one day.. 
Maybe I'm looking in the wrong place. If you see anything, please dear god please, let me know.
Options include (I will be adding this list as I see more events online that I like)
My friends over at Osteria dell'Enoteca have organized a lovely New Year's Eve dinner that includes quite the menu of treats, I'm especially drooling over that braised Chianina beef and risotto. Read more about it here.
The team at Curious Appetite has put together a couple tasty food & drink crawls for Christmas and New Years in Florence! There will be progressive feasts, moving from one place to the next, bubbles, truffles, pasta, wine, cheese & meat boards, holiday sweet breads like panettone with an expert guide to explain how these foods connect to the season, peppered with twinkly sights in between. Dates for tours are the 24th (Christmas Eve) 25th (Christmas Day) and January 1st (New Years Day). There is also a special NYE tour to ring in the New Year on a gourmet note. 
A New Year's Eve dinner on December 31st, in the ancient Byzantine Tower at the "Saloni delle Feste" (drinks at the table included) at Hotel Brunelleschi. It actually is an amazing space and I do think this would be a fun place to spend NYE.
Outdoor concerts (waiting for the official notice to be announced) in Piazza Michelangelo, Piazza Carmine, Piazza della Signoria, 

Piazza Santissima Annunziata, Piazza Bartali a Gavinana. 
*Keep in mind that transportation is best left to not taking your car into Florence on NYE, usually there are free trams and the center is normally completely closed off to cars on Capodanno.