There are so many new restaurants in Florence that it's hard to send people recommendations at times. I always ask myself… what is it that people want? Rustic Tuscan? Are they willing to go near Rifredi? Is this place too modern, has it changed ownership? You can understand, me, right?
We all have our favorites (here's my constantly evolving list) and what I've realized is that all I just have to stay true to what you actually love, not adhere to what you wish you did, and celebrate the places that keep you coming back, year after year.
There are those of us who prefer a meaty bistecca fiorentina and those who go for a succulent "ros bif" or simply a huge bowl of pureed vegetable soup with olive oil– chances are you will find whatever tickles your family in a city that is evolving quicker than you can sayecco.
As these days get shorter (keep an eye out for the time change this Sunday, the 28th) I find myself increasingly craving simple, and hearty, Tuscan dishes; the pleasure of gut-sticking ribollita stew – vegetables cooked to oblivion and topped with a swirl on extra virgin olibe oil, anything and everything with farro and beans, any variety of pasta tossed with sautéed Porcini mushrooms,  and of course a perfectly cooked beef filet, served "al sangue" yes that means bloody, with a bottle of red.
One of Nico and I's favorite place for dinner is a small, unambiguous trattoria on the cusp of the outskirts near Porta Romana (once known as the Porta San Pier Gattolino), one of the remaining southern 14thcentury city gates that once encircled Florence. Passing through, it's easy to miss Franciabigio's fresco depicting the Madonna with Child and Four Saints. The gate is a reminder of a time when the city was completely enclosed with fortified walls and a force to be reckoned with, centuries of battles with neighboring cities are simply a sign of the past.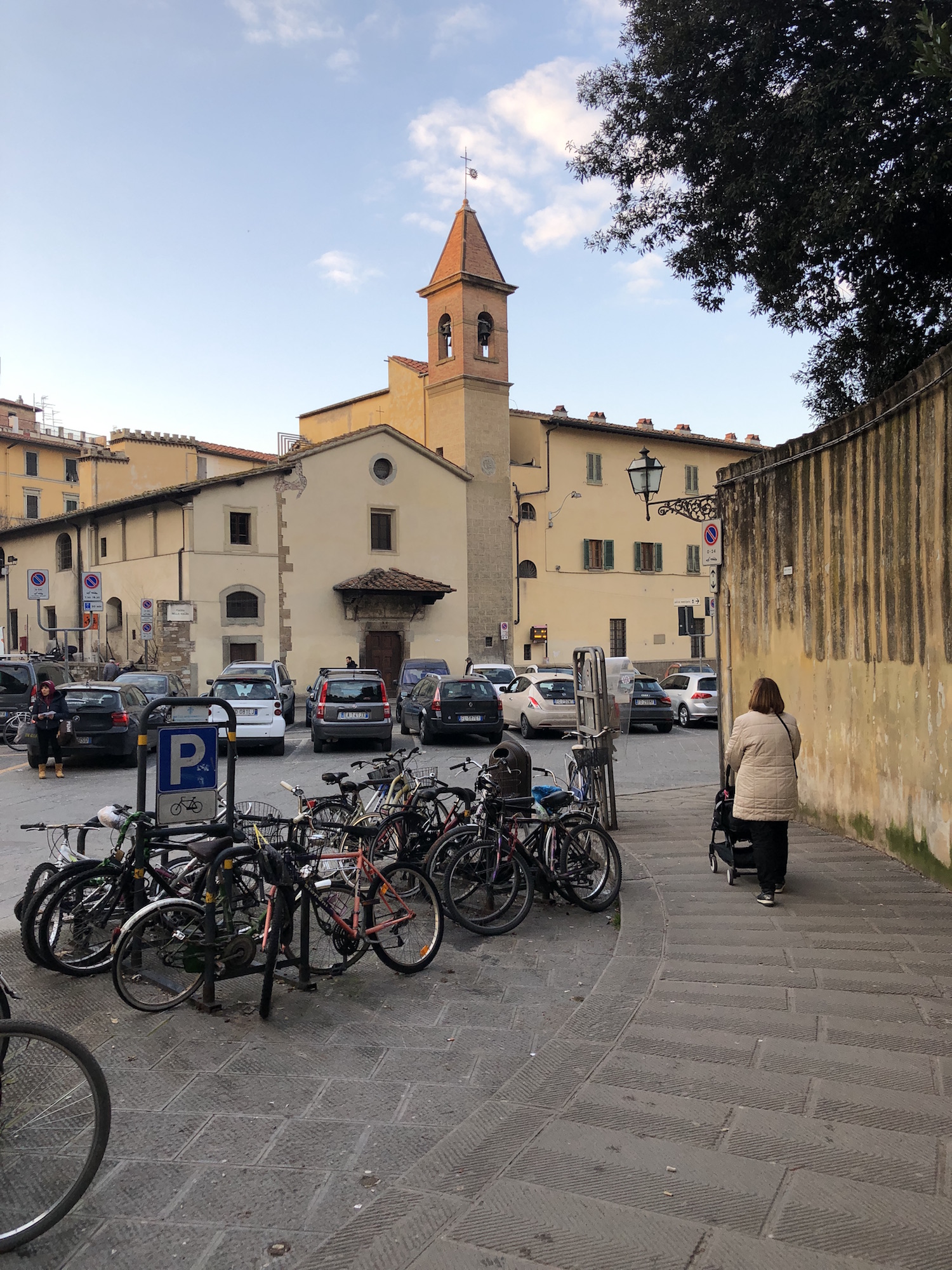 Now, it is as busy as it can possibly be, tour buses, cars and humans constantly hurtle themselves on either side with a few honks thrown your way, all vying furiously around a central modern marble statue of two women named "Dietro-Front" (Turnabout), by artist Michelangelo Pistoletto. The area is considered upmarket and near many wealthy Florentine villas and apartment, all nestled solely within the surrounding hills once populated by nobles like the times of the past.
Here you will find a busy intersection connecting the center with a tree-lined grand avenue of Viale Machiavelli that will take you to San Miniato al Monte and the panoramic point of Piazzale Michelangelo. A walk that is near and dear to both my heart and that of Ginger, our four-year active beagle. My favorites days are when I have enough time to turn off the computer and take an hour and a half walk down this viale to take in one of the city's most glorious perspectives while listening to a few of my favorite podcasts as Ginger aggressively sniffs every single leaf she finds.
https://www.instagram.com/p/BopdfovifB5/?taken-by=girlinflorence
On the same roundabout is the more hidden Via Senese, a street that is getting every more popular by the year (pretty sure I spotted a new Don Fefe). It is here, at trusty number 89rosso that you will find a small doorway that will take you to the family-owned Trattoria Ruggero, a mainstay with Florentines since the 80's. It has all of the markings of your typical trattoria, the vintage sign, the cramped entry, the wooden tables with white tablecloth and terrible access to parking.
Inside you can expect wood-lined walls, small spaces and a pleasant homey atmosphere. I prefer to walk here since I live in the Oltrarno but for those who might be a little put-off by a 20-30-minute walk, it might be worth taking a taxi.
To appreciate Ruggero is to go with the mindset of appreciating simplicity and tradition. Don't expect what they aren't willing to give. 
You won't find a "fresh" take on a traditional dishes here or plates especially prepared for instagram shots, nope they stick with what they know and what they are good at, and trust me, you wouldn't want it any other way.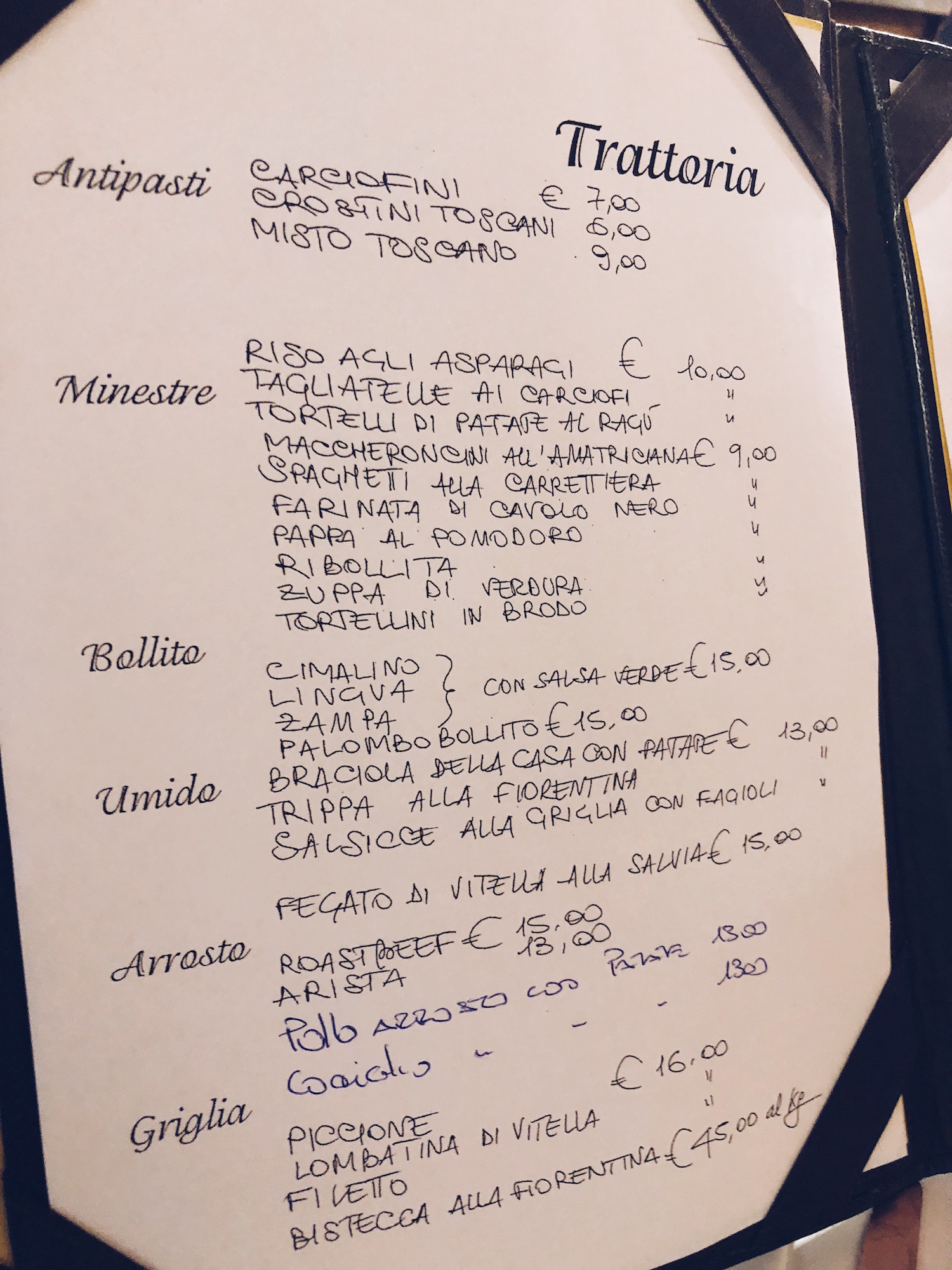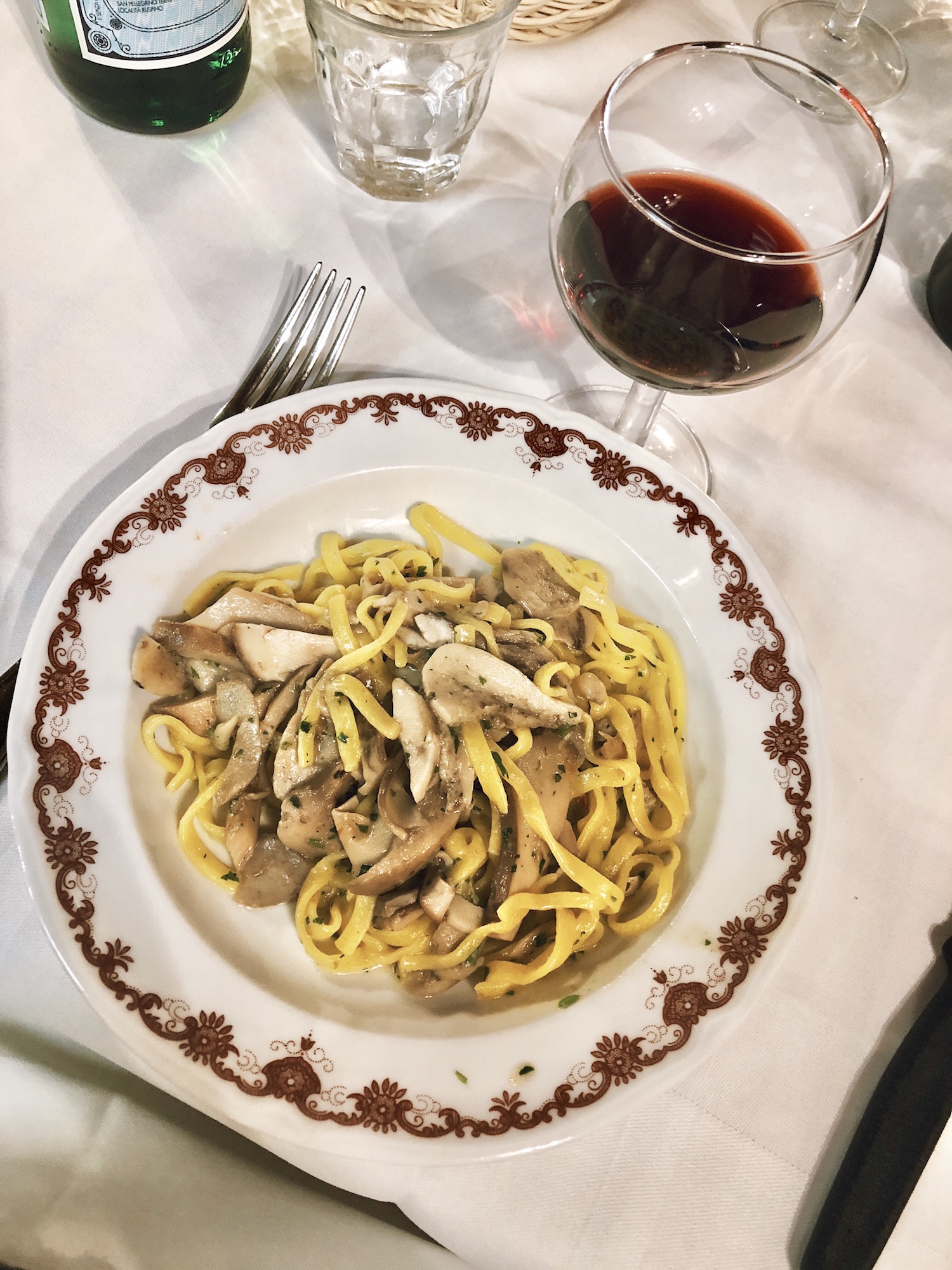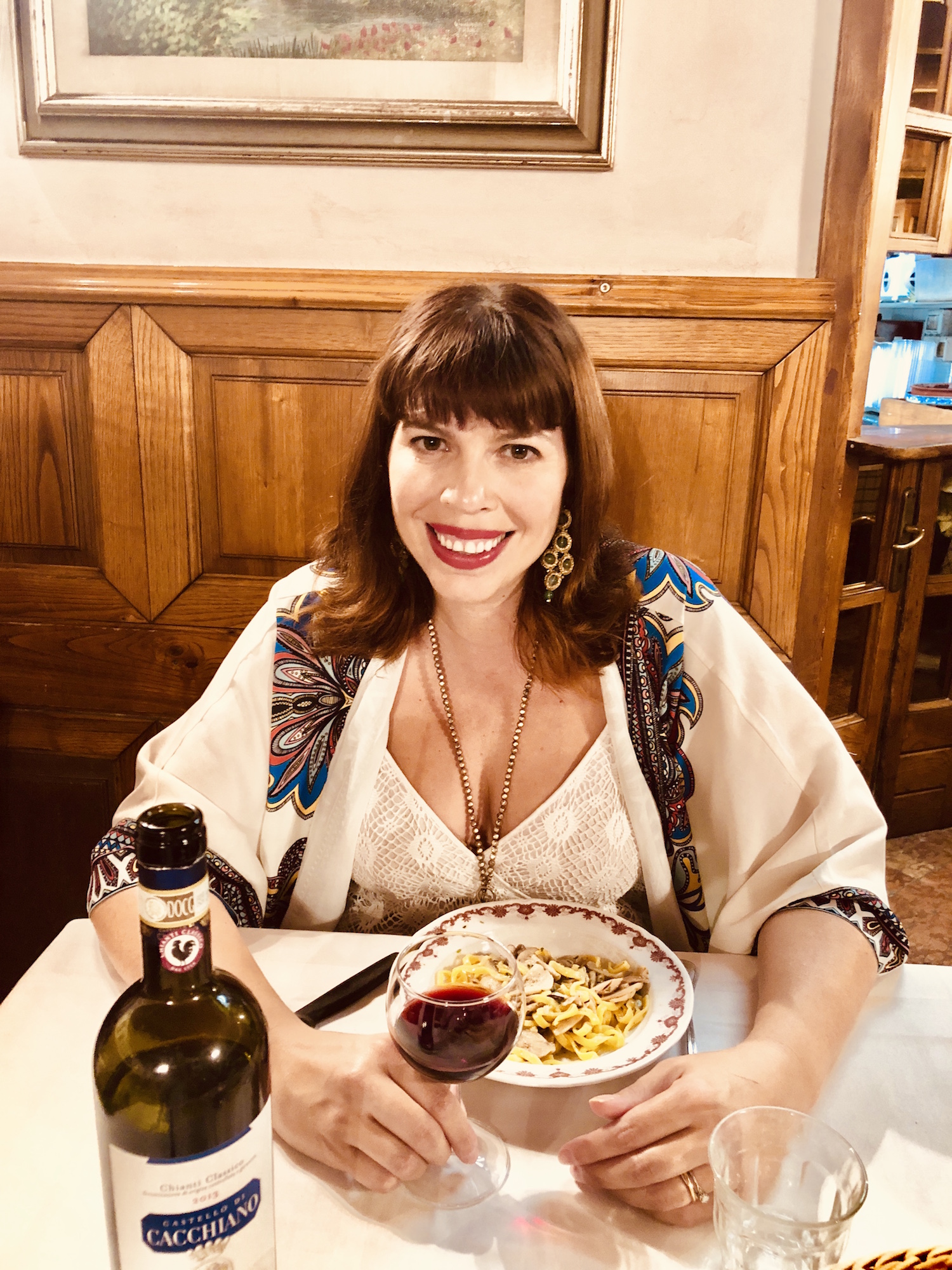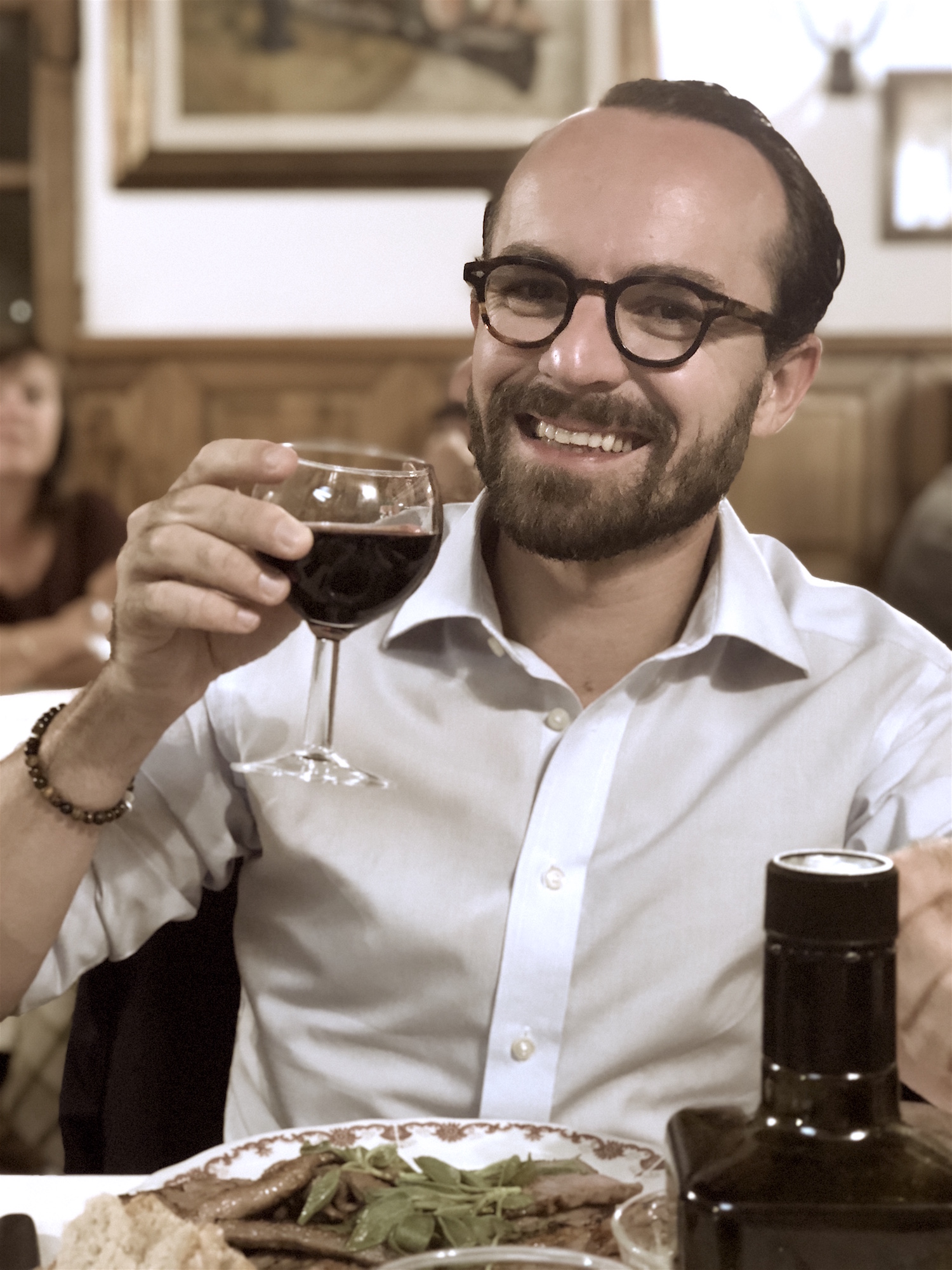 The menu changes seasonally (always ask what's new!) and is written or rather scrawled crudely by hand with items you would expect from any Tuscan trattoria: antipasto misto, chicken liver crostini, stuffed tomatoes, tortellini in brodo, bollito mist (mixed boiled meets), filet, liver served with fragrant sage that is Nico's favorite thing to order. I'm quite partial to their lovely spaghetti alla carrettiera, a simple tomato sauce with a kick and their mouth-watering arista al forno (roast pork) and yes, we always get dessert.
Trattoria Ruggero
Via Senese, 89/R, 50124 Firenze FI
Tel: 055 220542
Open 12-2:30pm, 7-10pm daily. Closed Tuesdays.