The first time I heard of Carmignano was through its wine, because hey, you know me.
Carmignano DOCG is a good Tuscan red wine that you quite often find in trattorias as it pairs well with typical Tuscan meat dishes, dishes like rich and hearty peposo, or bistecca cooked over a wood fire, and of course beautifully laid out cured meats, something I certainly can never resist. My stomach also led me to discover this town near Prato, about 40 minutes away from Florence, since it's also famous for some highly regulated, prized dried figs! When great food leads you to art, I consider that a double success.
This small town centers around its church, which legend says was founded by followers of Saint Francis after the saint had passed by this area. This church is best known to art lovers because it houses a masterpiece by Pontormo, the 16th-century Mannerist painter. Pontormo's real name is Jacopo Carrucci, as a son of painter he was immersed in High Renaissance values from an early age, stating as apprentice to Leonardo da Vinci and others in the city of Florence.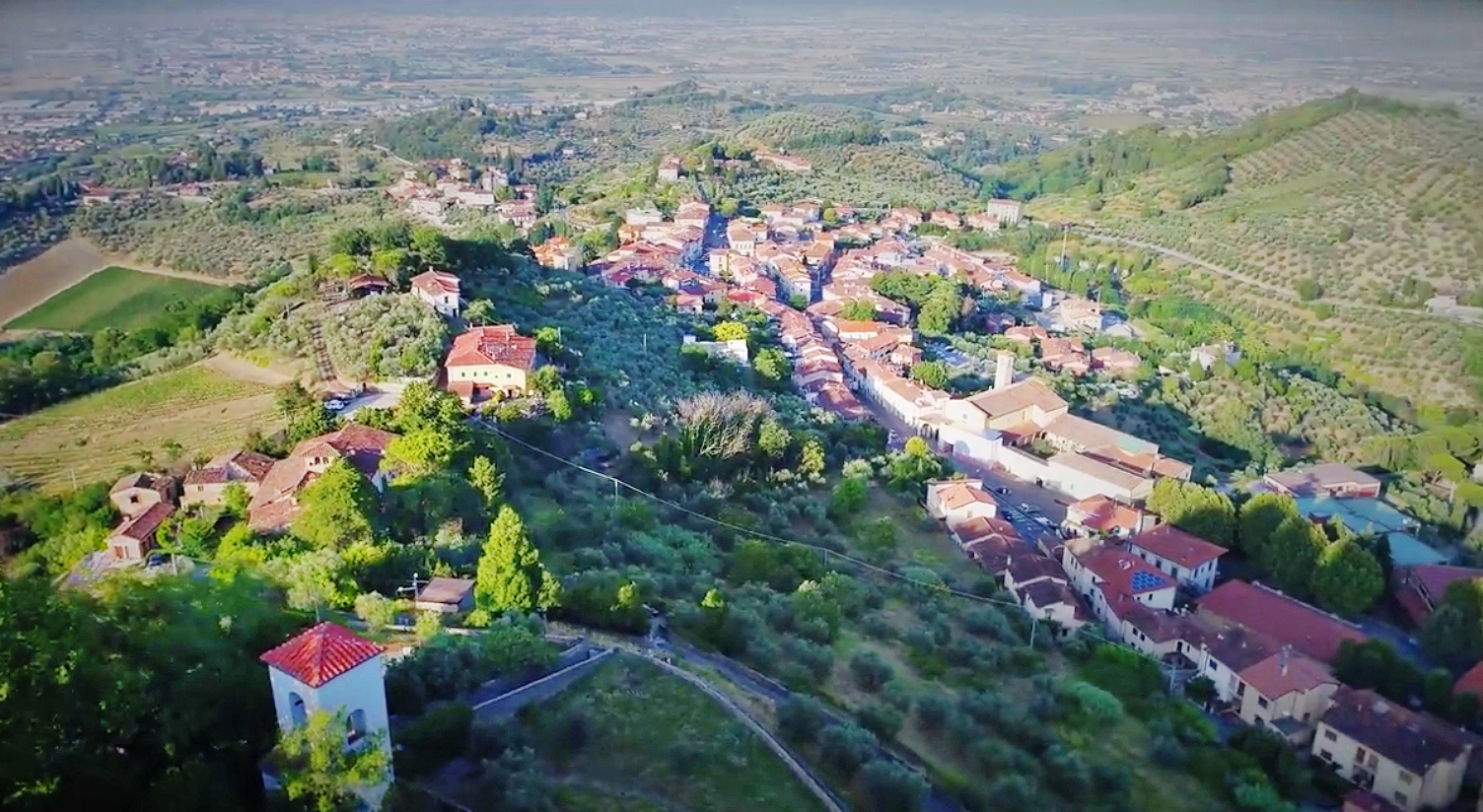 The people of the town of Carmignano are rightly very attached to this painting, called the Visitation. Not only is it a truly priceless work of art and one of not many works by this artist from this period (1528-30), but it's a very touching image – more on that in a moment. Yet this year, they had to make a tough decision. They have allowed the painting to be lent to three museums, two in the United States, in order to raise funds to restore the church and the medieval complex attached to it. Fact is, this building is falling down. More than half is literally being held up by metal supports. There are holes in the roof. If it snows this winter, its back will slide down the hill.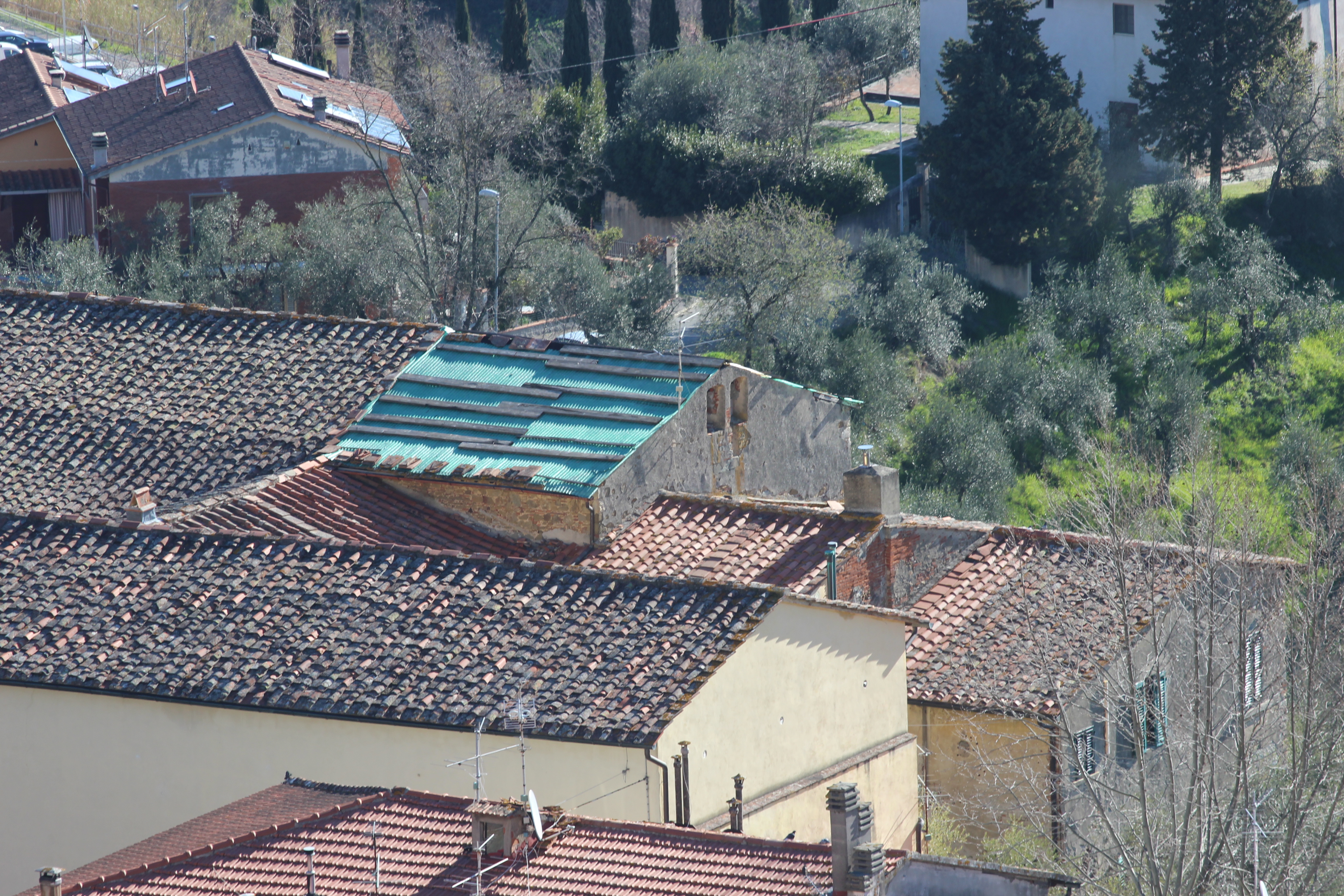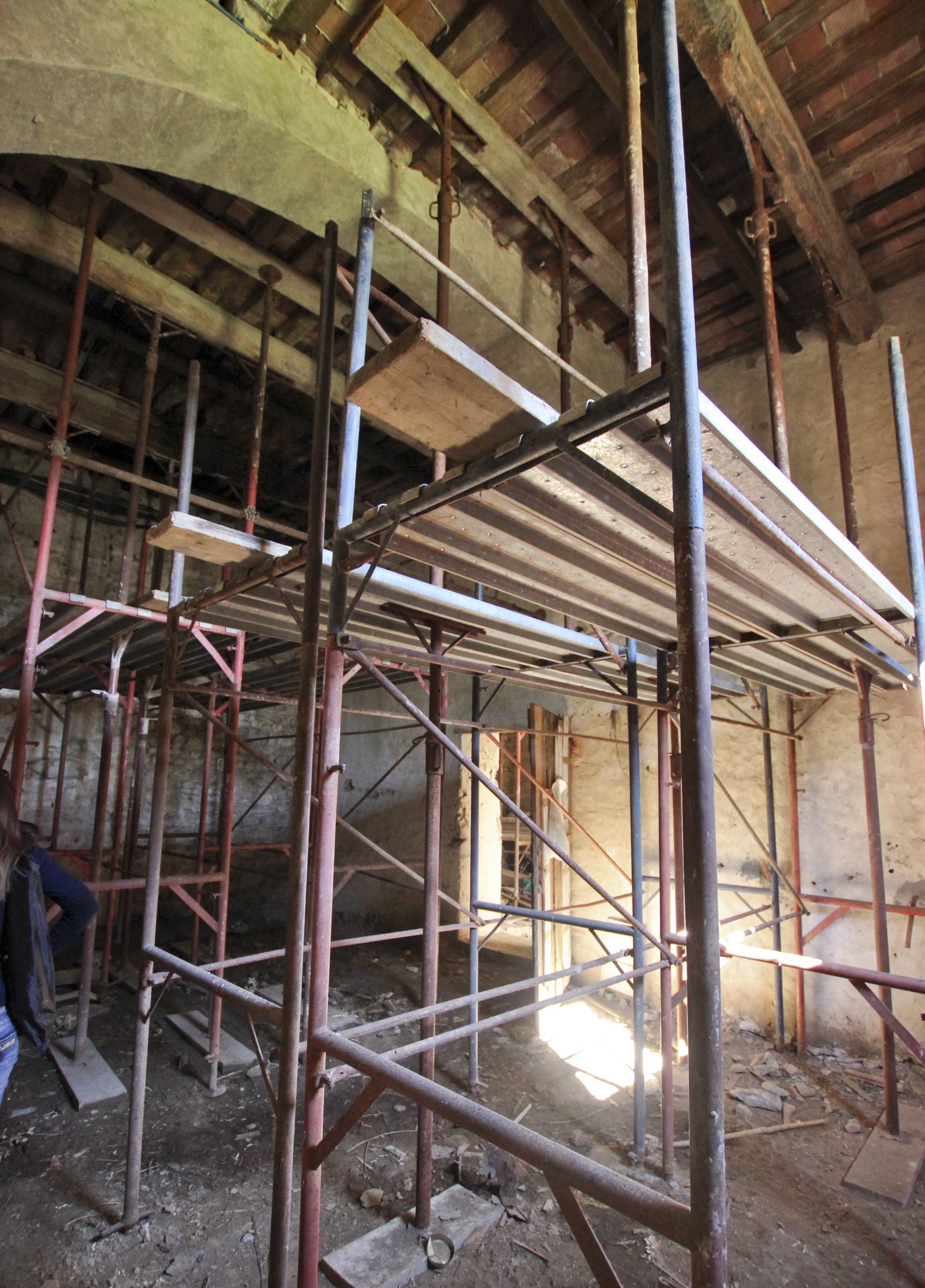 So, the Visitation has gone on a voyage to encounter Americans and tell them a story, and I want to do my part by telling you some of this story – but if you're in New York or Los Angeles, you can also go see the work and be moved by it yourselves. And if you're interested and want to get involved and concretely help this project, there's a crowdfunding open on Indiegogo from September 6 2018 for 60 days.
Art historically, the Visitation has always had its fascination. But before that, there is something to the painting that is simply arresting, that made people love it, locally, abroad, and over the years. Bill Viola, arguably the most important American video artist, was so inspired by it that he made his own slow-motion video version of this painting, even though he'd only seen it in a book! This painting has a kind of appeal that maybe can be explained by its being a very feminine painting. It is a religious story, but if you don't know that it represents the moment that Mary and her cousin Elizabeth meet and reveal that they are both pregnant, I think you still can see that there is something important being transmitted between these two women. Look at the intense gaze between them. And then look around – there are two other women who match our gaze, and everything else in the painting is reduced to a bare minimum, so we can focus on what's important.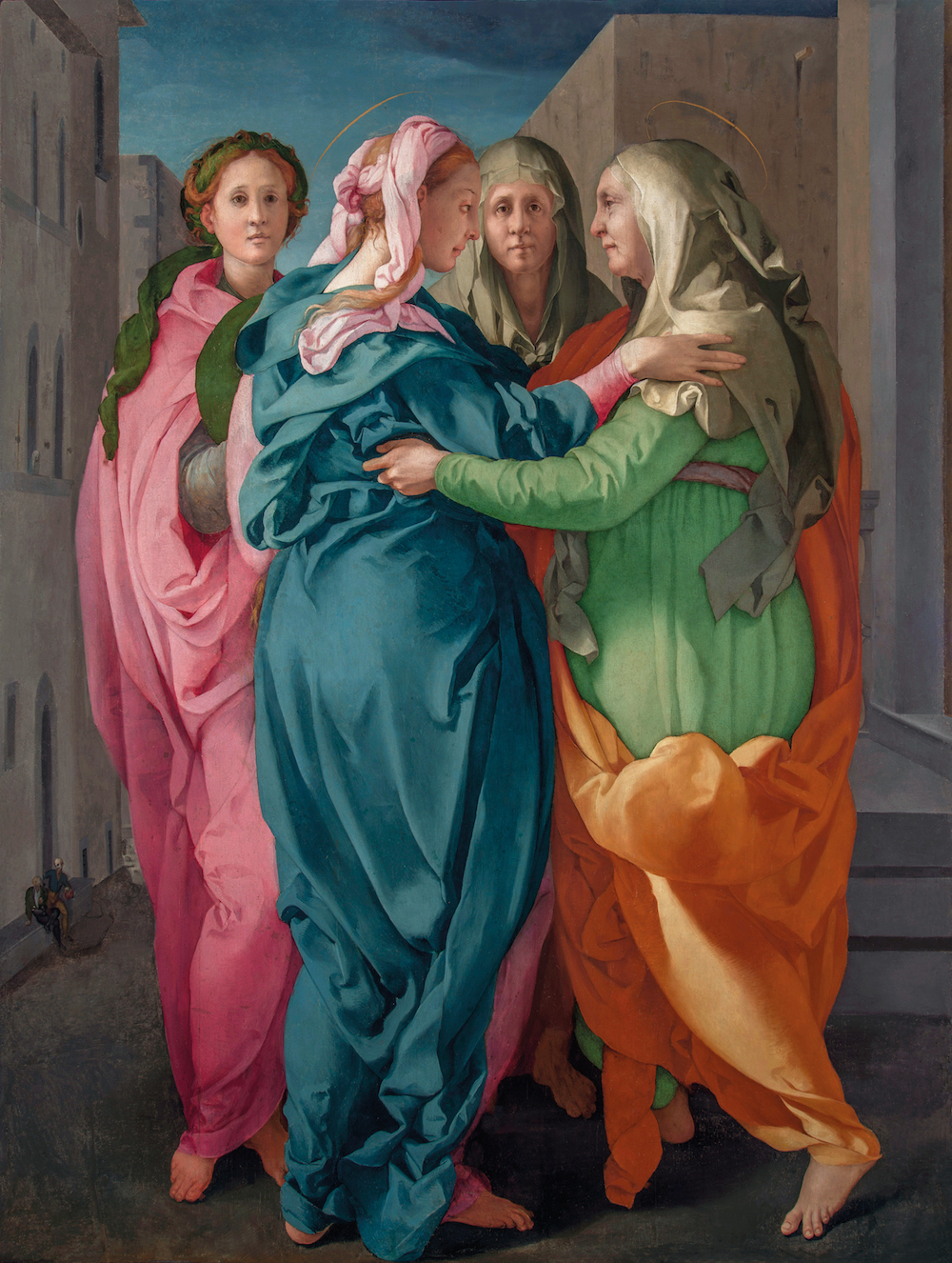 The painting is the star of an exhibition called Miraculous Encounters that brings together both this work and a portrait from the Getty Museum in LA with the preparatory drawings that the artist made before the paintings (these are part of the Uffizi collection). The two paintings were made in the same years that were a moment of intense conflict in Florence, about which art historians don't know much, so the exhibition is an important opportunity for study.
After a stint at Palazzo Pitti this summer, you can see it in New York at the Morgan Library and Museum from September 7 to January 6 2019, and then at the J. Paul Getty Museum in Los Angeles from February 5 to April 28, 2019. A great way to stay connected with such an important artwork from the States. Sending the painting away for so long is a big sacrifice for the people of Carmignano, but these exhibits are like a start-up road trip – when the top dog crosses the country in search of funds! A decidedly clever idea if you ask me because there is something about seeing and experiencing the magic of the artwork in person to really make you care about its restoration.
This painting is about a moment of intense hope for the future, and now the church of San Michele Arcangelo is in a similar state of mind.
The community has banded together to look for funds to restore the church, but this isn't just your average restoration project. They've identified the part of the complex that most needs fixing in order to protect the painting and also to be able to show it in its best light to visitors. So they're going to make a new museum, the Museo della Visitazione, which will help tell the story of this work of art to visitors. I love this idea, and it's a clever way to keep people interested on the longterm.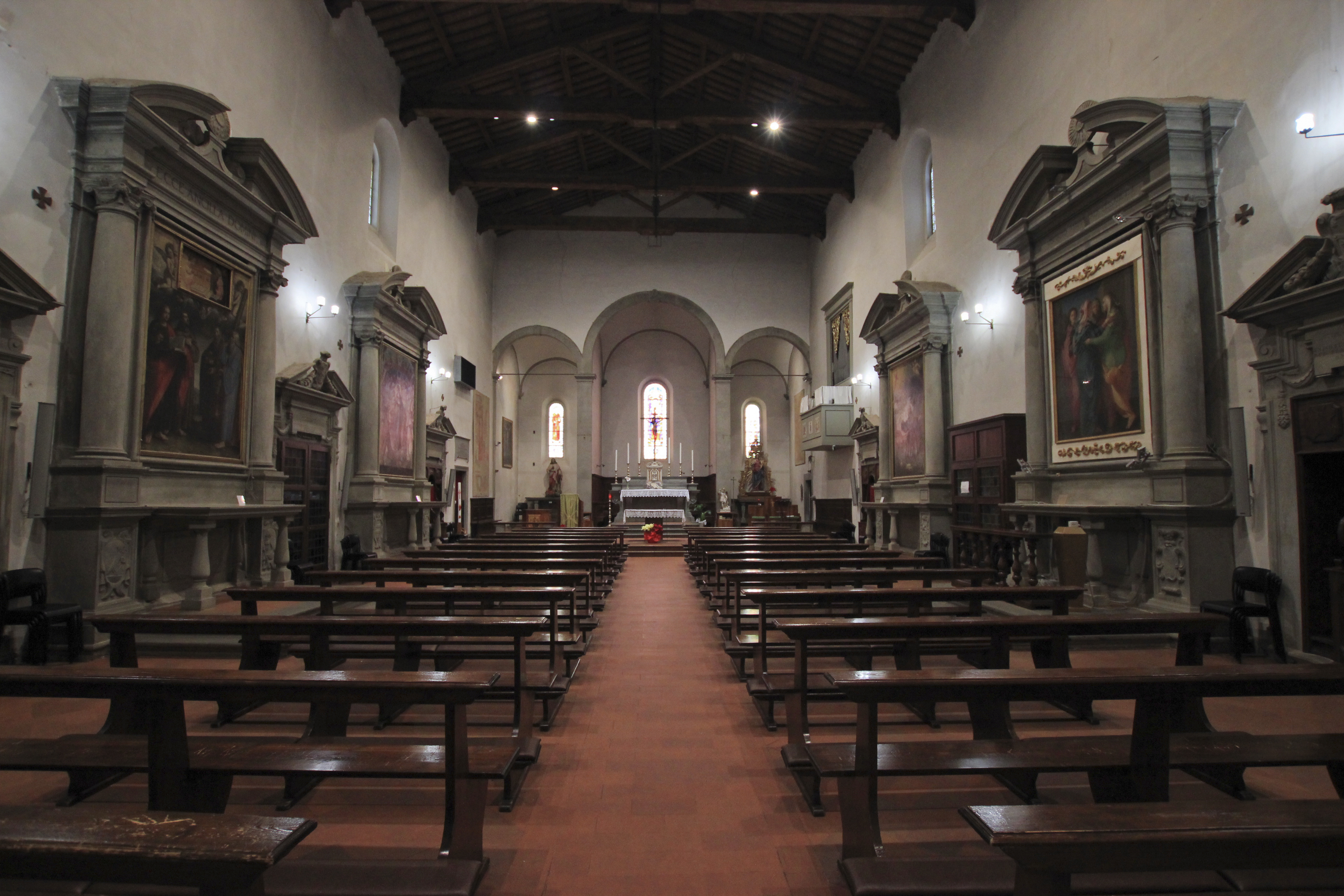 A group of local volunteers is working on showcasing this off the beaten track town and area on social media. There's a really great feeling of collaboration here: earlier this summer, they cleaned up and reopened the courtyard of the church that had been closed for almost 20 years and held three evening fundraising concerts in this magical place, raising almost €3000.
The #VisitingVisitation crowdfunding campaign is the online part of the larger fundraising this community is doing, and it's necessary because this is a way to raise some money quickly and be able to start work immediately.
There are some really interesting rewards in this crowdfunding: I especially like how they are encouraging us to visit Carmignano, which is really authentic small town Tuscany. It's got an interesting history – including Roman ruins, and a castle above the town from which you can see an amazing view – as well as truly delicious food, wine, and warm people. It's a home base from which to visit Prato, Florence, and places like Vinci (where Leonardo was from) and more. Prizes include a wine tour (yes!), a week based at the Artimino winery which just happens to include the UNESCO rated Medici Villa of the same name, or dinner at a local trattoria. If you prefer to travel vicariously at this time, the local bakery will ship you an assortment of their famous cookies! How could you turn down that delicious offer?
I know that the folks at this church will really appreciate it if you can give any amount – and then come visit!! – at the following address as soon as possible. The sooner we can raise these funds, the sooner they can start work on it, preserving the past with a hope for a wonderful future.
Useful Info
The crowdfunding campaign on Indiegogo in USD hopes to raise $75,000 in 60 days starting September 6. Here's that link: https://igg.me/at/pontormo
A longer term fundraising (with some rewards too) is open in euros on the site www.pontormo.it. It's possible to donate here using check and bank transfer as well as credit cards, through April 2019.
For updates about Pontormo, Carmignano and the campaign, you can follow @museodellavisitazione on Instagram and Facebook, and the tweets by Pontormo himself  – apparently! – at @pontormoit.