Dear Summer, 
     You've been good to us so far, and for that I am thankful. After last year's lucifer heatwave, we who live in Florence have had the audacity to let's say… complain less, or at least less about the weather, and maybe the tram because one is now in use..but speaking of trams what about the other… oh never mind. Anyway, this week you decided to up your game with 36-38 degree weather (that's around 100 in farenheight) to make sure no one, I repeat no one, will ever visit in August again. If you have a merciful soul, do us a favor and either gift us another air-conditioner as our "little penguin" has been working overtime or at let us use your pool, but without those condom-like swim caps. We promise to wash our hair. Until then, I will silently sweat in my darkened apartment, occasionally sticking my head in my freezer that needs to ironically be thawed out. Oh yes and tell whatever evil demon in the INPS office to stop sending me my trimester IVA bills at 5pm on a Friday, thanks. 
Your truly, Georgette 
….
On that rambunctious note, if I'm honest, this month of "ferie" or vacation is really welcome. I need to catch up on posts for this blog, organizing my home and of course get my act together on arranging a bit of maintenance I need to get done for the website—this is so much more work (and money) than you will ever know considering this blog isn't my 24/7 day job. But, I love it.
I choose to not travel for the entire month of August when possible because i know in the future I may have to when we have kids. For now—we're planning on laying low, consuming our weight in granita and enjoying an increasingly empty city. This is certainly a weird month when the exodus brings about more foreigners than locals and I hardly hear Italian being spoken in the streets.
That of course doesn't mean that there is nothing going on in case you are worried. The city has organized a number of events and luckily (for us too) there are enough fun things planned to keep us on our toes and not just trapped at home, as for where to eat, I have you covered with this list here. 
Remember you can always organize a last-minute rafting trip on the Arno or see 300 years of Florentine history in a fun, one of a kind theater show (running until the 6th of August). Enjoy and let me know if I missed anything. As always, I appreciate your support.
Link Love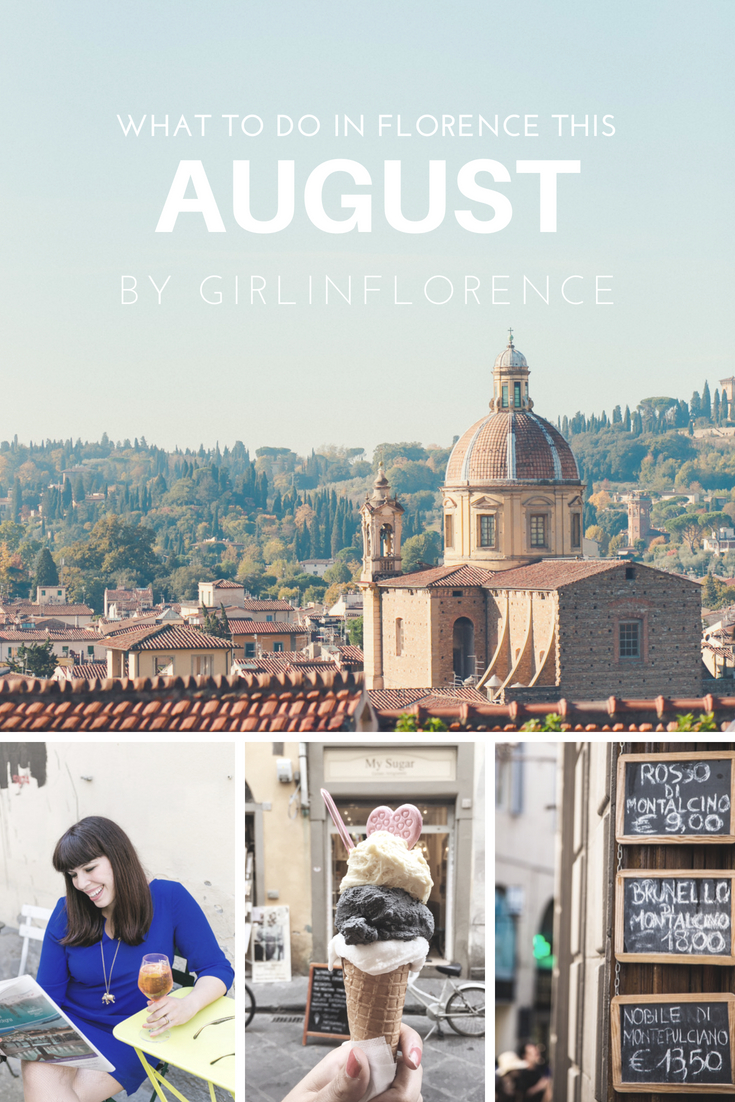 Open-mic night at Tasso Hostel is back this week with an appropriately-named "Sweltering August" edition on August 1st hosted by David Orr and open to all, just make sure you bring you own material (could be a story, poem, song). The fun starts at 8pm and yes, there are air-conditioners. 
For those who want to improve their Italian or simply just meet new people in Florence, I highly recommend attending the "Speakeasy multilingual happy hour" on August 1st. The linguistic libations take place from 7:30pm-10:30pm, aperitivo costs 5€ (a steal!) at Circolo Rondinella.
Be swayed by a beautiful musical concert by the Orchestra da Camera Fiorentina that will take place on August 1st in the Roman Theater in Fiesole at 9pm, on August 2nd there will be another concert in the cloisters at Santa Maria Novella showcasing favorites from Vivaldi to Mozart, get more info here.
Anyone seeking a park that isn't Cascine to hang out in some shade, enjoy a summer picnic and just be? I highly recommend taking the bus or a car to Pratolino Park at Villa Demidoff, a former Medici State and superb green space 11 kilometers outside of the city. To get there, head to Piazza San Marco and take the ATAF bus #25A. 
Now THIS is a unique concept. Walking theater! After a great success at the Festival Off d'Avignon comes the Italian version at Teatro di Rifredi in Scandicci, Walking thérapie from August 1-4th, a fun urban theater format written by three Belgians: Nicolas Buysse, Fabrice Murgia and Fabio Zenoni. Essentially up to 50 people will undertake an urban walk while listening to a sort of "therapy theater where participants are part of the show." More info can be found here.
Not in Florence but this is an event close to my heart and would be such a wonderful experience for anyone visiting Florence. A wonderful organic winery Querceto di Castellina (in Castelina in Chianti, a hour from Florence) is hosting summertime celebrations showcasing the culinary delights of La Tenda Rossa and their fabulous organic wines. This month's vineyard dinner will be on August 4th. Reserve your spot by emailing [email protected], +39 0577733590 or [email protected], +39 055826132. I had a great time last year and would recommend this to anyone who loves unique dining experiences.
Apriti Cinema continues in August, until the 11th. It is a great initiative showing outdoor movies in Florentine locations, namely the Piazzale degli Uffizi (under the Uffizi Gallery) The fun has already begun and will show films (with Italian subtitles) nightly until August 11th. On August 4th at 10pm they will be showing one of my favorite neorealism films of all time: Roma Citta Aperta and Paisà di Roberto Rossellini on the 11th, the final day. Full program can be found here.
https://www.instagram.com/p/Bkda3j1gBvR/?tagged=apriticinema
Enjoy Street Food Along the Arno #Lungarnodeltempio: This is by far one of my favorite things to do in the summer. Along the Riva del'Arno on Lungarno del Tempio, you'll find a cool outdoor space with food trucks including "PescePane" (the Italian answer to the fish burger) and a pretty awesome burger truck along with gelato, a Texas bbq truck among others. This is definitely a place where locals go and if you like street food/being outside, this is the place for you. open 12pm – Midnight.  address: Lungarno del Tempio.
August 5th marks the first Sunday of the month when Italy offers free entrance to all state museums across the boot. In Florence, this of course means that popular places such as the Uffizi Gallery and Accademia will be packed with visitors, expect long lines since entrance will be free and keep in mind there are other museums on this list that are well worth a visit. For example: Bargello Museum, Cenacolo di Andrea del Sarto a San Salvi,  Davanzati Museum, Museo Archeologico Nazionale, and the Medici Chapels. You can find the full list by Benicultura here.
Every #WineWednesday at this summer's urban garden at piazzetta dei Tre Re in the center of Florence there will be an evening of wine talks hosted by Ruffino Wines and co-curated by Ruffino's Francesco Sorelli and The Florentine's Helen Farrell with a series of very interesting speakers. I'll be joining the fun this September 12th but until then, here's the lineup.
Want to see Florence from another angle? Don't forget that all through August, Torre San Niccolo is open for guided visits every 30 minutes from 4-7pm for a low cost of 4€. Also this year you can visit Torre della Zecca on August 18th and Porta Romana's Gate (this is on my list) on August 25th, reserve your spot by emailing [email protected]. 
On August 10th is one of Florence's foremost holidays, the Feast of San Lorenzo, which is known for a festival-like atmosphere around the San Lorenzo Basilica in Florence. Traditionally, there is a historical parade in the morning from 10am-12:30pm, and in the evening, free lasagna and watermelon around 9-10pm. It's always a lot of fun to participate. Just bring extra napkins ;-). Keep in mind that The Feast of San Lorenzo also coincides with the Perseids Metor Shower so keep your eye on the sky for a show of stars. 
There is an awesome photography exhibition currently at Villa Bardini showing 100 of the most iconic shots by American photographer Steven McCurry. Open Tuesday to Sunday from 10.00 a.m to 7.00 p.m. Free guided tours on Saturdays and Sundays at 4.30 p.m and 5.30 p.m. ***Keep in mind that this exhibition will be FREE every Wednesday this August!
For wine lovers, August 10th also marks the annual "Calice sotto le stelle" or wine under the stars. At participating locations around Tuscany you can toast with a glass of the region's finest and hopefully catch a glimpse of the Perseids Metor Shower. Check out the full list of wineries and places offering a nightly aperitif here (in Italian). I'll toast to that! 
Islam Art and Florence is a great exhibit this summer showcasing artistic exchanges between Florence and the Islamic world at both the Uffizi Gallery and the Bargello museum until September 23rd. It might come as a surprise but Florence is home to an extremely important collection of Islamic art comprising almost 3,300 pieces, all of them items of exceptional importance, donated by Lyon-born merchant Louis Carrand in 1889 to the Museo Nazionale del Bargello. For the duration of the exhibition, a combined ticket (€ 29.00, reduced €14.50) is available and valid for three days, admitting the holder to the Uffizi, the Bargello and the Museo Archeologico di Firenze.
I never thought I would see the day when there was an actual slide in the courtyard of Palazzo Strozzi but indeed that day has come. Science meets nature in one cool project called The Florence Experiment, a new site-specific project devised by celebrated German artist Carsten Holler and plant neurobiologist Stefano Mancuso, will be open until August 26th. More info on how you can hurl yourself down a terrifying slide while holding a plant can be found here.
Earlier this summer kicked off Gong, an imposing retrospective exhibition at 16th century Fort Belvedere dedicated to one of contemporary art's major protagonists Eliseo Mattiacci. The exhibit features a monumental presentation of twenty sculptures exhibited outside the fort and within the villa, in addition to an extensive collection of drawings, about eighty, which, for the first time ever, allow the public to admire the always supreme graphic activity of Mattiacci. It is an almost shamanic exercise, aimed at exploring the sublime of the cosmos, the orbits of the planets and stars, the rhythms and geometries that belong to the infinite universe, so as to draw stellar maps that today, just like millions of years ago, also function in symbolic, ritualistic terms. It isn't free this year but residents can buy a card for 2€ for the whole season (bring your residency document) while visitors will may a 3€ entrance fee. The full price ticket costs 3€, open from 11am-8pm. Via di S. Leonardi 1.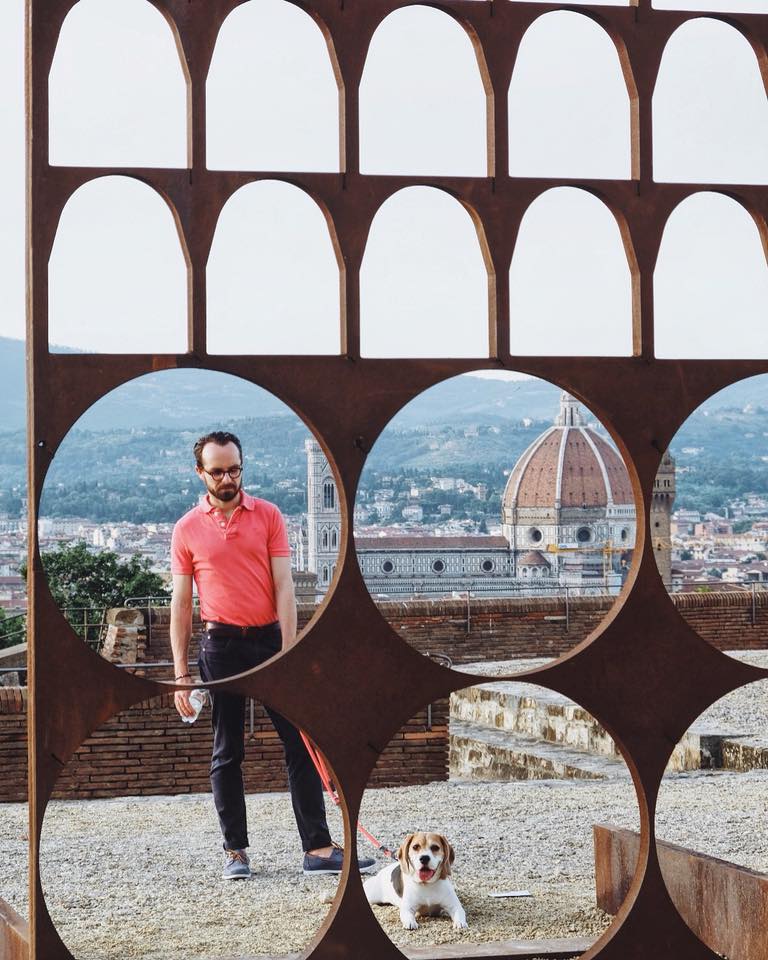 Also on tap for extended hours for visits is the Uffizi gallery. This summer's prolonged hours run through September 26 every Tuesday from 7-9pm. On these Tuesdays, concerts and other exhibitons are offered as brief "intermissions" while visitors navigate the museum's halls. There are an excited array of events this month worth attending and you can get the fill update on each Tuesday's performance here. 
Taking place from 29th August – 1st September 2018 in Florence, Italy,The New Generation Festivalwill be taking over The Gardens of the Palazzo Corsini for its highly anticipated second year, creating an international platform for the finest, young music and theatre talent. Set in the (stunning) CorsiniGardens in the heart of Florence, this is the perfect festival weekend for music-lovers to unwind in one of the world's most beautiful surroundings as well as being only a stone's throw away of Florence's bustling city life.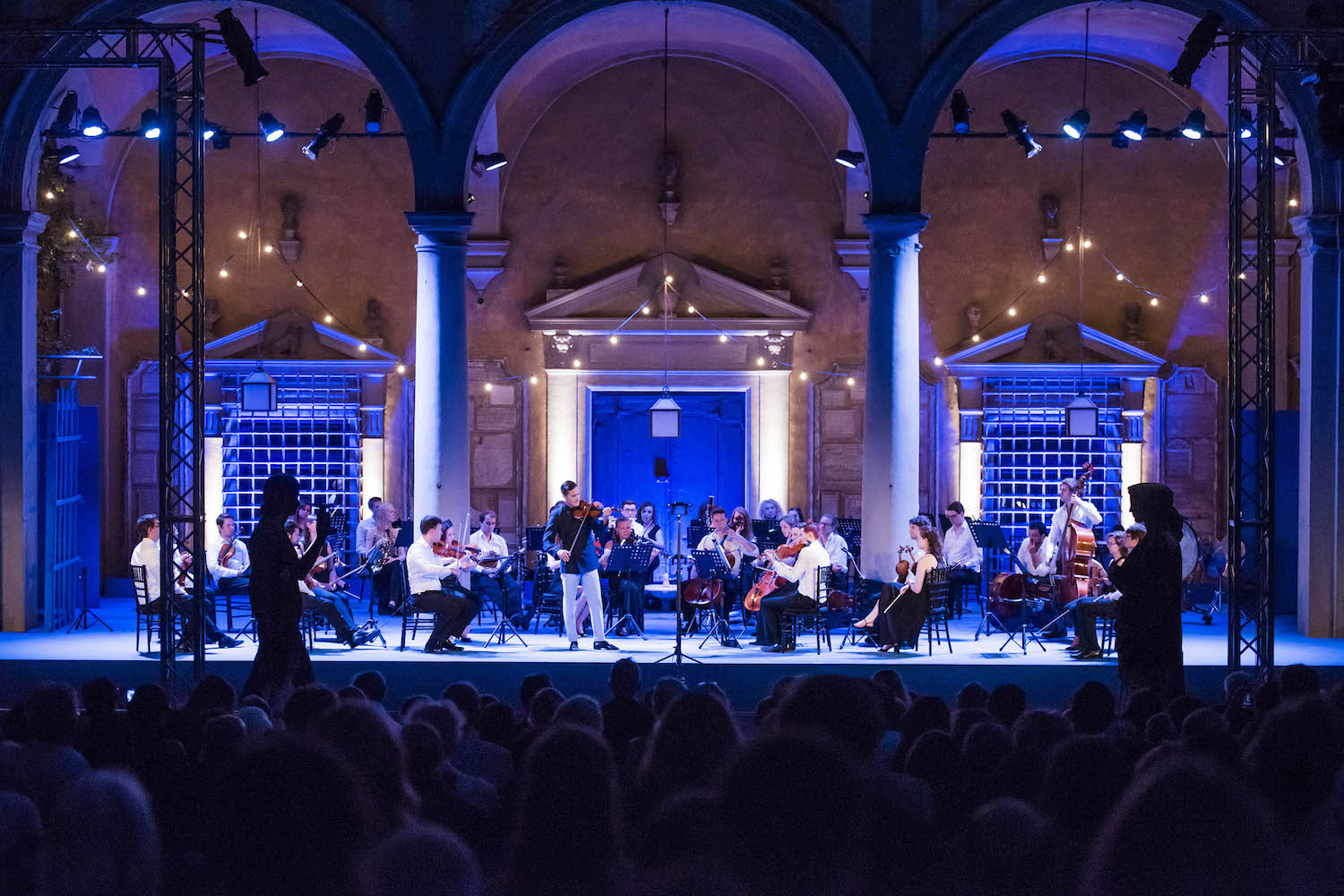 While not exactly a specific event, the summer marks the opening of many of the city's rooftop terraces. Most of which are on top of hotels where anyone can go for an aperitif drink, or sometimes even stay for dinner. The bonus is you get a beautiful, panoramic view of the city. Just be aware that drinks will often be a little pricier. This is definitely one of our favorite activities on a beautiful summer evening. Favorites include:
"La Terrazza" on top of Hotel Continental is open to the public and is a sexy, sophisticated spot to sip a moscow mule with a birds-eye view of the Ponte Vecchio. Pricey, cocktails cost around 16 (if not more) euros, open daily from 3:30pm-10pm. address: Vicolo dell'Oro, 6r – 50123 Florence, Phone. +39 055 2726 5806 , E-mail. [email protected].
Glance Summer: Every Tuesday and Thursday from 8-11pm you can enjoy a panoramic aperitivo with live music on one of Florence's newer rooftops with a pool. address: Via Nazionale 23.
S.esto at Hotel Excelsior is a prime spot for fashionistas to grab a drink on one of the best terraces in town. I would skip dinner here and just get the drink. Piazza Ognissanti, 3. Open 7:30pm-10:30pm.
B-Roof is an awesome rooftop bar on Hotel Baglioni. It is the ideal place for a sundowner aperitivo with a large, expansive terrace at your beck and call with a bird's eye view of the Duomo cathedral (and not only). Dig into curated snacks and fun cocktails, keep in mind that it's best to make a reservation. Added bonus, you are very close to the train station should you need to jet off quickly. +39 055 23588865 www.hotelbaglioni.it.
Oblate stays cool. On top of the Oblate library lies a cafe that is quite popular with the Italian student population. The great thing is you can also get a drink here and prices are cheap so this is a wonderful option for those who are on a budget, but still want the Duomo smack in their face. address: via dell'Oriuolo, 26. Cool place to organize a private aperitivo as well. Info here.
Hotel Plaza Hotel Lucchesi's stunning rooftop terrace by the National Library is one of my favorite places to go for a rooftop drink and they are probably the best price/value for fancy hotel experiences, do keep in mind that prices went up in 2018 and you cannot get just a drink during sunset. Be prepared to spend at least 25€ if not more. Reservations recommended +39 0552623500 [email protected]. address: 

Lungarno della Zecca Vecchia, 38.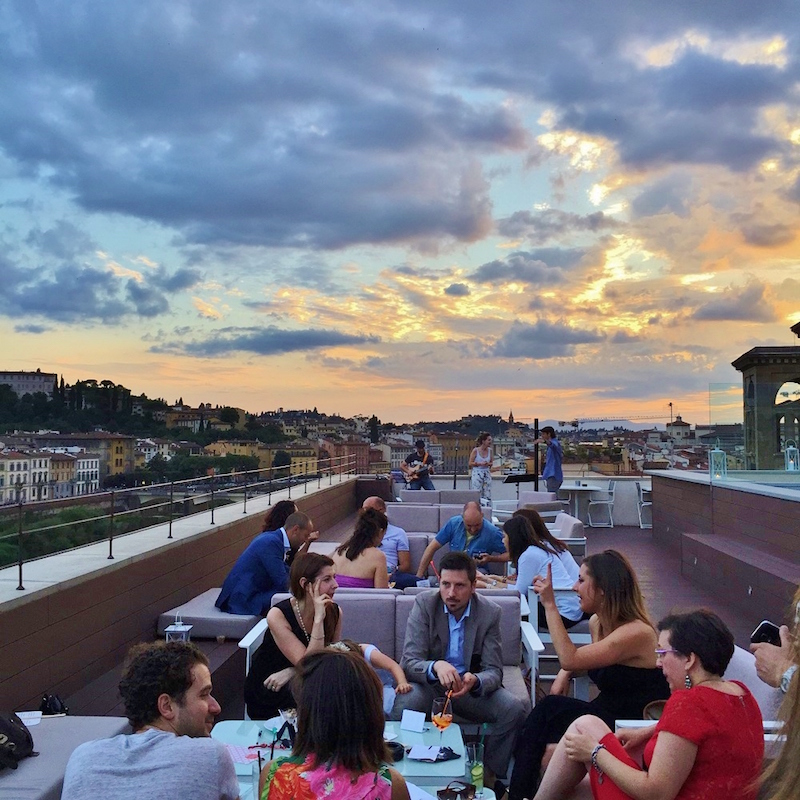 Hotel Kraft is one of the lesser-known spots for dinner or a drink in Florence and I actually quite like it. You'll find it on 

Via Solferino, 2 near the American Embassy. 

Grande Hotel Minerva, '360 Three Sixty' Rooftop Bar. Always an iconic destination in Santa Maria Novella. Open daily from 7pm-midnight. Email [email protected] for a reservation.
Hotel Torre Guelfa has a tiny bar on Borgo Apostoli on top of an ancient tower (you have to ask at reception if they have space, hotel guests get first priority). The view from here is one of the best in town and drinks are as affordable as 9€ for a spritz (a steal on a Florentine rooftop).