This rainy, slightly depressing Sunday has taken a turn for the better as I've managed to get my act together and share yet another story as part of my local's I love compilation that has spanned over five years. This series is dedicated to interviews sharing the lives of people I've personally met around Italy to give people a better window on what life is really like here. Life is not instagram, and through these words people who wonder what life might be like here can really learn a lot from the people in these interviews. I met the lovely Kirsten when we both worked at a local magazine, The Florentine, and in between writing articles or translations I always enjoyed our lengthy chats about life in Italy. I'm grateful that our lives crossed paths because Kirsten is such an open person, with a whip smart, depreciating sense of humor that I absolutely adore. Kirsten is beyond talented too, her videos showcase her brilliant range of capturing the subject in a very emotional and REAL way (of course I'm referring to the wedding video, see more below but I recommend watching a few.
Without further ado, let's pick the brain of this British-born video journalist who calls Florence her home. Main cover photo credit: Sofie Delaw
name: Kirsten Hills
nationality: British
profession: video journalist
favorite drink: pint of British ale
I also recommend checking out Kirsten's videos on Vimeo and her website here.
Instagram: @kirstenhillsjournalist
---
Tell me a little bit about yourself Kirsten, where are you from and what keeps you in Florence?
I am British videographer, mother of two and married to an Italian. We lived in UK for almost 10 years and in 2011 moved here.
My husband was ready to move back to Italy, and was offered work as a shoe designer for Calvin Klein in Florence. I was working at BBC, but was struggling with the work-life balance, so we both decided the move would be good for us, and our family life.
How was it adjusting to life in Florence on a personal level, and as a mother? Would you have any advice (and share resources) for anyone who is new here and maybe feeling a bit lost?
I knew a lot about Italy, having visited often with my husband, so I didn't struggle too much with the readjustment. I've always felt very at home here in Italy.
I wanted to speak Italian well, so did a course at the British Institute which helped enormously. Initially if I was ever feeling a little homesick, I'd go to the library and read a British newspaper (it made me feel more relaxed.)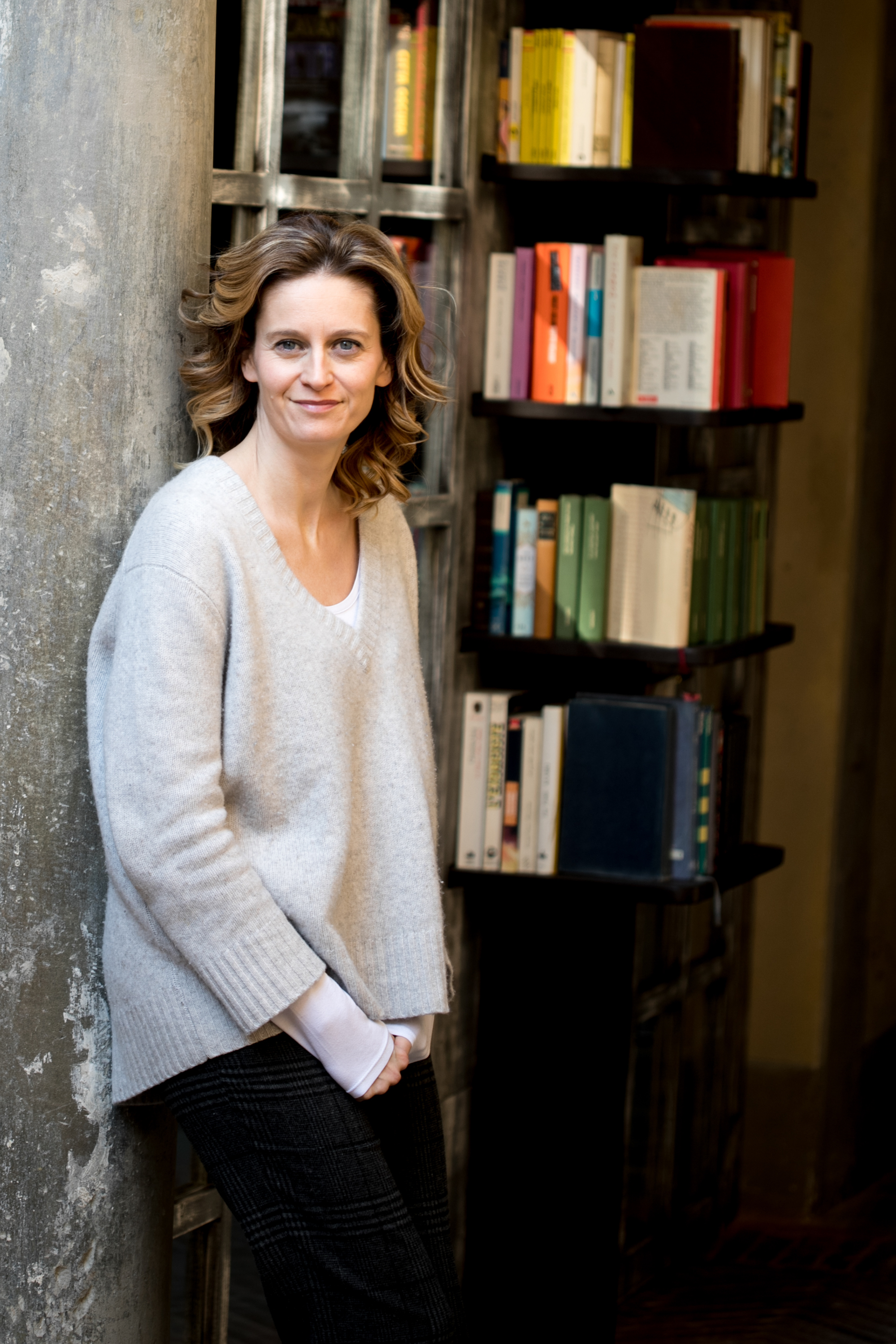 What are you up to here? Could be hobbies, work, passions or all of the above.
I love running, and have a running partner I meet with a few times a week at 6.30 in the morning. Knowing we have a meeting time is my sole motivation for getting up at that unearthly hour!
You work as a video journalist for publications such as the BBC. Can you tell us what got you into this realm of work and what you enjoy about it?
After graduating I got onto a BBC traineeship as a researcher, and during that time I worked on BBC Newsnight, which I loved so much I decided to pursue work in news.
News organisations expect reporters to film their own material so I had the training to film, record audio and edit my news reports, which I thoroughly enjoyed. I missed it when I moved to Florence, so set up on my own 3 years ago. I still freelance with BBC.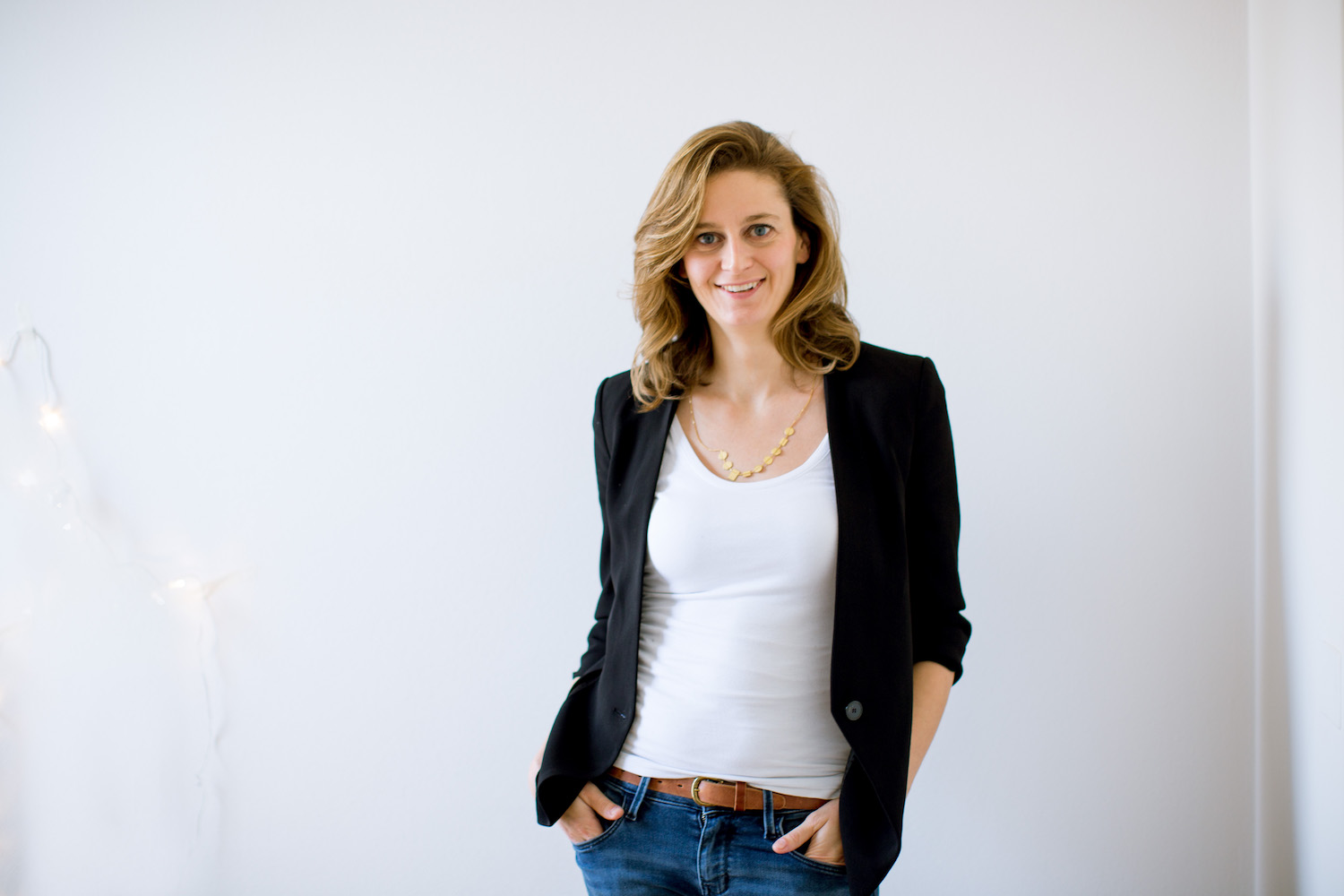 How is it working in this kind of career in Italy, do you find being in Florence an advantage or a disadvantage professionally, and why?  
My videos are primarily for websites, and I find international businesses appreciate the value of video (and have the budgets for it.) Fortunately Florence had a large international community which I've been able to tap into.
https://www.instagram.com/p/BgHYoljghK2/?taken-by=kirstenhillsjournalist
Can you talk about some of your favorite projects and why?
I do a wide variety of projects; fashion shoots, promo films, events, crowd-funding, and some weddings.
My most recent project excites me the most. It is a series on my website of quirky short films in Florence. The films last 1 minute, and are original and entertaining. I start with a 76 year old naked life model.
One of my proudest moments was having one of my films in the Uffizzi. It was for Advancing Women Artists and followed the life of Florence's first female artist Plautilla Nelli, who has remained relatively unknown. I have seen some incredible places, closed to the public, inside museum archives and watched priceless paintings being restored. I feel extremely lucky
One of my most emotional shoots was a wedding for an American couple. The groom Eric has been very ill and he fights on, and naturally the day was very moving
I often find myself in strange situations in order to get a great angle. Fonderia Marinelli, make bronze statues and have an enormous bank of plaster-cast molds of the most famous statues, like Michelangelo's "David". I shot inside their warehouse by jumping inside a container, while being driven around and raised up and down by a fork-lift truck.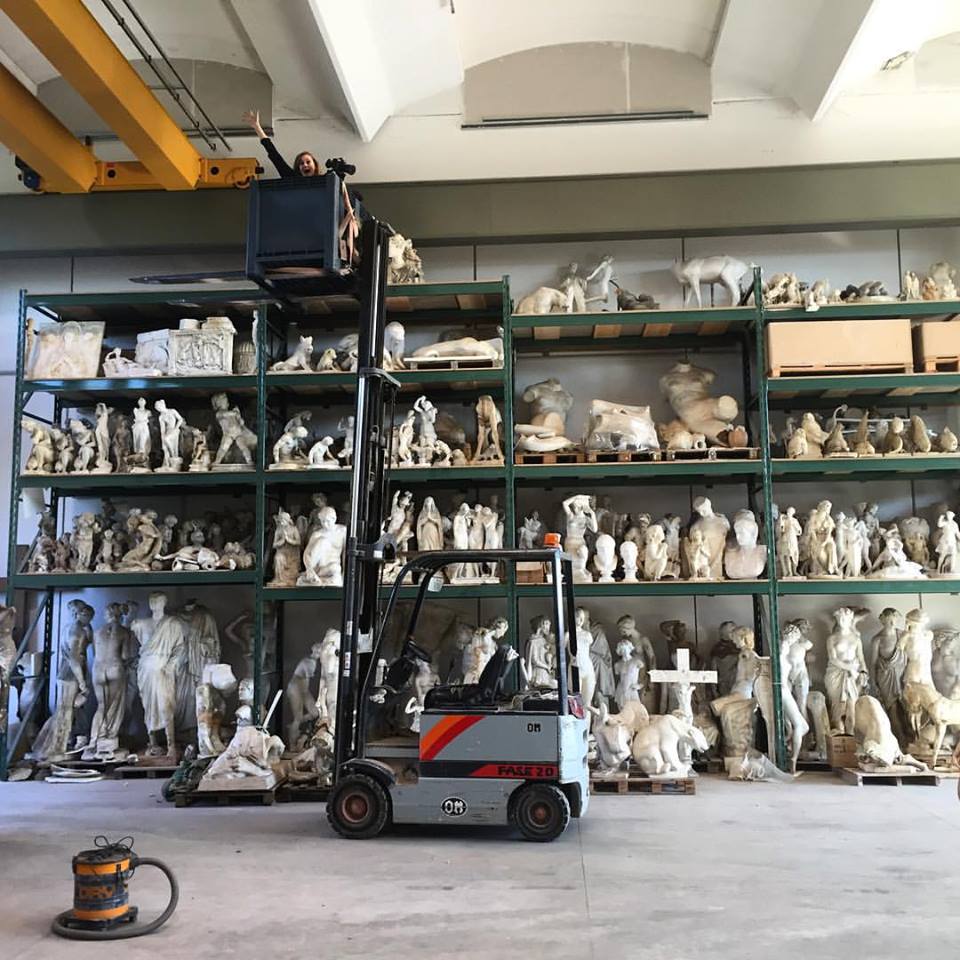 And while filming an event at the Cannotiere rowing club, I was taken out on the Arno by one of its members. I was a little nervous about my camera being so close to the water.
What have been your hardest struggles working as a freelancer in Italy? Have you ever thought about returning to England or trying a new place?
We have had the opportunity to return to UK, but turned it down as we both want to be here.
My hardest struggle as a freelancer has nothing to do with being in Italy, but balancing my work- load with my family life which doesn't always go smoothly, as any working parent will know too well.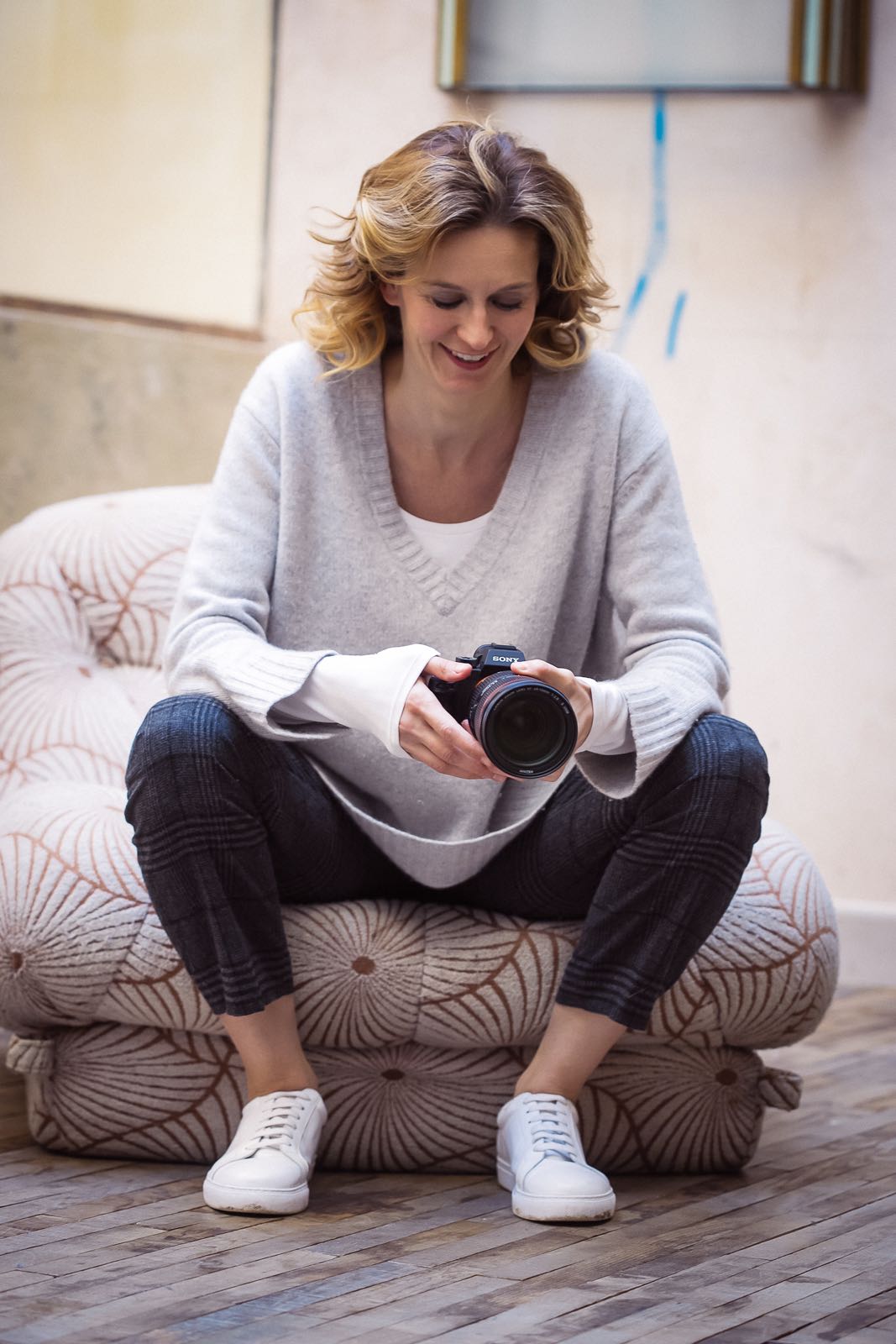 I don't know how you do it. I don't yet have a family and I feel that way myself with just a beagle and a husband. What annoys you about Italy? Feel free to be as open as you want.
Bad manners, but they make up for it in charm.
True! What do you think of the current economic situation in Italy? Do you think Italy is doing a good enough job keeping its young talent here?
Italy MUST do more to help its young people. It's a top issue for the election. For too many years youth unemployment has been staggeringly high, and leads to disillusionment with politics, disengagement, and one reason why support for the far-right parties is rising.
The employment laws desperately need reforming so young people can have some job security. I believe there is alot the government could do to harness the creative, dynamic energy of its young people to encourage start-ups, tax breaks, etc.
On the Facebook page "Italiani a Londra" many write of their frustrations about wanting to return home to Italy, but being unable to because of the lack of opportunities. This is very saddening.
I agree completely. I feel like there is a huge gap between those who hold long-term stable contracts…and everyone else. I see a lot of initiatives that are introduced but not properly thought out. Let's hope something chances. Any notable differences from when you first came to Florence and now? I know it's quite a general question but I have a feeling you are quite an observant person.
I drive in a more Italian style!
You and my husband. What advice would you give someone who might be looking to find work as a videographer in Italy?
If you are looking to be a video journalist start shooting material and offering it to local press. Remember there is always an appetite for news from Florence internationally, so pitch to news organizations abroad. It takes perseverance, as news budgets are shrinking.
Do online training courses to improve your skills. Try to get work experience with businesses. Offer material for free, but only if you feel it will lead to further work. And of course you can always publish/broadcast yourself online.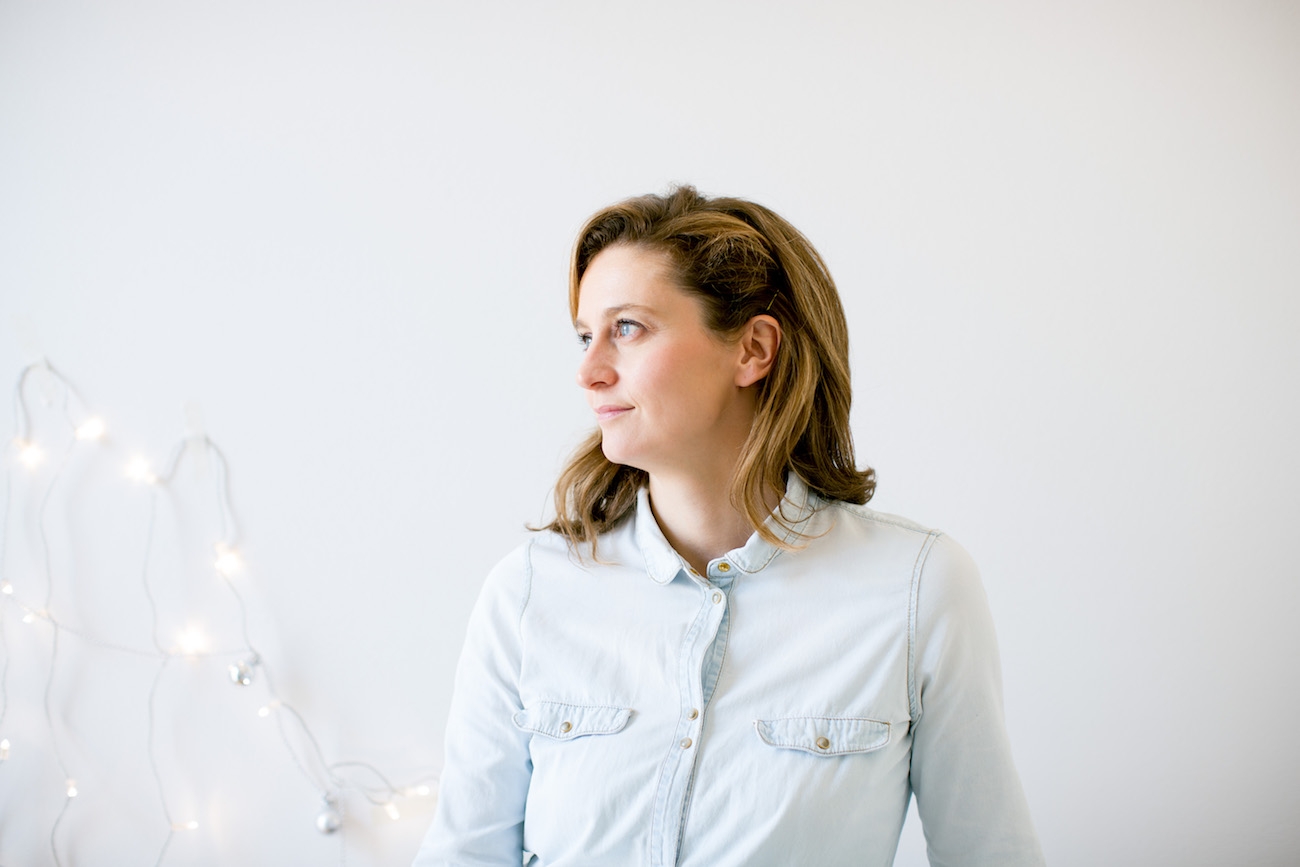 That's great advice. As freelancers we tend to be shooting in the wind at times but it pays to have a strong, stable support community where you can bounce ideas with or ask about contract stipulations. Obviously, I know Brexit has caused a lot of fear for expats from England living abroad. I would love to know your opinion on this decision and if that might affect your family's life in any way.
I'm very angry about Brexit. It should never have been decided by a referendum whereby 17 million people decide the future for 65 million Brits.
No one knows the details of what will happen, but I imagine the introduction of a visa system rather like the Americans have now.
My kids have British passports and I'm in the process of getting an Italian one.
https://www.instagram.com/p/BTtSCorAe3V/?taken-by=kirstenhillsjournalist
Weekend escapes: where do you go when you need a break from Florence and why?
My in-laws house in a tiny village called Vellano near Pescia for chestnut/mushroom hunting, grape/olive picking, jam-making and gorging on my mother-in-law's cooking. It's as heavenly as it sounds.
Would it be rude to auto-invite myself to one of those meals? ;-). I'll bring wine and some laughs (hopefully). To the person who has already seen the Uffizi, David's nether regions and walked across the Ponte Vecchio. Can you share three special places everyone should know about in Florence/Tuscany that you personally adore?
Saturday lunch at Trattoria Lola's on via della Chiesa.
My short-cut to the centre through Boboli Gardens.
The apothecary at San Miniato al Monte where the monks make their own gelato and cosmetic face creams too.
https://www.instagram.com/p/BZwcIJsB96I/?taken-at=239641060
Who knew monks could learn the art of moisturizing your face as well as partaking in Gregorian chants. Three foodie favorites and why?
In winter: Bracciola, rape and a glass of red (together.)
In summer: Pinzimonio, panzanella, semi freddo.
What can you do in Tuscany and nowhere else?
I can't think of any other part of the world with skiing, thermal spas, mind-blowing food and wine, beaches and 7 UNESCO sites in one region.
You know I had to ask… If you had to make up a tagline for Florence according to Kirsten, what would it be?
I'd "do" my tagline in video form!
SaveSaveSaveSave
SaveSave