As long as I can remember, I've had a very deep connection with books.
As I've mentioned elsewhere on this blog, books were my friends when I had few of them, they were a way to escape mentally from my surroundings (general boredom in Texas- it's a real thing) and be instantly transported into another world. It brought me from being a shy, awkward kid with little to say — to someone who could never shut up.
This love hasn't waned and I hope it never does (sorry Nico, you have to share me on this one).
That being said I've been wandering around Florence for 10 years in search of good books and I feel like it is now my time to give back by supporting them. Independent bookshops that despite having everything against them, are still there and still trying to stay alive. Many of them boast more than just a charming character, they carry books you won't find at chain bookshops and offer a more personalized experience while browsing.
One of which if around the corner from where I live, Libreria Clichy, a small 80 square meter bookshop opened by the publishing house of the same name, home to around 7,000 books. It's a stone's throw from Ponte Santa Trinita on Via Maggio, an elegant street that encompasses so much of what I love about the city of Florence. The surrounding district is chock-full of art galleries, bespoke boutiques, antique shops and artisans working away on well-worn and well-loved desks in tiny doorways among the side streets.
What I love about Libreria Clichy is the total lack of snobbery once you walk in the door. If you ask for help, Silvia and Walter are more than willing to browse right along there with you and help you pick out book. There is a lovely outdoor courtyard to mill over a favorite title and an ample area with children's books.
By supporting independent bookshops, you are supporting the local community–and of course, the local economy. It means a continuation of supporting local authors and provides a more human experience when you walk in the door. I loved this quote by American novelist Ruth Ozeki for The Guardian on why you should support independent bookstores. "Shops like this keep a place in their shelves for the books I write – without them I wouldn't have readers." 
I certainly don't want to live in a Florence solely outfitted with snack bars, restaurants and shops aimed at passing tourists. I want to live in a place where "community" doesn't just exist in a digital form (said by a SM consultant…).
Just the other day while snapping photos for this article, I picked up a slim edition by local architect Francesco Gurrieri on "Michelangelo di Firenze" detailing his life and work in Florence in both Italian and English, together with illustrations and photos. These would make wonderful gifts for anyone looking to learn more about their city in a pocket-sized format.
…
I asked Tommaso Gurrieri, the editorial director of Edizioni Clichy to answer a few questions on the state of independent bookstores and share why he decided to open up a brick-and-mortar location in a world where more and more people go directly to Amazon to purchase their books.
Thus an idea for a new series is born: interviews with a book seller, presenting post number one..
Ps. Don't miss his three book suggestions at the bottom of the article.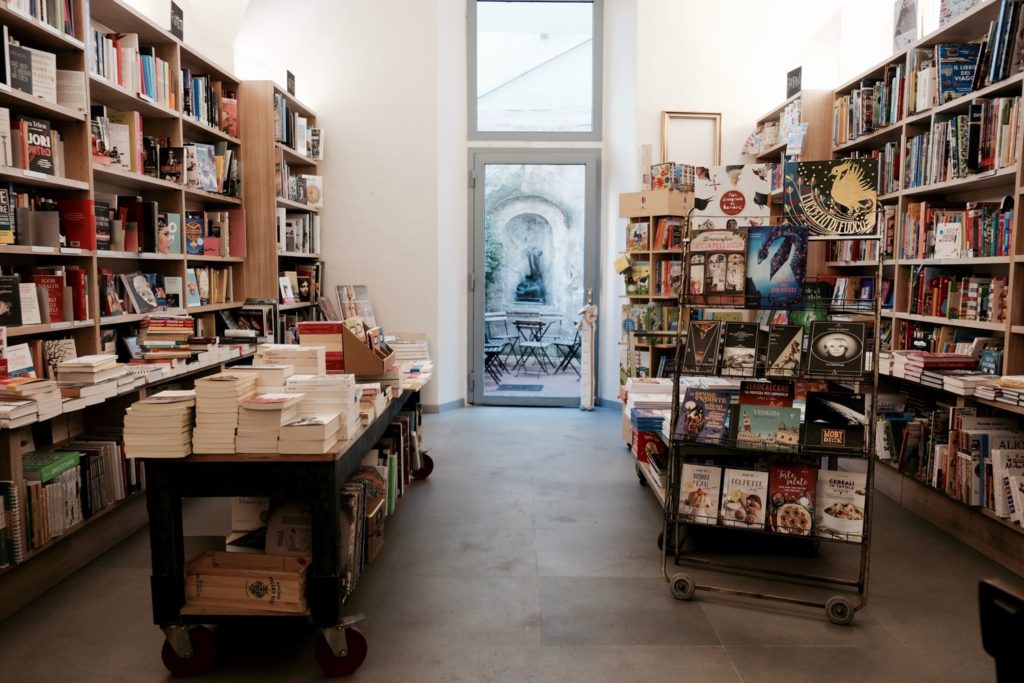 Why is it important to support an independent bookshop? What does it take to be successful?
The Italian publishing market is in the hands of an oligopoly led by large publishing groups that control the entire chain. If there were no independent publishers and independent libraries (a problem even more so in Anglo-Saxon countries, France or Germany) people would only have the opportunity to read the work of limited authors and, in general, those that are more commercial.
There is no secret formula for a library to succeed, it really requires daily engagement and the ability to stand out by offering things that no one else offers.
Our aim is to create a true and loyal relationship with our customers.
To succeed as a library, there is no perfect formula. It requires daily engagement, and an inmate ability to characterize oneself by offering things that you don't see elsewhere, combined with the ability to retain customer loyalty. Logistically, we are also in an area with few similar bookshops.
What are some of the challenges you face?
The challenges are there every single day and probably the biggest one is a question of survival. We have to understand and live among the rules of a market that are not comparable to any other industry. Profit margins on book are some of the lowest, ever. Maybe only newstands have less opportunities than bookstores- and in fact – many of them are closing for good.
Tell us more about your store, including its history and location. Also, what types of books does your store stock and specialize in? 
Libreria Clichy opened in September 2015, as a direct derivation of the same publishing house since 2012, which operates all over Italy. The reason we opened the shop was born from the desire to have our own brick-and-mortar space in the city of Florence.
It is a nice shop – very elegant despite not having a coffee bar. There is a large catalog of both adult and childrens books (and in foreign languages). Many are by independent publishers, all with a very high-level narrative.
Do you and your staff handpick your books?
We live with books and we live for books.
This we do by touching them, browsing them and of course reading them every single day.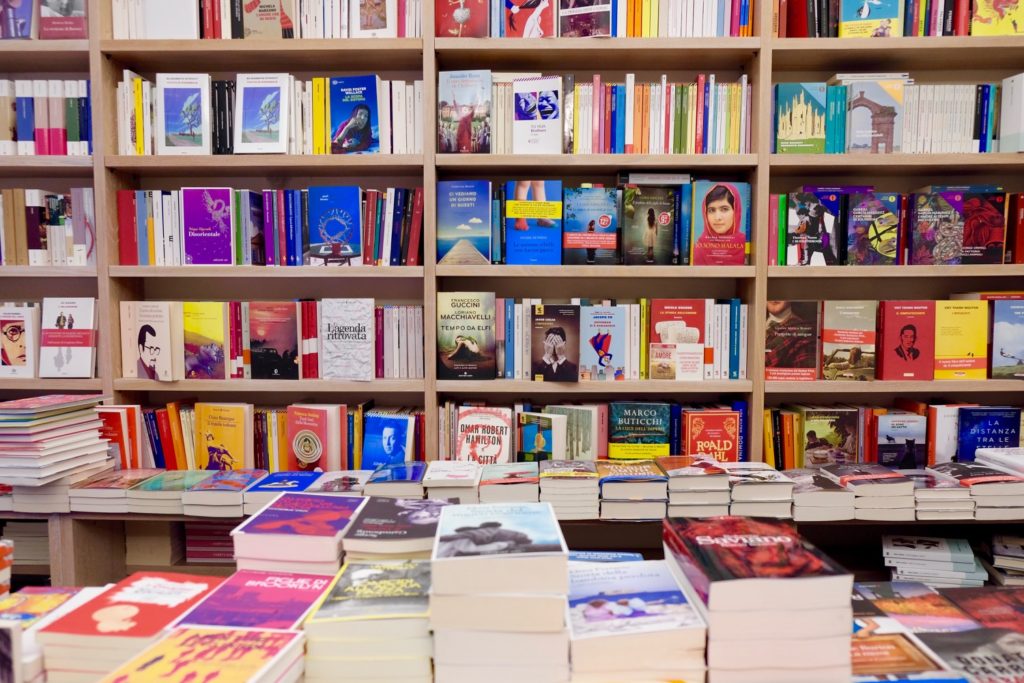 How do you deal with the fact that so many people buy books online?
It is a problem that of course by opening this bookstore we had to confront. Our aim is to appeal to those people who still in 2017 will only buy a book after holding it in their hands. These are the kind of people who enjoy browsing and feeling the pages of a book, the texture, the smell, the weight. Luckily for us, these people still exist.
Do you organize events or keep involved in the local community?
We organize a few events each week within the shop. Most are presentations by local authors, but often we also have writers who are well known all around Italy and other special events. A couple of times a year we organize parties with readings, music, wine and food for the public.
Do you encourage people to stay, sit and read in your bookshop?
We don't have a coffee bar but we do have a small living room- and above all a beautiful courtyard where anyone who wants to visit, can feel free to hang out. It often happens that students, especially foreign ones, stay there to read or study.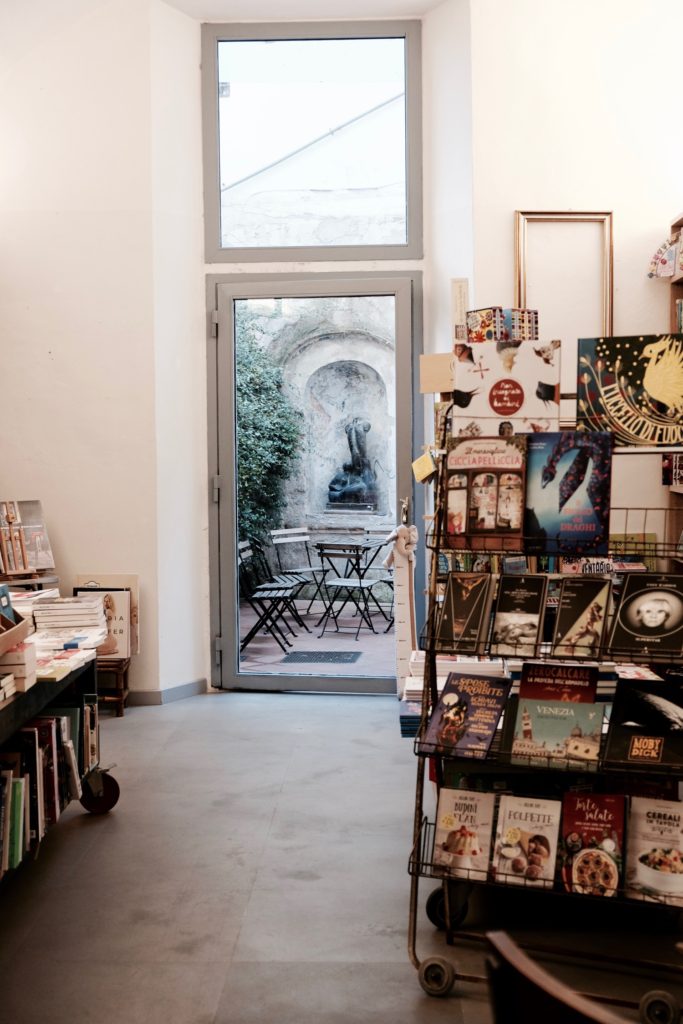 What would you like people to know about independent bookshops that they might not know already?
We would like people to know that opening an independent bookshop in Italy is a very difficult challenge, it is really a choice for editorial freedom of choice. The people that choose to buy a book from a place of ours – and not a chain shop, respect and appreciate those values and they know that it contributes to more freedom of information and culture.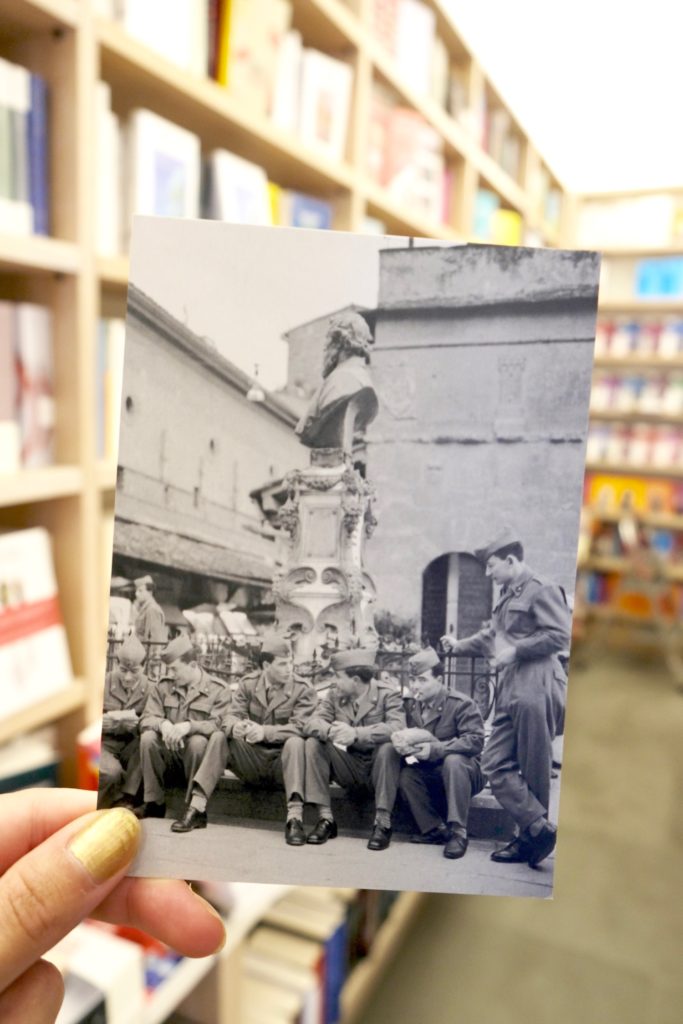 What do you love about being a bookseller?
A best-seller is not in itself, a commercial book. It happens sometimes that there are wonderful books that also are able to sell a lot. It's rare, but when it happens, it is a true miracle.
Can you give us three book recommendations from your shop based on what you or your staff love right know and why?
The first is Raymond Queneau's "Blue Flowers", a genius, never-ending, experimental novel that traveses space and time. The second is "Letter to a Teacher" by Don Lorenzo Milani, the most revolutionary book of the twentieth century. The third is our children's book, "Wolf & Lupetto," a wonderful story about friendship that for five years has been the book we sell the most. We've reprinted it at least ten times.
---
Useful Details 
Libreria Clichy: Address: Via Maggio, 13/Rosso, 50125 Firenze FI. Phone: 055 264 6025. Opening hours Mon-Fri 10:00-3:30pm, 3:30-8pm, Saturday 10-20. Sunday: closed. 
SaveSaveSaveSave
SaveSave
SaveSave
SaveSave