It's Sunday afternoon and I have nothing to do. 
This is one of the first weekends where am I actually able to say that.
Gone is the whirlwind that was my visitors from Texas, and my obligations for work trips that brought me to Nice, France—the Dolomites, among numerous day trips into the lush countryside where our closest company was mostly the loud chirps of crickets. For now, it's just Nico, a bored beagle and myself, all clamoring to keep cool in our small apartment in the Oltrarno as the coming forecast is freaking me out. Next week is project to sort into 100's (41 for you celsius folks) and stay that way until Saturday. Prepare the kiddie pool y'all!
https://www.instagram.com/p/BXGjwMLj5wB/?taken-by=girlinflorence
However if I'm honest, this month of "ferie" or vacation is really welcome. I need to catch up on posts for this blog, organizing my home and of course get my act together on arranging a bit of maintenance I need to get done for the website—this is so much more work (and money) than you will ever know considering this blog isn't my 24/7 day job. But, I love it.
I choose to not travel in August when possible because i know in the future I may have too when we have kids. For now—we're planning on laying low, consuming our weight in granita and enjoying an increasingly empty city. This is certainly a weird month when the exodus brings about more foreigners than locals and I hardly hear Italian being spoken in the streets.
That of course doesn't mean that there is nothing going on in case you are worried. The city has organized a number of events and luckily (for us too) there are enough fun things planned to keep us on our toes and not just trapped at home.
Remember you can always organize a last-minute rafting trip on the Arno or see 300 years of Florentine history in a fun, one of a kind theater show (running until the 6th of August). Enjoy and let me know if I missed anything. As always, I appreciate your support.
Link love for you to enjoy for the month of August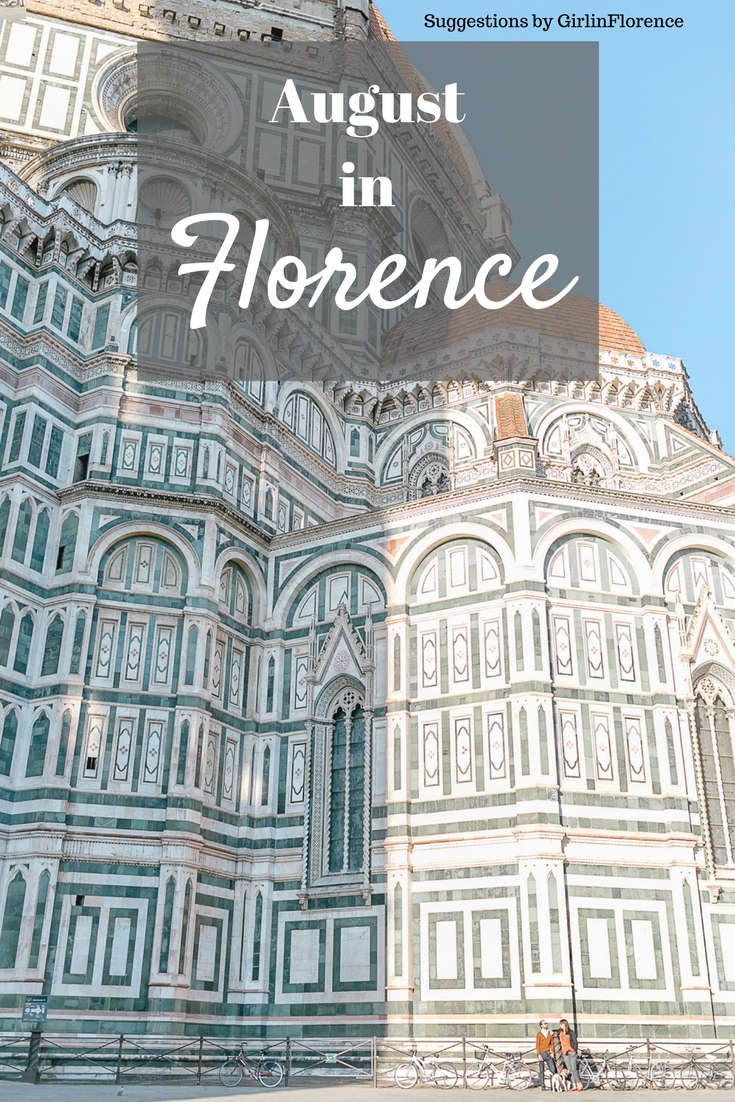 Enjoy aperitivo hour at the city's Arno beach, Easy Living Firenze, with author Baret Malarian  on August 1st who has written The Fabrications, a timely and darkly comic tale that explores questions of identity, celebrity and culture through a colorful cast of characters – in particular, its eccentric protagonist, Oscar Babel – and a range of fantastical settings. You will have the opportunity to pick up a signed copy and the event will run from 7pm-11pm.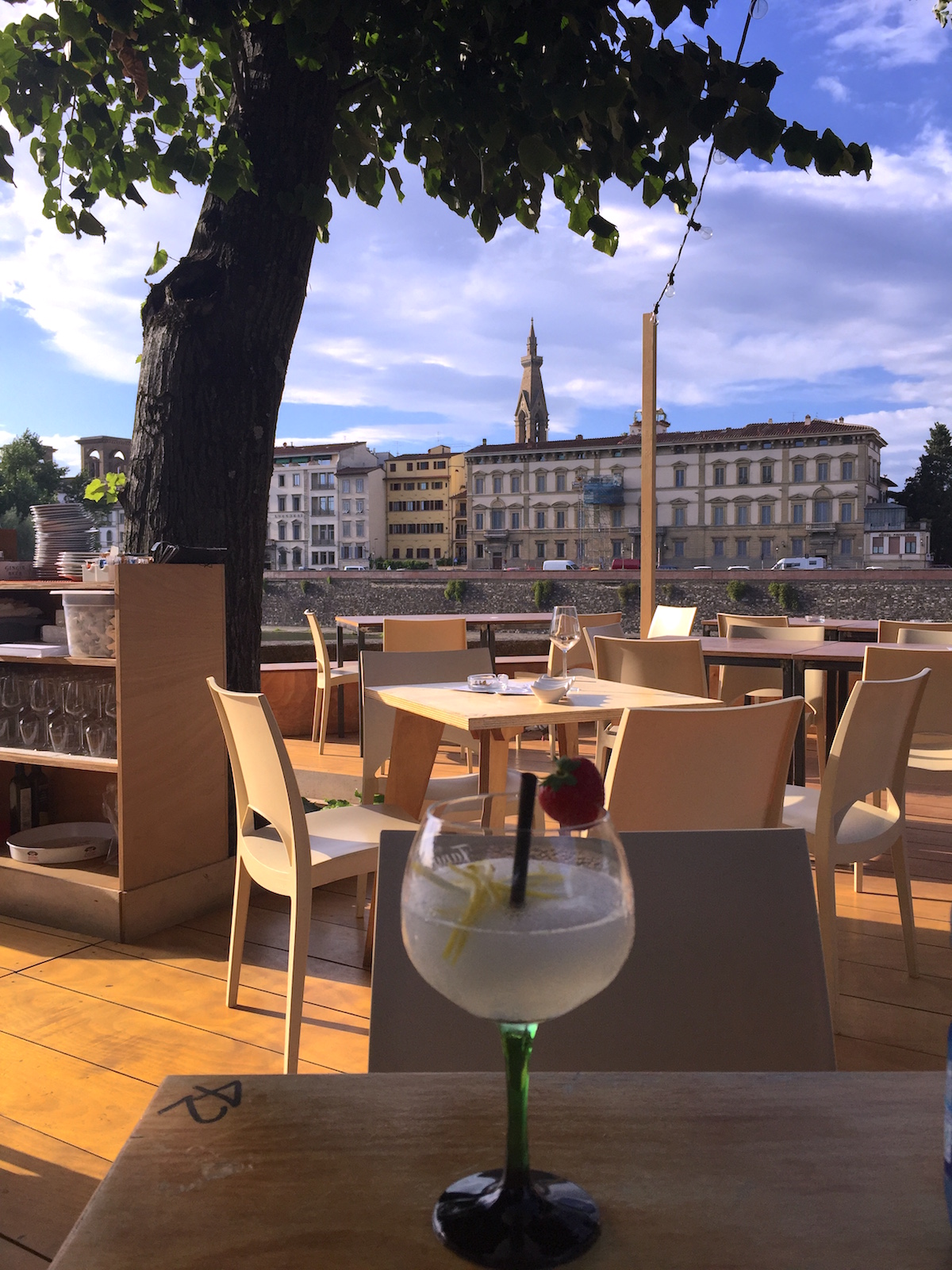 August 2nd marks this month's open-mic night at Tasso Hostel where anyone can perform their original content to a fun group of locals (I always adore the scene). This month's host is Samuel Webster, an Australian artist who has lived on the Tuscan outskirts for the last five years. He is a dramaturg, writer, filmmaker, musician, and photographer. He's just launched a new storytelling entitled "Fool's Paradise", recounting his slightly cynical travel adventures and the weird and wonderful people he meets along the way. Join the fun at 9pm! 
At the city's urban garden, Serre Torrigiani in piazzetta nestled between Piazza della Repubblica and the Orsanmichele church (piazza de tre re), will play host to a number of interesting events this August. They have scheduled a lineup of live music, workshops for kids, book readings and more, all of which you can check out here.
Don't forget to check out the  Ytalia exhibit which features over 100 contemporary artworks themed on "energy, thoughts, beauty" by major Italian artists in key locations around Florence until October 2nd, this includes Forte Belvedere, Palazzo Vecchio, Museo Marino Marini, Palazzo Pitti, The Boboli Gardens, the Uffizi Galleries, Santa Croce Church. We visited the 16th century Forte Belvedere which hosts many of the works including a giant skeleton lying down in front of the panorama of the city and so much more. It isn't free this year but residents can buy a card for 2€ for the whole season (bring your residency document) while visitors will may a 3€ entrance fee. There is also a special bus taking visitors from Pitti to Forte Belvedere every thirty minutes so make sure to take advantage of the ride.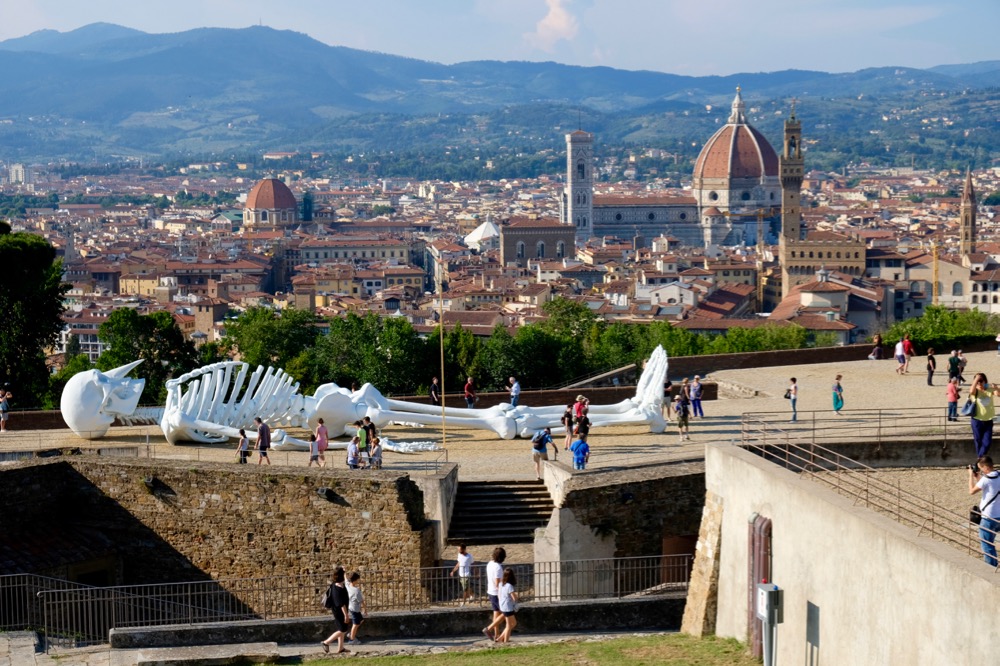 Head to the Arno Easy Living city beach for a sundowner cocktail and the opportunity to walk along the banks of the river from Piazza Poggio to Lungarno Torrigiani to visit the five works of one of the city's street artist's Sedicente Morandi, read more about it here (in Italian).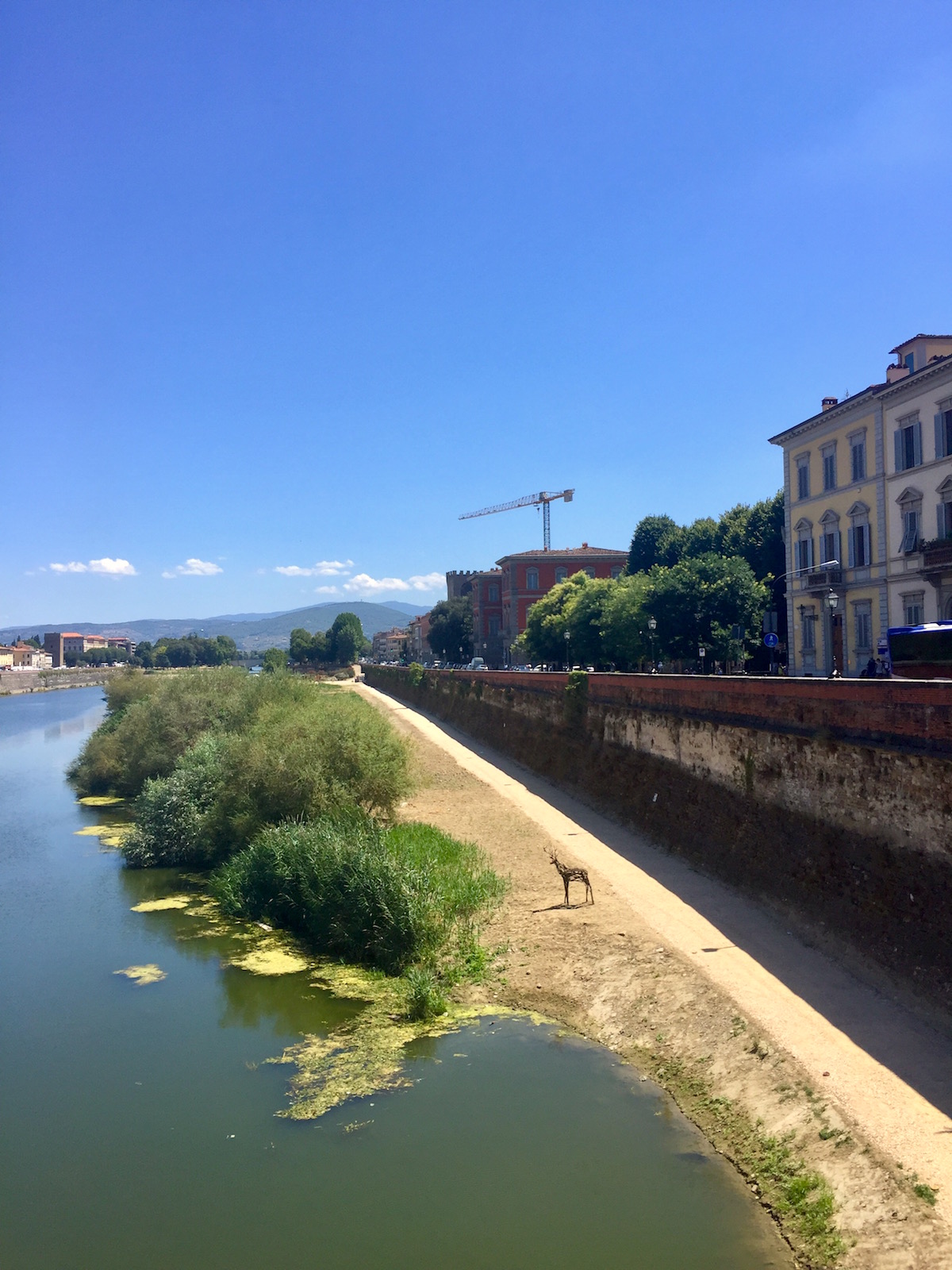 Not to be outdone, join a fashion aperitivo together with the students of FUA at Fly boutique on tuesday August 1st from 6/9 pm at Borgo Pinti 20/r. Artisans of Quartier 3 will design and create a handmade leather backpack which will than be raffled off by the end of the night! Fly welcomes the creative people of Florence to join us embark the cultural activities that will be taking place; henna tattoos, italian vintage pieces, japanese kimonos, handmade african garments, hand painting fans, and a exceptional cooking show the culinary students will offer to us. There will be a continental lounge for drinks and a fusion of different foods presented from each area's culture.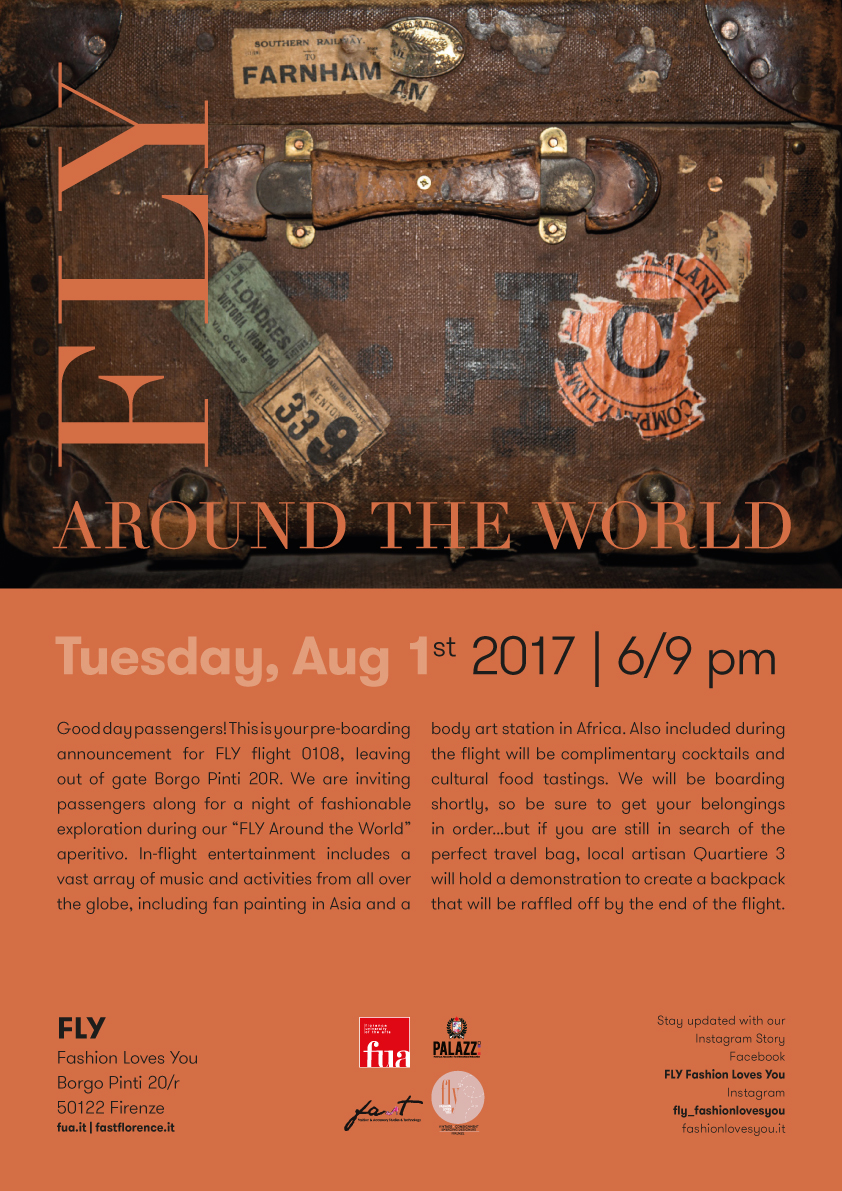 August 6th marks the first Sunday of the month when Italy offers free entrance to all state museums across the boot. In Florence, this of course means that popular places such as the Uffizi Gallery and Accademia will be packed with visitors, so I advise skipping the big names and heading to San Marco Museum, the Medici Chapels and Brancacci Chapel instead.
On August 10th is one of Florence's foremost holidays, the Feast of San Lorenzo, which is known for a festival-like atmosphere around the San Lorenzo Basilica in Florence. Traditionally, there is a historical parade in the morning from 10am-12:30pm, and in the evening, free lasagna and watermelon around 9-10pm. It's always a lot of fun to participate. Just bring extra napkins ;-). Keep in mind that The Feast of San Lorenzo also coincides with the Perseids Metor Shower so keep your eye on the sky for a show of stars. 
For wine lovers, August 10th also marks the annual "Calice sotto le stelle" or wine under the stars. At participating locations around Tuscany you can toast with a glass of the region's finest and hopefully catch a glimpse of the Perseids Metor Shower. Check out the full list of wineries and places offering a nightly aperitif here (in Italian). I'll toast to that! 
Want to see Florence from another angle? Don't forget that all through August, Torre San Niccolo is open for guided visits every 30 minutes from 4-7pm for a low cost of 4€. Email [email protected] for more information. 
Great news for those who enjoy museum visits, food and nice views over the city. One of my favorite museums, Museo del Innocenti, together with their Caffè del Verone will be offering night visits to the museum between 5-7pm Fridays and Saturdays this August. Along with a video guide, you can also enjoy an apericena buffet on the terrace until 11pm.  Reservations are required by 1 pm on the day of the visit, call this number to reserve your spot: tel. 055 203 7308 (between 10.00-6pm). The cost per person is 25 euros.
Also on tap for extended hours for visits is the Uffizi gallery. This summer's prolonged hours run through September 26 every Tuesday. On these Tuesdays, concerts and other exhibitons are offered as brief "intermissions" while visitors navigate the museum's halls. There are an excited array of events this month worth attending and you can get the fill update on each Tuesday's performance here. 
By purchasing this special package, you can access the Museum of Innocents between 17.00 and 19.00 (the last entry is allowed 30 minutes before closing at 18.30) and retrieve the video guide, available in Italian / English, and adult or children path. At the end of the visit, at 19.00, Café del Verone will be served with a selection of cold buffet dishes, including a beverage chosen between a glass of wine, an aperitif or a soft drink and a bottle of mineral. Reservations are required by 1 pm on the day of the visit, by calling tel. 055 203 7308 (time 10.00-18.00). The cost per person is 25 euros.
To kick off the end of August, what about a long weekend of opera, cuisine and music in one of the most stupendous gardens in the city of Florence? Between August 31st-3rd of September is the "New generation festival" set to bring the best, young music talent
to a world stage. Gaetano Donizetti's comic opera, "L'Elisir d'Amore"
will inaugurate the festival on the Opening Gala evening of 31st August at 7,30 pm.  What's even cooler is that you can order a luxury hamper to enjoy during the show (comes with Florentine specialities & a bottle of wine). Tickets range from 35€ and upwards, more details and where to book here.
While not exactly a specific event, the summer marks the opening of many of the city's rooftop terraces. Most of which are on top of hotels where anyone can go for an aperitif drink, or sometimes even stay for dinner. The bonus is you get a beautiful, panoramic view of the city. Just be aware that drinks will often be a little pricier. This is definitely one of our favorite activities on a beautiful summer evening. Here are a few viable options.
B-Roof is the newly inaugurated rooftop bar on Hotel Baglioni. It is the ideal place for a sundowner aperitivo with a large, expansive terrace at your beck and call with a bird's eye view of the Duomo cathedral (and not only). Dig into curated snacks and fun cocktails, keep in mind that it's best to make a reservation. Added bonus, you are very close to the train station should you need to jet off quickly. +39 055 23588865 www.hotelbaglioni.it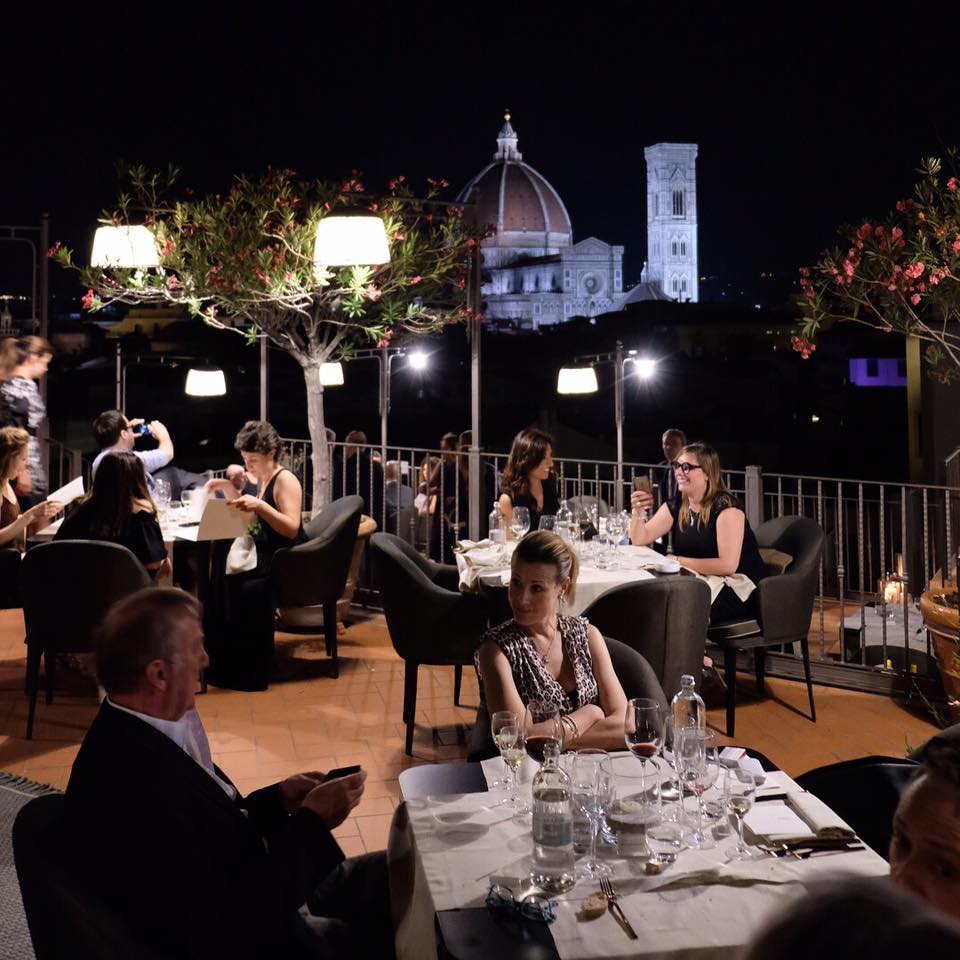 "La Terrazza" on top of Hotel Continental is open to the public and is a sexy, sophisticated spot to sip a moscow mule with a birds-eye view of the Ponte Vecchio. Pricey, cocktails cost around 16 (if not more) euros, open daily from 3:30pm-10pm. address: Vicolo dell'Oro, 6r – 50123 Florence, Phone. +39 055 2726 5806 , E-mail. [email protected].
S.esto at Hotel Excelsior is a prime spot for fashionistas to grab a drink on one of the best terraces in town. I would skip dinner here and just get the drink. Piazza Ognissanti, 3. Open 7:30pm-10:30pm.
Say hello to the Duomo! Grand Hotel Cavour is my usual choice to take people for a drink with an awesome view. I like its intimate feel, not outrageous prices and niceness of the bar staff. Drinks aren't as great as Continental but I assure you, this place is worth visiting without giving your wallet a heart attack. address: Via del Proconsolo, 3.
Oblate stays cool. On top of the Oblate library lies a cafe that is quite popular with the Italian student population. The great thing is you can also get a drink here and prices are cheap so this is a wonderful option for those who are on a budget, but still want the Duomo smack in their face. address: via dell'Oriuolo, 26. Cool place to organize a private aperitivo as well. Info here.
Hotel Plaza Hotel Lucchesi's stunning rooftop terrace by the National Library has stepped up their game this year by hosting a special aperitivo night each Sunday with food by popular chef Simone of Essenziale. Also on tap are two special dinners on Thursday the 22nd of June and Thursday the 13th of July

 with a themed "sac dinner" by gourmet restaurant La Tende Rosso. 

reservations recommended Prenotazioni ed Informazioni allo 0552623500 [email protected]. address: 

Lungarno della Zecca Vecchia, 38.
Grande Hotel Minerva, '360 Three Sixty' Rooftop Bar: has a new menu for 2016. Next to the pool in piazza santa maria novella, this place is too cool for words which is perfectly in line with the hotel's recent renovations. Open daily from 7pm-midnight.. Drinks range from 6 euros for a glass of prosecco and 12 euros for a cocktail. Email [email protected] for a reservation.
Hotel Torre Guelfa has a tiny bar on Borgo Apostoli on top of an ancient tower (you have to ask at reception if they have space, hotel guests get first priority). The view from here is one of the best in town and drinks are as affordable as 9€ for a spritz (a steal on a Florentine rooftop). The cover photo of this post was taken there.
SaveSave
SaveSaveSaveSaveSaveSaveSaveSaveSaveSaveSaveSaveSaveSaveSaveSaveSaveSaveSaveSaveSaveSaveSaveSaveSaveSave
SaveSaveSaveSaveSaveSave
SaveSave