When I think about couples that I admire in Italy, one that always comes foremost in my mind is Tommaso and Giulia. Both are Tuscan born and raised and run one of the best (my opinion) food blogs in both Italian and English. If that wasn't impressive if in its own right, quite frankly they almost make it look easy and yet I know how hard it is. From taking superb photos, to running workshops, to making time for themselves, Tommaso and Giulia are anything but the "lazy Italian" stereotype and I often bring them up as examples of those who make Italy's future look bright. Tommaso often appears in Giulia's blog, nestled in lovingly between delicious recipes of artichokes and potatoes. I hungrily read each article because I learn something new, not only about Tuscan food (which is always spot on) but also, something about my friends. From what I have seen in my wonderful time knowing them, Tommaso is a good man. He makes my friend happy, and honestly folks, what more can you want?
Also, on this beloved project of mine, Locals I Love, I needed more of a male perspective, as this has tended to me a female-dominated arena. So thank you Tommaso!
Enjoy the below interview, I know I did. 
name: Tommaso Galli
nationality: Italian
profession: this is a bit tricky, but on my new business cards you can read: the "tech guy", photographer,  taster (read further and you'll discover why).
favorite drink: Amaro Lucano
Tell me a little bit about yourself Tommaso. Where did you grow up and where do you live now?
I grew up in a small village on the hills near Florence. When I was 15 we moved near Florence, leaving the Mugello for the city. Sincerely, I never felt a true Florentine. But two years ago I changed my life. I left my city and its convenience to move into a small village in the countryside near Siena with Giulia, "in the middle of nowhere", as many would say. This place has something magical: you can feel it while you're on the way back home after a tough day. Soft hills around you, the cultivated fields that change their colour depending on the season. In Spring the wheat grows slowly, caressed by the wind. It is green, the brightest green you have ever seen. Though, my favourite moment is at sunset, when the sun is about to disappear: everything is lit up with warm tones, like in a golden hug. In that moment, I know I made the right choice.
https://www.instagram.com/p/BNUdNytgRsw/
"Everything is lit up with warm tones, like in a golden hug." I had no idea you were a poet Tommy ;-). Seriously though. I love that. So what are you up to here? Could be hobbies, work, passions or all of the above.
This is the most difficult question. When you live and work in the same place (at home) together with your partner (Giulia) it is always difficult to put a boundary in between private life and work.
In the daily life I take care of all the technical aspects behind Juls' Kitchen, the food blog I manage with Giulia, where we talk about stories and recipes from Tuscany. But I also clean our Studio after cooking classes, I do the laundry, I taste all the dishes that Giulia cooks… is a tough job but someone has to do it! 😛
https://www.instagram.com/p/BTbapc2Dv4A/
I know I'm a little biased but you guys are sort of my favorite Italian couple. You both prove that you can work together and be together without problems. Bravi!  So knowing that you live and work on Juls' kitchen with Giulia, did you always do this as a job? What got you interested in technology and photography?
I used to study engineering in Florence, then I had the opportunity to work in a web agency, where I worked for 3 years. This opportunity has finally given me the chance to transform my passion for everything digital into a job. After a while I felt it was the right time to start working as a freelance … until I met Giulia on my way. 😉
I've always had the passion for technology, web and photography … as a child I was always playing with technological things and coming home after school trips with two rolls of photos to be developed. Growing up I started to study and get deeper into my passion for photography. Thanks to Juls' Kitchen I had the chance to hone my skills on social media marketing, video editing, graphic design… is a very challenging and interesting job.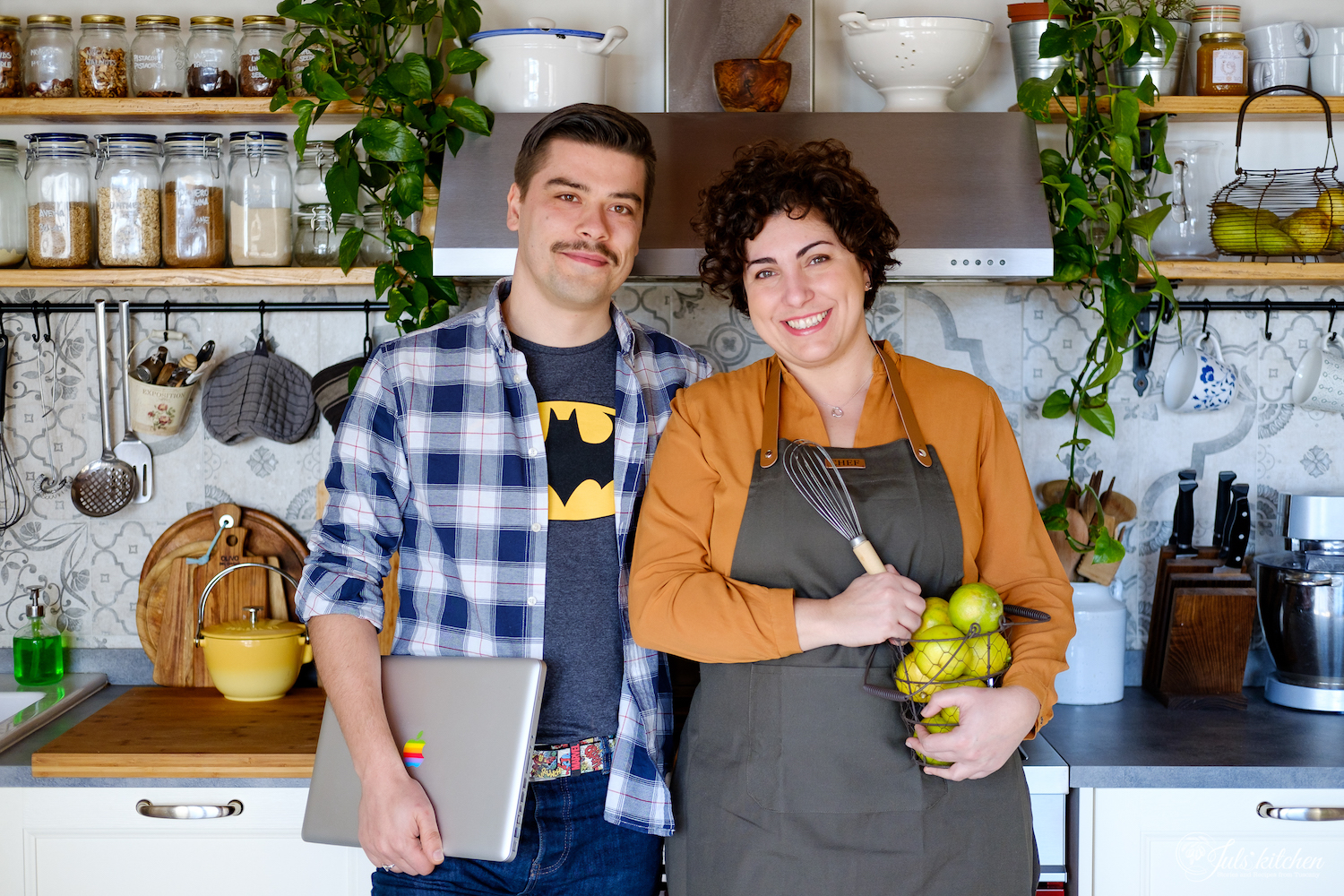 Clearly you have some incredible skill. I look to you both as photographic inspiration. Let's geek out a bit here. Can you tell me how you see the future of websites, social media and what us bloggers (I am asking for free help now) should be focusing on?
Oh, I don't have a crystal ball, unfortunately. I think that the online world is at the height of its development. It's a bit like a parabola and we got more or less at the top. Perhaps when the downfall starts someone will have to start worrying about it. The way of communicating has changed a lot in the last years. I am a 10 year old Twitter user and if I look back I see how this social network has had an incredible journey. Now the social network of the moment is Instagram, but in my opinion the space is saturating very fast. It was born as a photography app and now it has become an app where everyone can upload their pictures (which is a completely different thing). At the end, I am sure that blogs and bloggers can survive to every new fashion as they have the most durable armour. Those who have worked well in these years, with consistency and dedication, respecting their ethics and their readers, will surely get through this.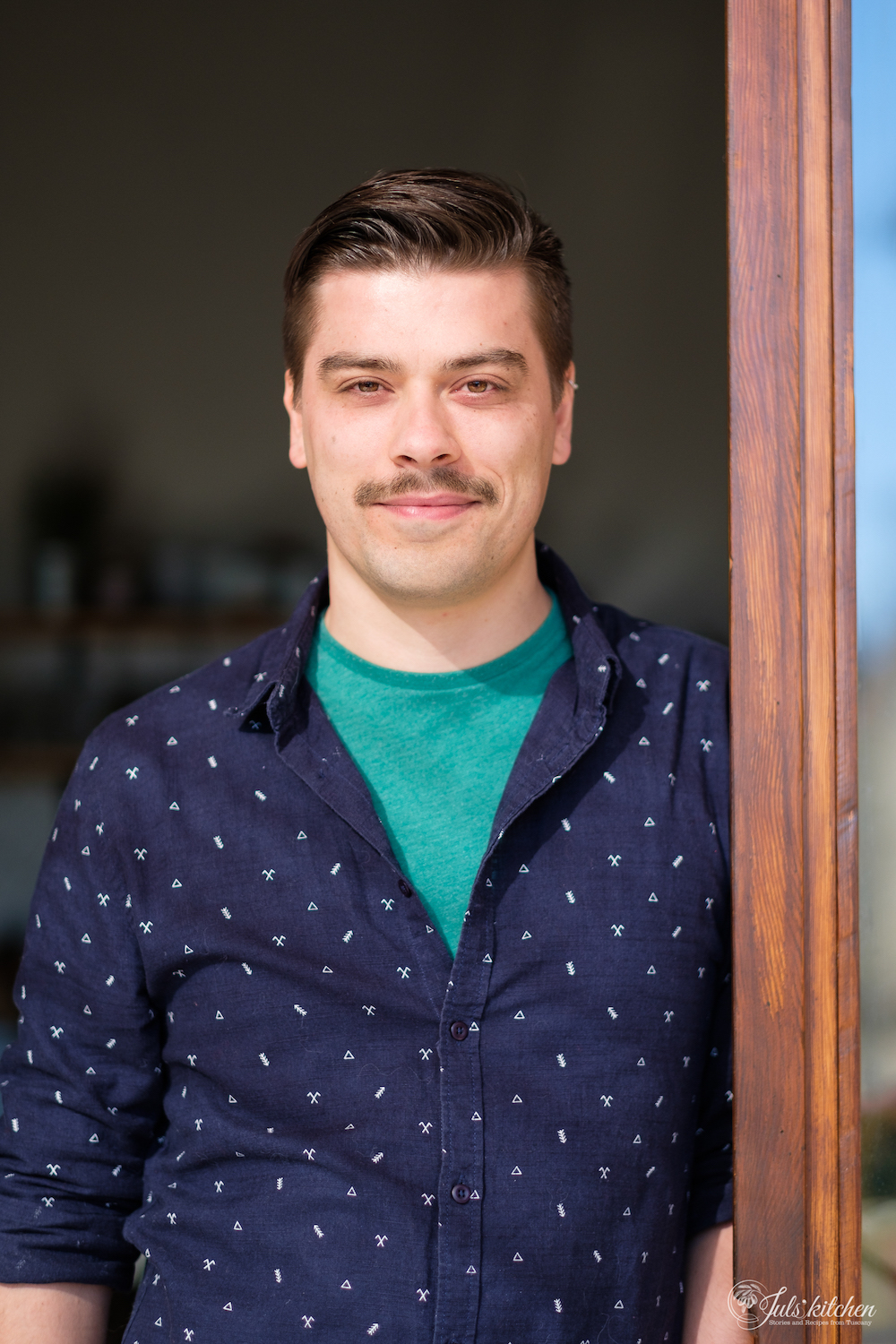 Naturally Giulia is an amazing cook, which makes me have to ask, what are your favorite dishes that she makes?
Giulia cooks so many things that it is difficult to pick my favorites, but her best is comfort food, all the simple things, no matter whether Tuscan, Italian or ethnic cuisine. Definitely the spontaneous dishes are the best.
https://www.instagram.com/p/BSomfYehgbZ/
This reminds me, I haven't invited myself over in awhile, does Saturday work? JK. Does being with someone who works with food on a daily basis make you see food differently?
Absolutely. I reckon that before I met Giulia my approach to food was not very healthy, not so much about quality or whether something was actually good or bad. The first times I had dinner with Giulia I was in awe as she prepared everything from scratch, even the hamburgers, starting with freshly-gound meat. Now I eat much better, healthier. I know more about international cuisine (we often cook Middle Eastern dishes). Thank to our cooking classes we are always in contact with new people and with different experiences and stories. It's very interesting. I discovered spices that I did not even know could exist (my favorite is Zaatar!). But every now and then I treat myself with a burger from Burger King, when Giulia is not there! 😀
https://www.instagram.com/p/BSwIcQnhZCU/
I have to admit that I had to look up "Za'atar" but it looks delicious! I think you and Nico are cut of the same cloth. He'll eat pasta with butter if I don't cook. How do you think that technology is shaping the way people see places like Florence, Italy and businesses like Juls' Kitchen.
Undoubtedly technology is changing many aspects of people's lives and it definitely has a lot of influence on how the tourist behaves. Interaction with landmarks is becoming more and more dynamic and integrated. Similarly, for us at Juls' Kitchen this is a challenge! We must always be on the pitch, we need to think about new experiences to offer to our readers to make them come back to the blog (surely we make them hungry!). We also have to come up with new ideas to present our region and all its excellences.
Do you think it's hard to be a young Italian entering the world of work, or has technology helped create new careers? What do you think about Italy's future?
This is a tough question. We could talk for hours about it in front of a coffee or with an amaro. There is no doubt that in Italy the work environment is not easy, especially if you are young and looking for your first working experience. Italy is an old country, both as for the average age of the population and for its mentality. When it comes to realizing your dreams, you sometimes find yourself struggling against windmills, and unfortunately I talk out of personal experience. In Italy, as in other countries, we're experiencing a brain drain, because for some professions there is currently no space.
New professional figures, born with the new economy, are still seen as something alien to people, even by the Italian bureaucracy which is not able to code them.
The positive side of all this is that in such a difficult situation, the Italian arte dell'arrangiarsi, the ingenious art of make do with what you have, often wins. Many young people take a challenge despite the difficulties. They try, they fail, they do not give up and start again.
https://www.instagram.com/p/BR0Z_UCjD9v/
Well said Tommy. When you go somewhere in Tuscany, where are five of your favorite places?
Lucca is my favorite Tuscan town. Its city walls are truly fascinating.
Siena, because it has a hidden charm and it is less known than Florence, even though it can definitely rivals the most famous Tuscan city. I also started to know Siena better after I moved in its countryside, and I fell in love with it. Now I prefer Siena to Florence.
The sea, especially in winter, I find it very relaxing to have a walk there. San Vincenzo is very beautiful.
Maremma is one of the few areas that remain untouched. You can go there during the summer to enjoy its amazing sea, but also go for a hike or a walk to discover the little towns perched on the hills.
The Casentino. Actually, it's an area I don't know very well, but I hope to fix this soon.
As it often happens, you know very little about the area where you live, because you always look beyond the borders. I make this mistake often. Luckily, the research we have done for the book "La cucina dei mercati in Toscana" has allowed me to know better my region and its traditions, and how deeply rooted they still are. And then we also met many beautiful people
https://www.instagram.com/p/BQSWD9Yg-XO/
What annoys you about Italy? Feel free to be as open as you want.
The fact that Italy is an Old Country, as I said before, both for the average age of the population and for its mentality. The idea of leaving things as they are because if they have worked so far, they will continue to work. Sometimes we are a fossilized, atrophied country. The few people who try to move on, they have to make a lot of effort. My fear is that Italy is slowly becoming a racist and intolerant country, not only towards other people but also towards other cultures, ideas, or anything that is not coded.
Unfortunately, I'm afraid it is the price that a country with such a long history has to pay if they are not able to learn from that history.
Do you think life in Tuscany is for everyone? Why does it work for you?
It could be for everyone. I think Tuscany is one of the Italian regions where life is actually fairly balanced. The landscape is wide and varied, from sea to mountain. It has a rich culture, and it has always been relevant at national level. In short, Tuscany is a good balance of many ingredients.
What can you do here and nowhere else?
Right now, my job. Juls' Kitchen is all about Tuscany. Cooking classes, creative gatherings, photography courses and food writing… Tuscany has given us so much: roots, history, culture and traditions… now both Giulia and I want to return all of this to the people we meet in our work.
https://www.instagram.com/p/BTMjEG7DnFa/
Ok one second-to-last, annoying question. Should I go ahead and get the iPhone 7 plus or hold off? You're the expert!
Ahahah, no. Wait for the iPhone 8! I think it will be worth buying it! 😉
If you had to make up a tagline for Tuscany according to Tommaso, what would it be?
Tuscany is a good balance of so many ingredients
https://www.instagram.com/p/BTj0zVjDAyE/