It might come as no surprise that Salzburg is as picturesque a town as they come. You'd sort of expert it from the place that brought Von Trapp's "The Sound of Music" to our fantasy-driven brains. I've only been to Austria once (Vienna) —  but, I was completely charmed in our short 24 hours pretty Salzburg, the fourth largest city in Austria, and it had nothing to do with Mozart's chocolate balls. Though I'm sure those are good too. It's got all the components to the perfect European city, old world charm, decent coffee and damn good pastries. 
The historical center is a baroque-lovers dream, surrounded by snow-capped Alps (that are alive… ok I'll stop now), pretty streets impeccably kept up with a nice blend of historical monuments like the imposing Hohensalzburg fortress, desserts (you gotta try the Salzburg Nockerl) and more modern additions. The man to thank for Salzburg as we see it today is Archbishop Wolf Dietrich, who is credited with turning the city of Salzburg from a medieval town to a Baroque gem over four-hundred years ago. He has a fascinating, and complicated love story with a woman named Salome, the daughter of a Protestant textile merchant, with whom he had 15 children together (read more about it here).
Who doesn't appreciate a good love story.. 
All Hail The Land Of Mozart — Checking in 1pm 
Our base for our short time there was at the Arthotel Blaue Gans, located in the heart of the center or Altstadt (old town) which by the way is a UNESCO World Heritage listed place. This hotel instead, is a boutique hotel dream, once the oldest inn in Salzburg. I absolutely fell in love with the place immediately, quirky in all of the right ways. 660 years of history which a style that exudes a Scandinavian style, class and comfort. Expect low doorways, a "help yourself" tea corner and artworks collected by owner Andreas Gfrerer: think Erich Shobesberger, Christian Ecker, and Waldemar Kufner lining the walls. Check in was smooth and pleasant, the smiling staff outfitting us with a map and offering a late lunch in their pretty outdoor garden. And next door is a nice local restaurant, Goldener Hirsch, which comes highly recommended.
Next time I definitely plan on visiting the weinarchiv (wine archive) which was former jazz cellar turned private wine room which can be organized for small-group tastings.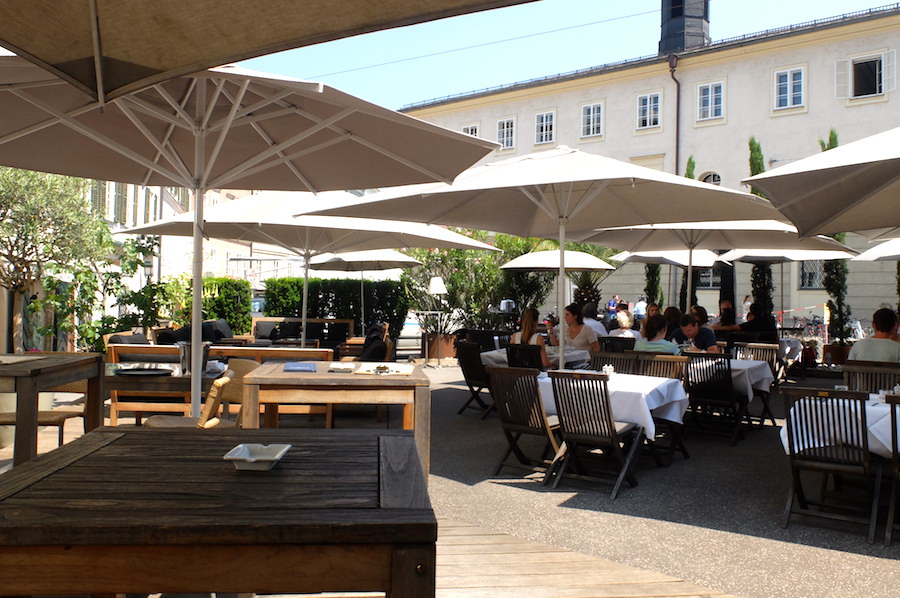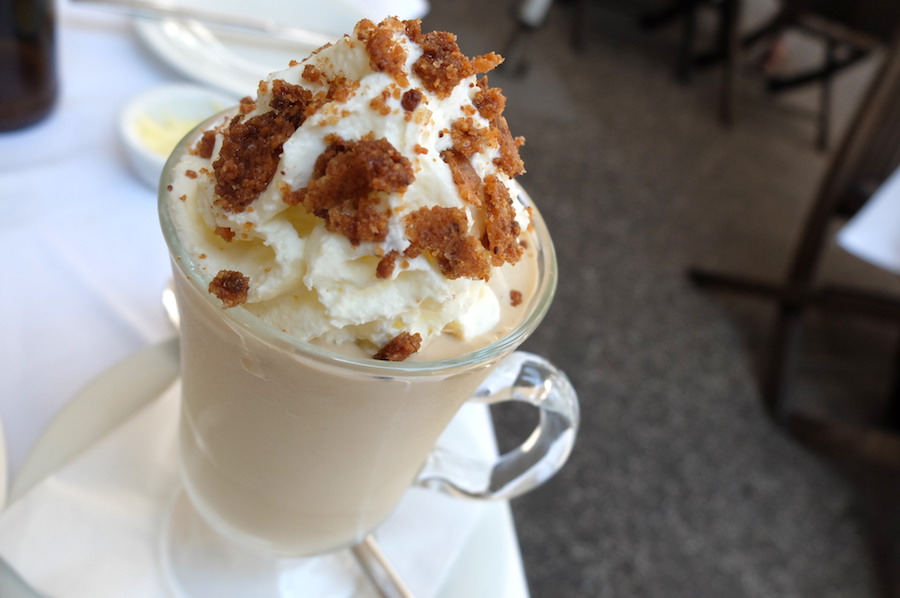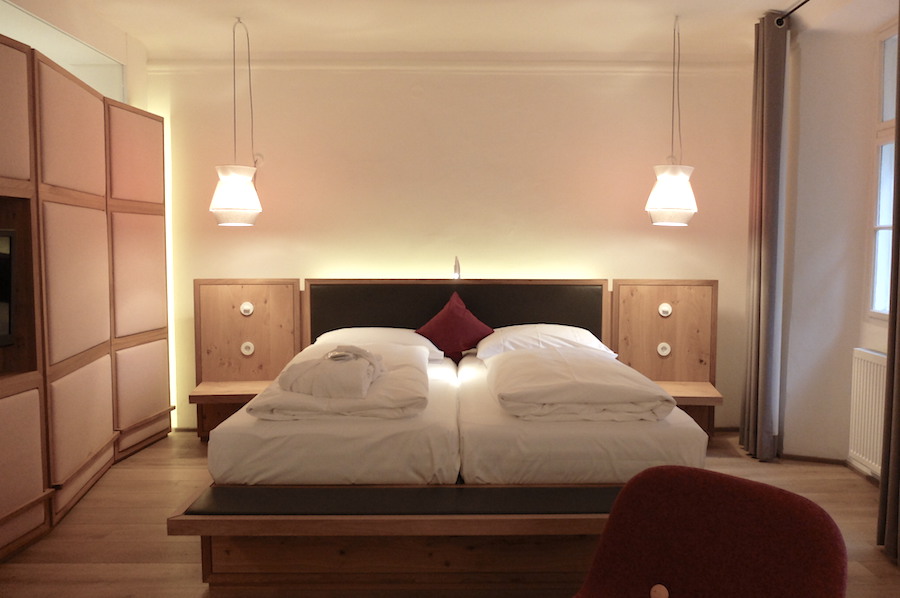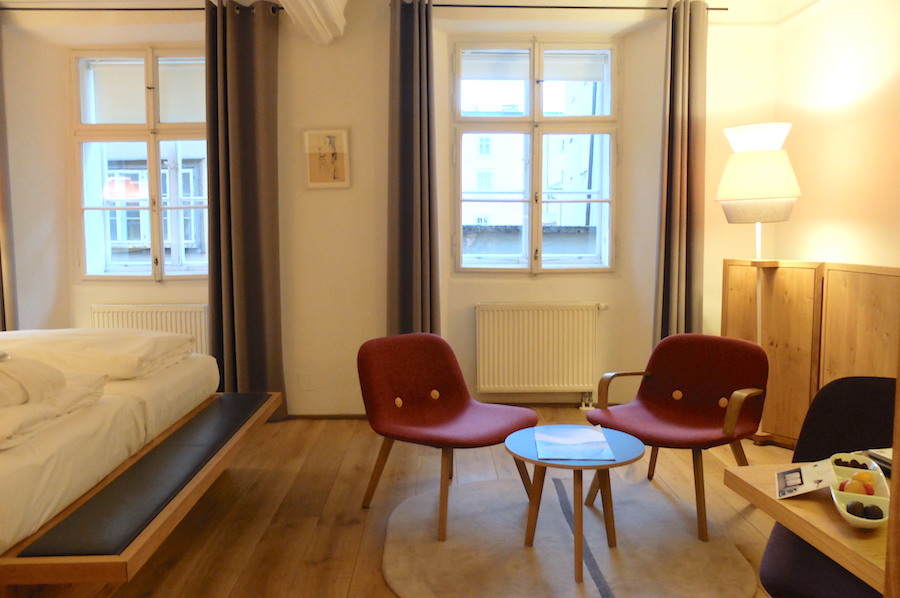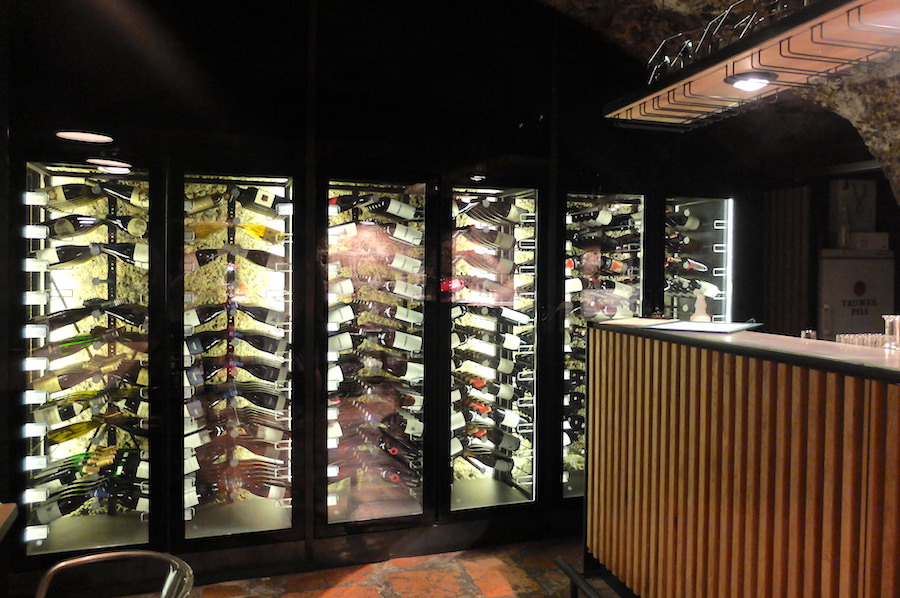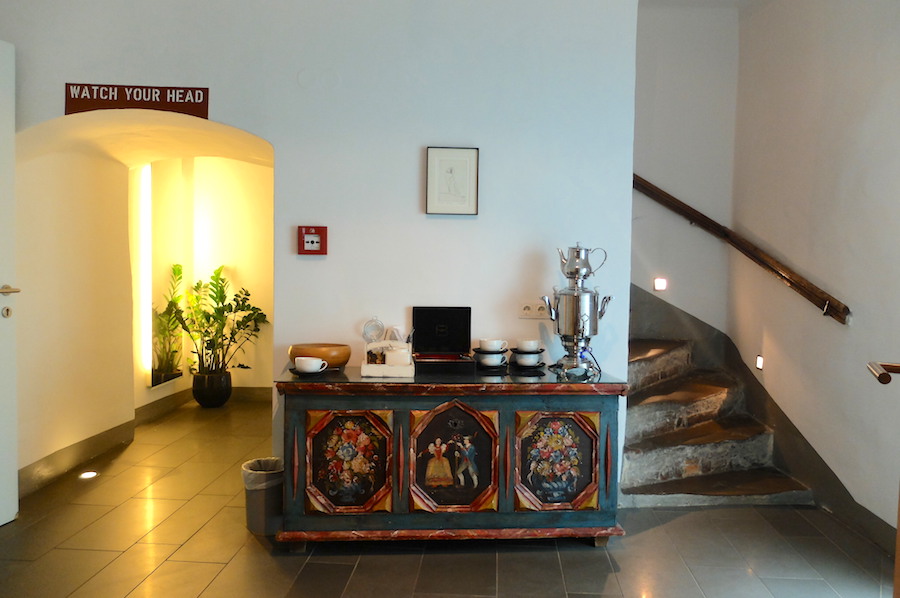 3:30pm Discovering the city on two wheels
While I definitely don't consider myself a "bike person" (Florence's lack of bike paths and driving rules have meant walking works for me), I revel in the chance to ride on two wheels anytime we are on vacation. Luckily our hotel had two foldable bikes on hand for guests to use, perfect for a first day orientation of the city. The main shopping streets can be found on Getreidegasse and Goldgasse, while for local pastries including the famous Sacher cake and Einspänner  people to tend head to the oldest Viennese cafe in town, Tomaselli. Other notable sites include St. Peter's Monastery, Hohensalzburg's palace, Mozart's birthplace house, 
Dom zu Salzburg or Salzburg cathedral and Mirabell Gardens. 
A few things to note: Salzburg's name hails from the word "salt fortress" which is the city's claim to fame during the Roman empire when salt mines were cultivated here along the Salzach river. The best place to naturally get a wonderful view is the Hohensalzburg Fortress which dominates the skyline and is home to more than 900 years of history. You can walk up or like me, hop on the Festungsbahn funicular (around 15:20€ for a roundtrip ticket or you can save a few euros if you book online), it's worth the money as you are treated to the best views in town along with a roundup of local history.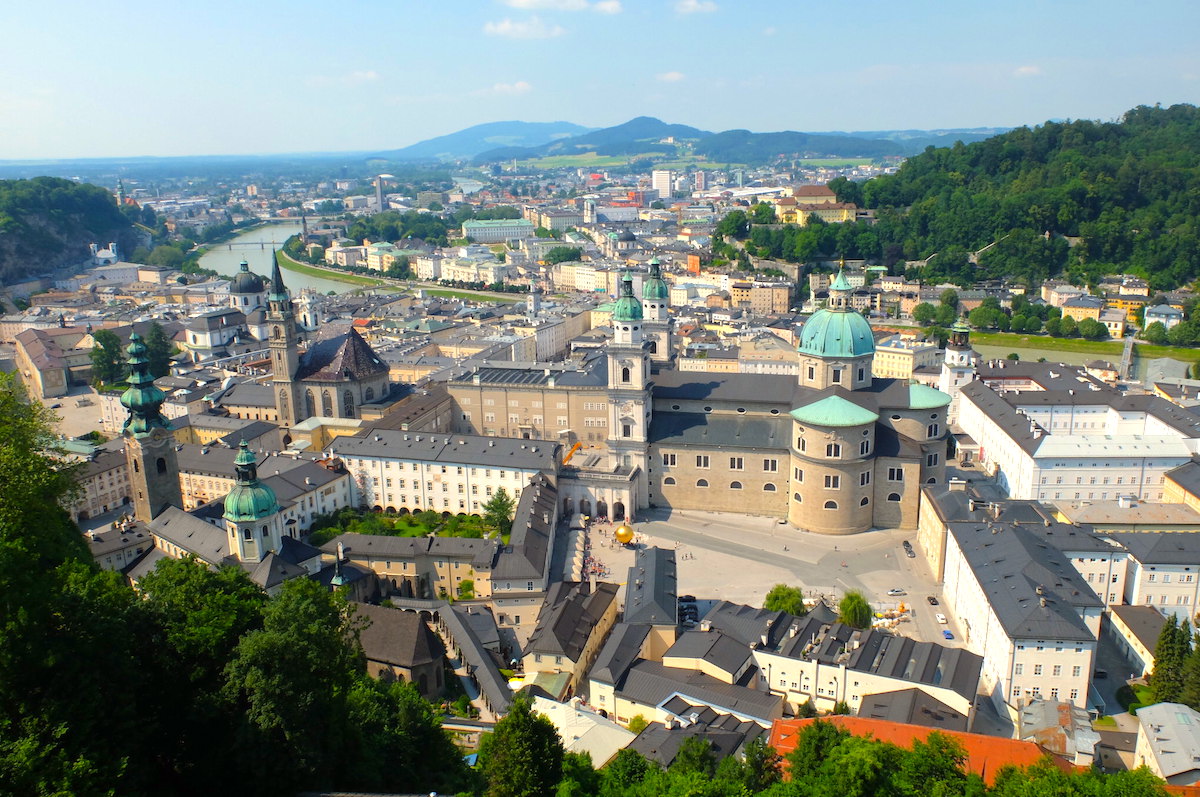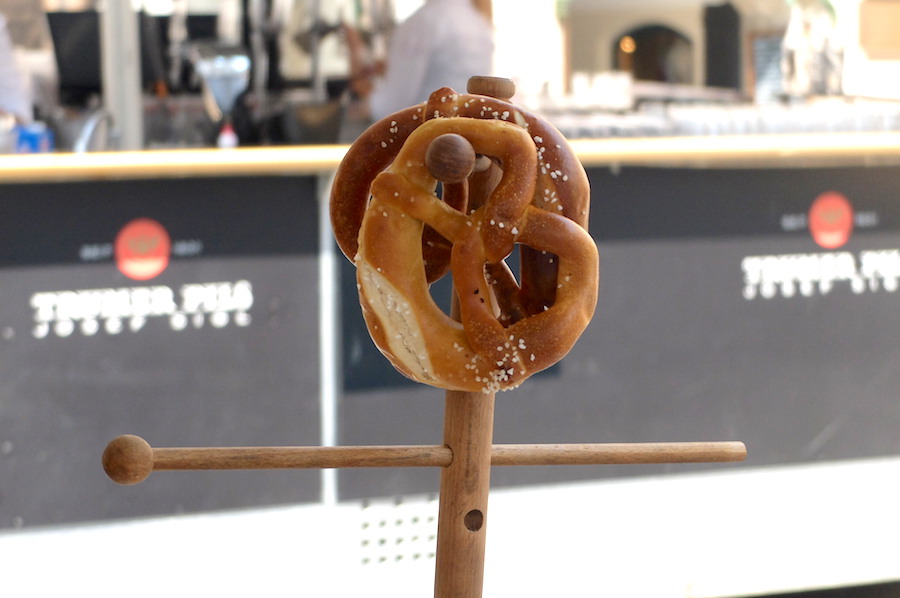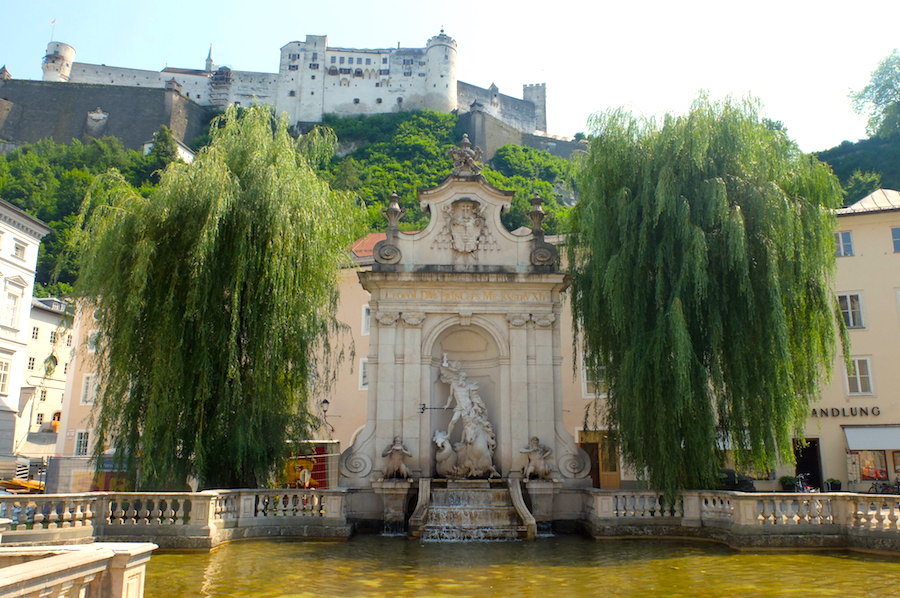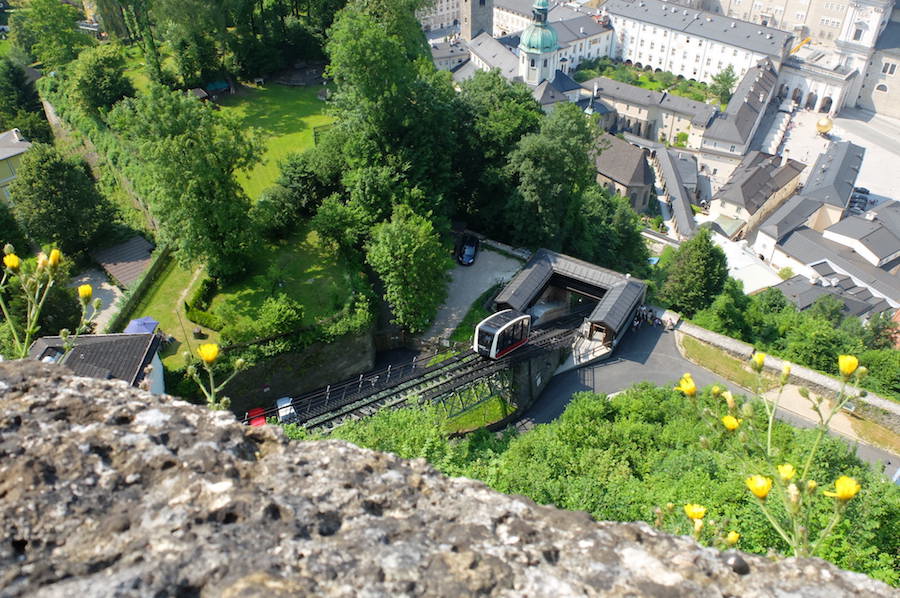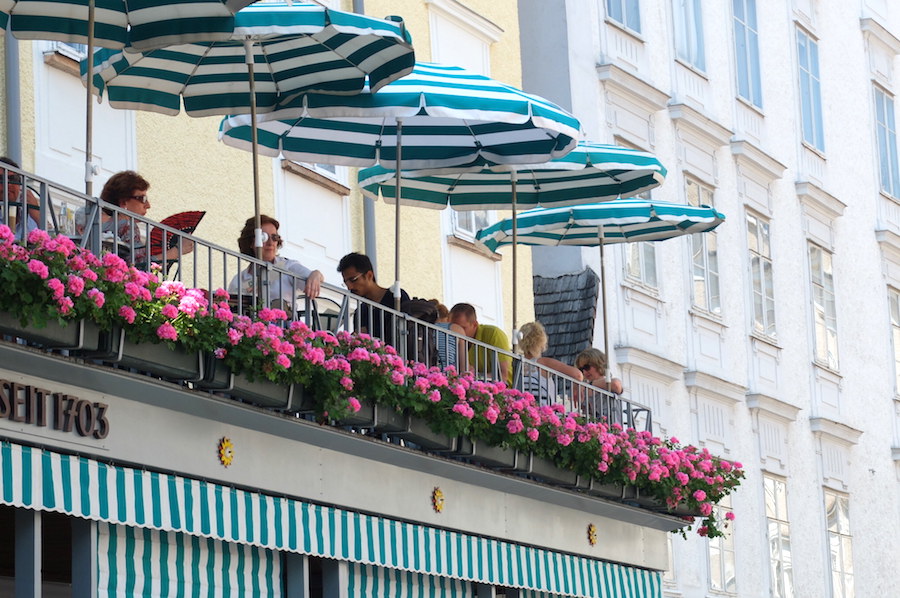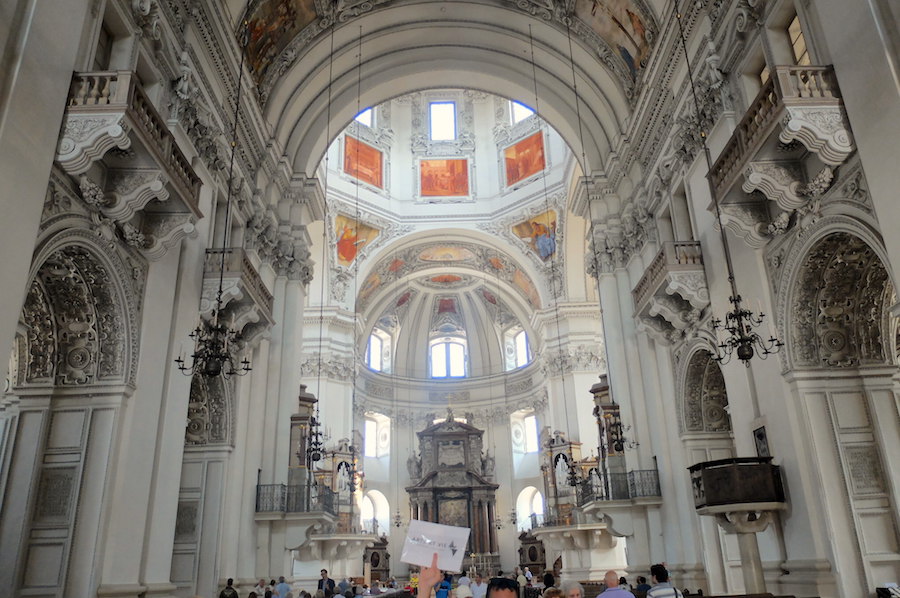 The Cathedral of Salzburg is an impressive spot you won't want to miss, you'll find it in the Domplatz in the city's old town. With remnants dating back to the early 700's when Saint Rupert built a church on the remains of a Roman town, the cathedral was originally constructed in the 12th century and redone completely in a baroque style in the 17th century and is dedicated to Saint Rupert and Saint Vergilius. It is said that Mozart himself was baptized here.
Another spot we loved are the stunning Mirabell palace gardens (the name Mirabell in itself means "beautiful"), the greenery perfectly sculptured and peppered with baroque statues, making a "walk in the park" a classier reality than my own Cascine park in Florence. Lover's of the Sound of Music (yes you can count me in your bunch) will adore seeing the Do-Re-Mi fountain here, the palace was built by prince-archbishop Wolf Dietrich von Raitenau in 1606 (for his lover Salome) with gardens to follow.  The Emperor Franz Joseph made the gardens open to the public in 1854, admission is free and it's safe to say the citizens of Salzburg are lucky folk to have such a place available for all.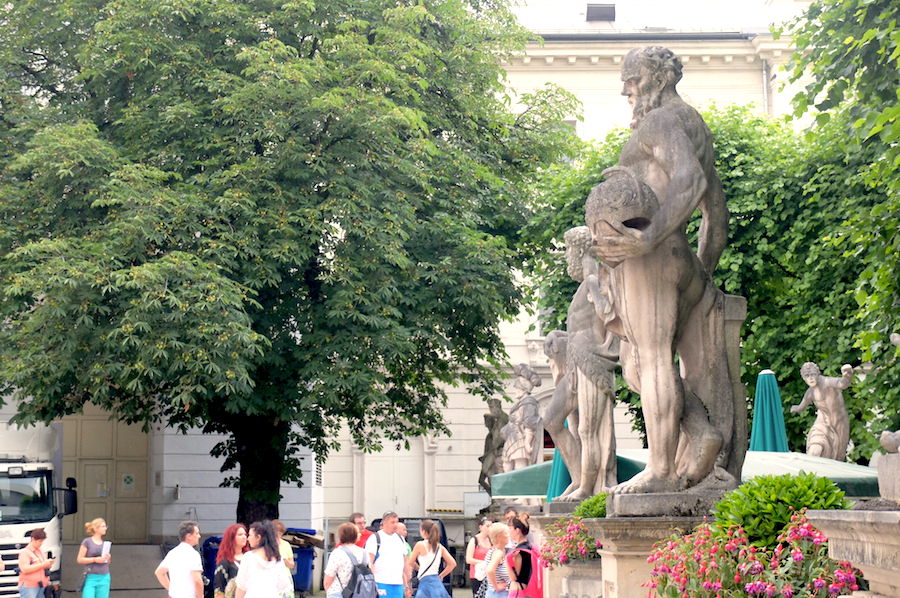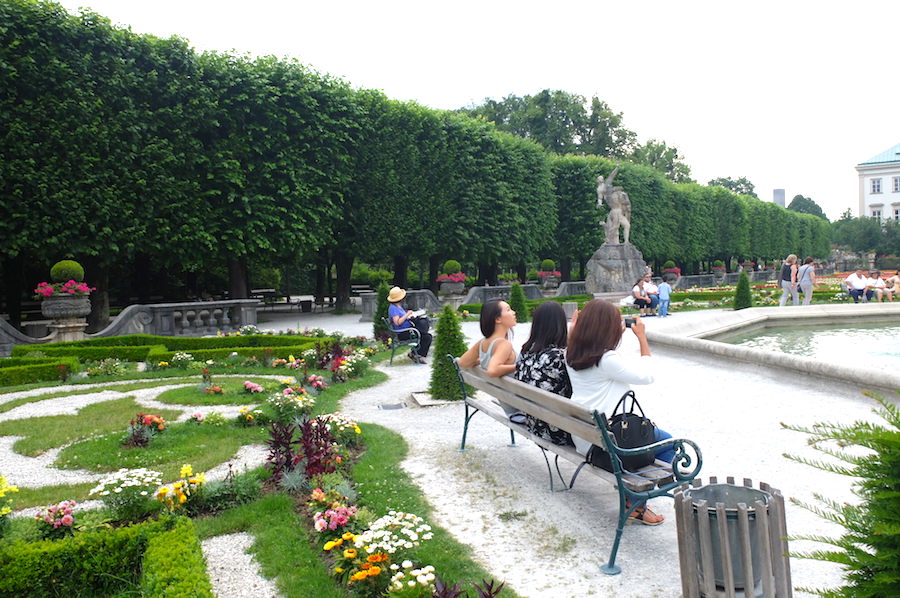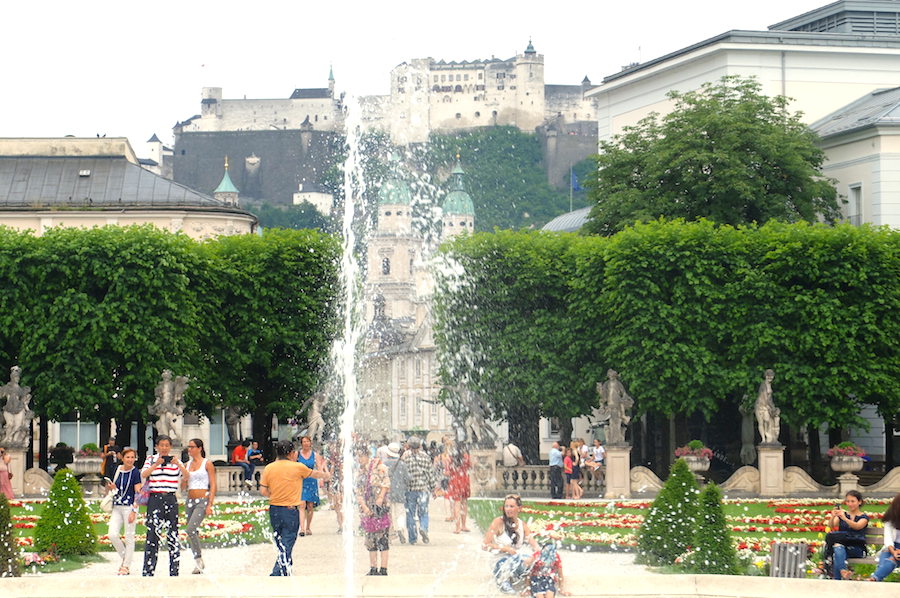 Also you might be aware that the city's most famous "son" is without a doubt Wolfgang Amadeus Mozart, the composer of all composers who was born here 1756 (his townhouse is one of the city's most popular attractions). I was obsessed with his music after falling in love with the quirky character in the 19080's rendition of "Amadeus." Surprisingly this trip, I didn't actively seek out any monument dedicated to the maestro (you can visit his residence at (9 Getreidegasse), instead preferring to keep my idea of him in the form of musical notes on my personal playlists. Lately the most famous resident is  the founder of the hyper-energy drink Redbull, Dietrich Mateschitz who apparently is owner of several cool eateries in town (like Hangar-7) and is somewhat of a local legend.
Modern art also makes a welcome appearance to keep Salzburg from feeling like a really cheesy "Hi you're in Austria!" touristic village. We have the Salzburg Foundation to thank, which since 2002 has been supporting contemporary artists and features their works in public spaces like courtyards and popular squares.  When we were there we spotted two interesting works, one is called  AWILDA by Jaume Plensa, a monumental 5-meter-high bust of a young girl with Caribbean facial features, fashioned from white Spanish marble. It's an especially poignant piece as it's mean to represent those who come to Europe in search of a better life, it was definitely striking enough for us to get off our bikes and have a curious wander.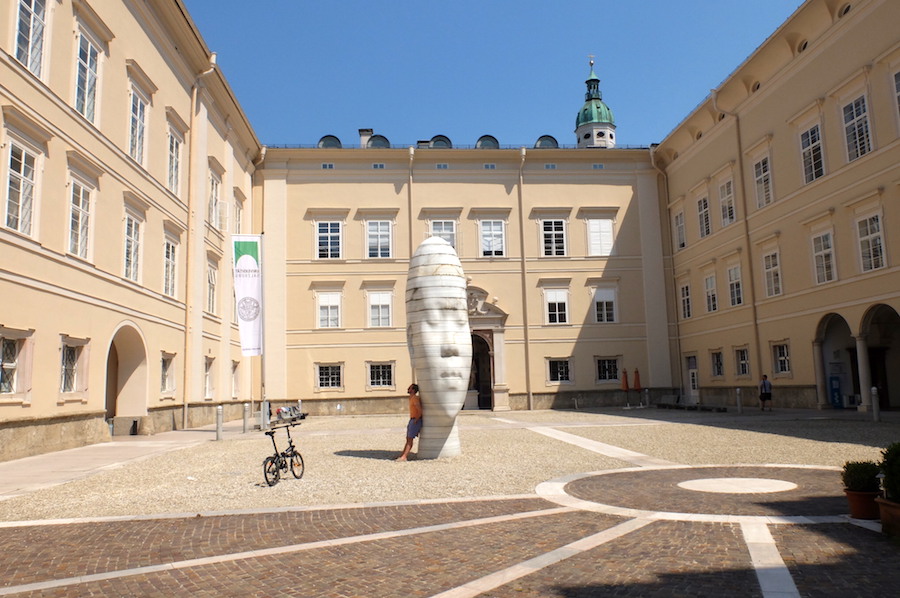 Next up is a work by artist Stephan Balkenhol (he has two in total), the photo below captures the sculpture "Sphaera," on Kapitelplatz, which is about nine meters in height. The man standing on the sphere seems to be in normal attire, almost seemingly like a passing acquaintance yet carrying a sort of ethereal aura. It's definitely eye-catching and adds to the local city's flair. For more modern art, you should add a stop to the modern art museum, Museum der Moderne Salzburg Mönchsberg showcases an interesting array of 20-21st century art in a beautiful building overlooking the city (we ended up eating at the museum's restaurant later). Currently you can enjoy spatial installations from the museum's collections to demonstrate the diversity in the artistic understanding of space.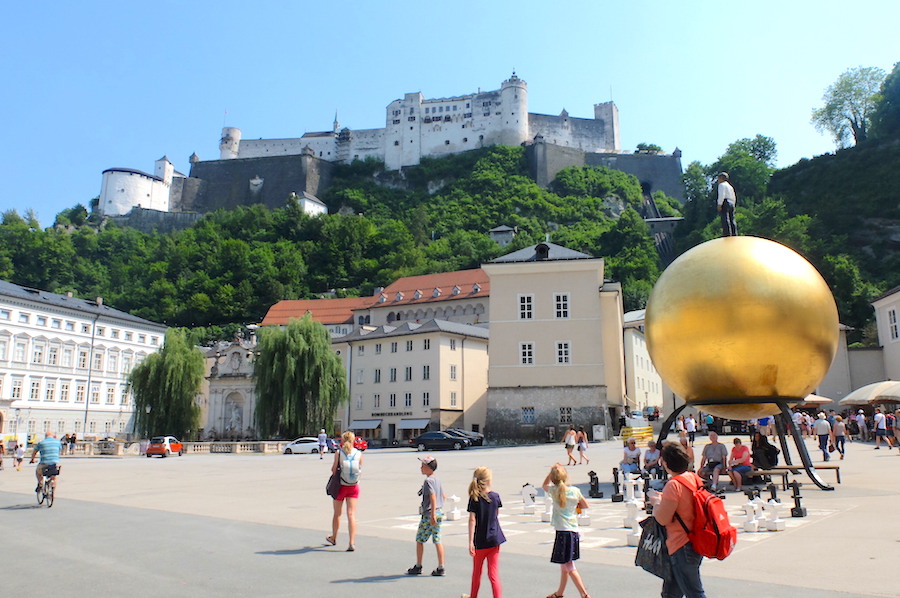 7pm, cocktails at new spot 
No wonderful evening can be complete without a nice cocktail, so we stumbled upon a little place called Mentors on Gstattengasse 3. Small and intimate interiors where the bartenders where suspenders, drinks have Austrian prices (10€ a cocktail) but they really attempt to create interesting mixed cocktails. They were very new when we visited but I liked the vibe and feel of the place, it was cozy and cool in all of the right places and we enjoyed our drinks.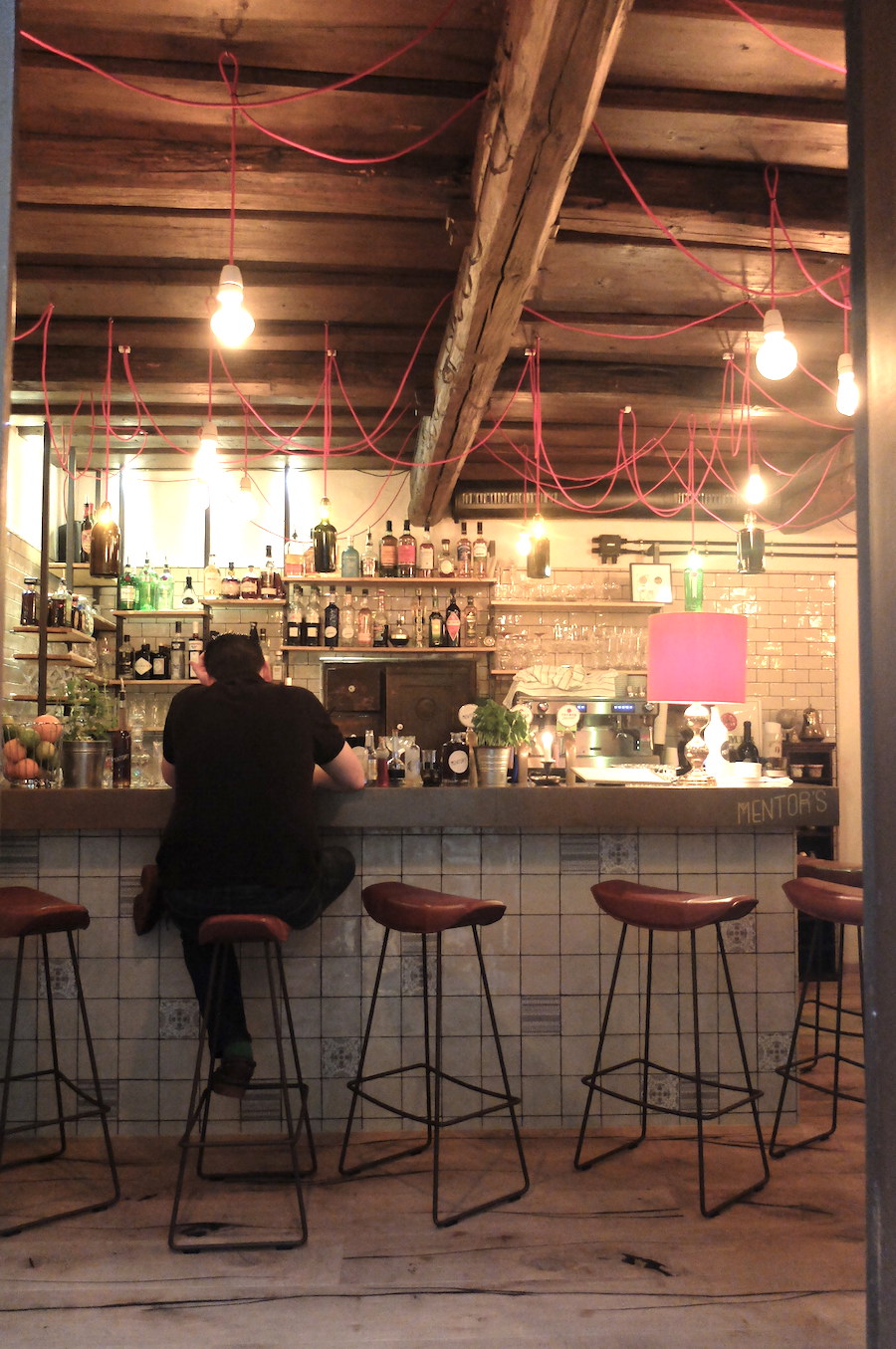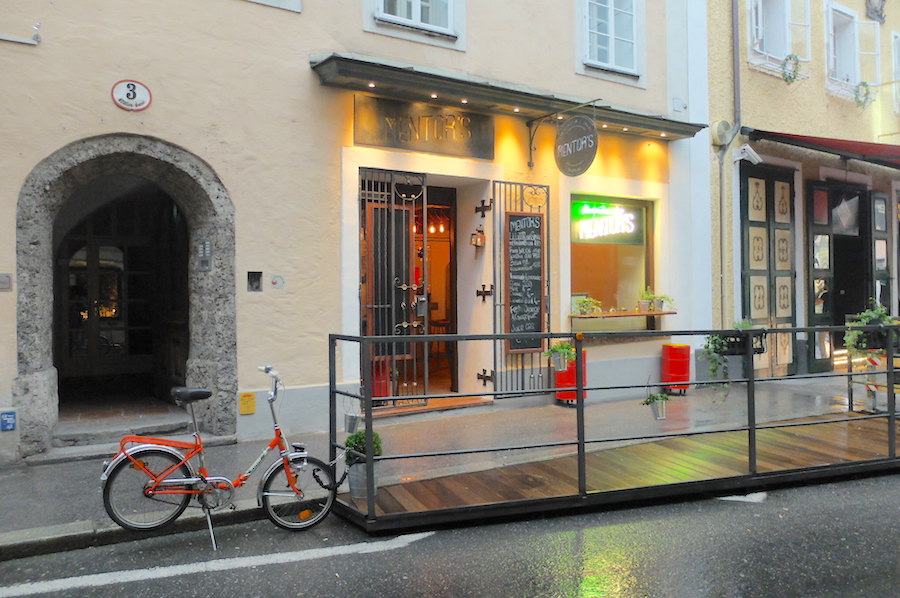 8:30pm Dinner With A (Badass) View 
While I'm hardly an authority on local food in Salzburg, I was very happy with our dinner choice for the evening, which was in the Matteo Thun-designed dining room of M32, located in the Modern contemporary art museum overlooking the city and run by chef Sepp Schellhorn. It's class and sass, a sexy deep red interior with antler light fixtures and the twinkling city of Salzburg below. It was the perfect place to enjoy our first and last dinner in the city of Salzburg, surely we will be back again.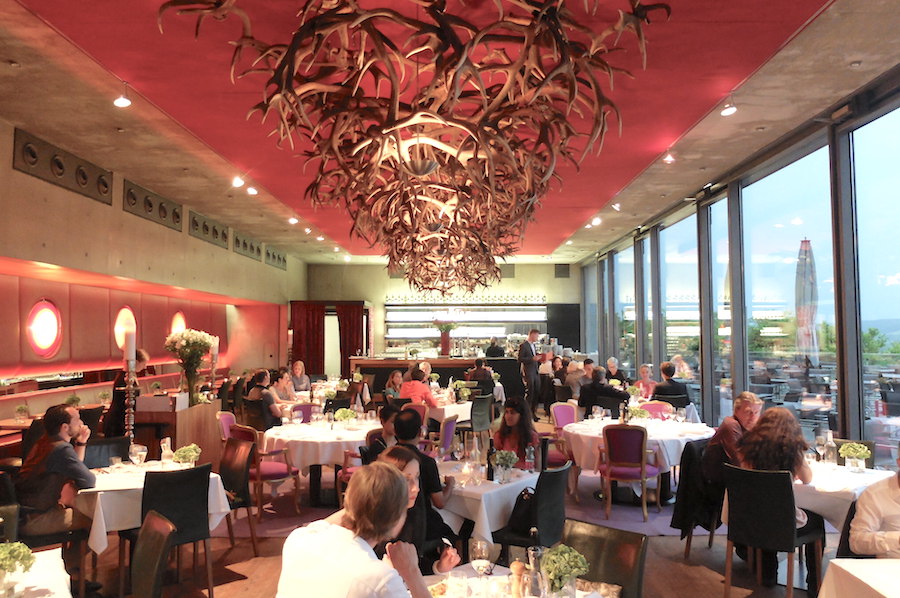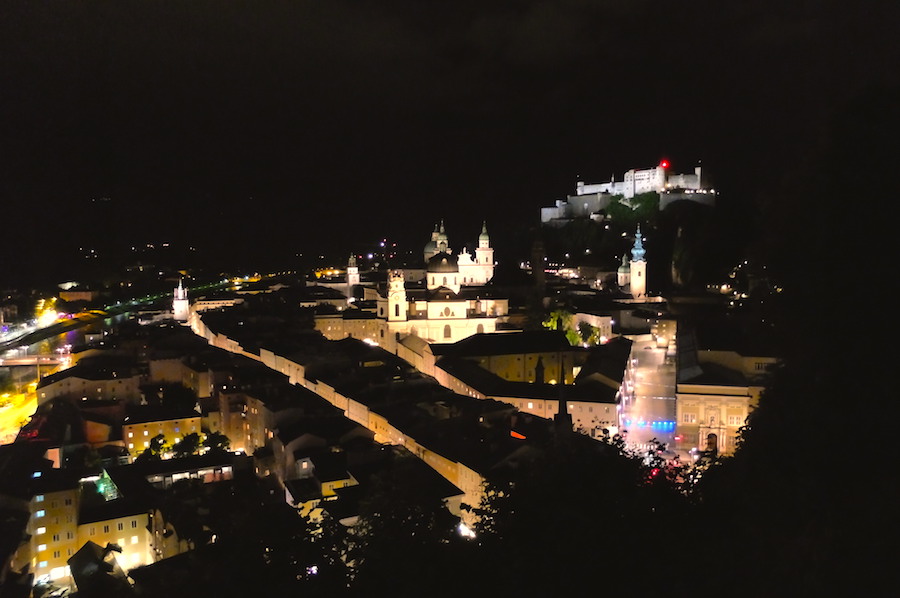 Where we stayed 
*While the Blaue Gan's Arthotel offered us a one-night stay free of charge, all opinions are 100% my own. 
Where we ate and drank
Mentors cocktails, Gstattengasse 3. drinks around 10€, go for anything with ginger. 
M2 restaurant (at the modern art museum), Mönchsberg 32, 5020 Salzburg, Austria. Pricey but a nice blend of Mediterranean and local flavors in a stunning ambiance.
*For a mug or three of beer in an old brewery, head to Augustiner Braustubl, but skip the overpriced food.
When to go
I have it on good authority that a visit to Salzburg at any season is a good idea. In winter, it's a great base for skiing as staying in the center is much cheaper than ski resorts. If you go now, you can enjoy their beautiful Christmas market Christkindlmarkt in the old town, where locals and visitors alike sip mulled wine and shop kitschy Christmas goods. We were there in June and it was absolutely lovely and keep in mind in July/August is their annual Salzburg festival which is one of the most important musical festivals dedicated to classical music and opera.
How to get there
We were on a road-trip from Czechia thus had our car which made visiting Austria a lot easier. However trains run regularly to Salzburg, if you can make it to Vienna, trains run from before 6 am until just before midnight and take around 2 hours and 40 minutes one way.
Map of Salzburg by Girl in Florence