You almost can't believe that this town was the backdrop for one of the cheesiest horror movies of my youth.
But it is.
Think back to 2005. It was one of the most important years of my life, I had just got done teaching English to middle school students in a southern city in China, about to embark on a year's study abroad adventure in Florence. It was before I had a Facebook account, when people still sent long personal emails and texting wasn't yet a "thing."
When people were scared of Hostels
It was also the same year that the movie Hostel came out, a weird horror flick directed by Eli Roth that I'm pretty sure made anyone scared to visit Eastern Europe or better yet hostels. To be honest the worst thing you'll catch at a hostel is perhaps athlete's foot in the communal bathroom but you get my drift. The plot was based on naive, annoying American students backpacking in Europe, who upon hearing about the stunning girls of Eastern Europe, travel to a small town in Slovakia which quickly became the center of everyone's nightmares. It's gruesome, just as much for the shitty acting than the actual movie. But what I find especially ironic is that the place where the film was shot (in addition to Prague) is one of the coziest, prettiest places I've ever laid my eyes upon. Luckily other films have portrayed this city in it's full potential, one example being The Illusionist, where Eisenheim falls in love with Sophie.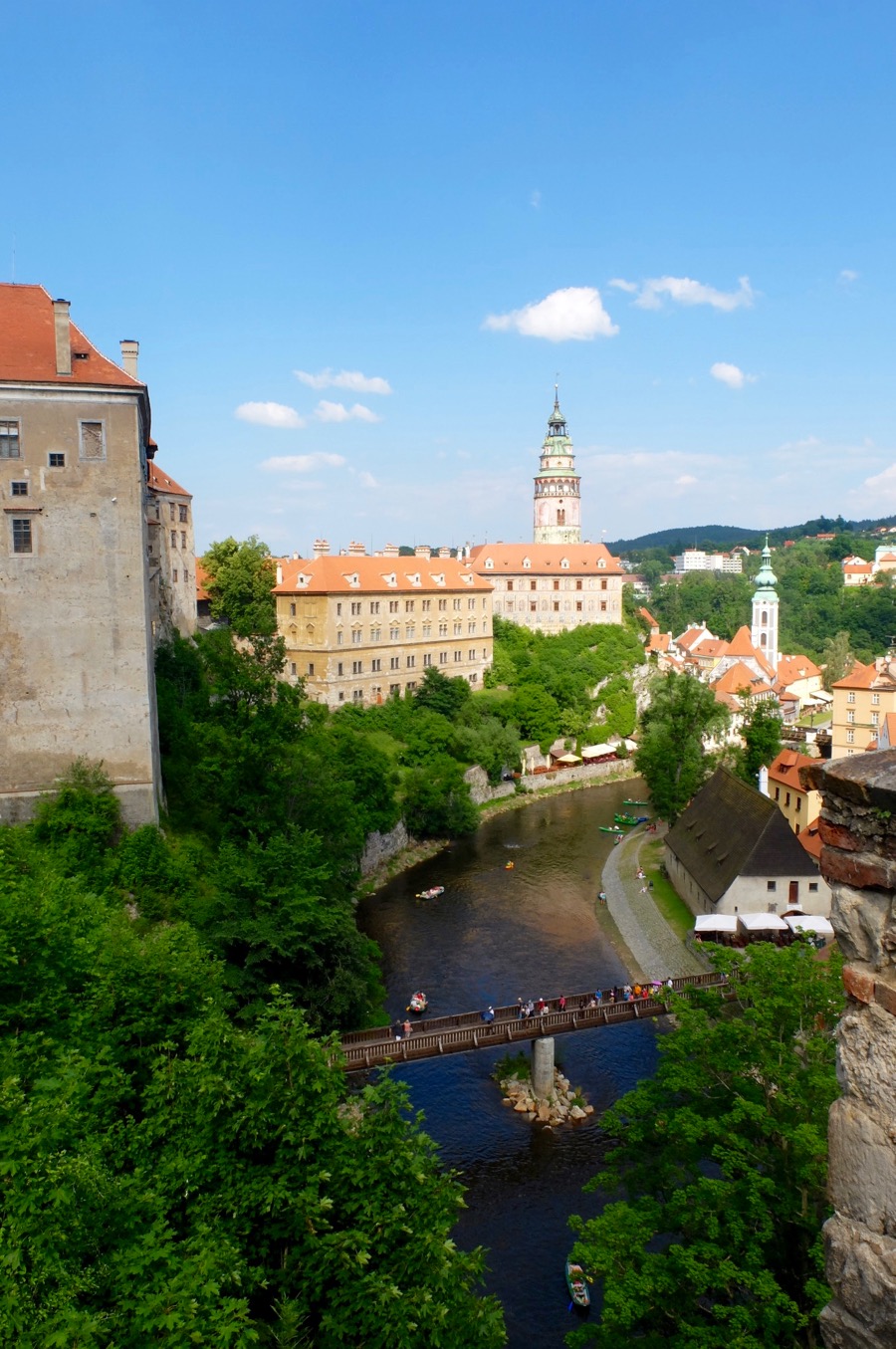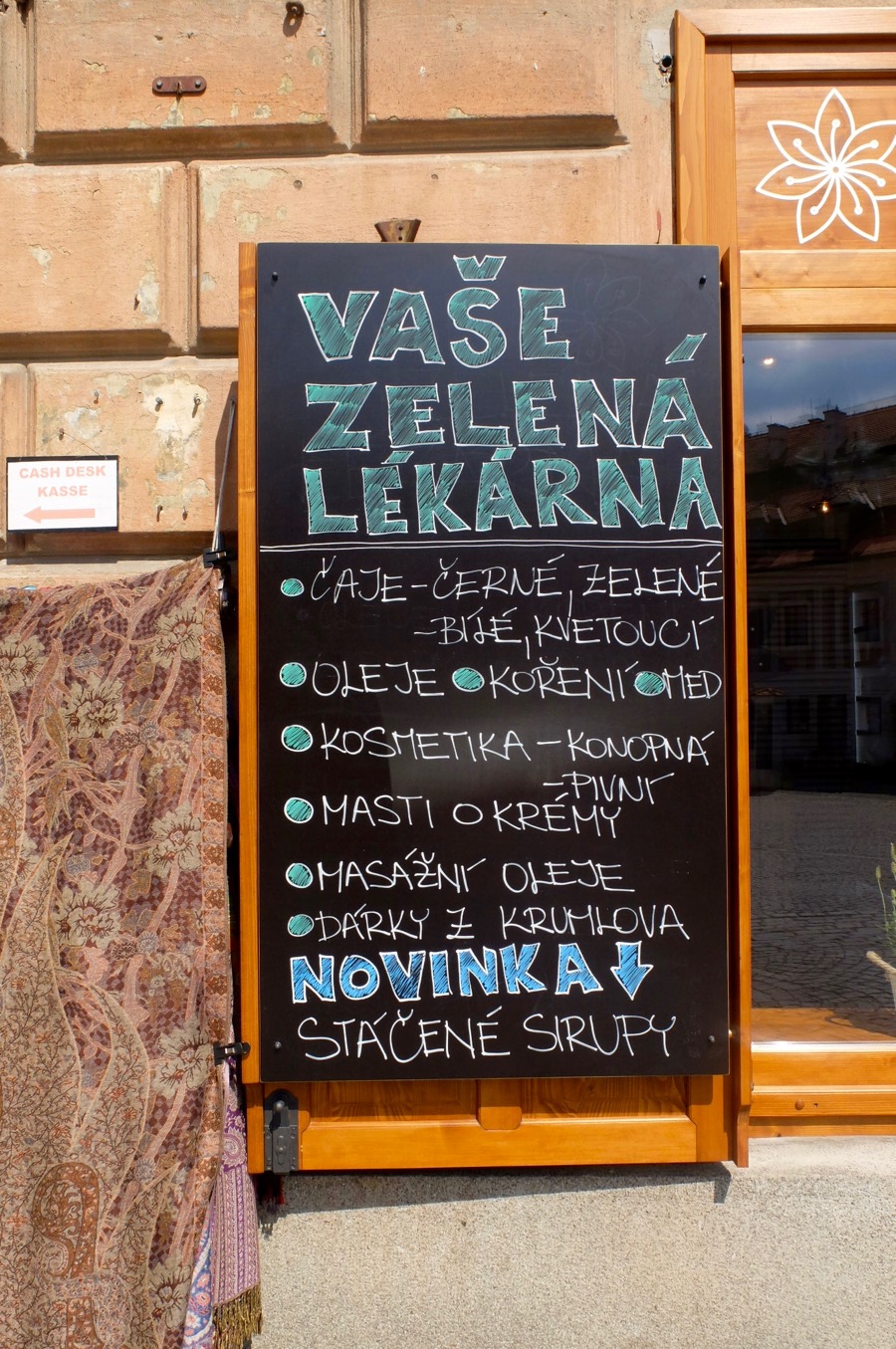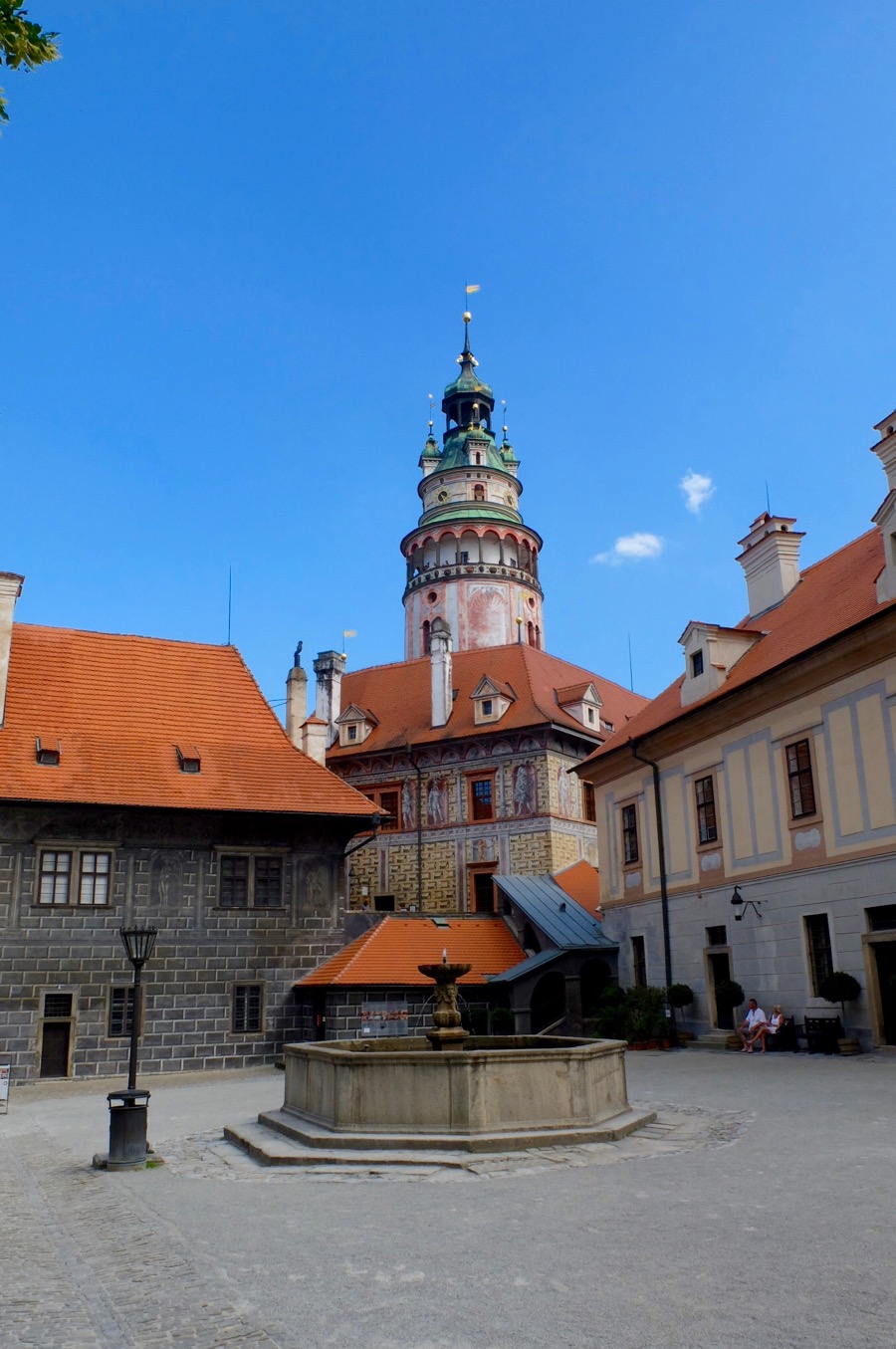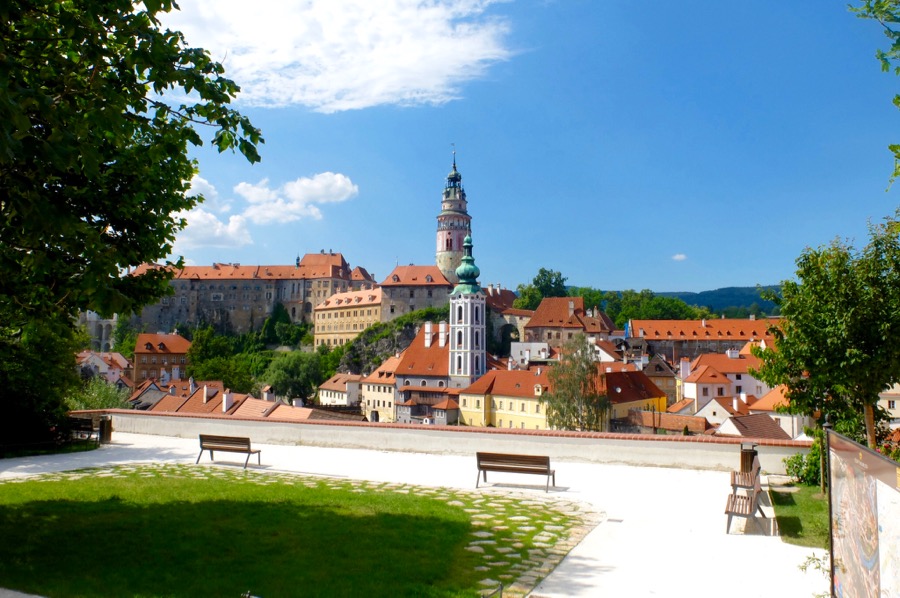 I'm talking about Český Krumlov, a small town on the Vltava River with a population of 13,300 situated in the far south of Bohemia close to Austria, two hours from the capital city of Prague. Someone described it to me as a "mini Prague" but I think it shines in its own right. Perhaps Prague is a large-scale Český Krumlov. It got its bearings in the 13th century, the first roots taking place around 1240 by the Vítkovci at a ford in the Vltava river. A mostly Germanic town under the control of the House of Rosenberg.
We visited on a week long road trip earlier this year driving from Florence to Munich, Prague, Telc, Pesky Krumlov and lastly, Salzburg. Český Krumlov is a world heritage site boasting baroque architecture, a 750 year-old history and those uneven cobblestoned streets we all love so much even if they kill our shoes. I even spotted the communist-era puppet I first learned about in Prague and I finally found some vegetables. It's a beautiful spot, hot on the tourist trail but the crowds disperse at night which gives it a quieter vibe that made me appreciate it a heck of a lot more.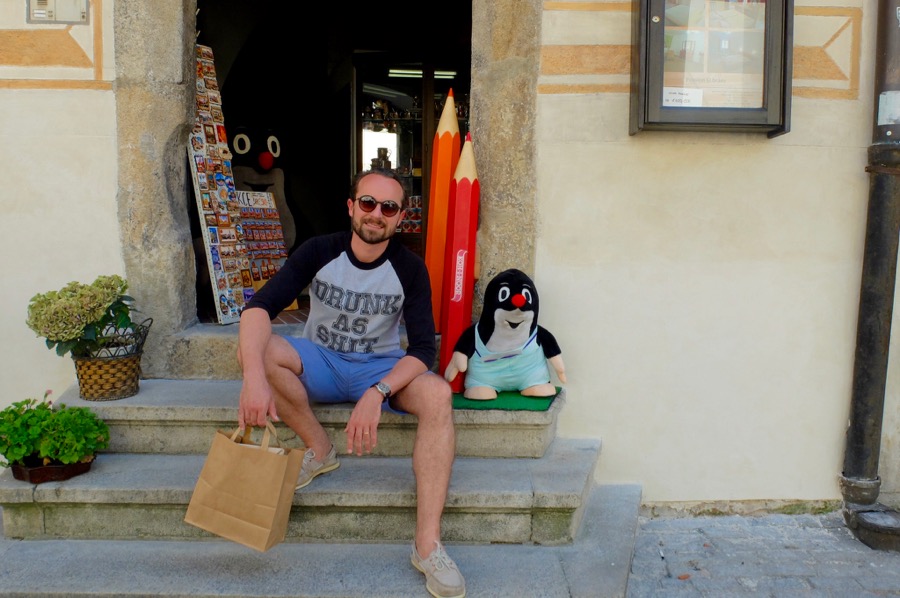 What To See In Český Krumlov
This is a town that you can absolutely enjoy entirely on foot. It begs for a wander, with the sure-to-come amazement at why not everyone in the world yet knows about such a pretty place. One of the coolest spots locally I didn't get pictures of but I added it to the map below, it's the Egon Schiele art centrum containing the work of the controversial Viennese painter Egon Schiele (1890–1918). You'll find both a permanent collection and temporary exhibitions here. He also quite the interesting and controversial life, word has it that he was driven from the town after painting a number of the townspeople's daughters in the nude. In addition to the naughty nudes, you can also see his impressive landscape paintings of the town itself.
A little further away from the center you'll find the Museum Fotoateliér Seidel, I didn't get to stop by this trip but I really wish I would have. It's located in the old home of local photographers Josef Seidel and his son František.
As far as shopping you're bound to find your usual area of kitschy souvenir gear. I did wander into a fair amount of shops, finding some interesting vintage signs (or at least they looked vintage) and certificates.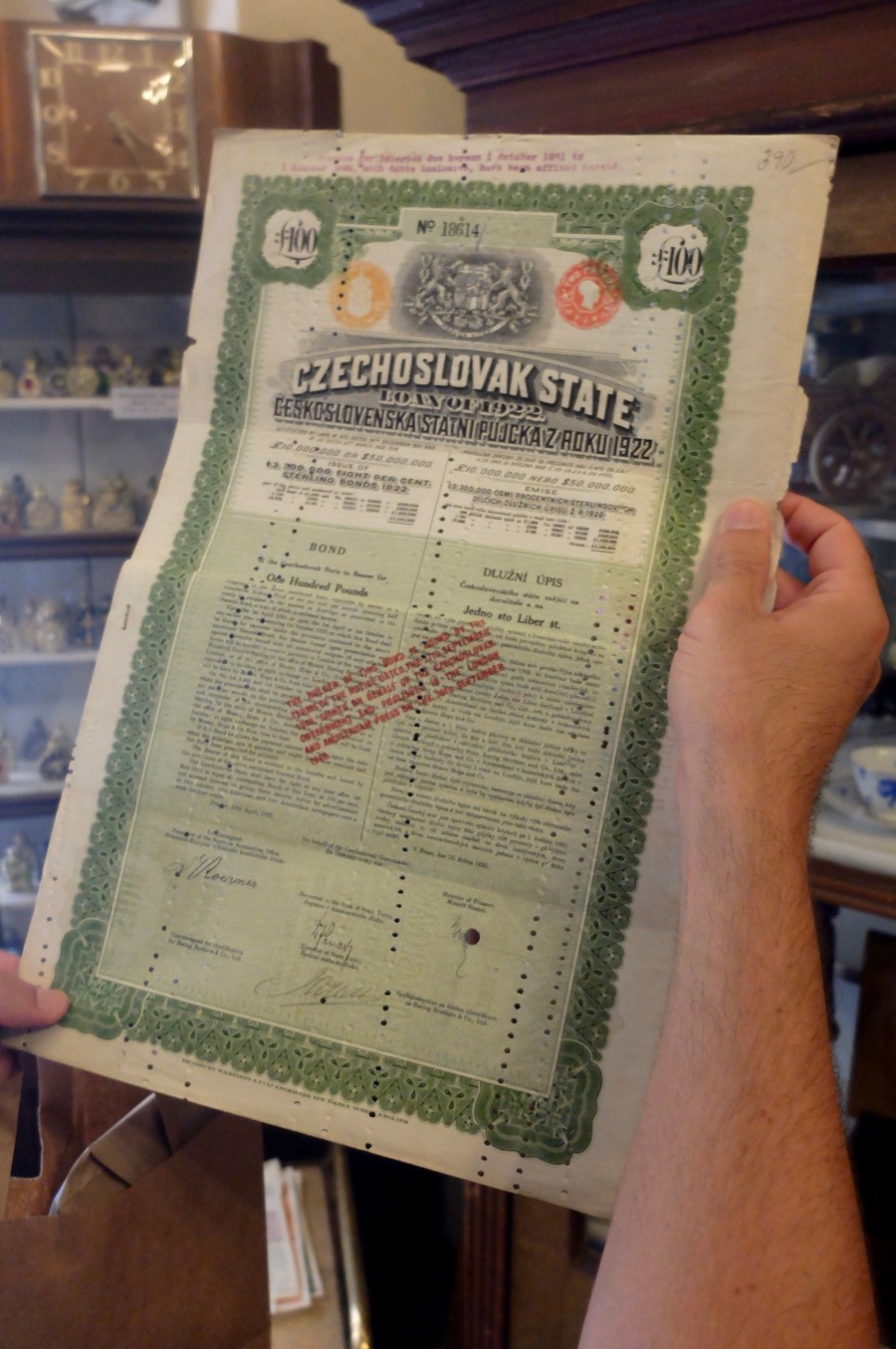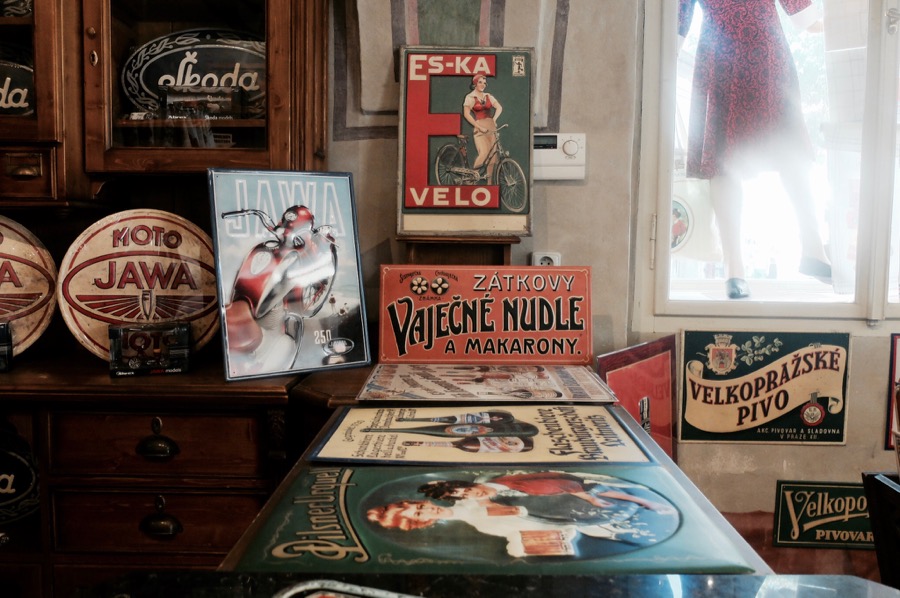 The first obvious choice would be to head up to the 13th century castle which offers a pretty good workout and an incredible view over the town, you can get there on Latrán street through the Red Gate. The multi-level Cloak bridge is especially impressive, the first mention of its existence date back to the 15th century but it was rebuilt over the years. There is also a pretty theater here with performances that take place during the summer months.
We did read that there are actual bears in the moat surrounding the castle which we didn't see, just a tangled mess of shrubbery, but I took that as a good sign.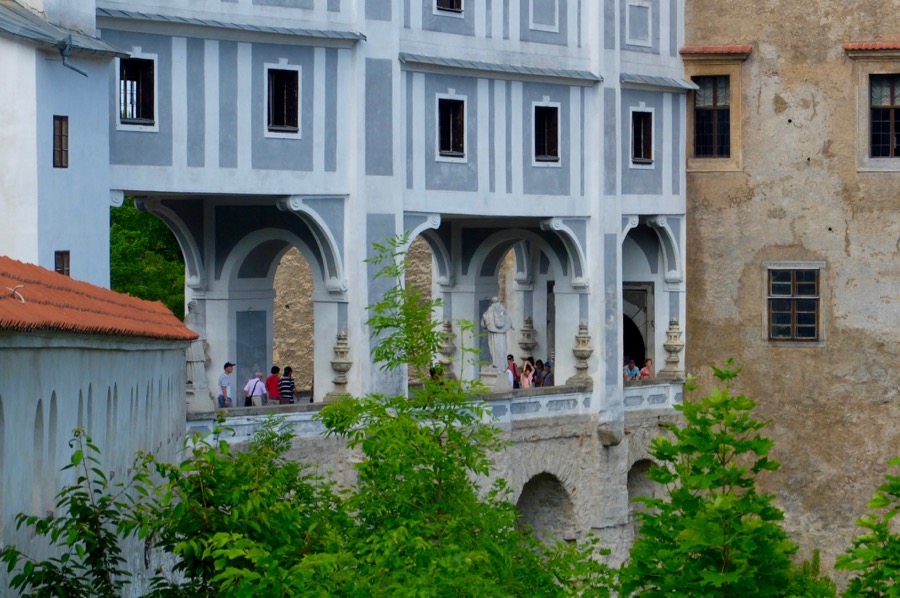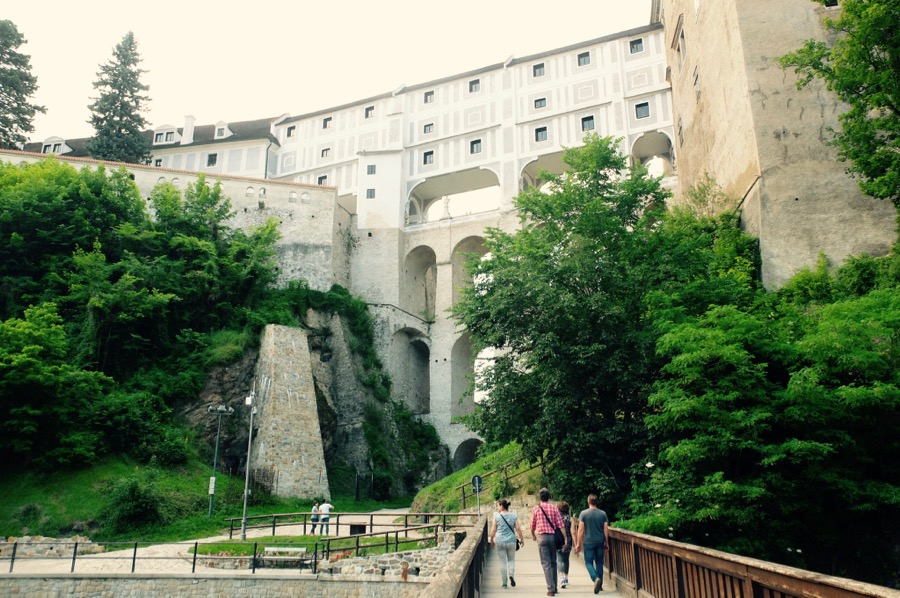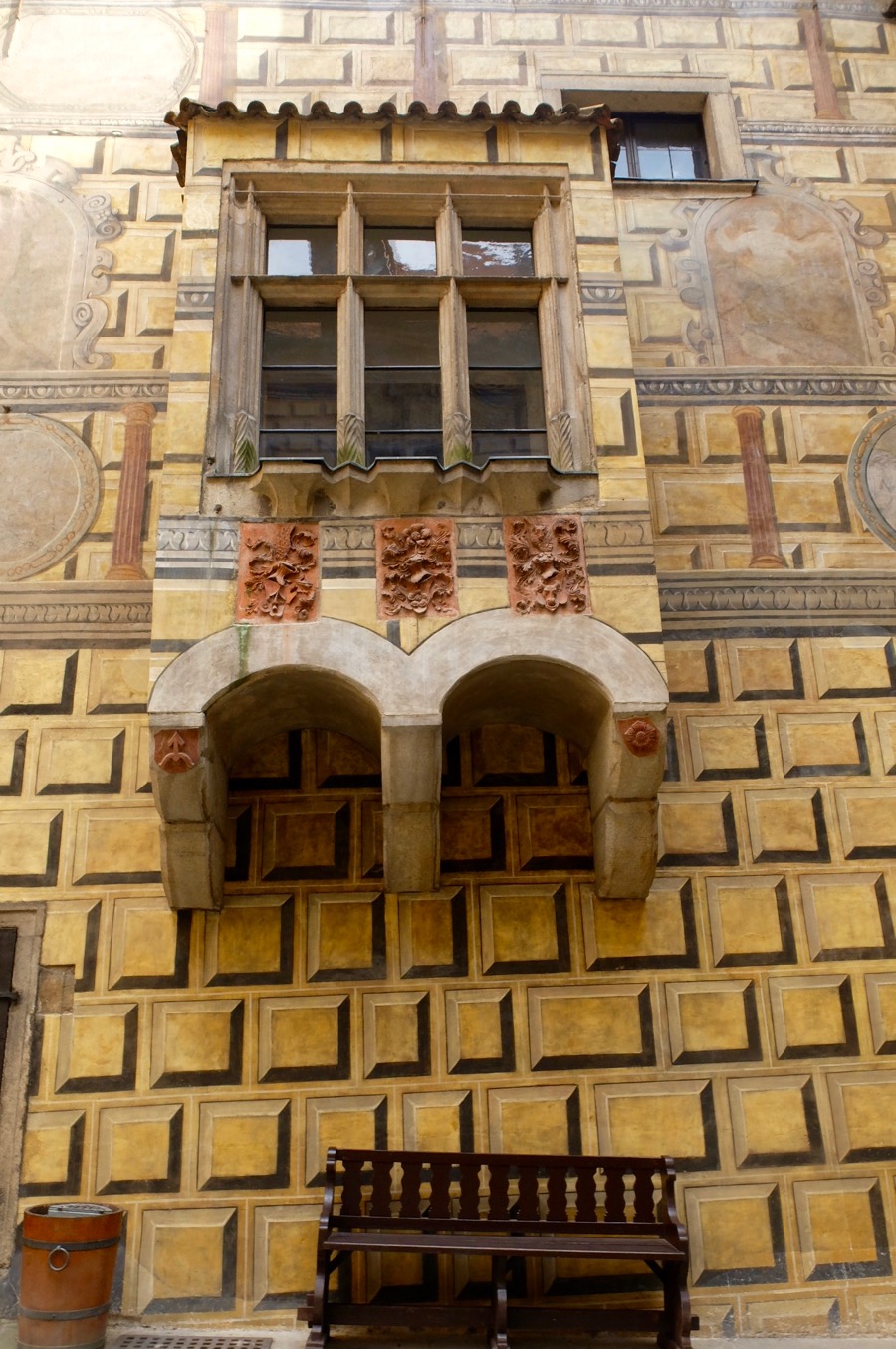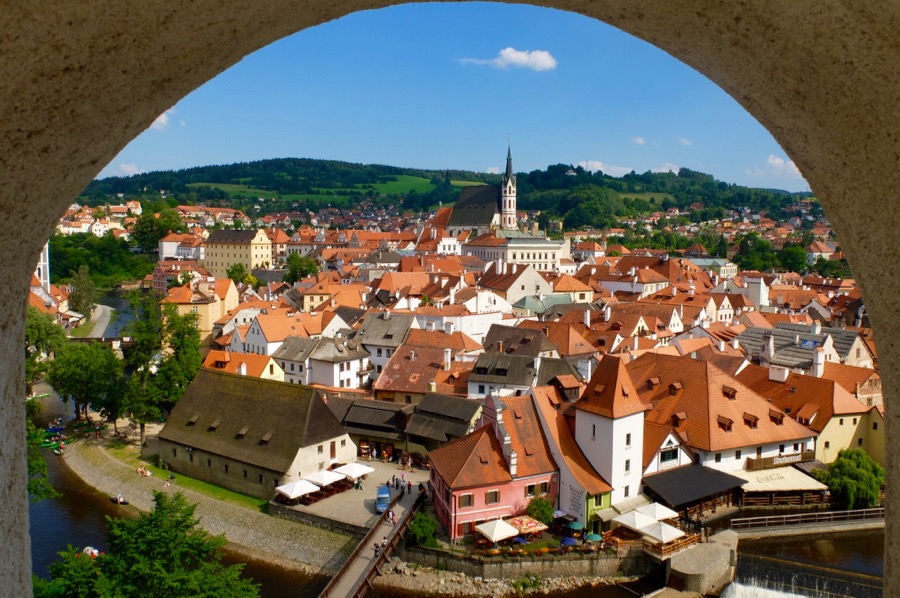 Also stop by the pretty Church of St. Vitus, one of the two defining landmarks in the skyline of the town. First built on the grounds of a church from the 14th century, it's gotten a few redesigns since then but it does serve as the burial ground for a popular Bohemian figure, Vilem of Rozmberk. He was known to have been a diplomat in love with the Italian Renaissance (and who can blame him) and is credits for modernizing this area of Czechia.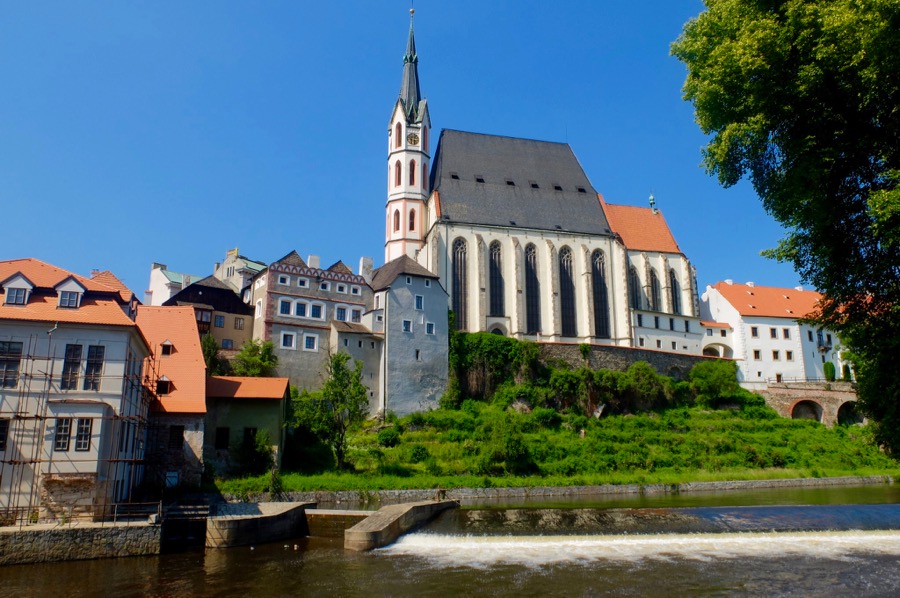 Another popular activity is river-rafting, and floating on inner tubes which brings me back to my youth in south Texas, floating along the Guadalupe river and trying to hide our crappy boxed wine in various cooking containers. It was a little too chilly for me to partake in the bobbing fun myself, but I did spot many families and groups floating down the river and having a lot of fun, sombreros included.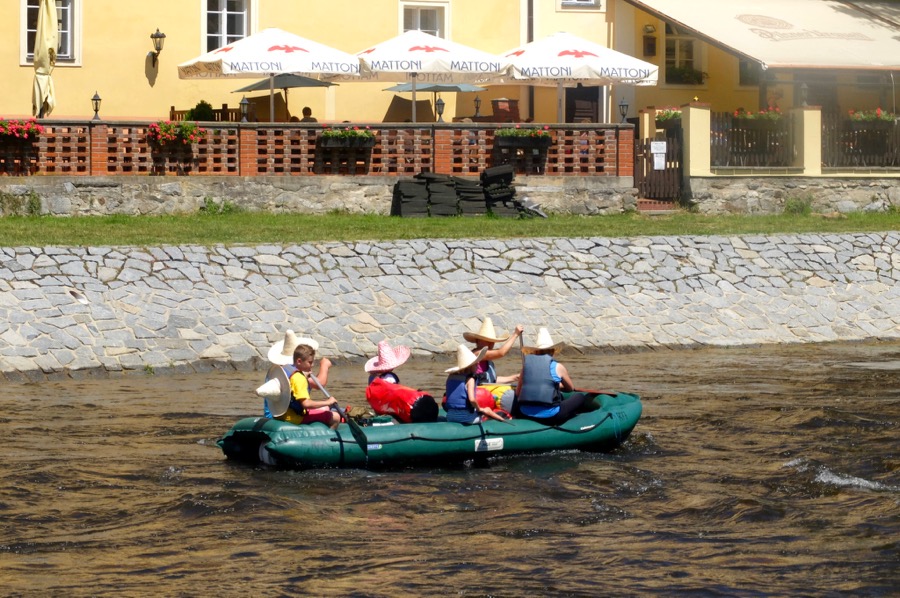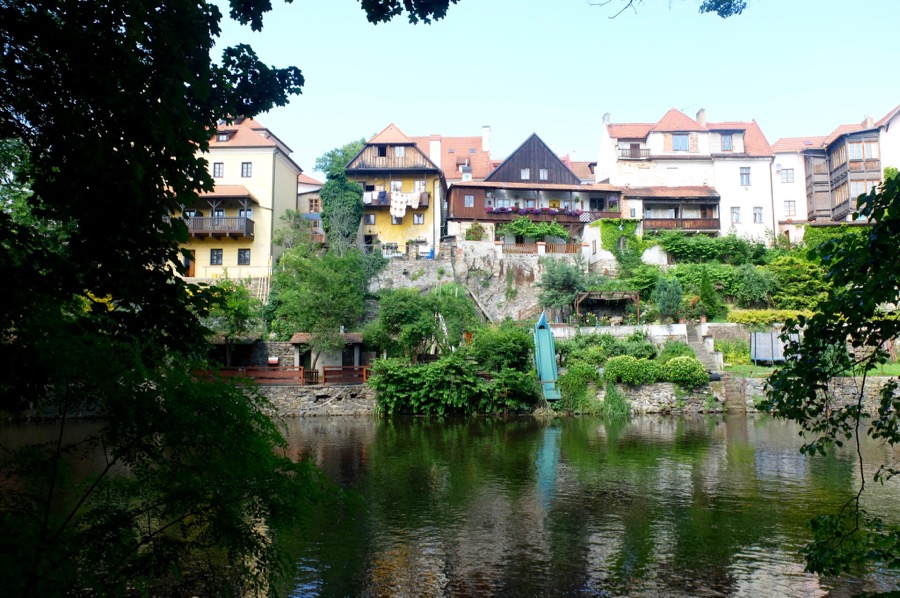 Finding Vegetables in Czechia
We were really craving something not meat-related after a strange dining experience in Telc, so luckily I ran into a vegetarian (and vegan) restaurant Laibon featuring middle-eastern and indian dishes, it sits along the river and is a little quirky. I was able to dig into lentils, spicy vegetables, rice and cheap beer, they also have an extensive tea list. I'll be totally honest, my dish needed a little spice/salt but that might be the Mexican in me talking. We also loved the bird's eye view of the river action which was very popular that June summer day.  In addition to my few suggestions (we were only there for one night) save this list of top eateries by The Culture Trip.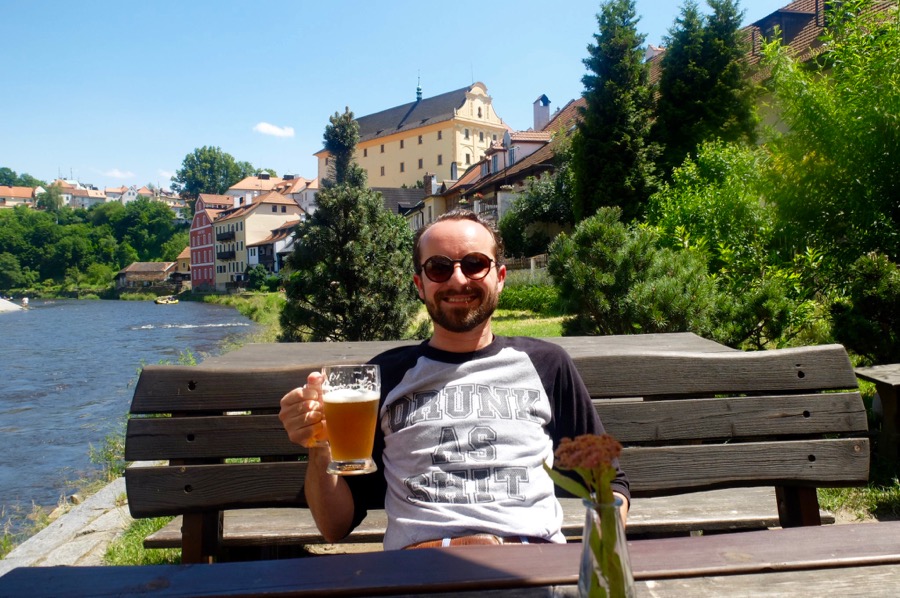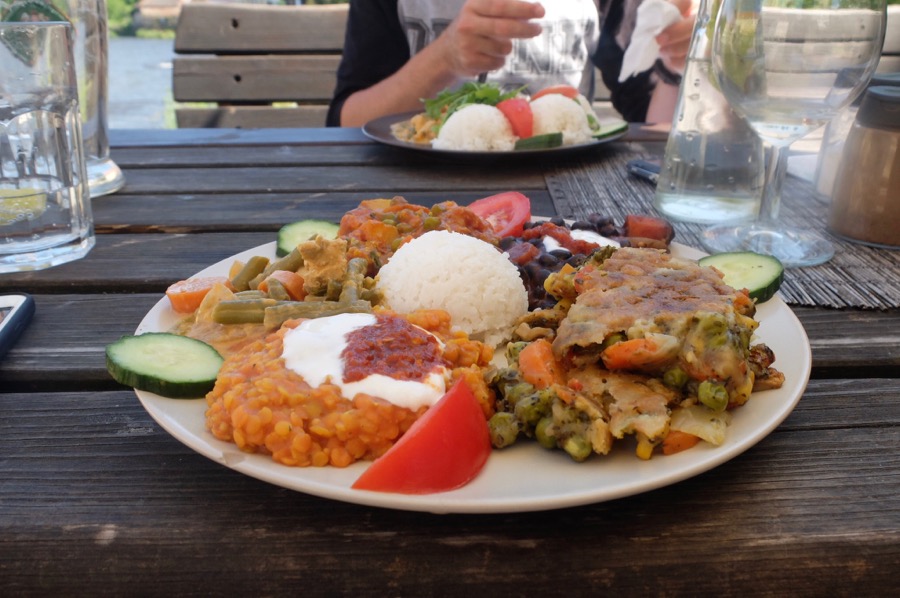 We also ate a cute spot, Papa's Living Restaurant, along the river which though unremarkable food wise, had a decent bottle of wine and I enjoyed their garlic bread. What it lacked in culinary finesse it made up in a very pleasant atmosphere. Cocktails should be had at the pretty
Apotheka Café Bar, which resembled an old-fashioned pharmacy.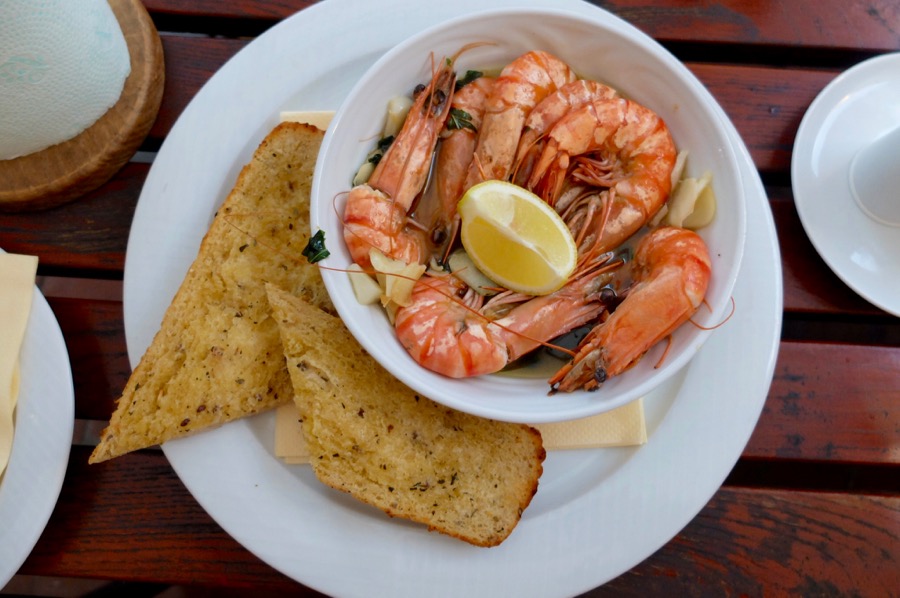 But what I really enjoyed, was beer or large coffees at the myriad of riverside cafes that line the city. Here is where you can take in the quiet atmosphere, and perhaps indulge in a slice of their Medovnik (honey cake), a layered creamy honey bomb that would convert anyone from their "clean eating" rituals.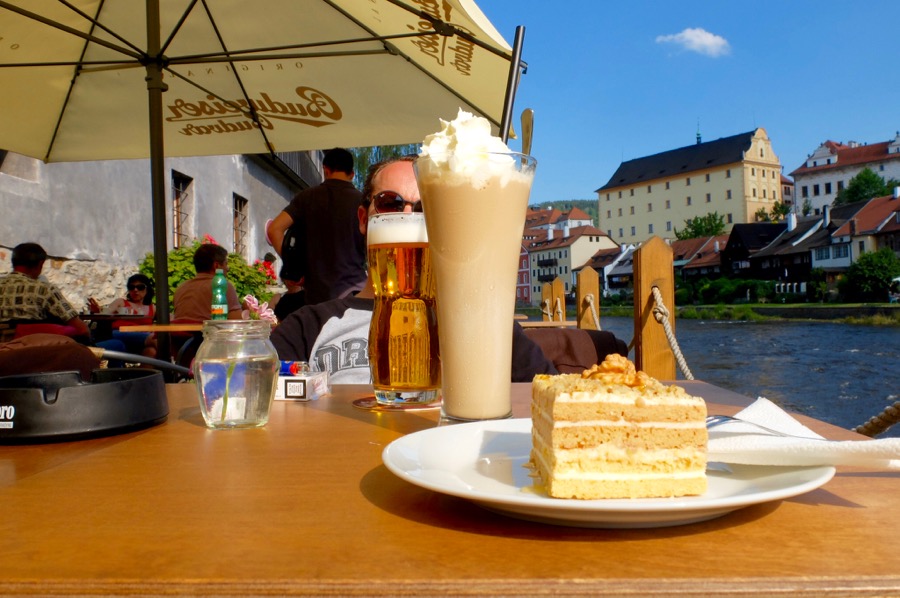 Quick Details
How to get there
By car: Český Krumlov is a two and a half hour drive from Prague
By train: From Prague's Hlavní Nádraží train station, you can hop on a train which will take you three hours and 22 minutes with a transfer in České Budějovice. The station is around a 20 minute walk (downhill) to the town itself, you can also hop in a taxi for a relatively low sum.
When to come
The summer months is when most people visit this pretty town, not only for the warmer weather but also because of the summer festivals that seem to be in abundance. I was there in June and I thought it absolutely perfect though I didn't get to see the Five-Petalled Rose Renaissiance Celebrations which typically takes place that month.  You see plenty of tour groups sure, but it's not even comparable to Florence in October. If you happen to be in town this week there is a wine festival at the castle on the 19th.
Where to stay
Nico was in charge of finding our accommodation this trip and booked a really cute, simple apartment in the center of town that was way bigger than we needed. Entrance was through a sort of bizarre museum (but free!) and the building is historical, which also means no elevator ;-).
Residence Museum Vltavínů, the price was 87€ a night with around 6€ for breakfast (I would actually pass on that and go to a local cafe instead unless you like non special supermarket jam and hard rolls). Pros were the extra-fast WiFi and nice balcony, cons were overpriced and underwhelming breakfast and a tight entrance which was a little awkward with our bags.