A Medieval Castle Turned Borgo Along An Ancient Roman Passageway
When it comes to luxury hotels in Tuscany, or rather anywhere in Italy, the consumer is spoilt for choice. However what makes Il Borro something special lies in its 1,000 year-old past, the exact origins dating back to 1039. It was said to have been along an old Etruscan road and later a Roman one (clodia and the cassia), the area itself a political stronghold, becoming a battleground
between the Ghibelline Florence and Guelph Arezzo. Eventually the Borro dynasty died out in the 1700's and the Grand Duchy took over the property. Later in the twentieth century, the ownership again changed multiple times.
How it became the way it is today is thanks to Ferruccio Ferragamo, who found the village during a hunt in 1985. The property was at that time owned by the Savoy dynasty, nestled in the Valdarno, a mere 66 kilometers from Florence. As what happened in many similar towns, residents high-tailed it for greener (when it comes to money, not landscape because this place sure is green) pastures leaving behind this semi-derelict village with few inhabitants. After renting the property, in the early 90's Ferruccio then purchased the hamlet and made it into a Relaix & Chateaux hotel and the rest is quite literally, history. 
Now the hotel encompasses 700 acres of esquisitely beautiful, wild terrain — an entire village as a luxury background for its variety of international clientele. Sun-kissed and surrounded by the hills of Chianti, the Pratomagno ridge, and the Apennine mountains — Il Borro serves as the ideal wedding destination for those who have enough in their coffers (you have the whole village at your discretion), or as a girl's weekend escape, it sort of represents the kind of kinder-cleaner Tuscany that most want to believe is omnipresent in this vast region.
When it comes to accommodation, the estate has a variety of villas, farmhouses and luxury suites (around 30 in total=, many of which are located in the medieval borgo among a selection of artisans who work daily in Il Borro. You can pick between a stately villa with all of your family and friends under one roof, or a pretty Tuscan suite, steps from a quiet pool overlooking the green valley below. It never feels full (at least when I was there) and for someone looking to truly unwind and soak in the pristine atmosphere, this is your kind of place.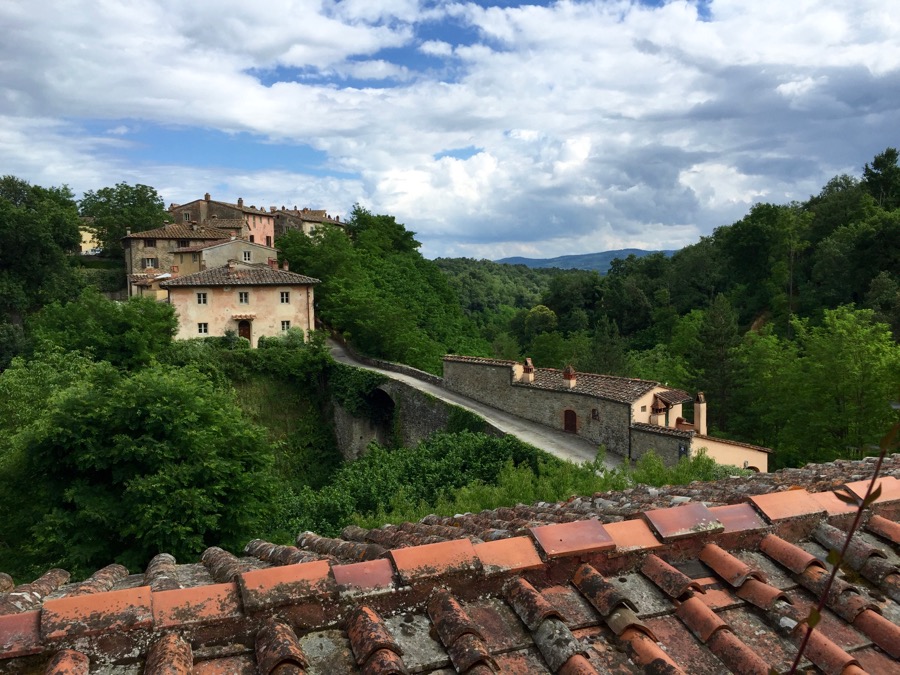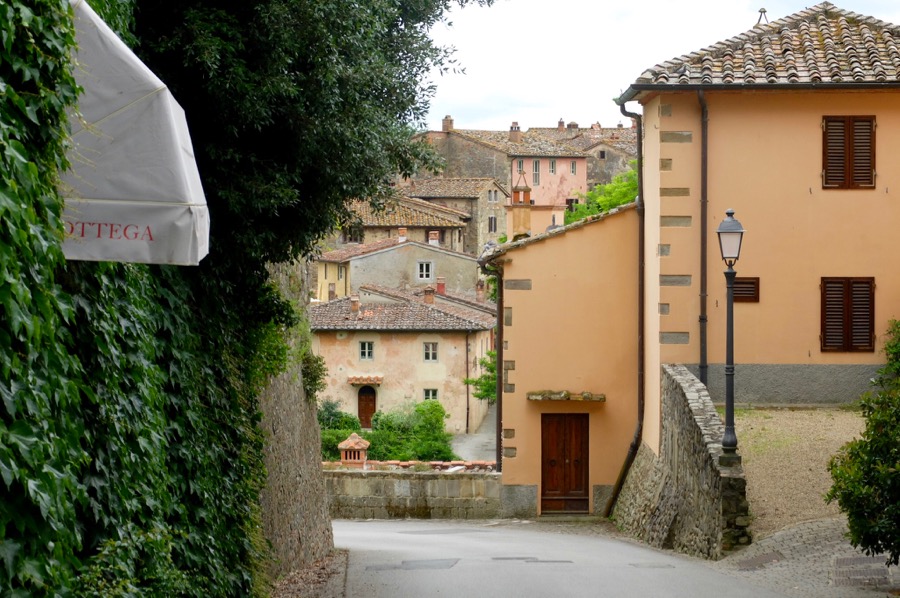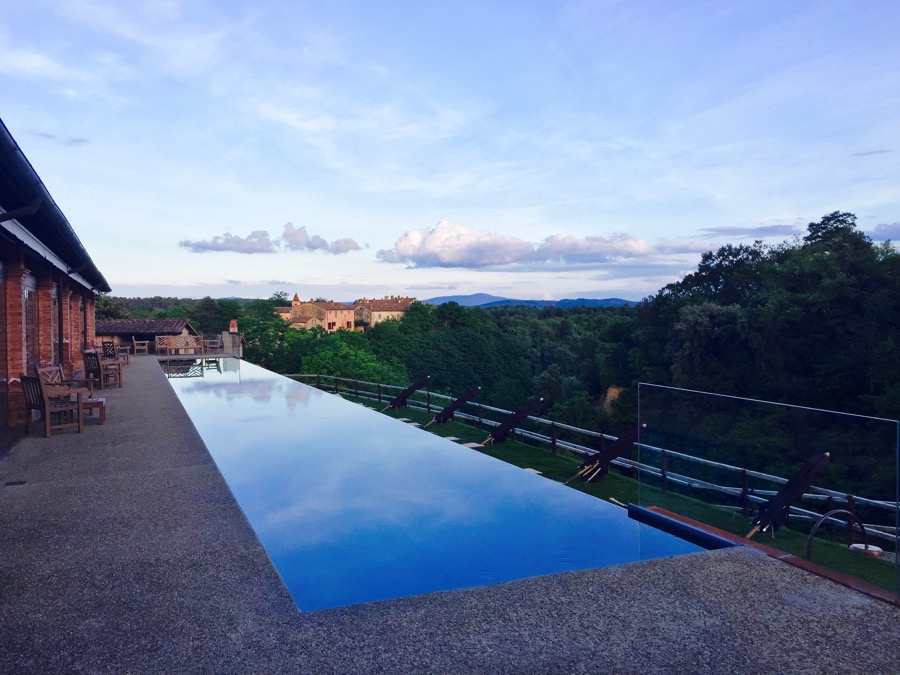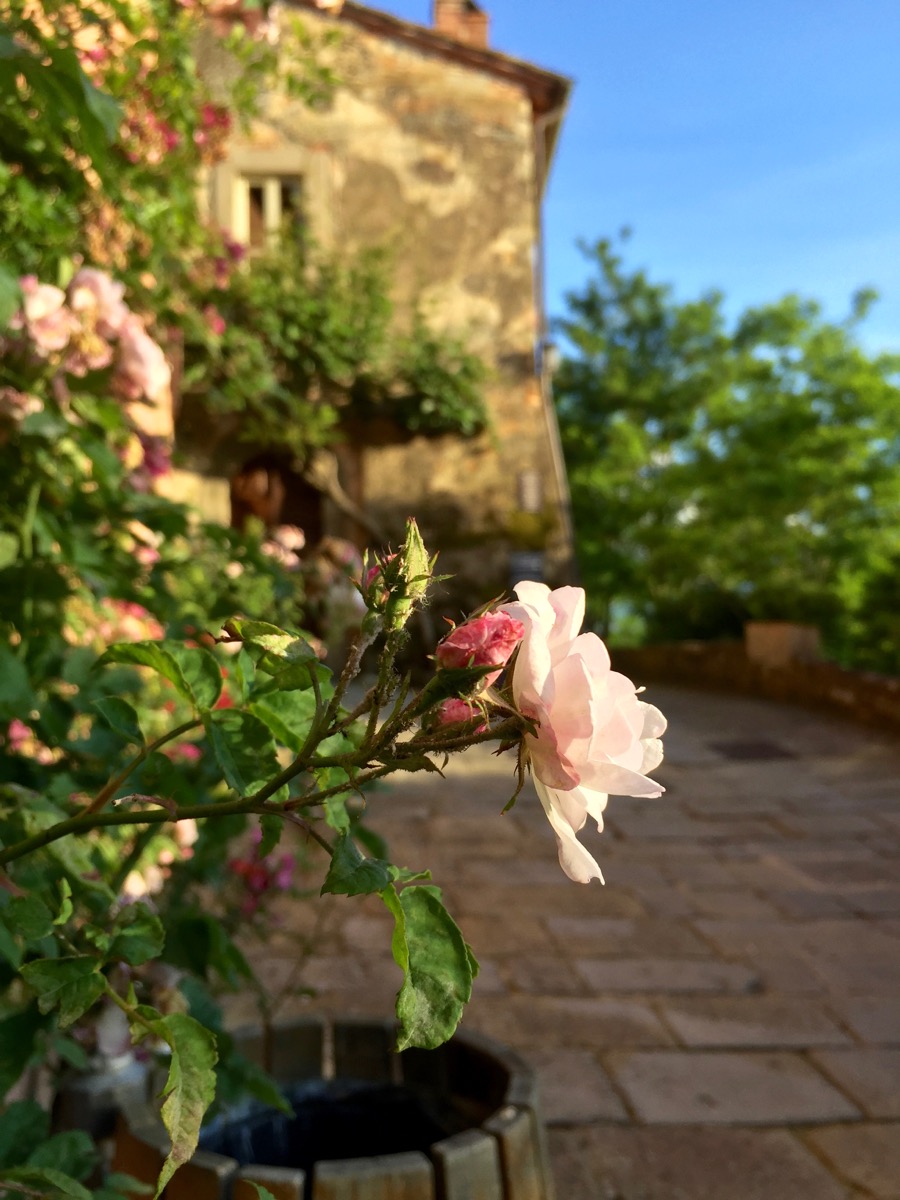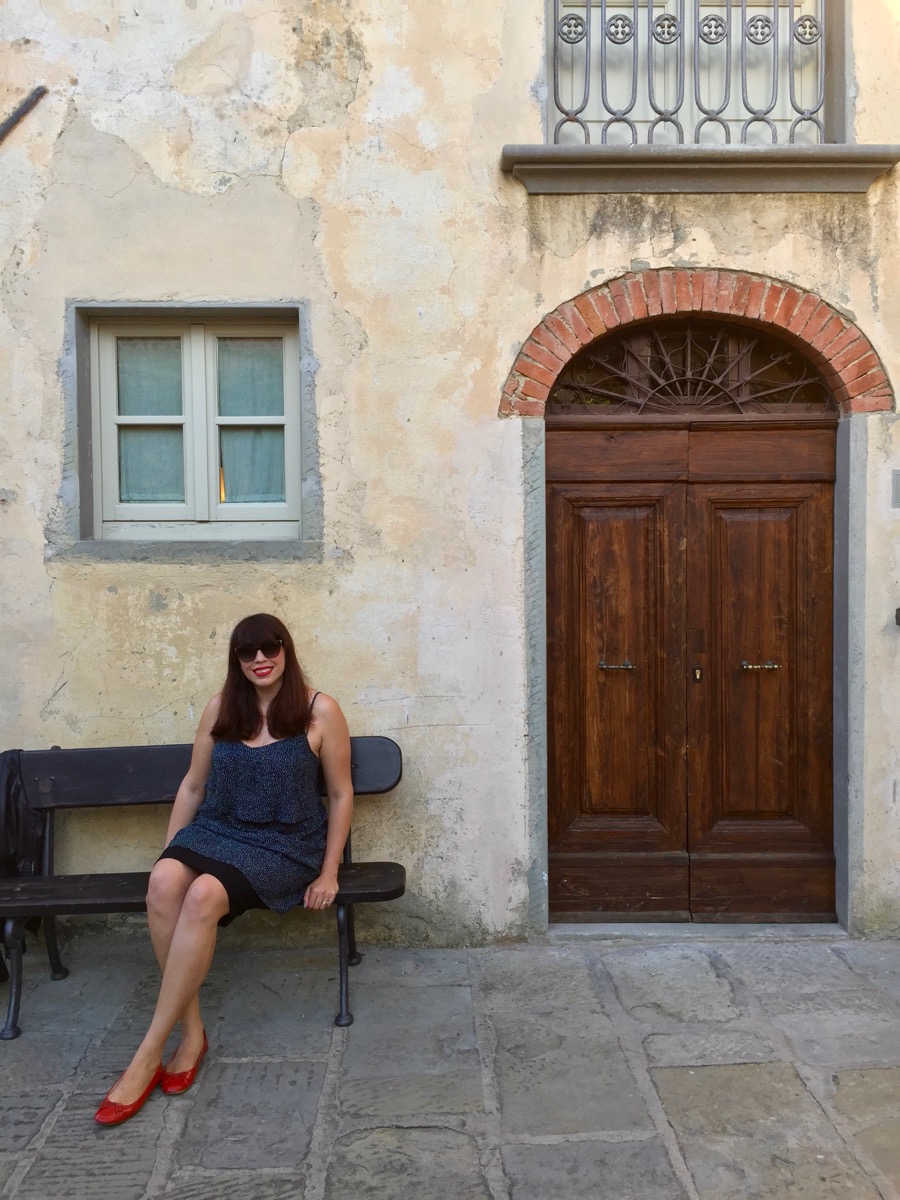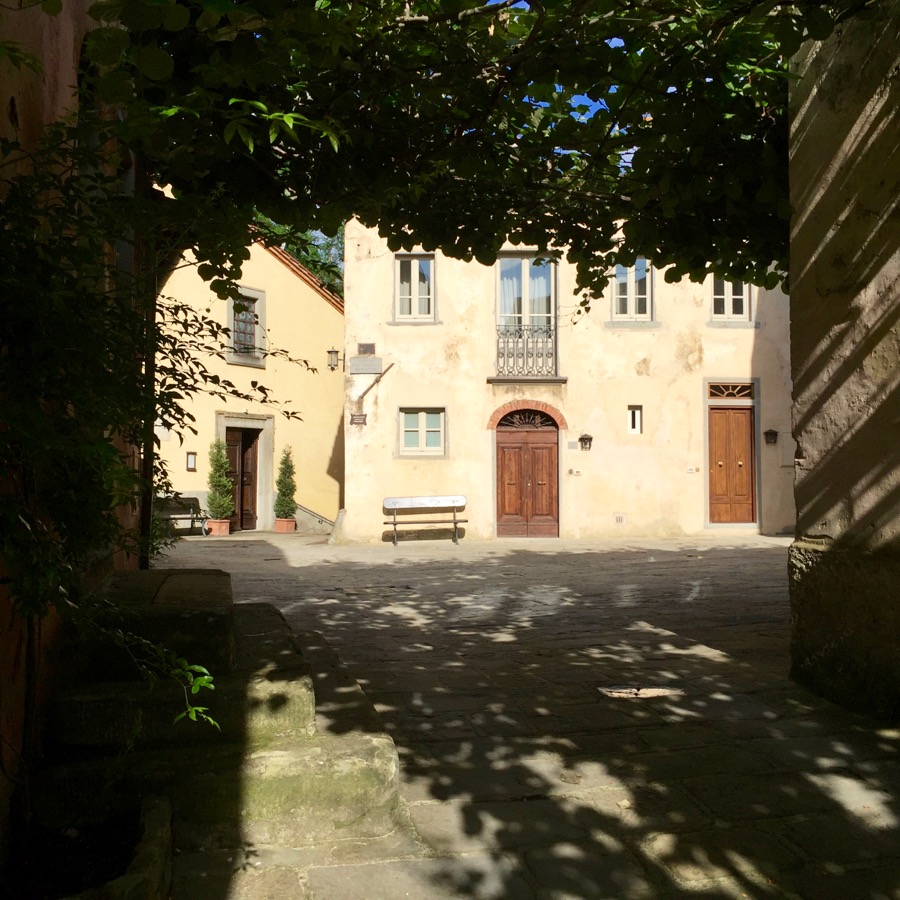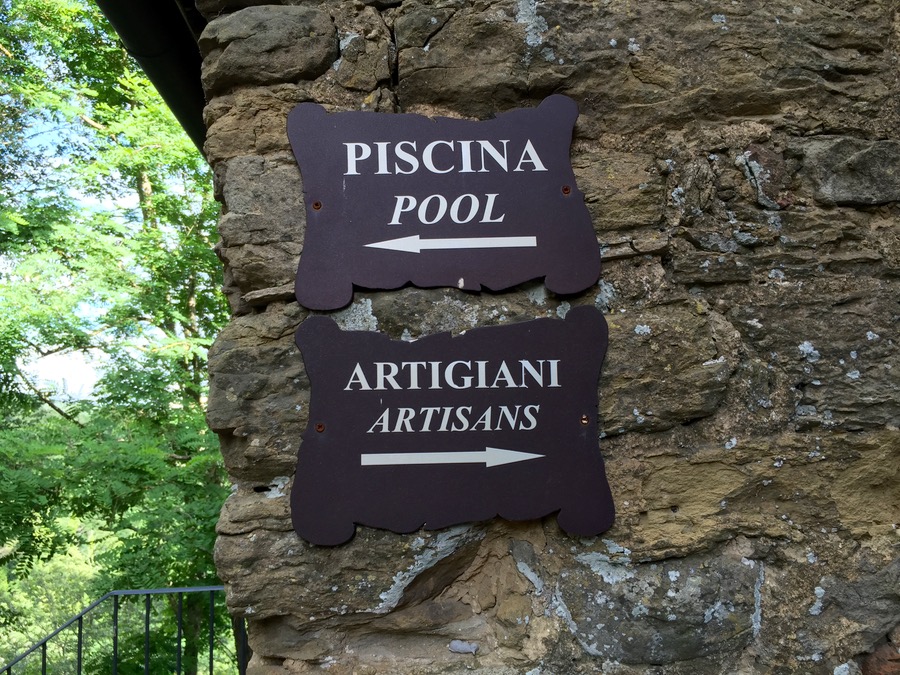 Wellness In Paradise 
My stay there began as a girl's day out.
Just a couple of girls overworked and ready for a little rest, relaxation mingled with a few laughs. Anyone who knows me well understands that friendship is at the heart of everything I love about life. I've been that way as long as I can remember.  My friends here in Florence have become my family, stepping in when my real family in Texas couldn't, through heartbreak and good times. They've been here for it all and I happened to fall in love with my best guy friend as well. With the blogging community, it's a bit like that here in Florence too. There are so many fabulous people writing about Italy, it's wonderful when we can combine our prowess and even just get together for a few laughs. On this particular day I was  with an international group, Alice of AlidiFirenze (French blog), Denya of Grazieatblog (Portuguese) and Alexandra of Arttrav (English), we ventured to Il Borro for a little girl time, yoga and wellness , followed by a lovely lunch at il Borro's casual restaurant where I first spotted "A man who drinks only water has a secret to hide from his fellow men," a quote by Charles Baudelaire was one of the first things my eyes wandered to in the Tuscan bistro nestled in Il Borro. I couldn't agree more, dear Charles, and I knew this resort and I could be friends.
It wasn't the first time I visited and once we parked, I immediately spotted Ferragamo's large brown dog careening at a million miles an hour down a footpath. Any time dogs are involved, my happiness level reaches its pinnacle.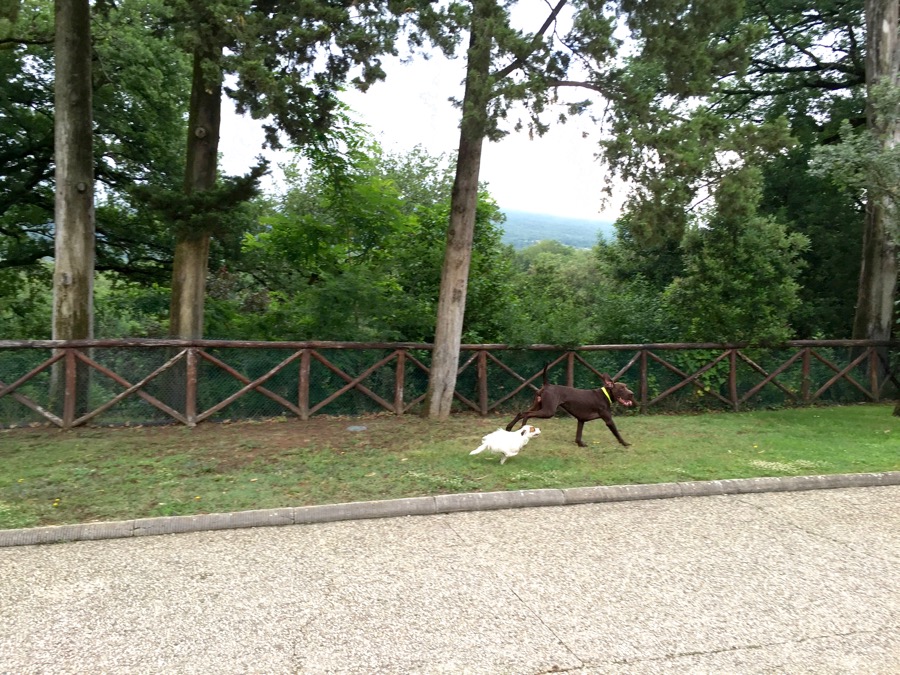 It could be said you shouldn't be jealous of a dog's life but after seeing how happy these pups were, frolicking in the grass is a testament to Il Borro's peacefulness. Heck, I wanted to run barefoot through that grass myself but I settled for a leisurely stroll to take it all in.
The Perfect Girl's Getaway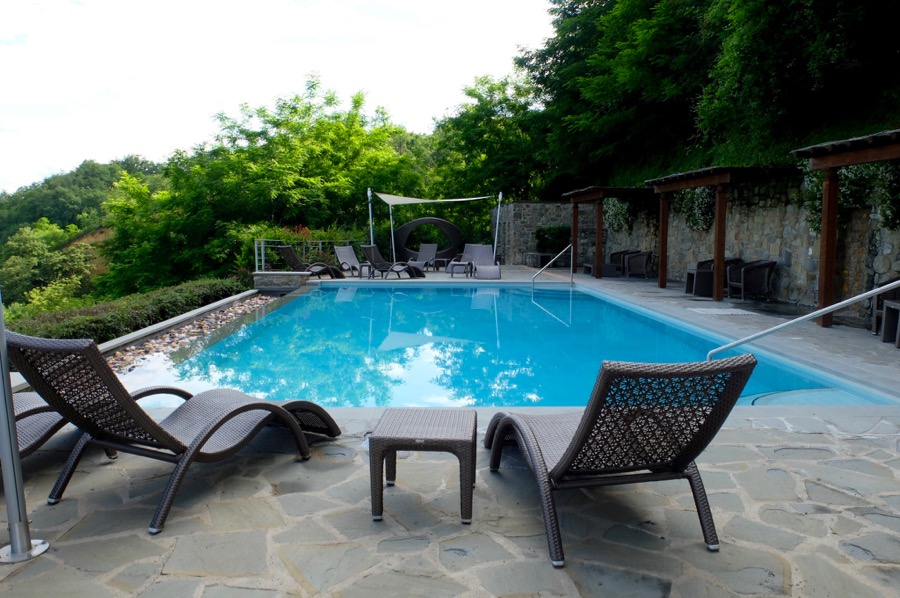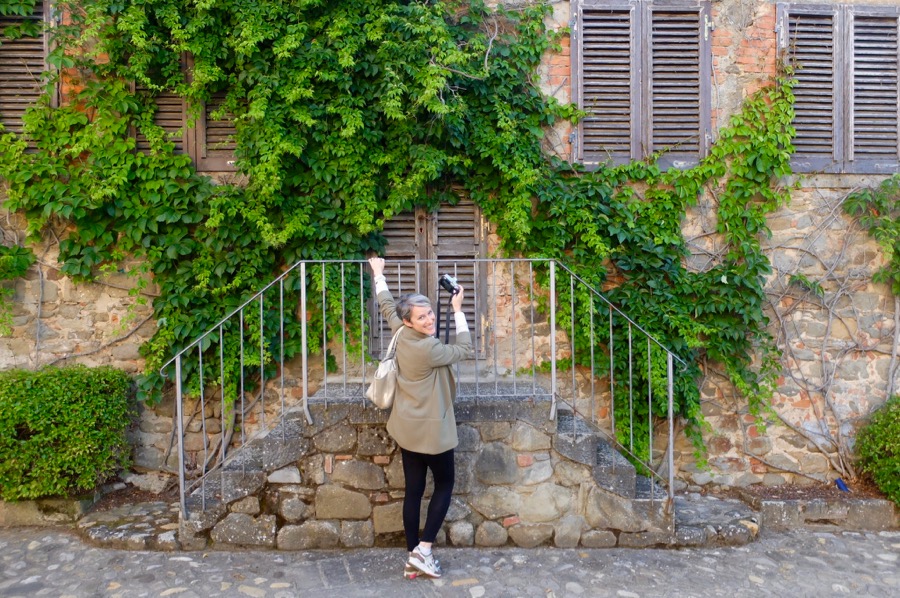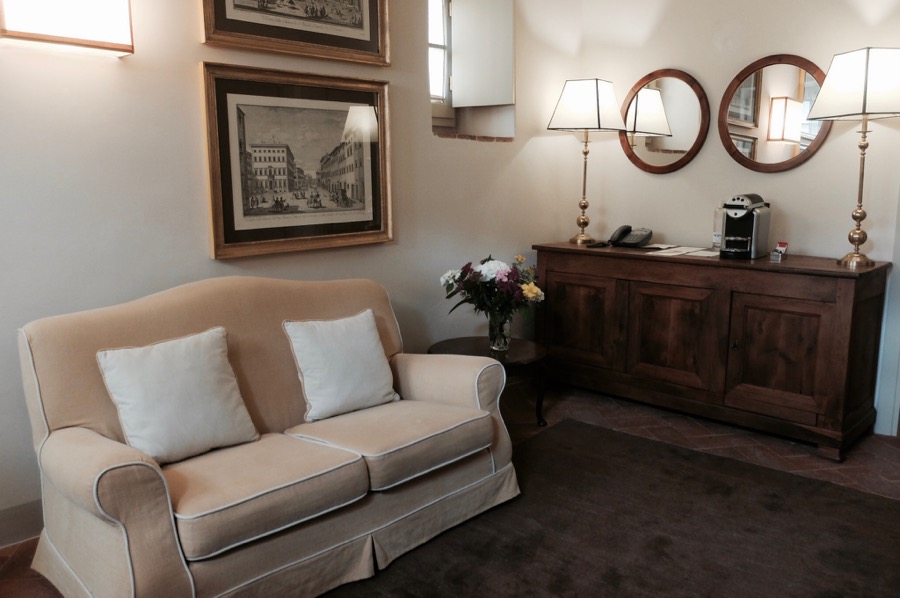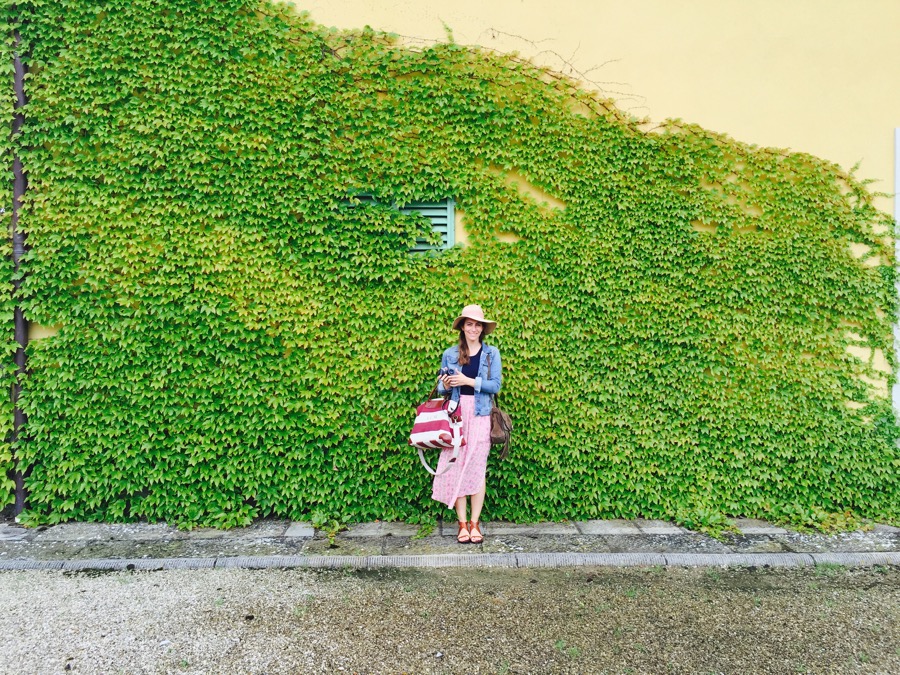 The connection between the space and nature is everywhere you look. Besides being surrounded by a pretty forest landscape, every tulip and rose was as you'd imagine from a five star resort, perfectly curated without any of those pesky bugs. I spotted a small orto (vegetable garden) on my way to down to our suite for the night and spotted these lettuce heads perfectly lined up. Further down into the small borgo, pink plastered walls were snaked in a pretty ivy and wooden shutters, A green wall made my friend Alice look like a French movie star, straight from Nice to Provence in one straw-hat swoop.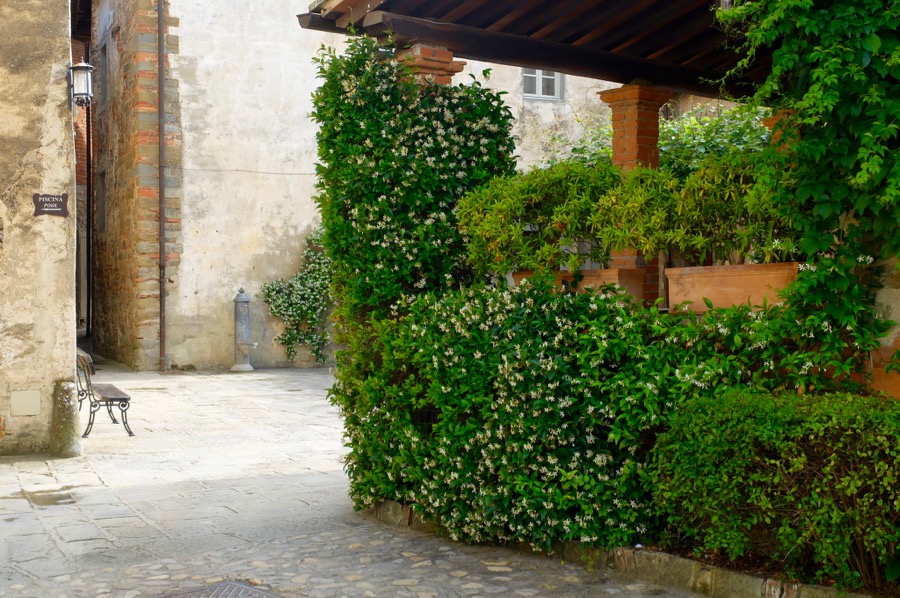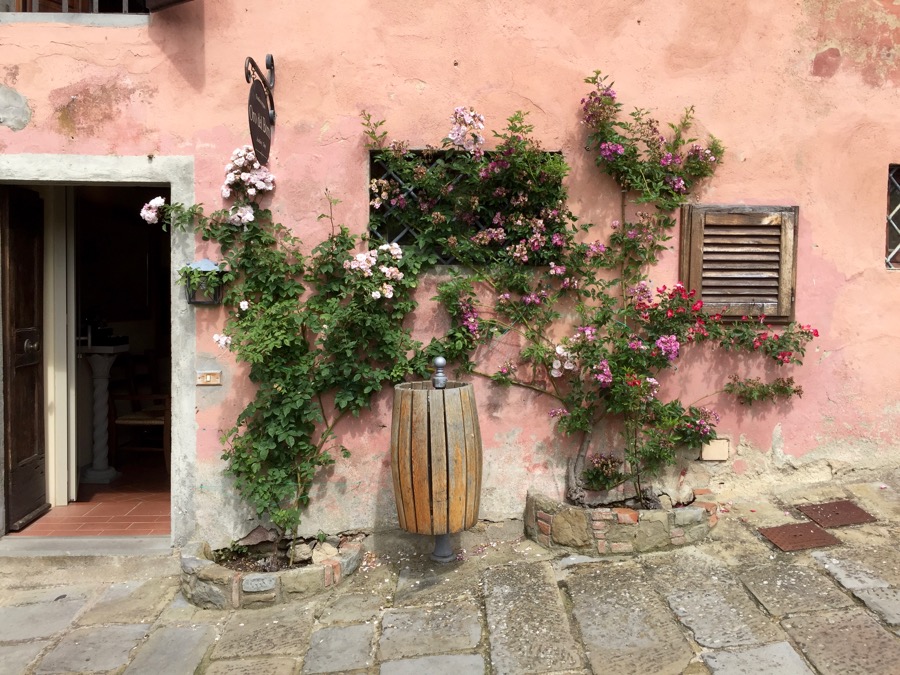 Yoga was on the brain, as we had a session with their local expert Hanna, who honed her yoga studies directly under the guidance of Swami Vidyanand, the founder of Yoga Alliance International, in India and received the master level certificate in Transformational Hatha Yoga, Pranayama, and Meditation. While I am far from being an expert at anything in yoga, I enjoyed our relaxing session and Hanna was a wonderful teacher. She also specializes in teaching yoga to children and teenagers, and will host several retreats, one this autumn, and early next year for  for anyone looking a full immersion.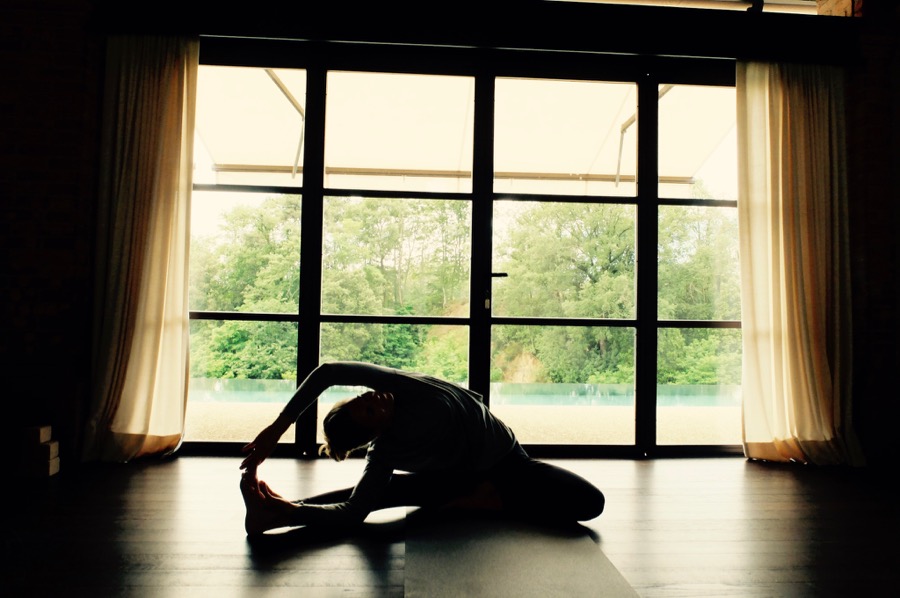 We changed into our swimsuits for a dip in their beautiful day-spa, perfect for a romantic date or in our case — a couple of girlfriends resting our yoga muscles. They brought us a freshly-made smoothie and we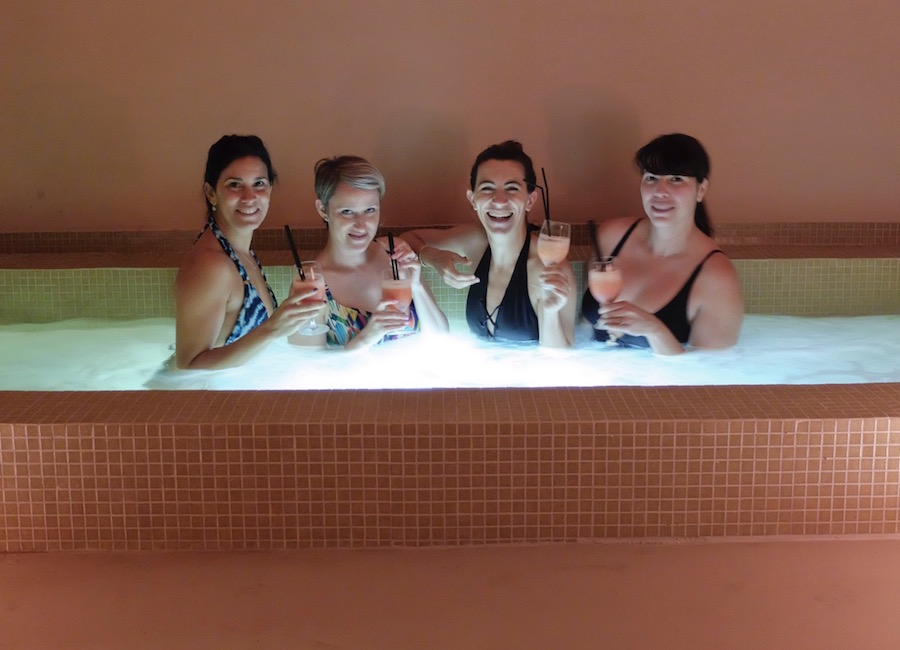 spent a few hours relaxing in the jacuzzi pool and turkish bath. Cue any male fantasy worldwide.
Tuscan Bistro – Because no day away isn't truly complete without a big fat lunch
It used to be that a healthy lunch in Los Angeles, (where I lived in the USA before coming here) might have been a salad and a boiled egg. All to-go of course and usually eaten standing up.
Forget about all of that in Italy
Any truly wonderful day out involves a long lunch or dinner and Il Borro's Tuscan Bistro was definitely no disappointment. Chef Andrea Campani ensured that we tried a variety of the bistro's seasonal goodies. We had aged cheese with Il Borro's own honey, marinated zucchini with burrata and that was just the beginning. I went for their fresh fish of the day served with a variety of green goodies, all washed down with a bottle of their own Lamelle white wine. This being a winery, it's something to be said to have a decent bianco (white) option. Their IGT bianco toscana is made from 100% of Chardonnay grapes and boasts a light, youthful flavor, perfect for fish or cheese.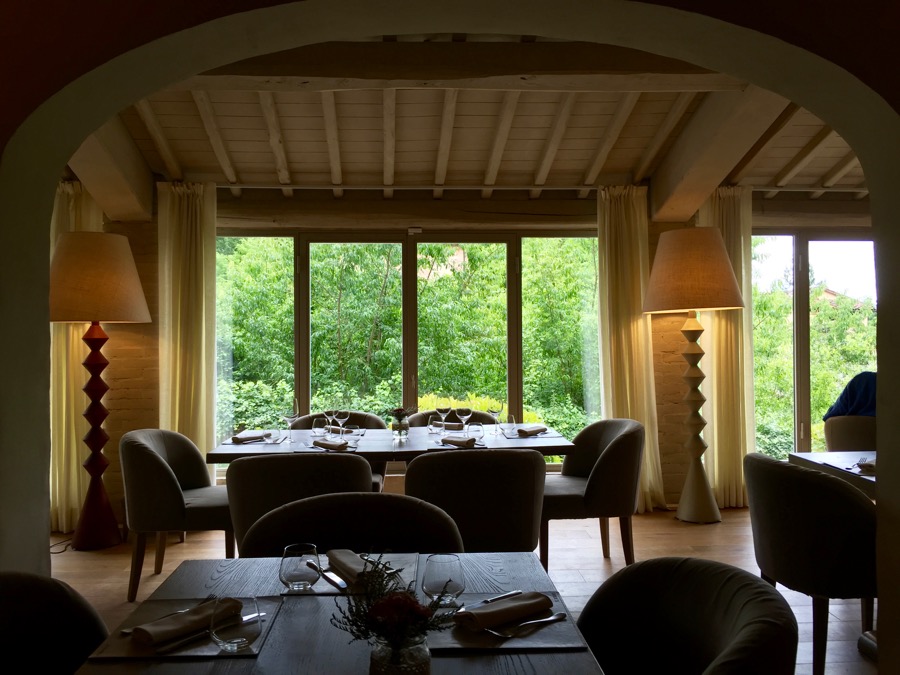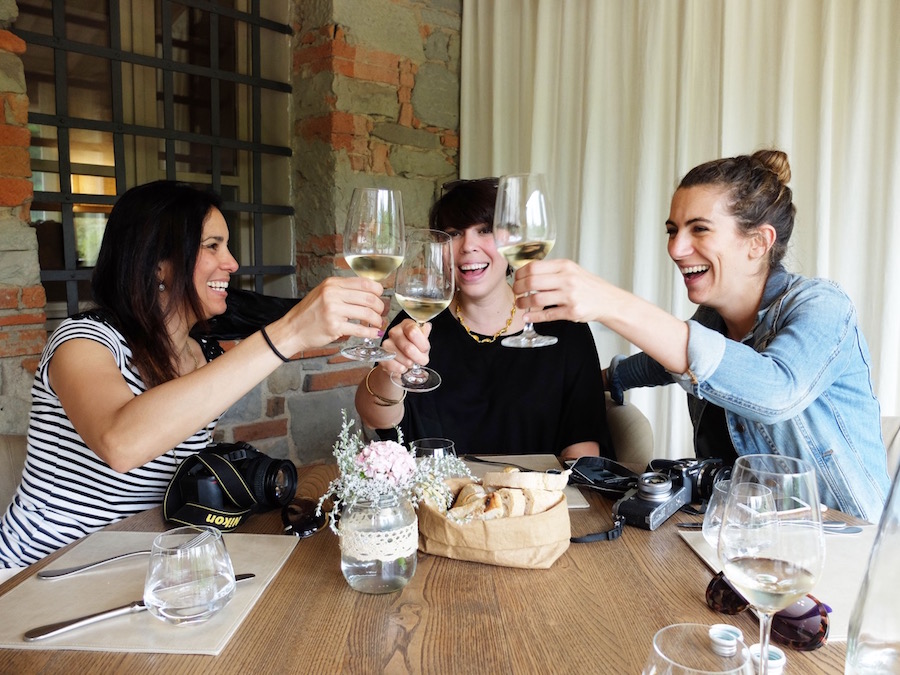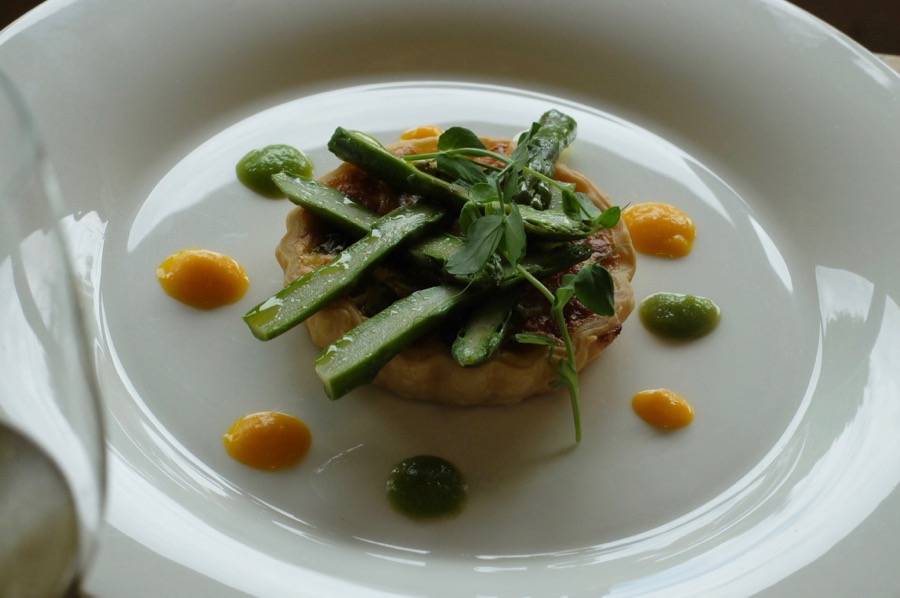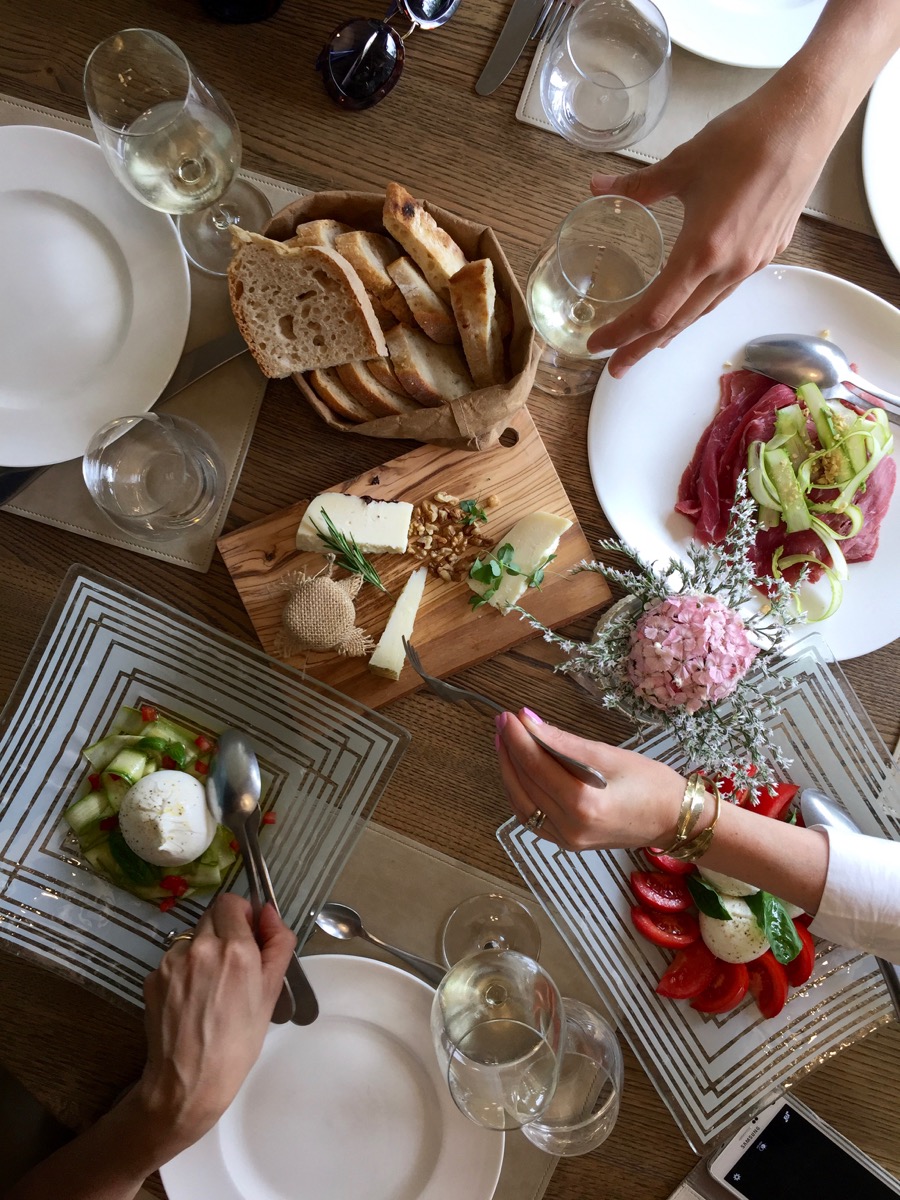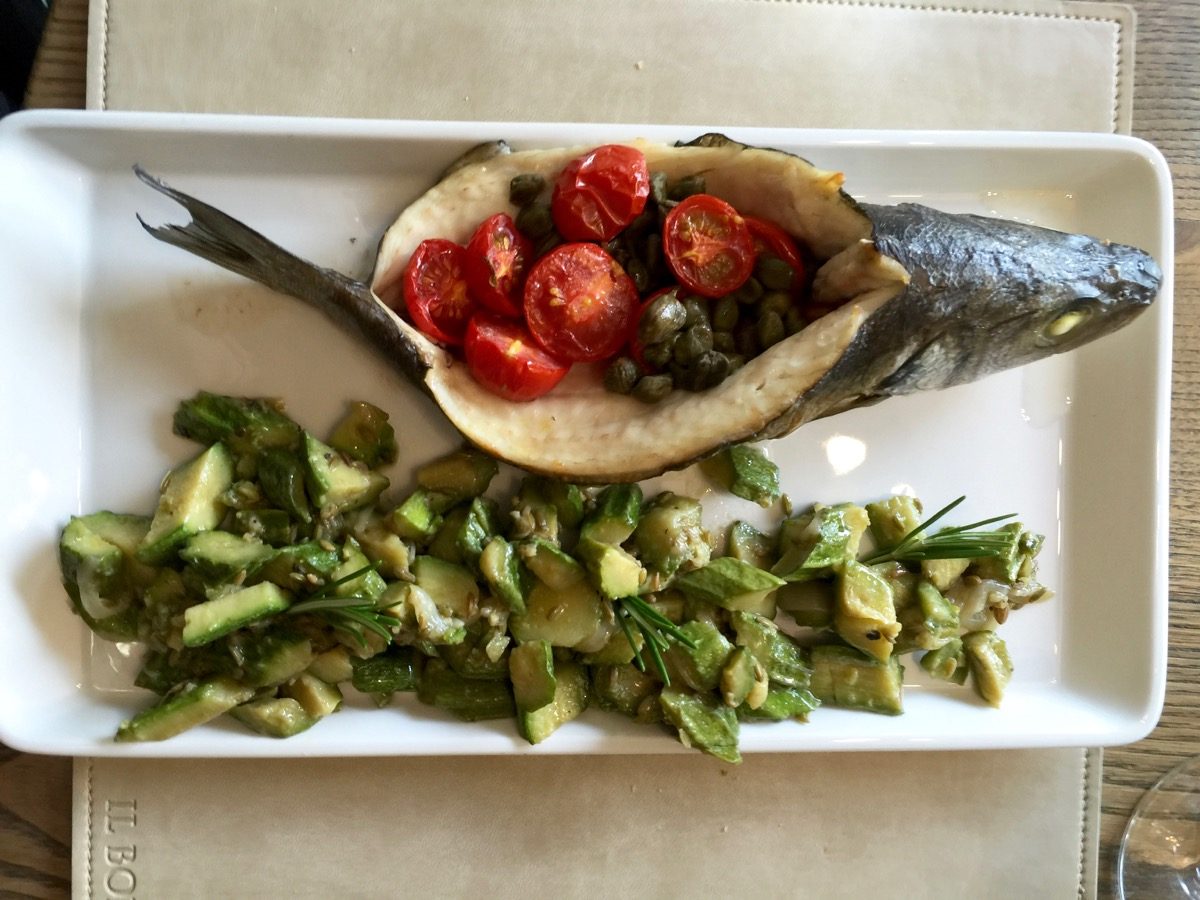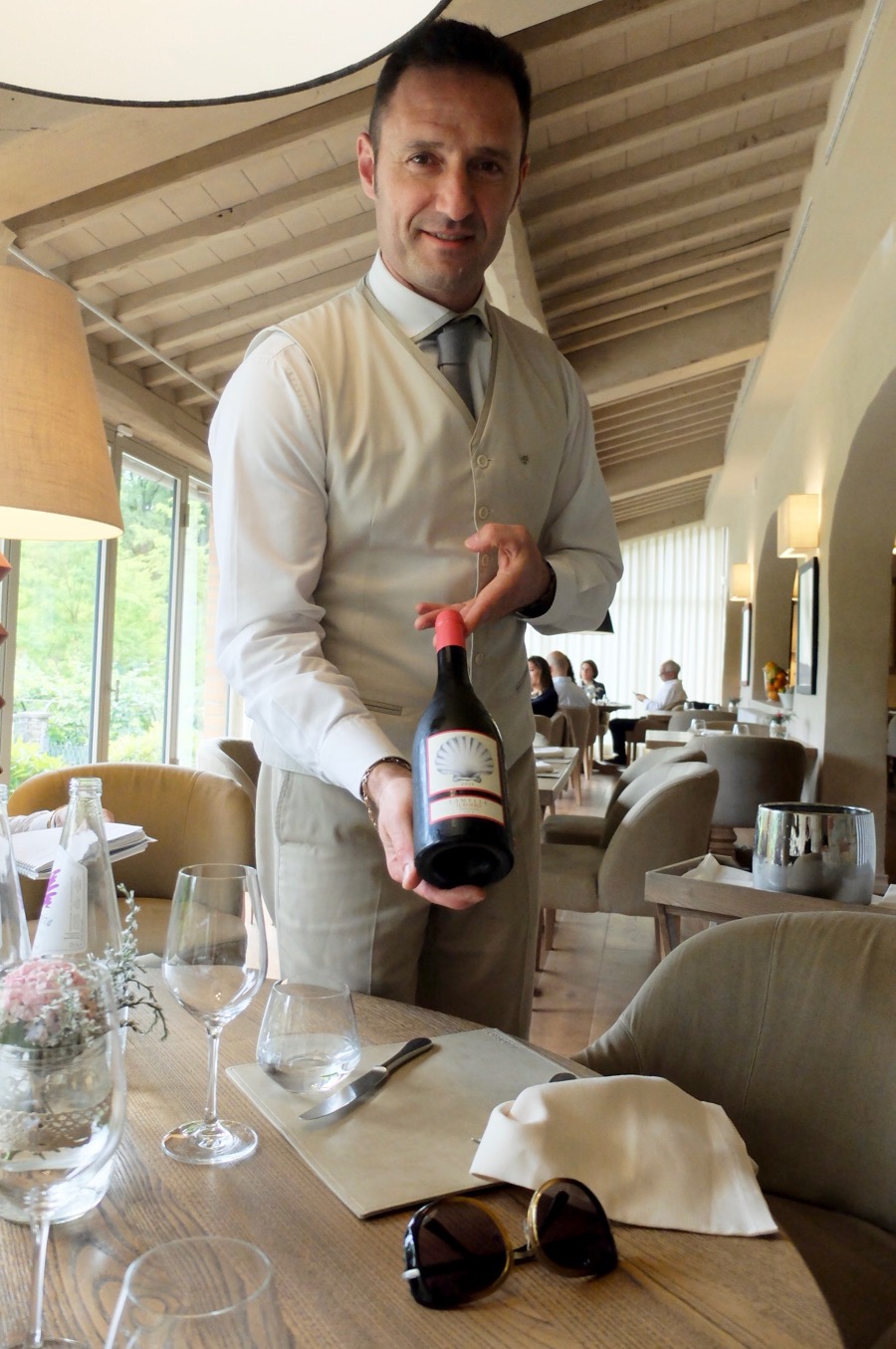 After lunch, I head down to Il Borro's spa facilities for a massage. I know this sounds all too good to be true but honestly, it felt that way for me too. Like any first-class resort, options are endless, but my relaxing rubdown used with some of their own wine (well done Borro) was just what the doctor ordered. In fact, I am waiting for Mark Zuckerberg to go ahead and create time travel so this girl can travel back in time and relive this experience.
Additional reasons why Il Borro is a Valdarno treasure
Lest this post become a novel, I will say this. For a luxury Tuscan resort, this place pretty much has all of its bases covered when it comes to mixing up great dining options (both casual and formal) along with wellness facilities, a cool shop where I picked an adorable 15€ brass cuff bracelet, and a cool wine bar where we were able to get a kick-ass cocktail for around 8€. I actually would absolutely come back for a drink, provided I was in the area. That's way cheaper than Florence prices. We visited several of the artisans, all of whom are passionate about what they do and are quick with a story, I'd like to go back and explore their shops a little further.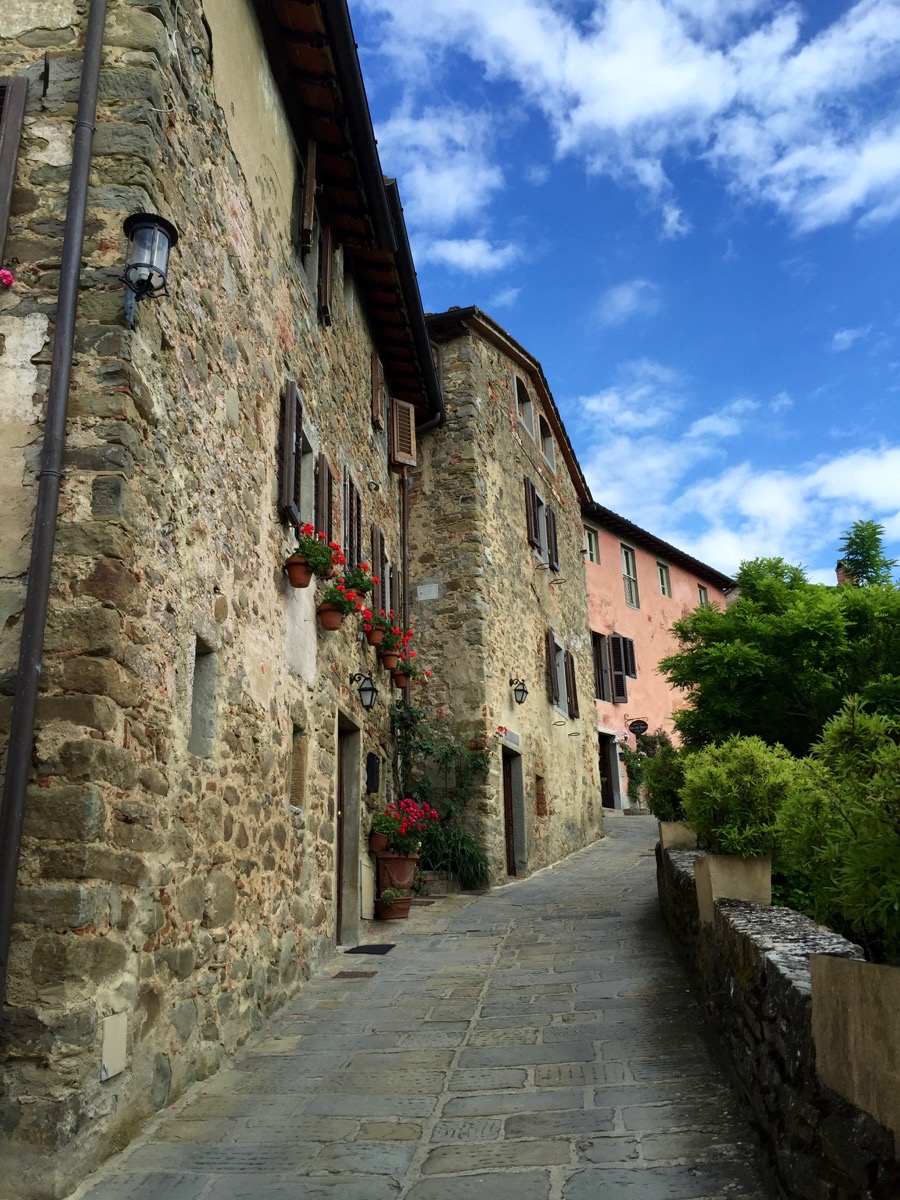 That same evening, my husband joined me and Alexandra and her hubby for dinner at the more formal Osteria, where we contained our culinary journey with Andrea ended with a variety of fish-based dishes and well, more wine.
The next day, before we left, we all went horseback-riding through the countryside ending with a beautiful picnic next to their agriturismo property. It was some of the best three hours of my life this year and Nico was true natural, seriously this guy could resurrect horse whisper, albeit a cuter French version. The staff on sight were perfectly adept at showing us the ropes (literally) and making us feel comfortable despite everyone's novice level. This is especially embarrassing to me as I am officially the worst Texan ever, but don't blame me — they use English saddles, ok?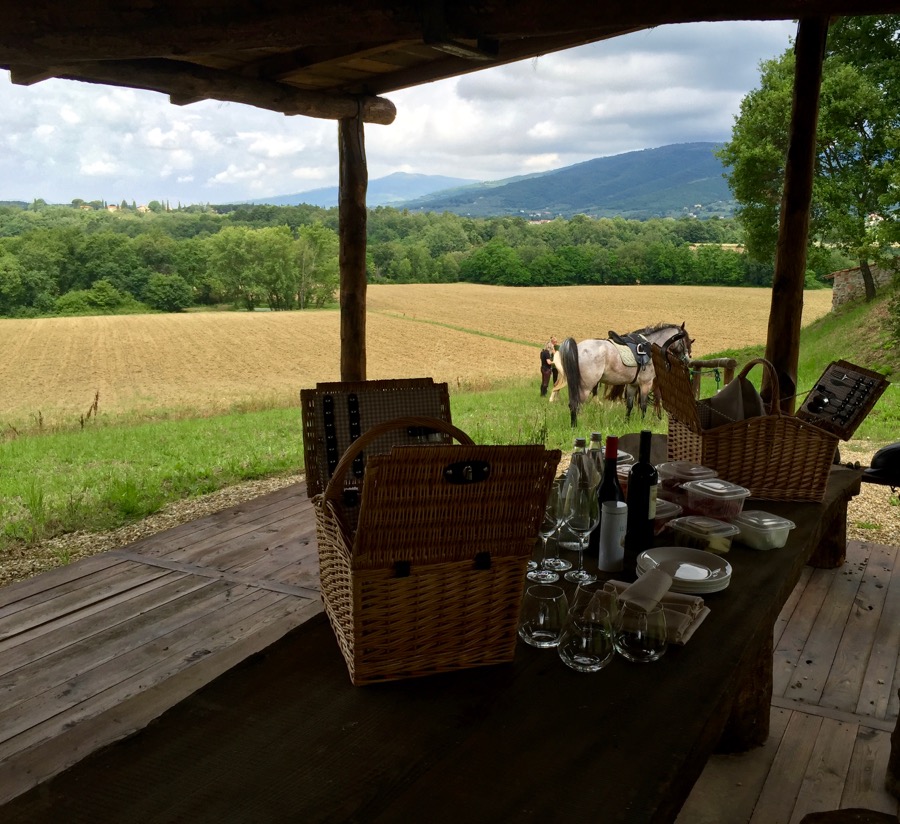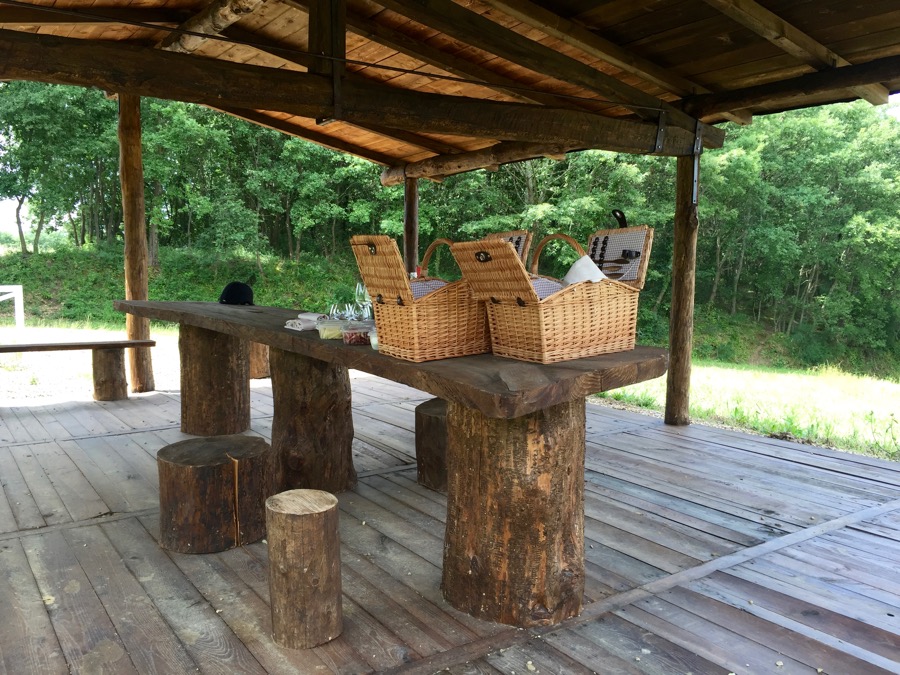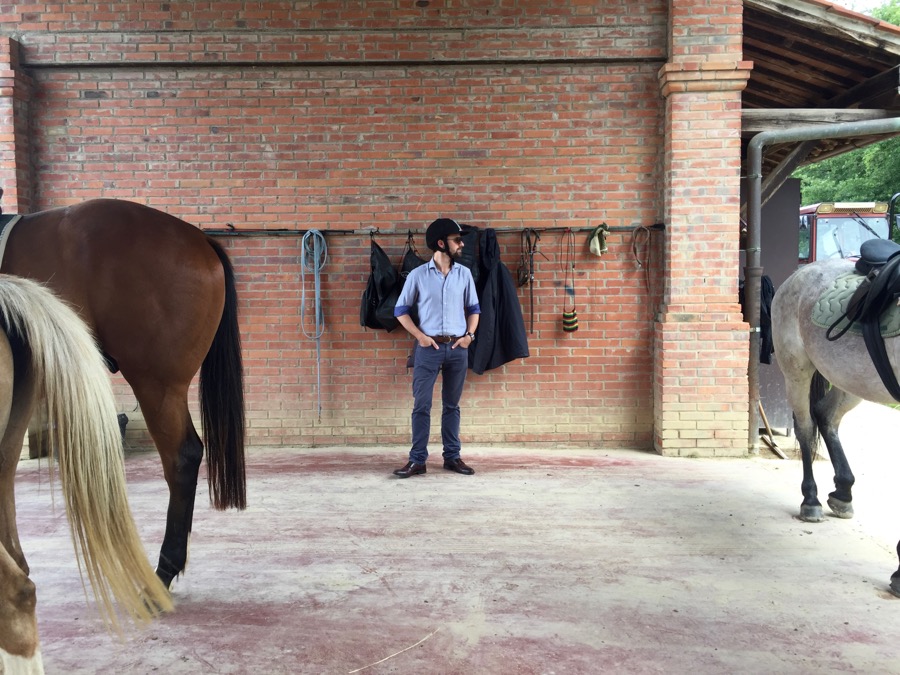 Details You Might Care To Know
Località Borro, 1, 52024 Loro Ciuffenna AR. Prices range from €464 a night. Explore their
upcoming wellness retreats
with the awesome Hanna, coming up this fall and next year.
Disclaimer: I was offered this experience free of charge but all opinions on this post are 100% my own and no one forced me to write/do anything. I just liked it this much to share! 
Il Borro is 60km away from Florence (take the A1 towards Roma and exit Valdarno), 60km from Siena, 20km from Arezzo.