Ah yes, Marrakesh. Leave the shiny airport and soon you'll be speeding past pretty tree-lined boulevards home to fancy luxury resorts, the large walls hiding what I can only imagine to be their own particular paradise. Itching ever close to the Medina, your hotel driver perhaps drops you off a few meters from your riad, and thus begins what I liken to an assault on every one of your senses.
The noise, the people, the donkeys, the scooters whizzing endlessly one centimeter from your bare arm — this is the medina, or old center, and your complaints about 'Italians driving crazy' seem almost laughable when you arrive here.
The first few minutes are all about getting your bearings, which are just as much mental as physical, at least that's how it was for me. Marrakesh is a former imperial city in Morroco, . It's an easy 3 hour flight from Pisa on Ryanair, our entire roundtrip hornet cost around 80€. It was my first visit to the African continent and certainly won't be my last.
Funny enough friends of mine who have visited were pretty divided on whether or not they liked it which made me a little nervous. But after just a few days here, I know this was my kind of place and here's why.
In fact in the book Arabian Nights: A Caravan of Moroccan Dreams. Tahir Shah said "I believe that Marrakech ought to be earned as a destination. The journey is the preparation for the experience. Reaching it too fast derides it, makes it a little less easy to understand."
5pm Avoid getting wide-swiped by a scooter while simultaneously swooning over your Riad 
After you've survived the security and customs line upon landing, it's about time to actually see the city after you've definitely seen enough airport security. After searching through what seemed like hundreds of drivers waiting for hotel guests, we settled in the van careened toward the center.
That was the first step of experiencing exactly how transport moves in a city like Marrakesh. It moves fast, very very fast.
We arrived in the Medina in a no-time, a soft sunset bathing us in golden sunlight. It was short walk to our accommodations but in the interim, I got quite the lesson in having a walk locally. As soon as I set my patent red ballet flat out of the car, it almost got crushed by a donkey cart. It seemed from every angle, people, animals and especially scooters, were flying down the Medina's tiny alleyways at a pretty dangerous speed, you just had to stay out of the way. I'm pretty sure it's the one city that needs no hyperlapse app, the main goal you have is not getting flattened by a variety of vehicles.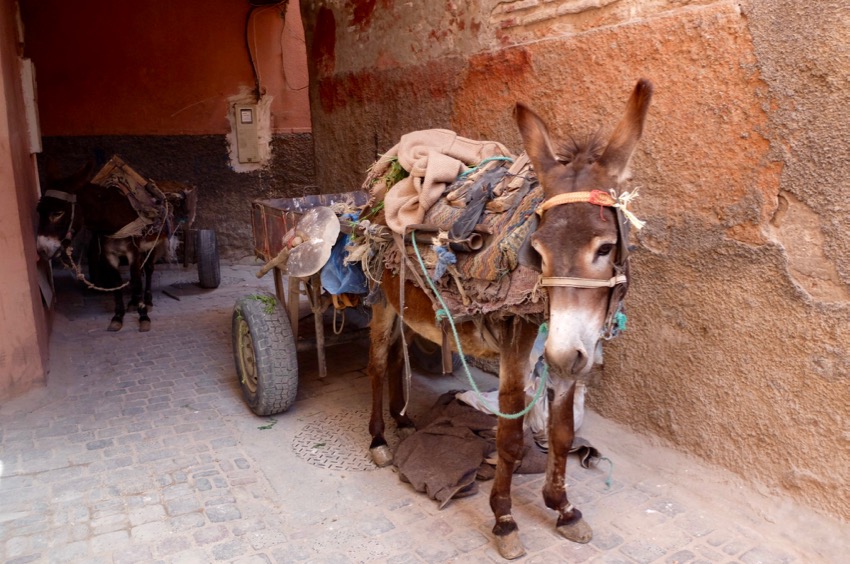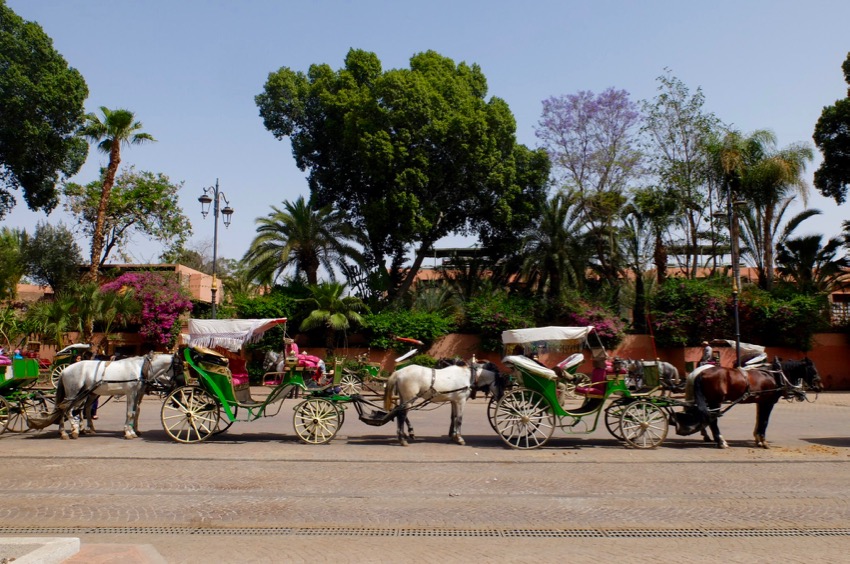 Eventually we landed in front of a large door, which I knew would be our riad, which is a traditional Moroccan house featuring an inner courtyard. It's an wonderful way to capture the local atmosphere and most of them are oasis from the chaos that lies just outside your door. For our first night, we choose Dar Mo'da. This 19th century hideaway is a spectacular  in the heart of the historic center and the former home of a Milanese businessman (I can't escape Italians wherever in the world we are).
We were met with the fabulous Mounaim (who was rather dreamy – I didn't say that 😉 and his team, who took us up to our rooftop room with a view that would take anyone's breath away.  It certainly made me do a happy dance. I had to pinch myself that I wasn't dreaming because this is exactly what we wanted. Pictures seem to work better than words in occasions like this so have a look for yourself at this splendid old-world mystique and you'll be wanting to book a trip to Marrakesh in no time.
ps. The level of service here is frankly insane (in a good way), while outside might seem like a different story, inside your wish is their command, and I will be eternally grateful for Mounaim and his help.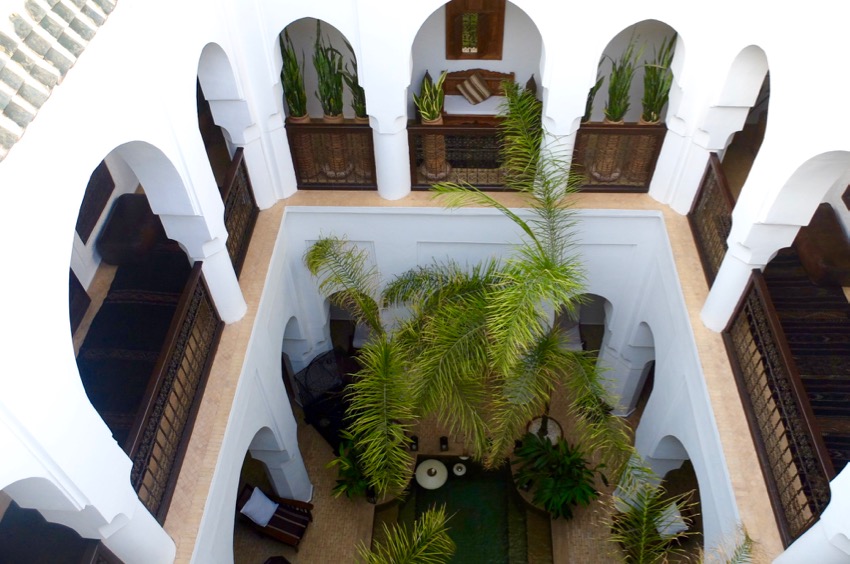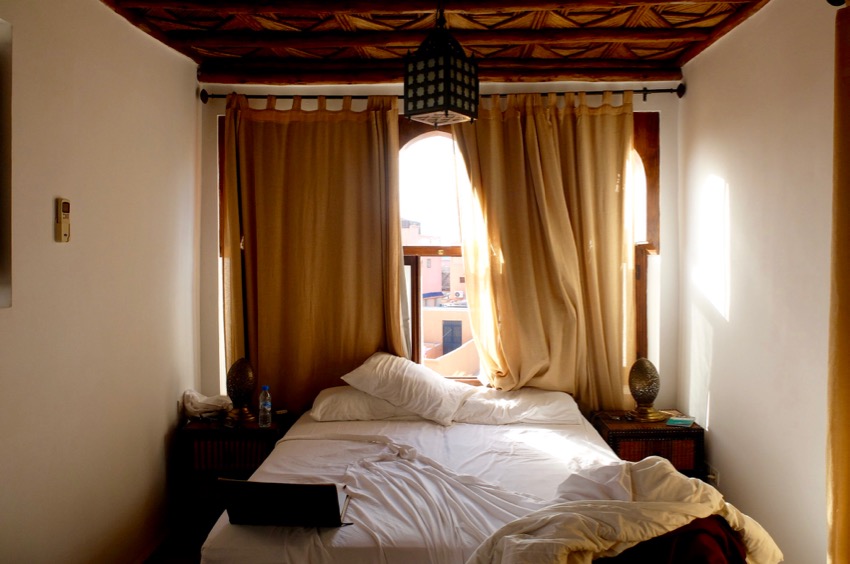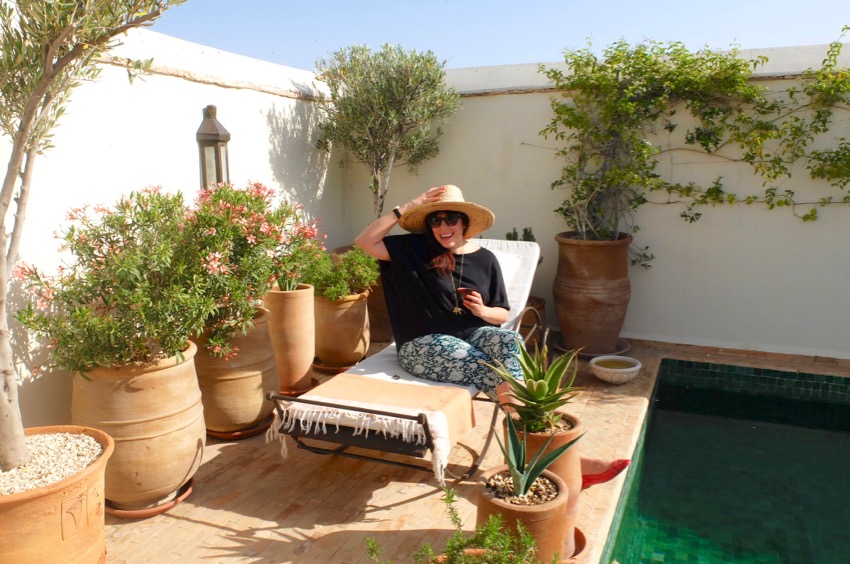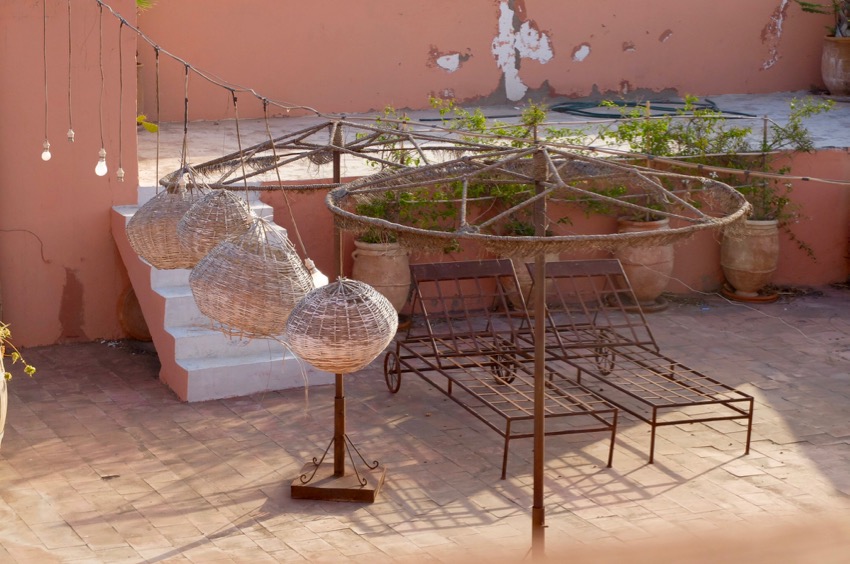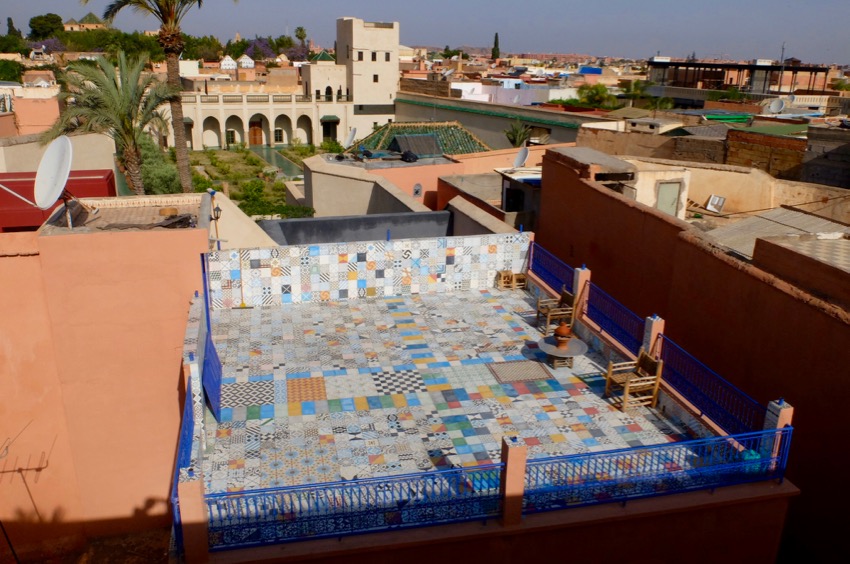 8pm Experiencing the epitome of organized chaos, say آهلاً وَ سهلاً (welcome) to Djemaa el-Fna – Marrakesh's most famous square
To get your bearings in a city like Marrakesh, head to the large square Djemaa el-Fna, a place I sort of wish had it's own 24/7 live cam, does it? It has quite the sordid past, around AD 1050 it was more known for its daily public executions than for the freshly-squeezed orange juice you can find here currently. Every corner pulses with energy, it's a hodgepodge of everything, snake-charmers, people selling everything imaginable and plenty of fellow tourists taking it all in.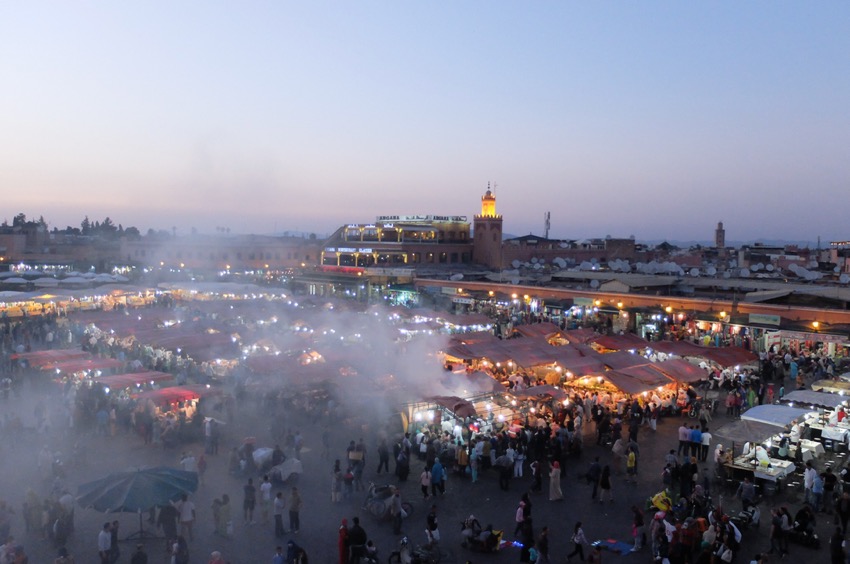 9pm: Dinner in modern Moroccan restaurant Latitude 31
First meals are always important, it sets the culinary prose for the rest of the trip which is why we wanted something nice, but not too fancy for our first dinner. We ended up going with a cute place called Latitude 31 on Rue El Gza. It's the kind of place you can get a chicken tagine with caramelised apples and thyme honey and while you can't get alcohol here, indulge in one of their fresh juices. I highly recommend getting the contemporary selection of Moroccan salads which were probably our favorite part of the meal.
10am breakfast At Dar Mo'da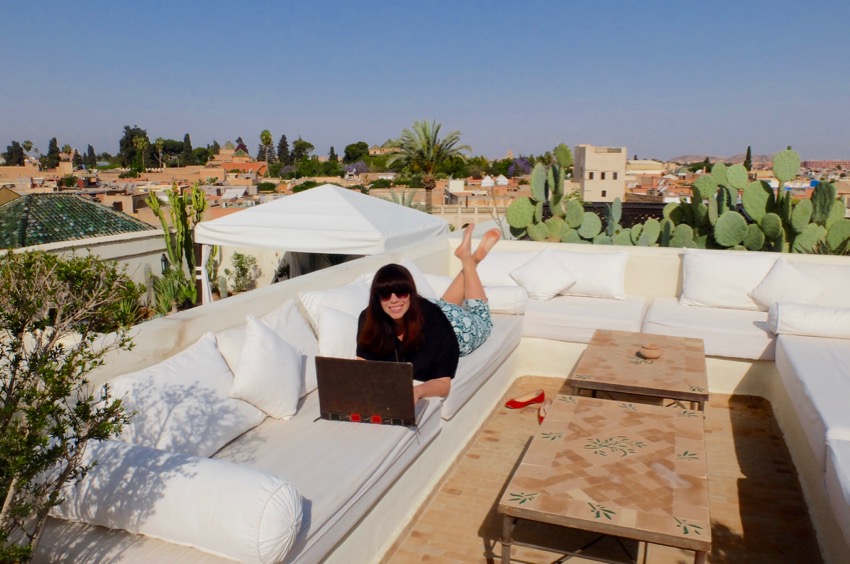 I read somewhere that dates in the Middle East have a past that dates back over 6,000 years, not only as a means of substance but also for various household items, There are over 100 varieties in the country of Morocco alone, and I'd probably eat them all if I could. Breakfasts for us consisted of fresh fruits, coffee (we're too Italian to give this up), yogurt, homemade preserves on bread or crepes. Honestly I'm not a huge breakfast eater but a few dates and dried apricots was enough to add an extra spring to my step.
11:00am, Visiting The Jardin Majorelle 
One of the most iconic places to visits is the desert gardens of Jardin Majorelle, gifted by Yves Saint Lauren to the city of Marrakesh. Saint Laurent once said "A visit to Marrakech was a great shock to me. This city taught me color" and if you visit this place, you'll see why.
Together with his partner Pierre Bergé, they bought the Majorelle property from ethnobotanist Abderrazak Benchaâbane and worked hard to preserve it. You've likely seen the photos, the bright blue background and shock of green in what is a pretty dusty city. The Berber Museum was a highlight for us, it gave a bit of insight into Morocco's indigenous inhabitants.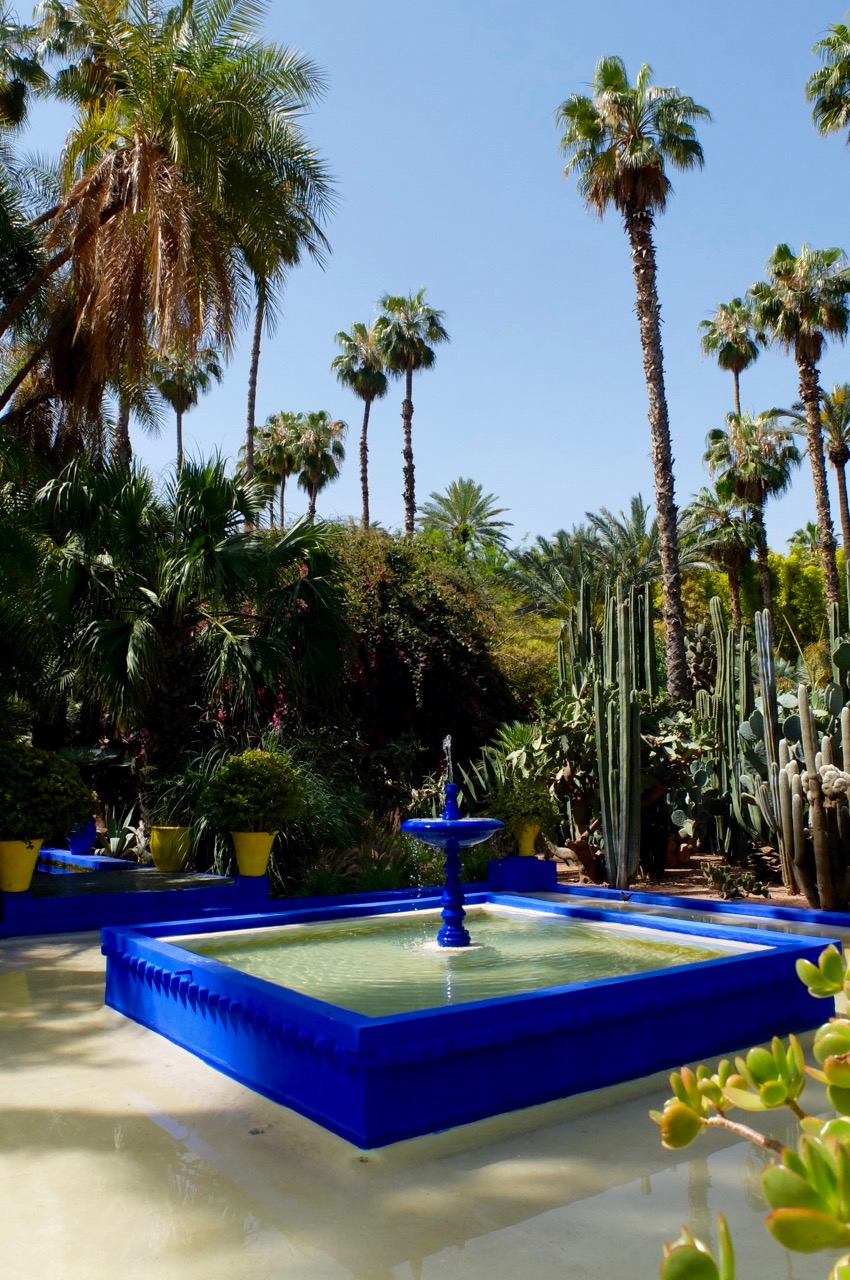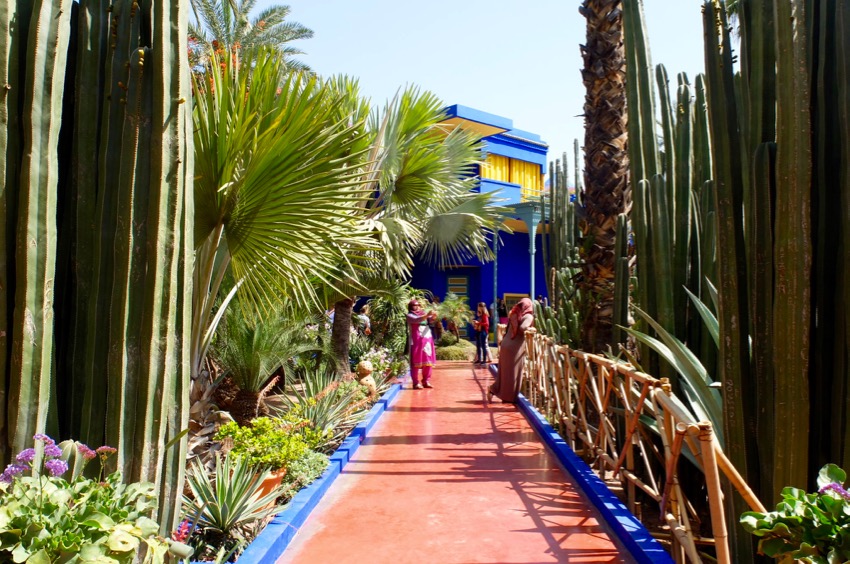 1pm, Finding our own green oasis for lunch at Le Jardin
After walking to Jardin Majorelle, we sought to leave the overpriced boutique shops and cafes lining the route, returning instead to the Medina for lunch in a leafy courtyard of a restored 17th century riad. Le Jardin is a pretty little oasis serving up Moroccan-style tapas like cold curried lentils, stuffed film pastry (so good) and happens to be somewhere you can have a glass of wine or beer if that takes your fancy.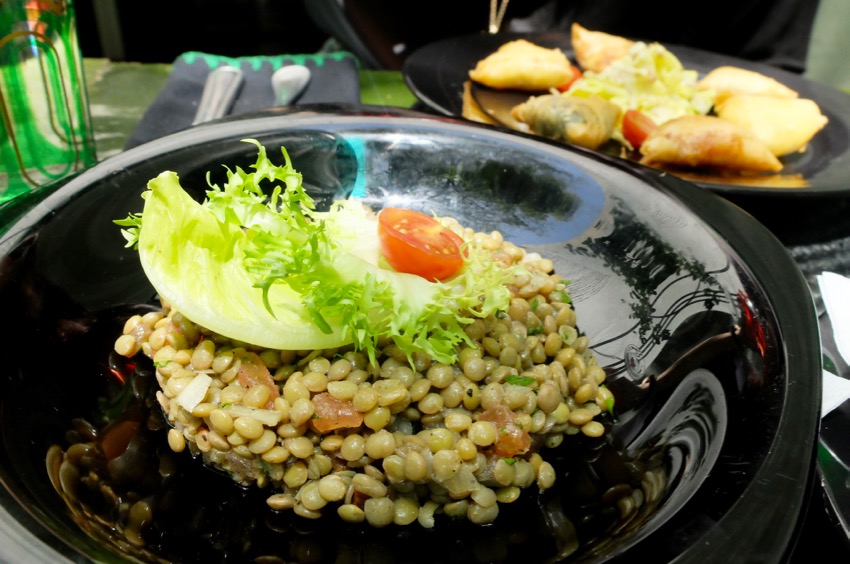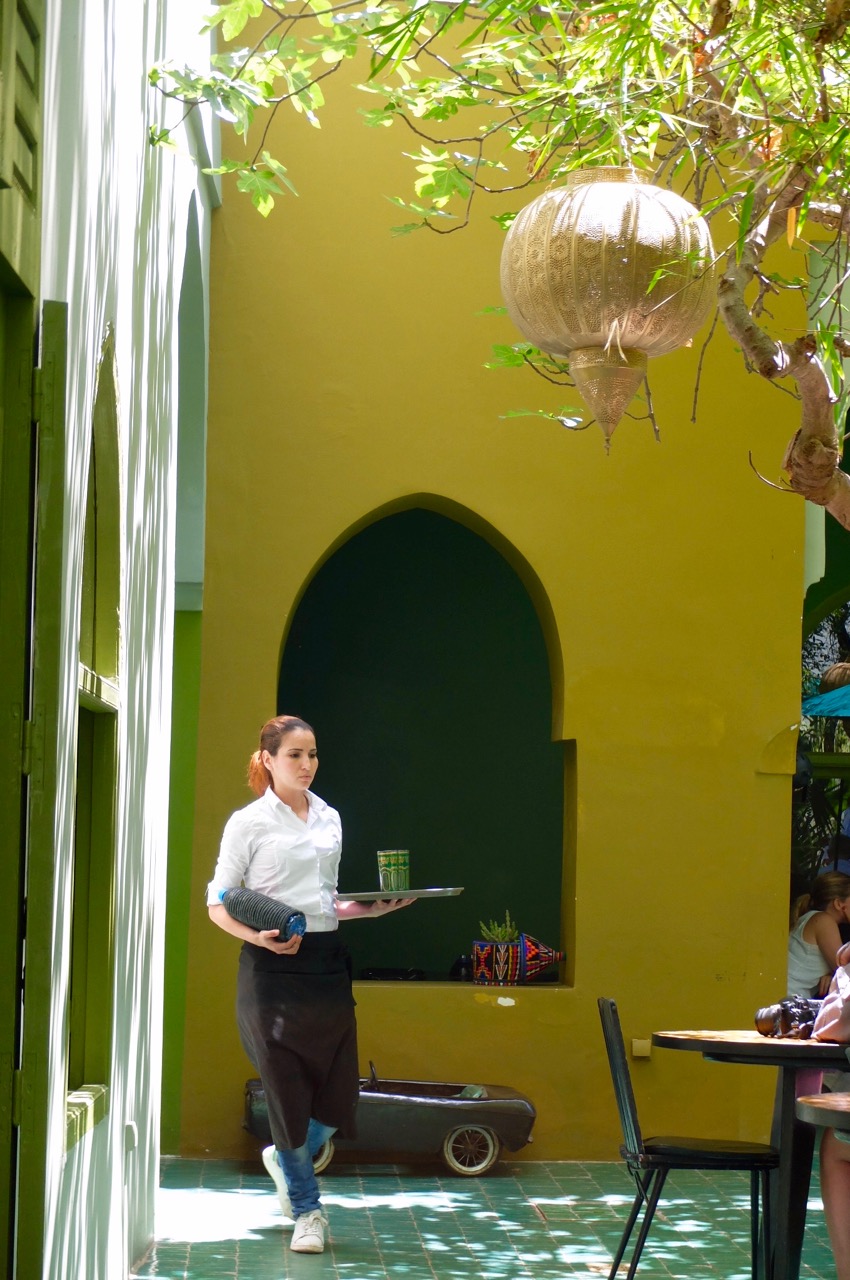 2pm Colors of the Medina 
Luckily for us, the beating hot sun that I've heard so much about in Morocco wasn't yet overtly stifling, which meant an after-lunch stroll was not only recommended, also encouraged. Once you get the hang of not getting walking in what are the craziest busy streets I've experienced to date, you can truly get a feel for the pulsating heart of the old town.
While I would be careful about taking the photos of people (ask first) Marrakesh is a photographer's dream. And while I am only an amateur, I think I snapped around a 1000 shots during our 3 day vacation, and I could have taken more. Hence why this is such a visual post.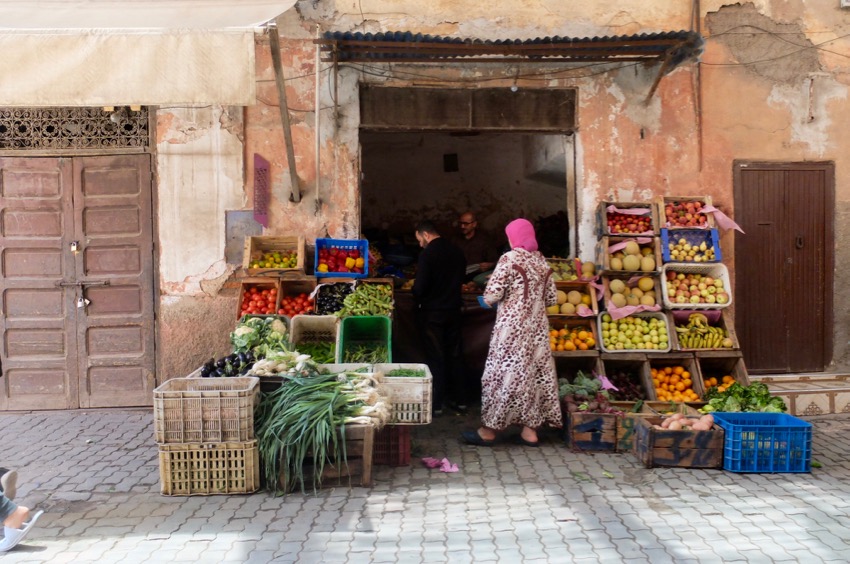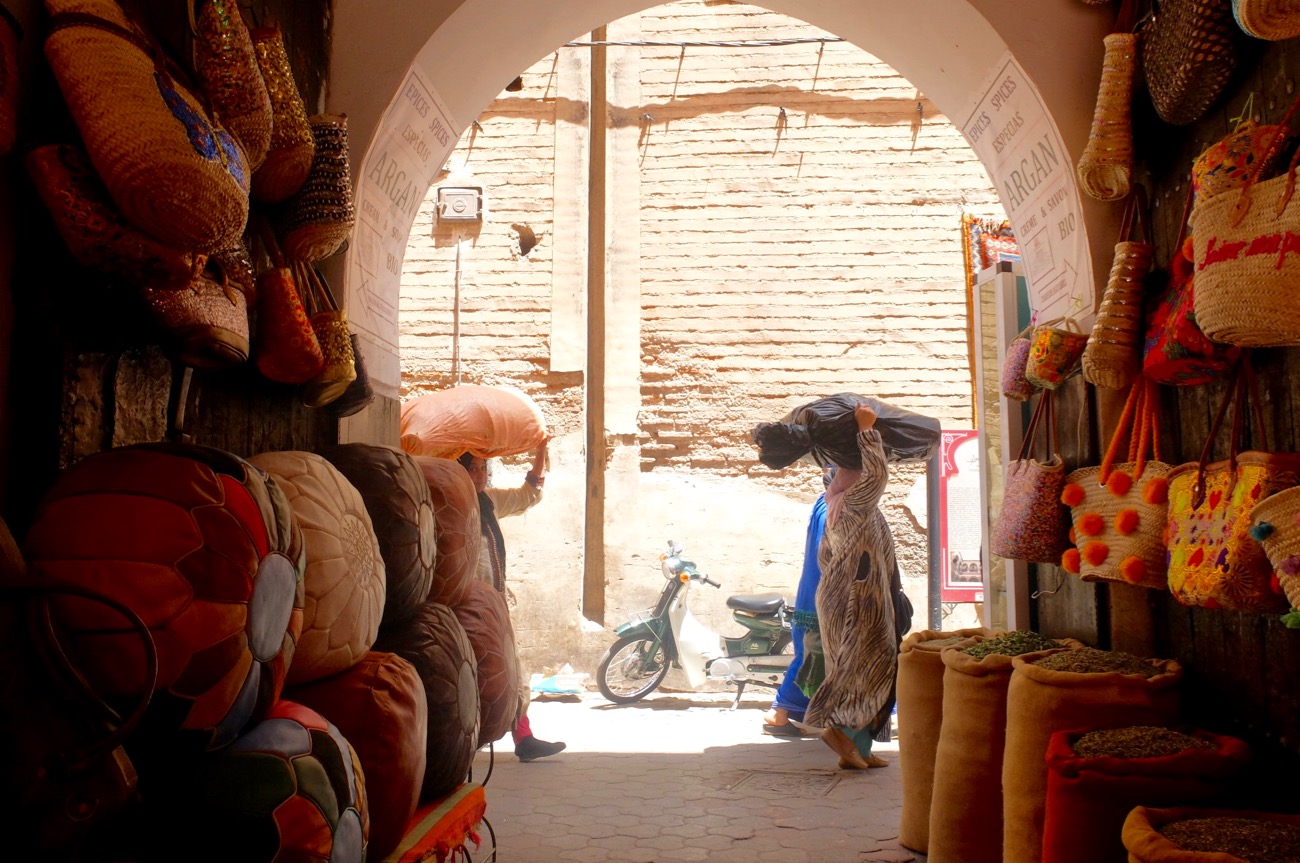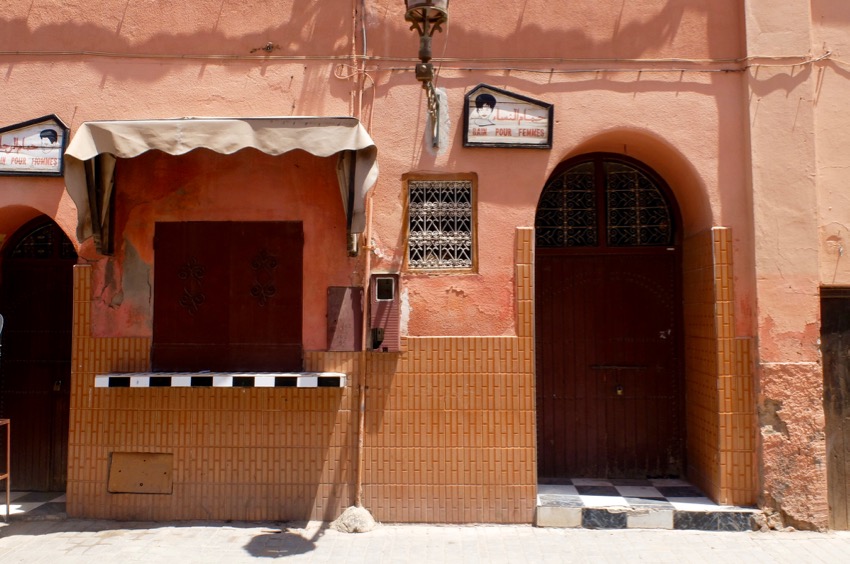 3pm Hopping Riads
Typically for such a short trip, I'd choose to stay in one place, but I was looking to experience a variety of different options so our next place to stay for the next two nights was El Fenn's "Little Sister." El Fenn is well-known as being one of the most stylish, luxury riads opened by Vanessa Branson and Howell James near Bab el Ksour. Little Sister is an offset of El Fenn, think a more affordable option in a smaller riad located closeby.
Those staying at Little Sister still have access to all of the (wonderful) and large facilities of El Fenn, which include a lovely plunge pool, three courtyards to enjoy tea or a catch up up with the local resident turtles. My favorite was the lovely rooftop terrace overlooking the Koutoubia mosque and snow-capped Atlas mountains, oh yes, they have a cocktail bar too!
I loved all of the secret spots where one could while away a few hours reading or just enjoying the quiet of a magnificently designed place.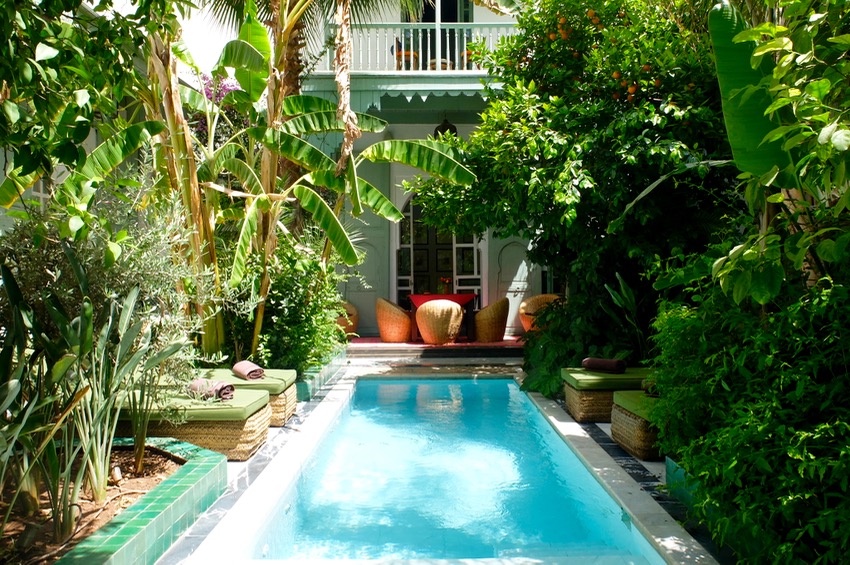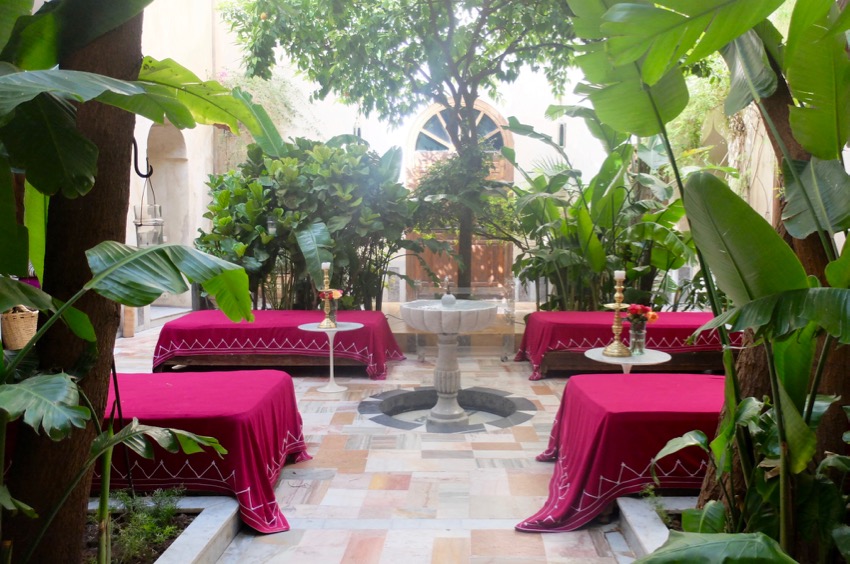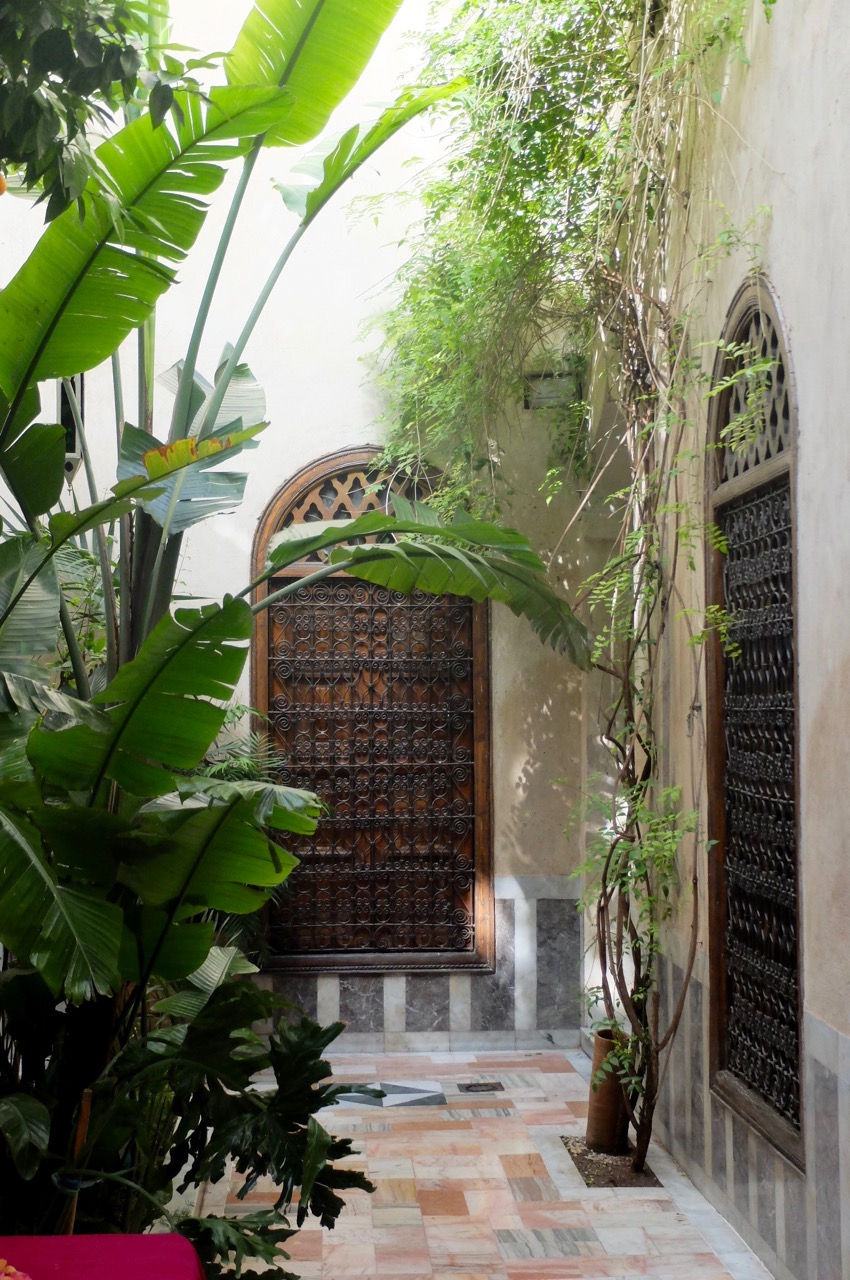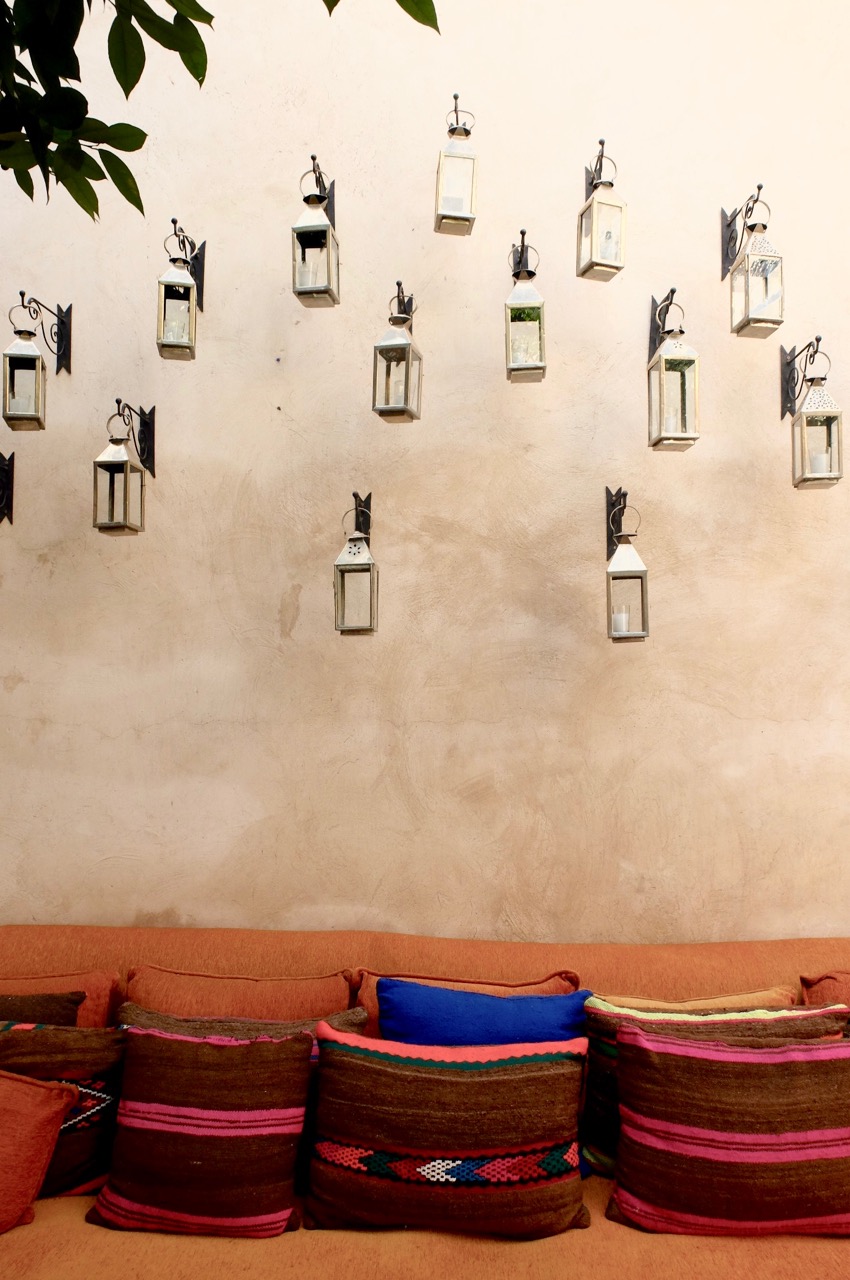 4pm: Discovering the palace named after a concubine, Bahia
One stop that absolutely should be on your list is the majestic Bahia Palace located in the Jewish quarter in the district Mellah. Its origins are murky, however it was said to have been built in 1866–7 for a former slave. It was then the palace of Sultan Moulay el Hassan I's grand vizier Bou Ahmed, his four wives and 24 concubines.  He clearly had a favorite (which also reflected in the size of their living quarters) and that was the concubine called Lalla Zineb who inspired the name of the palace. Bahia means "beautiful" and that's due to this being the work of some of the country's greatest artisans.
Today, it has been preserved quite well, you'll be wowed by the mosaics and intricate, inlaid woodwork ceilings and symmetrical gardens.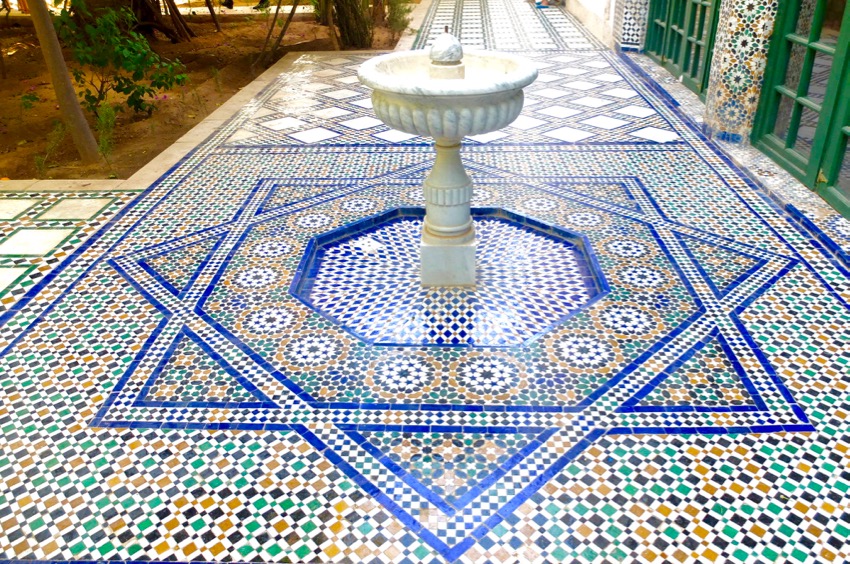 5:30 A quick stop at a 17th century Jewish cemetery 
After exiting the Bahia and taking in some of the pretty local street art and atmosphere, we made our way to a 400 + year old Jewish cemetery located nearby always in the Mellah. Just to clarify, the mellah district, was a Jewish Ghetto were Jews were forced to live from the 15th to the 19th centuries. Until 1912, Jews were forbidden to own property outside the Mellah. Now most of the Jewish population has left, in favor of places like Isreal, France or Casablanca. The Miaara cemetery has been the burial ground for Moroccan jews since the 17th century and isn't really on the tourist trail.
We were the only visitors and people present besides the man who explained how to walk through it all. The white tombstones stretch as far as the eye can focus, it's a place to reflect and revel in the tranquility. If you'd like to read more about the Jewish community in Morocco, I suggest you check out this article.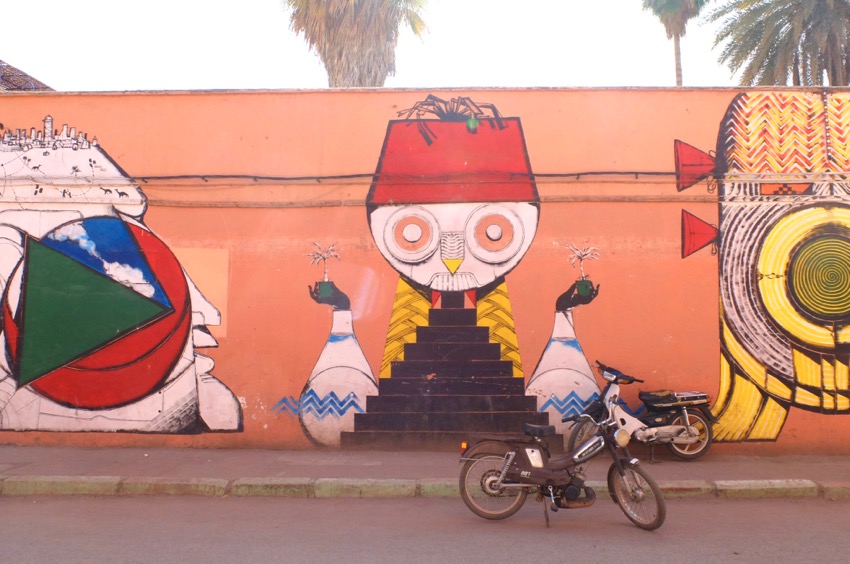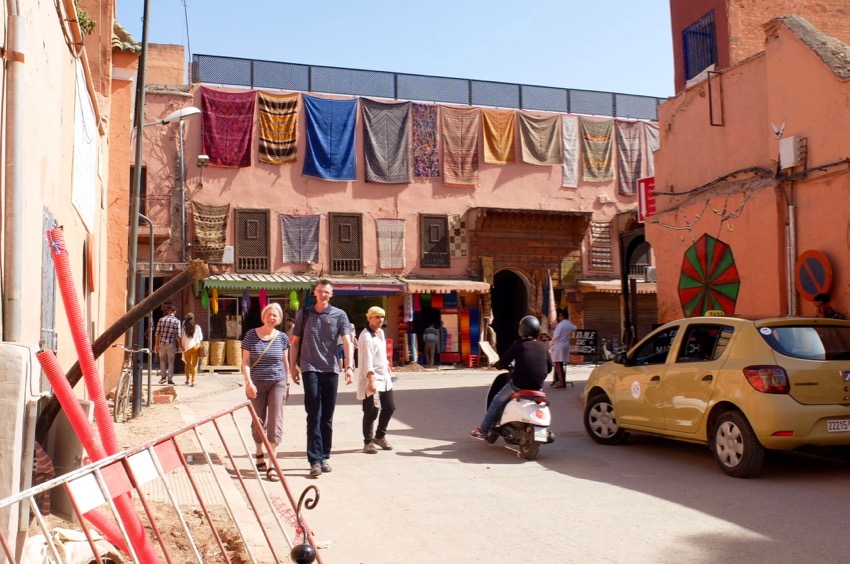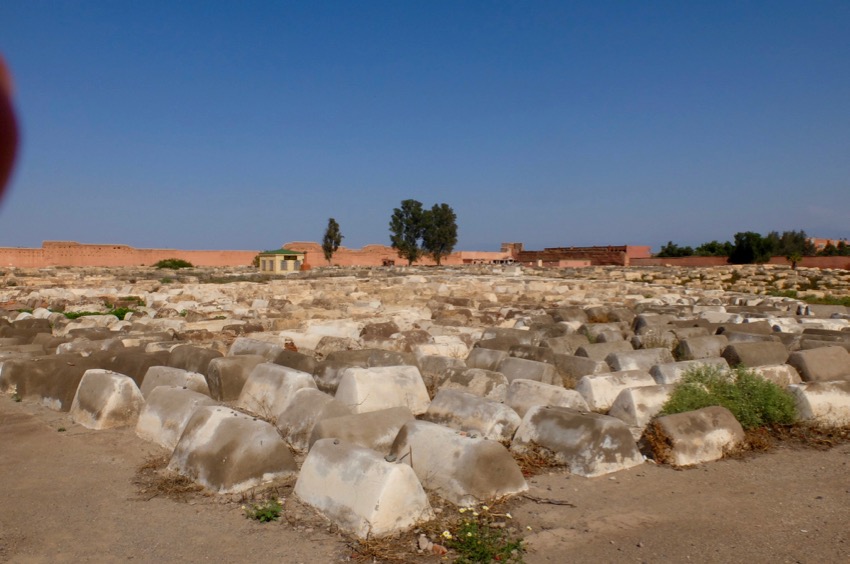 7:30 pm Dusty Cola & The best view in town, Le grand balcon du café glacier
People-watching is somewhat of an art in Morocco. The best place for prime gazing in the most popular square in town is perched on the southern corner of the vast Jemaa al-Fnaa square. While Cafe Glacier lacks in any real charm, just pay for a seemingly ancient dusty Coca-Cola bottle and you'll gain access to the best view. I could have stayed for hours watching every type of human possible walk across this square. From snack charmers to water peddlers, you'll see it all here.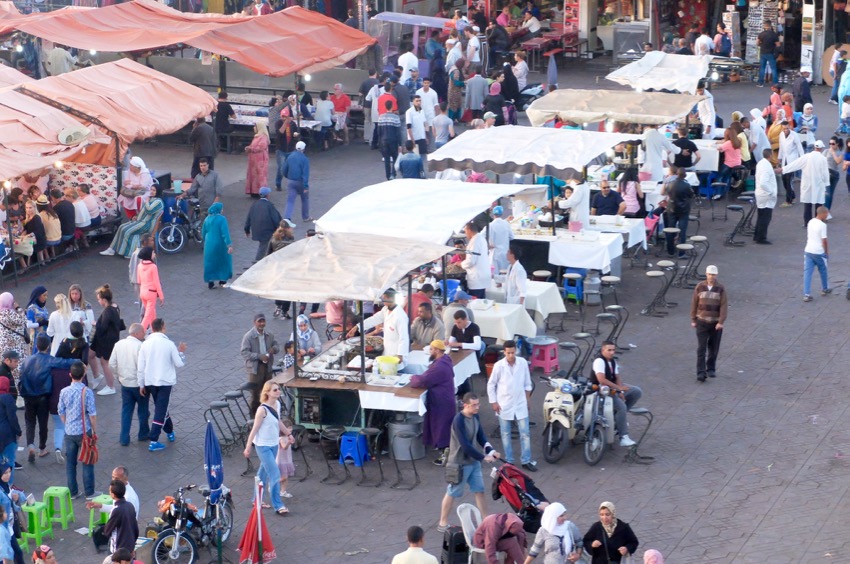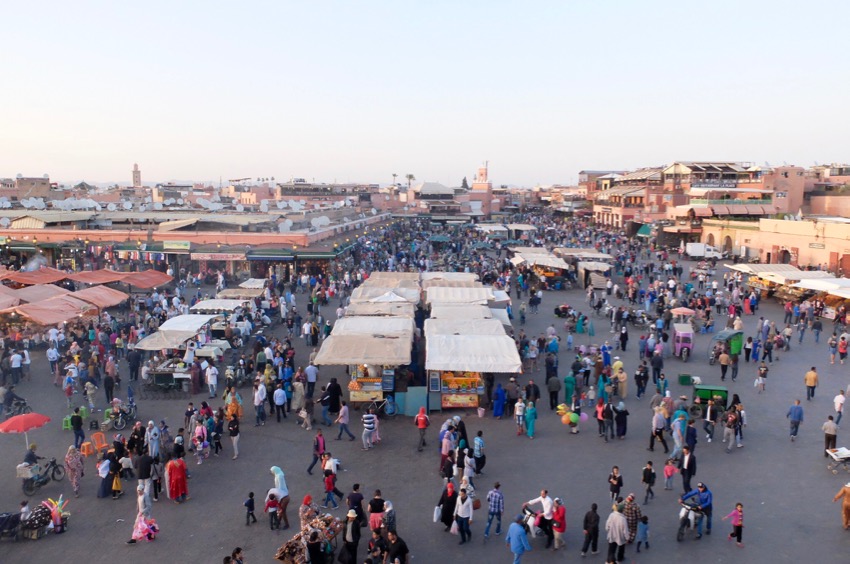 10am breakfast at El Fenn
Luckily for us folks at Little Sister, the dedicated staff leaves a carafe of coffee and hot water near the door at around 7:30m in case you don't want anyone to see your face before coffee. Breakfast was taken on the rooftop of El Fenn, which is a delightful way to start the day as you can see such a range of views from this super large space, plus they whip up a damn good omelette.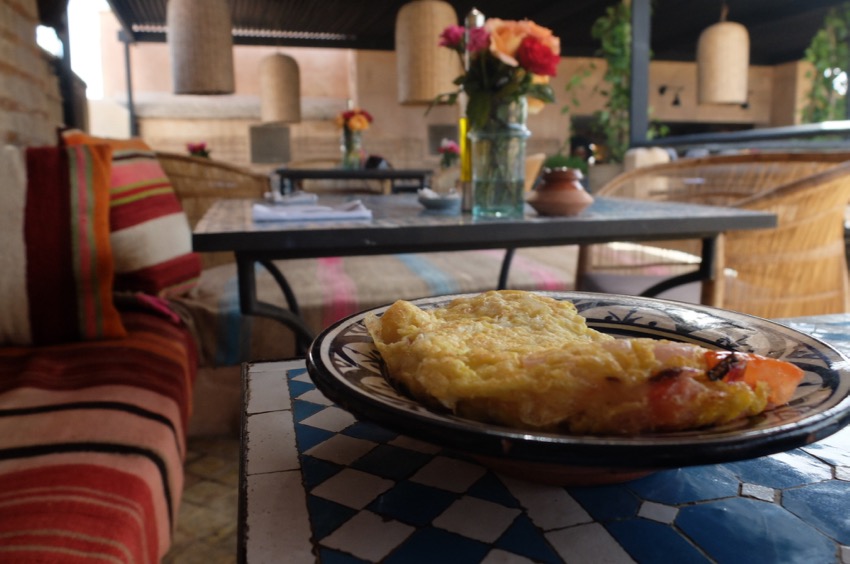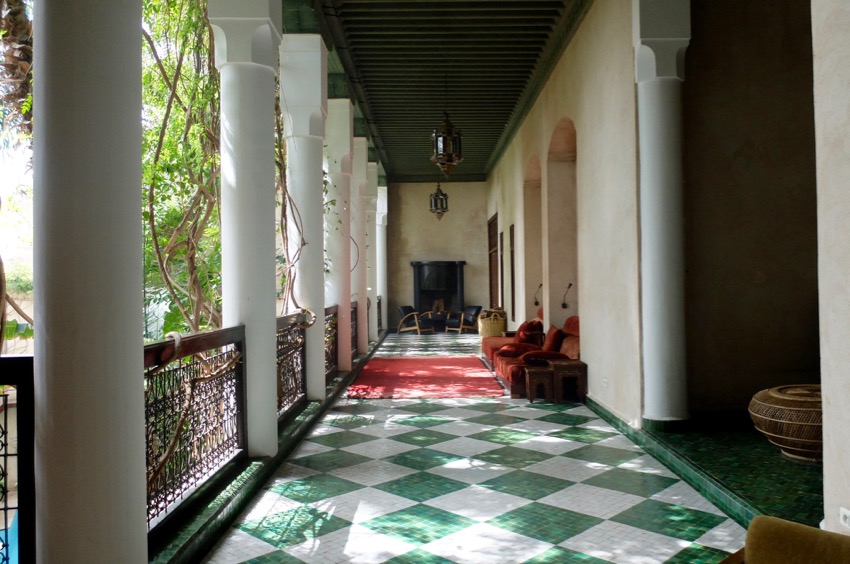 11am Getting willingly lost in Marrakesh's souks 
You can't come to Marrakesh without doing a bit of shopping, luckily a few friends who had visited told me about the wonderful markets and I put on my best brave "bargaining" face. Which basically meant I wanted to seem anything but American.
However we learned quickly that saying "no" is pretty important, otherwise this could happen to you. Harmless of course but be aware taking a picture of someone might mean you need to give them a tip ;-).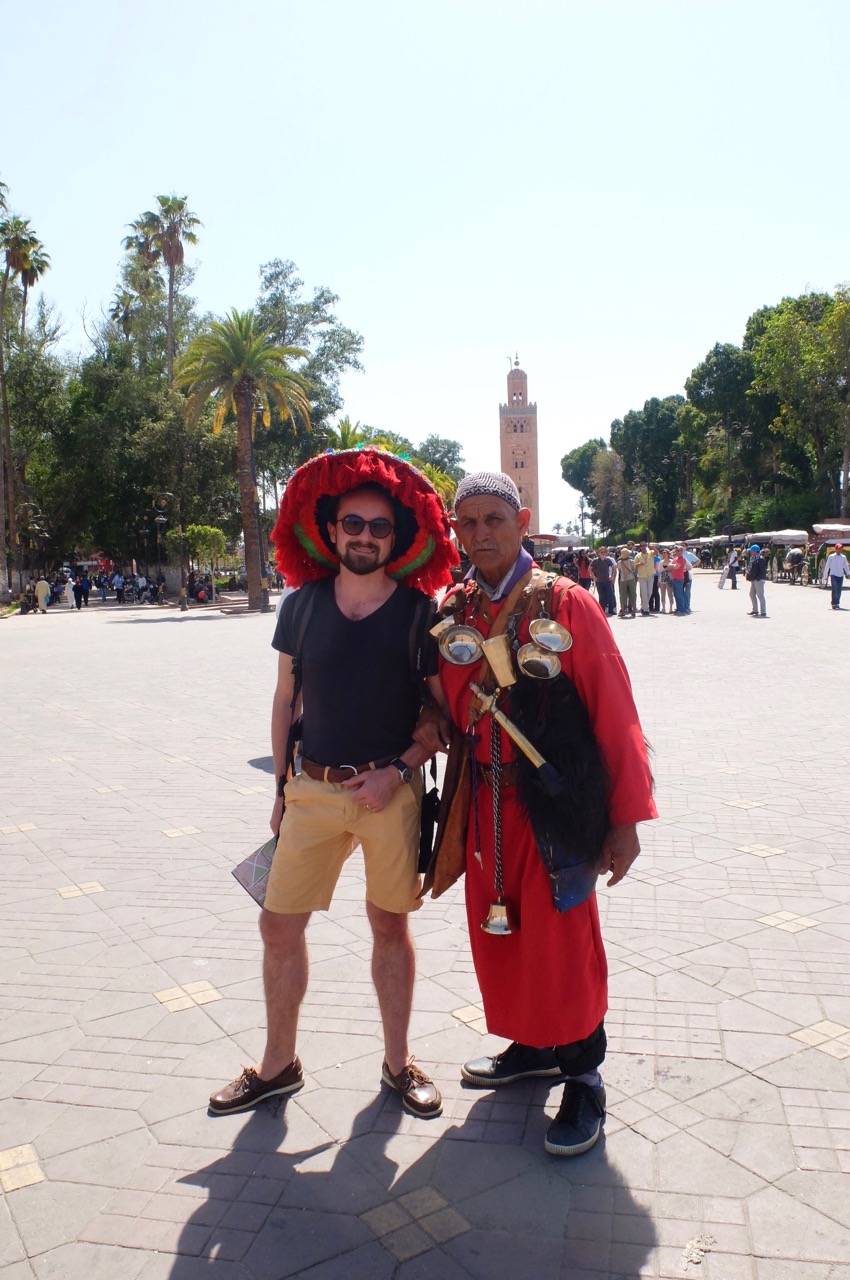 Honestly the souks were just as cool as I imagined they would be, sure, you'll likely have to search through a lot of crap, but it is really quite fun to bargain and get into the frenetic vibe of it all. I loved the small glass tea glasses, these Berber inspired baskets below.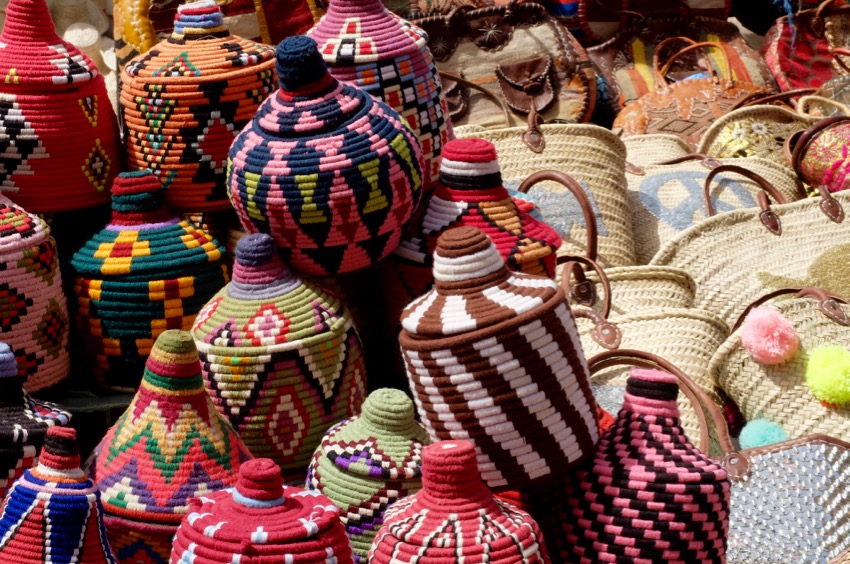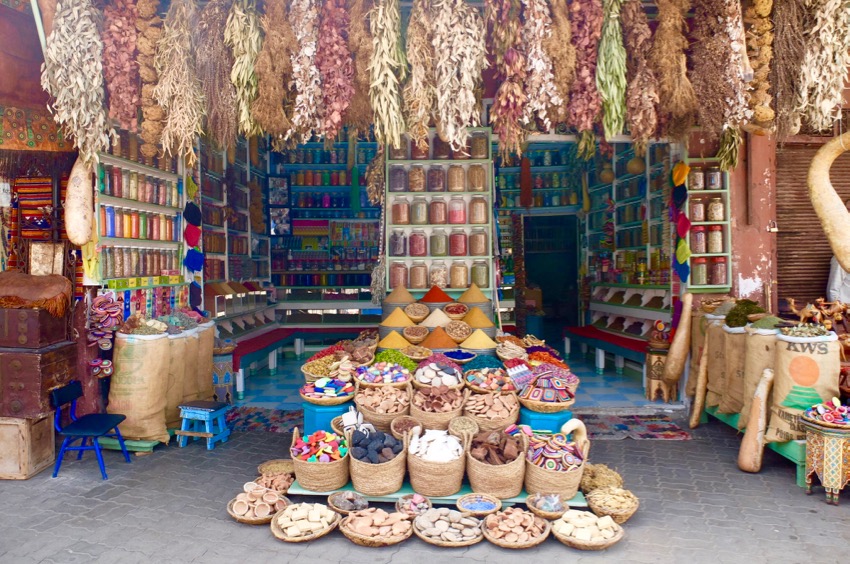 When it comes to the spice market, let your nose lead the way.
We picked a spot and I bargained hard for a variety of goodies including spicy local pepper, lemon & ginger, Argan oil (great for your hair and body) and some sort of weird crystals that you drop in hot water and basically steam your face in. Apparently it's the natural version of Vick's vapor rub. You can also pick up natural "Alep" crystal stone which apparently serves as a local form of deodorant.
A good basis is to look up Le Terrasses des Spices and you'll find this lovely little square right in front. Sure you can find cheaper deals along the tiny alleyways and people sitting on the ground feeling spices out of bags, however I wasn't convinced of the freshness of some of the spices.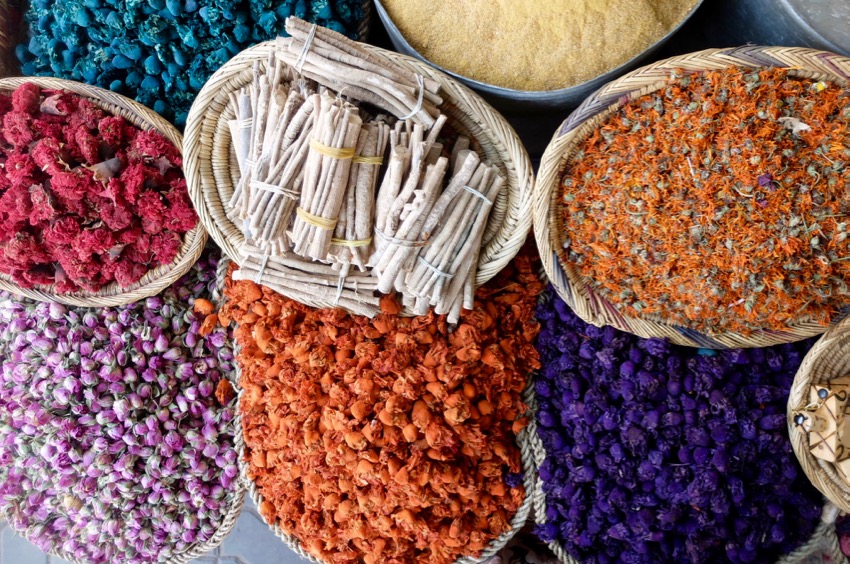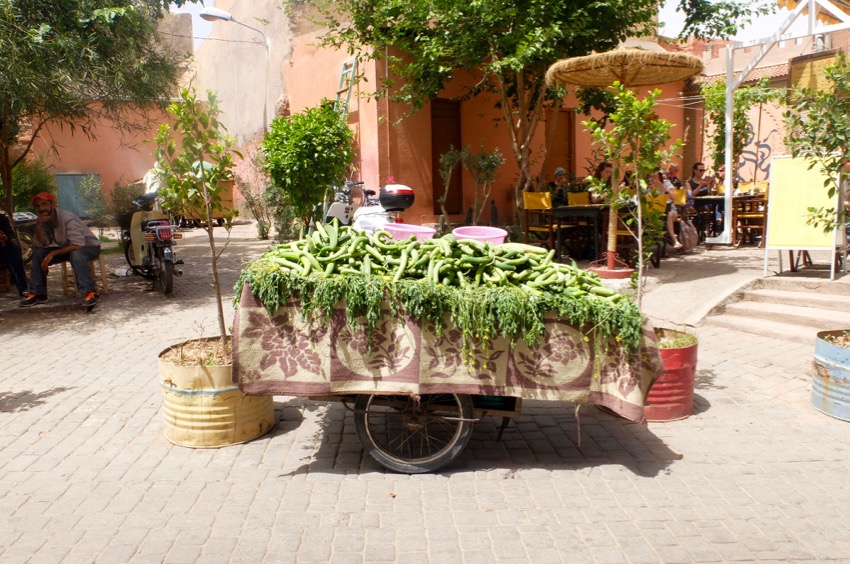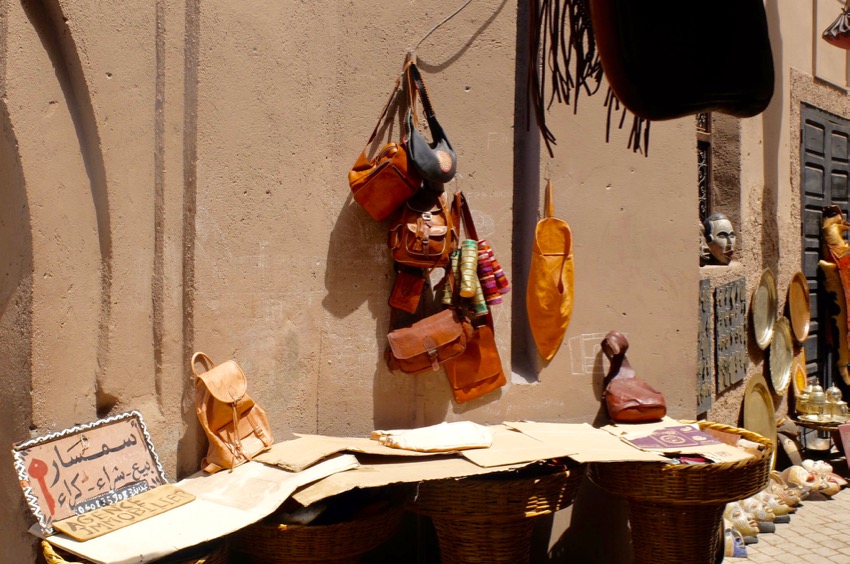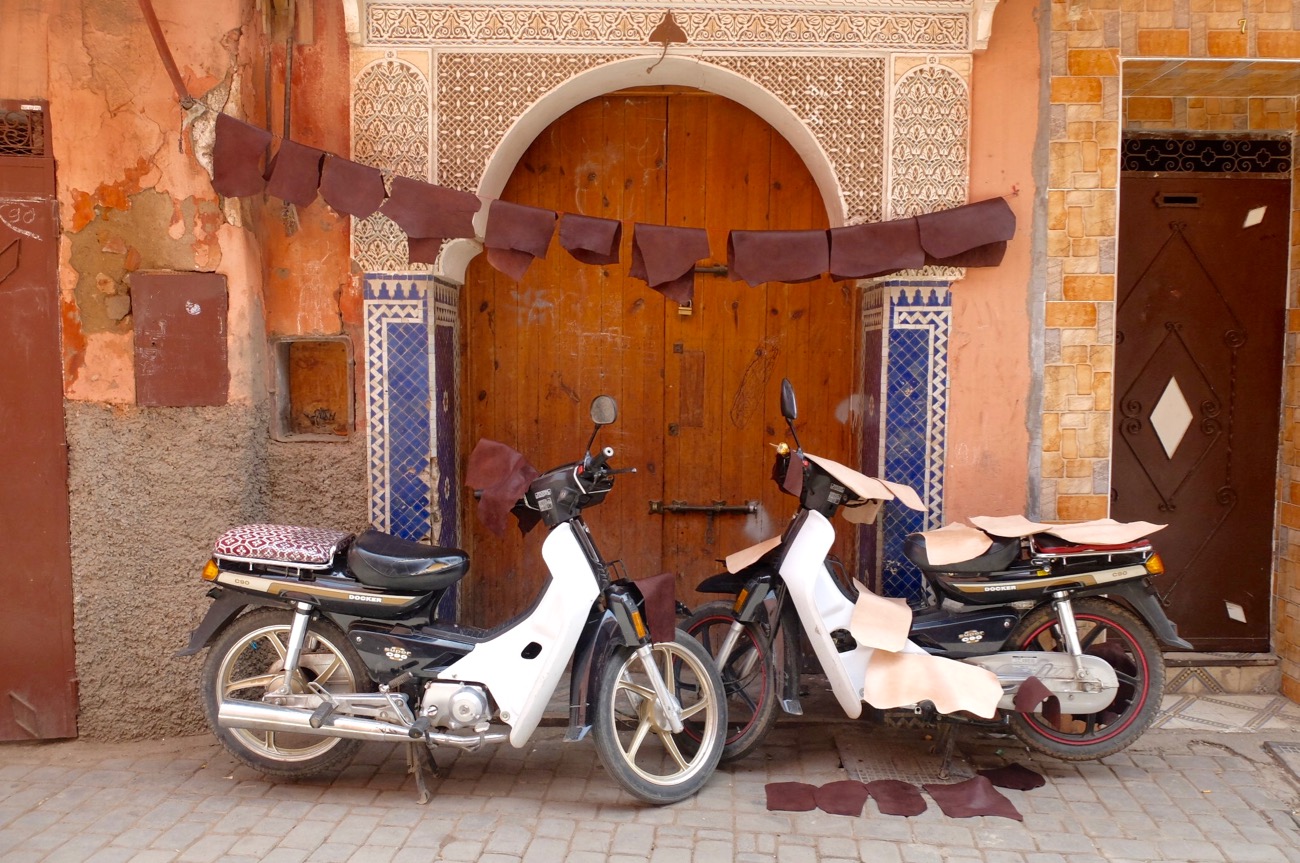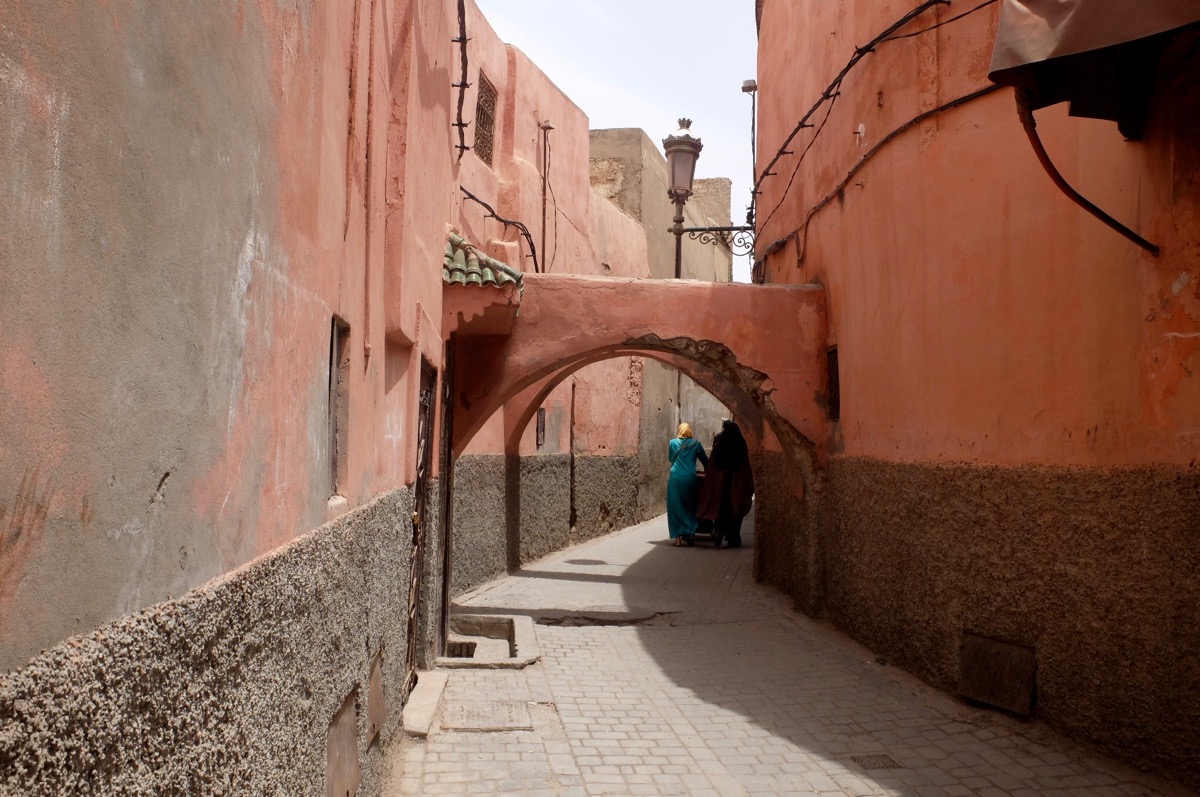 If you get the chance, stop by the local tanneries which aren't a far walk from the souks. You might be freaked out by googling "tanneries in Maraakesh" and seeing most of the results include the word "scam." Well to be honest, what isn't? People will ask for money where they can ask for money. This is just how it is and most of the time the amount is so small it never bothered me.
We didn't really have a plan or a guide but we were smart enough to give a guy a tip to take us to see how it all works from above. It was a stinky, slightly freaky affair of men deep inside the tanning liquids with cats and dogs sort of milling about. Not for squeamish types. I also got a pair of traditional Moroccan slippers (called babouches) which I adore, until Ginger (my beagle) ate the tip of one.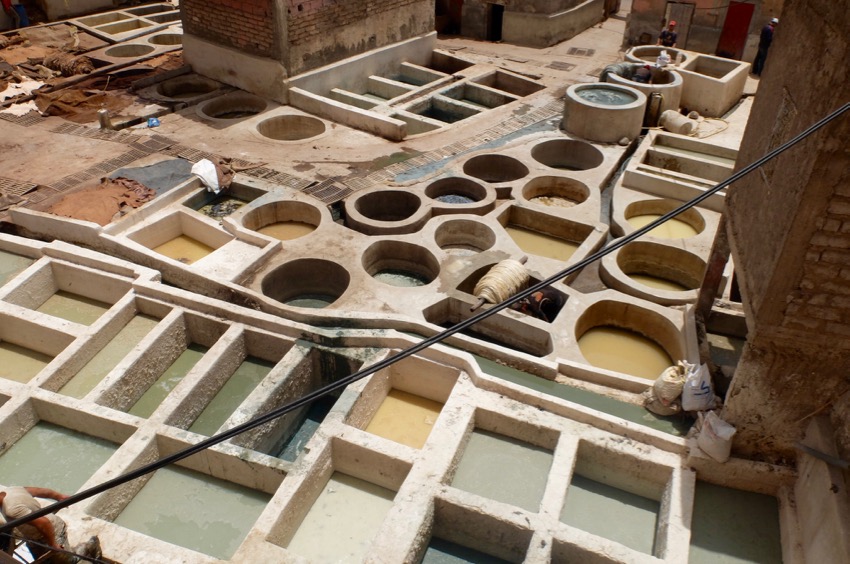 1 pm lunch on the terrace of NoMad
Near the spice souk are a variety of different places where you can grab lunch, either on the street like a local or on one of the many cafes. We opted for a little break on the terrace of a stylish modern Moroccan fusion restaurant called "Nomad." An absolute gorgeous spot, it has a multi-level terrace that seems to attract more of a well-heeled crowd, I'm pretty sure the people seated next to us were filming a documentary from what I overheard in their conversation. It was pretty hot at this point, so a colder plate of hummus, quinoa and avocado was just what the doctor ordered, along with a bottle of Moroccan rose wine.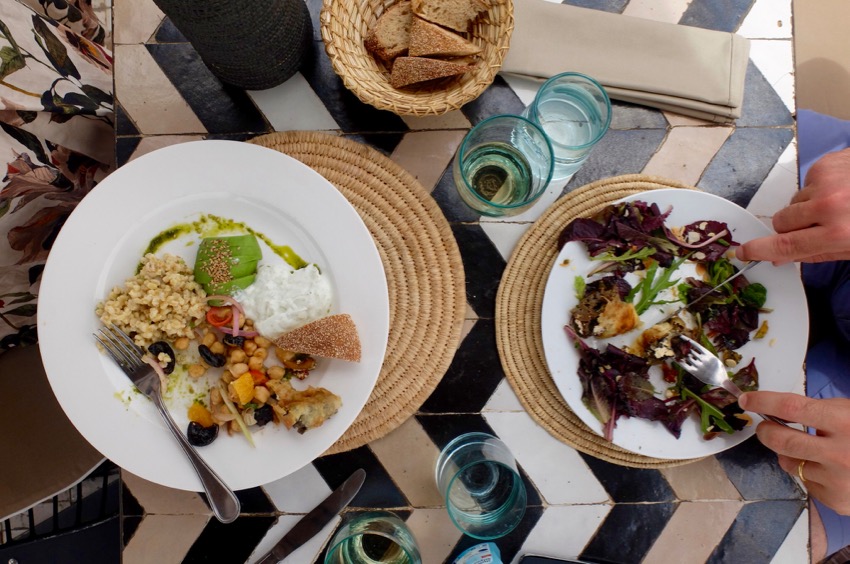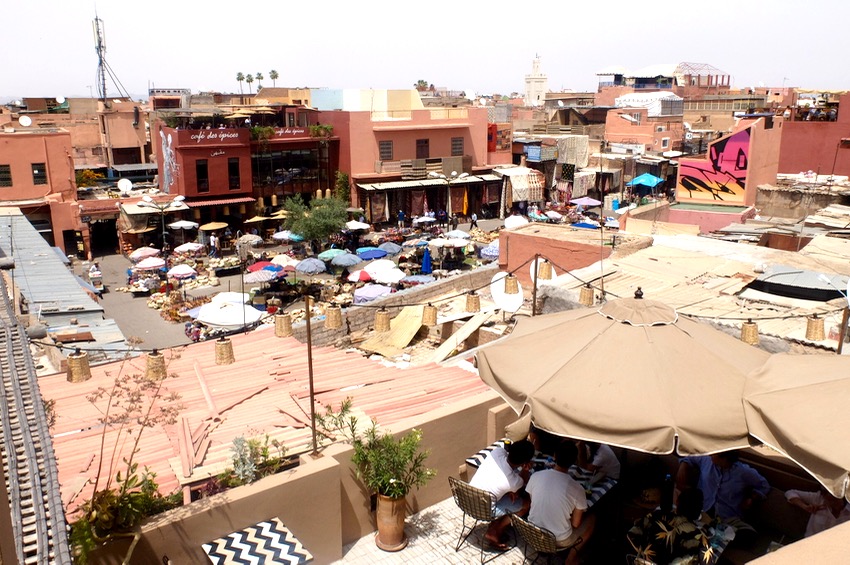 3pm – Exploring the Medersa Ben Youssef
One of my personal favorite places we visited was the beautiful Medarsa Ben Youssef, a large Koranic school featuring zellij tile work built during the Almoravid period. Medersa means religious school, and you can browse the old student dormitories and take in structure's impressive woodwork. We had a lot of fun peeking into small doorways and little rooms, some of which offered pretty awesome views of the busy street outside, I highly recommend hiring a guide to get a real insight in this fascinating place.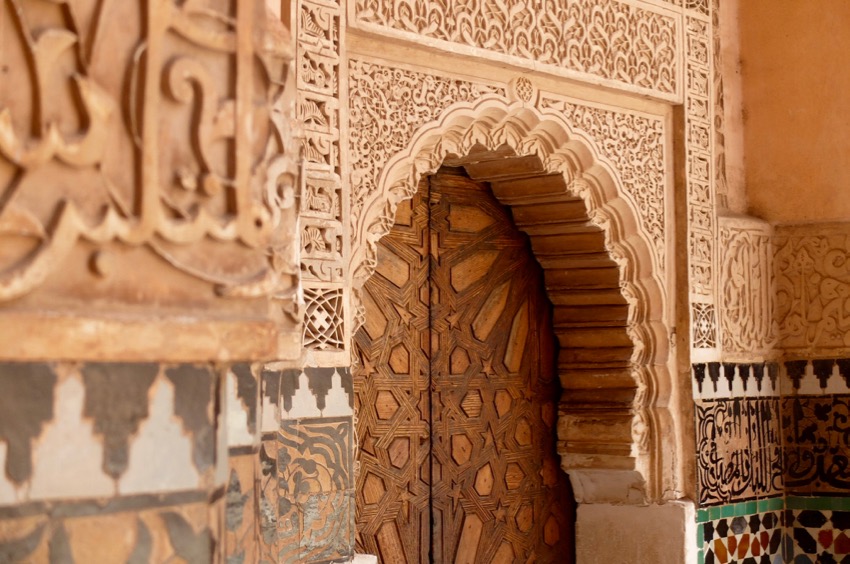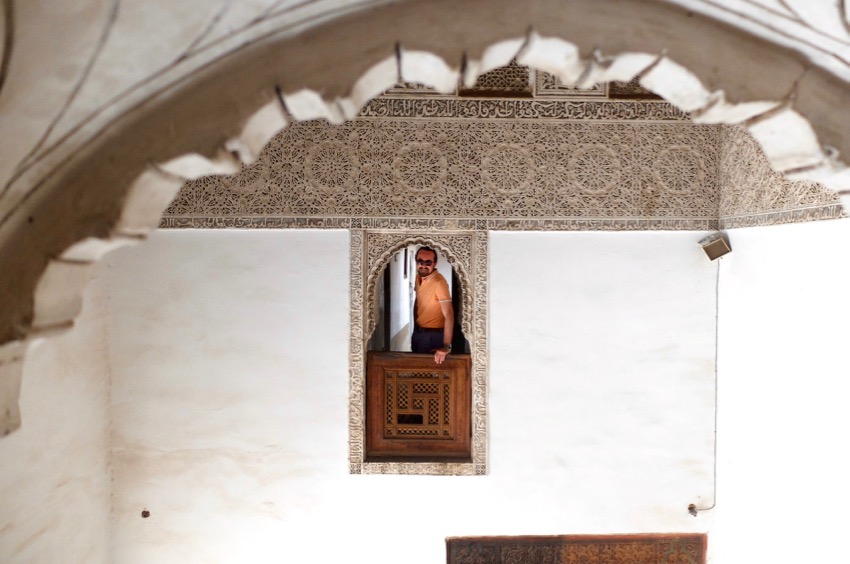 5:30pm Food Tour With Maroc Mamma's Food Tours 
One of the highlights of our trip was a local food tour with a blogger I have been following for awhile now, the blogging world is a pretty cool one, and I revel in the support that one gets no matter where you are in the world. All you have to do is reach out. Amanda, aka Maroc Mamma is a seriously cool chick. Originally from the Midwest, she fell in love with a local guy on a brief visit and the rest was history.
They previously lived in the states before moved to Marrakesh a few years ago and settling into local life. Her blog was my main resource of information for this trip and probably the only thing I formally organized besides accommodation was her tour.  I love her open and honest voice and pragmatic way at looking at adapting to the local culture. I'll focus more on the details of the tour in a later post. Essentially together with her husband, they run the most popular Marrakesh food tours giving visitors a taste at hard to find local eateries.
We met around 5:30 in Jamal El Fna, where I also met the lovely Nathan of Foodie Flashpacker, and we wasted no time delving right into the foodie belly of Marrakesh. One of the most memorable bites was this disgusting looking sheep's head that you'll see below. Moroccans like to show their animal heads full stop and honestly I'm ok with that.
The rundown abbreviated. We tried sheep cheek and mechoui (roasted sheep), torn up with our hands as the locals do and sprinkled with cumin salt. The variety of olives rocked my world, and Morocco is one of the biggest producers in the world mind you. We also tried a sardine sandwich "Hout Quari" which was more palatable than I imagined it could be. Next was stuffed spleen (weird but good – like a spicier ground beef) and the best couscous this Texan has ever tried in Morocco. Dessert, a selection of local pastries and a date milkshake, plus a dash of people watching which is just fine in my book.
Curious to try this yourself? You can book one of their tours here, and I really recommend it.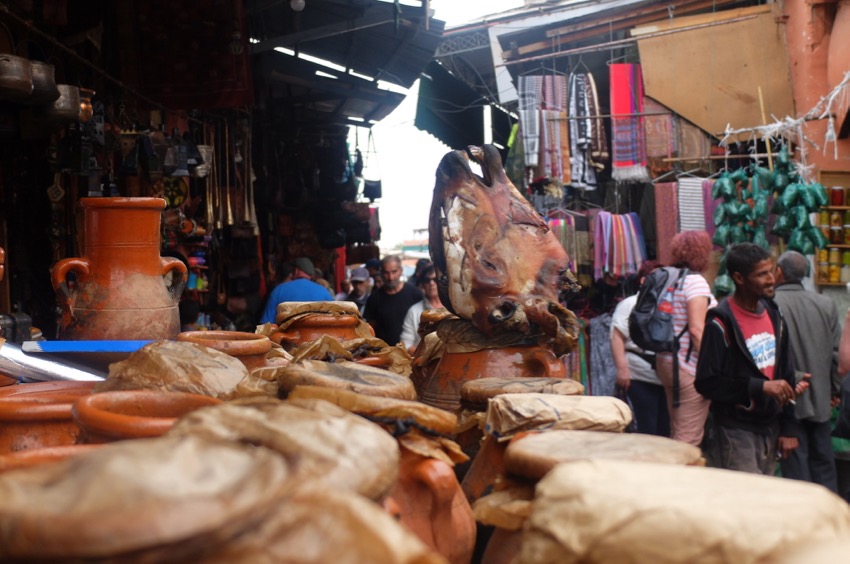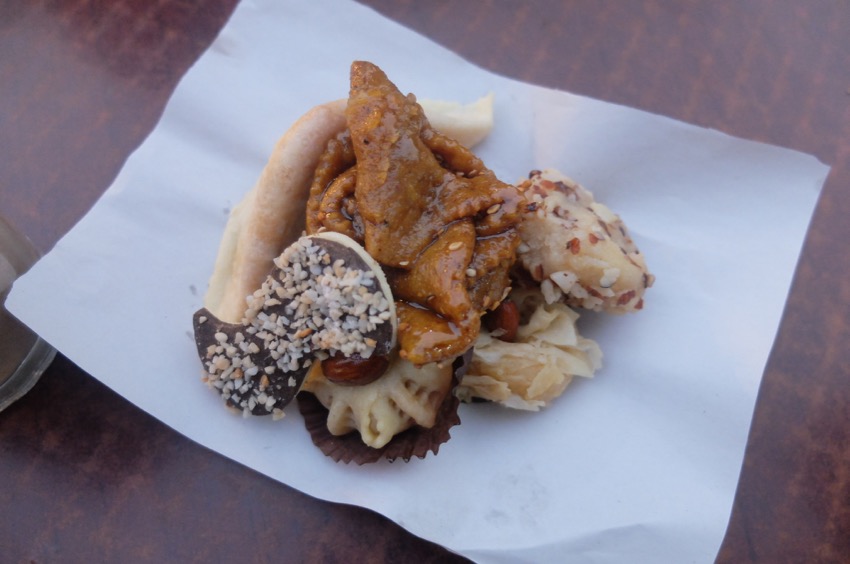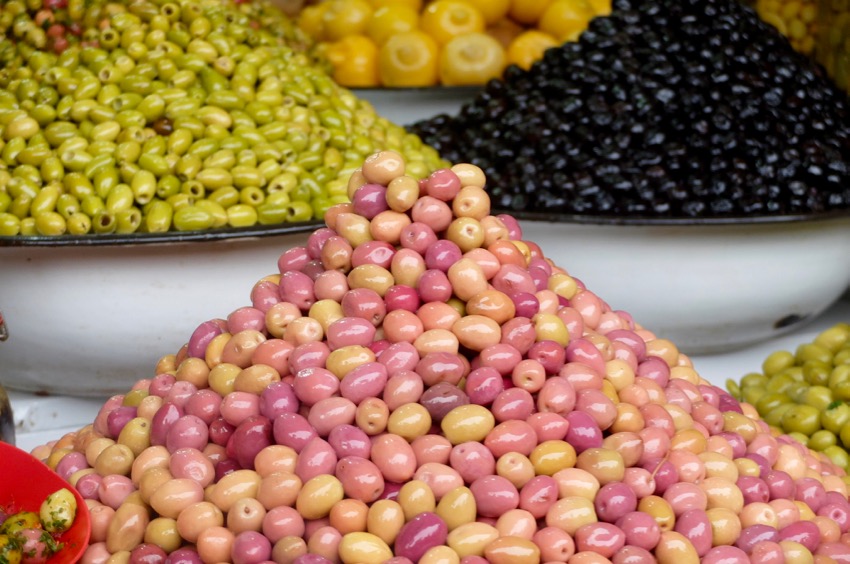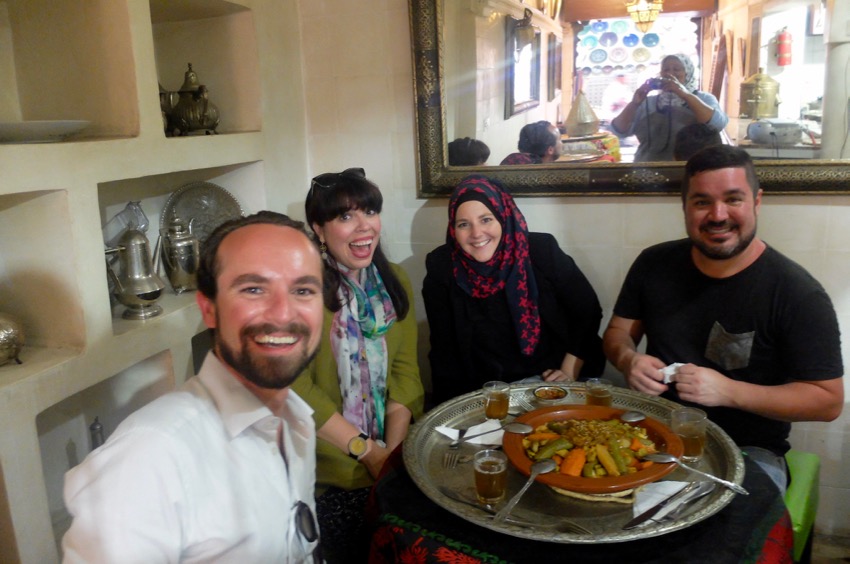 Disclaimer: While my accommodation both at Dar Mo'da and El Fenn's Little Sister were offered, as well as our food tour, this post 100% reflects my personal opinions which I stand by completely, like that date milkshake :). 
Practical Tips:
Get to the airport in Marrakesh at least 2 1/2 hours before you leave, security is quite intense and it takes plenty of time to get through customs. Same for when you arrive, just make sure not to plan anything to close to when you arrive at the airport. It took us at least an hour and a half to leave the airport.
Bring cash, we just pulled ours out of the ATM in the Medina and avoided the overpriced exchange desk at the airport.
Embrace the haggling, it's to be expected and it is considered rude not too inside the souks. I always offer around 30% than what they quote me and work up from there.
Bring comfortable shoes, the ground can be quite dirty and dusty so keep that in mind
Regarding what to wear, in Marrakesh you really can wear whatever you want. However I would choose not to be an idiot and bust out the short shorts and crop tops if you don't want to get stared at. Use common sense. Comfortable shoes are a must, keep in mind the ground is often dusty so choose sandals with a nice sole.
I would pony up the extra money to get your hotel to send a car when you arrive, since taxi drivers can often get lost etc. Peace of mind and a smooth arrival is just what you need to start the trip off well.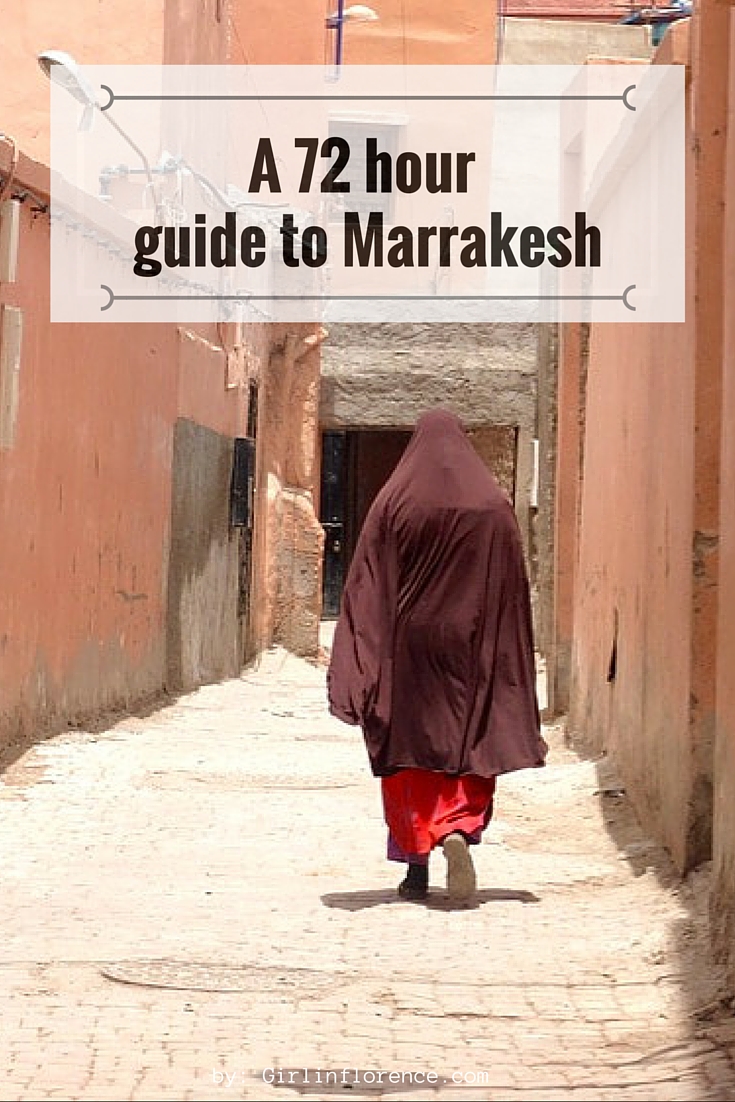 Where to Stay 
Riad Dar Mo'Da

, a stylish historical Moroccan heart just a few minutes walk from the famous Jamaa El Fna square. Note the Italian hints of interior design mingled with its old-world mystique. Stay in the room on the rooftop to take in panoramic views from your bedside. address: 

182 rue el Moussine

, 

Marrakech 40000, 

Morocco. website. Rooms start at 190€ a night. 
El Fenn "Little Sister"

part of the incredible stylish El Fenn boutique hotel brand in central Marrakesh with a hodgepodge of amazing amenities (including a cocktail bar and rooftop restaurant). If staying in the main complex will break your budget Little Sister is easier on your budget and feels quite private. Derb Moulay Abdullah Ben Hezzian, 2, Marrakesh 40000, Morocco.
Where to Eat 
NoMad

, probably one of my favorite experiences as far as restaurants in Marrakesh, the rooftop here can't be beat. Ignore the rude service and dig into all sorts of yummy Moroccan fusion platters. Rahba Kedima, Marrakesh, Morocco
Latitude 31

, 186, rue El Gza Arset lhiri Bab Doukkala – Marrakech, 186 Rue el Gza, Marrakesh. 00 212 524 384 934; latitude31marrakech.com. They do accept credit cards.
Le Jardin

, a green oasis in the heart of the Medina, perfect for lunch in a leafy outside courtyard (they have wine too!). 32 Rue El Jeld, Sidi Abdelaziz.
What To Do 
Marrakesh Food tours was absolutely one of the highlights of our trip. Delve into local culture by picking fresh olives from the markets, trying "sheep cheek" and meeting a fun group of people along the way.
Jardín Majorelle, in every guide book, it's worth seeing though I wasn't particularly wowed by the place, I do recommend visiting the Berber museum inside. Majorelle Gardens Rue Yves Saint Laurent. +212 524 31 30 47. Open 8am-6pm daily. Admission 50dh; free under-9s. Berber Museum 25dh.
Bahia Palace, a magnificent 19th century palace showcasing the work of some of the country's best artisans. 5 Rue Riad Zitoun el Jdid, Marrakesh 40000, Morocco. admission Dh10.
Watch the sunset from the terrace at Le grand balcon du café glacier, place jamaa el fana, Morocco.
Medarsa Ben Youssef, a religious school that is now a sort of museum Hiring a guide here is recommended. Admission: 50 dirham, 25 dirham for children under 13. Open 9-6pm daily.
What To Read
The Voices of Marrakesh: by Nobel winner Elias Canetti
I also recommend the reading list of MarocMama, she knows best!
Arabian Nights: A Caravan of Moroccan Dreams by Tahir Shah.
When to go? 
Marrakesh is a year-round destination however for your own sanity, I wouldn't go in the dead of summer (late June-July and August). May was a wonderful time to visit, it was just getting hot and we enjoyed wonderful weather throughout our time there. I would avoid visiting during Ramadan due to possible closures.
How to get there?
From our area in Italy, there are regular flights from Pisa to Marrakesh (2 flights per week), 3h 30m duration. I saw tickets for October as cheap as 36-60€ one way.
Save this map (also here)