If there ever was a reason to wear jeggings, it would be Parma.
Nestled in the illustrious 'food valley' of Italy, Parma is understated elegance at its poignant best in the Po Valley, an area that has been inhabited since the Bronze age.
While we are anything but experts after a quick 24 hour jaunt, I can honestly say that I was so delighted to have come. Not only for the food but also as a respite along the quiet, tree-lined streets that are unfettered by mass tourism which I see in my own city of Florence.
You might know it best for prosciutto and parmesan and rightfully so. These two most famous exports that we continue to thank this city for are enough of a reason to visit — yet not only.
Famous Italian opera composer Giuseppe Verdi hails from this land which the city commemorates in an annual opera festival every year and for those who really come for the food, ham lovers will revel in the cheeky (literally perhaps?) prosciutto fair the first week of September.
Like I said, something for everyone.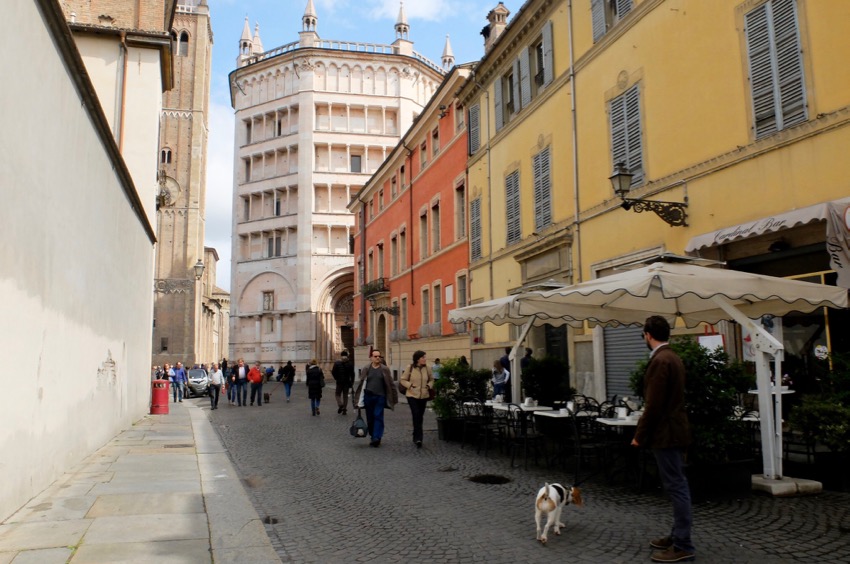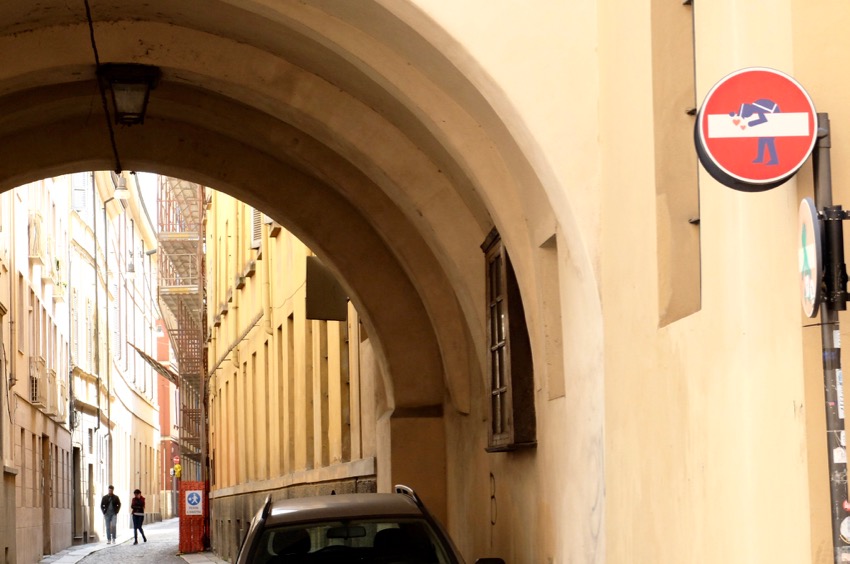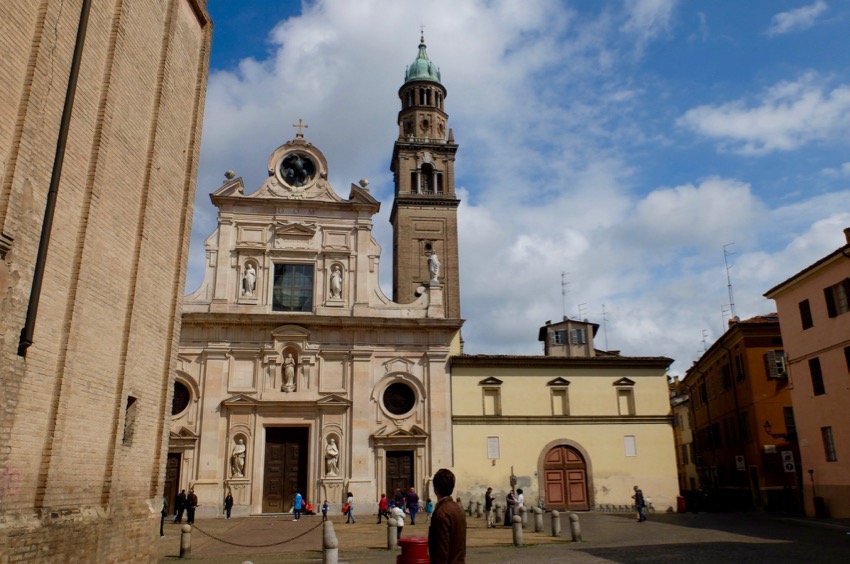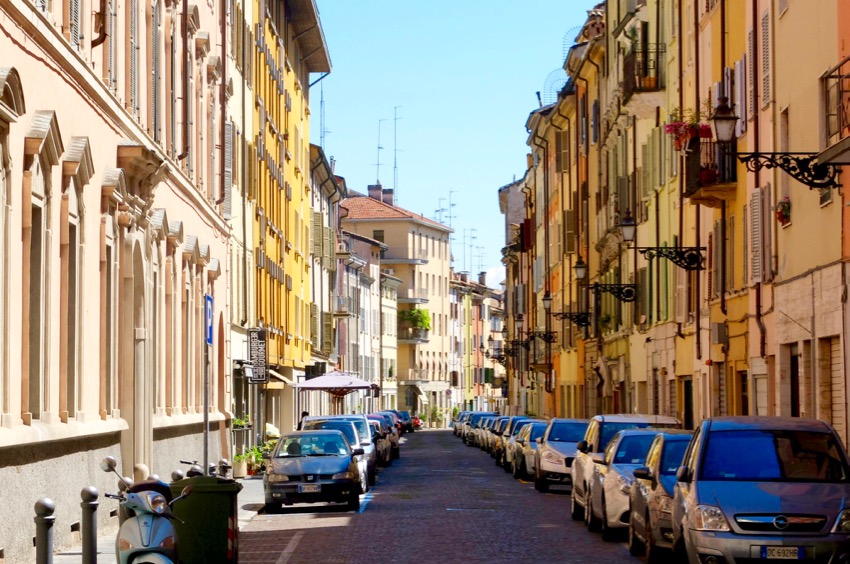 Parma also has it's own 'Oltrarno' if you call it that, a neighborhood called Oltretorrente which is a place that I plan on discovering more in detail my next trip back. Alas it was a short, yet tasty little deviation from Portovenere on our way back to Florence, yet completely worth writing a post about. Come along for this tasty 24 hour ride.
1pm, Lunch at La Corale Verdi
Our first meal in any Italian city we visit is always an important one, it sets the tone for the trip. I excitedly made a reservation at a local spot. delectable tortelli d'erbetta (ravioli stuffed with ricotta cheese, nutmeg and spinach) and are basically heaven on a plate.
Since we had a bit of time to kill before check-in, we decided to try a place I had read about from a friend on Insidersabroad. The place is called La Corale Verdi near the Parco Ducale which meant parking was quite easy. The ambiance is traditional and local, with relics of Giuseppe Verdi in abundance and plenty of locals heading in for their Sunday lunch. I had a peek inside the kitchen where s group of older Italian ladies had a laugh while whipping up fresh tortelli. This was absolutely my kind of spot.
Our little family of three (it should be noted they're dog friendly) got a corner table which meant I took full advantage of the pxoimety for people-watching. People were there with their families, several generations beckoning for the bollito cart (boiled meats) all while downing wine at the same time. Our waiter was an older man with an easy laugh who insisted we try the traditional herb-cheese filled ravioli washing down with local Lambrusco.
First though came the torta fritta or delectable fried dough pillows served with thin slices of Parma prosciutto, this was definitely not any kind of diet fare and we were completely ok with that. I'm pretty sure if Nico could have married his fresh green ravioli, we would have committed bigamy. Not a bad start, not bad at all..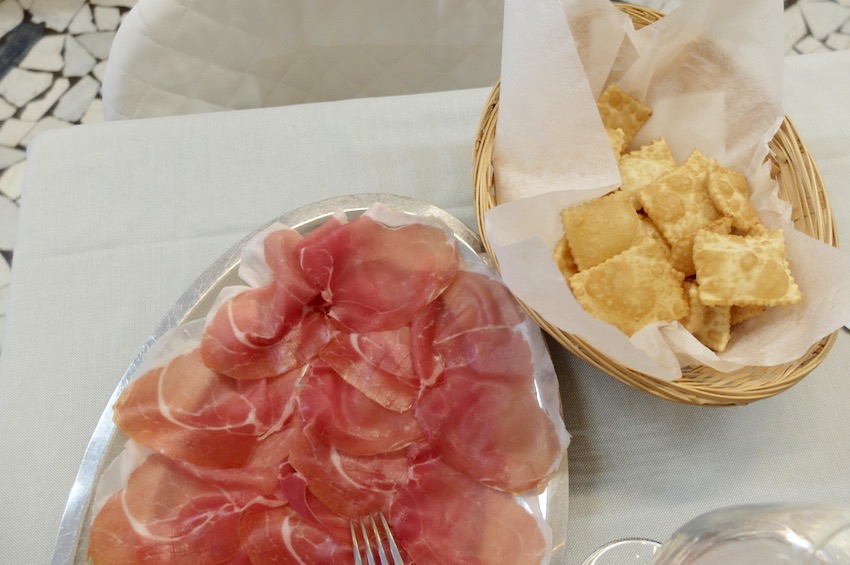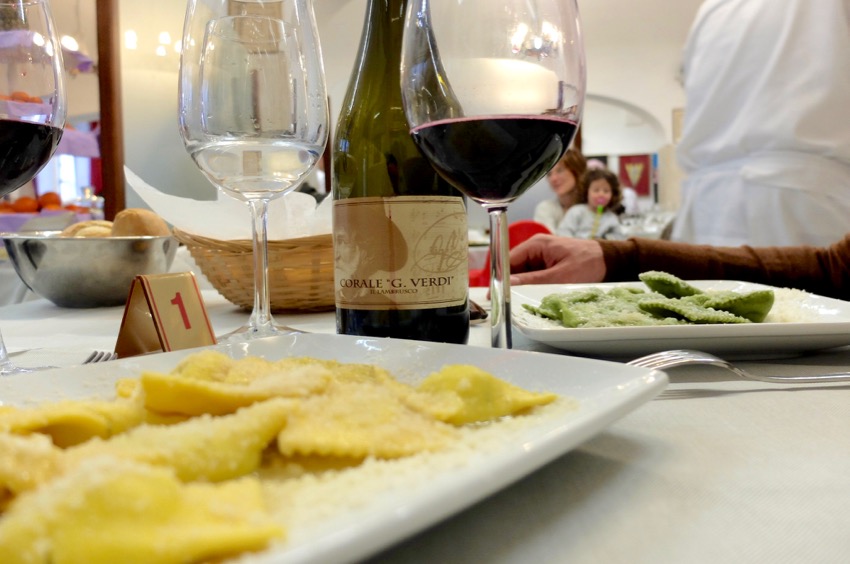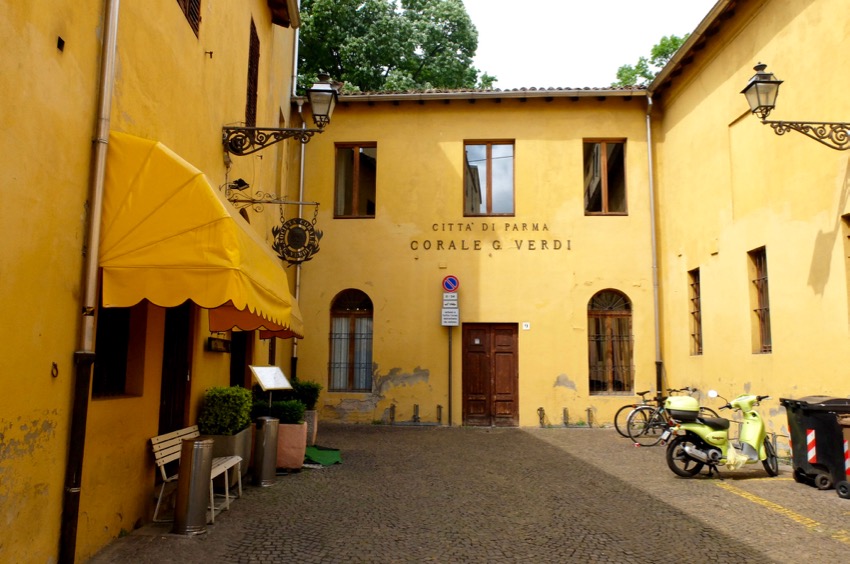 4:30pm – Check In At Villino di Porporano
After stumbling out in a food-filled hazed from our first dining experience in Parma, it was time to check out our digs. I chose a small bed & breakfast 'Villino di Porporano' with only five rooms in a little villa outside of the center of Parma in Porporano because we have a car and a dog.
The place itself is too charming for words, it wasn't easy to find cool accommodation around these parts and I was so happy that met Elena and her family in this picture perfect place to call home complete with a large garden and pool. Outdoor sofas and chairs welcomed readers as Elena's cat stalked our dog and we settled into a quiet afternoon rhythm.
My only regret was not spending another night here, it was such an ideal, romantic location that any vagabond would enjoy.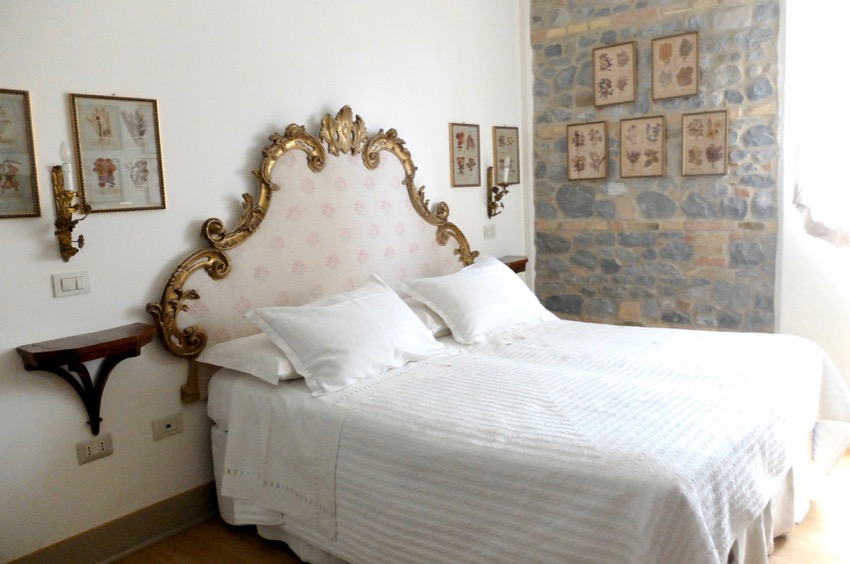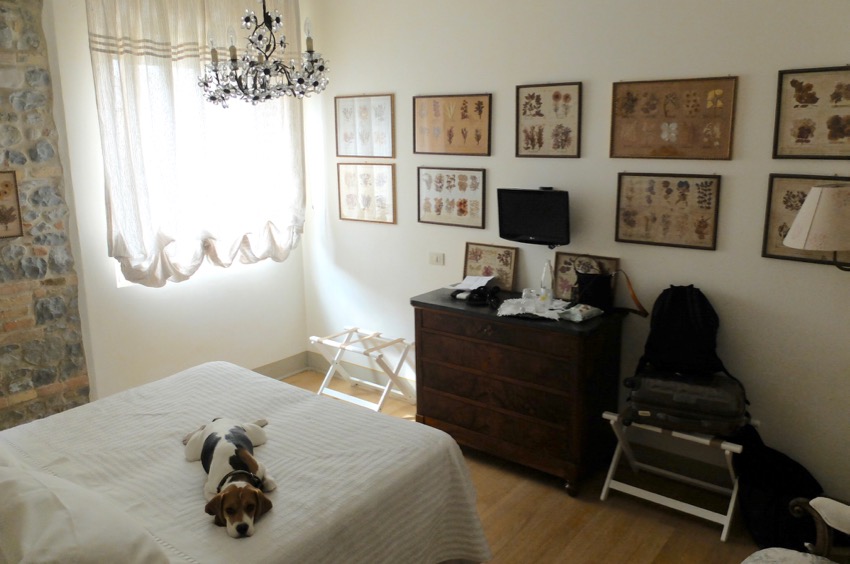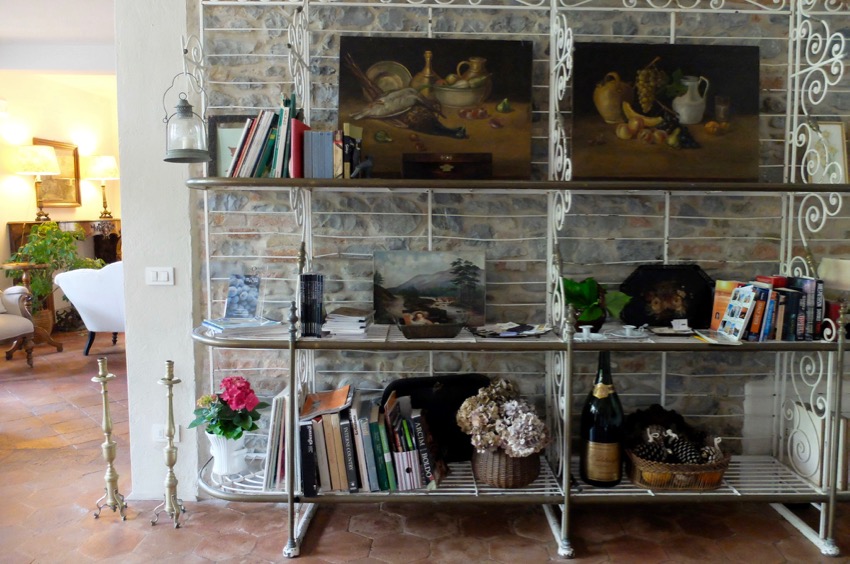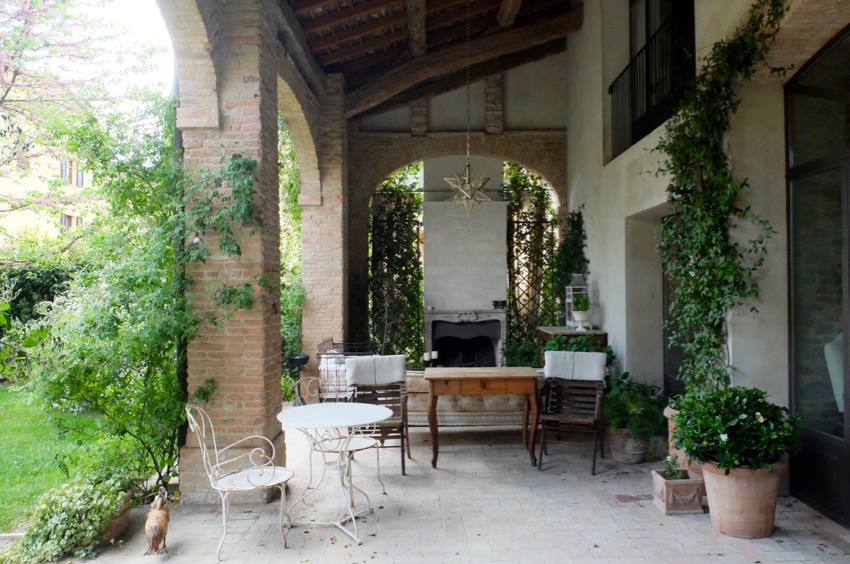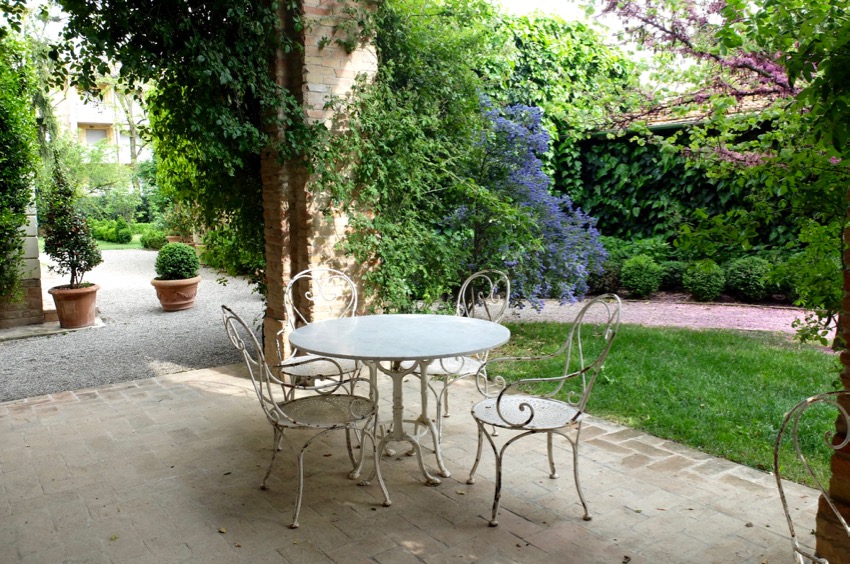 6pm, Walk And Aperitivo in Parma: Il Tabarro
At this point it was high time we had a look at Parma's famous antiquities and had a look around Piazza del Duomo. We saved the true visits for the next morning but had a nice time gazing at its salmon-tinted baptistery, one of the coolest I've spotted in Parma, in a square almost devoid of tourists. My favorite on first site was the 10th century Baroque Monastero di San Giovanni behind the cathedral. The relaxed vibe felt like a world away from Florence as we gazed upon the impressive Romanesque cathedral.
Soon after, we headed to the undisputed 'movida' street where the action happens, via farini to have a quick drink before dinner. By following the locals, we found Entoeca Tabarro, a beautiful little wine bar which was filled to the brim that particular Sunday evening and I liked the vibe immediately. I squeezed into a corner table and Nico got our Franciacorta bubbles and a little cheese plate to whet the appetites. It was perfect and I'd definitely be back again.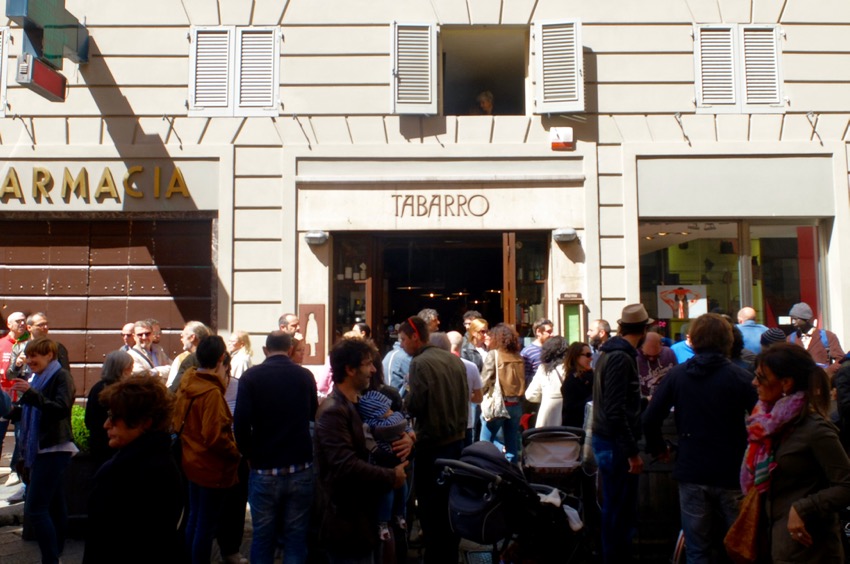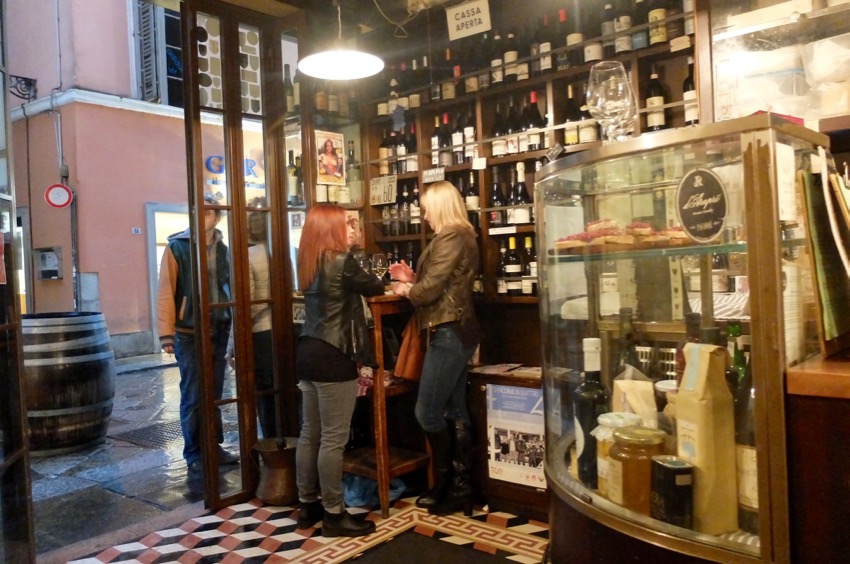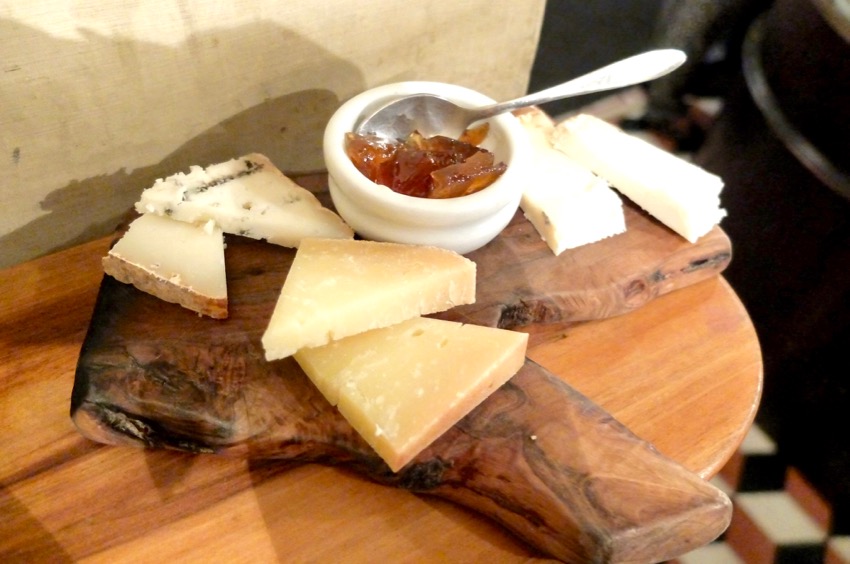 8:30 How not to fit into your pants after Trattoria Corrieri
My first choice for dinner options was most definitely Ai Due Pianaeti which everyone who has been to Parma has raved about. We didn't get a spot despite my repeated calls and choice an option in the center, the pretty Trattoria Corrieri. The warm friendly ambiance made us happy campers and we sat in a dining room full of fellow pasta-lovers and proceeded to over order. The thing about Corrieri, is that the portions are huge. For those looking for a bit of a gut-check, sharing is caring in this sort of place.
We dived into more pillowy torta fritta and went straight to our fresh tortellini pasta filled with pumpkin and savory cheese, a butter sauce to complete our gut-busting goodness. I can't get enough of all of this 'terra' (inland) based cuisine bursting with so many buttery flavors.
We followed this with some 'capicola' sliced neck-ham served with no sense of presentation, but who the hell cares when it is this good. I wish I could have remembered the wine, it was a definitely a fruity red Valpolicella from the Veneto region which isn't the classic Lambrusco from here, however it cut through the hearty fare as it should. Far too much was left on the plate but not out of malice, instead we simply could not stuff ourselves any more.
Somehow (insert satire here)  I nor he could even manage dessert that night which is quite shocking considering that's what Nico lives for, however waddling back to the car we left satisfied with our last meal in the city.
10 am Breakfast At Porporano
We took our time getting up the next morning. I had turned on the TV last night and was mesmerized for an hour or two watching local interviews of wedding vendors around Emilia-Romagna, it was so bad, it was good. I had no idea you could create bomboniere out of used feathers but now I do.
Hence the late start.
Breakfast by Elena and her crew at Porporano is no ordinary affair, everything is served downstairs in her beautiful antique dining room with freshly-baked cakes wrapped in cloth and carefully placed around the breakfast table as if it was a show. It was almost too pretty to eat, but instead I happily dug in while Ginger ran around trying to clean up everyone's crumbs.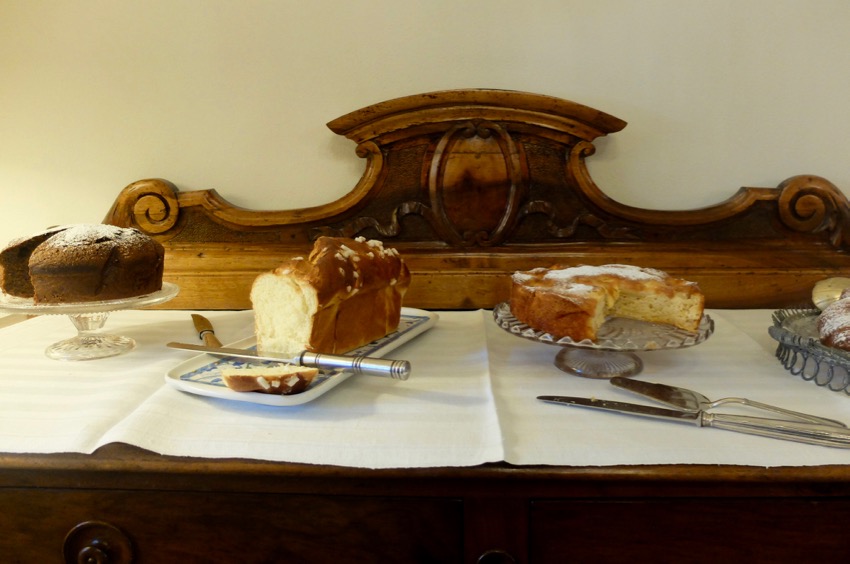 11:30 One Last Taste Of Parma
We checked out of Villino di Porporano which was far too short of a visit, however this place is quite a treasured find that I know any of you would appreciate. Next up, was a return to Parma, to take a more in-depth walk around the center on this particular fest day and head to a traditional salumeria to pick up a few goodies before heading home.
First stop was inside of the main cathedral, a beautiful 12 century Romanesque church featuring the famous The Assumption of the Virgin, a 1520s masterpiece created by Correggio which you can spot in the cupola. You can spot more of Parma native Correggio's works in the national gallery in Pilotta Palace, something I'd like to do next trip.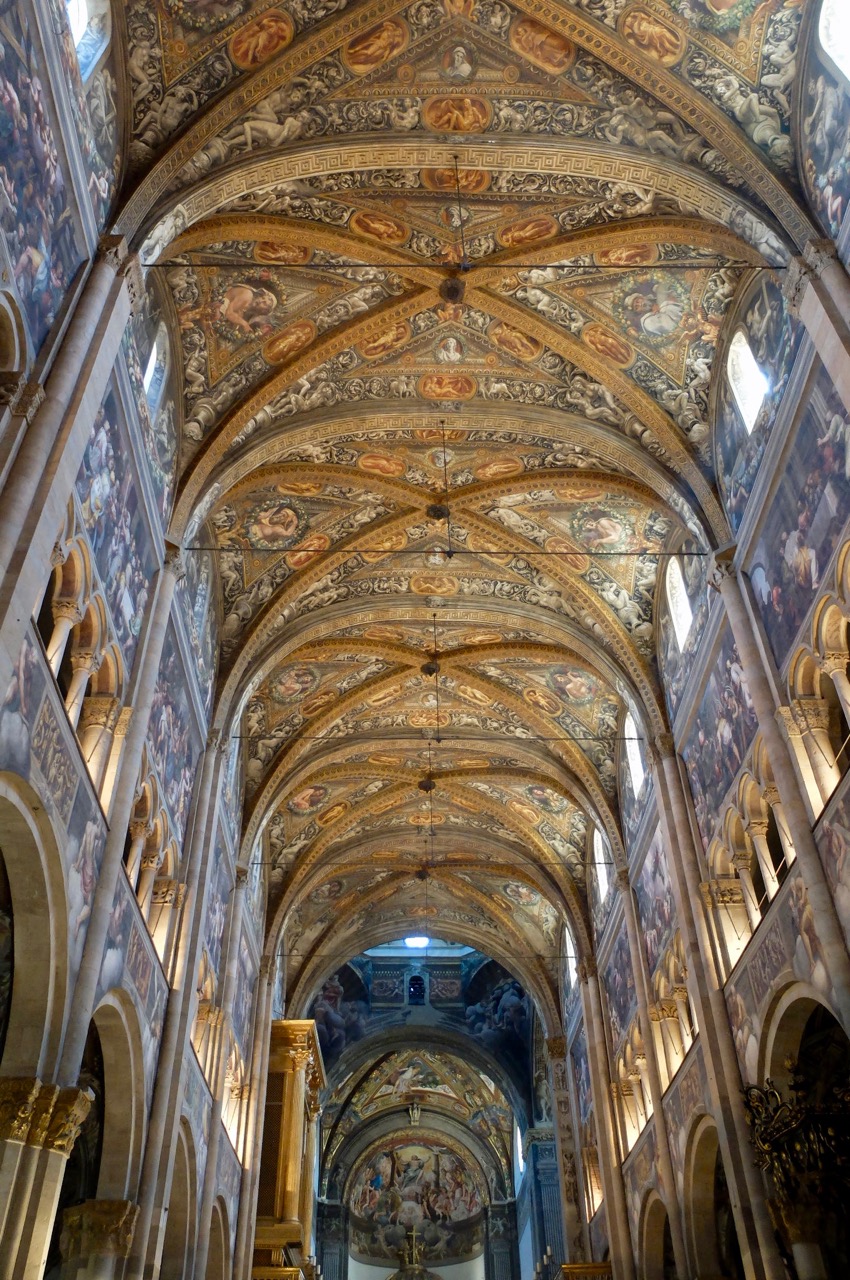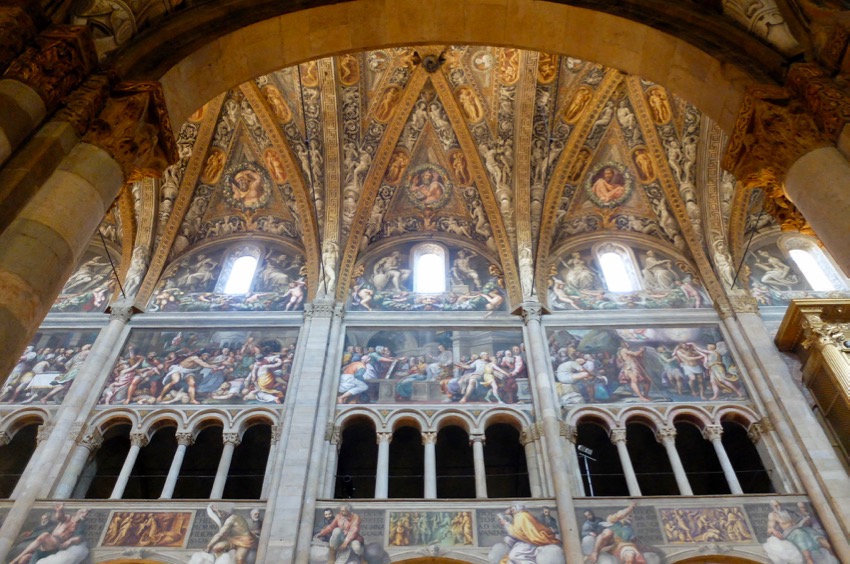 You can't help but revel in the calm pace of this elegant city that isn't a showoff. Locals stroll past its marvelous monuments without a second glance and yet I never quite got the 'tourist' strained neck out of my system even in Florence. Luckily Nico has yet to be embarrassed about my childish enthusiasm for visiting a new city and crazy photo taking, now that's a man.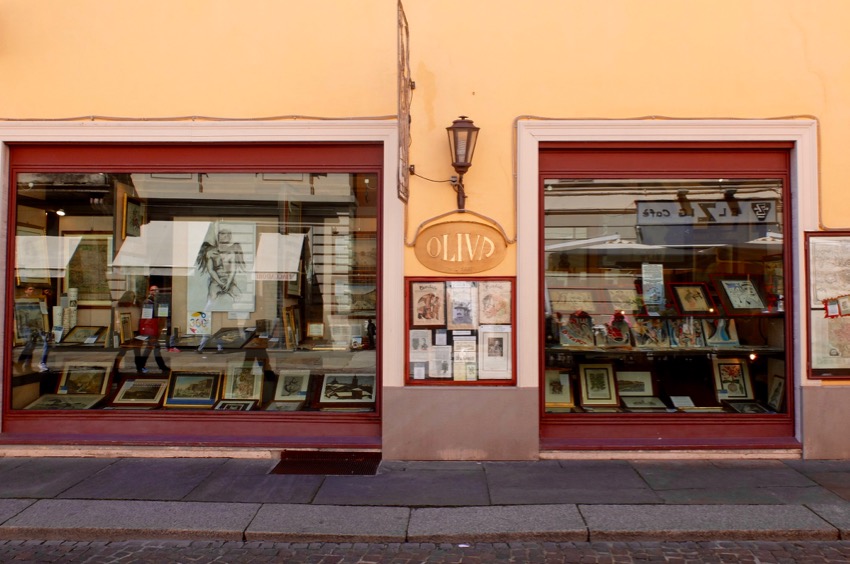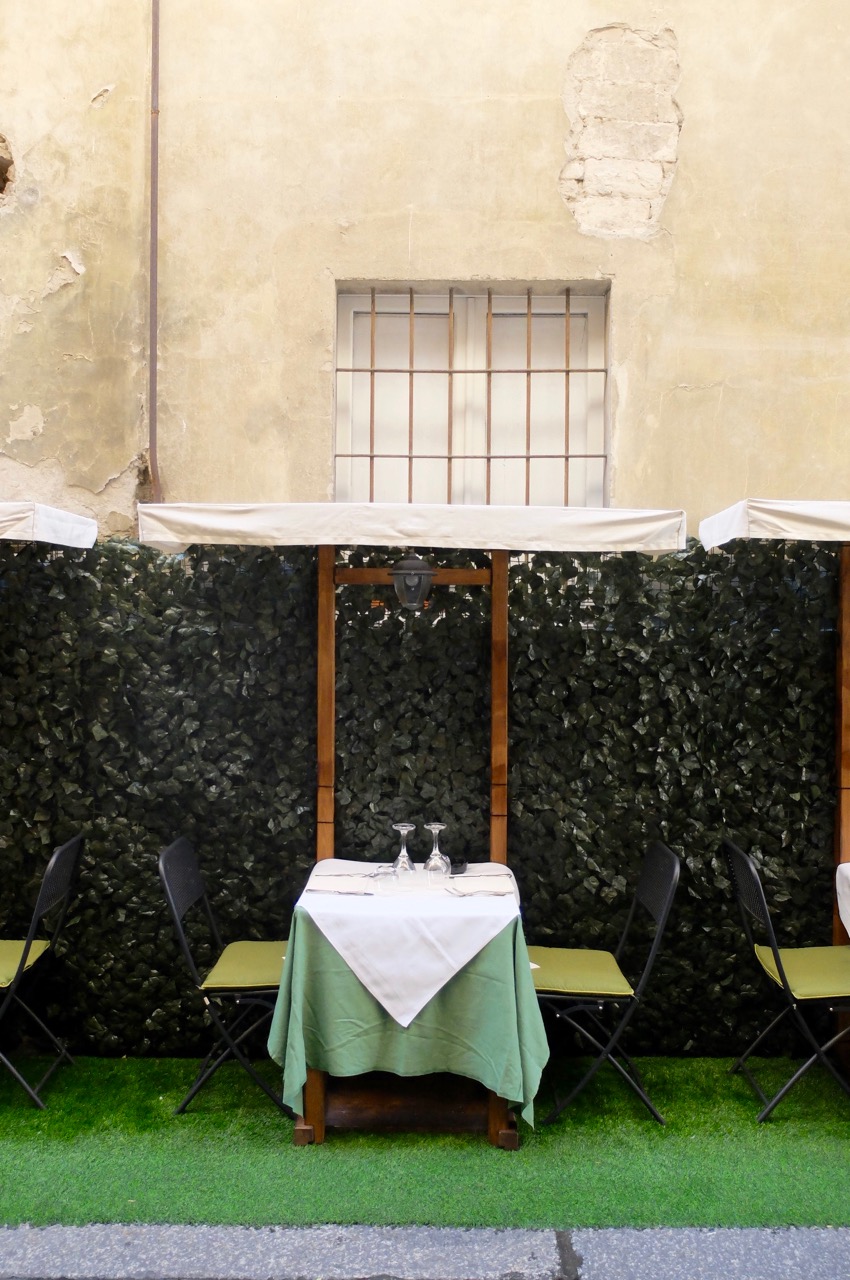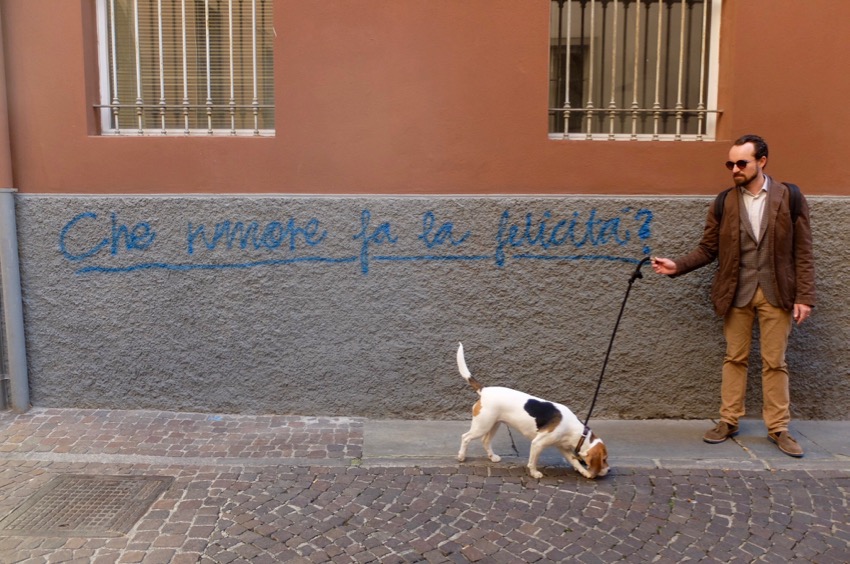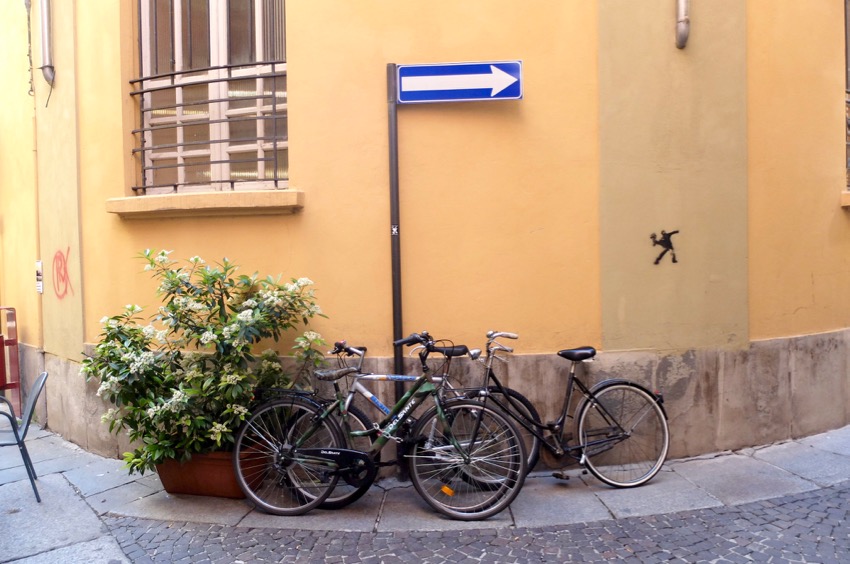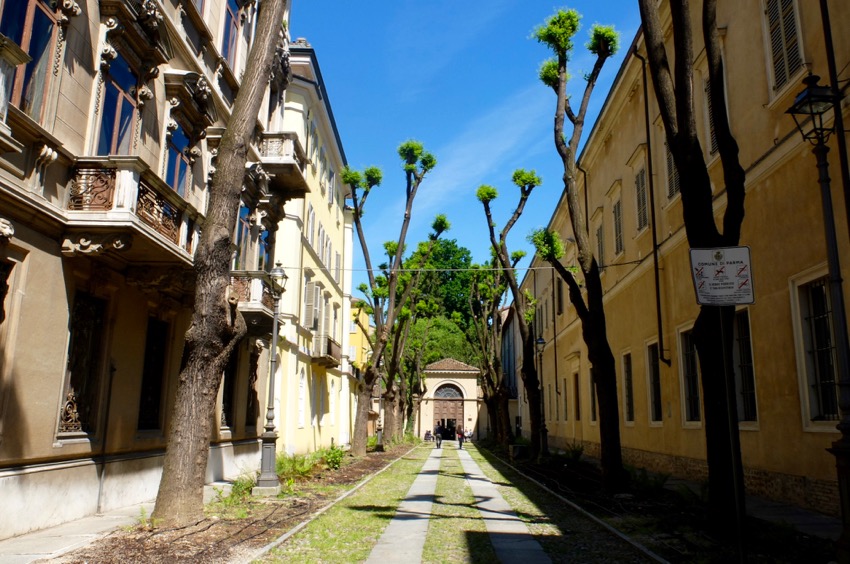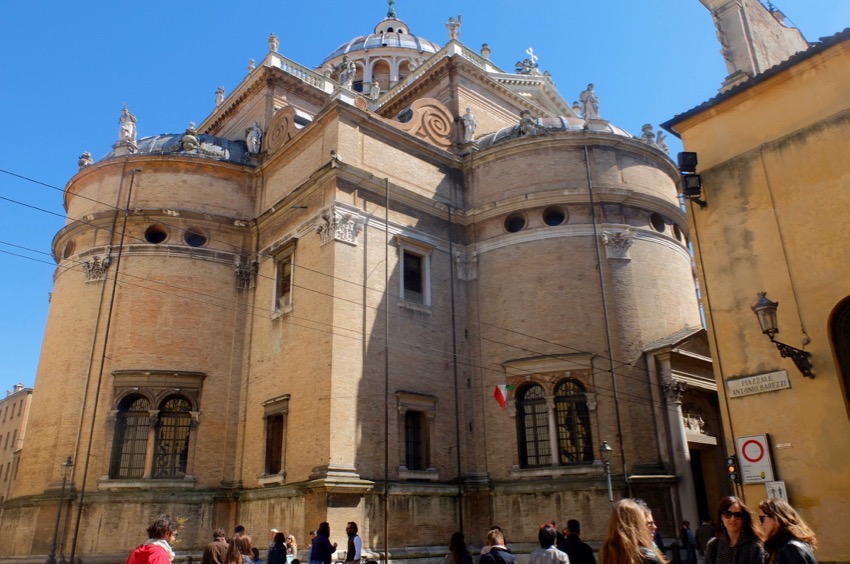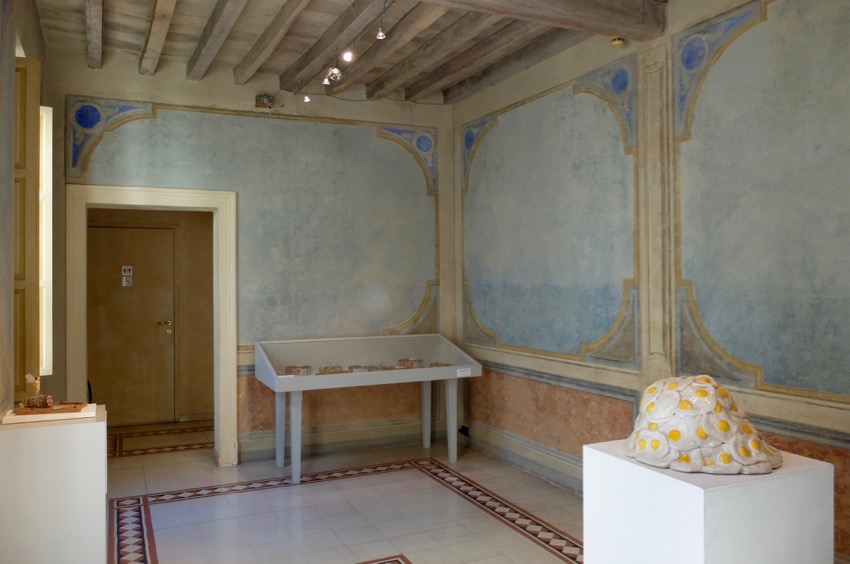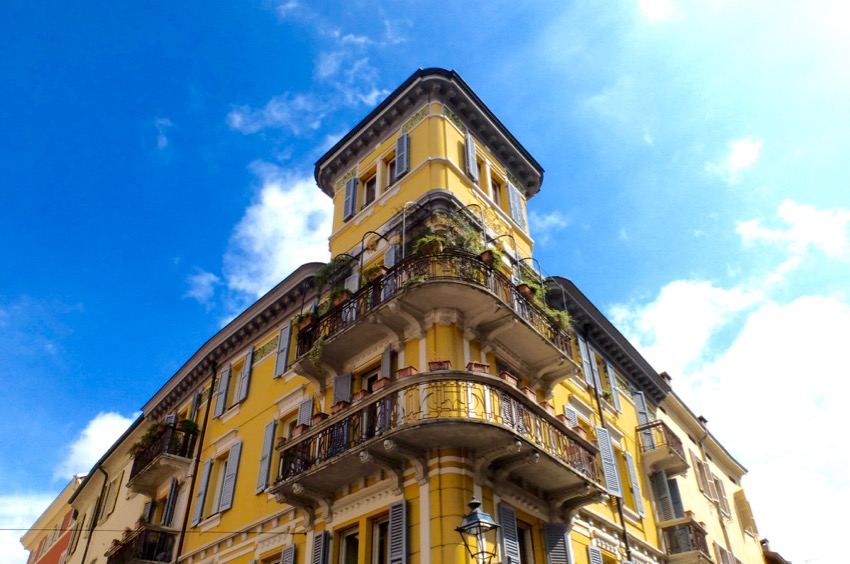 Next up up was on search of parmesan, we skipped the crowds at La Prosciutteria on via farini and instead headed to Salumeria Garibaldi, which I was assured was a nice place to get such tasty goodness. Lucky enough, even on a fest day, they were open, and we gazed hungrily and the delectable sausages hung from the ceiling and lined up vacuum-packed cheeses that beckoned to come home with us. Or in Ginger's mouth if we weren't careful.
I wondered which parmigiano reggiano (which is made from unpasteurized cow's milk) to choose. Luckily those who work there are more than happy to show you the cheesy (pun intended) way, when it comes to parmigiano you have options aged up to 72 hours and how to pick largely depends on what you plan on using it for. Some works better grated over pastas and soup, while some is best eaten on its own jazzed up with a little mostarda or honey.
This particular weekend hosted a bustling street food festival in Palazzo della Pilotta, where everyone seemed to be. This was officially beer hour for Nico and I and we grabbed some artisan brew from one of the trucks and tucked into a delightful array of fried goodies (one with gorgonzola and nuts, oh my!) from yet another stand. I discussed beagle training techniques with a few locals stuck in line in front of me before we sat in the grass with our own furry bundle of joy to enjoy our lunch.
I had the sudden desire to stay a little longer. Just scratching the surface isn't really our style but it's just the taste we needed to motivate a return trip and you do what you can with the vacation you got. Next time, I am on seeking out a few quality producers in the surrounding area and likely combine the trip with nearby Reggio Emilia and Modena.
One word of advice for those who come to Parma, bring a few pairs of stretchy pants or skirts and make reservations in advance for restaurants you really want to try as they get busy.  You'll thank me later as you slowly breathe in all the goodness this elegant city has to offer.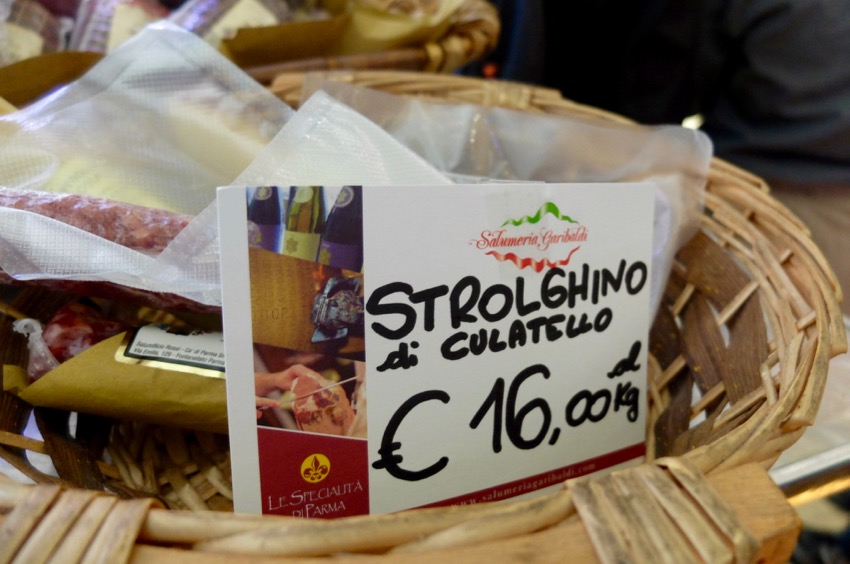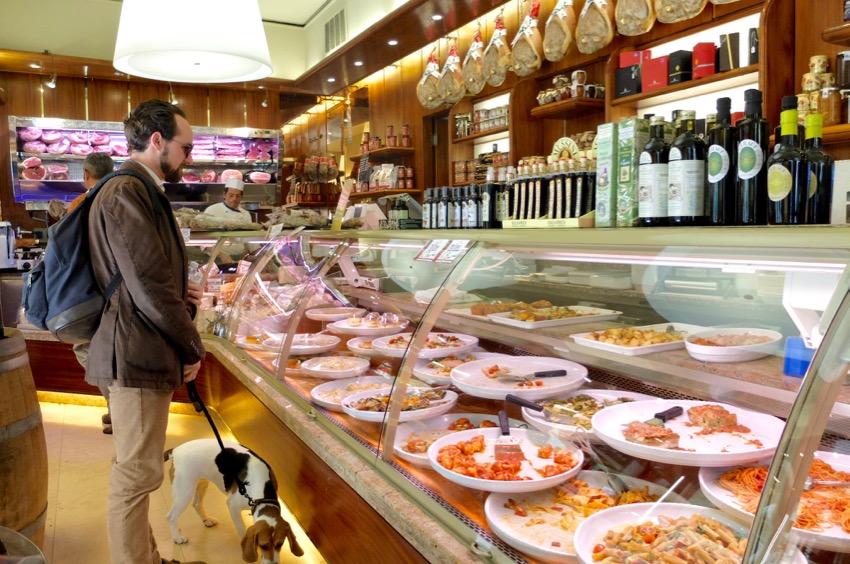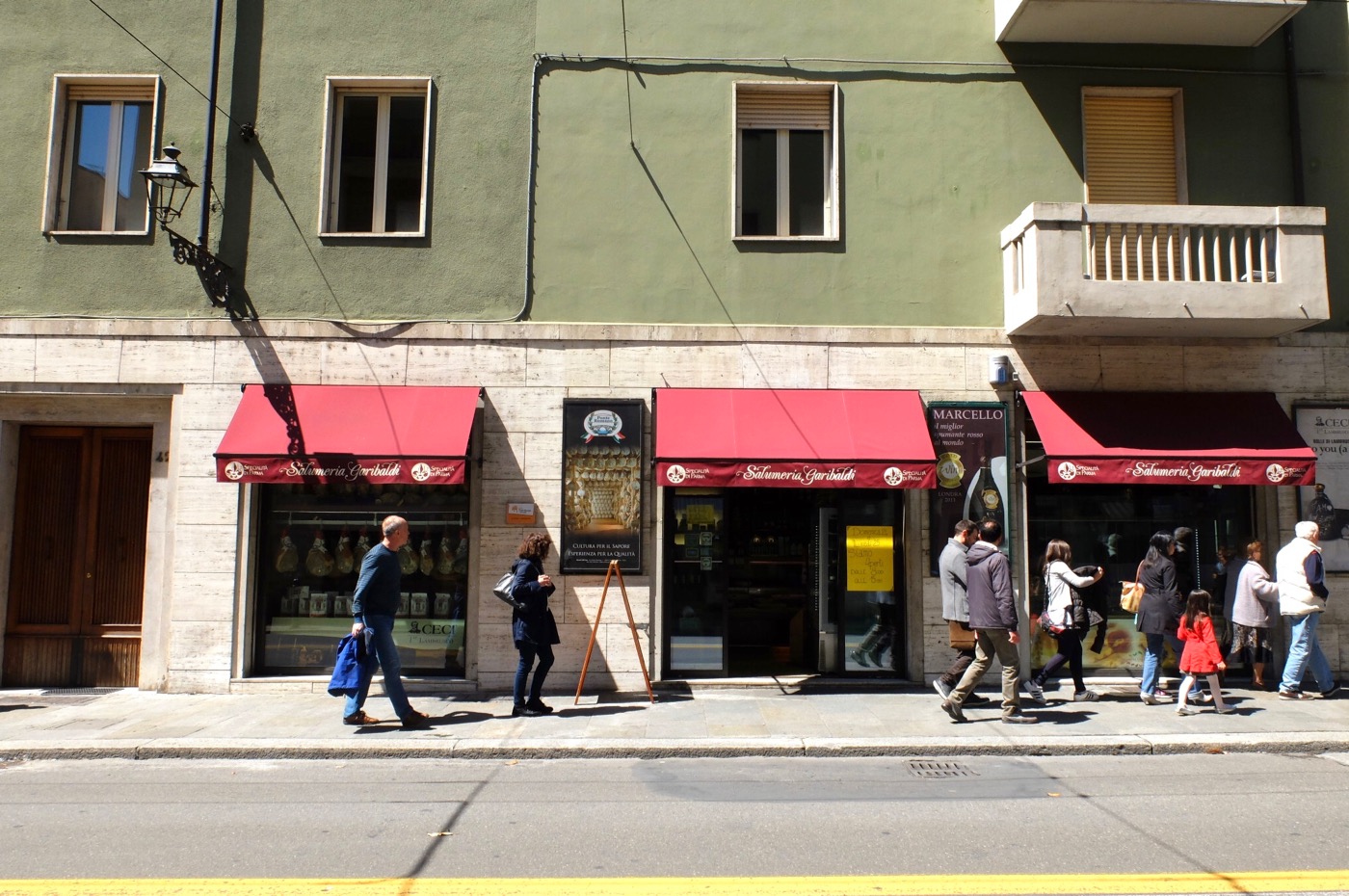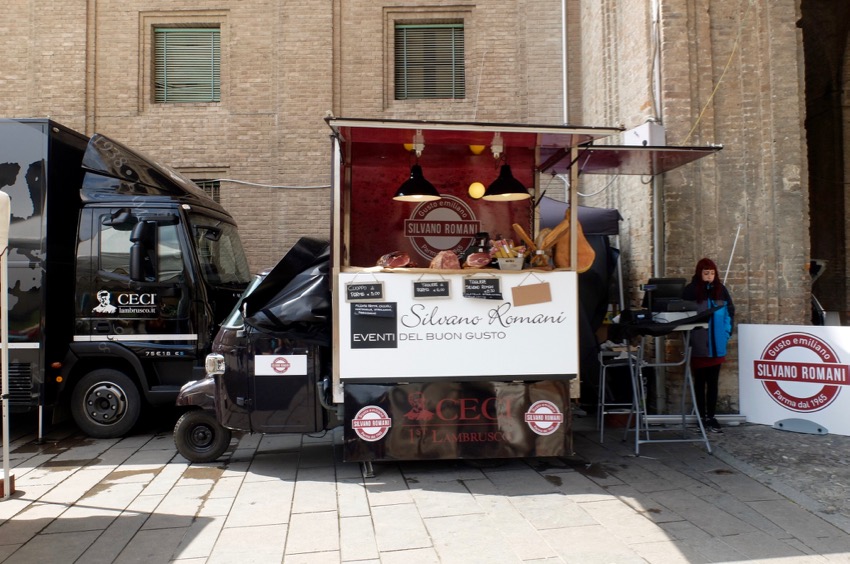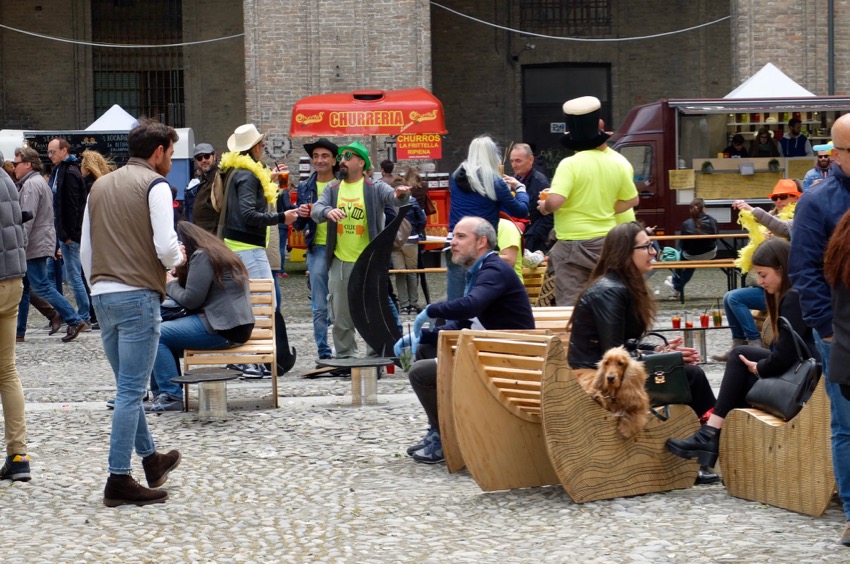 Disclaimer: Villino di Porporano did offer us a one-night free stay but everything on this post is 100% my opinion and I stand by that :). 
…
Link Love – Great Posts About Parma
Probably the best resource is this wonderful 'Parma, Made in" Guide that you can either get at the tourist information office or just check out online. Really nice tips honed in by locals.
This city guide by a local gave me tons of great tips and certainly a reason to come back and check out this city a bit more in-depth. I loved her shop suggestions for unique boutiques.
Another local guide can be found on The Chiappas.
This list by Parmamia was a great resource though the author no longer lives in Parma.
---
More Details
Stay
Villa di Porporano, adorable B&B with a picturesque garden with one of the best breakfasts I've had in Italy about 10-15 minutes from Parma by car. address: Str. a Bodrio, 26, 43123 Parma PR. website. Rooms from €132 per night (booking).
Arrive
Parma is 2 hours and some change from Florence, an relatively easy drive and I recommend taking your car if you plan on visiting the outskirts. By train it can be reached in two hours with a change in Bologna. Tickets cost anywhere from 22€ to 32€ one way (Trenitalia).
Park 
There are restrictions on where you can park in Parma's historical center. My advice is to leave your car at the lot on Viale Toschi. address: Viale Paolo Toschi, 2, 43121 Parma PR.
Eat & Drink (more tips are found on the google map above). 
Lunch-street food | Pepen, where the locals go to eat the speciality gourmet sandwich called "Spaccaballe", pizza, carciofa and the like, more of a to-go spot. Budget-friendly. address: Via S. Ambrogio, 2, Parma. +39521 282650,  Open Tuesday to Saturday from 8.30 to 19.30, closed Sunday and Monday.
Lunch | La Corale Verdi, close to Parco Ducale, this restaurant is a wonderful spot for lunch or dinner serving local fare in a traditional ambiance. In the warmer months, diners can enjoy the terrace or the expansive dining room. Food is traditional (think hearty fried bread, prosciutto, toretelli and they even boast a 'bollito' cart (boiled meats). address: 

vicolo asdente, 9

, 

Parma, 

Italy. +39 

0521237912.
Drinks | Enoteca Tabarro, a cute little wine bar serving up some truly interesting tipples along with aged cheeses from the area. The perfect spot for a before-dinner nibble. address: Str. Luigi Carlo Farini, 5/b, 43100 Parma PR
Dinner | Trattoria Corrieri, for a nice dinner in one of the city's favorite restaurants, book a spot at Corrieri and order the fresh pasta. Portions are huge – be advised. address: Via Conservatorio 1, Parma, +39521234426.
Gourmet treats |  Salumeria Garibaldi, skip 'La Prosciutteria' and head to this gastronomic hideaway around since 1829  instead to pick up Parma's best cured meats, culatello and aged parmesan (ask them for advice on which one as it depends on how you can plan to eat it). It's also a wonderful place to grab a quick lunch of fresh pasta. address: Via Garibaldi, 42, 43100 Parma PR. 

Phone: +39 

0521 235606
One restaurant regret was missing out on a meal at a place that friends of mine have raves about, called 'Ai Due Platani' which was completely booked out while we were there. Try it and make me jealous.
What's On The Menu
What you must try or buy: Torta Fritto: Fried pillow of dough, typically served well with sliced prosciutto, Typical pastas tortellini (try the classic dishes "tortelli d'erbetta" and "anolini in brodo" along with Parmigiano Reggiani, Prosciutto di Parma (cured ham), and culatello.
Festivals
Opera | Verdi festival

this September 23-October 30th, more details here.

Parma Ham Festival

, a chance to taste Parma's favorite prosciutto at local ham farms which can be reached via shuttle bus. September 1-5th, website.

Parma Palio

, September 19, 20th.
Read
The Charterhouse of Parma by by Stendhal (1839).

Parma: Ham, Cheese, and the Taste of Time by David I. Kertzer 

Parma "A Capital of Italian Gastronomy" By Giuliano Bugialli.

Not in a Tuscan Villa by John Petralia