First off, Happy 'Festa della Repubblica'! It's an important national holiday in Italy celebrating the birth of the republic and this week I'm absolutely thrilled to share this wonderful interview with a local designer who I have been so eager to share for some time. Clara originally hails from the country of Ecuador in South America but refers to herself more as a 'child of the world.'
I knew I was going to like this girl 
We originally met when I stopped by her beautiful little shop on via del moro, where she sells her handmade leather bags using sustainable methods and beautiful  jewelry made by her mom Patricia, which I in turn fell in love immediately. After adding her to my shopping list, we've run into each other and a number of events, both personal and professional and I had to have her as a #localsILove so she didn't really have a choice. The photos of this post are credited to Olga Makarova.
Name:  Full name : Maria Clara Soto Digerolamo but everyone calls me Clara.
Nationality: Child of the world aka Born in Ecuador
Profession: Artisan/Designer/Entrepreneur
Favorite drink: Caipiroska
Find her on… Instagram: digerolamo_, and Facebook
Visit Clara at Digerolamo in Florence, address: Via del Moro 58/R Firenze.
….
Ciao Clara! Thanks for agreeing to be one of my willing victims (kidding). Can you give us a little intro where you are from and where you currently live?
Hello world! I was born in Guayaquil, Ecuador, the coast, an hour and a half away form the beach, which has influenced big part of who I am. But with the exception of my sister and I, the rest of my family is from Argentina. So my customs and the way I was brought up, I have to say, has a great mixture of these two cultures, it's a beautiful blend of the best of both worlds.
I find, however, that after traveling and living in different countries for a few years before settling in Florence, I have taken in so many things of the different cultures that I've experienced and made them my own, that at some point the "Nationality" line just started to become blurry… and I realized that the person I have become is a mixture of all of these… and so I now recognize myself as a child of the world, with parts of me that belong to different places from all over the world.
I came to Florence 3 Years ago to learn how to make leather bags and fell instantly in Love with the city. I knew after a few weeks that this was the place where I would open my studio and live for a while, so here I am.
"Child of the world" I love that, I too feel like each place has shaped me and its a positive way to spin being part of more than one country. What are you up to in Florence? I have had the pleasure of discovering your store Digerolamo thanks to a mutual friend but I'd love to hear you describe it your own words. 
I've just launched my brand under my family name of "Digerolamo" which carries 4 generations of artisans. We opened our first showroom this past November where my mother, Patricia Digerolamo and I present our collections of handmade jewelry and leather bags.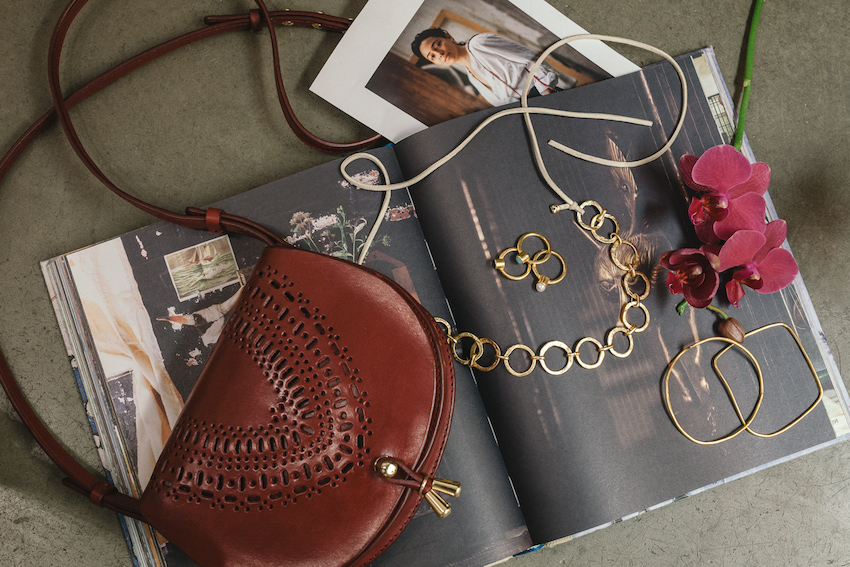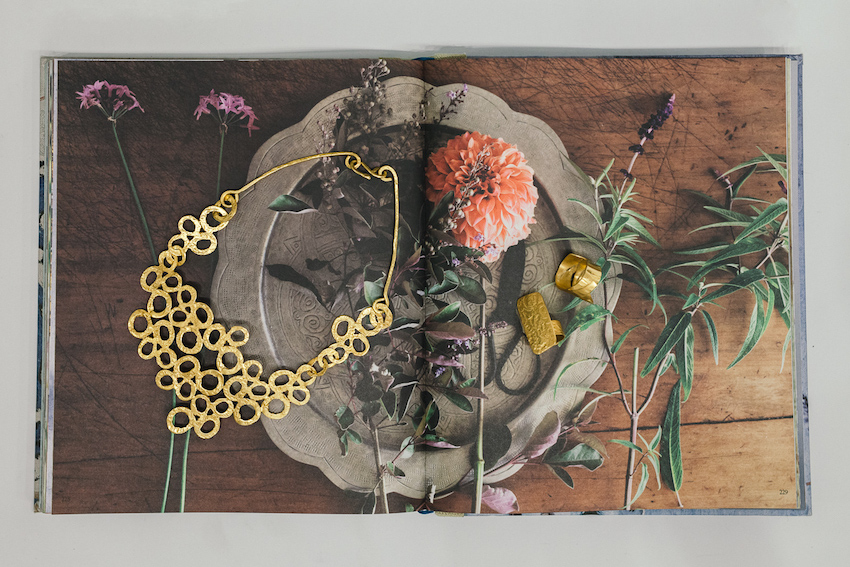 We look through our designs to create unique handmade pieces that maintain traditional methods of artisanship, as well as the tanning of raw materials. This enables us to focus on achieving a sustainable rhythm of production, allowing environmental and social sustainability.
From the soul of our brand we live for objects that are irreplaceable, people that are unforgettable
and memories that last a lifetime. This is what we seek in every aspect of our lives, what we wish for those around us,
and what we see in the people we surround ourselves with.

 It is what our dreams and hopes are filled of, and what we hope to contribute in the world that we live in, starting with the products we make and invest in.
We strive every day to achieve this in the best way possible… It's what we wish to contribute to the world through spending our days doing something we truly love.
Nicely said! I love your term 'slow fashion' because that is exactly what it is. This isn't a huge production line of objects, instead you are the one working in your laboratory every single day.What inspired you to start designing leather handbags and accessories? And how do you make sure everything remains sustainable as per your brand philosophy?
It's really hard to define what inspired me to start designing bags, because I can't remember a time where I wasn't designing something in my mind or in my free time…whether it was bags, clothes, jewelry, shoes, furniture, interiors, paintings… and when I wasn't designing it I was trying to find a way how to make them myself by hand. However, with everything else I always found a way to figure out how to make it by just doing it, and bags was something I tried often without much success, so I would often give it up and go do something else… it remained for quite a while my unobtainable dream until I finally decided to come to Florence and dedicate myself to learning the craft.
My bags are a result of the inspiration that I get from traveling or even dreaming of places that I haven't been, and the girl or woman who would ware them. So I've always been strongly inspired by the travelers, the nomads, the passionate thinkers, the free spirited, the seekers of knowledge, the artists, the lovers.  I am passionate about creating pieces that speak to their spirit, and my language is leather. My mother's is metal… each artisan has an element which helps express himself better and the message he delivers through the pieces that come from him.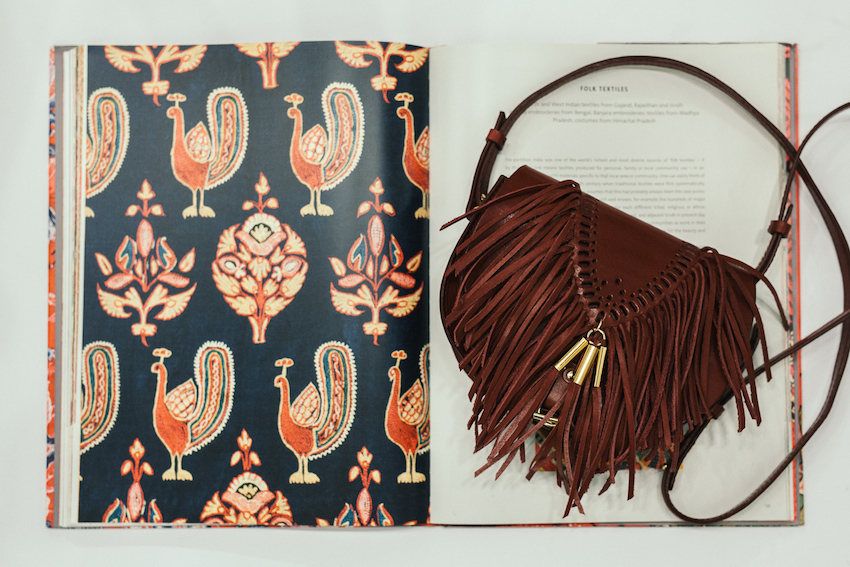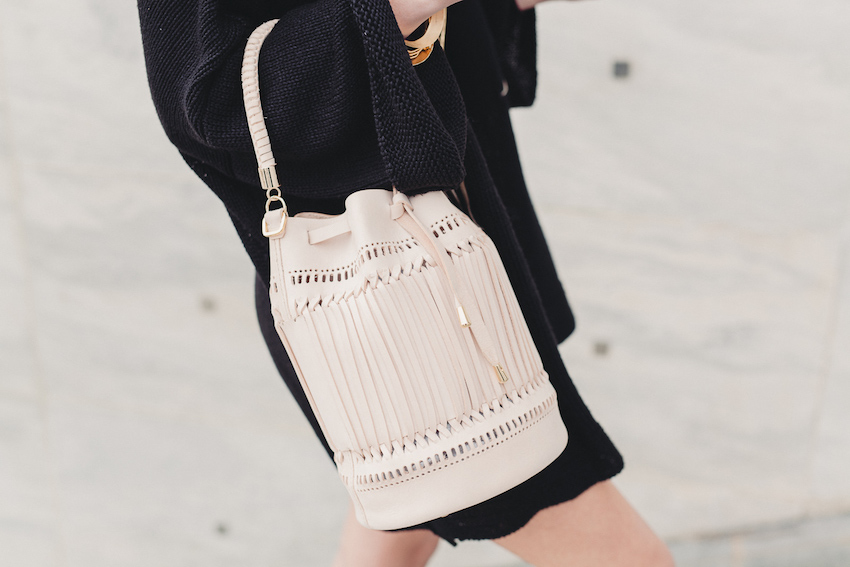 The fact that I do my best to keep my pieces and work sustainable, socially and environmentally, comes from the love of my work and what I do, because I've come to realize that there is no need for anything to be harmed in order for my design to come across. So I look for materials that don't harm the environment, such as vegetable tanned leather, which doesn't kill any animals for their skins. On the contrary, the raw hides used by the tanneries are the discarded by-products of the food industry producing meat for human consumption. They are also tanned with natural tannings; so vegetable-tanned leather object can be easily disposed of at the end of its life, thanks to its chemical-biological characteristics.
In our methods of working we move away from mass production towards carefully created pieces maintain traditional methods of craftsmanship, which gives meaning to what/ how and by whom it was made. This way of production also reduces our use of raw materials, which allows the earth's natural regenerative capabilities to take place and alleviates the pressure on natural cycles achieving a healthy rhythm with what the earth can provide.
We also focus on using local materials and resources when possible and try to support the development of local businesses and skills.
In this way strive hope to keep implementing more strategies to keep our products and business practices sustainable and to develop creative solutions when the industry doesn't provide an ethical or sustainable option.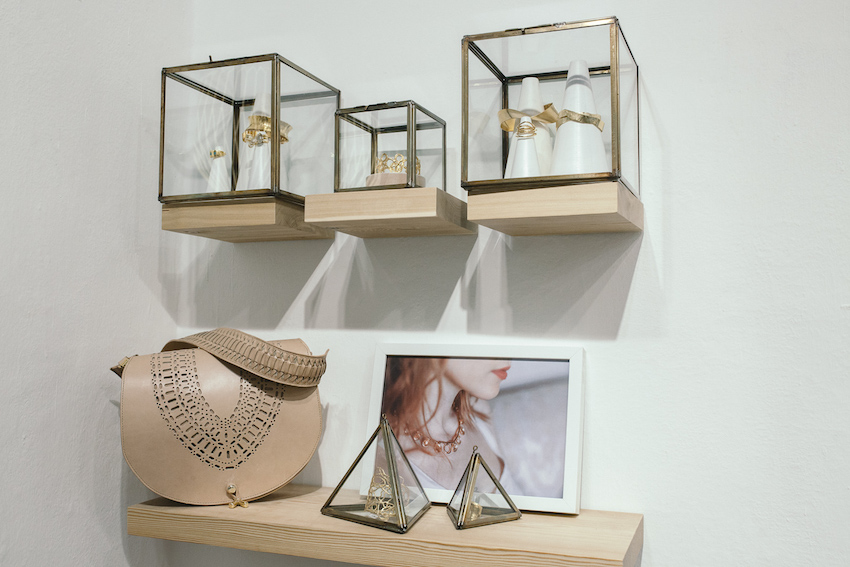 Thank you so much for that detailed explanation Clara, my readers (and myself) appreciate that! What do you think about current fashion trends in Florence and Italy? Do you think much has changed recently?
I think there is nothing new under the sun… creativity is really taking elements, which have been already created, and through your own perspective and point of view proposing a "new combination" a redesign a fresh proposal.  The thing is that this creativity is usually moved by a purpose, a story, a message. Take that out of the equation and you just have "things to buy. " These trends and collections seem to lack passion to say anything new. I feel that is what seems to leave that "Déjà vu" feeling.
I agree. Who inspires you in the fashion world, both locally and beyond?
I admire Stella McCartney and Diane Von Furstenberg. They are role models to follow in regards to choosing a life path and work for the love of it. They've had the strength, and passion to not only build successful fashion houses but to use their resources to shine a light on sustainability and philanthropy in ways that inspires new brands and provides more possibilities in the industry to do things in an ethical manner.
Localy I'm inspired by young independent designers, artists, and artisans that are building their brands out of nothing and choose to invest in Florence because they love this city and see the potential it holds regardless of the struggles and discouraging challenge they might face specially being foreigners. We might all have different styles but it's their character that inspires me, the effort to move forward no matter what and the support we provide for each other as a creative community of artist, dreamer, entrepreneurs.
You too Clara, are one of those designers. Tell us about opening your own business in Florence, it seems like there are many deterrents for young people doing something yourself. Can you shed some light on how it works and what people should know?
I think the main and most important thing that people should know is that it ALL starts with you.
If you don't believe you can do it – nobody else will believe it either.
If you don't love what you do – why should anybody else love what you do.
If you don't believe in what you do, you'll find all the excuses not to do it.
So let's understand the first and most important deterrent for anything is YOU.
On the other hand:
If you believe you can do it – You don't need anyone's approval or belief to make it happen. You don't stop until it's done.
If you love what you do – The passion and joy of doing it every day will shine from you in a way that it is unavoidable for people not to notice!
If you believe in what to do and what you do makes you happy – You will do anything to continue having an opportunity to keep doing it every day.
So 1st thing: you are your own worst enemy and you own best friend, so choose which one you want to be.
2nd: don't even begin to waste your time and money doing something you don't love because you'll always find every and any excuse not to do it or to do with the least effort possible, leaving anyone who comes and purchases your product or services annoyed and disappointed… and eventually you will stop…
3rd:  un-useful / Illogic / and plainly ridiculous Italian regulations and laws are a big part of the discouragement you might face when starting a new project, or trying to do anything really… So ask for help. Be clear about what you want to achieve and ask for the right financial/ legal help form people who understand this incomprehensible system and keep moving forward. JUST GET IT DONE.  This one is particularly the main deterrent that I've found that young people face and get discouraged from even trying and they eventually give up. So, ASK FOR HELP.
4TH Strive to be better, to learn, to teach, to help, to be kinder, to expand, to grow … find out what keeps you moving, how are you contributing to make things better, that will guide you and keep you going when the road seems dark. It gives you purpose.
5th Have a message, a story a passion … say something with what you do, don't just bring more meaningless things into this world. People crave connections and humanity these days… so give it a minute and think about what you have to give to this world through your work.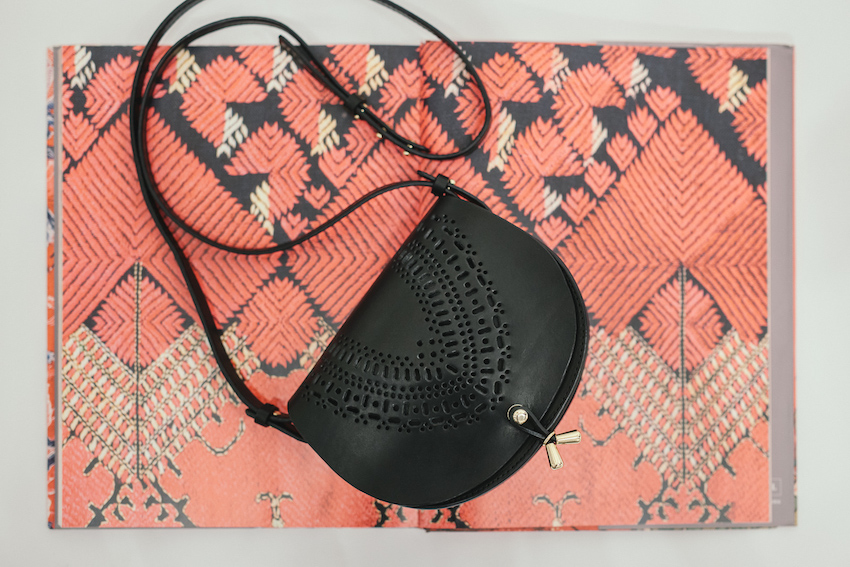 Wow that is honestly one of the best answers I could have ever hoped to get – you should be a business life coach! How does a small business owner like yourself get customers? Do you also have an online shop or one in the works?
Social media it's been an amazing tool with Instagram, Facebook, Twitter and specially connecting to amazing bloggers that review your products and help you tell your story.
Word of mouth…  Being based in the center of Florence definitely is important because we have people from all over the world coming to visit every year and if they like your products and their experience they recommend you to their friends and loved ones.
We have been working on our website which we are launching in a week [www.digerolamo.it] where you'll be able to see a video of or studio, our products, how we work and know more about us, if you haven't had the chance to visit us personally yet.
We've also started doing pop up events in different countries. We visited London 2 weeks ago and this June we'll be presenting at the Museo Bellini for the week of Pitti Uomo, and I hope to show them in Sweden very soon.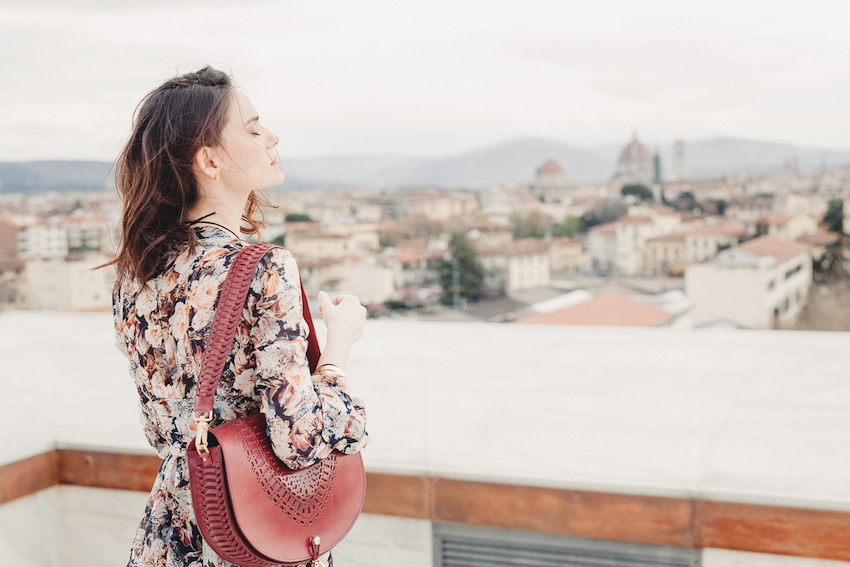 I adore how the online world has become a lovely alternative version of the traditional 'word of mouth'. Also I think as an artisan it is very important that people can come and view your work in person. Can you describe a typical day for yourself?
These days I'm going back to my original habit of meditating and exercising in the morning around 7 sometimes 8, which I hadn't been able to do for a while, it is only now that I've regained some normalcy to my routine since the opening of the studio.
After getting ready I head out for coffee and a brioche. I like to go different places each day on my way to work, just to keep things fresh, I can't stand the routine. I can always count on finding great places in Santo Spirito on my way to work.  For the best brioche go for Pasticeria Marino just before crossing Ponte alla Carraia, fresh out  the oven!!
I live a bridge crossing away from my studio so I get to see the view of the 'arno' every morning as I cross the bridge on my way to work and every evening as I make my way back home, and there is nothing like that view. No matter the weather, it can light up your day. But if I'm lucky enough to get off work before sunset, the incredible blues, pinks and oranges that the Tuscan sun leaves as it slowly makes it's way down can take your breath away the hundredth time you see it just as easily as it did the first, and then… time stops and you realize there is no place like this in the world, and I live here….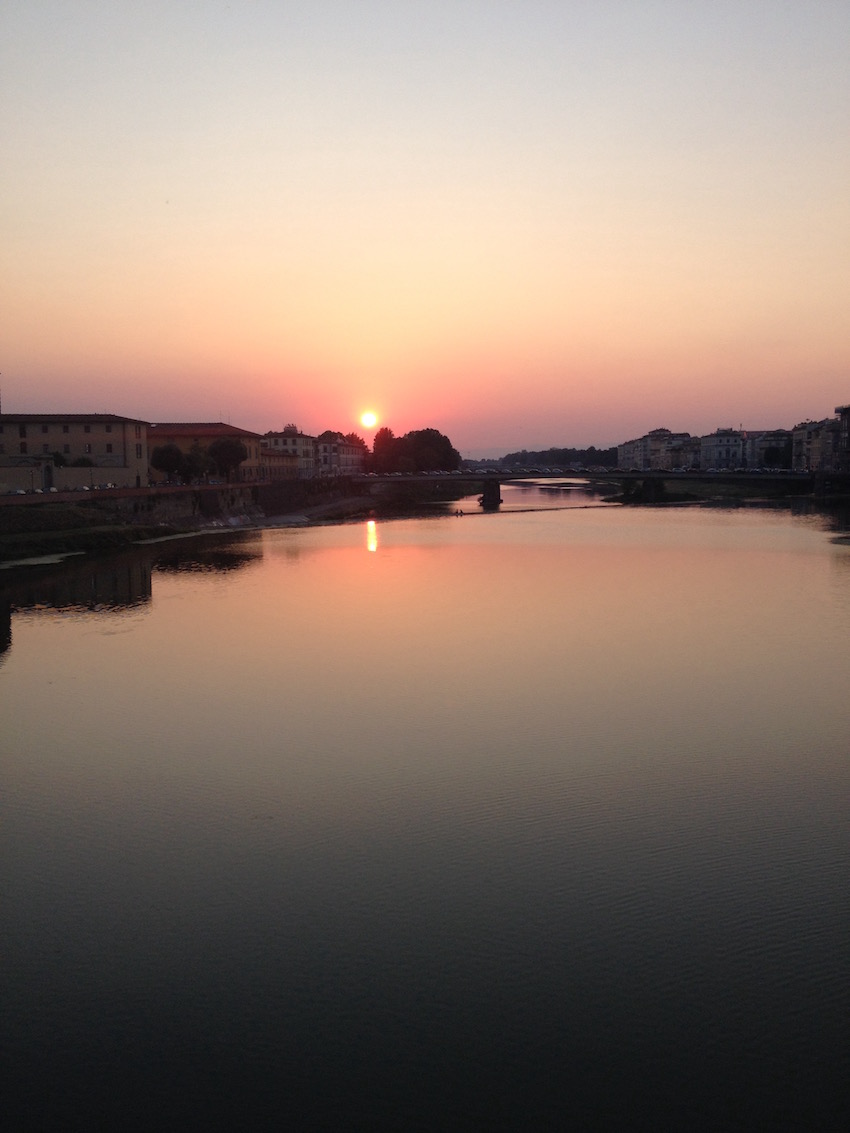 But getting back to my routine… I get to work at 9:30 to organize orders and preparing for the production of bags we are making that week.  Depending on the day I might be meeting to organize photo shoots, events, shows, marketing and social media. On other days I might have to do the accounting, and boring paper work. It's all part of the job.
On production days we begin by cutting the leather of the different models in each color we will be producing them in.  After we move to mark, hand punch, hand cut, braid and color all the pieces to prepare them for the final assembling and sewing.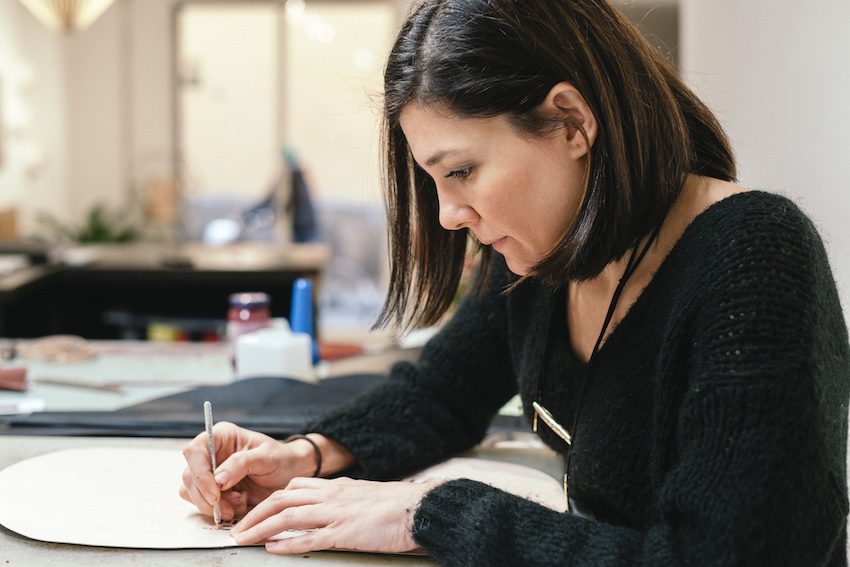 Usually as we are working people from all over the world stop by to take a look, because form our show room you can also see the studio where we make every piece and where we personalize each bag with their initials after they've chose their favorite one.
My day at the studio usually ends at 7pm and I would start making my way home or meet a friend for dinner, but these days I like to stay after hours and have some uninterrupted time making customized pieces.
And the next day it begins all over again…
Have you lived anywhere else (if answered above, I will modify the question) and why did you decide to stay in Florence despite local hurdles?
I've lived in Guayaquil, Buenos Aires, Miami, Paris, Milan and Florence. The truth is you can live many places, but there is only a few you can really call home, and the sense of community the exits here in Florence has that warmth that always makes me feel I'm coming back home after being away for work or holidays.
The community here is superb, you said it best! What annoys you about Italy? Feel free to be as open as you want.
Mmmm the bureaucracy! I find it incomprehensible. It requires 4 people to do 1 Job here and NONE of them have ANY answers!  Or it might happen they all have DIFFERENT answers! Everything takes SO LOOOONG!! They stop and discuss everything it over three thousand coffees and a box of cigarettes. By the time anyone comes up with an answer 3 months have passed…  Grrrrr, This can drive me CRAZY!!
Just going to the post office, you know that that day you'll be doing nothing else. 🙁
It's Italy, make your peace with it.
So many people email me regarding what to pack for Italy, for a fashionista like yourself, what would you recommend?
I would definitely recommend some cute stylish flats that can go well with jeans or a nice dress/skirt because the streets of Florence are definitely not "stiletto-friendly" and you are going to do a lot of walking and you really don't want to overload you suitcase with shoes.
And I think a nice jacket; I like a leather or the "boyfriend jean jacket" for those unexpected cold days. But if you come in July or August you can scratch that out and bring a light cotton onsie or dress that will transition well from day to a night out because in summer it's just great to enjoy all the concerts and events going on all around the city and you might not want to go back to the hotel and change.
https://www.instagram.com/p/BCk8os1CZ3l/?taken-by=digerolamo_
GREAT advice. Three special places everyone should know about in Florence that are off the tourist radar (boutiques, artisans).
In via Toscanella, Stefano Chiti makes the most incredible hand made glass and bronze star lamps, the true artisan way. If you're in the Santo Spirito area stop by and have a look because his work is just beautiful!
For handmade leather accessories with a rustic but cool artisan style I like Quoio in via dei Serragli at the corner with Via della Chiesa.
There is a little studio in via del Campuccio that has a collective of artist, from sculpture, furniture, hand made jewelry. Very unique!
Where do you go when you need a break from Florence?
The beach or the mountains. I usually grab a train and go as far as I can go to a nice beach. I also like camping in the mountains but that requires a car so I'm not able to do it often.  Not too long ago I went to Isola santa in Lucca and I strongly recommend if you need a little break from Florence. 3 hrs away by car, I've never seen anything like it!
What are you currently reading? 
I usually read a few books at a time because It depends if I want to learn something, get inspired, or just read for fun so now I'm currently reading Big Magic: Creative Living Beyond Fear by Elizabeth Gilbert  / People Over Profit by Dale Partridge [A great book for building a truly successful business that values , as the title says, people over profit. Great!] /  and The Field: The quest for the secret forces of the Universe, by Lynne mc Taggar.
Thanks! Now back to Florence, What can you do here and nowhere else?
I think there Is a rhythm of life here that I've found nowhere else. It is a small city but big enough to have everything you need. It allows you to make a life and enjoy it too. The slow pace it has actually forces you to slow down as well and to find the enjoyment in those moments, get to have an actual conversation and connect with each other. This is what makes up the sense of community and family here.
I don't know if I wouldn't be able to find it anywhere else… but this where that clicked for me.
Last question and I'll leave you alone! If you had to make up a tagline for Florence according to Clara, what would it be?
Life is what happens when you're having your 5th cup of coffee.
https://www.instagram.com/p/BFCjaHNiZ2a/?taken-by=digerolamo_