As fast as a light switch, May becomes June. It's as fast as that really. One day I'm thinking "cool, it's the middle of May" and soon enough the end of the month creeps up and I'm scrambling to finish all that needs to be finished. But that's also a good time to remember to not overwork yourself, take a little time and turn the computer off and go for a long walk.
This what I love about living in Italy, when I'm closed inside the house typing away, I can always take Ginger out for a long walk up to Fort Belvedere and take in the beautiful panoramic view, or listen to my favorite podcasts such as 'This American Life' and catching up with news around the world as we slow climb up to Bellosguardo.
Also I'm discovering new places, both in terms of interesting and eclectic local eateries to add to my constantly evolving 'eats' list and artisans and locals I love whom I want to feature in the blog along with our travel posts. Stay tuned for an exciting month of articles and enjoy my monthly list of top picks around town. If I missed anything, feel free to let me know by commenting. Don't forget that June 2nd is the Festa della Repubblica, a national holiday, you can see what's going on in Florence here.
*Also I highly recommend checking out this list of June events by the Yelp community.
https://www.instagram.com/p/BF33ALdxTPq/?taken-by=girlinflorence
…
Craftsmanship & Jewelry Show |  June 1, 7-9pm, Plaza Hotel Lucchese. 
Spend the first day of June checking out two really unique and awesome contemporary jewelry artisans from Officine Nora, Margherita de Martino Norante and Martina Lončar. address: Lungarno della Zecca Vecchia, 50122 Florence, Italy. They will be showcasing some of the techniques they use to make their work, you'll be able to meet and greet them and purchase (if you want). More info can be found here.
Wine! 'Literally Rose', June 1, Vinoutlet, 7-9pm. 
Help a literary magazine go into production while also sipping some awesome rose. On the  eve of Festa della Repubblica, The Florentine invites you to come to Vinoutlet for a summery "serata" with sips, light snacks and spirited conversation with their charismatic staff: The rosé aperitivo costs just 5 euro and proceeds from the event will go toward production costs for forthcoming project TheFLR: The Florentine Literary Review. This beautifully illustrated literary magazine will be in both Italian and English. A member of TF staff will be on hand to answer questions about the project and crowdfunding campaign, which has only a few days left! (Learn more at www.theflr.net/theflr).
Performance | Open-Mic June Edition at Tasso Hostel, 8:30pm. 
One of the coolest events each month takes place at a hostel that serves cheap drinks and offers creatives a free platform. In their words: "This month we are delighted to have one of our favourite Open Mic-ers doing a feature set, before he jets off to perform around Europe. Lorenzo Novani will kick off the night, presenting excerpts from his upcoming new theatre performance. Then the mic will be open as usual, for all our international wordsmiths. Drop us a line through the Open Mic page if you'd like to read!" Check out the official event listing here. Free to go, address: 15 Via Villani, 50123 Florence, Italy. Facebook event.
Meetup | BBQ With Foreigners in Florence, June 4th, 4pm
A fun group uniting foreigners in Florence, the organizer Mysha and her partner have planned a BBQ at their place in town. Anyone is welcome, just let them know here.
Run | "Color Run" June 4th, 3:30-5:30pm, #Tropicolor
Possibly the most 'fun' marathon if you can call it that. The Color Run is sponsored by the fashion brand United Colors of Benetton and invites any and all participants to partake in a 5km run where they will be pelted with colored powder throughout. Yes, kids are welcome, yes there will be music. If I was a runner, this would be the event I'd choose! More info and how to register here. address: Firenze – Ippodromo del Visarno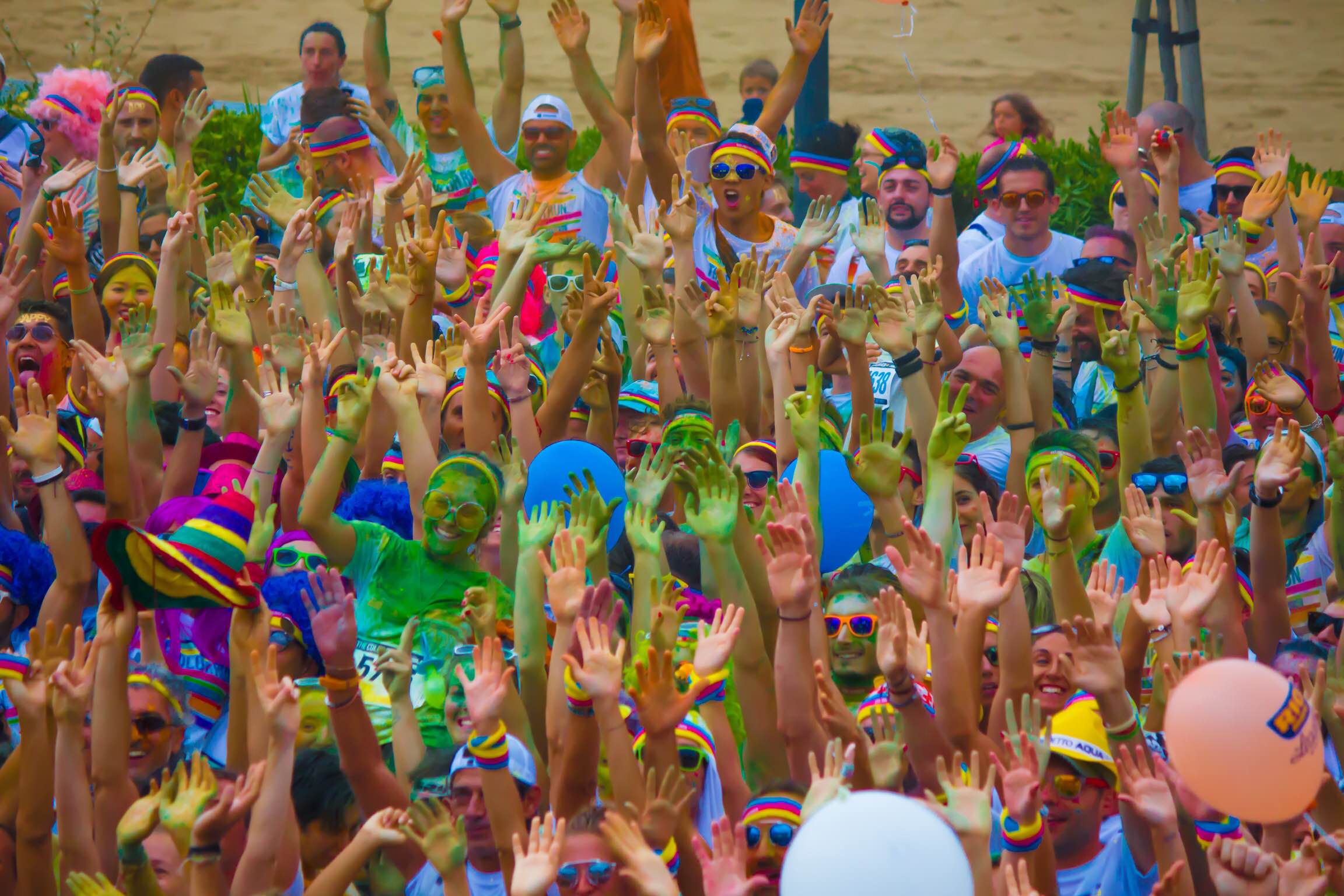 Art | First Free Sundays, June 5th, All Over Italy 
First free Sundays is something I have been including in every monthly lineup because how amazing is it that in a city with so many museums, they offer at least one day where you can visit some of the most important places in town, for free. After May day holiday and #nottebiancafirenze (which ended up being pretty lame), head out this Sunday for a little art & culture. I recommend visiting lesser-known but incredible places like the Bargello Museum, Palazzo Vecchio and the Brancacci Chapel near piazza della carmine. FYI the Palazzo Vecchio is open today from 9am-11pm, Santa Maria Novella: 1pm-5:30pm, Archealogical area at Palazzo Vecchio: 9am-11pm, Museo Novecento 1pm – 5pm, Cappella Brancacci in Santa Maria del Carmine: 1pm to 17. More info can be found here on which museums are free and open.
*I also recommend visiting both the Rose gardens (open free daily) and Bardini which will both be open today.
Food | Thai Dinner and Cooking Class, June 6, 20th, Quinoa Restaurant
I obviously had to share this since I am sorta kinda obsessed with Thai food after our honeymoon. A local restaurant (with a gorgeous inner courtyard) is hosting this event on two evenings, the 6th and the 20th, and will include a Thai cooking class and subsequent dinner. The fun starts at 7pm, dinner at 8pm. Everything will be gluten-free. Reserve your spot giramondosenzaglutine@gmail.com.
address: Ristorante Quinoa, vicolo di santa maria maggiore 1, Florence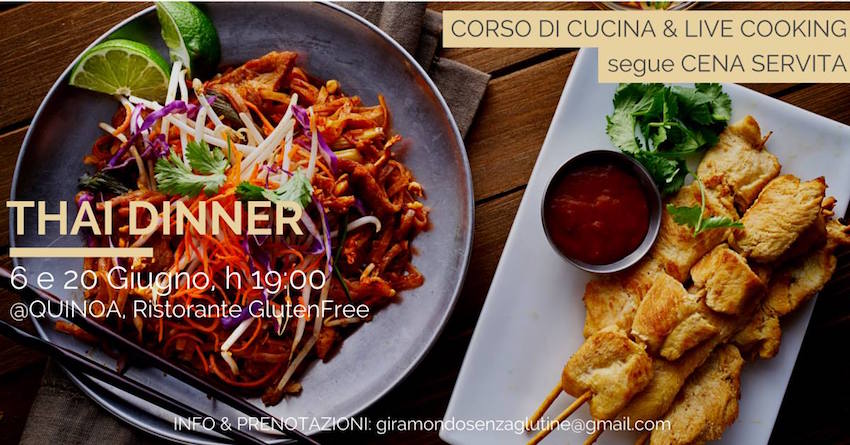 Art | Jan Fabre At Forte Belvedere, Ongoing, Free to go! 
The Forte is back! Already open and showcasing over 60 works of Belgian Artist Jan Fabre including films showcasing his past performances. The exhibition will remain open until October 2nd and will be open daily (closed Mondays) from 10:30am – 7:30pm. I had a walk through recently myself and really enjoyed it, one tip though, don't lay in the grass or they will yell at you. address: Via di S. Leonardo, 1, 50100 Firenze.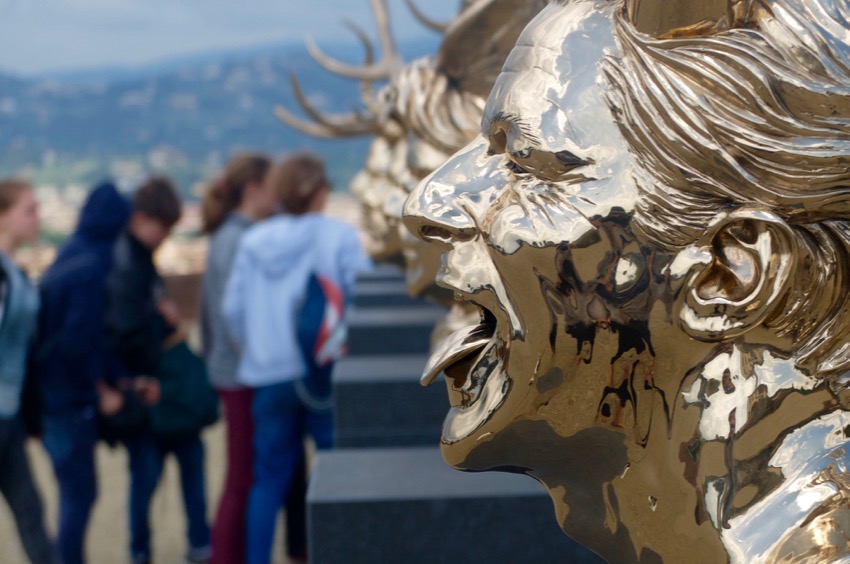 Art | Double-Portrait – Antonio and Xavier Bueno, Until September, Villa Bardini
In Villa Bardini, home of the Bardini and Peyron Foundation, there is currently an exhibition entitled "Double Portrait – Antonio and Xavier Bueno, alternative to reality between avant-garde and figuration" by Stefano Sbarbaro. The show brings together brothers Xavier (1915-1979) and Antonio Bueno (1918-1984), in an exhibition with over 130 their significant works.
The project is curated by Stefano Sbarbaro, who says "it is intended to celebrate and retrace the creative and human story of two complex personalities voted the most authentic pictorial practice that had an original way to get close to the vibrant Florentine cultural environment from the forties …". Read more about it here. address: Villa Bardini, Costa San Giorgio 2, Firenze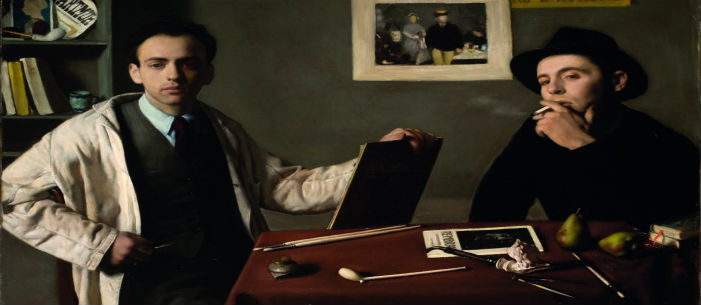 Festival(s) | 'The Season" At NYU's Villa La Pietra, Starts June 5th
The campus of New York University is one of prettiest places I've ever seen, close to the center of Florence, yet nestled in the green countryside complete with cypress trees and you're another type of fantasy. So when they open up their summer of events on campus, you go. Check out the full program here. Events include dialogues and readings by writers, musical performances, theater, plenty of Shakespeare and more, you can see the full program here. address: Via Bolognese, 120, 50139.
Travel | 'Festival del Viaggio' June 7-12th, 
The first festival completely dedicated to travel. There will be locations all over Florence, mainly at the Cascine Spazio Alfieri and all around town. This really cool event involving the most fascinating stories of travelers around the world, sharing their experiences of travel via photography, movies, documentaries, art exhibits, books, maps, games, events and meetings with the public. More info can be found here.
Food | 'Ginspiration' June 9th, Ditta Artigianale Oltrarno, Via dello sprone. 8:30pm
A fun dinner organized by Ditta Artigianale on the basis of gin. This means six courses of food, matched with six mini gin cocktails, all for the price of 35€. Places are going fast so make sure and reserve your spot. I should be there too :): call 055 0457163.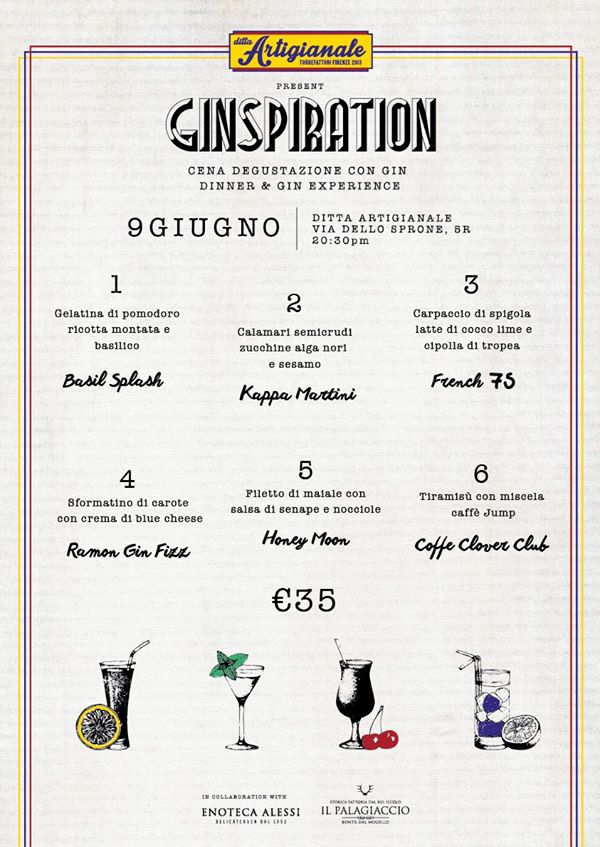 Wine | Florence Wine Event, June 11-12th, Cascine 
Drink wine and be happy, that should be everyone's summer goal, right? Well the Florence Wine Event is back and hosting a two-day wine event at the Hippodrome in Cascine Park. It will run from 11m-10pm and for 15€ you will get a drink card, glass and 8 tastings at the various wine stands. See more info via YELP. address: Viale del Virano 14, 50144 Florence, Italy
Festival |  Festa della Cultura San Giovanni Battista, June 11-24th, All Over Florence
An annual event bringing together both the community and the city's patron saint, Saint John the baptist, this year there appears to quite a number of interesting events, here are a few of the best, for the entire list, check this out.
From June 12th to the 24th, check out the contemporary exhibition on the theme of John the Baptist by Florentine artists Antonio Ciccone, Alessandro Vannini, Helen Bayley, Jason Arkles. At the European School of Economics, Palazzo Rosselli del Turco, Piazza del Limbo
Monday 13, Join a guided visit of the Tornabuoni Chapel by Helen Bayley who will highlight the connections between the Patron saint and historical Florentine art (in English). 10am Basilica of Santa Maria Novella

June 14th, Join a guided visit of Santi Apostoli vy Fr. Scott Murphy, in collaboration with Ars et Fides, which will focus on the theological interpretations of art in Santi Apostoli, including a 1383 altarpiece by Jacopo di Cione with John the Baptist: "Madonna con Bambino in trono tra Angeli e Santi", 5pm Santi Apostoli, Piazza del Limbo

June 15, Join a guided visit of the Baptistery and the new Museo dell'Opera del Duom by expert guide Alexandra Lawrence who will highlight the connections between the Patron saint and historical Florentine art (in English). 9am Piazza San Giovanni 7.

June 23rd, Workshop en plein air. Join Irish artist, Tom J. Byrne, for a mixed-media exploration of Piazza del Limbo and the Lungarno. 10.00am at Piazza del Limbo.
Pride | First Edition Of Toscana Pride Park, June 11- 19th, Limonaia di Villa Strozzi 
With the recent news of same-sex marriage going through in the Italian justice system, now is the time to celebrate. At one of my personal favorite places in Florence (and Ginger's too!) they will be hosting a series of Dj sets, aperitivi, cinema, performances, literature, art & more. On the 15th there will be drag queens and visual art, how cool is that!  You can see more news and updates (in Italian) here.
Cinema | Apriticinema! At  Piazza Santissima Annunziata, Nightly From June 11th until July 8th, Around 9:30pm nightly. 
I'm so excited they brought this initiative back, every night, starting from June 11th films will be shown in one of the most historical squares in the city as part of this year's Estate Fiorentina. It's free to go, just get there a little early to nab a seat, typically the shows start around 9:30pm. Keep an eye out on the list of films and news here.
Historical Football | 'Calcio Storico', June 11, 12th and the 24th, piazza santa croce
Always a very exciting event in town, the four competing neighborhoods of the city will play football (16th century historical version) from the strategic and historical point of piazza santa croce, which is transformed into a special field of sand. I can tell you, it can get pretty violent, I wouldn't bring your kids but if you want a peek into Florentine history, you can't get better than this. The fun reaches its pinnacle on the 24th when a parade complete with historical costumes starts from piazza santa maria novella. That same night (see event below) fireworks dot the Florentine skyline. For tickets and more information or for tickets here. Tickets range from 21 to 50€.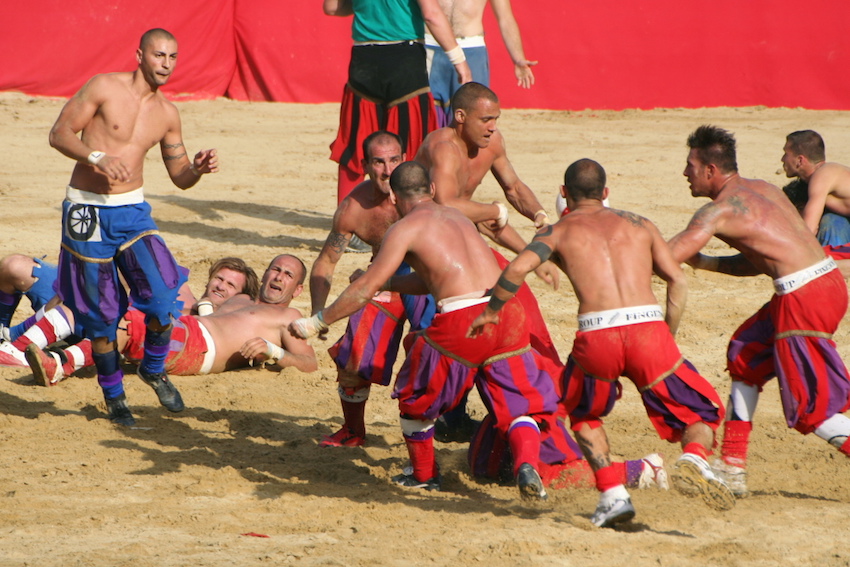 Art | June Currin, Stefano Bardini Museum, Exhibit starts June 13th
John Currin is an established contemporary artist originally from NYC who will soon be showcasing his work in an important Italian public space. He is renowned and celebrated for his extremely elegant portraits and erotic scenes rendered with ironic, shameless realism. Not only does this look like a fascinating exhibit, it also gives revelers a chance to see one of Florence's lesser known museums, the Bardini. address: via dei Renai 37. Open Friday to Monday, 11am-5pm, 6€ entrance. More info here.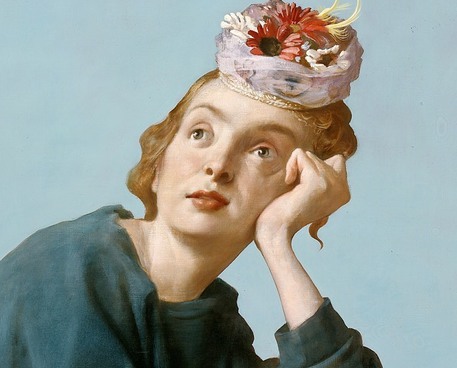 Art & Fashion | Karl Lagerfeld-Visions of Fashion at Palazzo Pitti, starting June 14th
Fashionistas listen up! In honor of the upcoming Pitti Uomo mayhem in mid-June there will be a special exhibit showcasing the great Karl Lagerfeld through the lens in conjunction of the three-year program dedicated to the culture of contemporary fashion. This photography exhibit showcasing fashion shoots at iconic magazine such as Vogue, Harper's Bazaar, Numéro and V Magazine and will include several of Karl's unpublished works. More info can be found here. address: piazza pitti.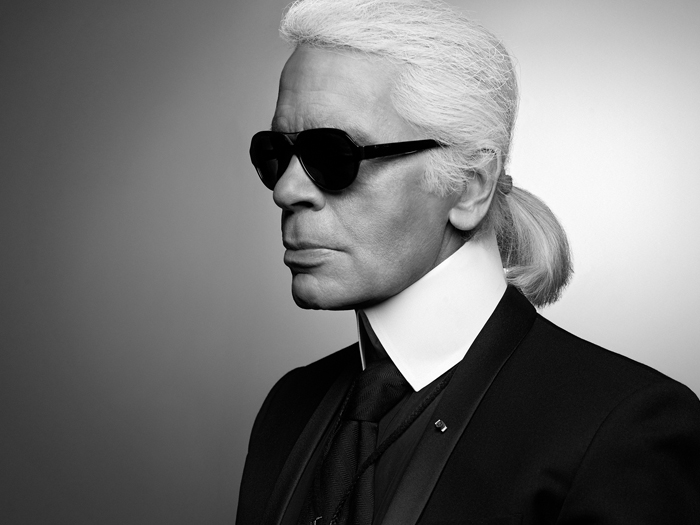 Music & Wine | Open Air Concert at Villa Bardini, June 14th, 6pm
One of the best events they have in Florence are open air classical music concerts together with a nice aperitivo in places like the Bardini gardens. This June, the appointment will be on the 14th at 6pm, and will feature selection violinists. 8€ entrance. More info here.
Pop-UP Market | Magazzino n.5, Temporary Showroom, June 14,15,16, 12-8pm, Museo Bellini
It's Pitti season and while you might not get invites to the major fashion shows, you can instead enjoy a plethora of cool events around town like this one at the Museo Bellini (close to ponte santa trinita) offering a temporary showroom in a very interesting place in Florence. This pop-up market will feature young Tuscan and Italian designers showcasing their Made-in-Italy wares from 12-8pm during this three-day period. The inaugural cocktail event is at 6pm on the 14th.  Free entrance and I'm excited! address: Lungarno Soderini, 5, 50124 Firenze.

Festival | "Monnalisa Day", June 15th, 5:30pm-2am, piazza della passera & San Frediano
In celebration of the birthday of Lisa Gherardini, the famous model of Leonardo's Monnalisa painting, returns a festival in the Oltrarno which brings together the creative spirits of many local creatives. The fun will stem from piazza della passera, with a special Monnalisa dedicated art gallery on nearby via maggio, the Florence in Bici team will go on a special ride ending in piazza della carmine, at Libreria Clichy, there will be artists live-sketching postcards address to the Louvre in a mock-petition with Monnalisa as a theme. In piazza della passera will be a violin concert and that's not all, check this link for more details.
Music | Razor Fest by the Blues Barber, June 18th, 2:30 PM, Cascine
A joy for music, a passion for shaving is the tagline of this quirky festival located in the Cascine Park (Fosso Bandito) on June 18th. The party starts at 2:30 with several stands with a photo booth, a 'cutlery' barber station, vintage clothing, an actual barber. From 9pm the DJ will come out with live music featuring below.
– The Astrophonix
– ASTRO ZOMBIES (The Misfits and Danzig Trinute band)
– Contessa & The Squires
DJs will take turns on stage:
Little Fabio Rosini
Moga & The Barber selecters
dJ Aladdin
address: Fosso Bandito, via del fosso macinante 4, 50144 Florence, Italy. Admission + drink -> 6euro . Admission + drink + appetizer buffet -> 12euro
Parade | Gay-Pride, June 18th, 3pm from piazza D'Azeglio
There has never been a more appropriate time to show your support for the LGBT community all over the world than now. In Florence, they are expecting quite a turnout to Saturday's parade that starts at 4pm from piazza d'azeglio and ends in piazza della independenze. The official hashtags for the event are #FattiDiPride #ToscanaPride2016. More info can be found here. 
Performance/Open Studio | Saturday June 18th 6PM, Piazza della Libertà, Firenze
Yet another interesting event organized by Creative People in Florence. The performance work will be called "When you pass through…" of Justin Randolph Thompson and will feature mobile sound based sculptures of the center of piazza della liberta. Afterwards there will be an open conversation inviting all to discuss art and public space moderated by Anna Rose. For more information about Justin Randolph Thompson, visit his website here.
Run | Night Marathon around Florence, June 18th, 9pm, piazza Duomo
How cool is this! In its 76th edition, this is one of the most ancient street races in Italy, the 'Notturna di San Giovanni' will take place over an 10 kilometer route stretching along some of the most beautiful monuments in the city. Typically around 1,500 people join the race and there is also a non-competitive route of 4,7 kilometers open to anyone. Website.
Concerts | MTV Music Awards at Cascine Park, June 18th, 8pm
It's back! The annual MTV awards Italia style will be bring a pop-obsessed mayhem to Florence's Cascine Park. More info here.
Market | Open Air 'Summer Market' (Fierucolina d'estate), Piazza di Santo Spirito, June 19th, All day
Market lovers unite, June will feature your typical array or organic goods and the like on Sunday, June 19th. 9am-7pm.
Open Call | Salotto_Uno, June 19th at 8:30pm, Numeroventi 
Salotto_uno is a gathering of artists, designers and creative thinkers at numeroventi, a new concept space in Florence hosting artist residencies, exhibitions and events. The theme for the first edition of the of the project, developed in collaboration with Creative People in Florence, is living/room and anyone can participate, read the full synopsis here, it does look like quite a cool initiative!  address: Numeroventi, Via de Pandolfini 20, 50122 Florence, Italy

Fireworks | Feast Day for San Giovanni (The city's patron saint), June 24th, 1opm
June 24th is a pretty important day for Florence as people come together for a 'bang' to celebrate our patron saint San Giovanni. Those who are visiting will be delighted with the evening's spectacular fireworks show shot from piazzale michelangelo. The best vantage point is from the arno river banks, so come early to claim your spot.
*Top Event, a Silent 'disco' on the arno beach where you can watch the fireworks. More details can be found here. You will be able to buy burgers and snacks (you can't bring your own) and come early to see the action from a comfy spot (I recommend around 6pm!). I am intrigued by this silent disco so I am guessing you should bring your earbuds?
Fashion | 'Vintage Selection' Summer Edition, June 29-July 1, Fortezza di Basso
The summer edition of this popular vintage clothing and accessory fair will be moved to the Fortezza di Basso, only for this summer, so you will be able to cure that hankering for a retro handbag or crocodile belts. Open daily from 10-9pm, during the later hours there will be a DJ set. On the 28th there will be a special 'lungarno swap party' with music by Michelle Davis (who rocks), email Info: [email protected]. More info here.
Cinema | Original-Language Movies, Odeon Firenze, The Month of June, Piazza Strozzi
I went ahead and bought Odeon cinema ticket package so I am actively promoting any trips to the cinema with friends. Films at the Odeon are in their original language. This June there are a number of awesome movies that I really want to check out including 'The Man Who Know Infinity' and 'Julieta'. Price: 8 euros for a normal ticket, or you can get a pass for 8 shows for 44 euros. Program for this month.
Drinks Al Fresco! | Where To Get A Drink With A View in Florence
While not exactly a specific event, June marks the opening of many of the city's terraces, most on top of hotels, where anyone can go for an aperitif drink or sometimes even stay for dinner. The bonus is you get a beautiful, panoramic view of the city, just be aware that drinks will often be a little pricier. This is definitely one of our favorite activities on a beautiful summer evening. Favorites include:
"La Terrazza" on top of Hotel Continental is open to the public and is a sexy, sophisticated spot to sip a moscow mule with a birds-eye view of the Ponte Vecchio. Pricey, cocktails cost around 16 (if not more) euros, open daily from 3:30pm-10pm. address: Vicolo dell'Oro, 6r – 50123 Florence, Phone. +39 055 2726 5806 , E-mail. [email protected].
S.esto at Hotel Excelsior is a prime spot for fashionistas to grab a drink on one of the best terraces in town. I would skip dinner here and just get the drink. Piazza Ognissanti, 3. Open 7:30pm-10:30pm.
Say hello to the Duomo! Grand Hotel Cavour is my usual choice to take people for a drink with an awesome view. I like its intimate feel, not outrageous prices and niceness of the bar staff. Drinks aren't as great as Continental but I assure you, this place is worth visiting without giving your wallet a heart attack. address: Via del Proconsolo, 3.
Oblate stays cool. On top of the Oblate library lies a cafe that is quite popular with the Italian student population. The great thing is you can also get a drink here and prices are cheap so this is a wonderful option for those who are on a budget, but still want the Duomo smack in their face. address: via dell'Oriuolo, 26. Cool place to organize a private aperitivo as well. Info here.
Grande Hotel Minerva, '360 Three Sixty' Rooftop Bar: has a new menu for 2016. Next to the pool in piazza santa maria novella, this place is too cool for words which is perfectly in line with the hotel's recent renovations. Open daily from 7pm-midnight.. Drinks range from 6 euros for a glass of prosecco and 12 euros for a cocktail. Email [email protected] for a reservation.