Stepping out into a cold February afternoon, I headed into a very typical Slovenian house in the heart of 'hurricane wind' Vipava valley, an area not far from the Italian border. So famous is this wind, it helped determine the fate of the famous Battle of the Frigidus in 394. Following the sweet smile of our friend and young host Karolina, we were shown to the stairs to the cellar. I ducked, as per tall-girl-problems it's surprising I haven't yet had a concussion from tiny doorways meant for small Europeans. The cellar itself was tiny, perhaps 20 square meters soaking wet, if that.
Tipsy In the Vipava Valley 
However, it was an ethereal and beautiful setting, long-stemmed white candles glowing in the darkness, a wooden table and two benches in the larger area, the wine a little further to the back. As my Italian counterparts worried their livers would sustain grave damage, this was the second wine tasting we would have that day — this Texan was more than ready to 'take one for the team.'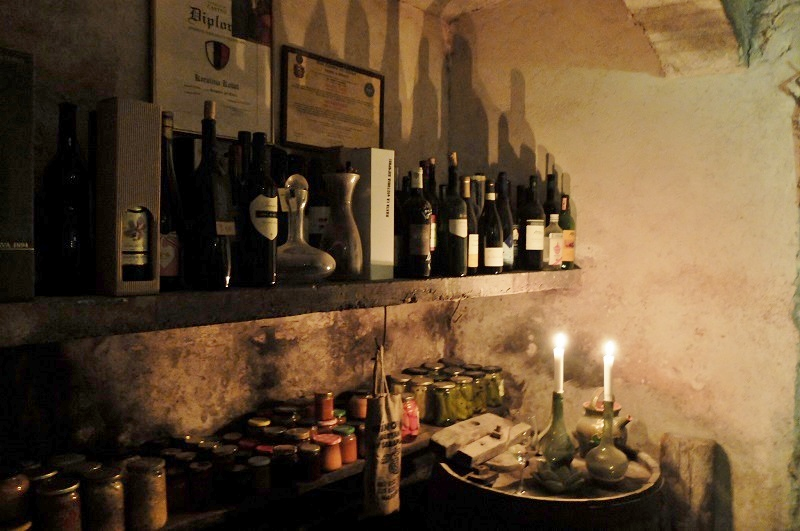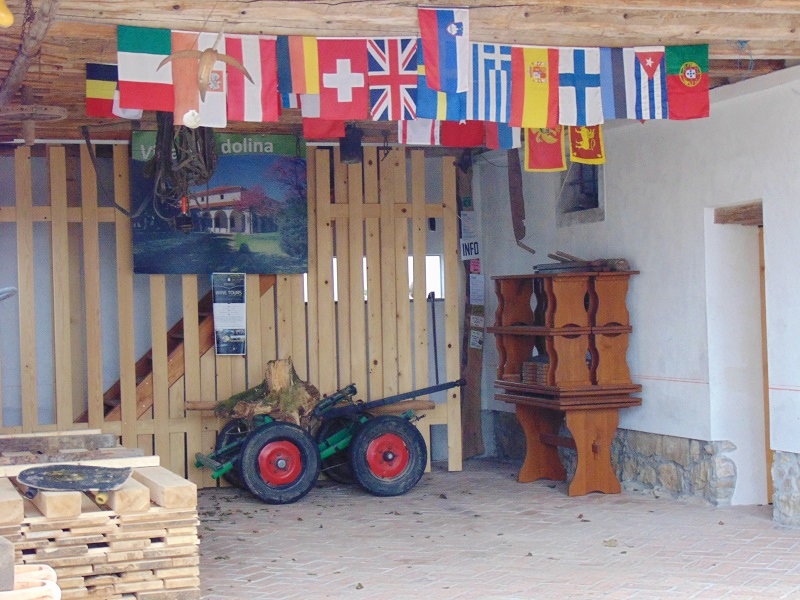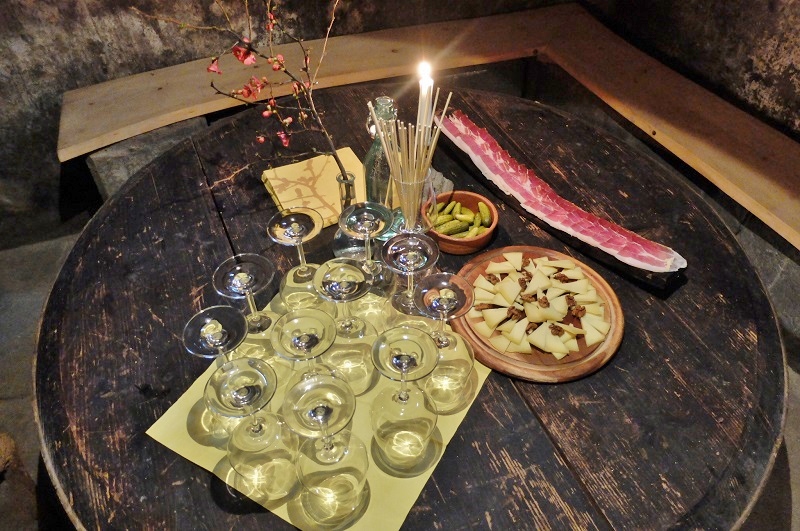 We were in for a light lunch too, smiling Karolina also provided us with plenty of sheep cheese and prsut, local prosciutto which was beyond delicious. Soon we were ladled steaming bowls of la jota, a fermented cabbage soup with sausage, sauerkraut or sour turnip and potatoes. It was sour, and quite delicious and typical of the area, apparently it was also a mainstay in the former Austro-Hungarian territories.
Karolina, who crawled into a small space where the wine was once kept in more rustic days just for fun, shared with us that she was once crowned the 'wine queen' of Slovenia in 2009 after being pushed to participate by her late brother. Her knowledge of wine, languages and passion for the land was enough to win over the judges, and at 24 years old she took on the one-year role traveling and representing the local wine culture. This sounds so much better than Miss Universe if you ask me.
I have to say, Slovenia, this 'new' country has a place in my heart, it came into its own after the Slavic wars set its independence only as soon as the 90's. The country borders four others (Croatia, Austria, Italy, Hungary), which explains for the excellent linguistic skills of its residents, in fact almost every Slovenian I actually had a conversation with seemed to know more about everything than I do.
We were in the area known as the "slovene Venice" notable for the clear-water springs (see main photo) and strong 'bora' winds, people come here for a bit of quiet sanctuary. There is plenty do here, not least of all hiking, river sports and my favorite — tasting wine.
Most everything is only an hour from the capital, Ljubljana, and the country should be known for their magnificent white wines. Perhaps its the proximity of the Fruilian valley in Italy that makes me think of those crisp, fruity whites, but this area also has a right to be proud with their own indigenous grape varieties, Zelen, Pinela (green wine!), and Vitovska Garganja. This along with the right conditions for growing Ribolla, Chardonnay, Sauvignon, Pinot Blanc, Pinot Gris and also Riesling and Malvasia. It is also said that there is a vineyard in Slovenia for every 70 people, or 71 if you add my wine-bumming self.
Interesting enough, Slovenian wine isn't that well known outside of Slovenia, according to Vice online "of all the wine produced in the country, 94 percent is consumed by the people who live there." It makes me believe they are holding onto something here.
Before we visited the beautiful home of the Kobal family, we stopped in the small town of Vipava. Can area of land that reminds me of a pretty whisper, it is quiet and unassuming, that is until to you spot the beautiful aqua green springs in the town center. All hail Chronicles of Narnia fans, this is your spot. We explored the new castle built in the 17th century, Palazzo Lanthieri, a baroque beauty owned by a rich family that goes by the name goriziana.
One of the best reasons to come here, is to get a kick-start in your wine adventures by stopping for a tasting run by the local tourist office. Here you can sample over 150 varieties of wines, produced by the 45 winemakers from the Vipava region, my suggestion go for the bottle that resembles a woman's body, a 'green' wine, a lovely Pinela by the Furlan winery located in the village of Zavino. In addition, try the white Vipava blend which is crisp and fruity, among white varietal wines you can choose between Zelen, Sauvignon, Muscat Blanc and Chardonnay, and among reds Barbera, Merlot, Cabernet Sauvignon and Refosco.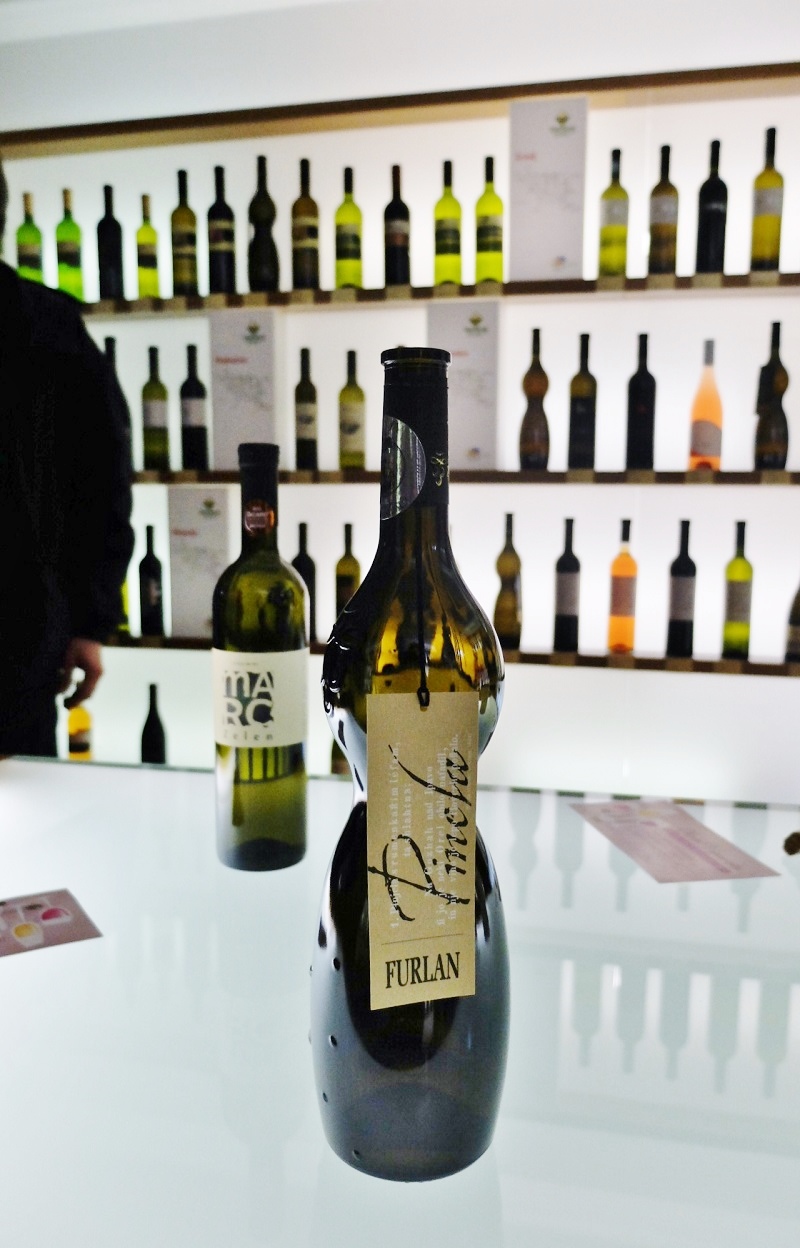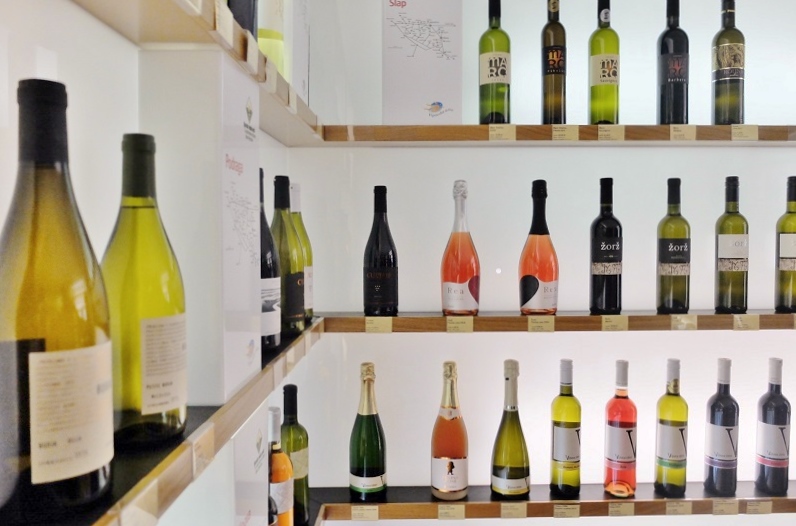 Ptuj – The Oldest Town In Slovenia? 
Another stop in our wine-fueled adventures was the village of Ptuj, said to be the oldest in the country, and an easy two and a half hour train ride from the capital, Ljubljana. I liked Ptuj for the colorful architecture, cobble-streets and red-tiled roofs, the architecture varies from Romanesque, Gothic, Renaissance and neo-Baroque. It features your Medieval usual suspects of a castle, clock-tower, a 13th century monastery and archeological museum (one of the most visited in the country), Admittedly, it's not the easiest town to say, unless you're Slovenian.
It was once a battleground for the Ottoman wars and after a series of take-overs was finally reinhabited by Slovenians since 1945. In the spring, locals celebrate the 'Kurent' carnival in the days leaning up to shrove Tuesday, which is an annual folklore parade celebrating fertility with the coming Spring. Figures dress up in sheepskin, adorned with feather, bells, long red toungues and using sticks — go door to door to ward off evil spirits. It sounds positively frightening and a little crazy, but that just adds to the quirky local charm.
In August is a festival (24th to the 27th) dedicated to poetry and wine bringing together some of the best artists and poets from around the world. It sounds so harmoniously perfect you have to think of course they thought of that.
Continuing on our wine-fueled adventure, in Ptuj, we headed to the Petoviona wine boutique owned by Mr. Kobal, a serious man with a firm smile nestled in a small, yet elegant space on the main road in town. He spent a decade in the oldest wine cellar in Slovenia as the head oenologist so this was the perfect person to truly give us expert insight.
From bubbles using Champagne-Noir to after-dinner dessert blends, we were in for a treat as our tasting got a little more of an elevated pat on the back. I loved the pinot grigio, with its ripe pear, apple, and smooth aftertaste. We also tried a lovely semi-sweet moscato from the North-eastern part of the country, the citrus, floral and nutmeg nuances played delicately on your tongue for those who like a sweeter tipple.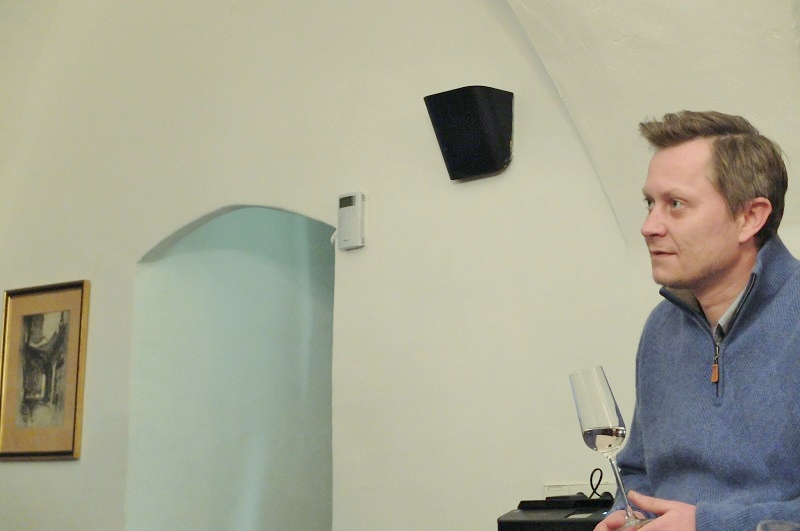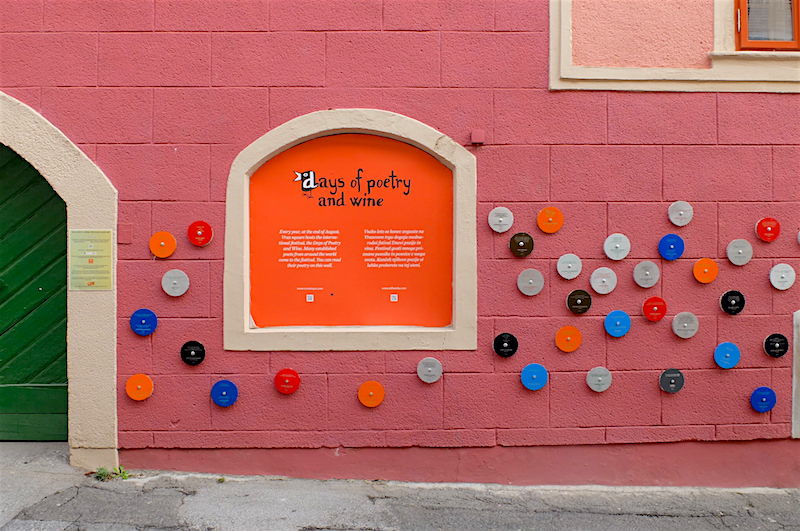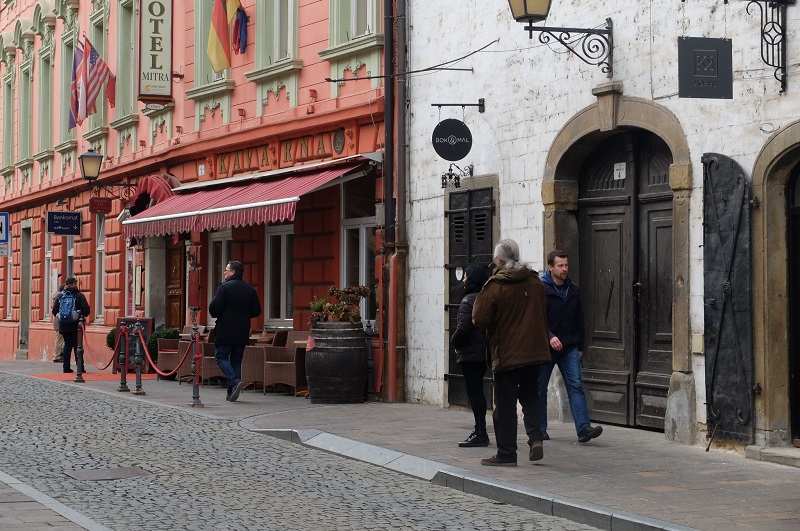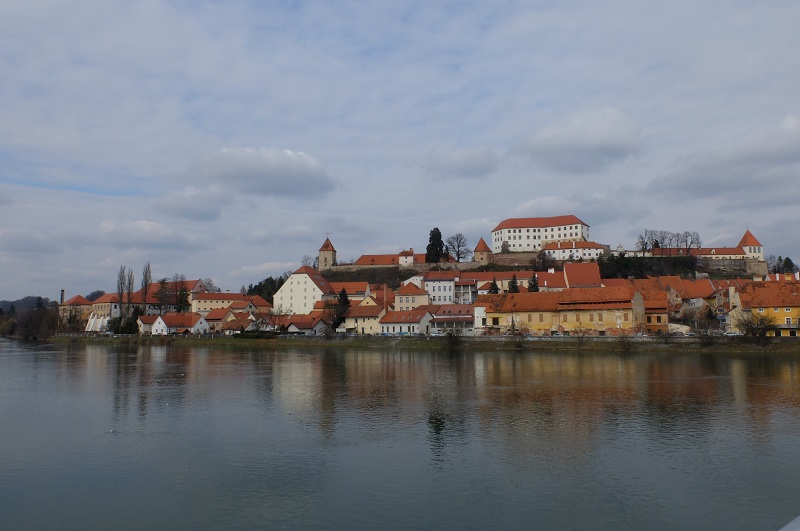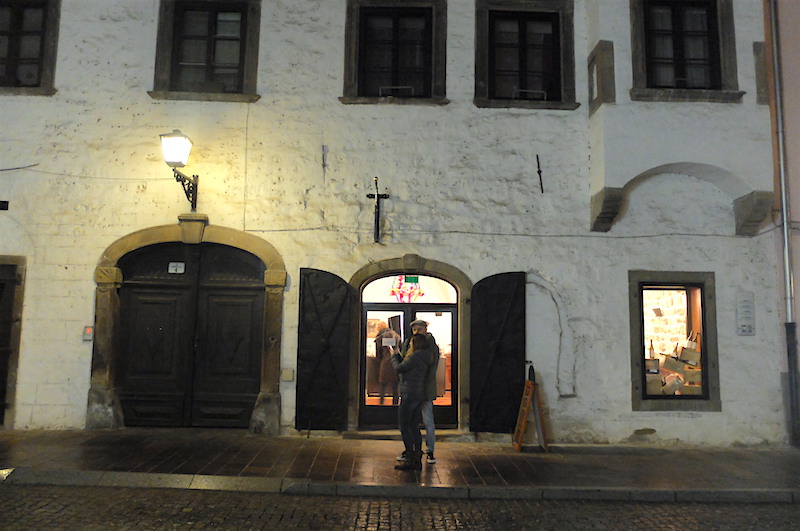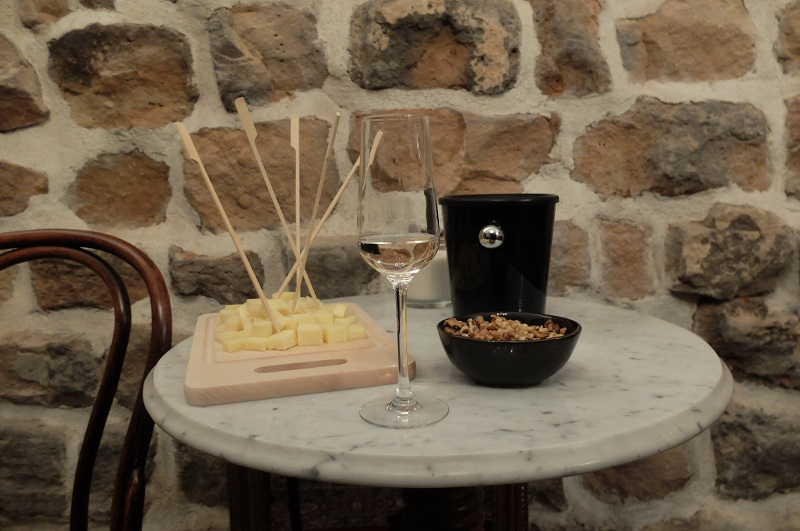 Right Across The Border, Get Your Wine On At Faladur
Before heading back to our day to day lives in Italy, we stopped at a tiny little wine shop and tasting room in the middle of nowhere, just before the Italian border. Called 'Faladur' the inside decor is shaped into a semi-circle with beautiful wine bottles, and you can have a light lunch here too. We dug into a local version of polenta covered with a sort of sour yogurt, ragu and pork cracklings, absolutely the tasting dish I tried in Slovenia, and it went quite nicely with the local Merlot they served (and which I brought home).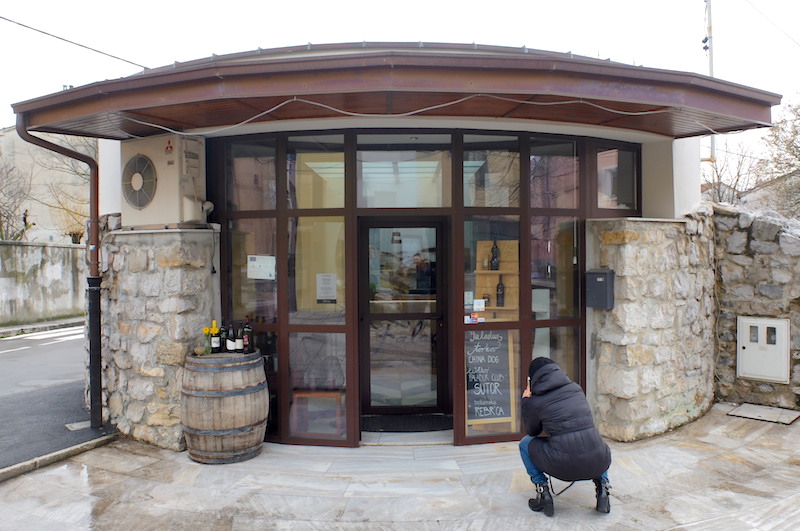 Where We Stayed & Ate 
Grand Hotel Primus, address: Pot v Toplice 9, 2251 Ptuj, Slovenia. website. Rates from 119€ a night. Ptuj is known as a thermal springs town and this is the perfect place to base for a dip in one of the hotel's healing pools, across the street is a water-park and public pool, very casual ambiance but a great place for those with kids.
*Also ask about Primus's 'be-fit' food program for a lunch perfectly balanced with carbs, vegetables and protein.
Where We Visited 
Kamp Vrhpolje, open from 1st of April to 1st of October.  Perfect base for those who enjoy camping, also inquire about having a wine tasting in the family's ancient cellar. Prices for camping start at 8,50 € per person (low season). address: Vrhpolje 42, SI-5271, Vipava
Vipava | Goriška | Slovenia. Book here. 
Petoviona wine boutique, elegant wine boutique in the center of Ptuj, Prešernova 4, Ptuj, SI – Slovenia.
Faladur Enoteca, Lokarjev drevored 8, 5270 Ajdovščina, Slovenia. Tiny wine boutique close to the Italian border, this is well-worth a stop for a quick lunch and to pick up excellent local wine. website. Ask also about their craft beer tastings. Open 10am-6pm Mon-Fri, to 2pm Saturday.
Related Reads