This week I am really excited to showcase you a local I love with her heart in two countries. I met Margherita Pandolfini over a year ago through the folks at CPIF Italy, though we recently connected to set up an event together. Her enthusiasm brimmed over as we sipped coffee at concept bar La Ménagére, her dog Gilda curled by her side. Naturally I had to have her as a 'locals I love' as she is an epitome of what I love about Florence, Italy right now. Creativity, passion, collaboration in a contemporary way. To visit Margherita's studio is to step into a colorful window of her life. Sun beams through the large open windows, facing a beautiful private garden that is of the Pandolfini family, a gathering place of artists and writers dating back centuries. As my friend Annie and I walk around, taking it all in, her dog picks a comfy spot directly in the sun. It is literally the perfect spot for a creative screen-print textile studio, called La Serra MK Textile Atelier which she opened with partner and fellow artist Karl Jorns. A girl who loves dogs and getting a little dirty, I could tell we were going to be friends already.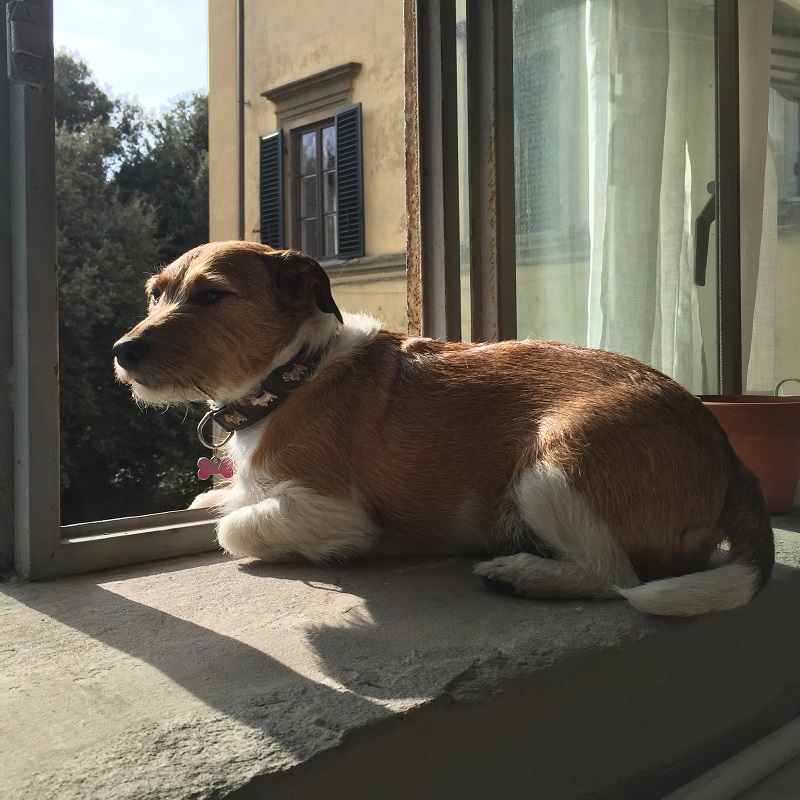 In this inspirational former greenhouse in a historic palazzo, she creates beautiful runners, tablecloths, place-mats, hand-dyed scarves, pillow cushions, lampshades and that's just a sampling. Everything is one a kind, something we tend to see less and less in a very mainstream and franchise shop kind of world. We spoke about an exciting commission she recently completed, creating a Bedouin tent (see below) in a London penthouse for a Saudi Prince, bursting with color and style that would transport anyone without need for a passport. You can read more about her work in this interview for Bouf.com.
https://www.instagram.com/p/BCsfr6XgmNO/?taken-by=mktextileatelier
name: Margherita Pandolfini
nationality: Italian profession Textile Designer
favorite drink: Margarita
—
Margherita are you from Florence and is your whole family based here?
Yes I`m from Florence and part of my family is based here . One of my brothers lives in Mexico DF and my other brother lives in London. My father is from Florence and my mother is from le Marche. I grew up travelling and living in different countries , Spain , USA , UK etc . So I guess I consider myself a bit of an international Florentine…
Yes I certainly had you pegged as English when we first met! Have you ever lived anywhere else, or ever wanted to?
I basically lived most of my life abroad so I never grew up in Florence. I came to live here when I was 30. I lived most of my life in London, my heart and home is a bit divided between London / Florence . I think after travelling a lot I feel its time to lay some roots and Florence is it .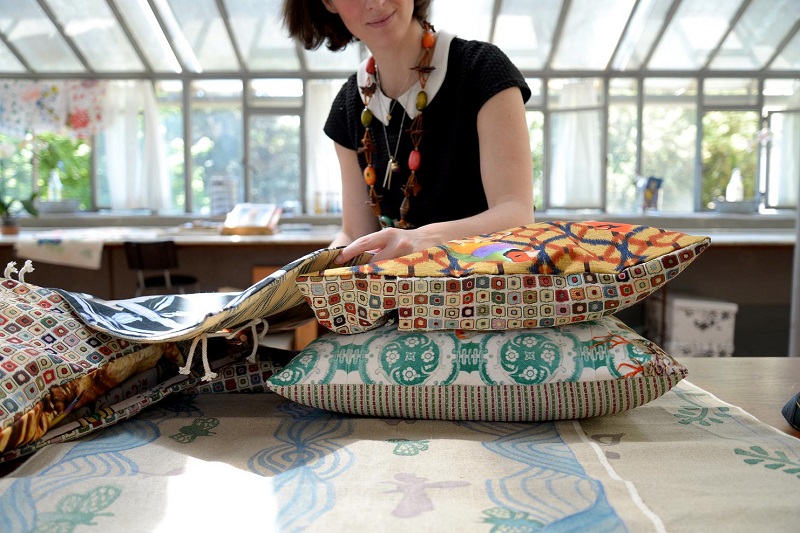 What are you up to in Florence? Tell us about La Serra MK Textile Atelier and your studio.
I design and run my own textile studio with Karl Jorns my business partner . Who also teaches at the Polimoda and other fashion / and art schools here . La Serra MK was born out of our love for pattern , art , design and from our artistic passion for textiles . We combined both our backrounds mine in Fine Art and his in Textiles / Architecture . At La Serra MK we design and produce one of a kind limited edition of home ware products as well as fashion accessories . We hand paint / screen print the products using linen, jute gauze . As well as also designing our digital range of lampshades and cushions . Each product is unique and is not repeated . La Serra MK is based in an old green house in the centre of Florence, it's a magical place that we love to decorate and update every so often . Will also host events to promote our collection of products as well as hosting pop up events with other designers .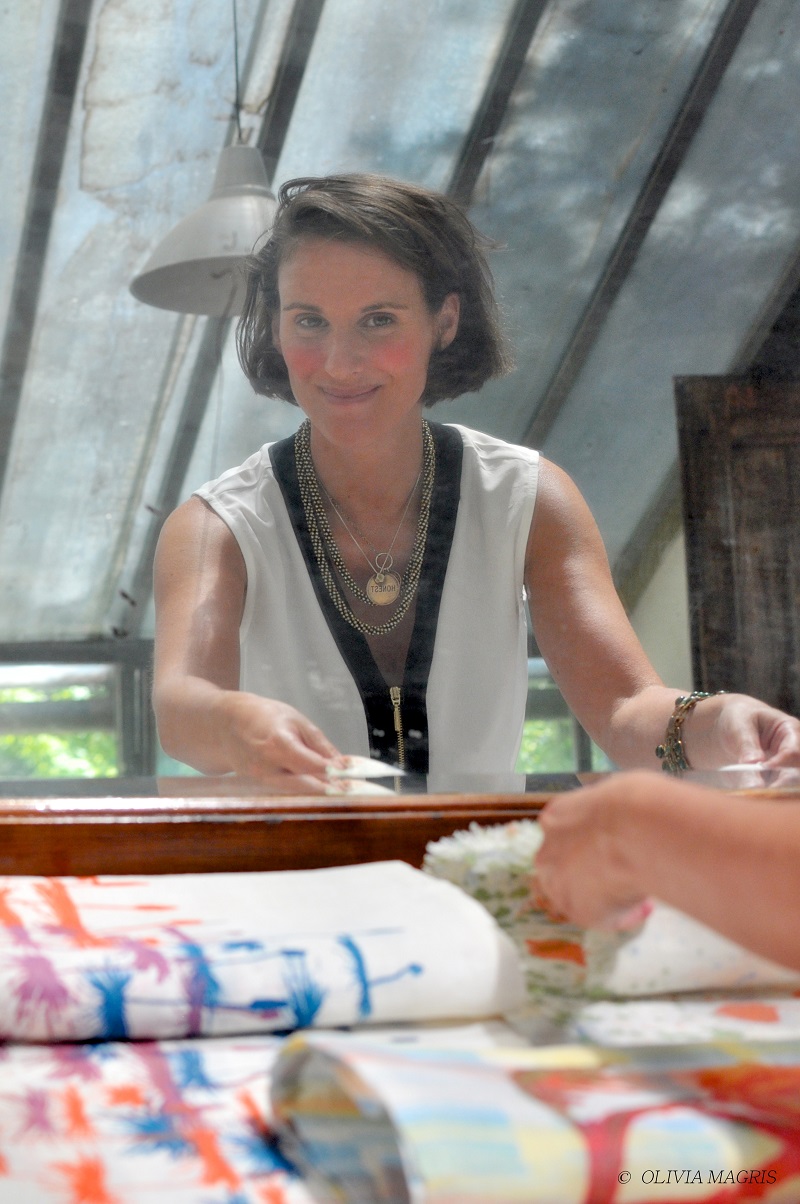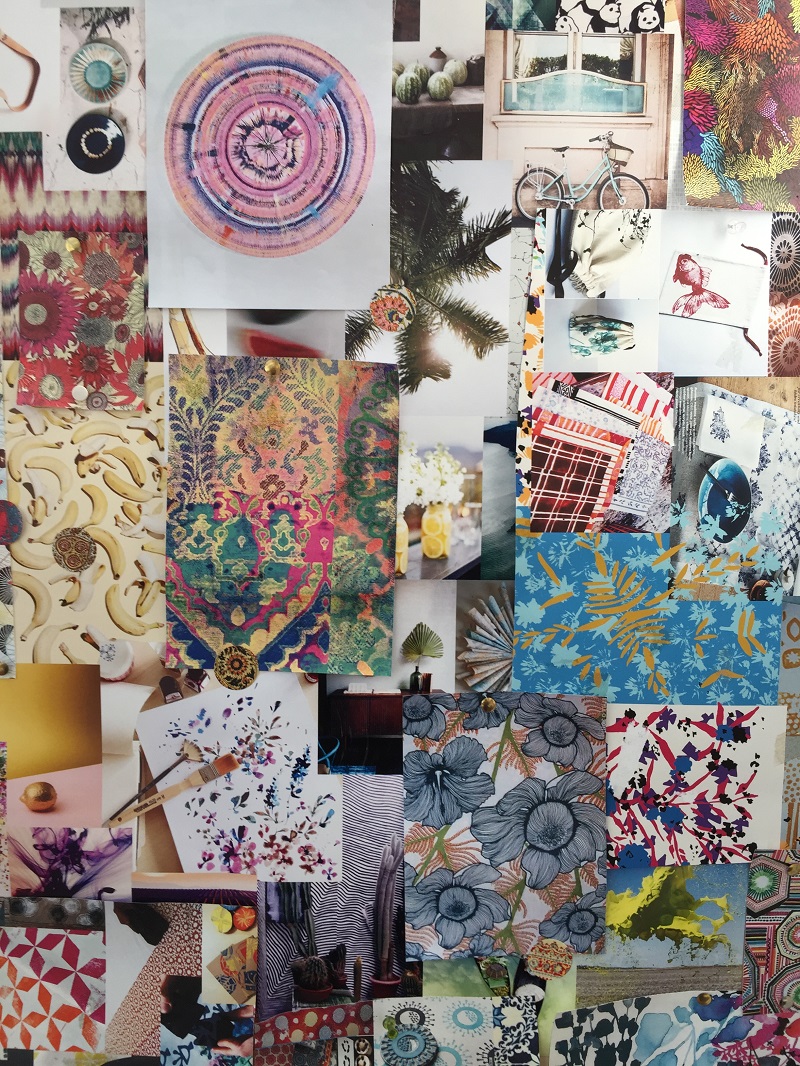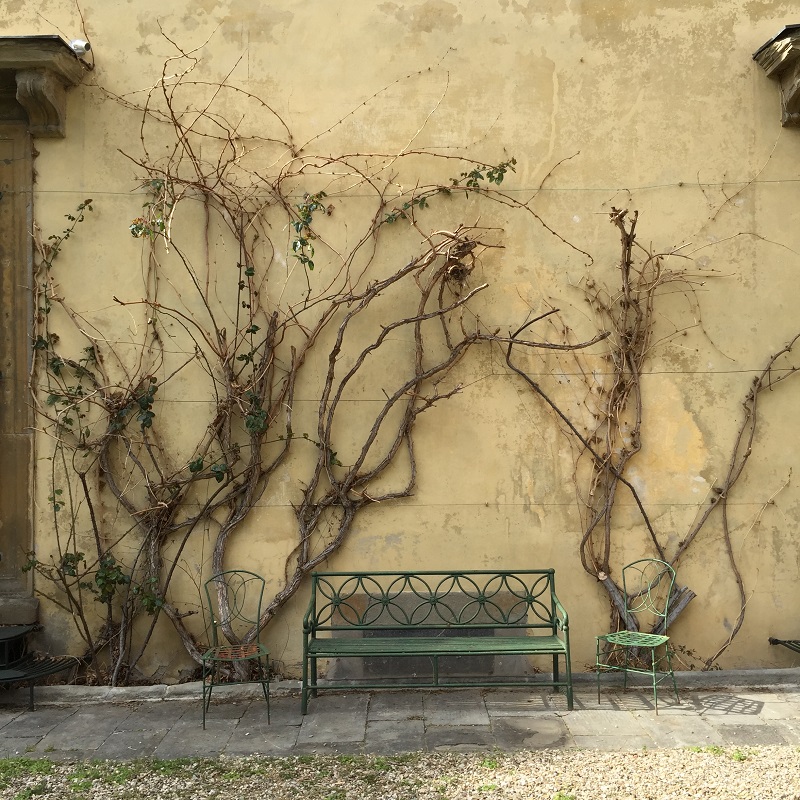 Any special events/collaborations coming up soon?
We have a few upcoming events , one is on the 10th of April at the Andersen Café we will be showcasing our new range of runners and placemats, on the 7th I will be hosting an evening dedicated to bloggers with Girl in Florence aka YOU and many more great things to come
I look forward to it, truly I think it is so fantastic that you openly look to collaborate locally. What are your thoughts on contemporary design in Florence and the creative scene currently?
Heh, this is a bit of a tricky one … I think Creative People in Florence has really helped the contemporary design and creative scene in Florence, it gives artist , designers and creatives a place to gather and share their work and collaborate and also to know that there is a place you can promote and share your work really helps . By hosting my events and pop ups I have realized that helps and you get to meet new people and show your work. Florence is not a renowned city for the contemporary but I do think that slowly its changing and things do happen, there is a lot of interest and will to make thing happen, new bar and restaurant openings….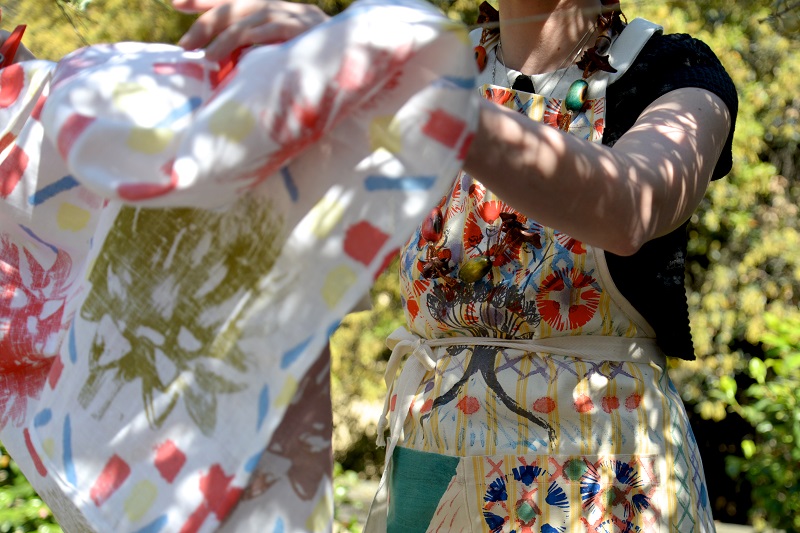 What inspires you?
My studio, where I design and create and make things happen …. Its my getaway from the world . Looking outside on to the garden … nature inspires me ….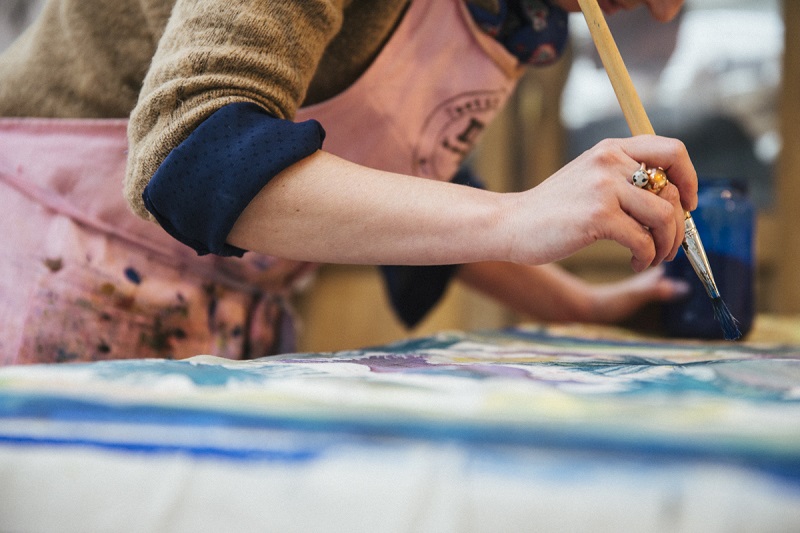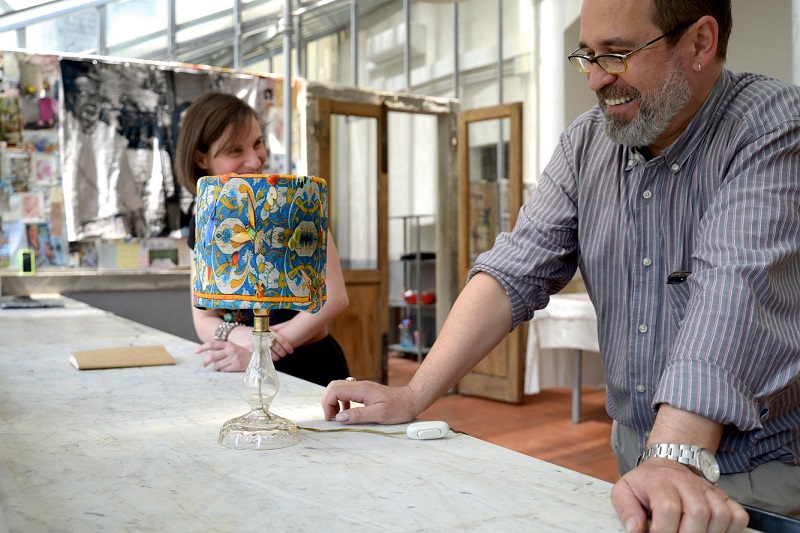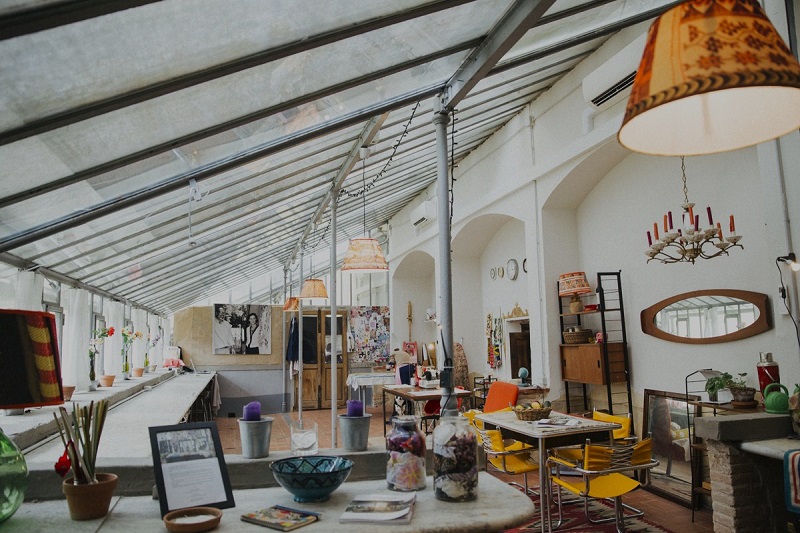 Is there anything that annoys you about Florence as a local? Tell me the truth!
That it can be very dirty and crowded and people don't seem to move … especially on the side walk when you want to walk by. Something a bit banal, but noteworthy!
Fair enough! I call that the 'sidewalk wars' when one waits for the other to step aside while walking past. I always seem to lose that battle. Do you think life in Italy is for everyone? Why does it work for you?
I don't think its for everyone, it really depends on the person. I think it's not an easy place as there are a lot of bureaucratic problems to set things up. In Florence the mentality is a bit traditional but I think if you get over these aspects and you have a passion and determination all is actually possible. It works for me as I have my wonderful atelier and also the textiles and material we use are of great quality. Also in Florence there is a great artisan tradition and the 'made in Italy' is a great quality-product to sell abroad (when it's actually made in Italy).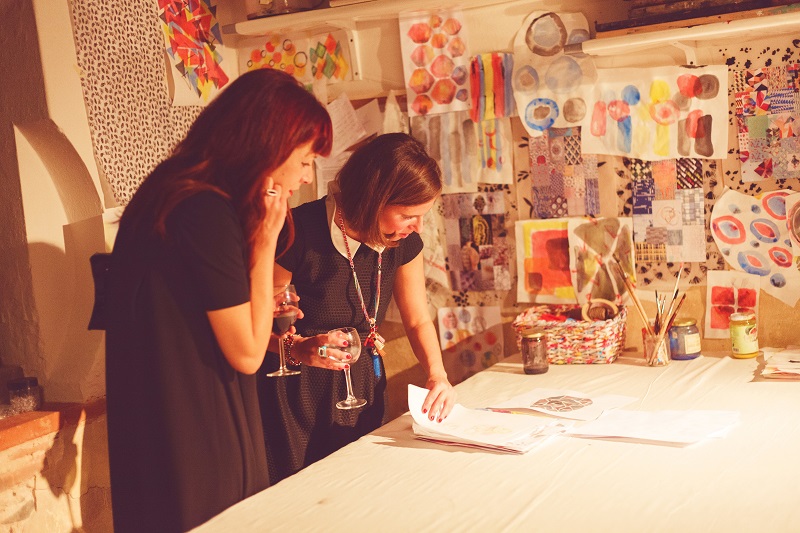 I agree that you have to get over Florence's small-town faults and just embrace what it can give you. What advice would you give a designer who is interested in starting a business in Italy?

My advice is to be determined and not be discouraged by the difficulties as I have said above. But I think the quality of materials and artisans here are excellent and you can learn a lot. I should add that here the food and culture is exceptional . Plus, in just 20 minutes you can be in the countryside or take a train and visit Rome and Milan and other cities in just over an hour. We're lucky!

I think the art of 'apprenticeship' is one that Italy does/would excel at for that very reason. Now the question everyone loves to ask you :). Three boutiques/museums everyone should know about in Florence?

The Frederick Stibbert Musuem, The Specola Museum and Bargello. Boutiques include The Richard Ginori Shop for the amazing interior as of course the porcelain and ceramic plates and tableware, and Santa Maria Novella Pharmacy. Also I cannot forget the awesome Boutique Nadine for clothes and accessories.
All favorites of mine but I still have yet to visit The Specola!  What can you do here and nowhere else?
Walk around on a sunny day at the Giardino delle Rose ….
If you had to make up a tagline for the city of Florence according to Margherita, what would it be?
Florence is a city where you can get lost in time ….
Photos by Olivia Magris www.oliviamagris.com, Nailya Bikmurzina www.nailyabirkmurzina.com, Dorin Vasilescu  www.timmistudio.com